Trans woman 'viciously attacked' in men's jail cell lawsuit says
"Hopefully the sheriff's department takes this incident serious and makes the changes necessary to ensure people in their care are kept safe"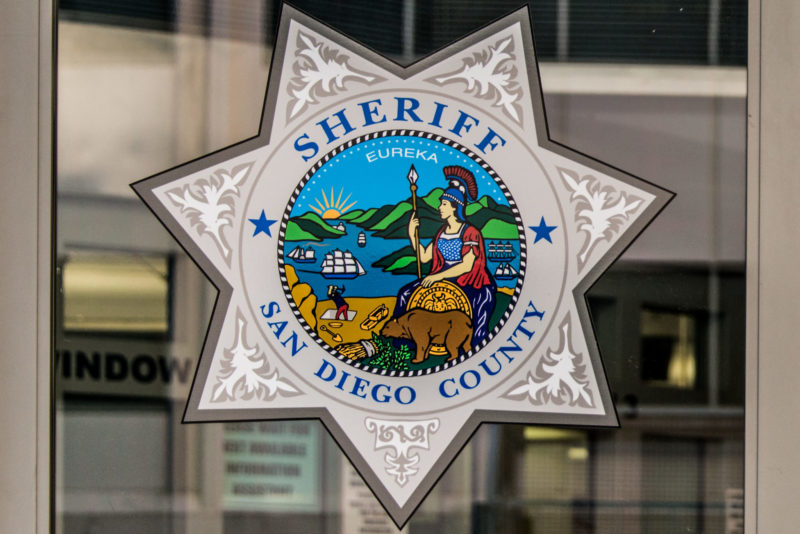 SAN DIEGO — Kristina Frost, a trans woman, was "viciously attacked" after being placed in a men's holding cell by the San Diego Sheriff's Department, according to court documents.
Frost was a book-and-release detainee at the San Diego Central Jail in November of 2020. After informing the jail staff that she is a trans woman, she was placed in a holding cell alone. Frost's DMV records and driver's license state her gender is female, according to a civil complaint filed in the U.S. District Court for the Southern District of California.
But she was later moved to a "minimally monitored" cell with three men "without any reasonable justification," according to the lawsuit.
"No reasonable deputy would have put Ms. Frost in a minimally monitored cell with three men," her lawyers wrote. "She was forced into the cell anyway."
Frost eventually fell asleep in the cell but awoke to one of the men striking her head with closed fist punches, resulting in a broken jaw that has required two surgeries.
The lawsuit alleges that deputies observed the assault but didn't immediately intervene. Frost said one or more deputies paused before they entered the cell and removed the assailant.
Frost then had to wait upwards of 12 hours without medical care before she was released, according to the complaint.
San Diego Sheriff's Department Deputy Mason Cassidy, who is named as one of the defendants in the case, is believed to be the one who placed Frost in the men's cell. The lawsuit states that Cassidy "was deliberately indifferent to Ms. Frost's safety risks and needs as a pretrial detainee."
The County of San Diego, San Diego County Sheriff William Gore and other unknown San Diego Sheriff's Department personnel are also named as defendants in the case.
The San Diego County Sheriff's Department told the Los Angeles Blade that they "are committed to an inclusive environment within our agency and the communities we serve."
"The incident occurred in November 2020 in a temporary holding cell during the Intake process, not a housing unit," the department said. "It was in the Intake area of the facility, where people are waiting to complete the booking process or pending release. Miss Kristina Frost was temporarily placed in a holding cell with other individuals who were also identified as being in protective custody status. The person who allegedly assaulted Miss Frost stated he was assaulted by Miss Frost first and stated he acted in self-defense. Additionally, Miss Frost declined to press charges."
The Blade attempted to reach the County of San Diego for comment but did not receive a response by the time of publishing this article.
The complaint also alleges that the incident involving Frost was "foreseeable" as department personnel have shown a pattern of failing to keep people in custody safe.
"The mortality rate in San Diego County jails is the highest among California's largest counties," Frost's attorneys wrote. "At least 140 people died in County custody from 2009 to 2019."
Frost's lawyers did not respond to a request for comment, but one of Frost's lawyers, Brody McBride, told ABC 10 News San Diego that he hopes some good comes out of the case.
"Hopefully the sheriff's department takes this incident serious and makes the changes necessary to ensure people in their care are kept safe and treated with dignity," McBride said.
According to a 2020 NBC News report, trans people are often housed according to their sex assigned at birth, not their gender identity. Out of 4,890 trans prisoners across the U.S., NBC News could only confirm 15 cases in which a trans prisoner was housed according to their lived gender.
California Gov. Gavin Newsom (D) signed a law this past September requiring prisons in the state to house trans people according to their gender identity.
US Navy Fleet Oiler & supply ship, USNS Harvey Milk launches
"For far too long, sailors like Lt. Milk were forced into the shadows or, worse yet, forced out of our beloved Navy"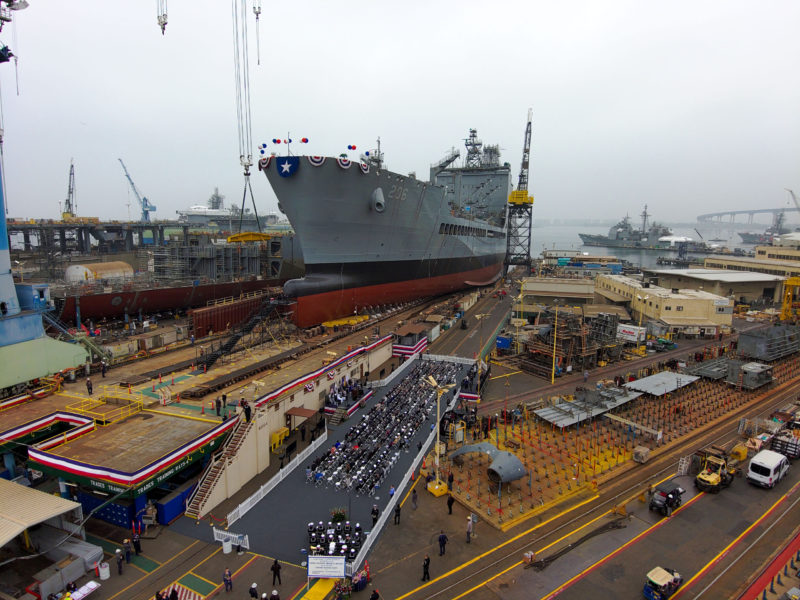 SAN DIEGO – The United States Navy christened and launched its latest John Lewis class of fleet replenishment oilers Saturday as the U.S. Naval Ship Harvey Milk slid down the ways at the General Dynamics-National Steel and Shipbuilding Company, NASSCO, shipyards into the waters of San Diego Bay.
The ship is named after slain openly gay LGBTQ+ rights activist and former San Francisco Supervisor Harvey Milk, who along with LGBTQ+ ally Mayor George Moscone was assassinated by disgruntled former Supervisor Dan White, in their offices in San Francisco City Hall on November 27, 1978.
The time-honored christening ceremony with a bottle of champagne broken over the bow was executed by Paula Neira, the Clinical Program Director for John Hopkins Center for Transgender Health. Also in attendance at the ceremony was Stuart Milk, the late San Francisco Supervisor Harvey Milk's nephew, Secretary of the Navy Carlos Del Toro and California State Senate President pro Tem, Senator Toni Atkins, whose Senate district includes the area of San Diego where the U.S. Navy's sprawling naval base is located as well as the NASSCO shipyards.
Dignitaries also included Out San Diego city and county commissioner Nicole Murray Ramirez, San Diego's openly gay Mayor Todd Gloria, Supervisor Milk's campaign manager and advisor Anne Kronenberg and Chair of the San Diego County Board of Supervisors Nathan Fletcher.
Addressing the audience of attendees, Secretary Del Toro told them; "The secretary of the Navy needed to be here today, not just to amend the wrongs of the past, but to give inspiration to all of our LGBTQ community leaders who served in the Navy, in uniform today and in the civilian workforce as well too, and to tell them that we're committed to them in the future."
The Secretary then directly spoke to Milk's sexual orientation and his being forced from naval service.
"For far too long, sailors like Lt. Milk were forced into the shadows or, worse yet, forced out of our beloved Navy," he said. "That injustice is part of our Navy history, but so is the perseverance of all who continue to serve in the face of injustice."
In 2016, then-Secretary of the Navy Ray Mabus decided that six new fleet oilers scheduled to be built would be named after civil and human rights leaders.
Del Toro told Mabus, who attended the christening, that it was a courageous decision.
The Milk is a fleet oiler and will be assigned the tasks of replenishing fuel oil and dry goods to U. S. naval vessels at sea. The Milk is the second ship in the new John Lewis class of fleet oilers. The future USNS John Lewis (T-AO-205) , is named for the former civil rights leader and Georgia Congressman, and is also under construction at NASSCO San Diego.
The first six vessels in the Lewis class of fleet oilers are named after prominent civil rights activists and leaders, in addition to the USNS John Lewis (T-AO-205) are; USNS Harvey Milk (T-AO-206) – LGBT activist Harvey Milk; USNS Earl Warren (T-AO-207) – Chief Justice of the United States Earl Warren; USNS Robert F. Kennedy (T-AO-208) – U.S. Attorney General Robert F. Kennedy; USNS Lucy Stone (T-AO-209) – Women's rights activist Lucy Stone; USNS Sojourner Truth (T-AO-210) – Abolitionist and women's rights activist Sojourner Truth.
Also addressing those in attendance, Stuart Milk, the co-founder and president of the Harvey Milk Foundation referring to his uncle's naval service said;
"He has a less-than-honorable discharge. He was forced to resign because he was gay," Stuart Milk said, adding that "we have to teach our history to prevent ourselves from going backwards and repeating it."
Milk told the audience that although there is a process for reversing such discharges, he said it was important to not do that for his late uncle in order "to keep the memory of how we did not honor everyone in this very honorable service."
Milk enlisted in the Navy in 1951 and attended the U.S. Navy Officer Candidate School in Newport, Rhode Island. By 1954 he was a lieutenant (junior grade) stationed at Naval Air Station Point Mugu, which during Milk's tenure of service was the Naval Air Missile Test Center near Oxnard, California. He was serving as a diving instructor.
As the Bay Area Reporter wrote in an article in February 2020, Milk was given an "other than honorable" discharge from the U.S. Navy and forced to resign on February 7, 1955 rather than face a court-martial because of his homosexuality, according to a trove of naval records obtained by the paper. It contradicted an archival document housed in the San Francisco Public Library's San Francisco History Center that authors of several recent biographies of Milk had used to claim that Milk was honorably discharged from the Navy.
#TeamToni was happy to attend @GDNASSCO's christening and launch ceremony for the @USNavy's Harvey Milk ship! This vessel was built by San Diegans to commemorate Harvey's profound civil rights legacy and honor his service in the Navy. 🏳️‍🌈🛳 pic.twitter.com/OhCwpDemIj

— Senator Toni Atkins (@SenToniAtkins) November 6, 2021
Today, General Dynamics NASSCO christened and launched the future USNS Harvey Milk (T-AO 206).

Read the full press release, view more photos, and replay live footage from the event at https://t.co/IDa9D2hBKj.#NASSCO pic.twitter.com/BU2j2BFmoi

— NASSCO (@GDNASSCO) November 6, 2021
The USNS Harvey Milk was launched in San Diego. The US Navy Fleet Oiler was commissioned by Paula Neira, the Clinical Program Director for John Hopkins Center for Transgender Health. SF Supervisor Milk was killed in office by Dan White in 1978. Milk was a Navy Vet. @nbcbayarea pic.twitter.com/P1aPq9CWF2

— John Zuchelli (@tvzuke) November 6, 2021
Navy launches ship named for gay rights leader Harvey Milk – ABC News https://t.co/SIgVfP4bVc

— Stuart Milk (@StuartMilk) November 6, 2021
The christening and launch ceremony for the future USNS Harvey Milk (T-AO 206):