Dignitaries tour the 60% completed USNS Harvey Milk
This past week on the eve of what would have been Milk's 91st birthday Milk's nephew elected officials and other dignitaries toured the ship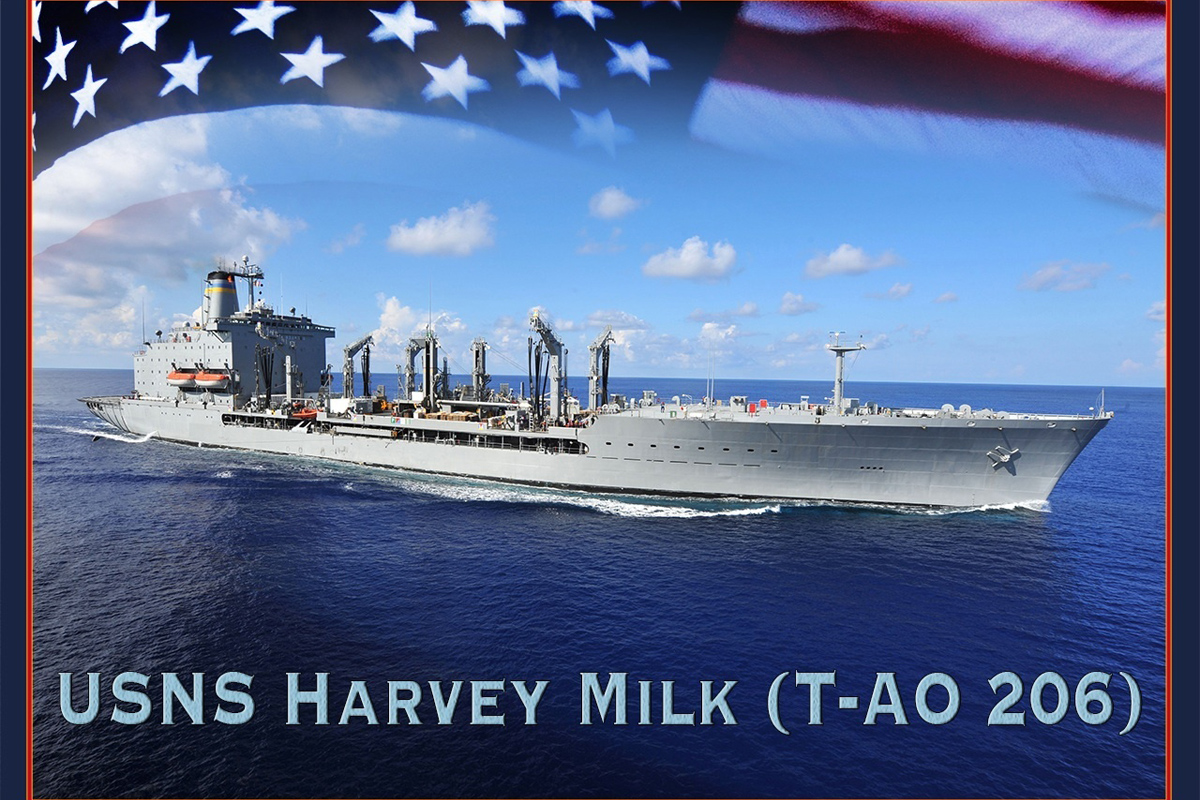 SAN DIEGO – The construction work on the future U.S. Navy fleet oiler named for slain gay San Francisco Supervisor Harvey Milk is nearly sixty-percent completed according to a spokesperson for the National Steel and Shipbuilding Company division of General Dynamics Corporation commonly referred to as NASSCO.
This past week on the eve of what would have been Milk's 91st birthday on Saturday, Milk's nephew Stuart Milk, elected officials and other dignitaries were given two separate tours of the vessel.
The Milk is a fleet oiler and will be assigned the tasks of replenishing fuel oil and dry goods to U. S. naval vessels at sea. The Milk is the second ship in the new John Lewis class of fleet oilers. The future USNS John Lewis (T-AO-205) , is named for the former civil rights leader and Georgia Congressman, and is also under construction at NASSCO San Diego.
The first six vessels in the Lewis class of fleet oilers are named after prominent civil rights activists and leaders, in addition to the USNS John Lewis (T-AO-205) are; USNS Harvey Milk (T-AO-206) – LGBT activist Harvey Milk; USNS Earl Warren (T-AO-207) – Chief Justice of the United States Earl Warren; USNS Robert F. Kennedy (T-AO-208) – U.S. Attorney General Robert F. Kennedy; USNS Lucy Stone (T-AO-209) – Women's rights activist Lucy Stone; USNS Sojourner Truth (T-AO-210) – Abolitionist and women's rights activist Sojourner Truth.
San Diego City & County Commissioner Nicole Murray Ramirez arranged the private tours led by Dennis DuBard, Manager of Government Relations at General Dynamic NASSCO on behalf of the shipbuilders.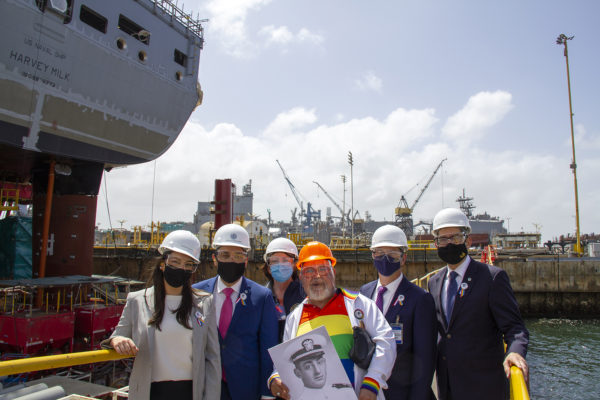 Among the dignitaries were Stuart Milk- Co-Founder of the Harvey Milk Foundation, San Diego's openly gay Mayor Todd Gloria; State Senate President Toni G. Atkins; City Councilmember Stephen Whitburn; State Assemblymember Christopher Ward; Congressmember Sara Jacobs; State Commissioner Robert Gleason; The Center's Cara Dessert; and Navy veteran, Chief Petty Officer Morgan M. Hurley, USN Ret. former chair of the LGBTQ Veterans Wall of Honor.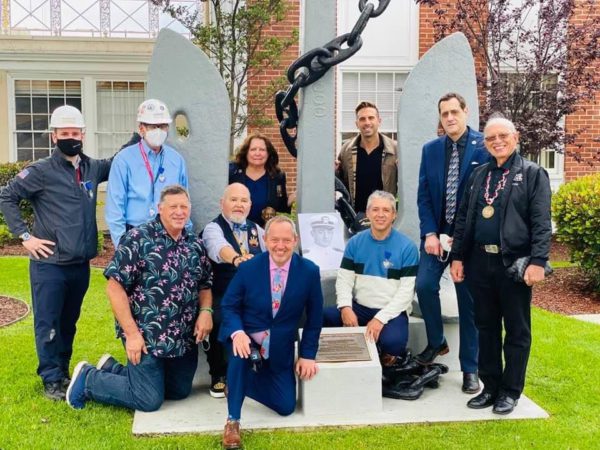 Also given a tour were Bevan Dufty, former San Francisco Board of Supervisor- District 8, member of the Bay Area Rapid Transit Board of Directors and Executive Director of H.O.P.E. for the City & County of San Francisco; Ryan Bedrosian, business man, owner of Rich's San Diego and secretary of the Hillcrest Business Association; Charles Rozanski, businessman, president and CEO of Mile High Comics, and member of the International Imperial Court Council; Michael "Bigmike SanDiego" Phillips, philanthropist, and chair of the newly minted San Diego LGBTQ historic Task Force; Eddie Rey, Executive Director of the Equality Business Alliance.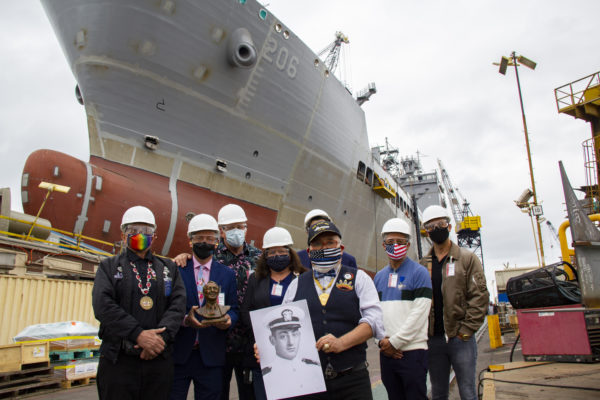 Eddie Rey, Executive Director of the Equality Business Alliance noted; "The naming of the USNS Harvey Milk is historic for multiple reasons- including that it's the first military ship named after a service member who was harassed, court martialed and then dishonorably discharged- simply for being gay; but most importantly to me — because it tells the world that our nation now honors and supports LGBTQ individuals. It is my hope that someday the military will reverse and rectify the wrongful "Other Than Honorable Discharge" given to thousands of our LGBTQ brothers, sisters, and siblings. As for Harvey Milk- the message of his less than honorable discharge and naming of a ship is a powerful message- that the family wishes to keep as is."
Milk was given an 'other than honorable' discharge from the US Navy on February 7, 1955 after being forced by U.S. Navy investigators to describe his sexual relationships in a 152 page document. Some twenty-two years later he was the first openly gay person elected to a seat on the San Francisco Board of Supervisors in 1977. Milk would go on to only serve 11 months in office, until he and then San Francisco Mayor George Moscone, were murdered in their office spaces at City Hall on the morning of November 27, 1978 by disgruntled former supervisor Dan White.
Every year on his birthday, the foundation that bears his name celebrates Harvey Milk Day to remember and teach about his life and his activism work to stop the discrimination against LGBTQ+ people and in California, Harvey Milk Day is recognized by the state's government as a day of special significance for the Golden State's public schools.
The day was permanently established by the California legislature and signed into law by then Republican Governor Arnold Schwarzenegger in 2009.
A NASSCO spokesperson said that the Milk is on schedule for a November 'ship's christening' with commissioning to follow at an unspecified date.
Federal probe into former backer of Prop 8 in 'pay or play' scheme
Manchester said he was offered the Bahamas post the day after Trump was sworn in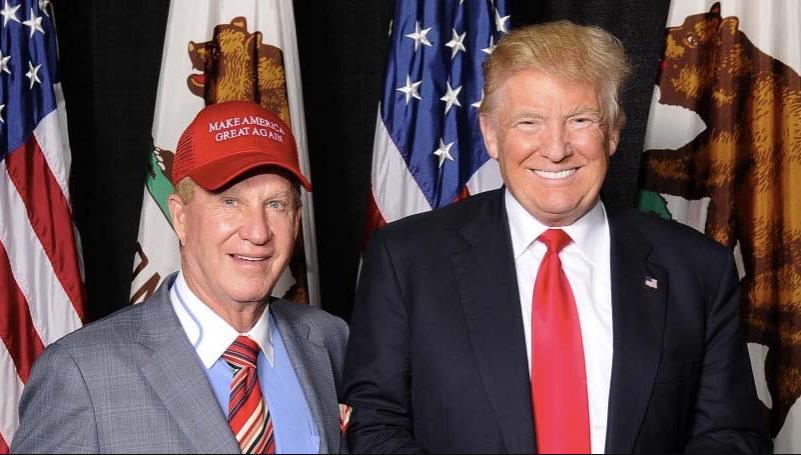 WASHINGTON – A Federal grand jury is issuing subpoenas in a criminal investigation into the nomination of a wealthy San Diego real estate and longtime business developer and the past chairman and publisher of The San Diego Union-Tribune, Douglas Frederick Manchester, as U.S. Ambassador to the Bahamas by former President Trump.
Manchester was an early supporter of Trump. The San Diego Union-Tribune is reporting that the case appears to focus on the Republican National Committee and its two senior leaders, and possibly members of Congress.
Manchester has long had deep financial ties to the Republican Party as a major donor and to GOP elected officials and candidates. He was first nominated to become the U.S. ambassador to the Bahamas in May 2017, just months into the Trump administration.
But the nomination stalled in the U.S. Senate, prompting Trump to re-nominate Manchester to the post early in 2018. That nomination also was held up from Senate approval. Manchester withdrew his nomination in October 2019, saying that he was removing his name from consideration due to threats to his family, the paper reported Saturday.
The Union-Tribune is reporting that focus of the subpoenas is in emailed or other communications involving communications between Manchester, his former wife, the Republican National Committee, (RNC) and RNC Chairwoman Ronna McDaniel and Co-Chair Tommy Hicks.
In November of 2019 CBS News chief investigative correspondent Jim Axelrod reported that Manchester, was asked by the RNC to donate half a million dollars as his confirmation in the Senate hung in the balance. A Trump supporter, Manchester donated $1 million to the former president's inauguration fund. According to Axelrod, Manchester said he was offered the Bahamas post the day after Trump was sworn in.
Trump tweeted his nomination of Manchester after which, according to emails obtained by CBS News, RNC Chairwoman Ronna McDaniel hit up Manchester for a donation. It was no small sum. In an email, obtained exclusively by CBS News, she asked Manchester, "Would you consider putting together $500,000 worth of contributions from your family to ensure we hit our ambitious fundraising goal?"
Axelrod reported, "He wrote back to McDaniel's request for $500,000, "As you know I am not supposed to do any, but my wife is sending a contribution for $100,000. Assuming I get voted out of the [Foreign Relations Committee] on Wednesday to the floor we need you to have the majority leader bring it to a majority vote … Once confirmed, I our [sic] family will respond!""
It was that email the Union-Tribune and CBS both reported that is the heart of the potential "pay or play" scheme. Justice Department officials did not respond to requests for statements outside of confirming that the Federal probe began during the final year of the Trump administration.
Manchester, 78, a native Californian was born in Los Angeles and raised in San Diego and is known for his real estate and business empire. He was responsible for construction and development of some of San Diego's premier properties including the First National Bank Center, and the San Diego Marriott Marquis & Marina. In the 1990s, he constructed the Manchester Grand Hyatt Hotel San Diego.
In 2011, he purchased The San Diego Union-Tribune and a year later in 2012, he bought the North County Times and merged it and its subsidiary, The Californian, into the Union-Tribune. He also bought eight local weeklies in the San Diego region, which continue to be published as separate papers. In 2015, he sold The San Diego Union-Tribune to the Tribune Publishing Company.
During the national debate and politicking over the issue of same-sex marriage Manchester was an opponent. Georgetown Law notes; "Among the advocates for Prop 8 were religious organizations, most notably the Roman Catholic church and the Church of Jesus Christ of Latter Day Saints."
Manchester, who was appearing before the Senate Foreign Relations Committee during his 2017 Senate confirmation hearing for his nomination as U.S. Ambassador to the Bahamas, responding to a line of questioning from Senator Bob Menendez, (D-New Jersey), acknowledged that he had donated $125,000 to support Proposition 8, the 2008 ballot measure that prohibited same-sex marriage in California that passed with 52 percent of the vote.
"I was asked by the Catholic bishop of San Diego, and I am Catholic, to contribute and I did. And my family was opposed to it," Manchester said. "And I want to clarify the issue: that was a huge mistake and I have more than done everything to rectify that mistake."
Prop 8 was later overturned in the 2013 ruling by the U.S. Supreme Court in the case of Hollingsworth v. Perry.
He told the Senators that he has had thousands of employees, including those who are gay and lesbian. He then pointed out that he's contributed a like amount of money to LGBTQ causes, adding he is" totally 100 percent for human rights all across the board."
Manchester then told the Committee; "I certainly support gay and lesbian marriage, for the record," he said.
Trans USMC vet injured in attack police say may be hate crime
Three men decided to approach Shane and brutally assaulted him for being who he is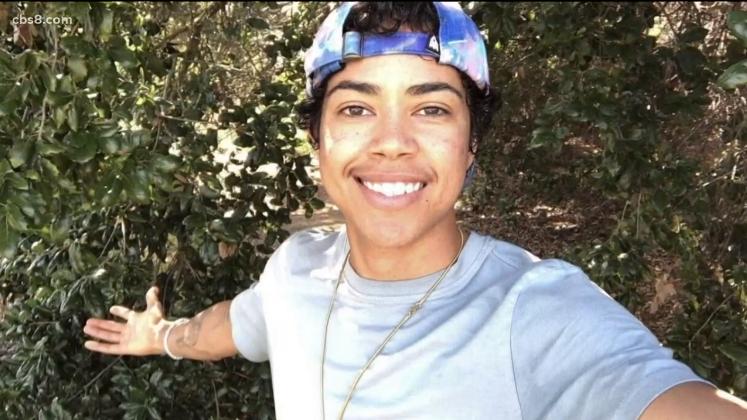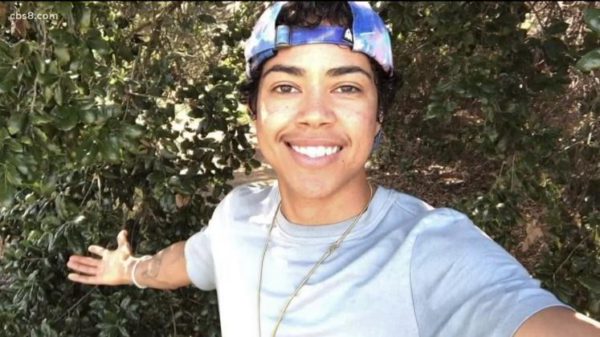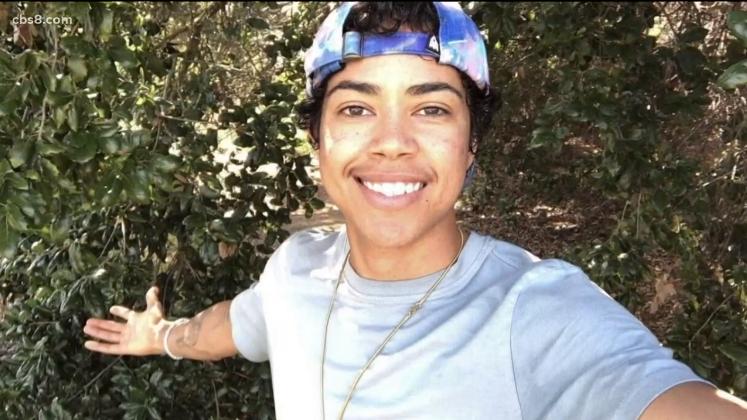 CARLSBAD – Police investigators in this coastal city in North San Diego County are investigating an attack on a U.S. Marine Corps veteran as a possible hate crime.
Shane Devereaux, a transgender male Marine veteran, was with his girlfriend leaving the Coyote Bar and Grill on Carlsbad Village Drive when he was attacked.
According to Carlsbad police, officers were dispatched to the bar's location last Saturday, March 20, just before midnight for a report of a fight. Carlsbad Police Department spokesperson Lt. Kevin Lehan told KFMB-TV CBS News 8 San Diego, that officers found four people were involved in what they called "mutual combat" and two of those involved had left before officers arrived. Lehan said that police believe alcohol played a role in the incident.
Officers reported witnesses saw the group involved in an argument, including "name-calling" while leaving the bar. One of the men pushed Devereaux, which caused him to fall backward and hit his head on the ground. According to police they opened a 'battery' investigation at that time.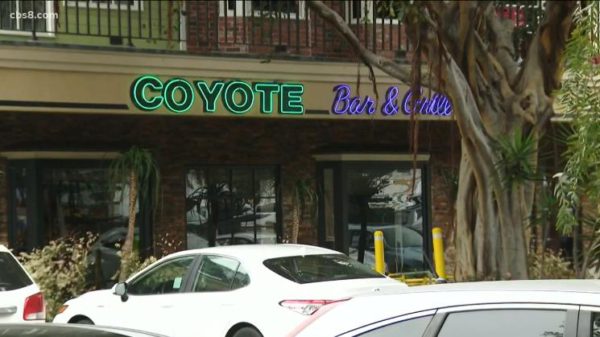 Then, on March 22, police said Devereaux's girlfriend gave an additional statement to investigators that prompted them to investigate the incident as a "possible hate crime."
"We have received conflicting statements about what occurred, and we are working hard to sort the information and find the facts," said Lt. Lehan in an email to News 8 on Thursday. "We take allegations like these very seriously in Carlsbad. The investigation is active and ongoing, once completed it will be submitted to the District Attorney's Office to evaluate for the most appropriate charges."
Friends of Devereaux created a GoFundMe to defray the cost of his hospitalization and in the description they noted:
"On 3/20/2021 Shane was involved in a tragic hate crime. Shane is a beautiful soul. […] Shane is a handsome transgender male which many adore and admire him for his bravery. Shane has bravely served in our military and has put himself out there to protect this country. Shane and his girlfriend Jennifer were out casually having drinks at the Coyote Bar&Grill in Carlsbad."
While on their date three men approached the couple and decided to have drinks with them. They were casually talking and having a great a conversation. As the night progressed the three men found out Shane was a transgender male.
As the night ended Shane and Jennifer made their way to their car and the three men decided to approach Shane and brutally assaulted him for being who he is. Currently Shane is in the hospital suffering from a fractured skull, broken back, but most importantly a broken heart. Shane can't talk, can't move, and can't use the restroom alone."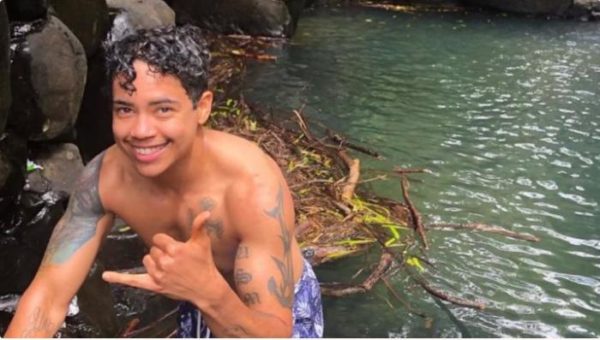 San Diego's new Mayor makes LGBTQ history
If we dream big, work together and believe in San Diego, we can accomplish anything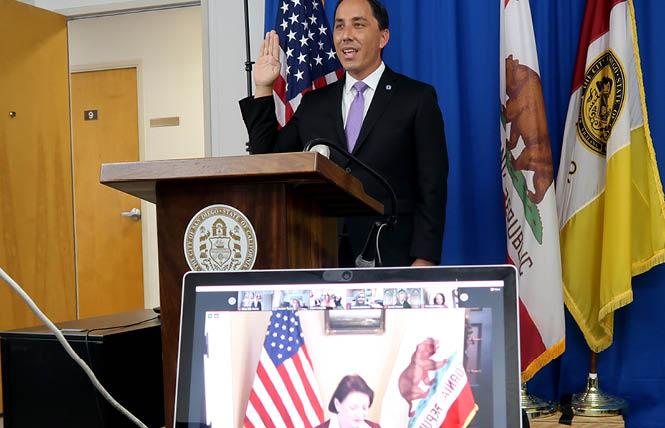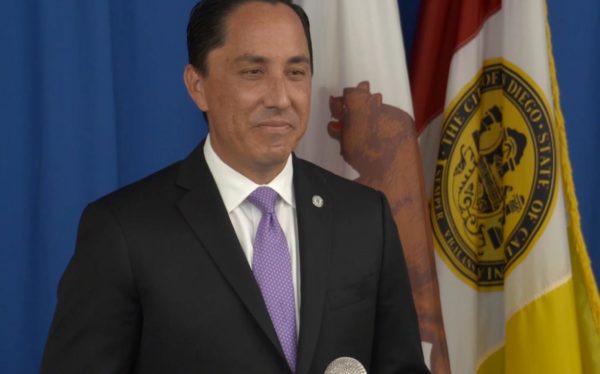 SAN DIEGO – In a pandemic zoom-style virtual inauguration ceremony presided over by the President pro Tempore of the California State Senate, Toni Gayle Atkins, former Democratic State Assemblyman Todd Gloria was sworn in as the 37th mayor of the City of San Diego on Thursday, December 10 before the San Diego City Council.
San Diego's new mayor made history across a spectrum of significant firsts as in addition to being the first openly gay person to lead the city, Gloria, "the son of a hotel maid and a gardener" is also the first person of color in the Mayor's chair. Gloria is a third-generation San Diegan of Filipino, Native American, Puerto Rican, and Dutch descent.
In a March 2019 interview with journalist Karen Ocamb, Gloria told the Blade that he officially came out to his parents at 18, though he jokingly says he was never "in" the closet since he and apparently everyone at school knew he was gay. But he survived those difficult times to go on and graduate summa cum laude from the University of San Diego, having majored in history and political science.
In his inauguration address after he took the oath of office, Gloria thanked his parents, Linda and Phil, and his brother and his family. Gloria also thanked his partner, Adam. He paid tribute to his political mentors and then the people who helped get him elected. He then addressed his city as the duly-elected Mayor for the first time;
"My fellow San Diegans, it is with pride that I stand before you today as the 37th mayor of our city. I'm humbled by your support; I'm grateful for the opportunity to serve; I'm hopeful about the future of our city," Gloria said. "Today is the day that we start building a San Diego that is truly for all of us."
"As a kid who grew up in Clairemont, I didn't see people who looked like me leading practically anything — let alone the 8th largest city in the United States," Gloria said at his inauguration Thursday. "But today, I stand before you as the first person of color and LGBTQ person to ascend to our city's highest office."
"This is a testament to what we all know: San Diego is a unique place, with incredible people, where anything is possible," he continued. "It is the birthplace of California and a bridge between two nations. It's the home of artistic creativity, groundbreaking innovation and research that changes the world. It is the place where the son of a hotel maid and a gardener, a Native American, Puerto Rican, Dutch gay guy has just become your mayor."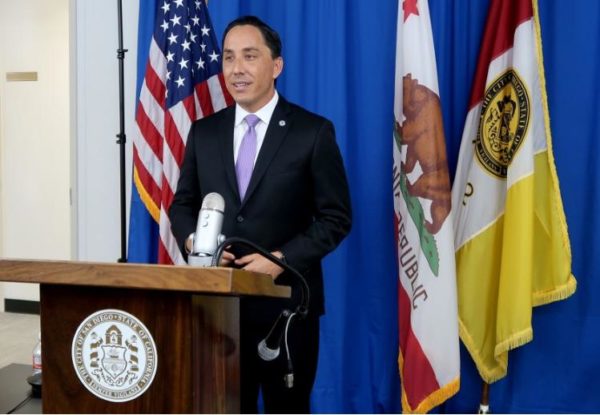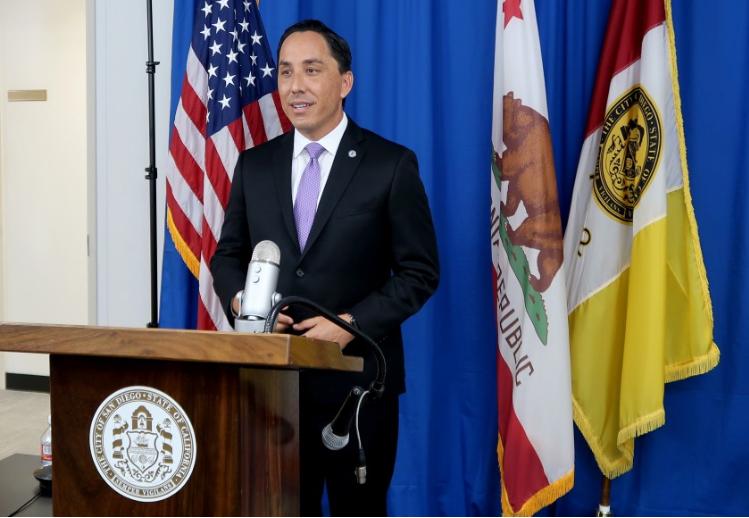 As Gloria outlined his plans for his first 100 days in office, he stressed that his greatest priority is the ongoing coronavirus pandemic.
"We will be rolling out an aggressive strategy to address the worsening public health crisis in COVID-19," he said. "The economic crisis that is impacting San Diego's families, small businesses, and our city budget. The housing and homelessness crisis that has become even more dire."
"My team and I are moving swiftly and decisively to protect our most vulnerable. And we'll do it with a long-term goal of building a more resilient city in the process," Gloria added. "It's not enough to get things back to normal. Normal wasn't and won't be good enough."
The Mayor then promised San Diegans that he and his team would build a coalition effort to work across all sectors of the city to accomplish the goals he was outlining.
"If we dream big, work together and believe in San Diego, we can accomplish anything. We will change the narrative — not just for the privileged few, but for everyone — especially those who have traditionally felt unheard," he said.
"It's the dawn of a new era. We will recover and build back better and stronger from COVID-19," the mayor continued. "We will stand up for workers and create good-paying, local jobs that bring neighborhood improvement to all corners of our city."
Gloria addressed the issues of racial equality and the Black Lives Matters movement.
"We will center racial justice and equity not just in public safety but in everything we do recognizing that Black Lives Matter," he said.
He then vowed to "fully and faithfully" implement San Diego's climate action plan "to ensure that the city that we love is here for generations to come."
"I believe in us, San Diego," the mayor said. "I know who we are and who we can be. I am so proud to be the mayor of this great city but I'm even more excited about what we can accomplish together. Because together, I know we will build a San Diego for all of us."
"If we dream big, work together and believe in San Diego, we can accomplish anything."
In the March 2019 interview, addressing the LGBTQ community in his city, Gloria told the Blade, "We had a recent report where there's 40,000 San Diego young people in their late teens and early 20s who are completely disconnected from the worlds of education and the world of work. Those are young people who are going un-utilized in our economy and that's a missed potential towards the vision I have of a great city."
Gloria says he wants to "keep that ladder of opportunity in place. I want to rebuild it where it may have been broken. I believe it because I've experienced it and I want others to have that same experience. And right now I think there's good reason to doubt that that ladder exists. But my goal, my ambition, my vision is to rebuild it – not just for queer kids of color like me but really for every person who is going to work hard in San Diego."
It's a power of compassion, strength and responsibility that Gloria told the Blade that he hopes to bring home to San Diego. "I often talk on the campaign trail about this being a mayoral campaign and a hopeful administration that is focused on real people and on real problems," Gloria says, adding that he carries the voices of LGBT history with him. "Hopefully, I can make our community proud."
As one commentator reflected, now that he's mayor, he has that chance.
Additional reporting by Karen Ocamb