Federal probe into former backer of Prop 8 in 'pay or play' scheme
Manchester said he was offered the Bahamas post the day after Trump was sworn in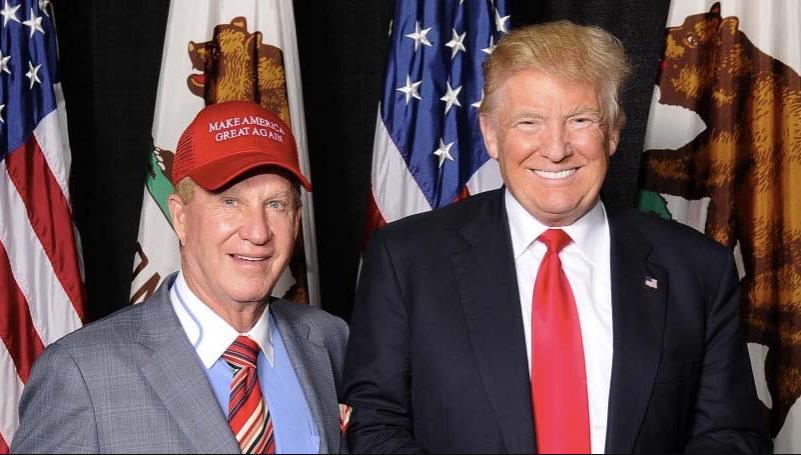 WASHINGTON – A Federal grand jury is issuing subpoenas in a criminal investigation into the nomination of a wealthy San Diego real estate and longtime business developer and the past chairman and publisher of The San Diego Union-Tribune, Douglas Frederick Manchester, as U.S. Ambassador to the Bahamas by former President Trump.
Manchester was an early supporter of Trump. The San Diego Union-Tribune is reporting that the case appears to focus on the Republican National Committee and its two senior leaders, and possibly members of Congress.
Manchester has long had deep financial ties to the Republican Party as a major donor and to GOP elected officials and candidates. He was first nominated to become the U.S. ambassador to the Bahamas in May 2017, just months into the Trump administration.
But the nomination stalled in the U.S. Senate, prompting Trump to re-nominate Manchester to the post early in 2018. That nomination also was held up from Senate approval. Manchester withdrew his nomination in October 2019, saying that he was removing his name from consideration due to threats to his family, the paper reported Saturday.
The Union-Tribune is reporting that focus of the subpoenas is in emailed or other communications involving communications between Manchester, his former wife, the Republican National Committee, (RNC) and RNC Chairwoman Ronna McDaniel and Co-Chair Tommy Hicks.
In November of 2019 CBS News chief investigative correspondent Jim Axelrod reported that Manchester, was asked by the RNC to donate half a million dollars as his confirmation in the Senate hung in the balance. A Trump supporter, Manchester donated $1 million to the former president's inauguration fund. According to Axelrod, Manchester said he was offered the Bahamas post the day after Trump was sworn in.
Trump tweeted his nomination of Manchester after which, according to emails obtained by CBS News, RNC Chairwoman Ronna McDaniel hit up Manchester for a donation. It was no small sum. In an email, obtained exclusively by CBS News, she asked Manchester, "Would you consider putting together $500,000 worth of contributions from your family to ensure we hit our ambitious fundraising goal?"
Axelrod reported, "He wrote back to McDaniel's request for $500,000, "As you know I am not supposed to do any, but my wife is sending a contribution for $100,000. Assuming I get voted out of the [Foreign Relations Committee] on Wednesday to the floor we need you to have the majority leader bring it to a majority vote … Once confirmed, I our [sic] family will respond!""
It was that email the Union-Tribune and CBS both reported that is the heart of the potential "pay or play" scheme. Justice Department officials did not respond to requests for statements outside of confirming that the Federal probe began during the final year of the Trump administration.
Manchester, 78, a native Californian was born in Los Angeles and raised in San Diego and is known for his real estate and business empire. He was responsible for construction and development of some of San Diego's premier properties including the First National Bank Center, and the San Diego Marriott Marquis & Marina. In the 1990s, he constructed the Manchester Grand Hyatt Hotel San Diego.
In 2011, he purchased The San Diego Union-Tribune and a year later in 2012, he bought the North County Times and merged it and its subsidiary, The Californian, into the Union-Tribune. He also bought eight local weeklies in the San Diego region, which continue to be published as separate papers. In 2015, he sold The San Diego Union-Tribune to the Tribune Publishing Company.
During the national debate and politicking over the issue of same-sex marriage Manchester was an opponent. Georgetown Law notes; "Among the advocates for Prop 8 were religious organizations, most notably the Roman Catholic church and the Church of Jesus Christ of Latter Day Saints."
Manchester, who was appearing before the Senate Foreign Relations Committee during his 2017 Senate confirmation hearing for his nomination as U.S. Ambassador to the Bahamas, responding to a line of questioning from Senator Bob Menendez, (D-New Jersey), acknowledged that he had donated $125,000 to support Proposition 8, the 2008 ballot measure that prohibited same-sex marriage in California that passed with 52 percent of the vote.
"I was asked by the Catholic bishop of San Diego, and I am Catholic, to contribute and I did. And my family was opposed to it," Manchester said. "And I want to clarify the issue: that was a huge mistake and I have more than done everything to rectify that mistake."
Prop 8 was later overturned in the 2013 ruling by the U.S. Supreme Court in the case of Hollingsworth v. Perry.
He told the Senators that he has had thousands of employees, including those who are gay and lesbian. He then pointed out that he's contributed a like amount of money to LGBTQ causes, adding he is" totally 100 percent for human rights all across the board."
Manchester then told the Committee; "I certainly support gay and lesbian marriage, for the record," he said.
San Diego to open 45 bed LGBTQ youth homeless shelter
Snell from the Housing Commission said they hope to have those two interim locations up and running within the next 60 days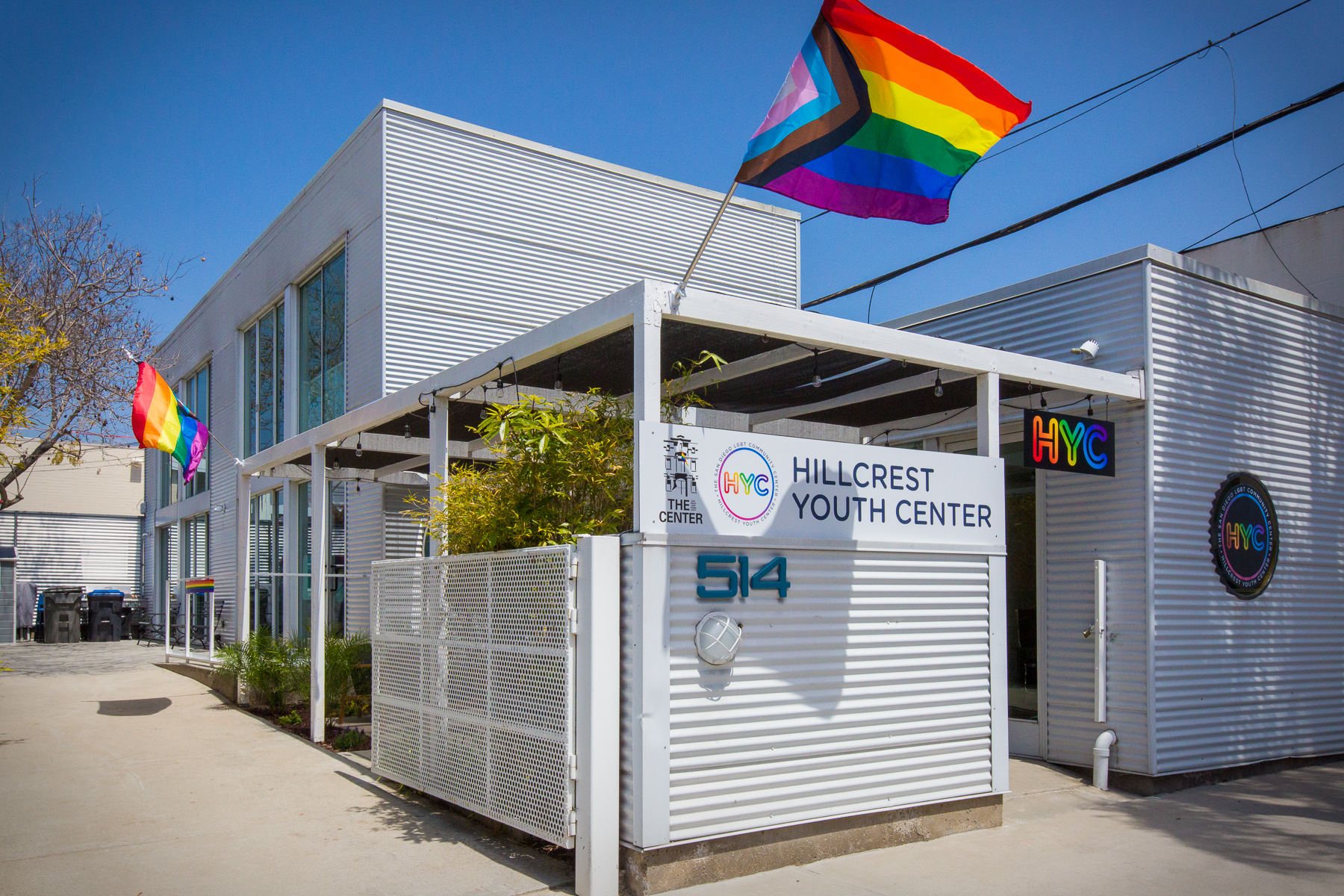 SAN DIEGO – The San Diego Housing Commission has awarded a contract to San Diego's LGBT Center to operate an LGBTQ+ youth shelter for young people who are experiencing homelessness.
"It's a first for our city. We're very, very excited," Casey Snell, VP of Admin. Homeless Initiatives San Diego Housing Commission told KGTV ABC News 10 reporter Ryan Hill. "We know that LGBTQ+ experience homeless many at a rate almost 40 percent higher than their non-LGBTQ+ plus peer. So, it's extremely critical we target services for this population."
According to Snell,  $1.5 million for the new shelter was allocated in the city's 2023 budget. While a search has been launched to find a permanent location for the 45 bed facility, Snell tells ABC 10 that two interim locations in Clairemont and Point Loma will have 21 beds.
Victor Esquivel, the Director of Housing & Youth Homeless Services for the LGBT Center noted "Oftentimes, when it comes to LGTBQ+ youth, they have been rejected by their own families. These types of programs are a real lifeline, right? They instill that hope in them, and we're going to be excited to see them on that first night when they come to us."
With homophobia, bullying, harassment, and extremist hate on the rise, both from the government and civilians alike, queer youth of today are facing a torrent of obstacles leading to a devastating increase in mental health crises.
Even more devastating is the number of queer youth who are facing these challenges while homeless. Kicked out of their homes and living on park benches and truck stops, these kids face a terrifying reality of discrimination, isolation, and violence. 
LGBTQ youth are overrepresented among young people experiencing homelessness and housing instability in the United States. This elevated risk of homelessness and housing instability has detrimental effects on LGBTQ youths' mental health.
A research report released in February 2022 by the Trevor Project revealed that 28% of LGBTQ+ youth reported experiencing homelessness or housing instability at some point in their lives — and those who did had two to four times the odds of reporting depression, anxiety, self-harm, considering suicide, and attempting suicide compared to those with stable housing.
In Los Angeles, Lisa Phillips, Director of Youth Services at the Los Angeles LGBT Center, said: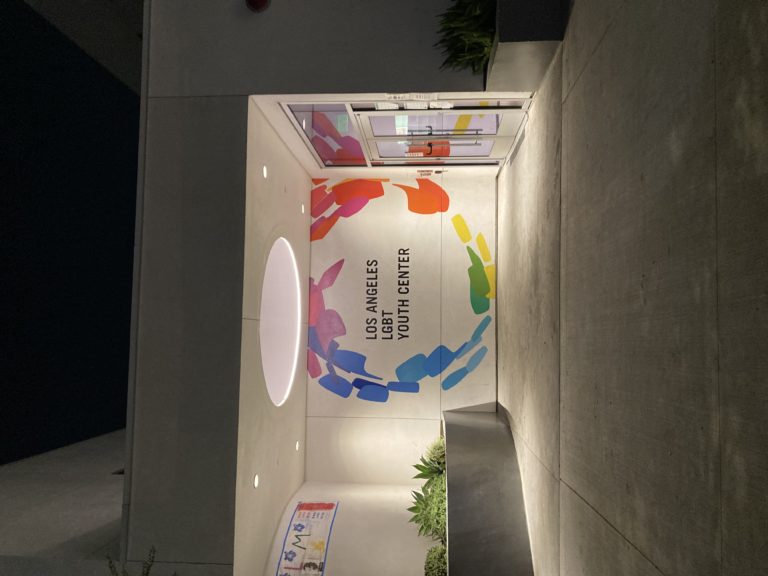 "The Los Angeles LGBT Center has always had a high demand for youth-oriented services, including emergency, transitional, and permanent housing—and we have not seen that demand falter. Unfortunately, as political attacks on our community escalate throughout all corners of the United States, we also don't expect to see that demand go down anytime soon.
We understand that, like any other issue affecting the LGBTQ+ community, a holistic approach that caters to the dignity of the individual is urgent and necessary. That's why the Center doesn't just offer a place to sleep but also provides health and mental health care, substance use and recovery efforts, legal services, housing and job navigation, and, most importantly, community. We do not take our responsibility to LGBTQ+ youth lightly, and we are always proud to be leaders in the fight for a more equitable world for queer and trans people."
True Colors United, a national initiative co-founded over a decade ago by Cyndi Lauper, Lisa Barbaris, Jonny Podell, and Gregory Lewis, reported that according to a recent study from Chapin Hall at the University of Chicago, LGBTQ young people are 120% more likely to experience homelessness than non-LGBTQ youth.
"Right off the bat, these young people are presented with an uneven playing field. True Colors United is working to level that field so that LGBTQ youth are no more likely to experience homelessness than anyone else. We've seen this higher risk reflected in our own research. It's estimated that about 7% of youth in the United States are LGBTQ, while 40% of youth experiencing homelessness are LGBTQ."
Snell from the Housing Commission told ABC 10 they hope to have those two interim locations up and running within the next 60 days.