LA reacts to mass murder at the Tree of Life Synagogue
LGBT community vigil held at Temple Beth Am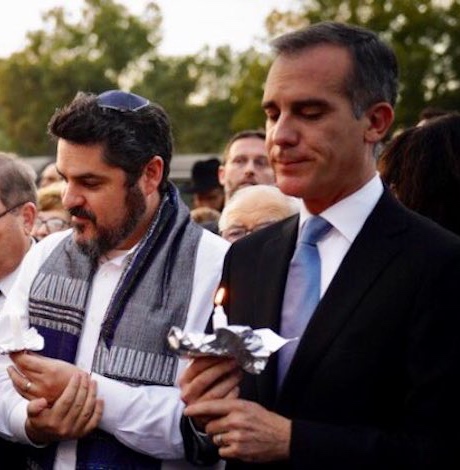 The Los Angeles Jewish community and allies mourned the 11 victims of a mass shooting in Pittsburgh – Saturday, Oct. 27, during three separate services on three floors at the Tree of Life Synagogue. Rose Mallinger, 97, was the eldest victim, though she was not a Holocaust survivor,  as many reported. However, Judah Samet, 80, who always sat in front of Mallinger, was a survivor—he was eight years old at Bergen-Belsen concentration camp in Germany. He arrived four minutes late to the synagogue, escaping certain death once again.
The suspected shooter, white supremacist Robert Bowers, 46, of Pittsburgh, was heard yelling "All Jews must die" before being shot and arrested. He was charged with 29 counts, including murder and several hate crime charges.  The Anti-Defamation League calls this "the deadliest anti-Semitic attack in U.S. history."
Hate crimes in Los Angeles went up 10.8%—the fourth consecutive rise that is part of a spike in hate crimes in the past few years, according to a study by the Center for the Study of Hate & Extremism at Cal State San Bernardino released last May. In Los Angeles, the CSUSB study reported 254 hate crimes 2017, with African- Americans, Jews and transgender individuals the most frequently targets. Recently, the FBI arrested three members of the SoCal-based white supremacist extremist group, Rise Above Movement, with the fourth, a wanted fugitive, surrendering Sunday night. 
The FBI arrested the RAM members for inciting riots at political rallies across California — as well the riots in Charlottesville, that killed one peaceful demonstrator. If convicted of all charges, each defendant faces a maximum sentence of 10 years in federal prison, according to the U.S. Attorney's Office.
Around the same time the RAM white supremacist was surrendering on Sunday night, hundreds of Jews and their supporters rallied at the Federal Building in Westwood to honor the dead in Pittsburgh. An emotional LA Mayor Eric Garcetti, who is of Jewish descent, was among the speakers.
"I am a Jew, and I'm an American," L.A. Mayor Eric Garcetti told hundreds of interfaith mourners during a candlelight vigil outside the Federal Building. "Stop the conspiracies. Stop the violence. Stop the hatred — not in this America."
"L.A. came together tonight to honor the lives lost at the Tree of Life Synagogue. Yesterday was a day that tested the very idea of who we are as Americans. But it was also a day that calls us to step forward, together, to declare that no one can make us afraid or tear us apart," Garcetti later declared on Twitter. "Tonight, as we join together in prayer for the Tree of Life victims, we're reminded of the words of the great Chief Rabbi of Israel, Rav Kook, who said 'we conquer senseless hatred with boundless love.' And that is who we are — as Angelenos, as a community, and as a country."
The night before, the night after the shootings,  LA's Temple Beth Am held a community service and discussion. More than 70 people gathered to discuss life lessons, hosted by JQ International, an important LGBTQ Jewish organization. In addition to talking about coming out issues, the group addressed their two different realities: joy and celebration on one side and on the other, fear and grieving.
After a moment of silence in honor of the Tree of Life victims, Moderator Rabbi Ilana Grinblat reminded the audience about the recent attacks on transgender rights.
Rabbi Lisa Edwards, Senior Rabbi of the LGBTQ+ synagogue Beth Chayim Chadashim, shared her experience of coming out more than 30 years ago. She emphasized the importance of LGBTQ+ synagogues as a safe space for queer Jews. Their founders urgently searched for places to worship, not giving up their Jewish identity. They believed that there was a place for queer Jews in religion and, not accepted by mainstream congregations, they built their own synagogues.
Bisexual Lia Mandelbaum and Yoni Kollin, who identifies as gay and non-binary, spoke about positive responses to their coming outs. Their families were very supportive and their congregations welcomed them with open arms. Mandelbaum was even invited to speak in her home synagogue on Pride Shabbat directly after the Orlando nightclub shooting in 2016. People were coming to her, asking her questions and even sharing their own struggles with her – for her a powerful sign of acceptance and equality.
Arya Marvazy, JQ International's managing director, talked about a totally different experience. He grew up in a traditional Jewish-Iranian community and thought it would be impossible ever coming out to his family. He didn't have any role models in his youth. Encounters with gay men were answered with harsh and hurtful comments by his family. When he finally decided to speak about his sexuality, encouraged by a friend who struggled with the same traditional background, he promised to come out loudly to everyone else. By doing so, he could serve as a role model.
For Nate Looney, a farmer in the fifth generation, this panel was the first time speaking about being trans* in the Jewish community. Nate converted in Reform Judaism but feels more connected to traditional observance. Transgendered people in Orthodox Judaism are facing several challenges in everyday life. Becoming married meant for Nate speaking to different rabbis about genitalia, figuring out which rules of traditional Judaism apply. Even though being trans* and observing on a higher level might be challenging, Nate doesn't stop asking his fellow congregants: "Why shouldn't I be here?"
Yoni Kollin concluded the panel discussion with a powerful and moving poem about pride—giving the audience courage to not stop fighting for the simple right to exist. There are spaces for LGBTQ+ people in every branch of Judaism. Queer Jews have to make themselves visible, loudly and proudly. Especially in these troubling times, we are facing right now.
Jan Wilkens is a visiting scholar in Jewish Studies and LGBT history from Berlin, Germany.
Disney to require COVID-19 vaccinations for employees
We are requiring that all salaried and non-union hourly employees in the U.S. working at any of our sites be fully vaccinated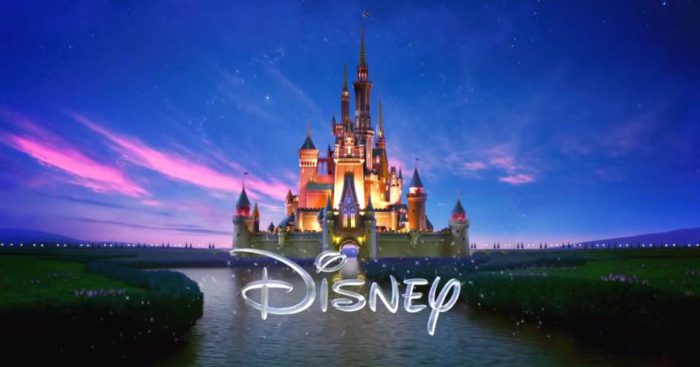 BURBANK – The Walt Disney Company sent a company-wide message to employees based in the United States that they must soon be fully vaccinated to come into the workplace. With Friday's announcement Disney joined a growing number of American companies requiring a COVID-19 vaccination.
Disney said it will give all salaried and non-union hourly employees both vaccinated and unvaccinated who are on-site 60 days to provide verification of vaccination.
The company is having conversations around this topic with the unions representing their employees under collective bargaining agreements.
According to a company spokesperson, "This decision was based on the recommendations of scientists, health officials and medical professionals that vaccinations provide the best protection again COVID-19."
"At The Walt Disney Co., the safety and well-being of our employees during the pandemic has been and continues to be a top priority," according to a statement from Disney. "Toward that end, and based on the latest recommendations of scientists, health officials and our own medical professionals that the COVID-19 vaccine provides the best protection against severe infection, we are requiring that all salaried and non-union hourly employees in the U.S. working at any of our sites be fully vaccinated.
"Employees who aren't already vaccinated and are working on-site will have 60 days from today (Friday) to complete their protocols and any employees still working from home will need to provide verification of vaccination prior to their return, with certain limited exceptions."
The company also said all new hires would be required to be fully vaccinated before their employment begins.
12 Republican Governors tell Supreme Court: Overturn Roe v. Wade
"The arguments made by the Mississippi Attorney General are chilling & pose a direct threat to the many members of the LGBTQ community […]"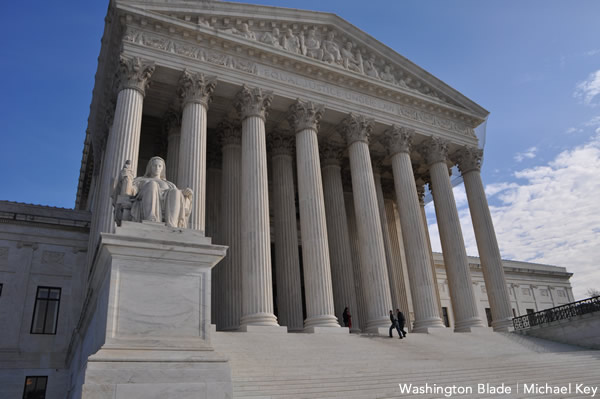 WASHINGTON – In a brief filed Thursday by 12 Republican Governors, joined by 228 Republican members of the U.S. House in a separate brief, all are asking the U.S. Supreme Court to overturn the 1973 ruling of Roe v. Wade, 410 U.S. 113, which protects women's reproductive rights to have an abortion without excessive government restriction.
This most recent push by Republicans comes as the high court is set to hear Mississippi's Dobbs v. Jackson Women's Health Organization case, based on the Mississippi law that bars most abortions after 15 weeks of pregnancy. There are no provisions for rape or incest either.
The Governors from Alabama, Arizona, Arkansas, Florida, Georgia, Idaho, Iowa, Missouri, Montana, Oklahoma, Texas and South Carolina signed the brief.
"The Court's decisions in Roe […] are prime examples of invading an area that has not been committed to the Federal Government and remains reserved to the States," the brief stated. In the brief submitted by House Republicans they argued that the high court should revisit the viability line established in its legal precedent set, because it "binds the States in a one-sided constitutional tug-of-war in which they are subject to intense factual scrutiny on the abortion advocates' issues but unable to establish the factual basis for their own vital interests."
SCOTUS Blog noted that oral arguments along with the briefs as submitted will center on whether all pre-viability prohibitions on elective abortions are unconstitutional.
The arguments made by the Mississippi Attorney General are chilling and pose a direct threat to the many members of the LGBTQ community who have a vital interest in reproductive freedom and choice. Substantial research has documented that lesbian youth, in particular, are at high risk of unwanted pregnancy due to sexual coercion and attempts to hide their sexual orientation," Shannon Minter, the Legal Director of the National Center for Lesbian Rights (NCLR), told the Blade Friday.
"And more broadly, the same groups and officials who are attempting to turn back the clock on women's freedom are also seeking to roll back equality for our communities. Every LGBTQ person in this country has a stake in this case and in the ongoing battle for the fundamental right to make personal decisions free of government intrusion and control," he added.
A U.S. District Court blocked the law after the Jackson's Women Health Center, the only remaining clinic in the state, brought the challenge arguing the law was a direct violation of the High Court's precedent.
The primarily conservative leaning United States 5th Circuit Court of Appeals ruled in December of 2019; "In an unbroken line dating to Roe v. Wade, the Supreme Court's abortion cases have established (and affirmed and re-affirmed) a woman's right to choose an abortion before viability. States may regulate abortion procedures prior to viability so long as they do not ban abortions."
The appellate court upheld the lower court and concluded that "the law at issue is a ban." The 5th Circuit blocked enforcement of the law, finding it in conflict with Roe v. Wade and subsequent abortion decisions.
According to the Center for Reproductive Rights, abortion would remain legal in 21 states and would likely be prohibited in 24 states and three territories if Roe v. Wade is overturned, Axios reported. In 2018, an Axios-SurveyMonkey survey showed that the vast majority of Americans want to leave Roe v. Wade in place.
President Biden announces new COVID rules for federal workers
Biden also urged private companies, manufacturers, and other corporations to get their employees vaccinated.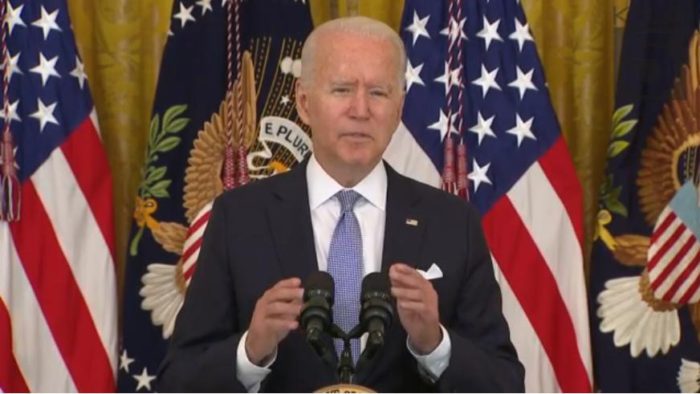 WASHINGTON – President Joe Biden announced in a press briefing in the East Room of the White House Thursday, he has ordered that millions of federal workers across the country will be required to verify they've been vaccinated against the coronavirus or else face mandatory masking, weekly testing, distancing and other new requirements.
The president also plead with "those Americans who are unvaccinated- please go get vaccinated."
Biden also urged private companies, manufacturers, and other corporations to get their employees vaccinated. Speaking about mask requirements that are going to be reinstated as well, the president cited the revised guidance issued by the The Centers for Disease Control and Prevention Tuesday.
The President said that he directed the Pentagon to look into adding the COVID-19 shot to its list of required vaccinations for members of the military. He then added that his administration will take steps to apply similar requirements to all federal contractors.
Biden citing the need to utilize funding from the American Rescue Plan, said that the various state and local governments should use those funds to incentivize vaccinations by offering $100 to individuals who get the shots. He also announced a federal program to fund reimbursements for small- and medium-sized businesses if they offer employees time off to get family members vaccinated.
Biden Delivers Remarks On Covid Vaccinations | NBC News WATCH: