Dr. Ruth Gates, famous lesbian coral reefs scientist, dies at 56
Former UCLA researcher known for her brilliance and laughter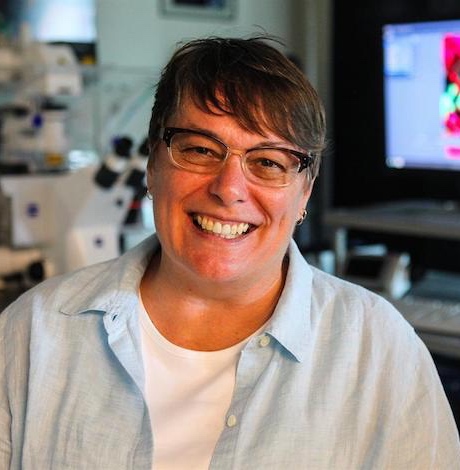 In the world of a 24-hour news cycle vying for attention over tragedy, mass shootings, or midterm politics, the quiet human moments often get lost. Such was the case when Dr. Ruth Gates, a brilliant marine scientist at the University of Hawai'i and coral reefs advocate, passed away from brain cancer in Hawai'i on Oct. 25 at age 56. Her wife Robin Burton-Gates was at her side.
Dr. Gates was renowned for her brilliance as a marine scientist and her charm and infectious bright personality. "Laughing even underwater; that's Ruth," Tracy Ainsworth, a close friend and coral scientist from James Cook University, told the Atlantic Magazine's Ed Yong. "She was so thrilled by the reef that she couldn't contain her joy."
Gates died five months after being diagnosed. "We constantly laughed, even through her treatments," her wife recalled.
A University of Hawai'i spokesperson told the Los Angles Blade that Gates' passion for sharing new scientific discoveries and coral reef conservation came through in her many public speaking events, in the Emmy award-winning film "Chasing Coral" that featured her research, and in communicating the urgency of climate change impacts on marine ecosystems.
"I have heard from hundreds of people, scientists and non-scientists who have expressed their admiration and appreciation for all that Ruth meant to them and to the world," Michael Bruno, UH Mānoa vice chancellor for research, told the Los Angeles Blade. "Ruth's vision and passion will be missed by all of us who were fortunate to have worked with her. Most of all, I will miss her generous spirit. Ruth was always generous with her time and her knowledge, and we were all made better as a result."
Gates' wife and colleagues emphasized that set-backs were barely a deterrence to the scientist, starting with her decision to be a marine biologist in elementary school after watching Jacques Cousteau documentaries.
"She was told she wasn't smart enough, and that she should go into athletics instead," Burton-Gates told The Atlantic. She did both.
Gates was the director of the Hawai'i Institute of Marine Biology (HIMB), a marine biology laboratory located on the state-owned Coconut Island in Kāne'ohe Bay—and she founded a karate school, the Coconut Island Dojo. A third-degree black belt, she would do knuckle and fingertip push-ups to the sound of breaking waves. And "when she hit the practice bag, it sounded like a gun going off," Burton-Gates told The Atlantic.
Born in England, she did her graduate studies and work in Jamaica in 1985, which coincided with the marine biologist community's discovery of the rapid death and bleaching of the coral reefs in the Caribbean.
"Gates showed that these bleaching events were more common in warmer waters—a crucial connection that decades of later work would confirm. It was a terribly important discovery," said Peter Edmunds from California State University, Northridge, a coral scientist and close Gates friend of 34 years.  
After receiving her PhD in Marine Sciences & Biology in 1990, Gates joined the faculty and research staff at the University of California, Los Angeles (UCLA). Thirteen years later, in 2003, she joined the University of Hawaii and started her own lab. It was there that her most significant discoveries in coral preservation and species regenerative efforts were made.
"Ruth was not only a shining star in coral research, but an indomitable spirit in every aspect of life," Gates' friend Judy Lemus, HIMB interim director, told the Los Angeles Blade. "Her enthusiasm was contagious, and she absolutely loved what she did. Her loss will be felt deeply within our own community and throughout the broader research community."
"Gates was a tireless innovator and advocate for coral reef conservation. Coral reefs around the world have experienced massive die off as a result of warming ocean temperatures, increasing acidity, pollution runoff from land and other threats. The focus of her most recent research efforts was creating 'super corals,' coral species occurring naturally in the ocean that could be trained to become more resilient to these harsh conditions," University of Hawai'i's Marcie Grabowski, an Outreach Specialist for UH School of Ocean and Earth Science and Technology told the Los Angeles Blade in an email.
Gates had her detractors but would also admit errors.
"She was always a disruptor," Oregon State University researcher and friend Virginia Weis told The Atlantic. She suspects that Gates faced backlash because she was a female scientist who didn't conform to traditional views of femininity. "The Aloha shirt-wearing guys were threatened by her and it didn't faze her. She wasn't quiet or silent."
"Gates was like a living embodiment of the worlds she studied—a reef in human form," The Atlantic's Yong wrote. "Reefs enrich the oceans by creating spaces in which thousands of diverse species can thrive. Gates nurtured a vast community of researchers by opening doors for them, and supporting their lives."
"Ruth was the first person I had a candid conversation with about what it meant to be a woman in science," said Beth Lenz, who was one of her students.
"She helped me grow into my scientific identity wholly," trans student Shayle Matsuda, added, "and pushed me to be my authentic self unapologetically." 
Out American composer & lyricist Stephen Sondheim dies at 91
Sondheim did not come Out until age 40 & didn't live with a partner until he was 61 when he was in a relationship with dramatist Peter Jones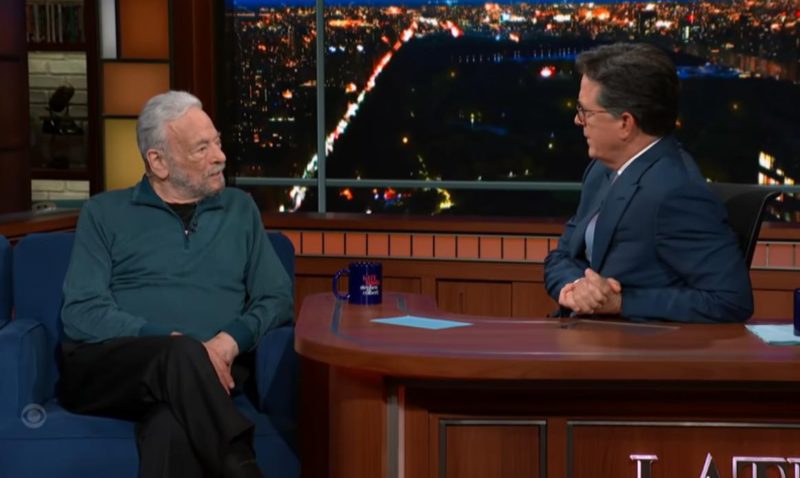 ROXBURY, Ct. – The man who was heralded as Broadway and theater's most revered and influential composer-lyricist of the last half of the 20th century with nine Tony awards alone, Stephen Joshua Sondheim, known for landmark musicals such as "Company," "West Side Story" and "Sweeney Todd, has died at 91.
Sondheim's death was announced by his attorney, Rick Pappas. who said that the composer died Friday at his home in Roxbury, Connecticut. The day before, Sondheim had celebrated Thanksgiving with a dinner with friends in Roxbury, Pappas added.
Stephen Sondheim, the revered and influential composer-lyricist behind some of Broadway's most beloved and celebrated shows, has died at 91. https://t.co/LDynQNwHrr

— New York Times Arts (@nytimesarts) November 26, 2021
An online listing of Sondheim's accolades include nine Tony Awards (including a Lifetime Achievement Tony in 2008), an Academy Award, eight Grammy Awards, a Pulitzer Prize, a Laurence Olivier Award, and in 2015 Presidential Medal of Freedom, bestowed on him by former President Barack Obama.
He has a theatre named for him on both Broadway and the West End in London.
Sondheim has written film music, contributing "Goodbye for Now" for Warren Beatty's 1981 Reds. He wrote five songs for 1990's Dick Tracy, including "Sooner or Later (I Always Get My Man)", sung in the film by Madonna, which won the Academy Award for Best Original Song.
Film adaptations of Sondheim's work include West Side Story (1961), Gypsy (1962), A Funny Thing Happened on the Way to the Forum (1966), A Little Night Music (1977), Gypsy (1993), Sweeney Todd: The Demon Barber of Fleet Street (2007), Into the Woods (2014), West Side Story (2021), and Merrily We Roll Along (TBA).
Sondheim did not come Out until he was 40 and did not live with a partner until he was 61 when he was in a relationship with dramatist Peter Jones. His current partner, actor-producer Jeff Romley and he had been living together for over 6 years at the time of the composer's death.
David LaFontaine, a professor at Massasoit Community College, wrote about Sondheim's early years and the critical friendship that would end up impacting his life, career, and American Theatre;
"Stephen Joshua Sondheim was born in New York City on March 22, 1930, the only child of affluent parents who divorced when he was ten. He believes he might have succumbed to depression had it not been for a friendship that began in the summer of 1941 with the Hammerstein family, who lived near Sondheim on the bucolic Highland Farm in Bucks County, Pennsylvania.
"Dorothy and Oscar Hammerstein became my surrogate parents during my teen years," says Sondheim, "and that's essentially how I became a songwriter, because I wanted to do what Oscar did." During his four years as a student at the George School, Stevie, as he was then called, often spent entire summers at the Hammerstein farm."
Oscar Hammerstein II was an American lyricist, theatrical producer, and director in the musical theater for almost 40 years. He won eight Tony Awards and two Academy Awards for Best Original Song. Hammerstein along with his partner composer Richard Rodgers created some of the notable musicals in Broadway history including Oklahoma! (1943),  South Pacific (1949), The King and I (1951), and The Sound of Music (1959).
This past September Sondheim was a guest on The Late Show with Stephen Colbert, for a conversation that covers a lot of ground, from "Company" to "West Side Story," to a new show titled, "Square One."
Stephen Sondheim Is Still Writing New Works, As "Company" Returns To Broadway
Virginia Tech Co. burns LGBTQ poster at company party- then apologizes
"I'm mortified that our event was interpreted in this way," said Nate Reynolds, the founder and partner of Hypershift Technologies LLC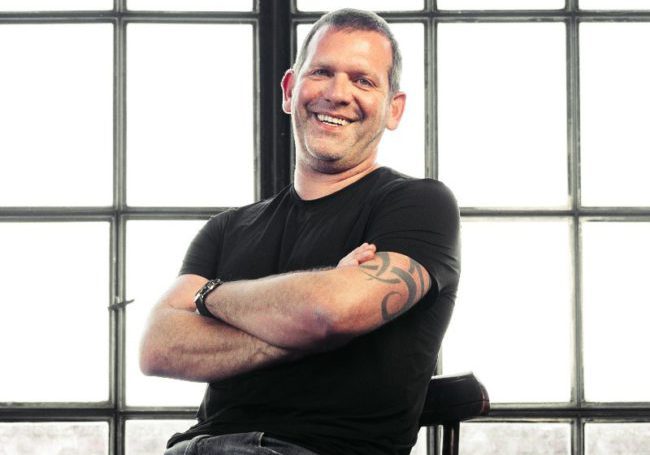 ASHBURN, Va. – The owner of a Virginia technology company that hosted a private Veterans Day party on the grounds of an Ashburn, Va., brewery in which a company employee used a flame-throwing device to ignite a rainbow flag poster said the selection of the poster was a mistake and he and his company have no ill will toward the LGBTQ community.
A customer of the Old Ox Brewery in Ashburn, where the incident took place on its outdoor grounds, made a video of the incident with his cell phone and sent a copy of the video to the Blade.
The video, which includes an audio recording, shows a man using a hand-held flame-throwing device to ignite the rainbow poster, which was hanging from a cable and appeared to be mounted on cardboard or a thin sheet of wood. Bystanders can be heard laughing and cheering as the poster is set on fire.
The poster consisted of a variation of the LGBTQ Pride rainbow flag that included the word "love" configured from an upper white stripe on the rainbow symbol.
The customer who took the video, who has asked not to be identified, thought the decision to set the poster on fire was a sign of disrespect if not hatred toward a longstanding symbol of LGBTQ equality and pride.
Chris Burns, Old Ox Brewery's president, shared that view, telling the Blade he and his staff were "shocked and horrified" when they learned later that a rainbow flag poster had been burned on the brewery's grounds. Burns said Old Ox supports the LGBTQ community and participated in LGBTQ Pride month earlier this year.
He said the company that held the private party paid a fee to hold the event on the brewery's grounds, but the brewery did not know a rainbow poster would be burned.
"I'm mortified that our event was interpreted in this way," said Nate Reynolds, the founder and partner of Hypershift Technologies LLC, the Falls Church, Va.-based technology company that organized the Nov. 11 party at Old Ox Brewery. "I can assure you that ZERO ill-will or offense was meant," Reynolds told the Blade in a Nov. 24 email.
"We held a small private party for a few clients, which included a demonstration of Elon Musk's Boring Company 'Not a Flamethrower,'" he said in his message. He was referring to one of billionaire businessman Elon Musk's companies that specializes in boring through the ground to create tunnels for cars, trains, and other purposes.
"After so many being isolated during COVID, we wanted to have an event that was lighthearted and to some small effect, silly," Reynolds said in his message to the Blade.
According to Reynolds, in thinking about what should be used for "fodder" for the flame-thrower, he went to a Five Below discount store and purchased items such as stuffed animals and posters, including a "Space Jam" movie poster as well as what he thought was a poster of the British rock group The Beatles.
"When I pulled the Beatles poster out of the tube it was instead the 'Love' poster," he said, referring to the rainbow flag poster the Blade asked him about in an earlier email.
"All I focused on was the 'Love' wording and not the rainbow and did not draw the conclusion that the poster was an icon that represents the LGBTQ community," Reynolds said. "It was my own ignorance of not connecting the symbolism of the poster. If I had realized it was a symbol of the LGBTQ community, I would not have used it," he said.
"I feel terrible, and I want to emphasize that I am solely responsible for this mistake – not the Old Ox Brewery," he wrote in his message. "Nobody at Old Ox had anything to do with this activity."
Reynolds added, "Hate has no place in my heart, and I sincerely apologize for any offense that could have been drawn from what I now realize was poor judgement on my part. I simply didn't correlate this poster with the LGBTQ pride symbol."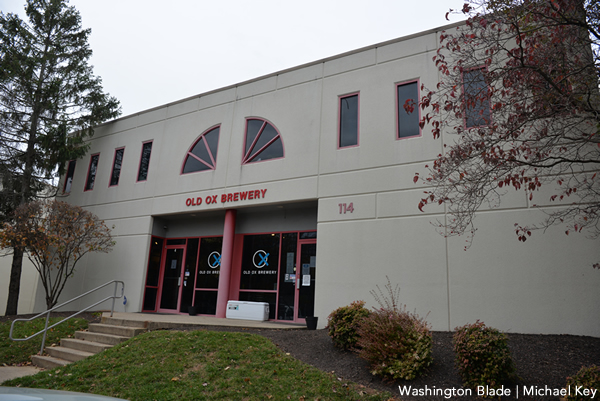 Before Reynolds issued his statement of apology, Burns, the Old Ox Brewery co-owner, told the Blade in an email he was "saddened and upset" over the rainbow poster burning on the grounds of his brewery.
"We do not wish to benefit from this event," he said in his email message. "Therefore, Old Ox is donating 100% of the revenue generated from the private event to GLSEN."
GLSEN is a national LGBTQ advocacy group that focuses on education and support for LGBTQ youth. Burns said Old Ox Brewery also donated proceeds from a Pride month event it organized earlier this year to GLSEN.
LGBTQ activists and organizations contacted by the Blade said they were unfamiliar with the variation of the rainbow flag with the word "love" that was the subject of the poster burning incident. The poster is available for sale at Five Below stores in the D.C. metropolitan area for $5.
Small print writings on the poster show it is produced by Trends International LLC, which describes itself on its website as "the leading publisher and manufacturer of licensed posters, calendars, stickers and social stationery products." The Blade couldn't immediately determine who designed the poster.
The video of the poster burning incident can be viewed here:
New virus variant stokes global alarms, flights banned from South Africa
The variant is classified as a highly transmissible virus of concern, the same category that includes the Delta variant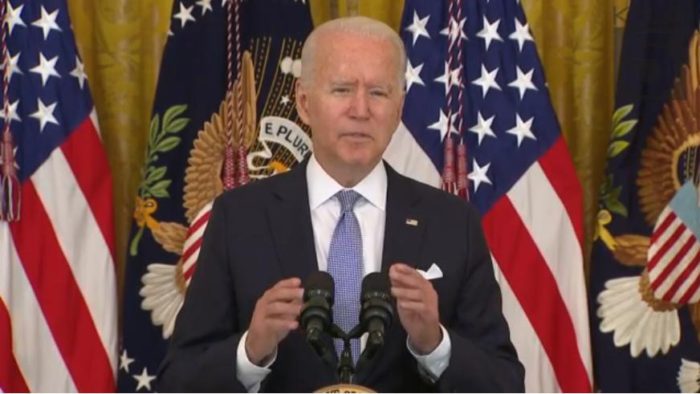 NANTUCKETT, Ma. – The World Health Organization declared a new variant of the mutated coronavirus it named Omicron as a variant of concern Friday. The variant is classified as a highly transmissible virus of concern, the same category that includes the Delta variant, the world's most prevalent.
"This variant has a large number of mutations, some of which are concerning," the WHO said in a statement Friday afternoon.
"Preliminary evidence suggests an increased risk of reinfection with this variant, The number of cases of this variant appears to be increasing in almost all provinces in South Africa. Current SARS-CoV-2 PCR diagnostics continue to detect this variant. Several labs have indicated that for one widely used PCR test, [has shown] this variant has been detected at faster rates than previous surges in infection, suggesting that this variant may have a growth advantage," the WHO noted.
The Omicron variant has already caused countries across Europe and Asia to implement travel restrictions.
President Joe Biden, spending the Thanksgiving Holiday weekend with his family on Nantucket Island, Massachusetts off Cape Cod, on Friday issued a directive ordering additional air travel restrictions from South Africa and seven other countries. These new restrictions will take effect on November 29.
Bloomberg reported that one of Biden's top medical advisers said earlier Friday that officials would act after reviewing scientific data with counterparts in South Africa.
American health officials spoke with their South African counterparts midday New York time on Friday to gather medical and scientific data about the newly discovered variant.
Dr. Anthony Fauci, one of Biden's top health advisers, said they'd use that data in deciding whether to join the European Union, the U.K. and others in restricting travel.
The White House issued the President's statement Friday afternoon:
"This morning I was briefed by my chief medical advisor, Dr. Tony Fauci, and the members of our COVID response team, about the Omicron variant, which is spreading through Southern Africa. As a precautionary measure until we have more information, I am ordering additional air travel restrictions from South Africa and seven other countries. These new restrictions will take effect on November 29. As we move forward, we will continue to be guided by what the science and my medical team advises. 

For now, I have two important messages for the American people, and one for the world community.

First, for those Americans who are fully vaccinated against severe COVID illness – fortunately, for the vast majority of our adults — the best way to strengthen your protection is to get a booster shot, as soon as you are eligible.  Boosters are approved for all adults over 18, six months past their vaccination and are available at 80,000 locations coast-to-coast.  They are safe, free, and convenient.  Get your booster shot now, so you can have this additional protection during the holiday season.

Second, for those not yet fully vaccinated: get vaccinated today.  This includes both children and adults.  America is leading the world in vaccinating children ages 5-11, and has been vaccinating teens for many months now – but we need more Americans in all age groups to get this life-saving protection. If you have not gotten vaccinated, or have not taken your children to get vaccinated, now is the time.

Finally, for the world community: the news about this new variant should make clearer than ever why this pandemic will not end until we have global vaccinations. The United States has already donated more vaccines to other countries than every other country combined. It is time for other countries to match America's speed and generosity.   
In addition, I call on the nations gathering next week for the World Trade Organization ministerial meeting to meet the U.S. challenge to waive intellectual property protections for COVID vaccines, so these vaccines can be manufactured globally.  I endorsed this position in April; this news today reiterates the importance of moving on this quickly."