November 8, 2018 at 8:39 am PST | by Karen Ocamb
13 dead at Thousand Oaks bar shooting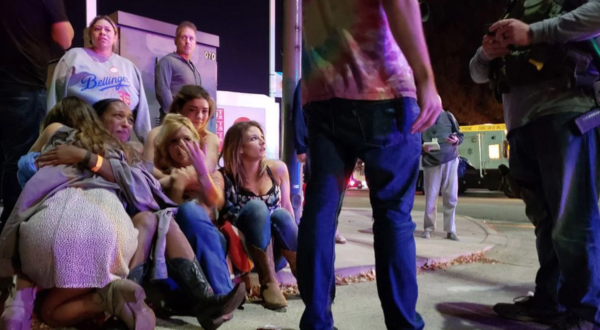 Lessons learned from the mass shooting at the Pulse Nightclub in Orlando helped save lives Wednesday night as a gunman opened fire inside the Borderline Bar & Grill, packed with college students on Freshman Night dancing to country western tunes. According to Venture County Sheriff Geoff Dean, scores of young people broke windows and jumped out, ducked down to cover others or run or otherwise sought to escape as soon as they heard the sounds of guns shots around 11:15pm.
Apparently, 28-year-old Ian Long of Newbury Park, a former Marine, shot the security guard outside, then entered the bar, crowded with roughly 150-200 young people, threw smoke bombs and began randomly shooting with a Glock .45- caliber handgun, which holds 10 rounds, plus one in the chamber, though Long also had an extended magazine.
Another lesson learned from Pulse and other mass shootings is that law enforcement does not wait for SWAT to arrive. One eyewitness said that police "came hard and fast—who knows how many people they saved." Ventura County Sheriff's Sgt. Ron Helus, who had just hung up from talking to his wife on his cell phone, was one of the first to enter. He was shot several times and died at a hospital. A 29-year veteran of the department with a grown son, Helus intended to retire next year. He is being called a "hero" by those on the scene, Gov. Jerry Brown, and newly-elected Congressmember Katie Hill.

Sheriff Dean said 13 people were dead, including Helus and the shooter, who apparently died of a self-inflicted wound. However, "many lives were saved" by the fast action of what young people had been taught to do in mass shootings. "It could have been much worse," Dean told reporters Thursday morning, ironically his last day on the force.
"It's a horrific scene in there," Dean said. "There's blood everywhere." Asked by a reporter why mass shootings happen so frequently in this country, Dean paused, the said: "If I knew that, I'd do something to stop it."
Dean noted that he recently spoke at a local Jewish community meeting after the mass shooting at the Tree of Life Synagogue in Pittsburgh. "We've got to do something about the hate," he told the rabbi.
"It doesn't matter how safe your community is, it doesn't matter how low your crime rate is — there are people who just don't think properly everywhere, I don't care where you are, and they commit horrific acts like this. There's no way to process," Dean told reporters. "There's no way to make sense out of the senseless."
"This is a safe place. My parents let me go here. This is a trusted place," Erika Sigman, 19, told the Los Angeles Times. She raced toward an exit as soon as screams erupted. "To know that this happened in my safe place is a very, very scary thing."
LGBT leaders responded immediately, including Pulse survivor Brandon Wolf: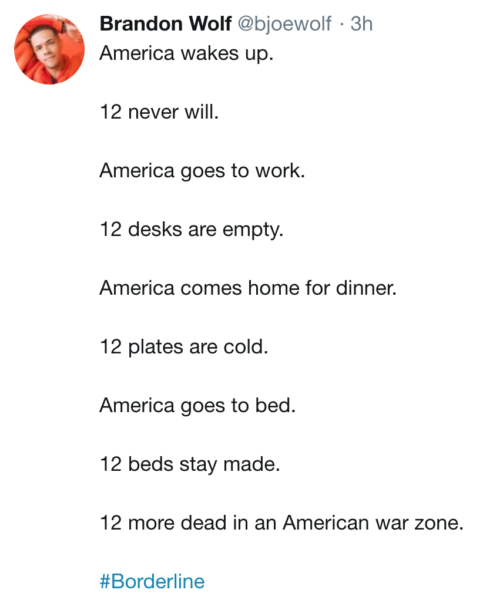 Human Rights Campaign President Chad Griffin also tweeted out his heart break:
The consciousness of gun violence—promoted most recently and effectively by the survivors of the mass shooting in Parkland, Florida—is apparently sinking in with America's young people and may become an even stronger issue in future elections: