December 10, 2018 at 8:49 am PDT | by Karen Ocamb
Perez Hilton to Kristin Chenoweth: Bow out of Mormon gig (Video)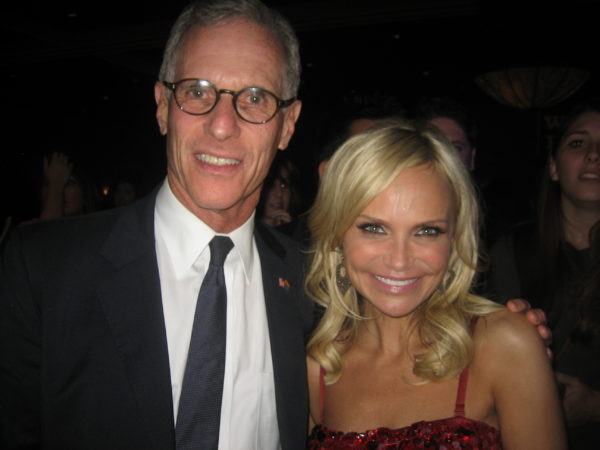 LGBT rights activist Fred Karger tried to warn Broadway superstar and LGBT icon Kristin Chenoweth about the turbine of trouble awaiting her if performs with the famous Mormon Tabernacle Choir for its Christmas extravaganza this week. Karger has been exposing the harmful anti-LGBT bias of The Church of Jesus Christ of Latter-day Saints since their secret machinations funding the anti-gay marriage initiative Prop 8 in 2008.
"We tried going through back-channels to let Kristin know that this was a big mistake," Karger wrote in an op-ed for the Salt Lake Tribune. He delivered a letter to her manager, Michael Rottenberg with 3 Arts Entertainment in New York but never heard back."
Karger, head of Rights Equal Rights and MormonTips.com—where he's gathering evidence to prove that the church doesn't merit its tax-exempt status—believes the singer is being used by the church as one of many "smokescreens to appear accepting of LGBTQ people, while at the same time increasing its cruelty toward LGBTQ Mormons by its words and policies that cause immeasurable harm."
In his letter to Chenoweth, Karger wrote that her participation in the concert "is an affront to the LGBTQ community and especially to all the LGBTQ young Mormon church members who face bigotry, bullying and hate coming from their Mormon church leaders on a daily basis."
Chenoweth says the show will go on. "Lots of times in my industry, I work with people that don't believe like me," Chenoweth wrote in an email to the Salt Lake Tribune. "I do think music is a healer and brings people together who might not normally see eye to eye. For sure I am an LGBTQ lover and activist. The Mormon Tabernacle Choir knew this when they asked me to sing."
Chenoweth seems unmoved by the controversy.
"I have faced adversity before for my different beliefs," she told the Tribune. "I know the LGBTQ community knows I love them and stand with them. And it will be shown at this special weekend of concerts. We must move forward in love. If we can't, we cannot expect change."
Troy Williams, executive director of Equality Utah, apparently agrees, hoping she'll build bridges. "Well, it's clear that gays and Latter-day Saints both love Broadway divas," Williams told The Tribune. "Kristin is a true ally and friend to our community. … She is the perfect example of how one can be both a person of faith and radiate unconditional love to LGBTQ Utahns."
Perez Hilton, however, a huge Chenoweth fan, posted a video in which he says he's disappointed and hurt and asks people to sign Karger's Change.org petition to the singer. He says:
"I  love Kristin Chenoweth. I am a longtime fan of hers. She's such a talent. AND I'm very disappointed to hear that she's performing with the Mormon Church's Tabernacle Choir. The Mormon Church has caused me pain – truly, has discriminated against gay people in America. They are anti-LGBTQ. In fact, this is true – you can Google this – the Mormon Church donated so much money to pass Proposition 8 in California back in 2008 to make it illegal to have same sex marriage here. Thankfully we defeated that and defeated them.

And I am encouraging you – to sign a Change.org petition or to take to social media with hashtage #BowOutKristin – to encourage my friend Kristin Chenoweth not to sign with the Mormon Church's Tabernacle Choir. Hopefully, this video gets to her as well because I genuinely love her and I hope she can see how many people are not happy that she's aligning herself with people who don't support me and others that she does support. So have a great day and do your part."
Karger's annoyance is not just about her singing three free concerts Dec. 13-15  at the 23,000-seat Mormon Church Conference Center. It's that Chenoweth will be performing on the same stage where Dallin H. Oaks, a member of the First Presidency, re-iterated the Church's anti-LGBT policy, despite its promotion of suicide prevention and public preening that it no longer avows the discrimination that often leads to LGBT suicide in the state with the highest rates in the country for 11-17 year olds.
"Our knowledge of God's revealed plan of salvation requires us to oppose many of the current social and legal pressures to retreat from traditional marriage or to make changes that confuse or alter gender or homogenize the differences between men and women. We know that the relationships, identities and functions of men and women are essential to accomplish God's great plan," Oaks said at the General Conference last October.
Many were shocked and hurt. Mama Dragons, a support group created in 2012 for mothers of LGBT children, posted a statement on Facebook: "In light of the harmful rhetoric heard by our LGBTQ Mormon friends this past weekend from the pulpit at LDS General Conference, we as Mama Dragons would like to reiterate our unequivocal support of our LGBTQ children and the entire queer community. We remain committed to our mission of providing support and education to mothers and to condemning discrimination in any form. We love you. We celebrate you exactly as you are."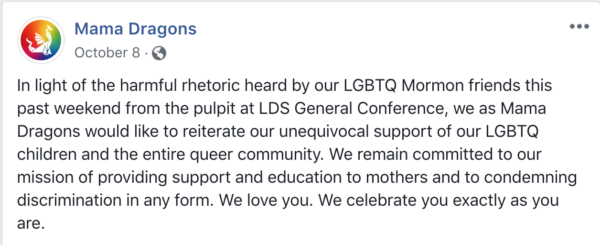 But the Church has decided to double down. "Known from its beginnings as the Mormon Tabernacle Choir, the Choir changed its name in October 2018 to more closely align with its sponsoring organization, The Church of Jesus Christ of Latter-day Saints. The Choir is now called 'The Tabernacle Choir at Temple Square,'" according to the Mormon Newsroom.
For Karger, that makes Chenoweth's appearance more troubling is that in accepting an honor from The Trevor Project, she spoke so movingly about her best friend Jeff who took his own life after being bullied.
"Her mere presence with the Tabernacle Choir gives her a giant stamp of approval to the church's homophobic policies of bigotry, hate and shaming. Surely, the LGBTQ community can expect better from its allies," Karger says. "Let her know about the thousands upon thousands of LGBTQ Mormon youth who are at risk and continue to suffer from the constant bullying and policies from Mormon Church leaders. Kristin Chenoweth needs to choose sides in this fight right now."
Click here for Karger's Change.org petition.
(Photo of Fred Karger with Kristin Chenoweth at GLAAD Awards April 11, 2011 courtesy Fred Karger)