Nancy Pelosi visits Christmas tree decorated in her honor
Gay manager decorates tree in honor of soon-to-be House Speaker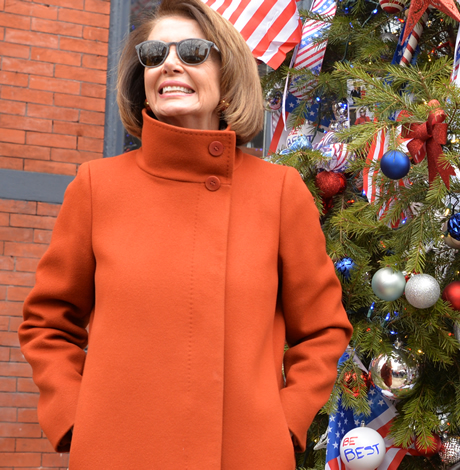 House Minority Leader Nancy Pelosi (D-Calif.) told LGBT activists and others who joined her on a visit Friday to a Christmas tree outside Floriana Restaurant on 17th Street, N.W. in Washington, D.C. that's dedicated to her that she will give top priority to passing an LGBT rights bill in 2019.
Dito Sevilla, who works as Floriana's bar manager, said he has been in charge of arranging for the installation of a large Christmas tree on the plaza in front of the popular Italian restaurant. He said he decorates the tree each year with a different theme, drawing the attention of Floriana customers and nearby residents and visitors.
"This year I said, 'oh my God, it has to be Nancy Pelosi,'" he told the Blade. "She's going to be our next Speaker. She's the Democratic leader. And she looks terrific. And so that's where it all began."
The 17-and-a-half-foot tall Douglas fir tree has a large photo of Pelosi holding the Speaker's gavel from when she was House Speaker in 2007 as its tree-top ornament. In addition to having more than 9,000 lights glowing at night, Sevilla placed on the tree more than a dozen American flags and large white ribbons with the names of the women elected to the U.S. House in the 2018 mid-term election along with photos of some of them.
"This is really something," said Pelosi when she arrived at the site at 1602 17th St., N.W. "It's really remarkable. I'm going to show the pictures to my grandchildren."
Among those joining Pelosi were members of her staff and friends and well-wishers, including several gay activists who live in the neighborhood. Among them were former Gay and Lesbian Activists Alliance President Rick Rosendall and Democratic activist and political commentator Peter Rosenstein.
Pelosi agreed to numerous requests by neighborhood residents to pose with them for photos.
When asked by the Blade whether she thought the LGBT rights bill known as the Equality Act would come up for a vote in the House after Democrats take control of the body in January, Pelosi said she was certain the measure would pass in the House.
"But the way that we will be successful – not only that we can pass it but we want it to become law," she said referring to its prospects of passing in the Republican-controlled Senate.
"So we think our best friend in all of this will be public opinion," she said. "The public sees what this is and says let's just get on with it – let's just get on with it."
Pelosi said that along with the Equality Act, House Democrats would be pushing hard for "responsible background checks to end gun violence" and for legislation to protect "dreamers," the mostly young undocumented immigrants who were brought to the United States as children and who have lived in the U.S. most of their lives.
Humbled to have had the chance to visit the "Pelos-Tree" today — honoring our newly elected House Democratic women! Together, we can return a respect for our common humanity & our environment to our country. You all inspire us each & every day! #ForThePeople pic.twitter.com/y1lN9YPJgY

— Nancy Pelosi (@NancyPelosi) December 15, 2018
Sevilla said Pelosi's visit was initiated by some of her staff members who live in the neighborhood.
"The tree started getting some traction and people started getting their picture taken in front of it and hash-tagging it," he said. "And a couple of people from her office I think live up the street and they ended up stopping by. And they said we have to bring her by. She would love this," he said.
"And one thing led to another and they gave me a call…and here they are," said Sevilla.
Marjorie Taylor Greene tweets homophobic attack on Sen. Wiener
"Greene is a toxic person & embodies why the MAGA movement is dangerous, a threat to our democracy & to the personal safety of LGBTQ people"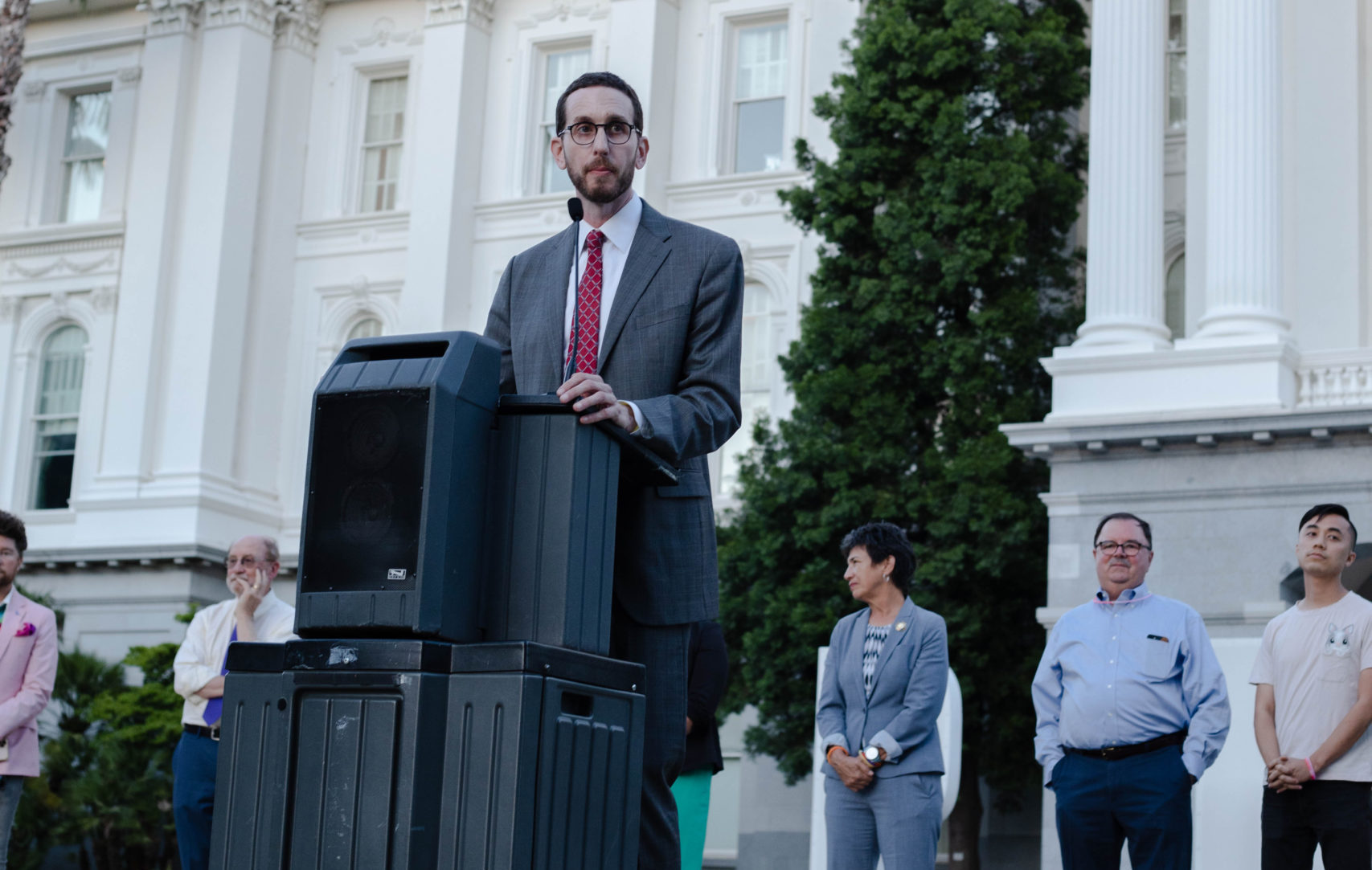 LOS ANGELES – Far-right Republican U.S. Rep. Marjorie Taylor Greene attacked Calif. State Sen. Scott Wiener, (D-San Francisco) on Tuesday after Wiener made a point of calling out use of the word "groomer," as the abusive reaction and fallout from right-wing sources regarding the mass-shooting at Club Q in Colorado Springs, continues to ratchet up against the LGBTQ+ community.
"The word "groomer" is categorically an anti-LGBTQ hate word. It's super homophobic/transphobic. It plays into the slander that LGBTQ people are pedophiles. It's no different than calling someone a fagg*t. If you call someone groomer, you're inciting violence against LGBTQ people," Wiener stated in his tweet.
Quoting Wiener's tweet the far-right MAGA Georgia congresswoman called the Senator a "communist" questioning Wiener's loyalty and service to both the State of California and the U.S. she then went on to accuse Wiener of being a "groomer" implying that the Senator was a predator of minors for sexual purposes:
"Pass my Protect Children's Innocence Act to stop communist groomers like this from using state government power to take children away from their parents to allow a for-profit medical industry to chop off these confused children's genitals before they are even old enough to vote."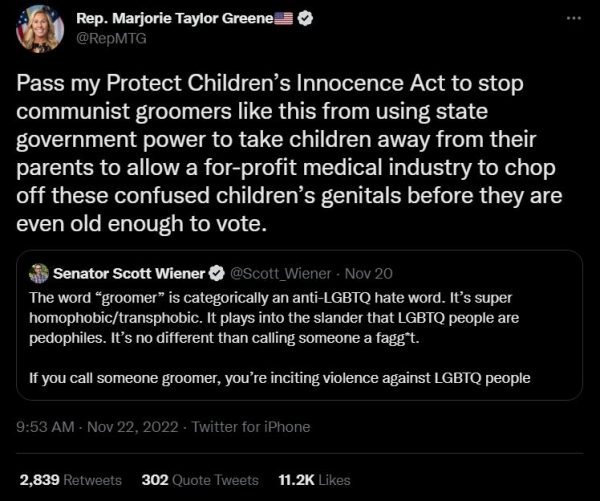 In an emailed statement, Senator Wiener responded to the homophobic attack by the Georgia Republican:
"The same day Elon Musk reinstated QAnon extremist Marjorie Taylor Greene, she launched a vile homophobic attack on me because of my vocal advocacy in response to the Club Q slaughter. When Greene has attacked me in the past, threats against me have typically increased. She is a toxic person and embodies why the MAGA movement is so dangerous. Green is a threat to our democracy and to the personal safety of LGBTQ people."
The term 'groomer' is considered highly offensive as it broadly brushstroke paints LGBTQ+ people as child molesters.
The definition according to the Urban online dictionary:
1 (the crime definition): An adult that builds a sense of trust with a minor to exploit and/or abuse them, typically (but not always) in a sexual manner. This is a crime, and it also causes harm to the minor.
2 (in US politics): What republican politicians and supporters refer to LGBTQIA+ people and their allies as, to manipulate their audience to pass anti-LGBTQIA+ legislation. This is targeting and harming LGBTQIA+ people and the people using the word in this manner typically are (or have connections with those who are) actual groomers.
National Public Radio, (NPR) reported this past May the Movement Advancement Project's executive director, Ineke Mushovic, pointed out:
"What the far right often does is they engage people's reptilian brains, the fight-or-flight instinct," says Mushovic. "And so it behooves far-right conservatives to put people in a state of fear, because then they're reactive. They don't support change."
The "grooming" narrative, Mushovic added, "taps into this primal sense of fear and this kind of parental protective instinct. But we know it's a completely false narrative."
The "grooming" narrative has been actively promoted by conservative activist Christopher Rufo, and Daily Wire pundit and transphobe Matt Walsh who have both attacked gender affirming care in their assaults on the LGBTQ+ community.
It took three days after the mass shooting at Club Q for the Daily Wire's Matt Walsh to blame the victims for the massacre. pic.twitter.com/08kitTdpMt

— Ari Drennen (@AriDrennen) November 22, 2022
Green's H.R.8731 – Protect Children's Innocence Act, was introduced this past August 19 and has forty-nine Republican members listed as co-sponsors. The language as introduced stated targets primarily Trans youth healthcare and targets colleges and universities from "offering instruction in gender affirming care:"
This bill places restrictions on the provision of gender affirming care. Gender affirming care includes performing surgery, administering medication, or performing other procedures for the purpose of changing the body of an individual to correspond to a sex that differs from the individual's biological sex.
Specifically, the bill makes it a felony to perform any gender affirming care on a minor and it permits a minor on whom such care is performed to bring a civil action against each individual who provided the care.
Additionally, the bill prohibits the use of federal funds for gender affirming care or for health insurance that covers such care. Such care may not be provided in a federal health care facility or by a federal employee. The bill also prohibits qualified health plans from including coverage for gender affirming care. Further, plans that include coverage for such care are not eligible for federal subsidies. […]