Drag yourself into winter
Lady Bunny, Jackie Beat make the season bright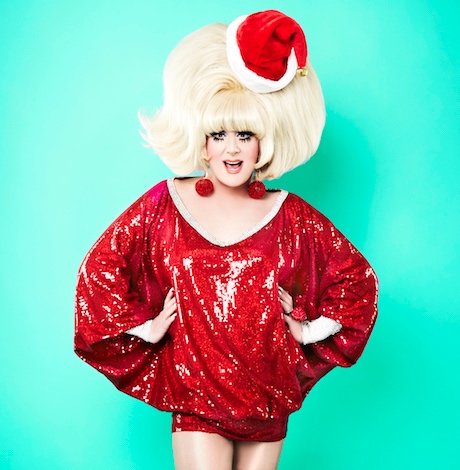 Winter solstices come, and winter solstices go. But this time around the sun, two icy hot queens are bookending Dec. 21 with shows sure to outshine 2018's shortest day — by supplying Toms, Dicks, Marys and allies with all the requisite shenanigans necessary to embark upon the holiday slog all merry and bright (and possibly tipsy).
On Dec. 20, Lady Bunny — legendary NYC drag queen, Wigstock creator, and go-to "RuPaul's Drag Race" punchline — somehow shimmies down the narrow chimney, to gift Catalina Jazz Club (6725 Sunset Blvd.) audiences with her new holiday show, "The Stockings Were Hung." Not to be outdone, LA's own Jackie Beat has two gigs on Dec. 22: "Ross Mathews' Dragtastic Bubbly Brunch, Holiday Edition" at Rockwell (1714 N. Vermont Ave.) with its namesake in attendance), then "Hamburger Jackie's WeHo Holiday Edition" at Hamburger Mary's (8288 Santa Monica Blvd.).
We spoke with both queens, for a piping pot's worth of spilled tea sure to rip your funny bone a new one, as if a mug of hot chocolate had aggressively topped a candy cane. One toss of the dice on the part of this reporter (a thinly veiled drinking game only partially sanctioned by the Blade) determined who went first. Fate chose Miss Beat as our winner.
Asked how she'll pace liquid courage consumption and parcel her rage for those two Dec. 22 gigs, Beat answered, "Actually, I don't drink — unless you count gravy. Yep, no alcoholic beverages for me. That's why I'm such a horrible c**t. Can we use that word? And as far as my rage is concerned, it's all an act, honey. I'm the nicest bitch you'll ever meet. It's true… ask anyone. F**KING ASK THEM!"

Her all-caps declaration heard loud and clear, talk turned to this reporter's attendance of Beat's recent run, at NYC's Laurie Beechman Theatre, of "Menstrual Krampus," a filthy, tune-filled anecdote to Hallmark-friendly seasonal cheer. Will there be crossover content in any of these LA shows?

"Menstrual Krampus," Beat said, "was my 20th annual holiday show, so I have a lot of material to choose from. I am proud to say that I have ruined just about every holiday song you can think of. I also have songs about Hanukkah and Kwanzaa. I try to offend everyone. These shows will probably be more of my time-tested, crowd-pleasing classics. Also, people are eating, so I may have to avoid some of my more repulsive numbers!"

As for what makes the Hamburger Mary's gig a very special Yuletide version of her monthly "Hamburger Jackie's" show, your hostess promised "holiday looks and numbers" from "me and my special guests, Marta Beatchu and Roz Drezfalez" — both of whom, Beat noted, will also be "pulling a double shift that day" (they're on the bill for both Dec. 22 Beat gigs). "And the noon brunch at Rockwell will also feature Tia Wanna and the gorgeous Sonique. I'm super excited to see Sonique do her new Christmas song, 'Santa Please Come Home,' live on stage! People always ask me how I can push myself so hard, especially at my age, by doing brunch and then a dinner show. You'd be surprised what I'll do for free food. Free food tastes better!"
Now that we've given you a Beat, Miss Jackson, prepare to dine out on the wit and wisdom of Bunny, whose "Pig in a Wig" comedy, music and commentary show was seen by this reporter, during a post-Thanksgiving trip to his familiar NYC haunt, the Beechman. The free drink that came with the press comp proved an irresistible draw. That, coupled with the venue's reasonably priced fried calamari, kept this intrepid correspondent in his seat long enough to fall, all over again, for a very special Lady. (Don't get your hopes up, mother. Even if the love were requited, this gal lacks the plumbing required to produce those grandchildren you're forever yapping about.)

Ever the trooper, Bunny became a willing sub — substitute, that is — for the divine Ginger Minj, when dental surgery forced her to bow out (Minj makes it to the venue Jan. 18-20, with her "Happy New Queer" collection of mirth and gay anthems). "It was late notice, and I was suffering from throat issues," Bunny recalled. "But when you're filling in for someone, you can't cancel." Some of the material, she admitted, "wasn't ready."

And, yes, a cheat sheet was referred to more than once, and there were a few lip synch fails. But witty asides, knowing glances, and a down and dirty reworking of the "Despacito" lyrics combined to provide an effective treatment for Lady Bunny's lack of prep. (As in preparation, not PrEP. Must you forever be pointed in the direction of the gutter?)
As for what makes her Los Angeles show tick, the mother of all tuckers said, "I just thought to myself, 'Why should Mariah Carey be the only holiday heifer straining to hit her high notes?' There will be some non-Christmas stuff, but it's basically Christmas with an atheist." And trigger warning trolls, beware: "If you think 'Baby, It's Cold Outside' is offensive, and 'Santa Baby' should also be banned, as 'Baby' has been from Canadian radio stations for being too creepy and rapey, don't come to my show," Lady Bunny said. "But do come to my show, if you'd like to hear my classics, like 'I Saw Daddy Fisting Santa Claus.' My tunes are intentionally offensive, and, hopefully, hilarious."
For tickets to all of the gigs our queens so shamelessly plugged, visit catalinajazzclub.com, rockwell-la.com, and hamburgermarys.com/weho. Artist info at missjackiebeat.com and ladybunny.net.
BONUS QUESTION FOR OUR QUEENS:
If you got the other one for Secret Santa, what, from your online store, would you gift her with?
BUNNY: "I would have to use up a lot of my T-shirts to fashion a noose for Jackie, as she is rather heavy — but it's a worthwhile pursuit."
JACKIE: "I guess one of my gorgeous new T-shirts — in extra large, of course. It could cover a plethora of nasty figure flaws… Or maybe one of my sleep masks featuring my world-famous, award-winning eye makeup, that she could wear for shows when she's feeling too tired to paint her face. I mean, she's ancient."
A fine 'Bro'-mance
Eichner, Macfarlane performances essential to movie's appeal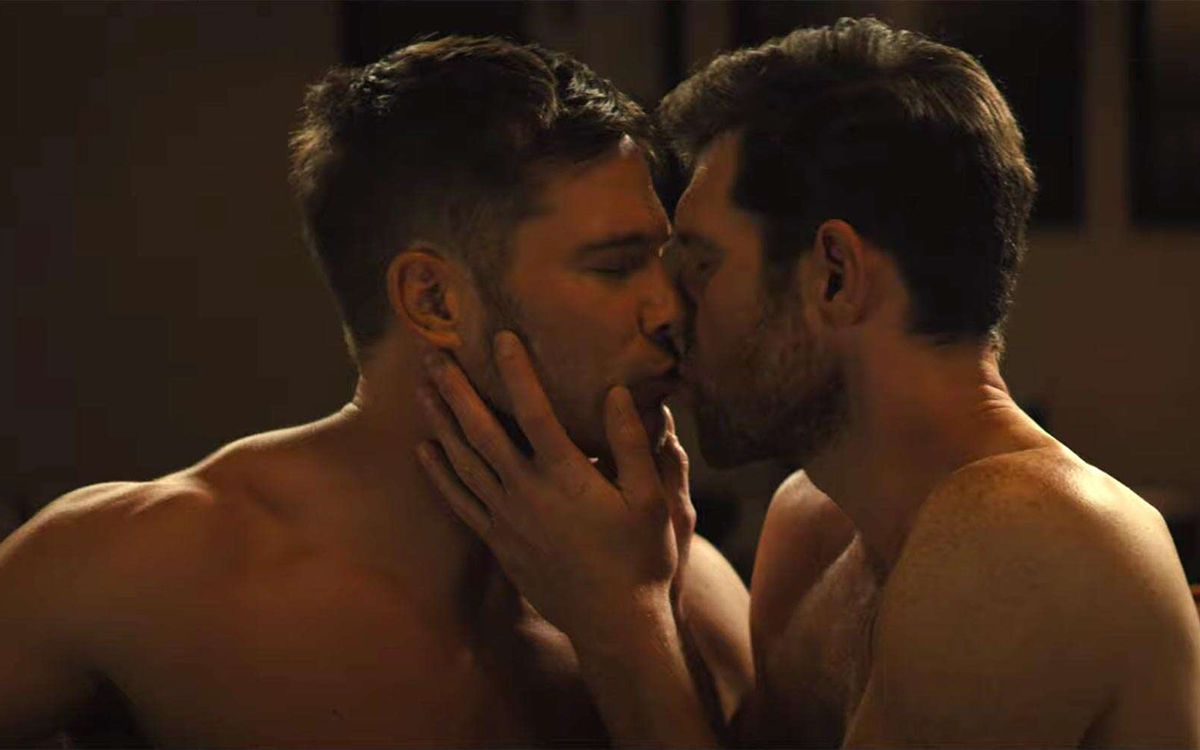 If you're reading this, you probably already know that "Bros" is a history-making milestone for LGBTQ representation in the movies — the first gay romantic comedy produced by a major Hollywood studio, written by an openly gay man (Billy Eichner) who also stars in it – and that it was made with queer talent filling virtually every role, both on camera and off. The "Billy on the Street" writer/comedian/actor, true to his brand, has been loud-and-proud about his efforts to foster authenticity and inclusivity throughout the making of his film, and rightly so.
Still, now that his much-anticipated movie is finally out, we can finally stop talking about all that. After all, even when a movie scores as many points for LGBTQ representation as this one does, what really matters is whether or not it's actually any good.
When Eichner was tapped to make his film for Universal, many may have assumed it would be a showcase for his signature comedic persona — acerbic but disarmingly funny, more than a touch manic, somehow confrontational, defiant, and self-deprecating all at the same time — that would also poke fun at a heteronormative genre beloved just as often by its queer fans for its camp value as for anything else. This expectation seemed all but confirmed when Eichner announced the casting of actor Luke Macfarlane – known for playing handsome hunks in the very romcoms his movie would presumably be sending up – as his love interest.
As it happens, those assumptions were not entirely wrong. "Bros" is unabashedly autobiographical in tone, presenting Eichner essentially as an alternative version of himself if he had been a queer history scholar and author instead of a poly-hyphenate show biz celebrity; his character, Bobby Lieber, has even got a podcast, allowing him to voice the kind of take-no-prisoners witticisms and shrewdly queer observations about life and culture for which both versions of himself have become famous.
While at a launch event for a new dating app, Bobby meets Aaron (Macfarlane), who – as one of the crowd of shirtless gay scenesters he's used to being ignored by, he assumes is shallow, not too bright, and not into him at all. It turns out he's wrong on all counts, and the two men soon find themselves drawn into a relationship, despite some serious issues around commitment and the fact that they seem to have nothing in common.
All of this is a perfect match for Eichner's comic sensibilities – he's built his image on calling out society for the absurdity of its assumptions, the illogic of its priorities, the depth of its shallowness, and "Bros" gives him plenty of opportunity to do exactly that, as well as plenty of fodder for his usual zingers and pop-culture references. It's very much the kind of savagely iconoclastic spoof we would expect from its creator, making fun of social conventions (both gay and straight) and lampooning everything from awards-show stunt fashion to celebrity athletes coming out of the closet to "Dear Evan Hansen" — but it's not nearly as scattershot as it sometimes feels. There's a method to Eichner's madness, and it hinges on reminding us that we are all, from a certain perspective, utterly ridiculous.
If that were all that "Bros" accomplished, it would be enough, but it gives us so much more. Not content to simply settle into familiar territory, he sets his sights on rising to the level of the romance classics he boldly references throughout, from "When Harry Met Sally" to "You've Got Mail" to "Manhattan." With the help of director and co-writer Nicholas Stoller, whose sure-handed cinematic sensibility allows the star's broadly satirical strokes and flights of absurdist fancy to flourish while still remaining grounded, he succeeds.
In large part, this is because Eichner's screenplay doesn't fall into the trap of being governed by the same tropes and expectations it makes fun of. Instead, it undermines them to take us further; unlike many romances, this one goes past the feel-good "falling in love" stuff and explores what it's like for two adult men to build a relationship that works. It's hardly a spoiler to say that's not an easy or comfortable process, especially for a generation that came of age under the lingering shadow of widespread homophobia, but "Bros" is willing to go there – and because of that, its seemingly mismatched and dysfunctional lead couple are infinitely more relatable.
That doesn't mean Eichner and Stoller ever allow their movie to become a "bummer." Things might get a little messy from time to time, but what relationship doesn't? By choosing to give "Bros" the kind of maturity that's able to weather the storm, they've built something deeper and more lasting – the kind of movie that's worthy of setting a few milestones – without sacrificing any of the comedy. And despite the cynical pose that's always been at the heart of Eichner's persona, they're not afraid to let it get a little sappy, too.
As for its two stars, Eichner and Macfarlane's performances are essential elements in the movie's winning appeal. It's perhaps not too surprising that Eichner, who's been able to show us hints of his wider range before, rises to the occasion for his debut as a leading man; it's the kind of work with the potential to elevate him into a whole new echelon of talent. A greater revelation is Macfarlane, who dives way below the pretty surface of Aaron to deliver a braver and more vulnerable performance than anyone might have expected. Together, the two actors find an easy and affectionate chemistry that is not only believable but makes it easy for real-life couples to recognize themselves in their relationship. They front a superb cast that includes Monica Raymund, Dot-Marie Jones, Jim Rash, Guillermo Díaz, Amanda Bearse, Miss Lawrence, TS Madison, Bowen Yang, and Jai Rodriguez, not to mention a host of queer and queer-friendly celebrity cameos from Kristin Chenoweth, Harvey Fierstein, and Amy Schumer, among several others.
It would be easy to go into detail about the many things that make "Bros" stand out as a piece of "queer cinema" — the way it weaves educational tidbits about LGBTQ history into the story as a tongue-in-cheek primer for straight viewers, or the sex-positive attitude with which it boldly and playfully depicts gay love-making, or its assertion of the differences instead of the similarities between same-sex relationships and straight ones — but it's better to let viewers discover these things for themselves, along with all the movie's other pleasures. We don't want to give any more away, though we will tell you to watch for a scene-stealing turn by Debra Messing, who seems to be having the time of her life.
Other than that, all you need to know is that "Bros" lives up to its hype to become one of the smartest, sexiest, and yes, sweetest comedies of the year so far – the kind of rom-com that's good enough to recommend even for people who don't like rom-coms.
And yes, it sets a lot of LGBTQ milestones, but don't see it because of that. See it because it's good.
Billy Eichner ready to make cinematic history
'Bros' could be first gay rom-com to become box office smash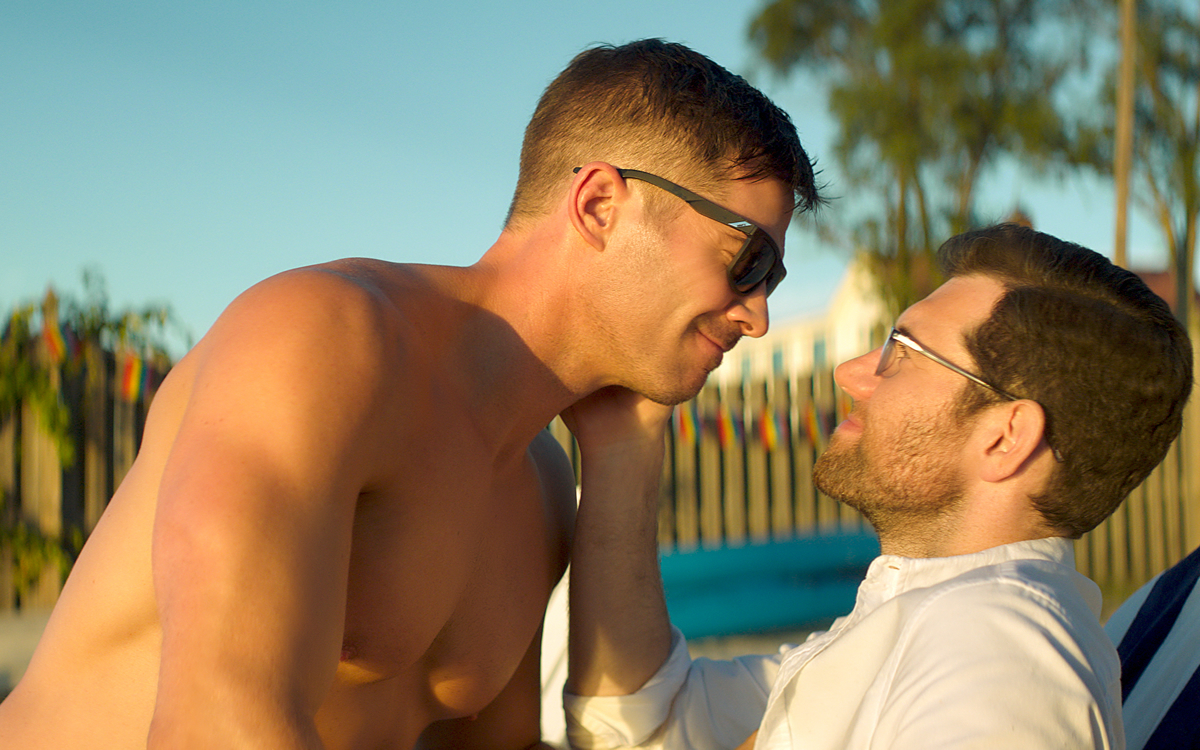 Billy Eichner, the gay comedian, is usually the one asking the questions. Eichner came to fame with his award-winning, 2011-2017 truTVshow, "Billy On The Street," where he would accost strangers on the streets of Manhattan, often with an A-list celebrity at his side. Eichner would interrupt someone in the middle of a jog, an errand, or daily commute, to ask a groan-inducing question or play a silly game. Most New Yorkers did not recognize either Eichner or celebrity sidekicks like Chris Evans, Will Ferrell, Mariah Carey, or Sarah Jessica Parker.
The tides have turned. Eichner, in a few short years, has gone from video class clown to a polished (dare I say very good) actor, writer, and all-around mensch – and ascended to celebrity A-list status himself. In 2019, he starred as the voice of Timon in the Disney live action remake of "The Lion King." He also voices Timon in the upcoming live-action sequel: "Mufasa: The Lion King."
But that's not all. Currently, Eichner is writer, producer, and co-star of "Bros," a new romantic comedy about two commitment-phobic gay guys in a relationship—Eichner and costar Luke Macfarlane. Macfarlane—who came to fame playing in schmaltzy Hallmark Channel movies— is another gay (and very good looking) actor; indeed, all of Bros' writers, producers, and all of the lead and supporting actors (including Amanda Bearse) identify as LGBTQ (with the exceptions of director Nicholas Stoller and producer Judd Apatow.) "Bros" is the first 'almost' all gay, lesbian or trans major motion picture.
"My day hasn't even begun," says Eichner who has just arrived in San Francisco, and where it's the ungodly hour of 7:45 a.m. He's just back from the Toronto International Film Festival, where "Bros" debuted to great acclaim.
"The goal was to make the funniest, laugh-out-loud movie as possible, that just happens to be about a gay couple," explains Eichner. At 44, he is old enough to remember growing up during a time when gay-themed movies had limited releases and smallish audiences. "I went to see a lot of them," Eichner recalls. "'All Over the Guy,' 'Jeffrey,' 'Trick,' 'Edge of Seventeen,' 'Go.' But it felt like it was something I did in private. It felt like it did when I was hiding a magazine [for secrecy at home]."
"Bros" is written for contemporary audiences — straight, gay, and everything in between (my words) —who are unfazed by scenes and situations that would have seemed controversial even 10 years ago. And, given the talent behind the project and the early buzz, "Bros" could be the first gay rom-com to become a mainstream box office smash, particularly with director Nicolas Stoller and producer Judd Apatow on board.
"'The 40-Year-Old Virgin,' 'Bridesmaids,' 'Forgetting Sarah Marshall,' 'Neighbors…. Judd and/or Nick are responsible for some of the funniest movies during the past two decades," Eichner enthuses.
One of the most charming aspects of "Bros" is a pivotal scene filmed in Provincetown, Mass., a community with deep gay roots. "Provincetown is maybe my favorite place on Earth," says Eichner. "It's as far out on Cape Cod, Mass., as you can get. Being able to film in Provincetown added so much style to the classical romantic story. The town has a rich, gay history but is beautiful, sexy, and fun. It is so welcoming to everyone that Nick [Stoller, the director], who is straight, and married with three kids, takes his family there every summer. It is also the first place that we began filming." The production was shut down in between filming for more than a year and a half due to COVID-19.
Is there any romance going on in Eichner's life? When I asked him for a funny story about a first date, he laughed and said, "I'm still waiting to go on one. But, seriously, I met a guy that worked for a cannabis company. He showed up as high as he could be. And of course he was hungry. I should have just called it a night then. But we went out and all he could do was eat. There wasn't any conversation. But I don't know if that is funny, or just weird."
There's a musical moment in "Bros" that may surprise some Eichner fans—but shouldn't; he's a great singer and studied musical theater in college. His love of music predates his bar mitzvah, which he describes as "Broadway meets pop music…I had a life-sized, airbrushed Madonna standee from her 'Blonde Ambition' tour. And a standee from [the Broadway musical] 'The Phantom of the Opera'. I even sang 'Lean On Me.'"
Eichner's singing talents are displayed in "Bros," but briefly. "I don't want people to think 'Bros' is a musical, though," Eichner wants readers to know. And let me add my two cents: "Bros" is not a musical, at all. It is a comedy that is going to go down in history, in a great way.
"Bros" is in theaters Sept. 30.
LGBTQ+ friendly Netflix could lose a quarter of its subscribers
70% of survey respondents use Netflix the most, meaning it has higher usage than any other streaming service—by a 60% margin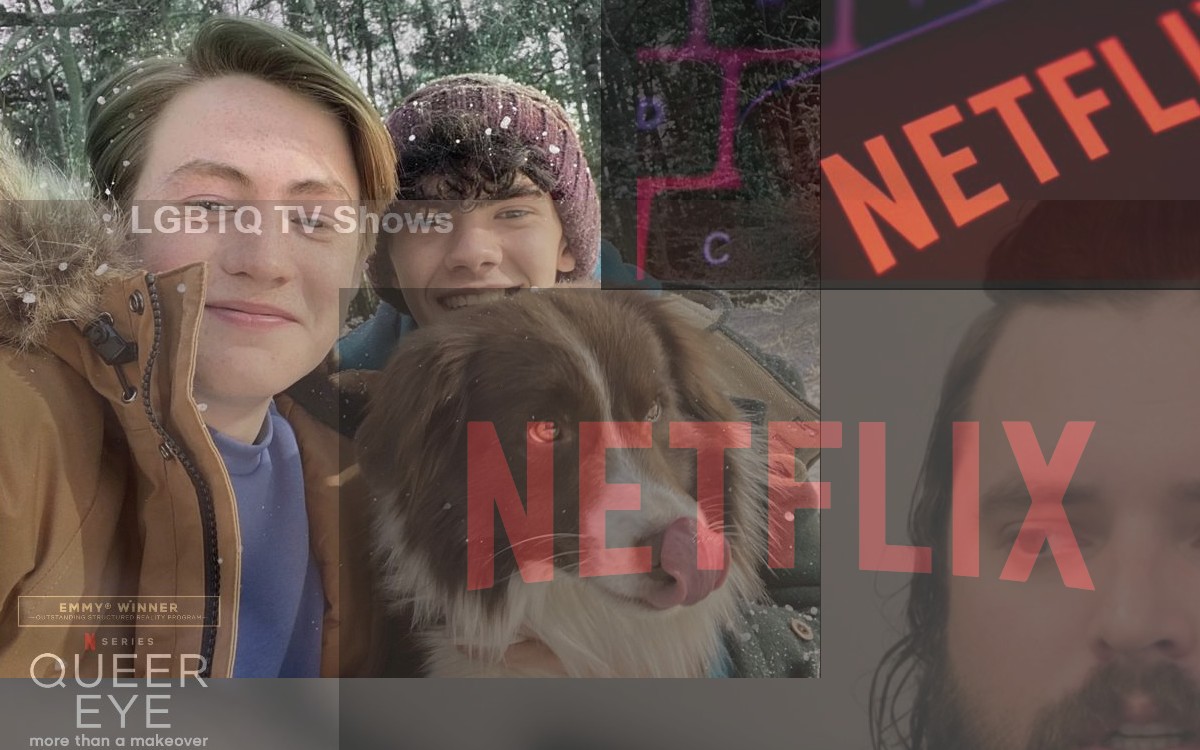 LOS ANGELES – Streaming service Netflix which is home to LGBTQ+ friendly fare including the smash hit series Heartstopper, Queer Eye, Uncoupled, and Grace and Frankie along with a robust portfolio of other queer friendly content is poised to lose a staggering quarter of its subscribers.
In a recent survey conducted by REVIEWS.org, a organization staffed by teams of experts who rate and review connected home services and products including Mobile & Wireless; TV & Streaming; Home Security & Smart Home along with other web based offerings surveyed 1,000 Americans to gauge their streaming habits in 2022 and found that 1 in 4 are planning to leave Netflix this year. 
Based on the report's findings,  that could be over 18 million US subscribers—and an estimated $272 million in lost subscriber revenue for the streaming company. The experts noted that Netflix has had a difficult 2022, losing nearly 1.2 million subscribers in the first two quarters of 2022 and recording subscriber loss for the first time in a decade. 
The company hopes to add one million new subscribers in the third quarter, but the report questions if the streaming company face another loss of that magnitude.
The survey noted that nearly two-thirds of respondents cited Netflix's increasing cost as a reason for leaving.
Netflix's Basic one-screen plan went up by 11% in January 2022 for the first time in three years.
Meanwhile, Standard and Premium plans increased 20% and 25%, respectively, in the same time period.
The REVIEWS report also pointed out that Netflix currently has the highest average plan cost among the eight most popular streaming services in the United States. And that is leading 30% of surveyed subscribers to share their password with people outside their household.
Netflix cost vs. competitors
| | | |
| --- | --- | --- |
| Streaming service | Average monthly cost | Number of plans |
| | $15.15 | Three plans, no ads |
| | $12.49 | Two plans: With and without ads |
| | $9.99 | Two plans: With and without ads (does not include Hulu Live+) |
| | $14.99 | One plan, no ads |
| | $7.99 | One plan* |
| | $7.49 | Two plans: With and without ads |
| | $4.99 | One plan, no ads |
| | $7.49 | Two plans: With and without ads |
Graphic via REVIEWS.org
Data as of 09/05/22. Offers and availability may vary by location and are subject to change.
* Does not include Disney bundle
Another issue with those surveyed was lack of content. 1 in 3 respondents said Netflix no longer has the shows they want to watch and then 30% said that they use other streaming services more.
The report notes that Netflix became popular for licensing many TV shows and movies for streaming before the company developed its own original programming. In recent years, those shows and movies have left Netflix for other streaming services—mainly to build the libraries of WarnerMedia's HBO Max, Walt Disney Company's Disney+, and NBCUniversal's Peacock—leading to 'the streaming wars.'
The report's findings state that the average American is subscribed to 4 streaming platforms:
78% subscribe to Netflix
46% are Disney+ subscribers
42% subscribe to HBO Max
33% are Peacock subscribers
26% subscribe to Hulu
22% are Apple TV+ subscribers
5% subscribe to Hulu
5% are Amazon Prime subscribers
The survey also found that 70% of respondents use Netflix the most, meaning it has higher usage than any other streaming service—by a 60% margin!
In a distant second place is HBO Max with a 10% share of respondents and Disney+ takes third place with 6%. Every other streaming service is under 5%.
So can anything beat Netflix the REVIEWERS.org asked? Their answer was "Right now, no. But rising prices, a lack of content, and increased competition could lead 1-in-4 subscribers to cancel their Netflix subscription within the year."