David Mixner on how DADT happened
Clinton's betrayal was an awakening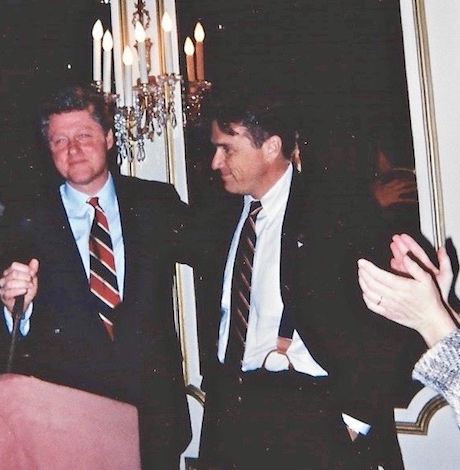 David Mixner is a pacifist, a firm believer in the principles espoused by Gandhi and Martin Luther King Jr. He was prepared to go to prison for five years rather than respond to the draft—or come out as gay. He got a deferment after being beaten up by police during the 1968 Democratic Convention in Chicago. The following year, as co-organizer for the October 15, 1969 Moratorium to End the War in Vietnam, he met Bill Clinton, a Rhodes Scholar with whom he started a decades-long friendship.    
AIDS, not gays in the military, was top of mind for Mixner, a longtime Los Angeles-based political consultant. But over dinners, he started hearing about gays serving in silence. "Clearly there was nothing more visible, more dramatic, more powerful than the image of LGBT Americans wanting to serve their country and going through everything from harassment to beatings to death to court martials to dishonorable discharge, losing benefits, losing families—it was an appalling situation," Mixner told the Los Angeles Blade. "I can't have my personal beliefs override the freedom of others."
Then in 1991, Arkansas Gov. Bill Clinton called to say he was running for President and wanted Mixner's support. Mixner hesitated, which annoyed Clinton. Mixner explained that he didn't know where his old friend stood on gay issues. "I cannot go through this era of AIDS, losing hundreds of friends and just, for power's sake, sign onto your campaign. It dishonors all of their deaths."
Clinton told him to draw up a list of what he wanted and give it to their mutual friend, Los Angeles-based attorney Mickey Kantor. Mixner sent three issues: the gay Civil Rights Bill, sign an executive order lifting the ban on gays in the military and fund and expedite the process for promising HIV/AIDS drugs. Not a problem, Clinton replied.
The problem was that most of the LGBT community supported Paul Tsongas and didn't know "this Bubba from the South," Mixner says. He invited Tsongas and Clinton to meet with ANGLE, a political checkbook activist group that met in the Hollywood Hills home of Dr. Scott Hitt and Alex Kolezar.
Tsongas was arrogant; Clinton was charming. After pledging to support all three issues, attorney Diane Abbitt asked him: "How do we know we can believe you—that you're not just another hot bag of air?" Clinton said he'd prove himself. Which he did, telling the surprised press that he would have signed AB 101, the gay rights bill Republican Gov. Pete Wilson vetoed. And he promised to sign the military executive order.
But the executive order wasn't without controversy inside the Clinton campaign. But Mixner and ANGLE pushed hard, raising lots of money and insisting "gay rights" be part of Clinton's talking points. And when the Paula Jones/Jennifer Flowers scandal popped up, ANGLE stuck with Clinton, even as others declared his candidacy dead. ANGLE bought one third of all the tickets to a major Warren Christopher-hosted fundraiser at the Beverly Wilshire, with a gay reception hosted by Mixner and Roberta Achtenberg before the big dinner. 
"It was the darkest moment of the Clinton campaign and there we were visible, loyal and strong," Mixner says.  "That was a real turning point for us in the Clinton campaign. They never forgot it. And the money we raised really helped them stay alive in New Hampshire."
Mixner pressed Clinton to appear before the gay community. Though it became one of his most famous campaign moment, it almost didn't happen. Mixner had already sold out the Palace in Hollywood and if the press couldn't attend, there would be some $200,000 left on the table. Clinton relented and recommitted to lifting the ban, giving money to fight AIDS and supporting gay rights.
Then came the nominating convention. Bob Hattoy and Elizabeth Glaser spoke about AIDS in primetime. But an early copy of Clinton's acceptance speech was missing the word "gay."
Tom Henderson and Mixner organized eight delegations that would walk out if no mention was made. Mixner gave an ultimatum and the campaign was livid. But Clinton included the reference, thrilling LGBTs and allies in the macarena-dancing crowd. When Clinton won, the LGBT community started counting down to freedom after the long dark night of Reagan/Bush years with thousands lost to AIDS.
But Mixner saw trouble brewing. A decision was expected soon in Keith Meinhold's federal court case challenging his discharge under the gay ban. Two weeks before the election, Mixner and his close associate Jeremy Bernard trekked down to Little Rock, Arkansas to discuss how "the reality of rhetoric and implementation after you're elected is two different things." They needed someone in the transition team to assume gay issues in their portfolio.
"No one wanted it," Mixner says. "They were all lining up for their jobs and they thought that if this was in their portfolio, that they would not be taken seriously. And quite honestly, I wasn't taken seriously."
After Clinton won, the community turned to Mixner, Bob Hattoy and Roberta Achtenberg for answers. Meanwhile, the Meinhold case is heating up. Mixner calls the campaign to say someone needs to brief the president-elect. "Yeah, yeah, yeah, yeah," they say. "Well, the morning of Clinton's first post-election press conference, guess what came down? The Meinhold decision. So the very first question that the New York Times asked: 'Given the Meinhold decision, are you still going to issue the executive order on the military?' Clinton, not having been briefed and not realizing that a campaign was different from governing, which I kept trying to tell him, wasn't prepared and said yes."
The campaign was shocked that the executive order on gays in the military dominated the headlines. "They all were caught off guard," Mixner says. "They shouldn't have been. They were all briefed two weeks before the election but no one listened. They went into sheer panic."
But Mixner had an idea: "do what Jimmy Carter did on amnesty for draft dodgers, which was equally as controversial." Immediately after he was sworn in as president, Mixner says, Carter "signed about twelve tough executive orders that got lost in the press about the inauguration, the parties, the parades, the speech—and it worked. It was just done. Amnesty was granted, some people fought it but it was a done deal and it got lost, it became a sidebar story of the inauguration."
Why not do that on the military? About 20 orders, just like Carter "and then it's done," Mixner says. "They thought it was a great idea and they sent someone to look at what Carter did. That's what we believed was going to be done up until just before the Inauguration."
Mixner was in his hotel, nervous about a big event honoring him that night. He got a call from Clinton top campaign advisor George Stephanopoulos.
"He said, 'David, we need your help.' I said, 'sure.' He said, 'We're not going to sign the executive order.' I said, 'This is crazy.' He said, 'Listen, we feel we need six months to build public support. The president told me to tell you that he gives you his word that he'll sign it in six months but we want the community to raise money and to do this and we need you to go and deliver that message to the community.'"
"I said, 'Would the president promise me if we do all of that that he'll sign it in six months?'"
"You have the president's word," Stephanopoulos told Mixner.
Mixner delivered the word that night and the next day to HRCF. "That's where the idea for the Campaign for Military Service came in," Mixner says. Tom Stoddard agreed to head the new organization. "There was not a better choice. Everyone was excited. A man of principle, of dignity, a brilliant organizer, one of the kindest people I knew. I was thrilled," Mixner says.
And with that, they began organizing at Bob Shrum and Mary Louise Oates' living room with David Geffen and Barry Diller promising to raise "huge amounts of money" and Fred Hochberg agreeing to be Treasurer.
"And off we were," says Mixner. They organized a major campaign with unions and religious groups joining in and polls going up. "We did everything the president asked us to do."
But instead of acting presidential, calling in the commanders-in-chief and announcing that they accept his change in policy or resign—Clinton failed the leadership test. And into the vacuum stepped Georgia Sen. Sam Nunn, a Democrat considered by Mixner to be a racist bully.
"Sam Nunn supported (Alabama Gov.) George Wallace twice," Mixner says. "And he was head of the Senate Armed Services Committee. He was a big believer in segregation. And he said, 'not on my watch' and he called (Chair of the Joint Chiefs of Staff) Colin Powell and he held hearings and the White House wasn't prepared."
Nunn also created the media narrative, going with Sen. John Warner into the sleeping quarters on a submarine and asking sailors lying together in close quarters how they felt about allowing gays in the military.
"That picture was on the front page everywhere," says Mixner. "So that sent them into a panic and Clinton came back and said, evidently, to his staff, we can't have gays sleep with straights like that.' And that's when he suggested that perhaps they would explore the options of segregated barracks and segregated units. They didn't use the word 'segregated' but separate. I went through the roof."
Discharged gay Naval aviator Tracy Thorne was booked on ABC News' Nightline and asked Mixner to go along. "That's when I said, 'Segregation didn't work for blacks and we wouldn't accept it and it was nothing more than a segregated plan.' And I really let loose that this was a totally unacceptable solution," Mixner says. "Well, that got the White House really angry at me."
Mixner then went to Dallas where on March 27, 1993, he delivered a speech at the mega-MCC Church entitled "the Story of Self-Hatred" about AIDS, segregation, and gay and lesbian civil rights that is now in a collection of great civil rights speeches called "Ripples of Hope."
The Clinton administration was angry and the gay community was annoyed that Mixner's public pronouncements might cost access to political power after so many years in the wilderness.
"Rahm Emanuel decided that if he could make me a target, he could send a message that you'll lose access and you'll be punished if you speak out against this administration," Mixner says. The "first act of that punishment" came in April before the March on Washington when Clinton held the historic meeting in the Oval Office between the President of the United States and the LGBT community "and I was taken off the list."
Longtime LA-based lesbian activist Torie Osborn brought a signed copy of Randy Shilts' very detailed "Conduct Unbecoming: Gays and Lesbians in the U.S. Military" to the meeting, which Clinton held when they posed for pictures.
"That was painful for me quite honestly, very painful. It hurt. Because that was one of my dreams of being in the first meeting," Mixner says. "But you know, you live your principles and there's a price sometimes. And sometimes there's great price."
Then in mid-May, without any notification to Tom Stoddard or Mixner or HRCF, out Rep. Barney Frank announces that a compromise had been reached with the president called Don't Ask, Don't Tell.
"We read about it in the fuckin' newspaper," Mixner says, his voice rising. "Barney literally betrayed us. He didn't consult with any of us. They went to him and Barney was in love with Stephanopoulos and cut this deal."
Suddenly, Mixner says, "the concept of an executive order was thrown out the window and the community, caught off guard, sort of started buying into this as a 'compromise.' Ending it would take an act of Congress instead of the signature of the president. But Clinton wanted that. He just wanted it off his fuckin' desk."
Tim McFeeley, executive director of HRCF, was the first to protest and get arrested.
After Clinton's official announcement of the new policy on a military base flanked by generals, Mixner got a call in LA from Stephanopoulos. "He said, 'We want your support on this, David. It's fact. It's done.' And I said, 'Absolutely not. This is going to be a disastrous policy. No one can live like that. It's going to set up black mail. It will destroy thousands of lives'—and it did. There's things I've been wrong on and there's things I've been right on and this was one of 'em that I was right on."
Numerous gay people on the inside offered Clinton support, suggesting Mixner was now among the fringe on the outside. He knew the price if he protested and got arrested like McFeeley.
"It isn't like I was naive," Mixner says. "I knew Clinton and I knew Emanuel. I knew all of them. I knew how the game was played. I went into it with open eyes that I would cut off all access to the White House. And I decided to get arrested."
But first, Mixner met with ANGLE, sharing his decision and that he didn't expect them to join him. "This is a personal decision. I went around the country. I got him to say this stuff. I got you involved. I feel personal responsibility to give witness, though it's not going to change the policy. It's an old Quaker tradition of giving witness against a great evil, even though you can't change it. I've gotta give witness," Mixner says. "And much to their credit, most all of ANGLE joined in. And those who didn't join in getting arrested were responsible for getting us out of jail."
It was front page news and the next day Rahm Emanuel announced that Mixner was no longer welcome in the White House—nor were any of the people that he worked with.
"In twenty-four hours, I lost every one of my clients and couldn't work for four years. I was selling watches to pay for my rent. Jeremy, literally, was taking my watches down to pawn shops to pay for my rent," Mixner says.
The Advocate put him on the cover: "David Mixner, Friend of Nobody," which added to the pain.
"There were people who committed suicide, several were sent to Leavenworth, over fourteen thousand were dismissed without benefits, dishonorably," he recalls. "Just as we thought would happen. It was horrendous. And it all depended on who their commander was. If you had a good commander sometimes they ignored it. If you had a so-so commander they'd just give you a dishonorable discharge and let it go. If you had a bad commander, they'd go out of the way to make sure you paid a price."
President Obama "had to spend his first four years overturning the damage that Clinton did to us," he says. Mixner and Clinton eventually reconciled in 1998 at an ANGLE fundraiser in Beverly Hills featuring new California Gov. Gray Davis. 
Mixner was "very teary" during the ceremony when Obama signed the repeal of DADT. "I never thought I'd see the day and had paid such a price," he says. "The person who was the kindest to me that day was (Speaker) Nancy Pelosi. She was on the stage with the president, saw me and came down off the stage, gave me a hug, held me by the shoulders and said, 'None of us would be in this room if it wasn't for you.' And I'll never forget it. That was one of the highlights of my life and made all that I had sacrificed worth it."
Mixner recalls going to the Clinton White House before he was banished with so many gay people whispering "Thank you." He returned to the Obama White House for a Christmas party, invited by America's first gay Social Secretary—Jeremy Bernard. "They had a little gay bowling league among some of the gay White House staff, the military people. And they were showing me pictures of their husbands," Mixner says. "What a different world, right? From whispers to pride."
LGBTQ rainbow flag was born in San Francisco, but its history is disputed
On that day in June 1978, it felt as if the rainbow had always been a symbol for the LGBTQ community, it just hadn't revealed itself yet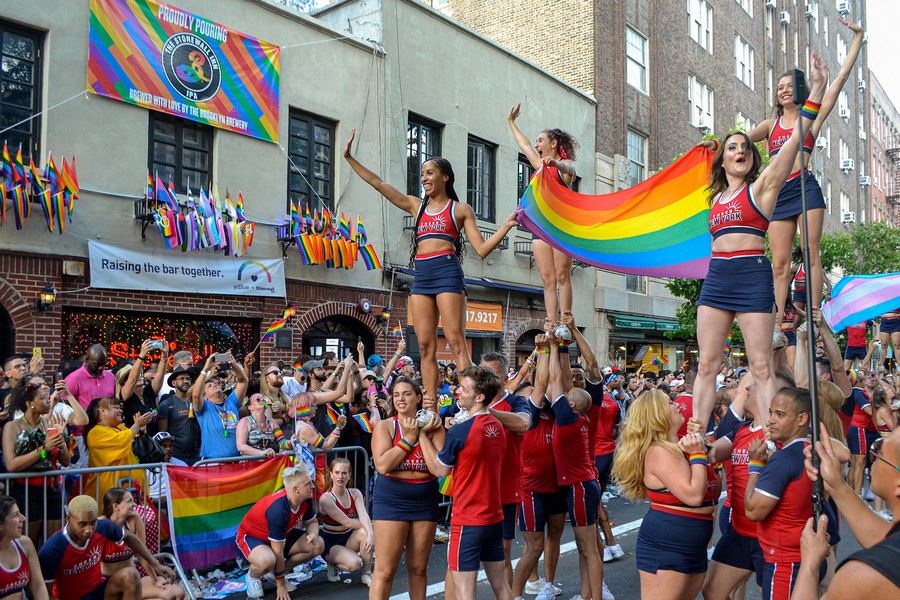 By August Bernadicou (with additional text and research by Chris Coats) | NEW YORK – Many enduring symbols that establish an instant understanding and define a diverse community are intrinsically linked with controversy, confusion, and ill-informed backstories dictated by vested interests and those who told the story loudest. The LGBTQ rainbow flag is no different.
While it was the work of many, the people who deserve credit the most have been minimized if not erased. Gilbert Baker, the self-titled "Creator," screamed the story and now has a powerful estate behind his legacy. Before his death in 2017, Baker established himself as the complete authority on the LGBTQ rainbow flag. It was his story which he lived and became.
While there are disputed accounts on the flag's origins, one thing that is not disputed is that the LGBTQ rainbow flag was born in San Francisco and made for the Gay Freedom Day Parade on June 25, 1978.
For all of human history, rainbows have mystified and inspired. A greeting of light and serenity after the darkness and chaos of a storm. They have symbolized hope, peace, and the mysteries of existence. For a moment, we can see the invisible structure, the "body" of light, made visible. A secret revealed, then hidden again.
Though it may seem like a modern phenomenon, rainbow flags have waved throughout history. Their origin can be traced to at least the 15th Century. The German theologian, Thomas Müntzer, used a rainbow flag for his reformist preachings. In the 18th Century, the English-American revolutionary and author, Thomas Paine, advocated adopting the rainbow flag as a universal symbol for identifying neutral ships at sea.
Rainbow flags were flown by Buddhists in Sri Lanka in the late 19th Century as a unifying emblem of their faith. They also represent the Peruvian city of Cusco, are flown by Indians on January 31st to commemorate the passing of the spiritual leader Meher Baba, and since 1961, have represented members of international peace movements.
Now, the rainbow flag has become the symbol for the LGBTQ community, a community of different colors, backgrounds, and orientations united together, bringing light and joy to the world. A forever symbol of where they started, where they have come, and where they need to go. When many LGBTQ people see a rainbow flag flowing in the wind, they know they are safe and free.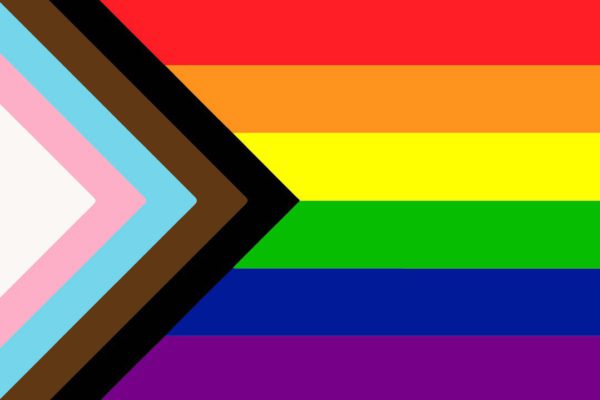 While the upper class and tech interests rule the city now, in the 1960s and 70s, San Francisco was a wonderland for low and no-income artists. The counterculture's mecca. By the mid-1970s, the Haight-Ashbury neighborhood that had once been a psychedelic playground of hippie art, culture, and music had fallen into disarray. Hard, dangerous drugs like heroin had replaced mind-expanding psychedelics. Young queers and artists needed a new home, and they found it in the Castro.
Lee Mentley (1948-2020) arrived in San Francisco in 1972 and quickly fell in with the oddball artist and performers in the Castro neighborhood, donning flamboyant, gender-fucked clothes, performing avant-garde theater, and creating their own clubhouses. He was on the Pride Planning Committee in 1978 and ran the Top Floor Gallery on the top floor of 330 Grove, which served as an early Gay Center in San Francisco.
Lynn Segerblom (Faerie Argyle Rainbow) was originally from the North Shore of Hawaii and moved to San Francisco where she attended art school at the Academy of Art. Her life changed when she found a new passion in tie-dye and rainbows in the early 1970s. Entrenched in the free-loving technicolor world of San Francisco, in 1976, Lynn legally changed her name to Faerie Argyle Rainbow. She joined the Angels of Light, a "free" performance art troupe where the members had to return to an alternative, hippie lifestyle and deny credit for their work.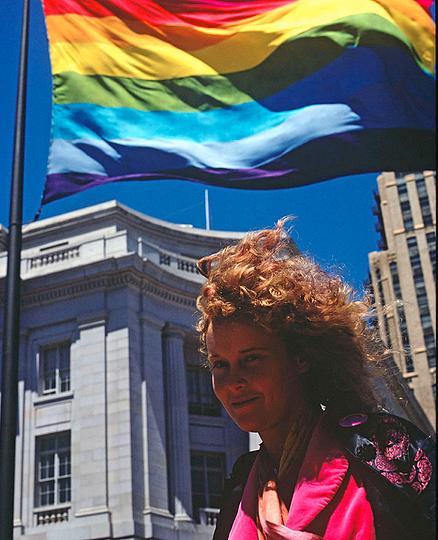 Shortly after the original rainbow flags were flown for the last time, both Lynn and Lee moved out of San Francisco. Lee moved to Hawaii and Lynn moved to Japan. When they returned, they were shocked to see how their contribution to history was becoming a universal symbol. They remain passionate about defending their legacies and giving a voice to the mute.
——–
LEE MENTLEY: "One day in 1978, Lynn came to 330 Grove with a couple of her friends, James McNamara and Robert Guttman, and said we should make rainbow flags for Gay Day to brighten up San Francisco City Hall and Civic Center because it's all gray and cold in June. We thought that it sounded like a great idea."
To get over the first hurdle, money, the young artists went to Harvey Milk, the first openly gay elected official in the history of San Francisco, California, for help.
LEE: "There was no actual funding for it. We contacted Harvey Milk and another supervisor, and they asked the city if we could get a little funding. They found some leftover funds from the previous year's hotel tax, and we got $1,000."
LYNN SEGERBLOM: "I remember having a meeting where I presented the idea of making rainbow flags. I had some sketches. At that meeting, there was just a handful of us there, and I remember, and even my friend assured me, that Gilbert Baker was not at that meeting. I don't know where he was, I didn't keep track of him, but he was not at the meeting where I suggested rainbow flags. We decided, yes, rainbow flags sounded great."
The committee approved the rainbow imagery and made the decision to make two massive 40' x 60' foot rainbow flags to be flown at the Civic Center along with 18 smaller rainbow flags designed by different, local artists, to line the reflecting pool putting rainbows into the grey sky.
For the two large flags, one would be an eight-color rainbow starting with pink and including turquoise and indigo in place of blue, and the other a re-envisioning of the American flag with rainbow stripes which became known as Faerie's flag.
——
Gilbert Baker's name on his memoir, Rainbow Warrior, it says "CREATOR OF THE RAINBOW FLAG," leaving little debate that Gilbert claimed full ownership for the concept and design of the legendary symbol. He never denied Lynn or James MacNamara's involvement in the flags' construction and speaks briefly and fondly of them and their talents in that same book.
LEE: "We didn't need one person saving our ass, and it certainly wouldn't have been Gilbert Baker. He was no Betsy Ross. He was a very good promoter, and I give him all the credit in the world for making the rainbow flag go international. He did a great service, and he was a very talented, creative man, but he could never have done all of the work by himself; no one could have.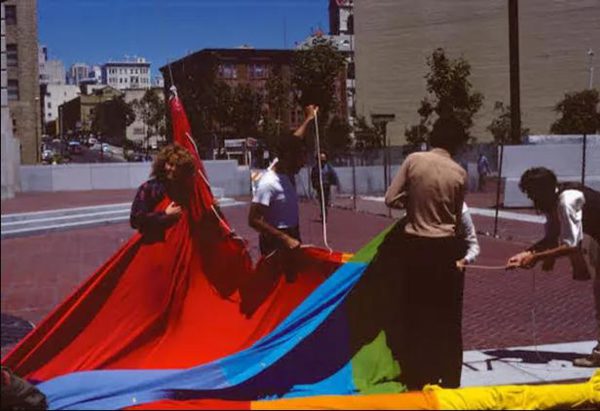 We never considered ownership. There was never this big ownership debate until Gilbert started it. Because AIDS hit us so fast after this, most of our leadership either went into HIV activism or died."
LYNN: "The story is that a white gay man did all of this by himself, but, in fact, that is not true at all. He just promoted it. For that, though, he should be given great love."
————
Making the two original rainbow flags was no easy feat. With a limited budget and limited resources, the group had to improvise and figure it out as they went along. While Lynn had dabbled in flags before, a project of this scope and importance was far beyond her comfort zone.
LEE: "The community donated the sewing machines we used. We asked people at the Center if anyone would like to volunteer. All sorts of people from all over the country helped us with the flags, over 100 people, which, to me, is an amazing story. That's where it came from. It came from regular artists who wanted to have fun and make something pretty for gay people."
LYNN: "The Rainbows Flags were hand-dyed cotton and eight colors. I made two different types. The one with just the stripes and then the American flag one, which I designed myself. There was a group of us that made them, James McNamara, Gilbert Baker, and myself. Originally they were my designs. I was a dyer by trade, and I had a dying studio at the Gay Community Center at 330 Grove Street."
LEE: "People would come and help as long as they could. Then, somebody else would come and help as long as they could. We opened up the second floor of 330 Grove to people who came to be in the Parade and march. People came in and made posters, banners and did art stuff."
LYNN: "We made the flags on the roof because there was a drain up there. There was a wooden ladder that led up to the roof. The hot water had to be carried up to the roof because we didn't have hot water up there. We heated it up on the stove in pots. We put the hot water in trash cans on the roof."
LEE: "We had trash cans and two by fours, and we had to keep agitating the fabrics in the dye. Since they were in hot water, they had to be poked and agitated for hours."
LYNN: "We had to constantly move the fabric in the dye, so the dye penetrated the fibers that weren't clamped tight. We had to make sure there would be blue, and it wouldn't just be white on white or white with a very murky, pale blue.
After they were washed and dyed, they went through the washer and dryer. Then, we ironed them. If the fabric stays out too long, once you take it out of the water, if it sits on itself even for just a few minutes, it starts to make shapes."
—-
LEE: "Lynn's flag, the new American flag, was a similar rainbow, but it had stars in the corner. I have photographs of that flag flying at gay events in San Francisco at City Hall and Oakland."
LYNN: "I always liked the American flag. I thought, oh, wouldn't that be nice? I knew with some luck I could make it."
LEE: "I thought the one with the stars was more interesting because it symbolized a new flag for the United States."
LYNN: "For my American flag, I decided to flip the order of the colors, so pink was at the bottom and purple was at the top in an eight-color spectrum. That was intentional. I wanted them to be different.
​I made the stars with wood blocks and clamps. I got the white fabric and washed it, and folded it a different way. When I was making it, it looked like a big sandwich. The bread would be the woodblocks, and the fabric was in between. We immersed the whole flag in dye and swished it around. I wasn't sure if it would come out right because it was the first time I did that fold. I was lucky. It worked.
I sewed lamé stars into one stripe with leftover stars from my Angels of Light costumes. On one side of the blue stripe, there was a star with silver lamé, and on the other side, there was a star with gold lamé.
I got all these ideas because I worked with these mediums on a daily basis: paint, dye, fabric, and glitter."
—
LEE: "We worked for weeks dying fabric, shrinking fabric, and sewing fabric."
LYNN: "We worked on them for seven weeks. I was worried that we weren't going to finish on time. We worked hard and long hours. Towards the end, we decided we didn't have time to go to the laundromat, so we started rinsing them on the roof and wringing them dry. We also ran out of quarters. We draped them off of the Top Floor Gallery's rafters, and they drip-dried. They looked great. They were beautiful."
Until that day, the pink triangle, used by the Nazis to label homosexuals in their genocidal campaign, was the most commonly used symbol for the LGBTQ movement, a symbol in solidarity with our fallen ancestors. But the triangle came from a place of trauma, it was a reminder of the storm while the rainbow was the hope that came after. The promise of brighter days ahead.
On that day in June 1978, it felt as if the rainbow had always been a symbol for the LGBTQ community, it just hadn't revealed itself yet.
LEE: "We went out, flew the flags, and blew everybody's fucking minds. People were blown away. The flags were so beautiful. They were waving warriors. The biggest ones were 40' by 60' feet. The Parade marched through the flags to get to Civic Center. We instantly proclaimed that this was our symbol. It wasn't planned. It was organic."
LYNN: "It was just what I wanted: a touch of magic, a touch of glitter, and a little bit of Angels of Light."
LEE: "We weren't creating this huge symbol. We were decorating Civic Center. We weren't thinking of marketing our entire futures. It was an art project."
LYNN: "We looked at the rainbow flags as a work of art, and we wanted them to be beautiful and unique. After the Gay Parade, the flags were a big hit. People loved them. Everybody loved them."
—-
In the pre-technology world, people and property could just disappear. There were no surveillance cameras. Lynn didn't even have a phone.
Even though no one could have known the flag would become an eternal symbol for a worldwide community, it was clear even then that they were a piece of history to be coveted.
In his memoir, Baker hypothesizes that the Rainbow American flag was stolen shortly after it was hung up on the front of the Gay Community Center for Gay Freedom Day in 1979. He suggests it might have been a construction crew working on the new symphony across the street and in a homophobic act, stole the flag and buried it in cement.
LEE: "Later in 1979 or 1980, you can find it somewhere in the minutes for a Pride Foundation meeting, Gilbert came to us and asked to borrow the two large flags, and we agreed. We never saw them again."
LYNN: "I went to work one day at 330 Grove, and Gilbert came in and said that the two 40' by 60' flags had been stolen."
Images published in the San Francisco Chronicle, videos of the march, and other widely distributed photographs only add to the mystery. They show both the classic rainbow flag of eight stripes and the American revision flying at the Civic Center on June 24, 1979 and not at the Gay Community Center.
As for the original eight-stripe flag, there are even fewer answers. In his memoir, Baker says that while they were taking down the flags from Civic Center, he was hit on the head on knocked out. "When I came to on the muddy ground," he says "I saw people all around me hitting each other and screaming obscenities. They were fighting over the rainbow flags, pulling on them like a game of tug-of-war, tearing them."
LYNN: "It would have taken more than one person to carry the flags. It took three people to carry one folded-up flag for the Parade, and we needed a van. They weighed a lot, and 330 Grove did not have an elevator. Whoever stole them had help—one person could not do it on their own."
—-
LYNN: "Before the rainbow flag missing, Gilbert came to one of my workshops. He wanted to watch me dying fabric all day and see how I did everything.
I was like, oh yeah, I'll show you, come in.
I said, here, put some gloves on and do it with me.
He was like, oh, no, no, I don't want to get my hands dirty.
​He was only trying to figure out how I did the dying."
—-
LEE: "Gilbert went to these places like MoMa and told them these outrageous stories about how he made the rainbow flag all by himself. He said this about the flag he donated. When you look at it, you can tell that it was bought at a craft fair. It flat out wasn't one of our flags. It was polyester."
​LYNN: "It was polyester, it wasn't the same size, and it wasn't hand-dyed. My flags were different. The rainbow flag at MoMa was a beautiful flag inside a frame, but it wasn't an original, not from 1978, not even a piece from 1978. I was hoping, oh, my God, maybe this is a piece of it."
LEE: "It wasn't even the original colors. MoMa said they were original flags, but they weren't. It was a commercially produced rainbow flag with a primary color rainbow. The plaque cited Gilbert donating it as an original flag."
—-
LYNN: "I read online that Gilbert Baker said he named me "Faerie Argyle Rainbow," a complete lie. Bethany the Princess of Argyle named me. I chose the name Rainbow because I was known as a rainbow artist."
​LEE: "Even Lynn's driver's license said her name was "Faerie Argyle Rainbow.""
LYNN: "In 1976, I filled out a form at the DMV, and my name became Faerie Argyle Rainbow. Back then, they didn't ask you for a birth certificate. The employee just said, "This is your name now," and gave me a driver's license that said Faerie Argyle Rainbow.
​It all sounds crazy now, but back then, it wasn't."
—–
LEE: "I had my arguments and fights with Gilbert Baker because he claims he came up with the rainbow flag. If you go through all of his different interviews, you see that his story changes over and over and over again. He even said Harvey Milk came to him and asked him to create a symbol for the movement. No—I read that, and no such thing happened."
LYNN: "Just look at his interviews. His takes on what the colors in the rainbow flag mean are all in his head. The rainbow represents everyone, no matter what gender or race you are; that's how I looked at it. Rainbows are in nature and beautiful. People love them, and I love them. I knew they would be great color healing.
Gilbert assigning meaning to each color is ridiculous. I think anyone could make up what each color means. If I wanted to, I could do the same. It wasn't what I was thinking. I was thinking that rainbows encompass everybody, the whole group, unity."
LEE: "I have tried to convince people that the rainbow flags were made with tax-payer dollars. We made them as a non-profit.
Not even Gilbert owns them. I have always thought that anyone who sells anything rainbow should give a portion of the profits to homeless gay youth. We need to take care of our own kind because no one does. The whole concept of taking care of gay people has disappeared."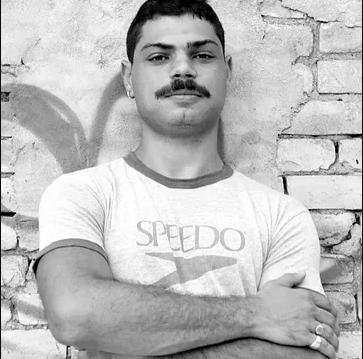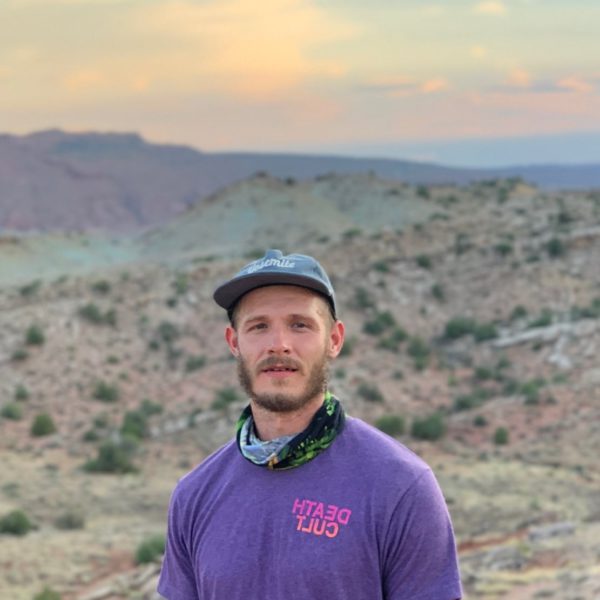 August Bernadicou is a 27-year-old gay historian and the President of the LGBTQ History Project Inc. Chris Coats is an editor and producer.
Together, they produce the QueerCore Podcast and will shortly be releasing an episode that is the definitive story on the rainbow flag featuring Lee Mentley, Lynn Segerblom, and Adrian Brooks.
August Bernadicou is presenting a Pride event in NYC this year that all folks are cordially invited to attend- its virtual;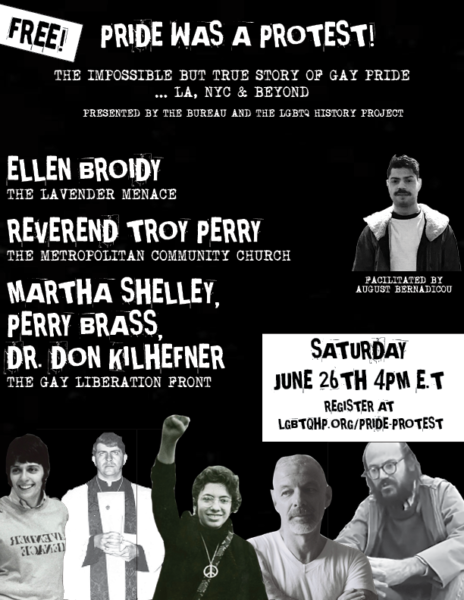 Here is the link for the event: https://www.lgbtqhp.org/pride-protest