Remembering the lives we lost in 2018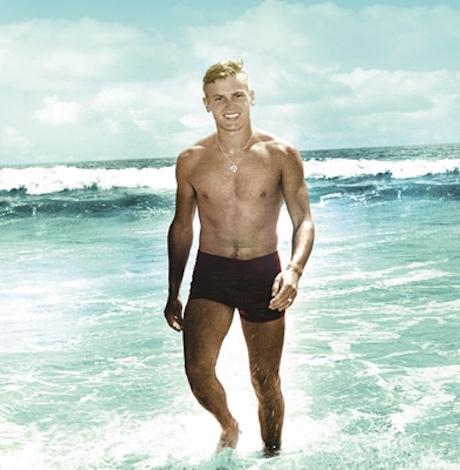 Many acclaimed LGBTQ people died in 2018 from the worlds of entertainment, sports, advocacy, business and beyond. This list is being updated, but they include:
Casey Hoke, a transgender artist, activist and national public speaker dedicated to helping others combat marginalization,  on Wednesday August 8.
San Francisco-based Dykes on Bikes organization announced the death Soni Wolf, one of its founding members and early Lesbian Rights Movement Pioneers. Wolf died April 25, in her sleep of natural causes at the age of 69.
30 transgender people were murdered in 2019, including one by U.S. Border Patrol Supervisory Agent and accused serial killer Juan David Ortiz. Nikki Janelle Enriquez, a 28-year old transgender woman was found dead in a ditch alongside Interstate 35 near mile marker 15, according to  Webb County Sheriff's spokesperson Eduardo Chapa.
19 year old Blaze Bernstein, a sophomore at the University of Pennsylvania in Philadelphia, was home for the winter break visiting his parents in Lake Forest. After arranging via Snapchat to meet for a late night visit, Woodward picked up Bernstein at approximately 11 p.m. on January 2 and drove to the parking lot of a Lake Forest Hobby Lobby store, near Borrego Park where he was murdered.
Jeremy Sanchez, a 17-year old bisexual teen and South El Monte High School was allegedly killed by his 16-year old ex-boyfriend after breakup in April.
Victor Salisbury, a Realtor, banking analyst, gay rights supporter and D.C. area resident, died on Jan. 4 at 66.
Eddie Weingart, a D.C.-based massage therapist and anti-gun violence activist died at age 39 on Jan. 11. After the 2012 Newtown, Conn. mass shooting at Sandy Hook Elementary School, he helped to found the Project to End Gun Violence. In 2013, Weingart received the "Be the Change Award from the Washington Peace Center for his advocacy.
Dr. Mathilde Krim, a wealthy straight scientist and who was a pioneer in AIDS activism and research, died on Jan. 15 at age 91. She was the founding chairwoman of amfAR, the Foundation for AIDS Research. In 2000, she received the Presidential Medal of Freedom, the nation's highest civilian honor.
Dennis Peron who led an effort to legalize marijuana for medical purposes in California died on Jan. 27 at age 71 in a San Francisco hospital.
Robert Pincus-Witten, a renowned art critic, died on Jan. 28 at 82 after a long illness.
John Mahoney, British-born actor, beloved for his portrayal of Martin Crane, the father on the hit TV sitcom "Frasier," died on Feb. 3  at age 77. He was nominated twice for an Emmy for his role on "Frasier."
Judy Blame, the fashion stylist, died at age 58 from cancer in London on Feb. 20.  There was a retrospective of Blame's work at the ICA in London in 2016.
David Ogden Stiers, who played Maj. Charles Emerson Winchester III in the renowned TV show "MASH," died March 3 at age 75. At age 66, he came out as queer.
Barbara Wersba, an acclaimed lesbian author of books for young adults, died at age 85 on Feb. 18 in Englewood, N.J. She was among the first YA authors to write about same-sex relationships.
Jinx Beers, founder of The Lesbian News
Pat Rocco, chronicler of the gay liberation movement.
Hubert de Givenchy, the renowned French fashion designer who for decades dressed icons from Jacqueline Kennedy to Grace Kelley to Audrey Hepburn, died at age 91 on March 10.
Steve Elkins, founder and executive director of CAMP Rehoboth in Rehoboth Beach, Del., died at age 67 on March 15.
J.D. McClatchy, a Lambda Award-winning-poet, died at age 72 on April 10. He was the author of eight poetry collections and several opera librettos, including "Our Town" for Ned Rorem's settings of Thornton Wilder's drama.
Jean McFaddin, who planned Macy's Thanksgiving Day parades, Santaland at Christmas, spring flower shows and July 4th fireworks in Manhattan for 24 years, died on April 18.
Richard Peck, a gay author of stories about rape, suicide and other difficult topics for young readers, died on May 27 at age 84.
LGBTQ rights activist Connie Kurtz died at age 81 at her home in West Palm Beach, Fla. Kurtz and her wife Ruth Berman were plaintiffs in a lawsuit over domestic partner benefits for New York City school employees.
On April 14, David Buckel, a prominent LGBTQ rights lawyer and environmental advocate, age 60, committed suicide by dousing himself with gas and setting himself on fire, in Brooklyn, N.Y. His death was a political act of self-immolation.
Robert M. Higdon, a friend of President Ronald Reagan and Nancy Reagan and fund-raising director for the Reagan Presidential Library, died at age 58 on June 19.
Dick Leitsch, a pioneering gay rights activist, died at age 83 on June 22 in Manhattan. In 1966, Leitsch led a protest when a bartender at Julius' in the West Village in New York wouldn't serve openly gay patrons.
Tab Hunter, a 1950s movie star, died on July 8 at age 86. He was closeted until he came out in his 2005 autobiography (written with Eddie Muller) "Tab Hunter Confidential."
Tom Gallagher, the first Foreign Service officer to come out publicly as gay, died on July 8 at age 77. "I don't want any of you… ever to take for granted what it took for people like Tom Gallagher to pave the way for all of you," Hillary Clinton said in 2012 on the 20th anniversary of GLIFAA, a State Department LGBT employee organization.
Melanie Kaye/Kantrowitz, feminist, activist and author died at age 72 on July 10.  
Gary Beach, an actor who won a Tony Award for his performance as director Roger De Bris in "The Producers," died at age 70 on July 17.
Charles Hamlen, the founder of Classical Action: Performing Arts Against AIDS, died at age 75 on Aug. 1.  He started the group, which later merged with Broadway Cares/Equity Fights AIDS, in 1993 five years after his partner died of AIDS in 1988.
John Glines, who won a Tony Award as a producer of "Torch Song Trilogy," in 1983, died on Aug. 8 at age 84. At the Tonys, Glines thanked his lover Lawrence Lane.  It's believed to have been the first time anyone at the Tonys said they were thanking their gay lover, reported the New York Times.
Vivian Matalon, who won a Tony Award for directing "Mornings at Seven" in 1980, died at age 88 on Aug. 15.
Craig Zadan, who with his producing partner Neil Meron, won the Academy Award for best picture for Chicago in 2003, died on Aug. 21 at age 69. They produced "The Sound of Music" and other live musical revivals for NBC.
Rev. Robert Wood, the first American clergy to support marriage equality and to urge churches to welcome gay people died on Aug. 20 at age 95, the Blade reported.
Lindsay Kemp, a choreographer and teacher of David Bowie and Kate Bush, died at age 80 on Aug. 24. Kemp and Bowie were lovers for a time.
Crime writer Amanda Kyle Williams died at age 61 on Aug. 31. She is the author of the Keye Street series, whose titles include "The Stranger You Seek."
Disability advocate and gay rights activist Janet Weinberg died on Sept. 1 at age 63.  She was a leader at LGBTQ rights groups, including the Gay Men's Health Crisis Center.
Jeanne Ashworth, who won a bronze medal in the 500-meter race at the 1960 Winter Olympics in Squaw Valley, Calif., died on Oct. 4 at age 80 at her home in Wilmington, N.Y. She was one of the first women to compete in speedskating in the Olympics.
Ruth Gates, an acclaimed coral-reef biologist and marine conservationist died at age 56 from brain cancer on Oct. 25. Gates advocated breeding a "super coral" to resist the impact of climate change.
Maria Irene Fornés, a playwright who won eight Obie awards, died at age 88 on Oct. 30. Acclaimed for her experimental theater work, she received an Obie for lifetime achievement in 1982. "She's not spoken of as an important American playwright, and she should be," playwright Tony Kushner told the New York Times.
Ray Hill, a former Baptist evangelist and ex-convict who became a Houston LGBT rights activist and helped to organize the first gay rights march on Washington died at age 78 on Nov. 24. In the 1980s, he helped to found Omega House for AIDS patients. Hill hosted a radio talk show for prisoners and their families.
Stephen Hillenburg, the creator of the cultural phenomenon "SpongeBob SquarePants" died at age 57 on Nov. 26. Hillenburg, who was straight, had amyotrophic lateral sclerosis.  "SpongeBob," the animated adventures of a yellow, pineapple-dwelling, sea creature, that airs on Nickelodeon, has a big queer following.
Wisconsin Gov. Tony Evers vetoes trans youth healthcare ban
Transgender youth will continue to have access to gender-affirming medical care, provided the veto survives an override early next year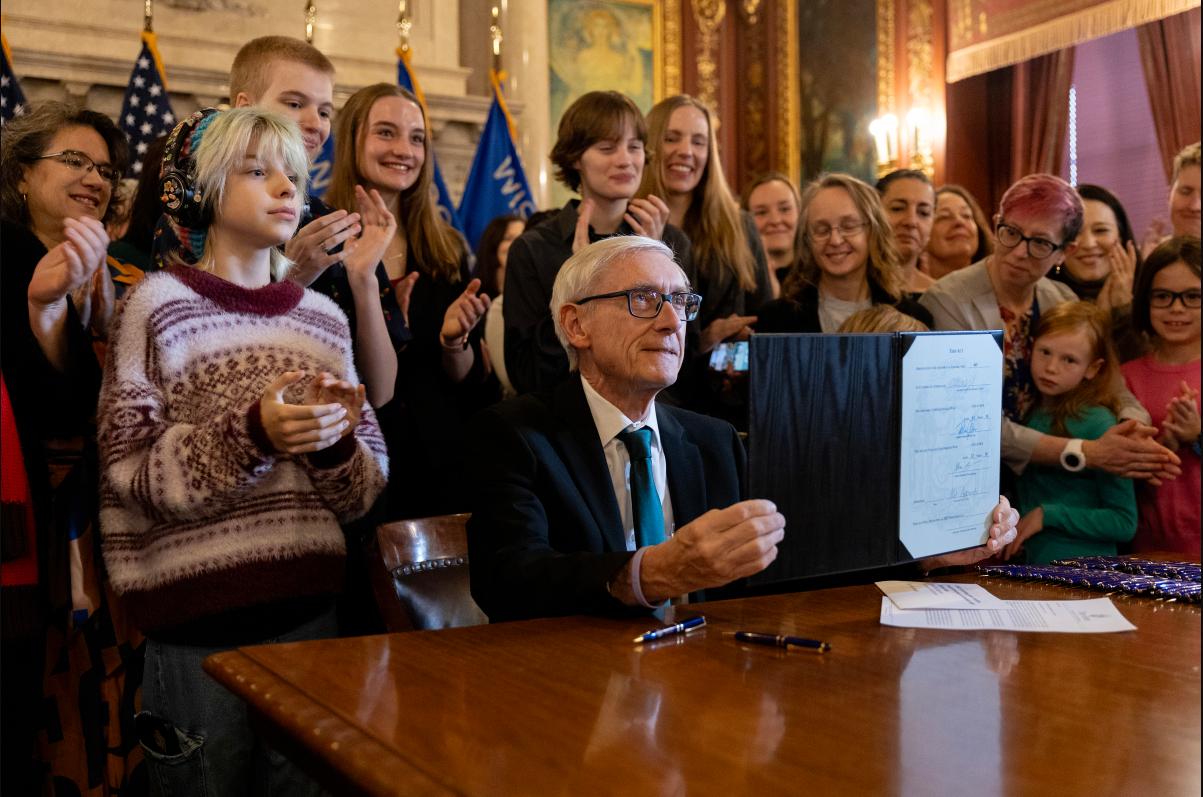 By Phoebe Petrovic / Wisconsin Watch | MADISON, Wi. – Transgender youth will continue to have access to gender-affirming care in Wisconsin after Democratic Gov. Tony Evers, as promised, vetoed a Republican bill that would have banned medical transition for those under 18.
"This was obviously a bill that was begging for a veto … (and) messing with people's lives," he said at a closed ceremony on Wednesday morning, surrounded by 80 opponents of the bill including trans youth, health care providers and LGBTQ+ advocates — the "biggest veto" crowd he said he'd ever seen.
Afterward, Evers handed his veto pen to a young trans person with a hat crocheted in the blue, pink and white of the trans flag.
"This type of legislation, and the rhetoric beget by pursuing it, harms LGBTQ people and kids' mental health, emboldens anti-LGBTQ hate and violence and threatens the safety and dignity of LGBTQ Wisconsinites," read his veto message.
Evers joins five other governors in the nation who have rejected bills banning gender-affirming care for trans youth. Legislatures overrode those vetoes in all but one, Kansas. Wisconsin Republicans, just two Assembly members short of a supermajority, could override the veto later this session if even three Assembly Democrats are absent.
In an exclusive interview, Evers told Wisconsin Watch while he was confident the veto would survive, "we're not gonna take anything for granted." He said the bill shows the "real high" stakes of elections, made more so by gerrymandered political maps that have given Republicans an outsized advantage in the Legislature. The maps are being challenged before a newly liberal-controlled Wisconsin Supreme Court.
"At the end of the day we'll be in a better position there," Evers said. "In the meantime, we'll keep fighting."
Gender-affirming care is best-practice, doctor-prescribed treatment endorsed by every major medical association in the United States. Peer-reviewed research has shown that social transition and medical care, such as puberty blockers and hormones targeted by the bill, improve the lives of those with gender dysphoria.
About 0.5% of adults and 1.4% of youth ages 13 to 17 in the United States are transgender, according to The Williams Institute at UCLA School of Law, a leading researcher for LGBTQ+ people.
In Wisconsin transgender care for children is prescribed with the involvement of medical professionals and parents. It does not involve the use of medication until puberty and does not involve surgery in most cases until adulthood.
Yet 22 states have outlawed medical or surgical transition care for transgender youth, with 19 states passing bills this year alone during a historic and unprecedented period of anti-transgender policymaking. Some take effect next year; others have been temporarily or permanently blocked by courts.
A coordinated conservative and Christian nationalist movement has fueled the deluge. Wisconsin's ban, introduced by Rep. Scott Allen, R-Waukesha, mirrored model legislation from the right-wing Family Policy Alliance, which strives to conform all levels of government to a "biblical worldview."
Wisconsin Watch documented the importance of gender-affirming care for transgender youth in October, finding bans loom large for trans youth and their families.
"Rarely an appointment goes by where a family doesn't ask about this: 'If we started this care, will we be able to continue it?' " a UW Health doctor previously told Wisconsin Watch. The doctor's name is being withheld because a colleague suffered sustained harassment and death threats after publicly discussing gender-affirming care. "I have seen firsthand that it has really impacted mental health."
Evers sided with doctors in his veto message.
"I object to restricting physicians from providing evidence-based and medically appropriate care to their patients, restricting parents from making decisions with physicians to ensure their kids receive the health care they need and preventing patients from receiving that basic, lifesaving care," Evers said.
A shared disinformation playbook has eased the passage of these bans across the country. In Wisconsin misinformation swirled around the bill, from an hours-long public hearing to debate on the Assembly floor.
For now, transgender youth will be able to access the care they need at the state's two clinics, where social support is provided in early childhood and puberty blockers and hormones may be prescribed in adolescence.
"Especially important to me personally," Evers added, "I am vetoing this bill in its entirety because I object to the Legislature's ongoing efforts to manufacture and perpetuate false, hateful and discriminatory anti-LGBTQ policies and rhetoric in our state."
The nonprofit Wisconsin Watch (www.WisconsinWatch.org) collaborates with WPR, PBS Wisconsin, other news media and the University of Wisconsin-Madison School of Journalism and Mass Communication. All works created, published, posted or disseminated by Wisconsin Watch do not necessarily reflect the views or opinions of UW-Madison or any of its affiliates.
****************************************************************************************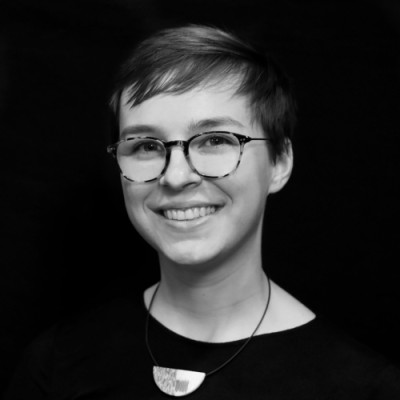 Phoebe Petrovic is an investigative reporter covering disinformation at Wisconsin Watch and a 2022-2023 Law & Justice Journalism Project fellow. As a Report for America corps member from 2019-2022, Petrovic reported, produced, and hosted "Open and Shut," a podcast series co-published with Wisconsin Public Radio examining the power of prosecutors.
Petrovic previously worked at WPR as a Lee Ester News Fellow, "Reveal" from the Center for Investigative Reporting as an editorial intern and NPR's "Here & Now" as a temporary producer. Her work has aired nationally on all of NPR's flagship news magazines. She holds a bachelor's degree in American Studies from Yale University.
****************************************************************************************
The previous article was previously published by the Wisconsin Watch and is republished with permission.
Wisconsin Watch is a project of the Wisconsin Center for Investigative Journalism (WCIJ Inc.) — a 501(c)(3) nonprofit organization.
Wisconsin Watch is in the middle of its most important fundraiser of the year: NewsMatch. This year our goal is to raise $100,000. Meeting this ambitious goal will fuel our statehouse and political coverage in 2024.
Thank you for reading this article and building a more informed Wisconsin. Can we count on your support during this season of giving?
When you give today, your gift will be matched, doubling your impact on our nonprofit newsroom and the state of Wisconsin.