January 14, 2019 at 2:37 pm PST | by Karen Ocamb
Riverside Sheriff Sacks Gay Moreno Valley Police Chief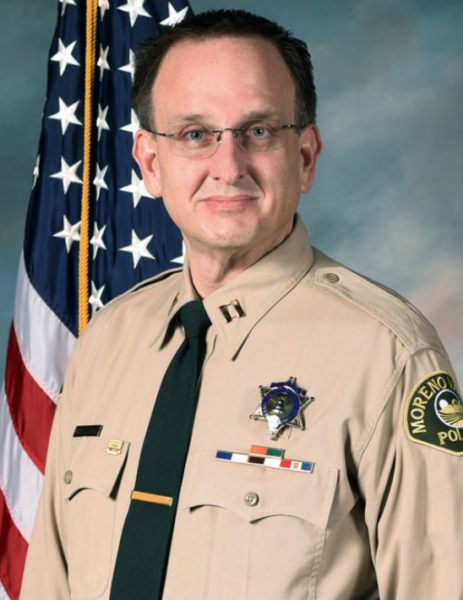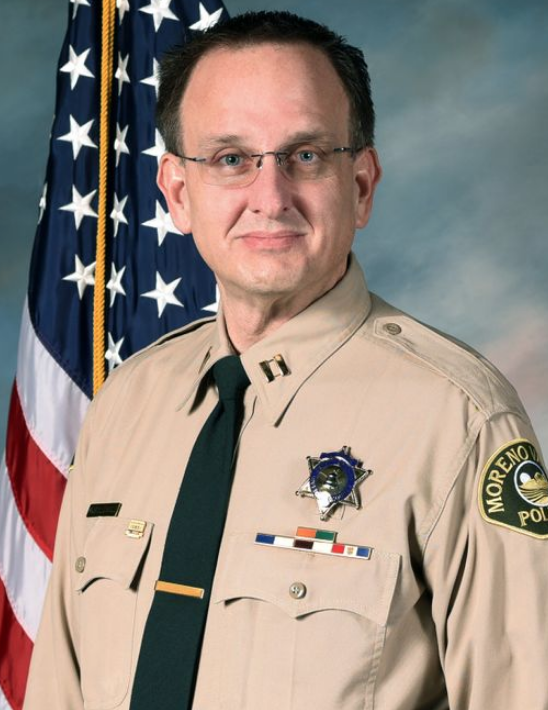 It seems like ancient history now but LGBT Angelinos might remember how in the 1980s and early 1990s, Los Angeles Assistant Police Chief Robert L. Vernon and Deputy Chief Mark Kroeker ran an anti-LGBT "God's Squad" under LAPD Chief Daryl Gates. After failing to get Gate's job after the LA riots, Kroeker headed to Portland, Oregon for the police chief position there, having claimed he was not anti-LGBT, despite strong suspicions otherwise. The Portland Alliance later uncovered decades-old tapes in which, among other things, Kroeker said that homosexuality was a "perversion" and should be outlawed. "His subsequent semantic tap dancing only made things worse," Willamette Week reported in 2002.
Something similar might now be happening in Riverside County in the bluest of blue states. In one of his first official actions immediately after being sworn into office on Jan. 8, Riverside County Sheriff Chad Bianco removed openly gay Capt. David Kurylowicz from his position as Chief of the Moreno Valley Police Department. Kurylowicz, a 26-year veteran of the Riverside department, was also stripped of his peace/police officer powers and forbidden to set foot on MVPD property.
According to news reports and a knowledgeable law enforcement source in neighboring San Bernardino County, Kurylowicz strongly backed incumbent Sheriff Stan Sniff over Bianco in the recent extremely divisive and contentious race for Sheriff.
During the campaign, on Sept. 20, 2018, Kurylowicz tearfully appeared at a meeting of the Palm Springs City Council and said he was being cyber-stalked by members of Bianco's campaign and feared what might happen regarding protections of the LGBTQ community. Kurylowicz later said he went to Palm Springs, an all-LGBT city council, rather than Moreno Valley city council where he works because he volunteers in Palm Springs.
"I happen to be the target of a very vicious and vile attack by a candidate who is applying for the top police position for our county," Kurylowicz told the council. "I am concerned for my community. As a gay man, I've faced ridicule and public humiliation by the Bianco campaign for my lifestyle. My husband has also faced similar troubles."
Kurylowicz emotionally added: "If this person is willing to do this to me — a veteran police officer for 26 years — I'm worried about what is going to happen with my community. It is real, and it is happening to me."
While Palm Springs takes such allegations very seriously, Mayor Pro Tem J.R. Roberts told KMIR (NBC Palm Springs), Kurylowicz did not provide any proof that Bianco made such claims.
Biano disputed Kurylowicz's allegations that he was a homophobe in an interview with KMIR and slammed his opponent, Sheriff Sniff, for putting the captain up to it. He noted that audiotapes of an event where he supposedly made homophobic comments about Kurylowicz do not include any anti-LGBT slurs, adding that his own brother is gay.
"The current sheriff has absolutely nothing to stand on, so this is where we're going to take this campaign. Not about how we're going to better the community, not about how we're going to better the department. Let's say Chad is a homophobe … let's just make it up," Bianco told KMIR, adding that neither he nor his campaign are associated with the conservative blog Right On Daily,
"I think part of the problem was that Chad [Bianco] is fairly conservative—you know, traditional in politics and so forth, and Chief Kurylowicz made it known that he thought Chad was biased against the LGBT community. The Chief also claimed Chad had said negative things about him personally," the law enforcement source told the Los Angeles Blade. "There was serious bad blood because of that, although he [Bianco] went on the record and denied saying stuff like that."
"Neither Bianco or Sheriff's administrators have publicly commented about why Kurylowicz was removed from his position and stripped of his peace officer powers, leading many to wonder if animosity bred during the recent campaign had anything to do with Kurylowicz's sudden and unexpected removal. Others cited an ongoing Internal Affairs investigation as a possible reason for the Captain's removal," reported former Riverside Sheriff's SVU Detective (Ret) Trevor Montgomery, who is now the editor & publisher of Riverside County & Shasta County News Source, while not explaining the subject of the alleged Internal Affairs investigation.
Coachella Valley investigative journalist Cindy Uken has been covering the confrontation. She reported last October that a 10-page questionnaire that then-candidate Bianco completed in September and signed for the Temecula-Murrieta Republican Assembly, paints a troubling picture of Bianco's views on LGBTQ issues.
"The Temecula-Murrieta Republican Assembly is run by Bob Kowell and is described as an extreme right wing group. It is one of two known California Republican Assembly organizations in Riverside County. A description on the group's Facebook page outline's the group's beliefs on everything from taxes and education to the right to bear arms and the sanctity of life," Uken reported.
She noted that the CRA in Riverside continues to promote anti-LGBT "family values."
"We believe that the traditional American family, defined as any persons related by blood, marriage of a man and a woman and/or adoption, is the cornerstone of our American society, and the government is duty bound to protect the integrity of the family unit through legislation and taxation policies," The CRA Riverside group says.
The questionnaire, obtained by Uken, specifically asks about same sex marriage and "conversion therapy." Bianco's answers would appear to agree with the CRA.

Former Sheriff Sniff told Uken he refused to answer the questionnaire.
"As soon as I saw the questions it was, like, 'What in the hell has this got to do with being a sheriff?' My gosh, they're talking about deporting the immigrants. This is obviously a stunt, or one narrow niche," Sniff said.
"The questionnaire is bigoted," he added. "There are questions in there that clearly are outside the confines of US laws, defined by the Supreme Court, in decisions and also statutes. A lot of the questions were improperly framed in my view. A number of them had no legal basis….They also reflect a lack of understanding of the criminal justice system."
Former Assistant Riverside County Sheriff Raymond Gregory expressed concern that Bianco would support an LGBT Liaison Officer as Sniff had done.
Andre Levesque, Bianco's campaign spokesperson, said talk of Bianco's stance on LGBT issues was a diversion from real issues before the election.
"When Lt. Chad Bianco becomes Sheriff he will have a better working relationship with the LGBTQ community and all other communities because he is going to implement a community-oriented style of policing where deputies have a better working relationship with the communities they serve," Levesque said.
A spokesperson for Bianco's Sheriff's told the Los Angeles Blade that there would be no comment on what was characterized as a personnel matter regarding Capt. Kurylowicz. – Staff reports contributed to this story.                                   
Photograph: Sheriff's Captain David Kurylowicz courtesy of the Riverside County Sheriff's Office.