Riverside Sheriff Sacks Gay Moreno Valley Police Chief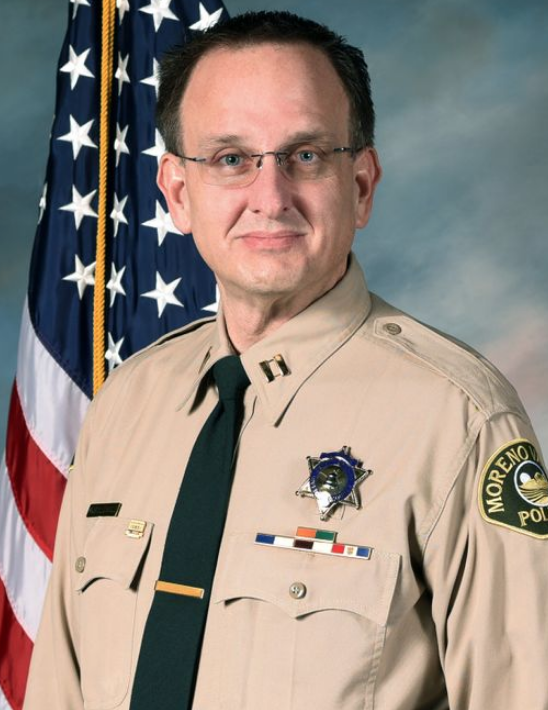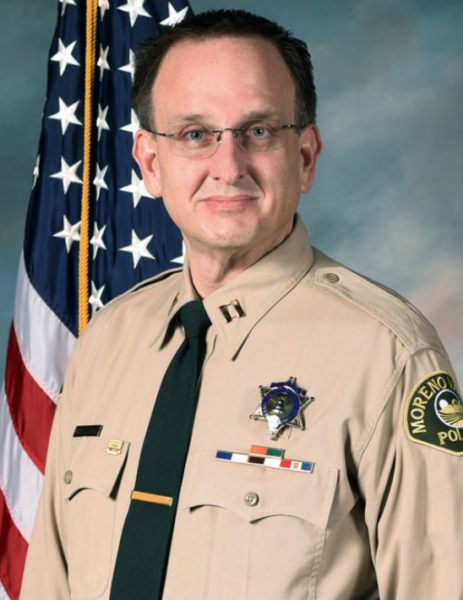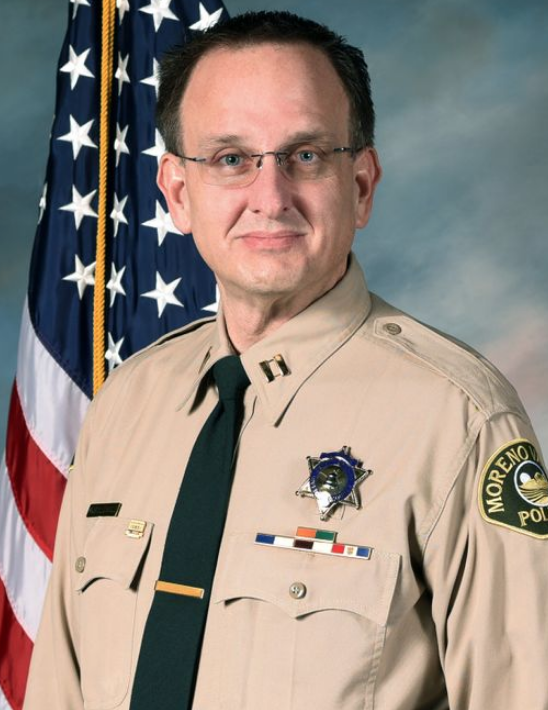 It seems like ancient history now but LGBT Angelinos might remember how in the 1980s and early 1990s, Los Angeles Assistant Police Chief Robert L. Vernon and Deputy Chief Mark Kroeker ran an anti-LGBT "God's Squad" under LAPD Chief Daryl Gates. After failing to get Gate's job after the LA riots, Kroeker headed to Portland, Oregon for the police chief position there, having claimed he was not anti-LGBT, despite strong suspicions otherwise. The Portland Alliance later uncovered decades-old tapes in which, among other things, Kroeker said that homosexuality was a "perversion" and should be outlawed. "His subsequent semantic tap dancing only made things worse," Willamette Week reported in 2002.
Something similar might now be happening in Riverside County in the bluest of blue states. In one of his first official actions immediately after being sworn into office on Jan. 8, Riverside County Sheriff Chad Bianco removed openly gay Capt. David Kurylowicz from his position as Chief of the Moreno Valley Police Department. Kurylowicz, a 26-year veteran of the Riverside department, was also stripped of his peace/police officer powers and forbidden to set foot on MVPD property.
According to news reports and a knowledgeable law enforcement source in neighboring San Bernardino County, Kurylowicz strongly backed incumbent Sheriff Stan Sniff over Bianco in the recent extremely divisive and contentious race for Sheriff.
During the campaign, on Sept. 20, 2018, Kurylowicz tearfully appeared at a meeting of the Palm Springs City Council and said he was being cyber-stalked by members of Bianco's campaign and feared what might happen regarding protections of the LGBTQ community. Kurylowicz later said he went to Palm Springs, an all-LGBT city council, rather than Moreno Valley city council where he works because he volunteers in Palm Springs.
"I happen to be the target of a very vicious and vile attack by a candidate who is applying for the top police position for our county," Kurylowicz told the council. "I am concerned for my community. As a gay man, I've faced ridicule and public humiliation by the Bianco campaign for my lifestyle. My husband has also faced similar troubles."
Kurylowicz emotionally added: "If this person is willing to do this to me — a veteran police officer for 26 years — I'm worried about what is going to happen with my community. It is real, and it is happening to me."
While Palm Springs takes such allegations very seriously, Mayor Pro Tem J.R. Roberts told KMIR (NBC Palm Springs), Kurylowicz did not provide any proof that Bianco made such claims.
Biano disputed Kurylowicz's allegations that he was a homophobe in an interview with KMIR and slammed his opponent, Sheriff Sniff, for putting the captain up to it. He noted that audiotapes of an event where he supposedly made homophobic comments about Kurylowicz do not include any anti-LGBT slurs, adding that his own brother is gay.
"The current sheriff has absolutely nothing to stand on, so this is where we're going to take this campaign. Not about how we're going to better the community, not about how we're going to better the department. Let's say Chad is a homophobe … let's just make it up," Bianco told KMIR, adding that neither he nor his campaign are associated with the conservative blog Right On Daily,
"I think part of the problem was that Chad [Bianco] is fairly conservative—you know, traditional in politics and so forth, and Chief Kurylowicz made it known that he thought Chad was biased against the LGBT community. The Chief also claimed Chad had said negative things about him personally," the law enforcement source told the Los Angeles Blade. "There was serious bad blood because of that, although he [Bianco] went on the record and denied saying stuff like that."
"Neither Bianco or Sheriff's administrators have publicly commented about why Kurylowicz was removed from his position and stripped of his peace officer powers, leading many to wonder if animosity bred during the recent campaign had anything to do with Kurylowicz's sudden and unexpected removal. Others cited an ongoing Internal Affairs investigation as a possible reason for the Captain's removal," reported former Riverside Sheriff's SVU Detective (Ret) Trevor Montgomery, who is now the editor & publisher of Riverside County & Shasta County News Source, while not explaining the subject of the alleged Internal Affairs investigation.
Coachella Valley investigative journalist Cindy Uken has been covering the confrontation. She reported last October that a 10-page questionnaire that then-candidate Bianco completed in September and signed for the Temecula-Murrieta Republican Assembly, paints a troubling picture of Bianco's views on LGBTQ issues.
"The Temecula-Murrieta Republican Assembly is run by Bob Kowell and is described as an extreme right wing group. It is one of two known California Republican Assembly organizations in Riverside County. A description on the group's Facebook page outline's the group's beliefs on everything from taxes and education to the right to bear arms and the sanctity of life," Uken reported.
She noted that the CRA in Riverside continues to promote anti-LGBT "family values."
"We believe that the traditional American family, defined as any persons related by blood, marriage of a man and a woman and/or adoption, is the cornerstone of our American society, and the government is duty bound to protect the integrity of the family unit through legislation and taxation policies," The CRA Riverside group says.
The questionnaire, obtained by Uken, specifically asks about same sex marriage and "conversion therapy." Bianco's answers would appear to agree with the CRA.

Former Sheriff Sniff told Uken he refused to answer the questionnaire.
"As soon as I saw the questions it was, like, 'What in the hell has this got to do with being a sheriff?' My gosh, they're talking about deporting the immigrants. This is obviously a stunt, or one narrow niche," Sniff said.
"The questionnaire is bigoted," he added. "There are questions in there that clearly are outside the confines of US laws, defined by the Supreme Court, in decisions and also statutes. A lot of the questions were improperly framed in my view. A number of them had no legal basis….They also reflect a lack of understanding of the criminal justice system."
Former Assistant Riverside County Sheriff Raymond Gregory expressed concern that Bianco would support an LGBT Liaison Officer as Sniff had done.
Andre Levesque, Bianco's campaign spokesperson, said talk of Bianco's stance on LGBT issues was a diversion from real issues before the election.
"When Lt. Chad Bianco becomes Sheriff he will have a better working relationship with the LGBTQ community and all other communities because he is going to implement a community-oriented style of policing where deputies have a better working relationship with the communities they serve," Levesque said.
A spokesperson for Bianco's Sheriff's told the Los Angeles Blade that there would be no comment on what was characterized as a personnel matter regarding Capt. Kurylowicz. – Staff reports contributed to this story.                                   
Photograph: Sheriff's Captain David Kurylowicz courtesy of the Riverside County Sheriff's Office.
Newsom appoints Vianey Lopez to Ventura County Board
Lopez has a lengthy track record in progressive issues including her outspoken support of Planned Parenthood and women's reproductive rights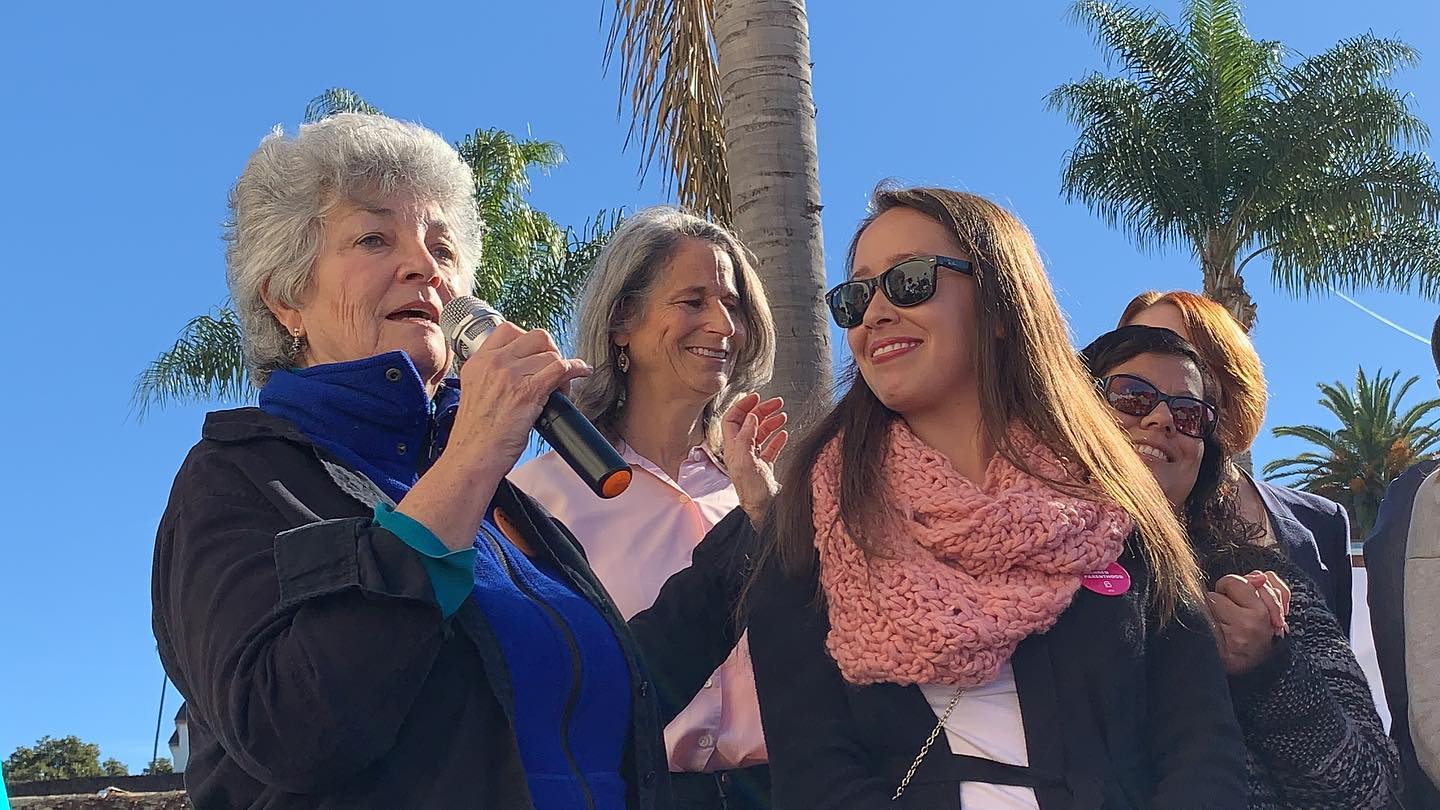 SACRAMENTO – Governor Gavin Newsom announced Friday that he has appointed City of Oxnard Councilmember Vianey Lopez to the Ventura County Board of Supervisors to the seat left vacant by the sudden death of the beloved chair of the Ventura County Board of Supervisors Carmen Ramirez, killed in an August traffic accident.
Lopez, 35, a resident of Oxnard, has been a city councilmember for District Six since 2018 and also serves as a District Director for California State Senator Monique Limón since 2020.
According to her campaign for reelection to city council biography, Lopez immigrated to the U.S. at the young age of 4. As one of the youngest of 11 children, there were opportunities she was afforded that her siblings did not have. Raised locally, Vianey attended kindergarten through middle school in the Hueneme Elementary School District before graduating from Hueneme High School in 2005.
Councilmember, now Supervisor Lopez has a lengthy track record in progressive issues including her outspoken support of Planned Parenthood and women's reproductive rights as well as other key issues including LGBTQ+ equality, immigrant rights, and has worked for several California political leaders including a stint as District Scheduler for former U.S. Representative Lois Capps from 2013 to 2016, a member of the House from 1998 to 2017 representing California's 24th congressional district.
Lopez was a Program Coordinator for the Oxnard Downtown Management District from 2012 to 2013 and an Administrative Assistant and Concierge at the Oxnard Convention and Visitors Bureau from 2009 to 2010. She is a member of the League of United Latin American Citizens and Future Leaders of America.
Lopez earned a Master of Public Policy degree in International Relations and State and Local Policy from Pepperdine University.
Triple A: SoCal gas prices race up by double digits in one week
The average price for self-serve regular gasoline in California is $5.52, which is eight cents higher than last week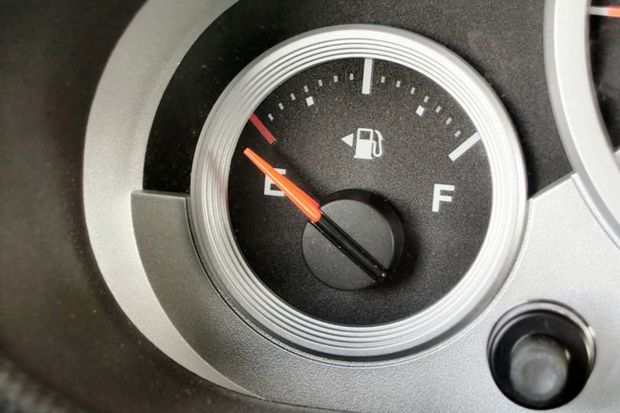 LOS ANGELES – Reports of additional Southern California refinery issues, along with continued low inventories, have created the biggest one-week price jump at the pump since early June, according to the Auto Club's Weekend Gas Watch.
The average price for self-serve regular gasoline in California is $5.52, which is eight cents higher than last week. The average national price is $3.68, which is two cents lower than a week ago.
The average price of self-serve regular gasoline in the Los Angeles-Long Beach area is $5.59 per gallon, which is 17 cents higher than last week, 25 cents higher than last month, and $1.19 higher than last year. In San Diego, the average price is $5.53, which is 15 cents higher than last week, 24 cents higher than last month, and $1.18 higher than last year.
On the Central Coast, the average price is $5.53, which is eight cents higher than last week, seven cents higher than last month and $1.18 higher than last year. In Riverside, the average per-gallon price is $5.44, which is 14 cents higher than last week, 23 cents higher than last month and $1.12 higher than a year ago. In Bakersfield, the $5.46 average price is eight cents higher than last Thursday, three cents higher than last month and $1.10 higher than a year ago today.
"Oil Price Information Service reports that several local refineries are undergoing unplanned maintenance as fuel inventories are at their lowest levels in a decade, which caused Los Angeles wholesale gas prices to rise sharply this week," said Auto Club spokesperson Doug Shupe.
The Weekend Gas Watch monitors the average price of gasoline. As of 9 a.m. on Sept. 22, averages are:
Newsom signs legislation to support California Native communities
Advances equity, inclusion and highlights the unique history, culture and government of tribes in the Golden State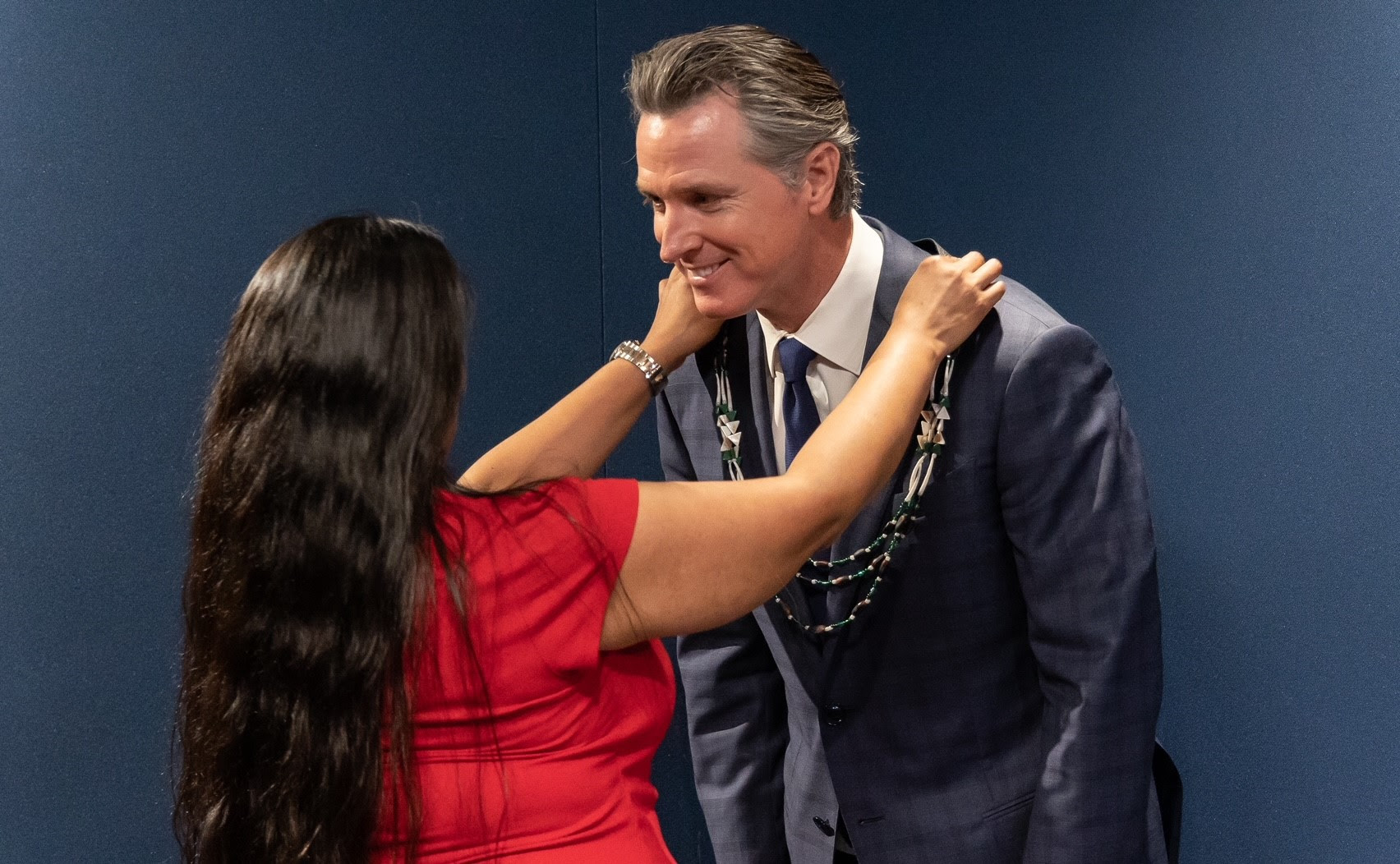 SACRAMENTO – Today on Native American Day, Governor Gavin Newsom signed several bills to support California Native communities and build on the Administration's work to promote equity, inclusion and accountability throughout the state.
AB 1314 establishes a statewide emergency alert system for missing Native people 
In a ceremony joined by leaders of Native American tribes from across California, the Governor signed AB 1314 by Assemblymember James C. Ramos (D-Highland) to help address the ongoing crisis of missing and murdered Native people from communities across the country.

Under AB 1314, local law enforcement will be able to request that the California Highway Patrol activate an emergency Feather Alert, similar to an Amber or Silver alert, to assist in search efforts for a Native person who has been reported missing under suspicious circumstances.
"As we lift up the rich history and contributions of California's diverse tribal communities today, the state recommits to building on the strides we have made to redress historical wrongs and help empower Native communities," said Governor Newsom. "Today's measures continue to move these efforts forward, including a new emergency alert system that will provide us with additional critical tools needed to address the crisis of Missing and Murdered Indigenous People. I thank all the legislators and tribal partners whose leadership and advocacy help light the path forward in our work to build a better, stronger and more just state together."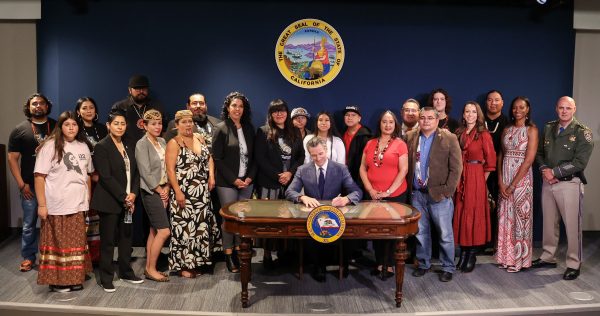 "AB 1314 will help us get the word out sooner when an individual is missing or endangered, enlisting the help of the public for tips and leads as soon as possible when quick action is critical," said Assemblymember Ramos. "I thank the Governor for signing this vital measure – creating an alert system was a top recommendation from tribal leaders for addressing the crisis of Missing and Murdered Indigenous People."
The state budget this year invests $12 million over three years to fund tribally-led programs to help address the crisis of Missing and Murdered Indigenous People on tribal lands. This investment built on last year's investment of $5 million to fund training and guidance for law enforcement agencies and tribal governments to improve public safety on tribal lands and study challenges related to the reporting and identification of missing and murdered Native peoples, particularly women and girls.
AB 1936 re-designates UC Hastings College of the Law and advances restorative justice efforts for Native peoples who suffered mass killings orchestrated by the college's founder
Governor Newsom also signed AB 1936 by Assemblymember Ramos, which re-designates the University of California's Hastings College of the Law as the College of the Law, San Francisco and advances restorative justice efforts for Round Valley Indian Tribes and Yuki people whose ancestors suffered mass killings and other atrocities funded and supported by college founder Serranus Hastings in the mid-19th century.
AB 1936 also outlines several restorative justice initiatives that the College intends to pursue, such as renaming the law library with a Native language name, annually reading a statement of the atrocities Hastings committed against the Yuki people and providing collaborative opportunities for Round Valley tribal students to gain debate and writing experience, among other efforts.
AB 2022 will remove the racist and sexist slur squaw from all geographic features and place names in California
Under AB 2022 by Assemblymember Ramos, the racist and sexist term "squaw" will be removed from all geographic features and place names in the state, and a process to review petitions to change offensive or derogatory place names will be created. This comes on the heels of federal action this month to complete the removal of this slur from nearly 650 geographic features across the country, including several name changes advanced by California based on extensive tribal engagement. The Newsom Administration has launched a series of ongoing actions to identify and redress discriminatory names of features attached to the State Parks and transportation systems.
Governor Newsom also signed AB 1703 by Assemblymember Ramos, the California Indian Education Act. The measure encourages local educational agencies and charter schools to form California Indian Education Task Forces in partnership with local tribes to develop curricular materials that highlight the unique history, culture and government of tribes in their region.