January 16, 2019 at 9:18 am PST | by Karen Ocamb
Out Cathedral City Mayor Greg Pettis dies at 63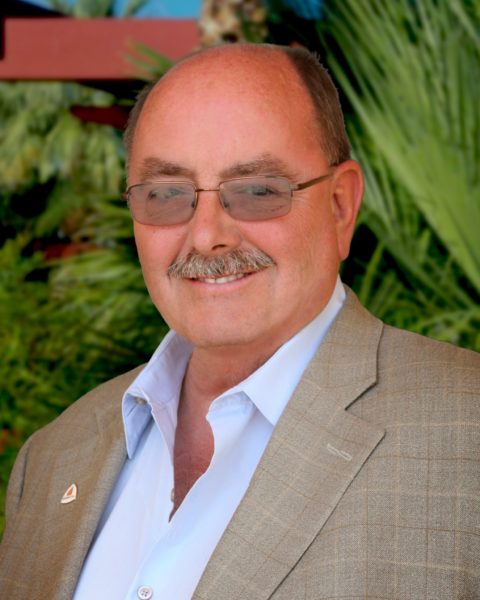 Greg Pettis, the affable, hard-working Democrat who assumed the mantle as Cathedral City's openly gay mayor last month, died Tuesday afternoon Jan. 16 from complications related to gastric bypass surgery, his family told the Desert Sun.
Last August, the 5-foot-10, 282-pound Pettis told political blogger Cindy Uken that he intended to have weight-loss surgery after becoming ill in January 2018 and frankly assessing medical issues that included high blood pressure, high cholesterol, three ulcers and a regime of 11 medications.
"I'm excited for the change," Pettis told The Uken Report, adding that what he longed for was to "get healthier" and satiate his "desire to live longer."
Last Oct. 12, he posted a note on Facebook saying he was on his way to Riverside Community Hospital for "biopsy and bariatric surgery." On Oct. 22, he added a new post: "Back in hospital. Eisenhower this time. Complication from surgery they believe. Sigh. Oh sell. Things go on". He was taken back to Eisenhower Health Jan. 9 following a City Council meeting where he was hospitalized. He died about 4 p.m. Tuesday, Jan. 15, Uken reported.
"I am extremely saddened by the sudden death of Greg Pettis," out Palm Springs City Councilmember Geoff Kors told the Los Angeles Blade.  "Greg recently became the first openly LGBT mayor of Cathedral City.  He was a compassionate and talented elected official, working to improve the lives of everyone in his community, state and nation.  He always stood up for the most vulnerable, leading efforts on asylum and immigration, economic development, social justice, and creating programs to reduce poverty and expand education opportunity.  Greg was a kind person with a wonderful sense of humor.  I will miss my colleague and friend and know his legacy will live on in all the people he helped."
Born on Dec. 15, 1955 and raised in Duarte in the San Gabriel Valley, Pettis moved to Cathedral City in 1979. Pettis was elected to the Cathedral City Council in 1994 after nearly 15 years in the hospitality industry.
"Mayor Pettis will be remembered for his progressive legislative ideas, supporting civil rights and social justice for all people, and at the same time, working hard to bring economic development to the city he loved to call home since 1979," a city news release said.
"It's going to be a tremendous loss," City Manager Charlie McClendon told the Desert Sun. "Our hearts go out to his friends and family and those of us who are left behind will do our best to carry on in moving this city forward. He was so dedicated to this city and to the people who live here."
Pettis was a ubiquitous fixture in Democratic Party circles, receiving a Democratic National Committee appointment through Democratic Municipal Officials to be one of 75 California superdelegates to the Democratic National Convention in 2016 where he supported former Sec. of State Hillary Clinton.
Pettis caused some political consternation by going to work for Republican State Sen. Jeff Stone from 2014-2015. The two knew each other when Stone was on the Temecula City Council and when they both served on the Southern California Association of Governments in 2013, where Pettis served as president.
"Greg was like a mini Governor of California because the organization is so massive," Stone told the Uken Report, noting that Pettis helped him evolve on LGBT issues.
"He was the poster child for public service," Stone said. "It is a loss for the entire county. He was so good at helping people."
Stone told the Desert Sun he was "devastated" by news of Pettis' death.
"We enjoyed Greg's tenure on our Senate Staff, putting partisanship aside and tapping his vast transportation expertise for all 2.5 million residents of Riverside County. He set the successful example of how to represent the needs of his community. I am truly saddened by his early passing," Stone said.