MLK's 'Letter From Birmingham Jail' encourages civil agitation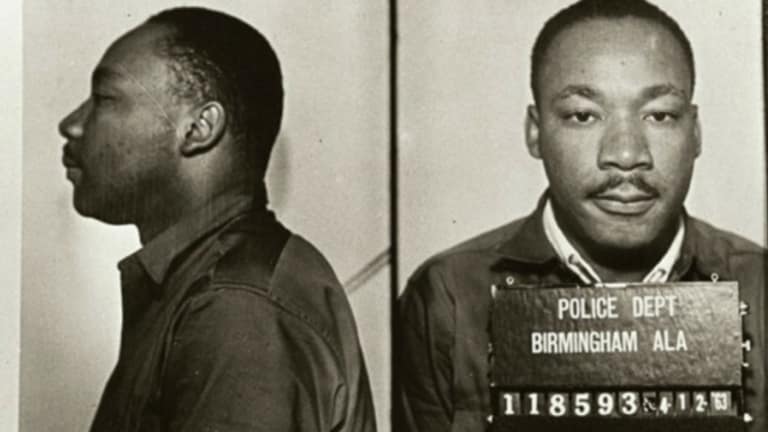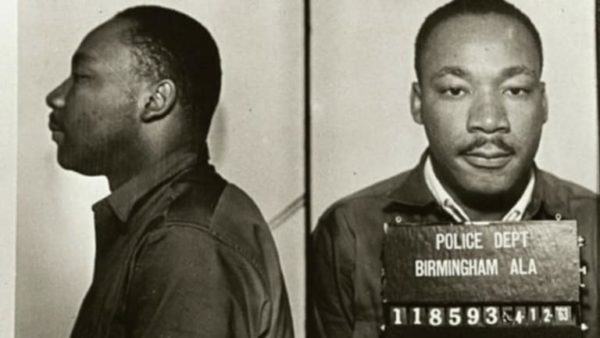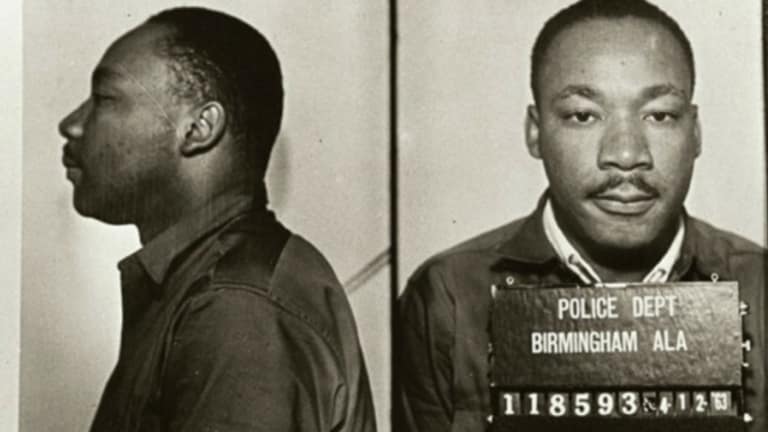 This is an unusual Martin Luther King Day. Usually, young people would be learning about the civil rights icon's famous "I Have A Dream" speech—but teachers are still on strike in Los Angeles and the nation is in its fifth week of a government shut down so that lesson may be missed. And in Washington DC, the president many consider to be an outright racist felt obliged to visit the monument dedicated to Rev. Dr. Martin Luther King Jr after the backlash Vice President Mike Pence received for comparing Trump to King on CBS News' Face the Nation."
"The vice president attempted to compare the president to Martin Luther King Jr. Martin Luther King Jr. was a bridge builder, not a wall builder," said Martin Luther King III, according to The Atlantic staff writer Edward Isaac-Dovere on Twitter. "Martin Luther King Jr. would say, 'Love, not hate, will make America great.'"
Others used the day differently. California Sen. Kamala Harris announced she is running for president, as expected. Sen. Cory Booker sounded like a candidate-in-waiting at an NAACP event in South Carolina. Vermont Sen. Bernie Sanders tried to burnish his civil rights credentials, saying he attended the March on Washington as a college student and heard King speak.
And new California Gov. Gavin Newsom issued a long statement that started with a quote from King: "The ultimate measure of a man is not where he stands in moments of comfort and convenience, but where he stands at times of challenge and controversy."
"More than 50 years after his passing, Dr. Martin Luther King's words ring true today. They remind us that moral leadership doesn't require a person to be in elected office or hold a position of power. Instead, exercising moral authority simply requires the will to do the right thing," Newsom said. "I remember the quote above when I think about what's happening in our country today. It's almost as if Dr. King himself had imagined this moment. During this time of unprecedented tumult, from presidential Twitter tirades to the willful destruction of federal civil protections, each of us has the capacity to make a difference. Instead of giving up or losing hope, let's gather strength from Dr. King's legacy and use our moral authority to push for a more equitable state, society and world."
For King, that moral push came at an extreme cost—his assassination at the hands of a right-wing racist on April 4, 1968 in Memphis. He was 39. But there were other costs, too, as King modeled how non-violent civil disobedience confronts authoritarian power—such as beatings, humiliation and jail. But here, too, King turned powerlessness into a tutorial for assuming moral authority.
On April 12, 1963, King and his associate Rev. Ralph Abernathy put on work clothes and joined marchers in their Birmingham Campaign from Sixth Avenue Baptist Church into a waiting police van. Eight members of the Birmingham clergy immediately published an ad criticizing the campaign in the Birmingham News, calling the civil rights strategy of mass street direct action "unwise and untimely." They appealed "to both our white and Negro citizenry to observe the principles of law and order and common sense."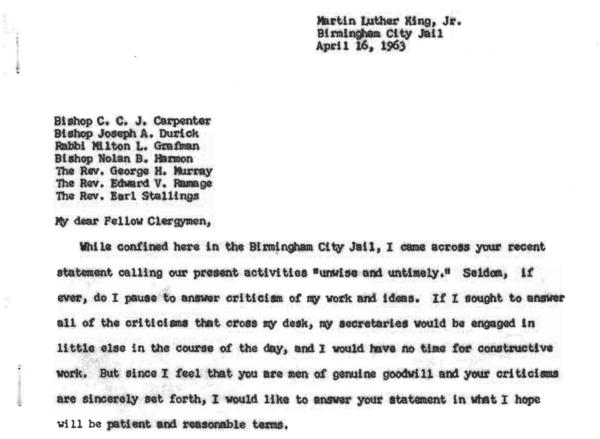 From his jail cell, King wrote a long letter on bits of newspaper and notepads left by his lawyers that was circulated as a mimeographed copy,  then published as a pamphlet, then printed in periodicals, with a portion eventually read into the Congressional Record by New York Democrat Rep. William Fitts Ryan. A year later, King revised his letter and published it in his 1964 memoir, Why We Can't Wait.
First King addressed being called an "outside agitator" by Sheriff Bull Connor and others before explaining the campaign's principles and four basic steps: "collection of the facts to determine whether injustices exist; negotiation; self-purification; and direct action." The purpose of direct action, he explained, was to create a confrontation that would demand negotiation.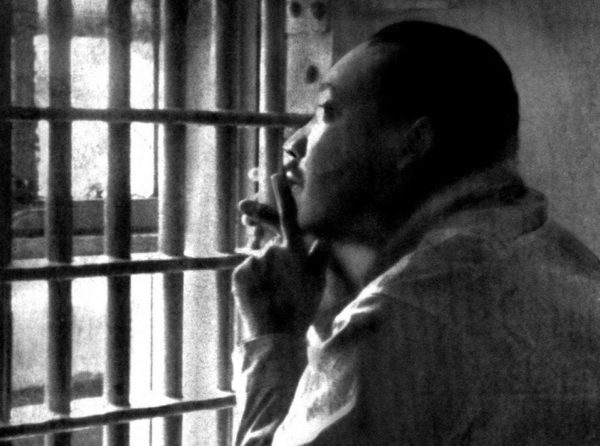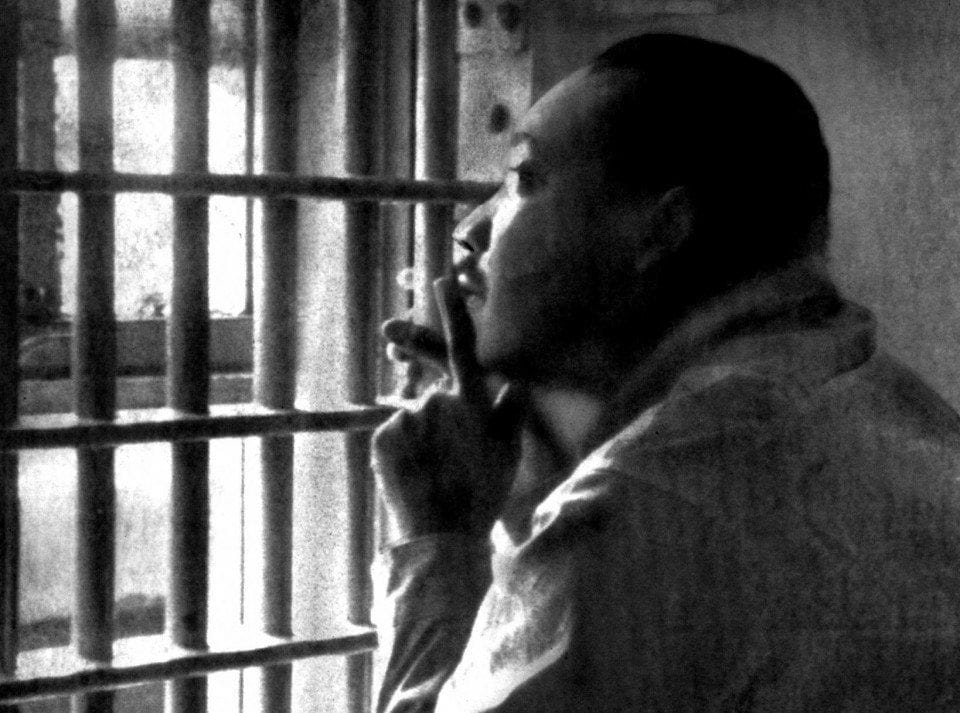 But most of the letter dealt with the clergy's assertions of "impatience" by the Black community and the "extreme" actions used by the campaign. He wrote:
We know through painful experience that freedom is never voluntarily given by the oppressor; it must be demanded by the oppressed. Frankly, I have yet to engage in a direct action campaign that was "well timed" in the view of those who have not suffered unduly from the disease of segregation. For years now I have heard the word "Wait!" It rings in the ear of every Negro with piercing familiarity. This "Wait" has almost always meant "Never." We must come to see, with one of our distinguished jurists, that "justice too long delayed is justice denied."

We have waited for more than 340 years for our constitutional and God given rights. The nations of Asia and Africa are moving with jet-like speed toward gaining political independence, but we still creep at horse and buggy pace toward gaining a cup of coffee at a lunch counter. Perhaps it is easy for those who have never felt the stinging darts of segregation to say, "Wait." But when you have seen vicious mobs lynch your mothers and fathers at will and drown your sisters and brothers at whim; when you have seen hate filled policemen curse, kick and even kill your black brothers and sisters; when you see the vast majority of your twenty million Negro brothers smothering in an airtight cage of poverty in the midst of an affluent society; when you suddenly find your tongue twisted and your speech stammering as you seek to explain to your six-year-old daughter why she can't go to the public amusement park that has just been advertised on television, and see tears welling up in her eyes when she is told that Funtown is closed to colored children, and see ominous clouds of inferiority beginning to form in her little mental sky, and see her beginning to distort her personality by developing an unconscious bitterness toward white people; when you have to concoct an answer for a five-year-old son who is asking: "Daddy, why do white people treat colored people so mean?"; when you take a cross county drive and find it necessary to sleep night after night in the uncomfortable corners of your automobile because no motel will accept you; when you are humiliated day in and day out by nagging signs reading "white" and "colored"; when your first name becomes "nigger," your middle name becomes "boy" (however old you are) and your last name becomes "John," and your wife and mother are never given the respected title "Mrs."; when you are harried by day and haunted by night by the fact that you are a Negro, living constantly at tiptoe stance, never quite knowing what to expect next, and are plagued with inner fears and outer resentments; when you are forever fighting a degenerating sense of "nobodiness" — then you will understand why we find it difficult to wait.
King cites practioners of civil disobedience, such as the American colonists who protested "taxation without representation" and threw the Boston Tea Party—underscoring that civil disobedience is based in a person's right to refuse to submit to unjust laws. He also chided the white clergy, noting that Jesus, the apostle Paul and even Abraham Lincoln had been called "extremists" and he was proud to stand in that light. But he scorned white moderates most of all. He wrote:
First, I must confess that over the past few years I have been gravely disappointed with the white moderate. I have almost reached the regrettable conclusion that the Negro's great stumbling block in his stride toward freedom is not the White Citizen's Council-er or the Ku Klux Klanner, but the white moderate, who is more devoted to "order" than to justice; who prefers a negative peace which is the absence of tension to a positive peace which is the presence of justice; who constantly says: "I agree with you in the goal you seek, but I cannot agree with your methods of direct action"; who paternalistically believes he can set the timetable for another man's freedom; who lives by a mythical concept of time and who constantly advises the Negro to wait for a "more convenient season." Shallow understanding from people of good will is more frustrating than absolute misunderstanding from people of ill will. Lukewarm acceptance is much more bewildering than outright rejection.
King's 'Letter From Birmingham Jail" is archived at Stanford University's Martin Luther King Jr. Research and Education Institute.  Listen to King reading the letter here.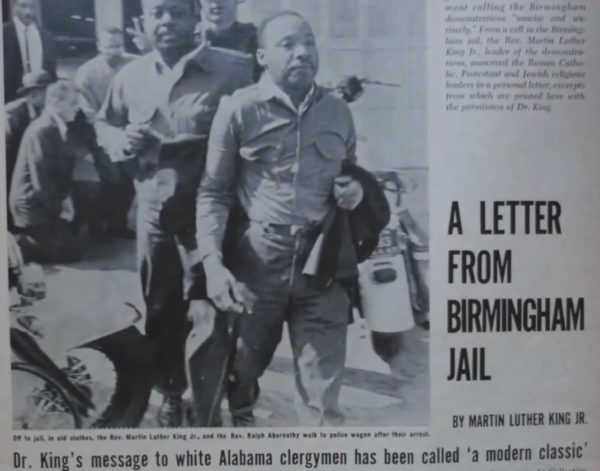 Once released from jail, King often used the term "outside agitator" in his sermons and speeches, according to Hedrick Smith, who covered King for the New York Times. At Southern Christian Leadership Conference meetings in Black churches in the Deep South, King created an interesting visual that took the sting out of the criminal-sounding slur. In 2016, Smith remembered how King would flip the script:
"They call me an agitator," he would cry out from the pulpit, his voice rising to put force and menace behind the indictment leveled against him. "Well, they're right," he came back defiantly. "I am an agitator."

Then softening, he'd ask puckishly: "Do you know what an agitator is?" For a moment or two, he let the question hang in the air. People looked around at each other, uncertain.

"Well, look inside your washing machine," he went on. "There's an agitator in there." And he would hold out his right arm, crooked at the elbow like a muscle man showing off his might with his fist thrust upward. And then Martin – that's what his close friends called him – would twist his right fist sharply left-right, left-right, imitating the jerky motion of the shaft inside a clothes washer. "That agitator is in there, stirring up the water, knocking the dirt out of your clothes."

"Well, that's what I'm doing," Dr. King declared, still jerking his fist left-right. And the audience, catching on, would start to giggle. "I'm agitating to knock the dirt out of our society – discrimination, Jim Crow, segregation, racism. So they're right. I am agitating – agitating to clean up our democracy. That's what all of us need to do – agitate for a better America, a freer America, a fairer America."

From the audience came a roar of laughter, understanding and engagement.
Lesbian National Guard member discriminated against, says lawsuit
"I truly, truly hope that positive changes come from what has happened to me to where no other individual has to walk this path"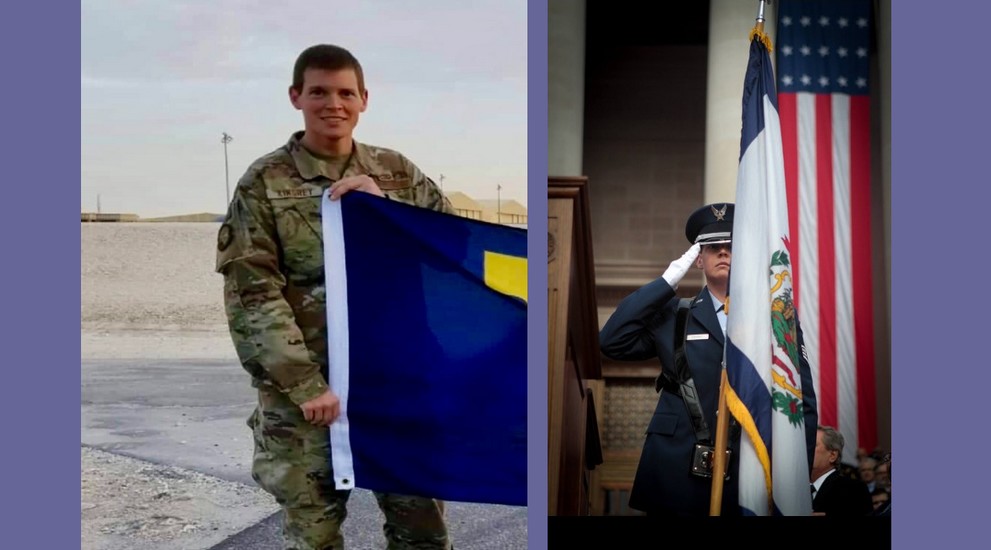 CHARLESTON, Wv. – For 14 years, Kristin Kingrey, a lesbian member of the West Virginia Air National Guard, has served her country and steadily moved through the ranks. But a lawsuit alleges that "despite her dedication," the National Guard discriminated against her sexual orientation and gender expression.
In the lawsuit, filed in a federal court in West Virginia, Kingrey claims she was informed that her superiors would not allow her career to advance unless she appeared more "feminine" by growing her hair out and wearing make-up. She alleges "intentional and unlawful" discrimination by the National Guard, culminating in two adverse employment actions.
"This has been a very long and dark road," Kingrey told the Blade.
According to court documents, Kingrey, who began employment as a federal civilian employee for the National Guard in 2016, was deployed to Qatar from August 2018 to March 2019. While in the country, she applied for the position of Human Resource Specialist (HRDS).
Kingrey, who was working as an HRO Benefits Specialist at the time, remotely interviewed for the position and was informed the same day that she was selected, the complaint said. She accepted that day.
Upon returning to Charleston, West Virginia, Kingrey began training for the HRDS position, but she could not assume the position due to "ongoing medical restrictions." However, she was to start serving in the position when cleared, documents state.
The HRDS position was then rescinded due to "budgetary" claims, so she was pulled from the position, despite accepting it. Months later, according to the lawsuit, the job was reposted, but Kingrey was never notified. The job ended up going to someone outside the protected class for the employee benefits position.
Behind the scenes, Kingrey's superiors were having "inappropriate, disparaging, and intentionally discriminatory" conversations about her outward appearance. According to the complaint, Colonel Michael Cadle was the one who made the comments.
The lawsuit states that during the meeting that took place when she was still in Qatar, Cadle requested that a lieutenant instruct Kingrey on how to appear more "feminine." In addition, he threatened Kingrey's career advancement with the National Guard.
According to the suit, Kingrey is tall and broad in stature, keeps her hair short in length and does not wear make-up or jewelry.
In her 14 years in the National Guard, Kingrey said that this was the first time she has dealt with discrimination and harassment to that magnitude, although she has heard "comments throughout" her time.
Court documents said that Kingrey was "frequently harassed" for the length of her hair. Due to the "volume of complaints," she started to, and still, carries the appropriate Air Force Instruction demonstrating that her hair is and was of an appropriate length.
In other instances, according to the lawsuit, Kingrey's superiors perpetuated the rumor that she was "transitioning" from female to male.
"I do not fit the mold that they feel that I should being a female," she said.
Though Kingrey doesn't want to speak for the whole LGBTQ community, she feels that "if I had long hair and wore make-up and still identified as being of the LGBTQ community, that's a different case."
The West Virginia National Guard did not immediately return a request for comment.
Kingrey called the whole situation "disheartening," adding that "it's been a very long and dark road."
She said that she works with "some of the greatest individuals that you will ever encounter at all," but the "problem lies with the individuals that are in key leadership roles."
At one point, Kingrey said that one of her superiors called her in to check on her, given her recent hardships and high suicide rate amongst LGBTQ service members. According to a JAMA Network Open report from last year, LGB veterans are at greater risk of suicide than the general population.
"There's so much pushed out via the Air Force and down through the Guard about diversity and inclusion, which is great," said Kingrey. "It looks good. It sounds good. But when you have individuals in key leadership positions that allow their personal beliefs to override the guidance that is being put out – it's just disheartening."
"No one should have to go through the kind of harassment and discrimination Technical Sergeant Kingrey faced over the years," said Andrew Schneider, executive director of Fairness West Virginia. "This is someone who has devoted her life to serving her country and her state, and this is how she's treated? We're better than this. For all of the lawmakers who say discrimination isn't a problem any more — here's proof it is."
In 2020, the U.S. Supreme Court ruled that existing federal law prohibiting discrimination in employment based on an employee's sex also protects LGBTQ employees.
Still, according to Fairness West Virginia, LGBTQ people face a "patchwork of protections" against discrimination. West Virginia is one of 29 states with no state law to ban discrimination in employment. According to a Norman Analytics and Research poll, 81% of West Virginians believe non-discrimination laws in the state should be strengthened.
Currently, a bipartisan proposal, called the Fairness Act, would update human rights law to include explicit protections for LGBTQ people in the state. The legislation has been endorsed across the state, including by more than 100 diverse faith leaders.
"Each person is created by God, for the Kingdom of God, and nothing we can say or do will remove us from the Love of God," said Rt. Rev. W. Michie Klusmeyer, Bishop of the Episcopal Diocese of West Virginia. "This is why the Fairness Act is needed. While the discussion of human sexuality continues to consume many people's conversations, nowhere in the Gospel of Jesus Christ are we allowed to remove the 'God-givenness of any individual or group of people."
However, the bill has not made it out of the state legislature.
"Kristin Kingrey's story goes to show that discrimination is still a major problem in West Virginia," Schneider said. "If respected members of the National Guard can face this kind of harassment, what happens to other LGBTQ people across our state? It's time for our leaders to stop sitting on their hands and to act. It's time for West Virginia to pass the Fairness Act and for Congress to pass the Equality Act."
Overall, Kingrey hopes some good will come out of what happened to her. "I truly, truly hope that positive changes come from what has happened to me to where no other individual has to walk this path," she said.
HRC/LGBTQ+ groups won't criticize Sinema for refusing filibuster reform
JoDee Winterhof, HRC's senior vice president of policy and political affairs, once worked for Sinema as chief of staff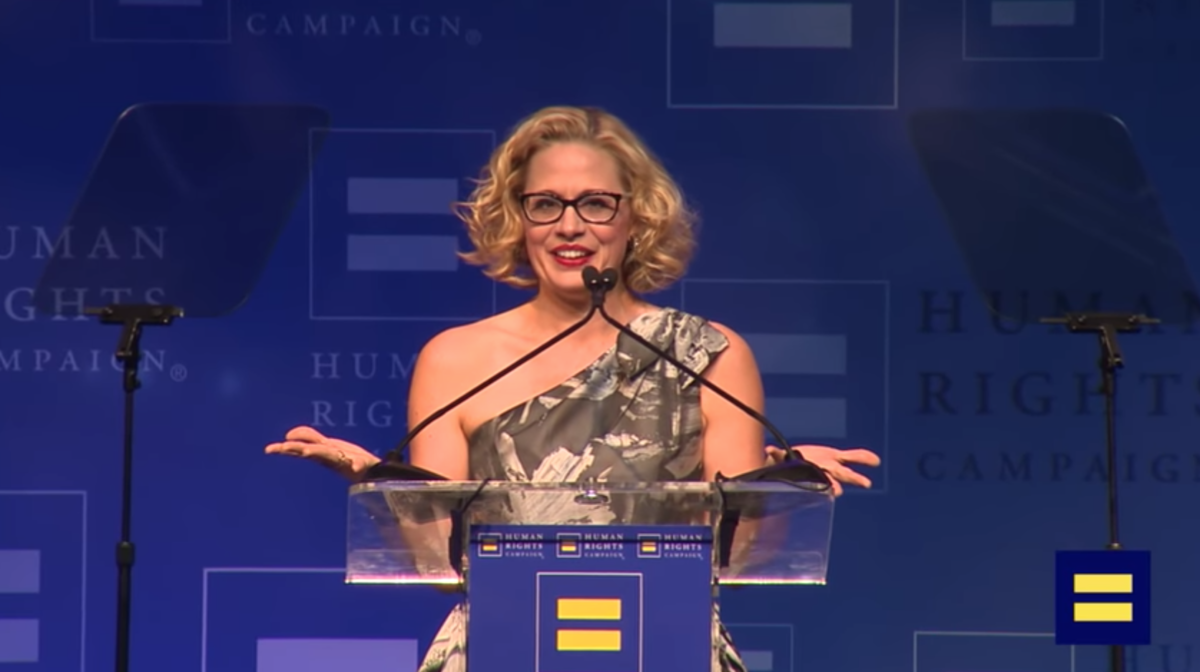 WASHINGTON – Despite an Out bisexual being among two Democrats responsible for thwarting President Biden's call to advance voting rights, LGBTQ+ groups that supported Sen. Kyrsten Sinema (D-Ariz.) stopped short of criticizing her directly for impeding legislation at the top of progressives' wish lists.
Although the change being sought was limited to voting rights legislation, the refusal from Sinema to change the filibuster rule, which requires 60 votes to move legislation to the Senate floor as opposed to a simple majority, effectively put a stake in the heart of the legislative agenda for Democrats, including any possibility of enacting LGBTQ+ civil rights legislation like the Equality Act.
The Human Rights Campaign, the nation's leading LGBTQ+ group, declined to identify Sinema by name in an organizational statement provided by a spokesperson via email in response to a Washington Blade inquiry on her refusal to change the filibuster to pass voting rights legislation.
"The core of our democracy is the right to vote," the statement says. "The United States Senate must act on legislation to protect that right now, including passage of federal voting rights and voting protection legislation. Without its essential safeguards guaranteeing that the voices of all voters — including LGBTQ+ Black, Brown and other minority voters — will be heard at the ballot box, we cannot ensure that any other right, even those currently enshrined in law, will be protected in the years to come."
The closest the statement comes to criticizing Sinema, without actually doing so, is the final line: "As a result, we feel that it is necessary for the Senate to take whatever actions are required, including changes to Senate rules, to ensure a majority to pass this essential legislation."
The Human Rights Campaign endorsed Sinema in the past as a candidate for U.S. Senate and hosted her as a special guest for fundraising and promotional events. It should be noted, JoDee Winterhof, HRC's senior vice president of policy and political affairs, once worked for Sinema as chief of staff.
Asked whether HRC's position was informed by Winterhof's past work, the spokesperson replied: "Many of our staff have experience working on the Hill. Regardless of who they have worked for, we continue to believe that it is necessary for the Senate to take whatever actions are required, including changes to the Senate rules, to pass federal voting reform."
Moments before Sinema was set last Thursday to meet with Biden on the filibuster, she took to the Senate floor preemptively and declared she wouldn't budge.
"There's no need for me to restate my long-standing support for the 60-vote threshold to pass legislation," Sinema said.
Added Sinema: "When one party need only negotiate with itself, policy will inextricably be pushed from the middle towards the extremes," adding that she doesn't support that outcome and "Arizonans do not either."
Joining Sinema in refusing to budge on the filibuster is her fellow moderate Sen. Joe Manchin (D-W.Va.), who has proposed alternatives to the current state of Senate rules, but ultimately rejected the changes proposed by the caucus.
In contrast to the relatively muted response from LGBTQ+ groups, other civil rights organizations were quick to denounce Sinema and Manchin for supporting the filibuster, calling the Senate rules as they stand Jim Crow 2.0. Late Monday, Emily's List announced it would no longer support Sinema for re-election over her position on voting rights.
Martin Luther King III, the son of the late civil rights leader, compared Manchin and Sinema to white moderates who half-heartedly supported his father's work.
"History will not remember them kindly," the younger King said, referring to Sinema and Manchin by name, according to PBS News Hour.
One exception to LGBTQ+ groups declining to criticize Sinema was the National LGBTQ Task Force, which said the senator should be coming up with alternatives to filibuster reform.
Kierra Johnson, executive director of the Task Force, said she's been "asking questions because Sen. Sinema is known for being a supporter of so many pieces of progressive legislation and culture change related to queer people and women's civil and human rights."
"I want to see better and more, right?" Johnson said. "Yes, we should be working to build bridges across the aisle, across political ideology, but for me, the question is if you're not going to support filibuster reform, then what are you supporting, and what is the pathway forward?"
Johnson added Sinema "owes it to the people who have supported her over the years to come up with these alternatives if she won't support filibuster reform."
Asked whether the Task Force has done any outreach to Sinema, Johnson said the organization is "in the process of trying to meet with her folks" and looking at ways to bring to her voices from LGBTQ+ movement community leaders.
Biden's call to reform the filibuster — even though it was limited to voting rights legislation — may have been dead on arrival as Sinema and Manchin have consistently resisted efforts in the Senate to reform the filibuster. The efforts to change Senate rules, however, appeared to have new strength after Biden's speech in Georgia last week making a plea for reform based on the Jan. 6 insurrection at the U.S. Capitol and the restrictive voting law passed in that state.
White House Press Secretary Jen Psaki, asked Friday about Sinema and Manchin refusing to budge on the filibuster, said the administration would continue to push for voting rights legislation.
"I would say that the president's view, as you heard him say yesterday, is that we're going to continue to press to get this done moving forward," Psaki said. "And that means continuing to engage with a range of officials who are supportive, some who have questions and some who are skeptical."
Psaki pointed out Biden ended up having the meeting with Sinema despite her remarks on the floor, adding "that's evidence of his continued commitment to keep engaging."
The LGBTQ+ community, as with any issue, isn't uniform in thinking Sinema should be obligated to have a certain view against the filibuster simply because she's bisexual, or that LGBTQ+ groups should criticize her for being obstructionist.
One LGBTQ+ strategist, who agreed to talk on condition of anonymity, outright rejects calls for Sinema to support a change in rules because the filibuster "ensures that minority perspectives cannot be trampled by majoritarianism."
"Portraying an LGBTQ+ woman as a gender and sexuality traitor shows a deep disrespect for our history," the strategist added. "Sinema's success in fighting for working families, vulnerable populations and LGBTQ+ rights is grounded in the belief that building large coalitions is how to best effect legal and social changes. Naturally, it follows she would be against a change in decades of Senate precedent that would prioritize hyper partisanship over persuasion."
Biden's speech in Georgia may have been more of an attempt to excite the progressive base as opposed to making a strategic push for filibuster reform. After all, his popularity is at an all-time low, which limits his influence. A POLITICO/Morning Consult poll asking voters to grade Biden after his first year in office found 37 percent gave him an "F," compared to the 31 who gave either "A" and "B," which is a touch worse than Trump at this point in his presidency.
The LGBTQ Victory Fund, which has endorsed Sinema in the past, declined to make any declarations about withholding an endorsement when asked by the Washington Blade.
"Our Victory Fund Campaign Board – made up of more than 150 political leaders and advocates from across the country – votes to determine our endorsements," said Elliot Imse, a Victory Fund spokesperson. "If Sen. Sinema runs for reelection, a review of her record as it relates to equality will of course be a primary consideration for whether she receives our endorsement. That board vote would take place, if she applies for endorsement, in late 2023 or 2024."
Imse added as a U.S. Senator Sinema is not currently up for election because after being elected in 2018 she is set to hold her seat for another four years.
 
"Sen. Sinema is not currently endorsed by Victory Fund and is not on an active ballot," Imse said. "We last endorsed her in 2018 when she was running against Martha McSally – a right-wing extremist candidate vociferously opposed to equality for LGBTQ+ people."
Mayor Garcetti selects Kristin Crowley to become city's next fire chief
Kristin Crowley already made history within the LAFD when she became the city's first female fire marshal in 2016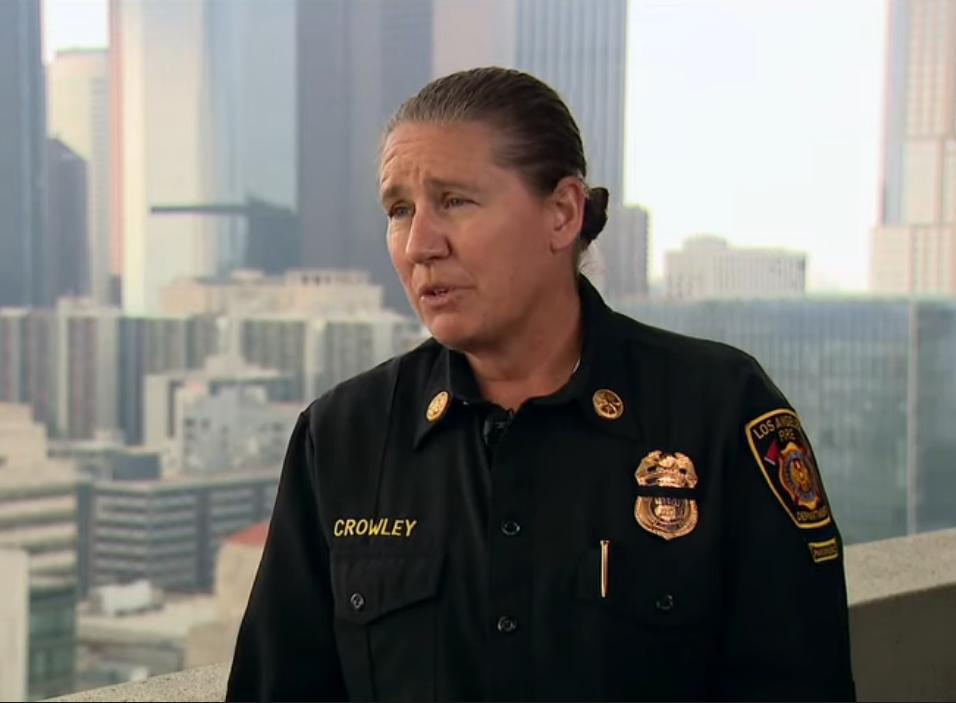 LOS ANGELES – Los Angeles Mayor Eric Garcetti nominated Deputy Chief Kristin Crowley to be the first woman to lead the Los Angeles Fire Department Tuesday. She would replace Chief Ralph Terrazas, who retires in March.
"I am honored and humbled by the opportunity to be the next fire chief of the Los Angeles City Fire Department and to lead the department into the future," Crowley said during the press conference event. "We will focus our efforts on increasing our operational effectiveness, enhancing firefighter safety and well-being, and fully commit to fostering a diverse, equitable, and inclusive culture within the LAFD."
The Los Angeles City Council will be required next in the process to confirm the appointment.
"Throughout her distinguished career, Kristin Crowley has proven her brilliance, determination and bravery on the job again and again," the mayor said. "There is no one better equipped to lead the LAFD at this moment than Kristin."
City News Service reported that Crowley took the firefighters' exam in 1998 and placed among the top 50 scores out of 16,000 applicants, according to the department. During her 22 years at the department, she rose through the ranks as firefighter, firefighter paramedic, engineer, fire inspector, captain I, captain II, battalion chief, assistant chief, fire marshal and deputy chief.
Crowley already made history within the LAFD when she became the city's first female fire marshal in 2016.
Mayor Garcetti names 1st female LAFD fire chief: