January 28, 2019 at 11:07 am PDT | by Karen Ocamb
Ivy Bottini bids 'adieu'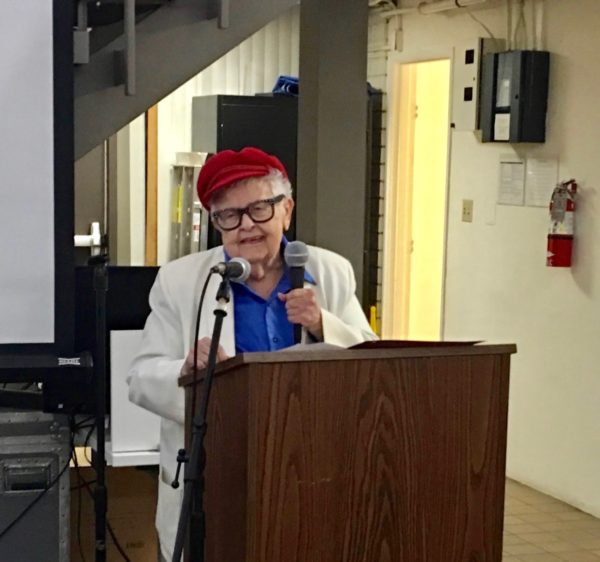 It was standing room only at ONE Institute Sunday, Jan. 27, as old friends and members of the Los Angeles LGBT community turned out to bid lesbian feminist activist Ivy Bottini farewell. On Feb. 1 Bottini, 93, is leaving her longtime West Hollywood home and moving to Sebring, Florida to live with her daughter Lisa Santasiero and Santasiero's wife, Beth.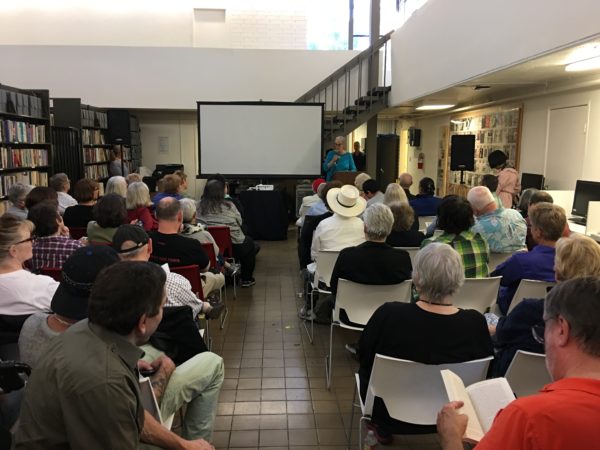 Judith V. Branzburg, author of Bottini's biography, Liberation of Ivy Bottini: A Memoir of Love and Activism, emceed the tribute, inviting a number of close friends to share stories of their relationships with the activist, including longtime on-and-off girlfriend Dottie Wine.
Wine offered three key insights she learned from Bottini, starting with: "when you see a seasoned activist get motivated in a cause, pay attention. You may want to get involved, too." Also: don't ignore seniors, something that really hit her when Bottini's eyesight started going dark and she could no longer drive. Finally: be intentional about your communication, something she learned the hard way, surviving despite a fight that resulted in their driving silently through the entire state of Utah.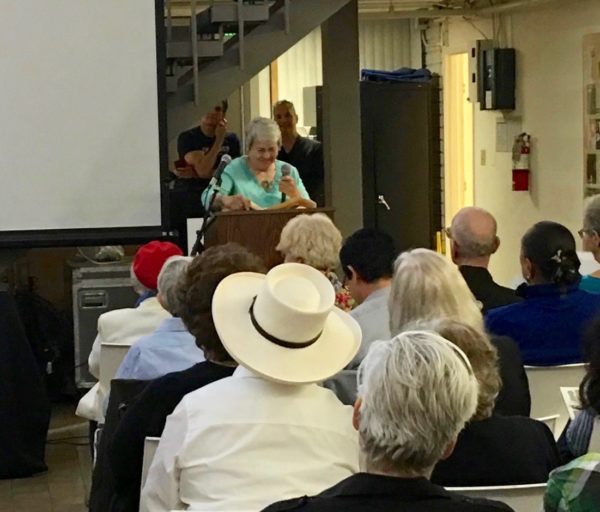 "Though she certainly lived a diversified life, whatever Ivy does is art," Wine said. "It's all about art," adding that though Bottini is now visually challenged, she "still hasn't quit."
Wine also brought a prop – the first Weight Watchers Cookbook, published in July 1966, illustrated by Ivy Bottini.
Wine noted that Bottini "never let ego get in the way. She's all about getting the job done." Wine leaned in and looked at Bottini and offered a big Thank You!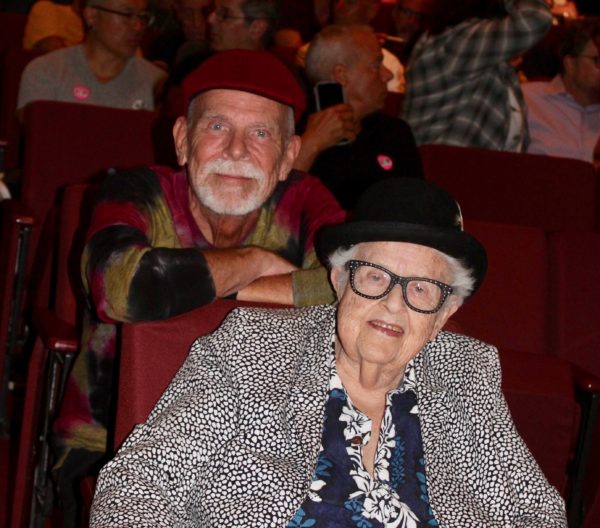 Ivy Bottini's roommate and helper Dan with Bottini at a screening of Dante Alencastre's documentary "AIDS Diva: The Legend of Connie Norman" (Photo by Karen Ocamb) 
Dan, Bottini's friend, roommate and helper, shared how he was almost homeless until he answered an ad about a room to rent. They had their ups and downs like ay relationship. But this was Bottini as helper more than activist. "Thank you for being the Oscar to my Felix," Dan said.
Sue Sexton, long known in West Hollywood circles as the "quiet one" who saved Women's Visibility and the Dyke March, turned out to have lots to say, much of it humorously, about admiring Bottini the artist and the community activist who encouraged her to get on LGAP, and about breaking Bottini's house rules when she rented a room.
"Crowbars couldn't take Ivy out of my life," Sexton said. But sometimes, like standing to close to a tapestry, "you need to step back to see how interwoven we are."
Bottini "was that warrior in my life" who introduced her to other lesbian warriors and from whom she "learned to be squeaky wheel at LA Pride."
Bottini is no newcomer when it comes to speaking to crowds large and small. But this one was different: this was her going away party.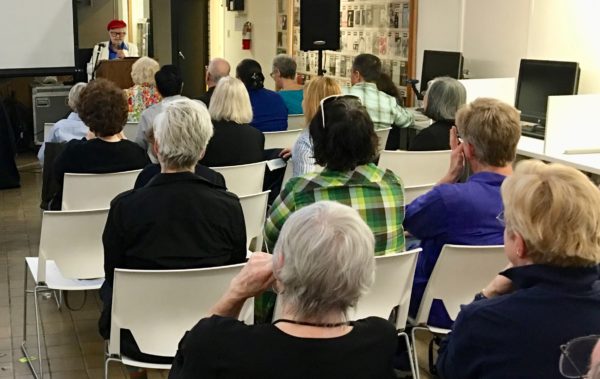 "I feel so humble," Bottini said in thanking her friends for speaking and showing up.
The crowd hushed, waiting respectfully as Bottini sought the words to describe her emotions. Part of me "is very, very sad. Thank god I have a sense of humor," she said. "Then I look at where I'm going – the small belly button of Florida," where a recent bank robbery finally put the town on the map.
"I feel like my time here is finished to a great extent. The city of West Hollywood is not the city I knew and I'm not happy with it now," she said, noting that WeHo has become a city of the "well-off" and those like Dan struggling to stay and not be evicted.
"We need more activists," Bottini said. "Stand up and yell at the city council and county board." If no one takes a stand, decisions will be made over which you have no control. "So get off your asses. Challenge power where you live" because those lawmakers are not always right.
"It's time for me to go and find other people to drive crazy," Bottini said to much laughter. "But I am sad about leaving people I truly, truly love. I have to say adieu, adieu. Have a good life."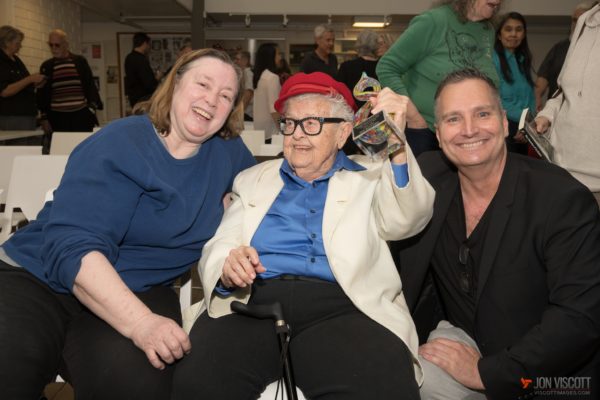 At the end of the program, Los Angeles Blade publisher Troy Masters and I, standing in for the LA LGBT community, thanked Ivy Bottini for her years of activism and contributions by presenting her with a colorful glass trophy. Keep an eye out for a documentary on Bottini by lesbian filmmaker Andrea Meyerson was at ONE to capture the tribute.