March 8, 2019 at 2:32 pm PST | by Billy Masters
Girl Scout Cookies, Glenn Close and naked boys singing
"Well, frankly, I'm waiting for someone to accuse me of something. And me wondering if they're not telling the truth and me having forgotten." – Sir Ian McKellen muses on the ramifications of the #MeToo movement in a talk at National Student Pride in London.

I recently watched a documentary about the Marx Brothers – now, stay with me. I promise to make this relevant. I was particularly interested in a comment Groucho made well past the brothers' prime. He said that at least half of their classic films were made because Chico needed money to cover gambling debts. And the brothers needed Groucho for them to be successful (and he could use the money to pay alimony to multiple wives).
As it turns out, Harpo was the most stable one with a healthy marriage and personal life. This anecdote came back to me when I heard about this Jonas Brothers reunion. Nick is clearly Groucho – the one you need to get a record deal. And Kevin is probably Harpo. Does that make Joe Chico? To really solidify this connection and make it stick, I still have to calculate how many Marx Brothers would have slept with Taylor Swift.
Now that the dust has settled from the 2019 Oscars, there are a handful of stories that still warrant mentioning. First up is Rami Malek, whose acceptance speech was edited by Chinese censors prior to airing. Any references to "gay men" were changed to "a special group." I can't say I'm surprised. 
Just like I wasn't surprised that for the upcoming theatrical release of "Bohemian Rhapsody" in China, all homosexuality has been excised from the flick. And you know what that means? No Adam Lambert.
On the positive side, we hear Rami is in the running to play the villain in the next Bond flick. This raises another question – who would be afraid of little Rami? Have they recast the part of James Bond with Peter Dinklage?
Oscars lead to mixed blessings. Sure, Glenn Close lost for the 900th time. But, it may have helped her lock in the lead role in the film adaptation of the musical "Sunset Boulevard." Filming of the feature will begin in October, and Glenn's high-profile loss actually clinched her chances at immortalizing her Norma Desmond on the silver screen.  Plus, consider her getup – the train, the cape, the gold lamé. That was a woman ready for her close-up. All she was missing was the turban! We must give credit where it's due – some of the best acting I've ever seen was from Glenn during Olivia Colman's acceptance speech.
Lots of people were drooling over Jason Momoa at the Oscars – including the positively lactating Dame Helen Mirren. And you know what would go well with some powdered milk? Girl Scout cookies. And this gave little Charlotte Holmberg from Colorado an idea. The ingenious ingénue did a bit of Photoshopping and turned her beloved Samoas into Momoas adorned with Jason's shirtless torso. Suddenly, her cookies were selling like hot cakes…which I realize is a mixed metaphor, but that's how it goes sometimes. 
When asked about the situation, Jason said, "I love Girl Scout cookies. I was, like, waiting to get some free ones. I'd love some." He better get them quickly. A spokesperson for the Scouts backpedaled and said not many were sold and packaging was confined to a "limited number…for friends and family."
Meanwhile across the pond, we're told that Harry and Meghan have learned the gender of their spawn. However, they've decided to raise the child in a gender-neutral environment. A Vanity Fair source said, "Meghan has been talking to some of her friends about the birth and how she and Harry plan to raise their baby. Her exact word was fluid.  She said they plan to raise their child with a fluid approach to gender and they won't be imposing any stereotypes." This'll kill Philip.
Now that awards season is over, I can get back to my normal life – and part of that normal life is going to theatre. The Celebration Theatre is one of my favorite places – it brought us "Naked Boys Singing," so that's gotta count for something. The first show of the season is "Born to Win", written by Matthew Wilkas (that's Mrs. Gus Kenworthy to you) and Mark Setlock and starring Wilkas and Drew Droege. It's a spoof on the cutthroat world of kiddie beauty pageants. 
The play milks the premise with over-the-top performances, clever staging, and actors playing numerous roles. Don't even get me started on how they handle the kiddie aspect without actually having kids (for the most part). Are there holes in the show?  Absolutely – if you think about it, the entire conceit falls apart, which is unfortunate because these problems could have been solved in the writing. As to the cast, Drew Droege can do virtually anything. 
The play runs through March 31, and I heartily recommend it. At 90 minutes and $25 for tickets, what's not to like?  Grab those tix at CelebrationTheatre.com.
Could it be that a certain reality star is a bit more experienced than he's letting on?  So says someone from his past who told me he probably hasn't gone all the way – "with a woman." As to men, all I got was a sly grin.
I promise to get back to you before the Jonas Brothers star in a remake of "Duck Soup" (with Taylor Swift in the Margaret Dumont role).  
So, until next time, remember, one man's filth is another man's bible.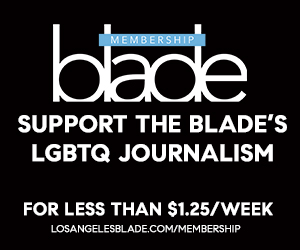 Sign Up for Blade eBlasts