SPRING ARTS 2019 ALBUMS: Melissa, P!nk, Reba and more
Queer favorites return with new music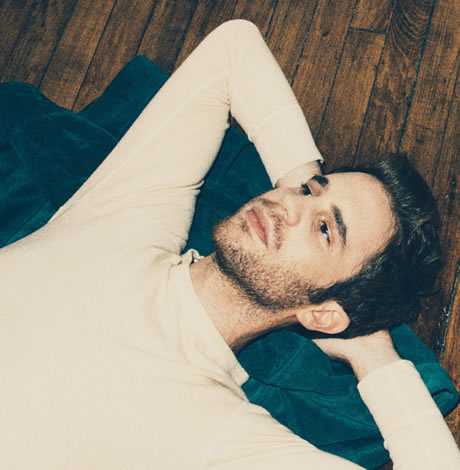 This year seems so far to be a quieter one for major pop releases, but there's still plenty of new music to look forward to in the coming months. 
First, some recent releases you may have missed. 
Ariana Grande just released "Thank U, Next," her second album in six months, on the heels of "Sweetener," which won the Grammy Award for Best Pop Vocal Album. R&B legend Chaka Khan came out with her 12th solo studio album, "Hello Happiness," her first in 12 years.
On Feb. 22, non-binary artist Beth Jeans Houghton, known as Du Blonde, released a third album entitled "Lung Bread for Daddy." And Australian folk rocker Julia Jacklin, who is also the frontwoman for Phantastic Ferniture (which released its self-titled debut last year), released her second solo album, "Crushing." 
Young Norwegian singer and songwriter Sigrid is coming out with a debut album entitled "Sucker Punch," on March 1, following the release of her 2018 EP "Raw." For the project, she's working with writer and producer Oscar Holter, who has co-written and produced music with artists such as Tiësto, Carly Rae Jepsen, Katy Perry, P!nk, Troye Sivan and Charlie XCX. On the same day, American rock band Weezer is scheduled to release its 13th studio album, entitled "Weezer (The Black Album)."
On March 8, the English pop singer Dido is expected to release a new album entitled "Still On My Mind." This would be her first release since her 2013 album "Girl Who Got Away." Lead single "Give You Up" was released in January and landed at No. 22 on the Billboard Adult Contemporary chart. It's a sign of some momentum for a singer who has been out of the spotlight in the U.S. since 1999 (though she has remained a fixture in Europe).
On March 29, Ben Platt releases his first solo album, entitled "Sing to Me Instead." Platt is well known for his major Broadway roles, most recently as Evan Hansen in the acclaimed musical "Dear Evan Hansen." He also played the role of Benji Applebaum alongside Anna Kendrick in the movies "Pitch Perfect" and "Pitch Perfect 2." The same date will see the release of the legendary Marvin Gaye's "You're the Man," an album that was recorded four decades ago but never released.
While there's no official release date, P!nk's "Hurts 2B Human" is expected to be released in April. The first single, "Walk Me Home," from the singer's eighth studio album was released last week, signaling the arrival of the new album relatively soon.
On April 5, country music legend Reba McEntire will release her 29th studio album, entitled "Stronger Than the Truth." And on the same date, American psychedelic-pop singer Weyes Blood will release her album "Titanic Rising." Weyes Blood has risen in popularity since her most recent album, "Front Row Seat to Earth," and has been touring extensively in Europe and the U.S. The new album is her first on the Sub Pop label (Warner Music Group), which signed artists like Nirvana and Father John Misty.
Sara Bareilles will likewise release her new album, "Amidst the Chaos" on April 5. Bareilles has been enjoying the spotlight a lot recently, following the Broadway production of "Waitress," for which Bareilles wrote lyrics and music. She also recently appeared in the widely acclaimed television adaptation of Andrew Lloyd Webber musical "Jesus Christ Superstar." "Amidst the Chaos" is Bareilles' first album since the 2015 release of "What's Inside: Songs from Waitress."
Lesbian rock icon Melissa Etheridge releases "The Medicine Show" April 12. She said in a Blade interview last year the album contains some of her strongest-ever writing. 
Welsh singer Marina (formerly Marina and the Diamonds) is slated to release a new album on April 26 called "Love+Fear." It's her album since the 2015 "Froot." Marina remains popular among gay audiences and has performed at New York Pride.
On May 10, Chicago artist Jamila Woods is scheduled to release her second album, "Legacy! Legacy!" Woods, who is regularly collaborates with Chance The Rapper, is producing music that directly engages with her home in Chicago. She is definitely someone to keep an eye on.
New album releases are rumored from Adele, Frank Ocean, Carly Rae Jepsen, Sheryl Crow, Vampire Weekend and Madonna, though there have been no official announcements. And there will most certainly be a few unexpected releases along the way.
Hot new comic Karinda Dobbins is going to make you Black & Blue
Even if your day to day world is not one of bug killings, pets, lesbian weddings and psycho showers, this one is for you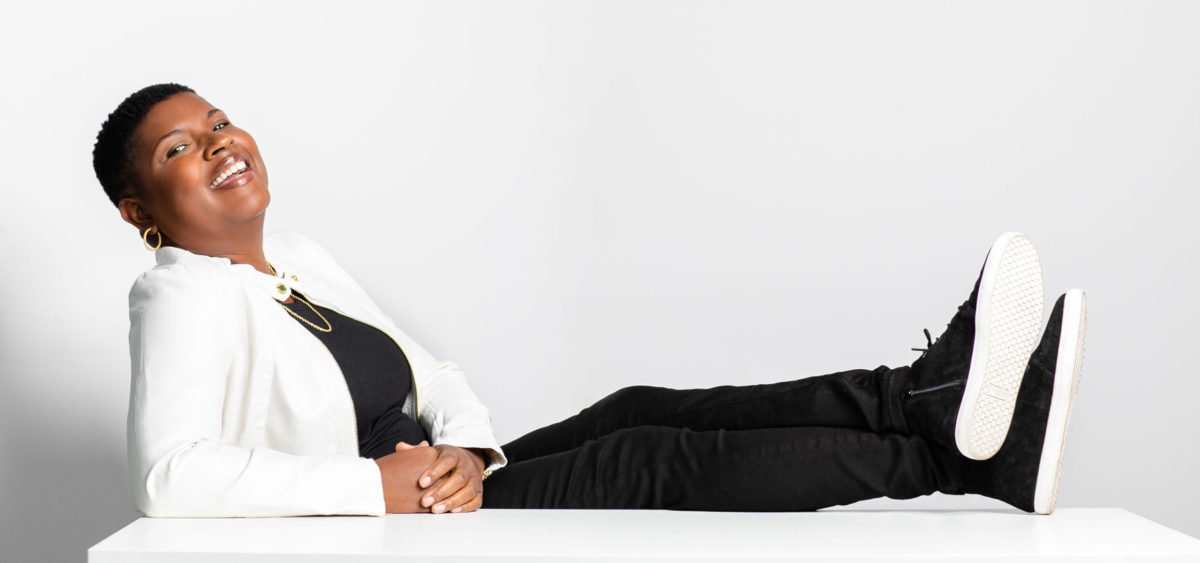 HOLLYWOOD – The world gets funnier on February 4th.  That is the day that Blonde Medicine releases Black and Blue, the debut comedy album from Karinda Dobbins.
If you have not heard of the Bay Area comedian, you may not be alone, but the who's-who of the comedy world thinks you should, and you will. Wanda Sykes sings her praises. SFist named her one of the "13 San Francisco Stand Up Comedians to Go See Now". Bitch Media called her one of the "Six Female Comedians You Don't Know Yet—But Should."
She is getting around. She has opened for a pack of A listers. "It is inspiring," she says. Big names she has opened for include W. Kamau Bell, Trevor Noah, Gina Yashere, Michelle Wolf, and Dave Chappelle. "I'm not on Tik Tok yet," she tells me when we sat down for an episode of my podcast Rated LGBT Radio. "Everybody is telling me I should be. But I haven't gotten around to that yet. "
There are lots of issues on which Karinda could get angry. She grew up in a militantly political family. She has done benefits to fight rape, she has done benefits to fight gun violence. But she is pretty mellow and has earned the nick name "Cool Breeze". She does not get mad, she gets funny.
Gina Yashere advised her on how to navigate the industry as a black woman. "We are kind of held to a different standard. Being funny and being prepared. Always be on time. We can't slack off like white guys. We always have to have our ducks in a row." Karinda is not entering the scene kicking and punching, she is cool breeze all the way.
Karinda was born in Detroit and grew up making her family laugh. She acknowledges that being funny in a living room is not the same thing as breaking up an audience from a stage. After coming to California, starting a career in bio tech, having a child, then coming out as lesbian, being a comedian still was not on her radar. "It was never a dream to do stand up. I did not think it was something special. It was not something I aspired to do."
Her girlfriend coerced her into it. "My girlfriend asked me that if she found an open mic, would I go. I said yes, because I thought she never would find one. She found one."
Karinda now has 40 to 50 notebooks filled with jokes. "I would love to do a sitcom playing a black woman in bio-tech. There were so many funny and cringy moments I could write about. I have the characters, the office, it's hilarious and ready set go. I don't think there has ever been a show about a black person in tech. It would be hilarious."
Karinda is fearless in her material and does not bend to the fear of any perception of a "cancel culture' threatening comedians in the present environment. "I don't think it's true. There has always been things that comedians have said that people don't like. So they just don't go see that comedian. People don't like a comic, they don't like what they say, or how they say it, but I have yet to see one cancelled in comedy for anything they say. Even Louis CK has a show out now. I don't think 'cancel culture' is a thing. I have yet to see it. If you don't like a comic, don't support them."
On her album, she has a lot of material about pets. It is not that she does not like pets, even though, true, she herself does not have one. "I don't like what people do WITH pets," she confesses to me. "They do things with them that they just should not be doing. They have clothes on them… which is HIGHLY unnecessary. I'm like, your pet can't make sense of that. It's pet abuse. They have fur. I mean, what are you doing putting a wool jacket on them?"
The album was recorded in a quick window between Covid shut downs, over the course of two nights in front of live audiences. On it, she talks about topics that range from Hollywood type casting, to Harriet Tubman, to the "joys of lesbian weddings." On the latter, she asks me, "Have you been to a lesbian wedding?? Lesbians in general like things outdoors, and that includes weddings. I'm not that kind of lesbian." Her disdain for things outdoors continues into sets that include her talents for killing bugs, to a black woman delving into the adventure world on a track called "Hiking While Black." Then there is praise, or rather guidance, for the shower in the movie Psycho. You'll just have to hear it.
Blonde Medicine releases Black and Blue on February 4th. Even if your day to day world is not one of bug killings, pets, lesbian weddings and psycho showers, this one is for you. Let a cool breeze carry you to an earful of laughter.
Blonde Medicine is a record label and production company based out of the San Francisco Bay Area. With roots in comedy and music production, they aim to help Artists make great art, no matter what form it may take. Their genre-spanning releases can be found at blondemedicine.com and www.blondemedicine.com/bm073-black-blue .
Follow Karinda on https://karindadobbins.com/ .Pre-order Black and Blue here: https://music.apple.com/album/id/1603346065
********************
Listen to the show:
********************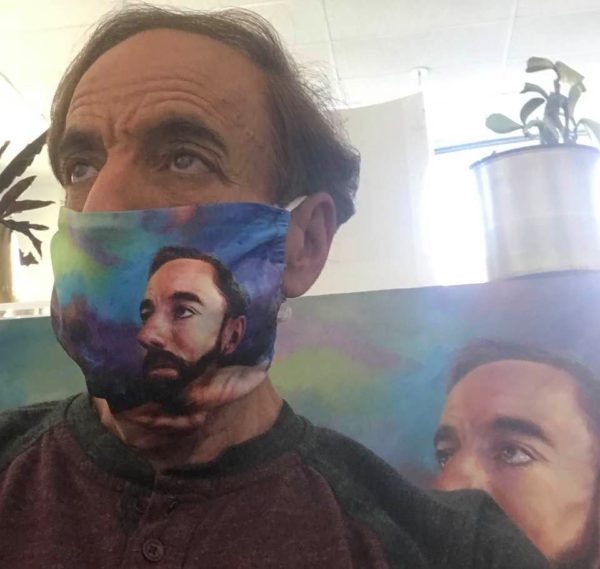 Rob Watson is the host of RATED LGBT RADIO, a national podcast and he's one of the founders of the evolequals.com.
A gay dad, business man, community activist and a blogger/writer, Watson is a contributor to the Los Angeles Blade covering entertainment, film, television, and culture with occasional politics tossed in.
********************
Lighting the way: an interview with singer Janis Ian
Veteran performer embarking on final tour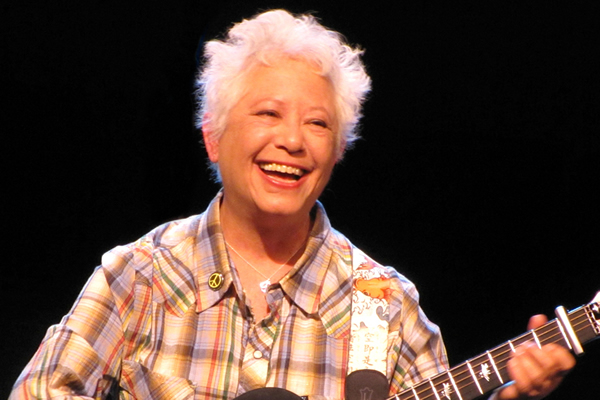 By my count, queer singer/songwriter Janis Ian has had four distinct chapters in her musical career. The first began when she was in her teens with the release of her groundbreaking single "Society's Child," and the albums on Verve Records that followed in the late 1960s. By the mid-1970s, for the second chapter, Ian signed to Columbia Records, resulting in the biggest hit single of her career, the Grammy Award-winning classic "At Seventeen." She remained on Columbia into the early 1980s, even collaborating with Giorgio Moroder on the song "Fly Too High." The third chapter occurred in the early 1990s. Bette Midler recorded Ian's song "Some People's Lives," the title track of Bette's Grammy-winning 1991 album. Ian herself recorded the song for her marvelous 1993 comeback album, the aptly titled "Breaking Silence."
Ian has not been sitting idle since that time, mind you. She's released a few more albums, including some on her own Rude Girl Records label. She also published her memoir "Society's Child: My Autobiography" in 2008 and won her second Grammy for the audiobook. I have had the pleasure of interviewing Janis in 1994, 2004, 2008, and in 2022, and it is always a revelatory experience. She was kind enough to answer a few questions in advance of the release of her flawless new album "The Light at the End of the Line" (Rude Girl).
BLADE: I've been racking my brain trying to come up with the best way to say this, and I keep returning the fact that with The Light at the End of the Line, your extraordinary last solo studio album, you are going out with a bang.
JANIS IAN: [Laughs] better a bang than a whimper!
BLADE: What was involved in the decision to make this your final studio recording?
IAN: I think hitting 70 was a big part of it. Having the last 15 years to put together songs and wanting to make something that was better than anything I'd done before was involved. Mostly, the timing really worked out. I went into lockdown right around when I needed or wanted to start thinking about this. I had no plans until I looked up at my write board and realized I had 15 songs I was pleased with, and one unfinished. I started listening to what Randy Leago had done with "Resist," and I began working with Viktor Krauss on "Better Times…" I had originally intended to do an all-solo acoustic album, but it became clear that I really wanted a blend of it to serve the songs. There wasn't a sudden, "Gee, I'll make an album now" decision. There was more a talking to people and seeing where Randy and Viktor's schedules were. Seeing where John Whelan was. Whether we could get Nuala Kennedy to do her parts from Ireland. Finding a studio where I live, which is near Bradenton, so there's not a huge amount of studios available. Then just winnowing down the songs and going, "Well, I think this is actually an album."
BLADE: Among the many aspects that make The Light at the End of the Line exceptional is that for the 12 songs, you draw on the many influences spanning your five-decade career, beginning with "I'm Still Standing," which is as personal as, say, "At Seventeen."
IAN: I would say so. That was part of my goal for the entire album, and part of the winnowing down of songs, was to make sure that the songs I picked were as universal as possible, and also songs that would hopefully stand the test of time. I mean it's incredible that "At Seventeen" was released in 1975. It's 45 years later and it's still getting lots of airplay. Lots of people still sing it. People are still affected by it, young people, not people anywhere close to my age. So, to make an album that would reach as many people as possible emotionally, and at the same time have songs that were as well-written as I'm capable of doing after almost 60 years as a songwriter; that was the challenge, really. So, I'm glad to hear you say that.
BLADE: The social consciousness of your music extends all the way back to "Society's Child" and continues today with songs such as "Stranger" and "Resist." Please say a few words about the role of social commentary in your music.
IAN: I was raised in a very political family. I grew up stuffing envelopes and going to marches. My parents were both politically aware. My mom did things like attend the Civil Rights Congress. My parents were under watch by the FBI. So, it was a natural part of my life. Everyone we knew was involved, in one way or another, in politics and social issues, because I would regard feminism as much as a social issue as a political one. Although the line between the two is pretty blurred these days as I'm sure you know. "Stranger" just came out of nowhere one night. I had an off night and I never write on the road, ever. I think I've written two songs in my life while I was touring. But I was changing guitar strings and came up with that little pattern and the song just fell out in the course of the evening. I've been thinking about it a lot because my own grandfather had to come into America on a cousin's passport. None of us found out his real name or the story until we were in our 20s and 30s. So I started thinking with all these people saying "illegals should be deported, even if they grew up here, even if they were born here, even if they've lived here 40 years, where does that leave me? Should I be sent back to Poland or Russia or the Ukraine?
BLADE: It truly resonates and it's an ongoing issue. That leads me to the next question, which is about the anthemic single "Resist," which is one of the album's most powerful statements, with its "I will not disappear" and titular chants. Are you ever shocked that you still find yourself having to write and perform a song such as this?
IAN: I'm shocked that it hasn't been fixed by now [laughs], and that it seems to be getting worse. I think that in some ways my generation underestimated the determination of the powers that be to stay in power. We knew about the FBI and the CIA, but it would never have occurred to us that there would still be genital mutilation. That women would still be burned on pyres. That there would be revenge rape. It's a shock that these things still need to be addressed, but it's not shocking that they need to be written about. I also think that music cuts through the noise in a way that very few other things can. Politics becomes just noise. Social media becomes just noise. Music has the ability to touch people's hearts directly in a way that none of those things can. I didn't set out with "Resist" and think, "Oh, I'm going to write a protest song about this." But I was plenty annoyed when I wrote it.
BLADE: That definitely comes through.
IAN: It's a fine line for me because my voice only carries so far. I can't do what certain singers can do with their voices. I have a relatively light voice. That's one of the great things about Randy Leago, and what he did with it. Because he managed to leave all that space for the vocal while surrounding it with…oh, I think I had asked for angry drums. So, the first thing you hear is that thud of the bass drum, which to me is like a footstep coming into the room. Lines like "I cannot be your virgin and I will not be your whore" came out of my own experience.
BLADE: It really is an incredible song. "Nina" is a breathtaking tribute to Nina Simone. It made me think about her performance in Questlove's 2021 documentary Summer of Soul, and how she's being reintroduced to new generations. Have you seen the doc?
IAN: I have not seen that, but I did see the Liz Garbus documentary What Happened, Miss Simone? (from 2015) because she's singing my song in it.
BLADE: What do you think she'd think of your song about her?
IAN: [Big laugh] I would not begin to wonder what Nina would think about anything. I wouldn't go there for $1,000,000. Well, maybe for $1,000,000, but I would be pretty unsure of myself. Nina was monumentally easy and monumentally difficult to love. That's what I tried to capture in the song. She was biologically ill, mentally ill, I would say, but I'm not sure what the correct phrase is these days. But there was such a big biological aspect to it and by the time that was really beginning to be understood and treated, she had already burned so many bridges and made so many people angry. I feel like I saw Nina at her best and her worst. Her best was so much better than any other performer I've ever watched. And her worst was pretty scary.
BLADE: As a gay man, I have always loved the story about Nina's correspondence with Langston Hughes.
IAN: She and (James) Baldwin (were friends), too. We had lunch at my mother's one day and she showed up with James Baldwin in tow. I don't think she cared about that at all because artists tend not. It doesn't really matter, it's like skin color. Who cares as long as you're doing great work. It's the world that surrounds us that becomes the problem.
BLADE: That is very true! Album closer "Better Times Will Come" is the kind of uplifting number we all need at this time. I was delighted by Diane Schuur's scat…
IAN: Isn't she great? Deedles!
BLADE: Her "Shayna maidel" shout-out elevates the song to a different level.
IAN: We probably talk every couple of weeks or more often. We're good buddies. She's great.
BLADE: Was that song as much fun to record as it is to listen to?
IAN: It began out of the Better Times project that I started when lockdown began — bettertimeswillcome.com. That involved, in the end, 187 artists all doing their own versions of the song. We've got 13 versions still to put up! Everything from Japanese sign language interpretation to a Dutch version to a Mandarin Chinese version to banjo or guitar or flatfooting. When it came time to record it, I wanted to close the album with it, but do something completely different from what I'd done already. My version that everybody worked off for the project was just me singing the song immediately after I finished it into my phone, no guitar, no nothing. You can go to bettertimeswillcome.com and watch all those videos, see all those versions, listen to them, download them. It was a great way to promote other artists who had projects coming out and suddenly couldn't tour or make book appearances, all of that through my Facebook page. The Facebook people were wonderfully generous. I didn't want to repeat that or reuse it, so it became question of how I do this so that it's totally different from anything on the album and it maintains that spirit of inclusivity. I reached out to Viktor and we literally both sat down with our phone books and went, "OK, this person would be great. That person would be great. Are they available?" Vince Gill wasn't available because he's out with the Eagles. We told Vince we had a two-month window and he literally turned it in three days before we went to mix. With Deedles (Schuur), she'd been in lockdown for a while. There was no nearby studio. It was working with her manager to find a studio and then coordinating it with her so that she felt safe, and she could do it in her own time, in her own way. For all the musicians, it became a question of me saying, "This is a step-out moment. Treated it like you're in the (Tommy) Dorsey bands in the old days and he suddenly points to you and says "You take your solo. No preparation, no leading up to it, no ramping up. You just start max." I was really pleased with it. John Cowan singing a verse to start off with. That's not something I've ever been able to do, and I've always wanted John to sing one of my songs. The harmonies are great. People like Andrea Zonn, who's normally out with James Taylor, because of COVID they were available. It worked for the piece. Viktor and Jared (Anderson), the young engineer he found, worked at assembling. We spent a lot of time on it. It felt like we just needed something to give us all a bit of hope, and yet to recognize COVID, which is why the ending is what it is. Because we keep thinking we're good and then we're not and we think we're good and then we're not. Trying to speak to that, as well.
BLADE: As a songwriter, you have a long history of having your songs recorded by other performers. If you had to choose one song from The Light at the End of the Line to be covered by another artist, what song would it be and who would want to hear sing it?
IAN: Oh, man, that's pretty easy! I would have P!nk record "Resist." I think she would slay that; I think she would just kill that song.
BLADE: Not only is The Light at the End of the Line your last studio recording but the multi-city tour on which you will be embarking throughout most of 2022 is your final North American tour. What will you miss the most and the least about touring?
IAN: The thing you miss about touring when you're not touring is the audience. I have really good audiences. Everything from the male or female seven-year-old would-be guitarist whose parent or grandparent thinks "You should see a really good acoustic guitarist" to the 80-year-old person who's been following me since "Society's Child." It's a really broad range. I meant it when I said (in the album art) that "this album is a love song" because when I wrote (the song) "The Light at the End of the Line" I looked at it as what I was saying to my fans. One of the difficult possibilities that artists face in these days of social media and easy advertising is making sure that you consider your supporters. A word I prefer to fans, because "fans" has other connotations. The people who have always supported me — I go back to Facebook as an example – there's a social media everybody said you can't make money from. And yet, one year when we held the sale for our Pearl Foundation, 70% of the money came from Facebook followers. I have to believe that if you do as I've done; if you don't accept advertising on your page, if you don't bother people, if you just present yourself and have a good time, they stay with you. I have more than half a million followers to attest to that. There are a lot of potential pitfalls that I try to avoid because I really respect the people who support my work. That's an absurd cliché, Gregg, but it's true. I respect those people. I have a lot of gratitude toward those people.
BLADE: Do you have a feeling that they know that?
IAN: Absolutely! When I was staying after every show and signing, which I did for 30 years, I would hear that. That was very direct. The Light at the End of the Line also becomes a way for me to say, "You stuck with me when I was not a great writer. You stuck with me when I didn't really know what I was doing, and I grew up in this fishbowl. Here's our payoff. I am now a really good writer and singer, and here's a love song for you.
BLADE: The last couple of years have been brutal, to say the least, and we lost many great friends and artists, including Nanci Griffith and John Prine. Would you mind saying a few words about Nanci and John?
IAN: Nanci was a very under-recognized songwriter, like Dolly Parton. And a great interpreter. She called me one day and said, "Janis, I need a Janis Ian folk song." [Laughs] "I don't know what that means" and she said, "Just let it roll around." I called my friend Jon Vezner and I said, "Nanci Griffith wants a Janis Ian folk song and I have this idea for something that'll begin 'This old town should have burned down in 1929'," and he said, "Fantastic! I'll be over tomorrow morning." That's how Nanci operated. She left you to do what you do. John's death really took me aback. It hit me very hard. It's not that we were that close, but I had known John since we're both in our early 20s. We had seen each other at the Cambridge Folk Festival a little short while before, or it felt like a short while before. "Better Times Will Come" literally grew out of that. I was in our house, in the garage doing laundry, thinking about John. "Better times will come" started running through my head. I wrote it, basically, because John died. I'm not sure what I would have written without that. Somebody once said to me, "You will never be able to write a three-chord song." Gregg, this is literally the only three-chord song I have written in my life. I have to think that on some level, without getting weird about it, John was out there encouraging it. He was the king of simplicity. John was simple and direct in a way that very few of us ever get to be. (He's) sorely missed.
Gus Kenworthy skis Team Great Britain at 2022 Beijing Winter Olympics
The freestyle skiing Olympic medalist continues to advocate for sport to become a more accepting place for openly gay athletes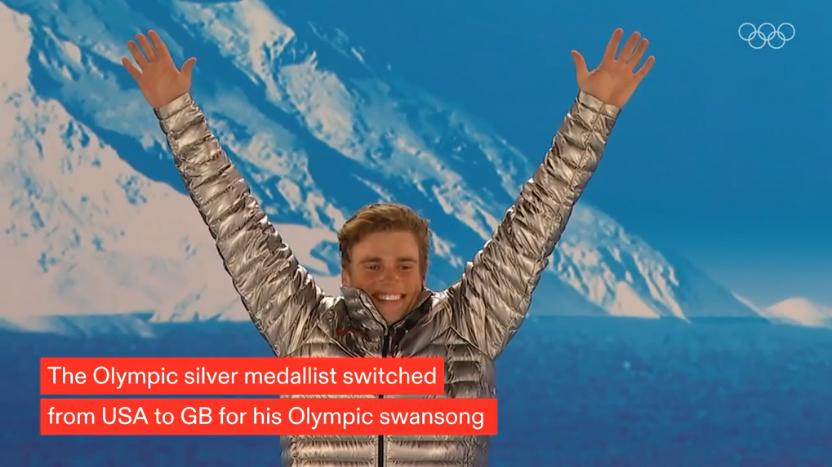 LONDON – Out British-American freestyle skier, actor, and YouTuber Gus Kenworthy, will be competing in his third Olympic Winter Games, but his first for Team GB next month for the 2022 Beijing Games. In 2014 and 2018 Kenworthy represented the USA where during the 2014 Sochi Winter Games in Russia he became an Olympic Silver Medalist.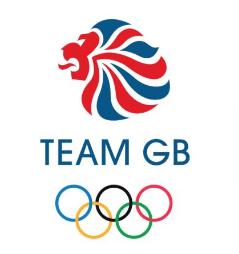 In an interview recorded in December, Kenworthy stressed his personal mantra of 'Let people be themselves.' The freestyle skiing Olympic medalist continues to advocate for sport to become a more accepting place for openly gay athletes.
Having recently won bronze in slopestyle for Team USA at PyeongChang 2018, Kenworthy is aiming for another podium place at his "third and final Games", where he's focusing on halfpipe at Beijing 2022, representing Great Britain. Kenworthy said with quiet determination that this year's Winter Games will be his last as an Olympic competitor.
Kenworthy joins a "record number" of openly LGBTQ+ athletes heading to the Beijing games, Outsports reported. The 2018 Winter Olympics featured 15 out queer athletes, and Outsports noted that the Beijing games will see more openly LGBTQ+ athletes than previously Winter Games.
PinkNewsUK notes that there was a question as to whether Kenworthy would be able to compete at the 2022 Winter Olympics, which kick off in February.
Just weeks ago, Kenworthy shared in an Instagram post that he recently got a "bad concussion" while at a training camp in Switzerland.
He explained that he's had a "few serious" traumatic brain injuries in the past so the "seriousness of each added concussion has been stressed to me".