SPRING ARTS 2019 BOOKS: Stonewall 50th inspires new books
Dustin Lance Black shares memories of growing up gay and Mormon in 'Mama's Boy'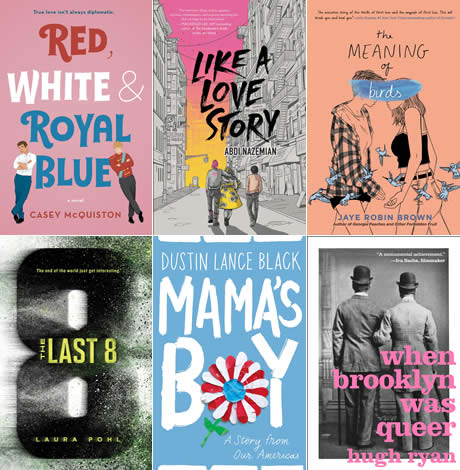 In "I.M.: A Memoir" (Flatiron Books, just released), American fashion designer Isaac Mizrahi shares his experiences growing gay in a Syrian Orthodox Jewish family, living through the AIDS epidemic and struggling with weight, insomnia and depression.
In their highly anticipated "Sissy: A Coming-of-Gender Story" (G.P. Putnam's Sons, March 5), LGBT rights activist and host of MSNBC's Queer 2.0 Jacob Tobia reflects on their relationship with gender from being labeled male at birth to identifying as genderqueer today.
"Love and Resistance: Out of the Closet into the Stonewall Era" (W. W. Norton & Company, March 5) brings together over 100 powerful photographs from the LGBT liberation movement, with a focus on queer activism in the '60s and '70s. Put together by Jason Baumann, Kay Tobin Lahusen and Diana Davies, the book will come out just in time for the 50th anniversary of Stonewall.
First released as a play at the Young Vic Theatre in London, Matthew Lopez's "The Inheritance" (Faber & Faber, March 5) gives a glimpse into the lives young gay men living in New York City after the peak of the AIDS epidemic.
"When Brooklyn Was Queer: A History" (St. Martin's Press, March 5) takes a new look at LGBT life in Brooklyn from the mid-1850s to modern day. Written by queer historian Hugh Ryan, the book explores LGBT history in New York beyond Greenwich Village, Harlem and the rest of Manhattan.
In "Real Queer America: LGBT Stories from Red States" (Little, Brown and Company, March 5), Daily Beast reporter Samantha Allen offers a glimpse into LGBT life in Red America. A trans woman who holds onto an undying love for "flyover country," Allen shares the incredible stories of the activists and everyday Americans who chose not to leave their homes for the coasts. 
In "The Last 8" (Sourcebooks, March 5), debut YA author Laura Pohl tells the story of Clover Martinez, a bisexual aromantic girl and one of the few survivors of an alien invasion on Earth. After the invasion, Clover meets a group of other teens her age but suddenly becomes conflicted about her decision to join them when she learns they don't want to fight back.
Award-winning playwright and debut author Mariah MacCarthy introduces us to Jenna Watson in her novel "Squad" (Farrar, Straus, and Giroux, March 12). A cheerleader whose life turns on its head when the girls she views as her best friends stop inviting her out with them, Jenna starts to date a trans boy and explore life beyond cheer.
Award-winning writer and former public school teacher Mathangi Subramanian provides a glimpse into queer life in India in her first work of literary fiction. "A People's History of Heaven" (Algonquin, March 19) tells the story of a group of five girls — queer, trans or otherwise marginalized — who fight back against the government officials who want to tear down their homes in the 30-year-old slum they call Heaven. 
In "Unbecoming: A Memoir of Disobedience" (Atria Books, March 26), former U.S. Marine Captain Anuradha Bhagwati reflects on her experience as a bisexual woman growing up with strict Indian parents and her fight that ultimately allowed women to serve in combat roles in the U.S. military.
In "This One Looks Like a Boy: My Gender Journey to Life as a Man"(Greystone Books, March 31), Canadian writer and former police officer Lorimer Shenher shares the story of his transition, from his gender dysphoria and struggles with alcohol to his decision to be open about his identity and receive gender reassignment surgery in his 50s. "This One Looks Like a Boy" is Shenher's second book, following "That Lonely Section of Hell: The Botched Investigation of a Serial Killer Who Almost Got Away." 
In "He Said, She Said: Lessons, Stories, and Mistakes from my Transgender Journey" (Harmony, April 2), famous beauty Youtuber Gigi Gorgeous shares the story of her transition, from her early years as a self-described "high school mean girl" to her decision to be open about her gender identity and sexuality. 
Soraya Zaman's "American Boys" (Daylight Books, April 2) showcases a visual representation of trans-masculine identity across the United States. With an introduction from trans porn star, director and icon Buck Angel, the book offers a new look at gender expression and what it means to be a man.
In "The Meaning of Birds" (HarperTeen, April 16), young adult author Jaye Robin Brown gives a glimpse into Jess's world after the love of her life Vivi passes away. Jess abandons her plans to attend art school and finds some new friends as she processes her grief. 
Gay screenwriter Dustin Lance Black won an Academy Award for his work on "Milk," the 2008 biographical film that depicted the life of Harvey Milk. He also comes from a Mormon family that didn't initially want to accept him. In "Mama's Boy: A Story from Our Americas" (Knopf, April 30), he tells the story of his coming out and how his family remained close in the years following.
To celebrate the 50th anniversary of the Stonewall Riots, The New York Public Library put together "The Stonewall Reader" (Penguin Classics, April 30). With a forward from gay novelist Edmund White, the book shares diary entries, literature, articles and more from the years preceding and directly following the uprising.
Debut author Arabelle Sicardi is giving LGBT kids a few icons of their own in "Queer Heroes" (Wide Eyed Editions, May 7). The children's book shares the lives of 52 prominent LGBT figures throughout history, from Audre Lorde to Frida Kahlo. 
Debut author Tanya Boteju's "Kings, Queens and In-Betweens" (Simon Pulse, May 7) mixes drag, identity and self-discovery. In the novel, Nima Kumara-Clark grows bored with her life in Bridgeton and heads to the other side of town for a change in scene. She becomes wrapped up in a world of drag and learns more about herself than she expected. 
The much-anticipated coffee table book "We Are Everywhere: Protest, Power and Pride in the History of Queer Liberation" (Ten Speed Press, May 7) takes a sweeping look at queer history from the pre-Stonewall era to modern day. Written by the creators of the widely popular @lgbt_history Instagram account, Matthew Riemer and Leighton Brown, the book combines about 300 photographs with extensive historical narrative to provide a new and more comprehensive window into LGBT life and resistance. 
Kardashian carries her weight in 'AHS: Delicate'
Show's 12th season faces hurdles before we'll know whether it lives up to the promise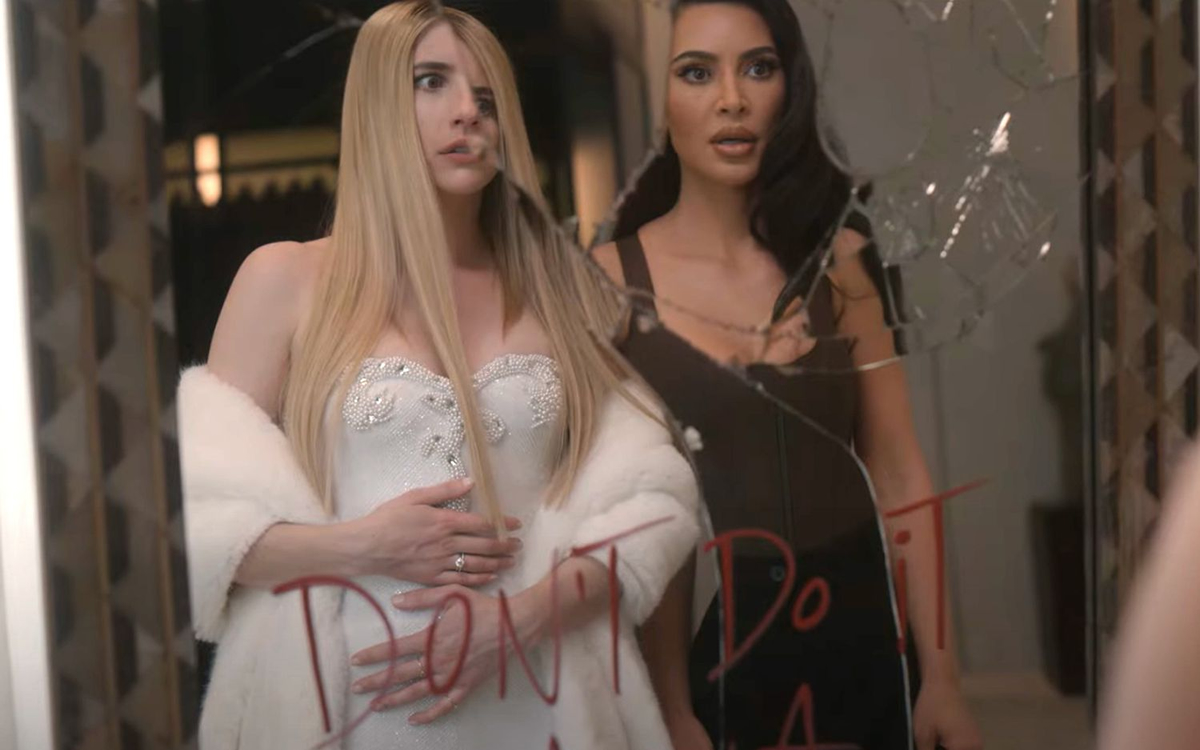 The biggest question around the 12th season of "American Horror Story" has nothing to do with the plot, which means it won't count as a spoiler if we answer it right off the bat: Kim Kardashian's acting is just fine.
At least, that's true through the first episode; future installments may require a reassessment of her skills, and perhaps that will add an additional layer of suspense to the proceedings as the story unwinds – a "hook" that might be a big part of the reason the reality show "famous-for-being-famous" celebrity was cast for this season in the first place. Whether her performance ends up being a triumph or a train wreck, it's guaranteed that millions will want to watch it, and she herself would likely be the first to endorse that kind of sensationalist strategy to boost audience interest in the newest season of a show that has been around longer than many of its fans have been old enough to watch it. Ryan Murphy's uber-gay, aggressively transgressive horror anthology may once have been "must-see TV" – but after more than a decade of thrilling, edgy concepts that were just as likely to fall apart into an anticlimactic mess as they were to build to a coherent conclusion, it has become more of a "guilty pleasure."
Before you come for us and call us "haters," rest assured we're not dismissing the power and genius of "AHS" both as a show and as a brand; camp and horror have always been deeply intertwined, and Murphy's trope-driven premise for the series has never shied away from leaning into that connection. The absurdity of its cobbled-together plots, contrasted with the histrionic over-seriousness of their presentation, is precisely what allows it to drive home its blatantly metaphoric commentary on whatever cultural or social themes it happens to be addressing. At its best, it has been electrifying, provocative, insightful TV, and at its worst, it has been painfully obvious, exploitative schlock that loses steam long before it sloppily ties all its threads together for a season finale, but either way, it has never failed to keep its audience coming back for more. Clearly, it has a power that lies beyond imposed standards of artistic quality, and it's hardly a stretch to suggest that power comes from the show's deeply progressive heart, which invariably and relentlessly exposes the hypocrisy, deviousness, cruelty, and oppression of a programmed and homogenized social order – with particular emphasis on the experience of those who dare to be outliers from that imposed norm, making it a perennial favorite with the queer demographic as much as its unabashedly gimmicky stunt casting of pop culture icons like Lady Gaga (and Kardashian, of course) to draw queer eyes faithfully to the screen for 10 weeks each autumn.
Yet even if queer subtext is a big part of what makes "AHS" tick, the series doesn't always place its focus – as it did in last year's grim AIDS allegory, "NYC" – on overtly or exclusively queer subject matter, and for its newest season – "Delicate", the new season adapted from Danielle Valentine's novel, "Delicate Condition" – the venerable FX tentpole series full-heartedly embraces a feminist milieu. The story wastes no time in evoking questions and concerns about the rights of women to maintain autonomy over their own hearts, minds, and bodies. Led by "AHS" veteran Emma Roberts – who, though Kardashian has been granted the most press attention, is the season's central character, and brings her to life with likable charm and compelling intelligence – it tells the tale of Anna Alcott (Roberts), a blossoming movie star trying to conceive a child with her supportive-yet-controlling partner Dex (series newcomer Matt Czuchry), who finds herself haunted by bizarre visions and unexplainable phenomena as she undergoes IVF treatment from a high-end fertility clinic.
Episode one launches the plot with the series' usual blend of stylish panache and unapologetic pulp by subjecting its heroine to a mysterious nocturnal incident, opening into an extended flashback that establishes a back story that will presumably be crucial to the events to follow. Juggling newfound success and fame with her commitment to starting a family, Anna is plagued by strange anomalies that lead her to question her own perceptions, and begins to suspect she is being targeted by a stalker (or stalkers) with potentially sinister motives. When these strange occurrences begin to affect her behavior, she finds herself ever more isolated from the skeptical Dex, who both coddles and condescends to her, and who may or may not still be obsessed by a the memory of a dead fiancée. She also becomes increasingly paranoid that she is being terrorized and manipulated by everyone around her – including her doctor (Denis O'Hare) and her recently acquired publicist (Kardashian), who exert conflicting pressures on her as she tries to navigate both her "real" life and the career she's on the cusp of creating. By the time the episode comes full circle and returns to the mysterious incident with which it opens, it seems clear than Anna's hopeful journey toward motherhood is happening at the center of some sort of arcane conspiracy.
Like most previous seasons of "AHS," "Delicate" starts out with promise. Conjuring and weaving together key themes from classic films from "Gaslight" to "Rosemary's Baby" to "The Stepford Wives," it leaves little doubt programming of women to make them conform to male-defined fantasy – and from the biblically coined notion that their gender is forever "cursed by God" to be punished for Eve's "original sin." From what we've seen so far, it seems clear that Murphy and writer/showrunner Halley Feiffer aim to frame that archaic perspective as a deliberate and coordinated effort to render women into expendable, easily managed accessories in a male-dominated world. That is certainly not a new concept, but one that is arguably more important to explore in the America of 2023 than ever before. And though the season's inaugural entry is too busy with exposition to give us much in the way of potent frights or shocks, it also provides flashes that hint at a season full of the kind of grotesque body horror that has always been a hallmark of the show.
Still, even if Kardashian – perfectly cast, by the way, as Anna's publicist and confidante, whose savvy for promotion makes her into one of her industry's leading names but who may also somehow be involved in the forces pushing her client toward a dark fate – can manage to meet the success of a few surprisingly good initial reviews, there are still a lot of potential hurdles for "Delicate" to jump before we can know whether it lives up to the promise from which so many previous seasons have fallen short.
It hardly matters, though; no matter how it plays out, the show is sure to strike a chord with all the loyal "AHF" fans, and those who are less devoted will probably still find much to keep them interested in the series' signature gruesome-but-elegant aesthetic, no matter what.