SPRING ARTS 2019 BOOKS: Stonewall 50th inspires new books
Dustin Lance Black shares memories of growing up gay and Mormon in 'Mama's Boy'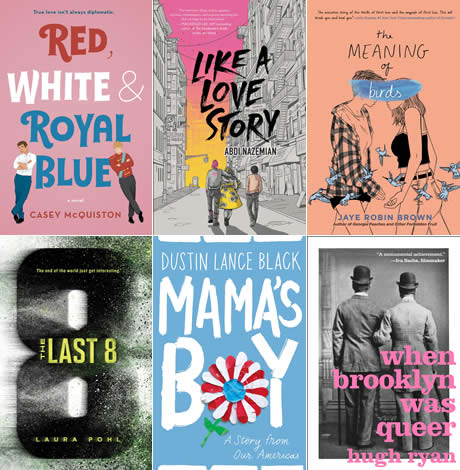 In "I.M.: A Memoir" (Flatiron Books, just released), American fashion designer Isaac Mizrahi shares his experiences growing gay in a Syrian Orthodox Jewish family, living through the AIDS epidemic and struggling with weight, insomnia and depression.
In their highly anticipated "Sissy: A Coming-of-Gender Story" (G.P. Putnam's Sons, March 5), LGBT rights activist and host of MSNBC's Queer 2.0 Jacob Tobia reflects on their relationship with gender from being labeled male at birth to identifying as genderqueer today.
"Love and Resistance: Out of the Closet into the Stonewall Era" (W. W. Norton & Company, March 5) brings together over 100 powerful photographs from the LGBT liberation movement, with a focus on queer activism in the '60s and '70s. Put together by Jason Baumann, Kay Tobin Lahusen and Diana Davies, the book will come out just in time for the 50th anniversary of Stonewall.
First released as a play at the Young Vic Theatre in London, Matthew Lopez's "The Inheritance" (Faber & Faber, March 5) gives a glimpse into the lives young gay men living in New York City after the peak of the AIDS epidemic.
"When Brooklyn Was Queer: A History" (St. Martin's Press, March 5) takes a new look at LGBT life in Brooklyn from the mid-1850s to modern day. Written by queer historian Hugh Ryan, the book explores LGBT history in New York beyond Greenwich Village, Harlem and the rest of Manhattan.
In "Real Queer America: LGBT Stories from Red States" (Little, Brown and Company, March 5), Daily Beast reporter Samantha Allen offers a glimpse into LGBT life in Red America. A trans woman who holds onto an undying love for "flyover country," Allen shares the incredible stories of the activists and everyday Americans who chose not to leave their homes for the coasts. 
In "The Last 8" (Sourcebooks, March 5), debut YA author Laura Pohl tells the story of Clover Martinez, a bisexual aromantic girl and one of the few survivors of an alien invasion on Earth. After the invasion, Clover meets a group of other teens her age but suddenly becomes conflicted about her decision to join them when she learns they don't want to fight back.
Award-winning playwright and debut author Mariah MacCarthy introduces us to Jenna Watson in her novel "Squad" (Farrar, Straus, and Giroux, March 12). A cheerleader whose life turns on its head when the girls she views as her best friends stop inviting her out with them, Jenna starts to date a trans boy and explore life beyond cheer.
Award-winning writer and former public school teacher Mathangi Subramanian provides a glimpse into queer life in India in her first work of literary fiction. "A People's History of Heaven" (Algonquin, March 19) tells the story of a group of five girls — queer, trans or otherwise marginalized — who fight back against the government officials who want to tear down their homes in the 30-year-old slum they call Heaven. 
In "Unbecoming: A Memoir of Disobedience" (Atria Books, March 26), former U.S. Marine Captain Anuradha Bhagwati reflects on her experience as a bisexual woman growing up with strict Indian parents and her fight that ultimately allowed women to serve in combat roles in the U.S. military.
In "This One Looks Like a Boy: My Gender Journey to Life as a Man"(Greystone Books, March 31), Canadian writer and former police officer Lorimer Shenher shares the story of his transition, from his gender dysphoria and struggles with alcohol to his decision to be open about his identity and receive gender reassignment surgery in his 50s. "This One Looks Like a Boy" is Shenher's second book, following "That Lonely Section of Hell: The Botched Investigation of a Serial Killer Who Almost Got Away." 
In "He Said, She Said: Lessons, Stories, and Mistakes from my Transgender Journey" (Harmony, April 2), famous beauty Youtuber Gigi Gorgeous shares the story of her transition, from her early years as a self-described "high school mean girl" to her decision to be open about her gender identity and sexuality. 
Soraya Zaman's "American Boys" (Daylight Books, April 2) showcases a visual representation of trans-masculine identity across the United States. With an introduction from trans porn star, director and icon Buck Angel, the book offers a new look at gender expression and what it means to be a man.
In "The Meaning of Birds" (HarperTeen, April 16), young adult author Jaye Robin Brown gives a glimpse into Jess's world after the love of her life Vivi passes away. Jess abandons her plans to attend art school and finds some new friends as she processes her grief. 
Gay screenwriter Dustin Lance Black won an Academy Award for his work on "Milk," the 2008 biographical film that depicted the life of Harvey Milk. He also comes from a Mormon family that didn't initially want to accept him. In "Mama's Boy: A Story from Our Americas" (Knopf, April 30), he tells the story of his coming out and how his family remained close in the years following.
To celebrate the 50th anniversary of the Stonewall Riots, The New York Public Library put together "The Stonewall Reader" (Penguin Classics, April 30). With a forward from gay novelist Edmund White, the book shares diary entries, literature, articles and more from the years preceding and directly following the uprising.
Debut author Arabelle Sicardi is giving LGBT kids a few icons of their own in "Queer Heroes" (Wide Eyed Editions, May 7). The children's book shares the lives of 52 prominent LGBT figures throughout history, from Audre Lorde to Frida Kahlo. 
Debut author Tanya Boteju's "Kings, Queens and In-Betweens" (Simon Pulse, May 7) mixes drag, identity and self-discovery. In the novel, Nima Kumara-Clark grows bored with her life in Bridgeton and heads to the other side of town for a change in scene. She becomes wrapped up in a world of drag and learns more about herself than she expected. 
The much-anticipated coffee table book "We Are Everywhere: Protest, Power and Pride in the History of Queer Liberation" (Ten Speed Press, May 7) takes a sweeping look at queer history from the pre-Stonewall era to modern day. Written by the creators of the widely popular @lgbt_history Instagram account, Matthew Riemer and Leighton Brown, the book combines about 300 photographs with extensive historical narrative to provide a new and more comprehensive window into LGBT life and resistance. 
K. M. Soehnlein's Army of Lovers, a review
Army of Lovers is not just an account of political intervention, it is itself an intervention, a novel that preserves for future activism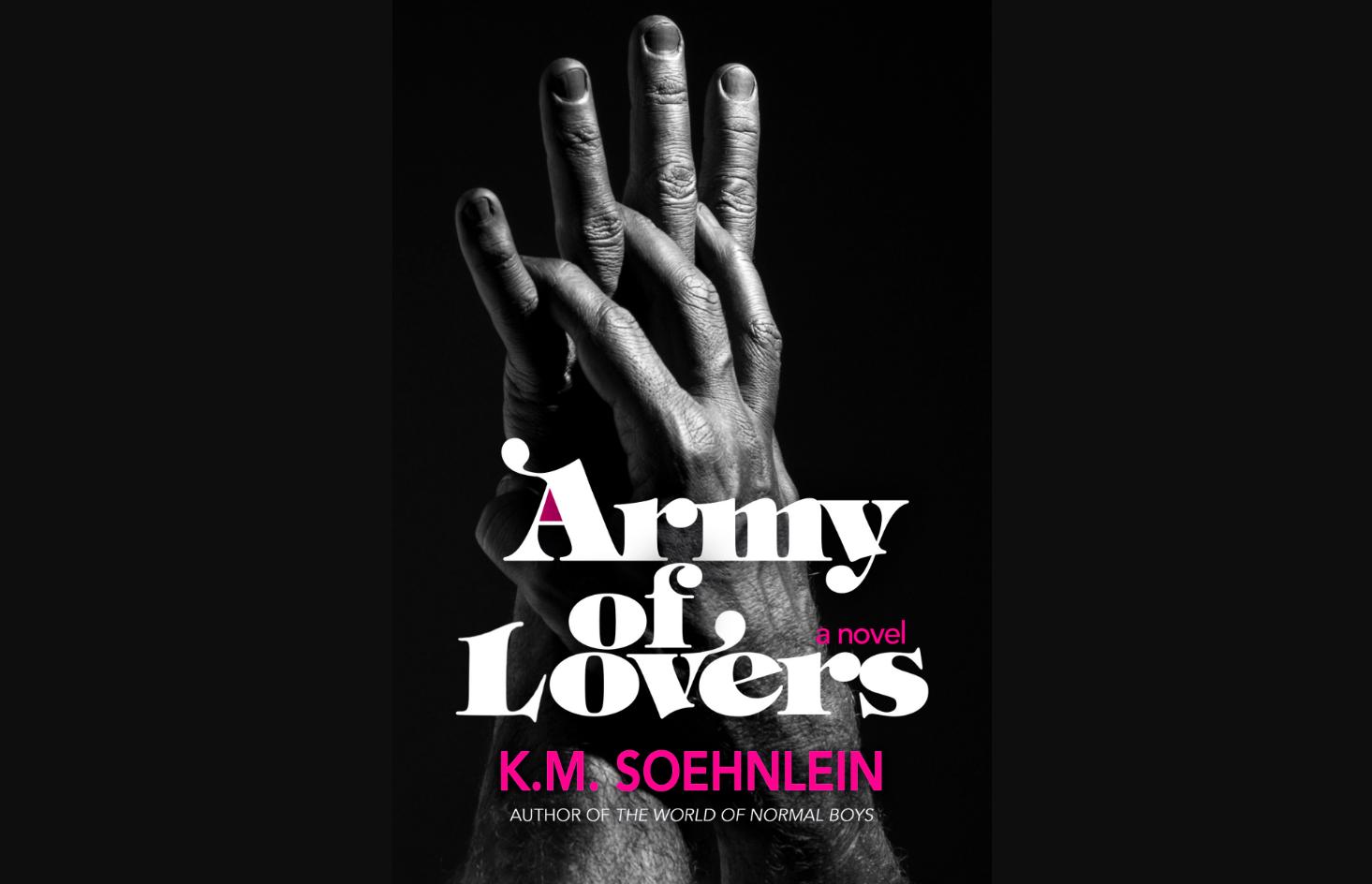 By John Weir | NEW YORK – K.M. Soehnlein's Army of Lovers is a novel of the lost generation. Not the early 20th century generation of survivors of the Great War, called "lost" by Gertrude Stein, their stories told in novels by Ernest Hemingway and Virginia Woolf.
Soehnlein's lost women and men, those who survived and those who did not, are from the last two decades of the 20th century, the so-called American century, when nearly 750,000 Americans died of AIDS. Young Americans: by 1994, and through 1995, AIDS was the leading cause of death for all Americans age 25 to 44.
At the center of Army of Lovers is a German Irish guy from suburban New Jersey, a kid named Paul, just out of college, whose journey to adulthood happens to coincide with a global epidemic – "a fucking plague," Larry Kramer famously shouted – that maybe looks to us, from the distance of forty years and a new century, like a grim dress rehearsal for Covid.
That's if your memory goes back that far. Soehnlein's does, and his novel is a stunning act of remembering. It's a visceral re-creation of the sights, sounds, smells, the feel of Manhattan from Wall Street to Times Square in the late 1980s and early '90s. The bars, parks, restaurants, apartments. Parties and sex parties. The meeting halls where ACT UP New York met. The touch of friends and lovers and comrades, in street actions and crowded jail cells. The taste of ash in your mouth, literal ash, ashes of the dead.
If you were in New York at the time, and involved even peripherally in ACT UP New York, the novel will feel like a series of home movies. (Full disclosure: I think I once shared a jail cell with Soehnlein.) The story starts at a die-in. Soehnlein's narrator Paul and his fellow ACT UP activists are lying on the floor of Albany's state senate building, its brutalist architecture an apt symbol of "the brutal world we're shouting at, brutal and square and indifferent. The brutal indifference of the government led us here, to block the glass doors of the legislation chamber, demanding to be heard."
"This is an action," Paul says, excited, his arm linked through the arm of his best girlfriend Amanda. When his boyfriend Derek, a member of ACT UP's media committee, comes over with a reporter and a cameraperson, Paul and Amanda deliver their sound bites – "Women with AIDS die twice as fast as men" – and then they wait for the police to close in and arrest them. They wait a while.
With documentary clarity, Soehnlein renders the stop-and-start energy of political protest. Not only does he preserve for historical record an account of a series of actions and political interventions that took place forty years ago, he shows how it felt to be there. His characters feel the adrenaline rush of getting into a building that is guarded like a fortress. They hold hands, sometimes with strangers they will never see again, sometimes with lovers or ex-lovers. Rushing, chanting, they head for the marble hallway, or the floor of the train terminal, or the cold, cold ground, worrying they won't get past the police barriers or the phalanx of cops.
And once they have "taken the hill," as it were, like actors in a war film from the 1940s, they wait. Wait for the police to come, for the senators to respond, for the reporters to arrive with camera crews to record their demands. And then, if they are not arrested, they get home in time to see themselves on the evening news. Or not!
It's exhilarating. Soehnlein shows the exhilaration. It's also sometimes kind of boring. He shows that too. Most of all, it changed lives. The novel chronicles the ways activism and AIDS and death and loss change Paul's life. How he goes from being a newly out gay kid learning his way around a city "full of offerings," including art and work and men (his initial approach to sex and love being: "Anything that starts with a guy and ends with an orgasm is what I'm into"), to a queer activist in a shaved head and black leather jacket facilitating ACT UP meetings and talking back to Larry Kramer.
A notable aspect of the novel is Soehnlein's lack of sentimentality about the anointed "heroes" of the AIDS activism movement. "I hold him in awe," Paul says about Kramer, but also, "Larry is the apocalyptic prophet who sees only doom. . . often incapable of hearing anyone else." Soehnlein is equally clear-eyed about problems of burn-out that afflicted AIDS activists:
Issues of racism and sexism that compromised AIDS activism; the painful awareness of many ACT UP members, almost their inability to grasp, that despite their unceasing, ingenious, and fearless activism, their friends and lovers would continue to die.
Most poignantly, the novel shows an aspect of AIDS activism that I haven't seen fully dramatized elsewhere. It happens in a conversation between Paul and his bestie Amanda, an aspiring filmmaker and lesbian activist. Grappling with the question of how to have a life at the same time that you're trying to save lives, Amanda says, "It's confusing to be so deeply identified with a community when you want to say something or make something that's uniquely yours."
How to be a person in the midst of an all-consuming, life-threatening epidemic? How to be queer in America in the Reagan years? How to have a personal life when your life is devoted to the collective? Amanda chooses art as a form of activism. Paul has a life apart from AIDS, but it's no refuge from painful questions of mortality and identity. His is mother dying of cancer. The poles of his life mirror each other, each with death at the center. Is he entirely himself in either community – the churchgoing suburban world where he grew up, and the activist world centering on ACT UP and his charismatic boyfriend Derek?
When he breaks up with Derek and falls in love with Zack, who is dying of AIDS, Paul drifts away from ACT UP. "You're a caretaker now," Amanda tells him. Paul seems almost to arrive at the conclusion that caretaking is itself a form of activism. Or if it's not, what is activism? Amanda decides to channel her activism into "making a movie that affects a lot of people." Paul comes to a similar decision. After Zack dies, he moves to San Francisco and enrolls in a graduate writing program.
Soehnlein would appear to have made a similar choice. Army of Lovers is not just an account of political intervention, it is itself an intervention, a novel that preserves for future activism the history of a group of people struggling to survive an epidemic in the face of a government that was intent on denying its existence.