BREAKING: LA District Attorney Lacey speaks out about Ed Buck
An open letter to the citizens of West Hollywood from Los Angeles County District Attorney Jackie Lacey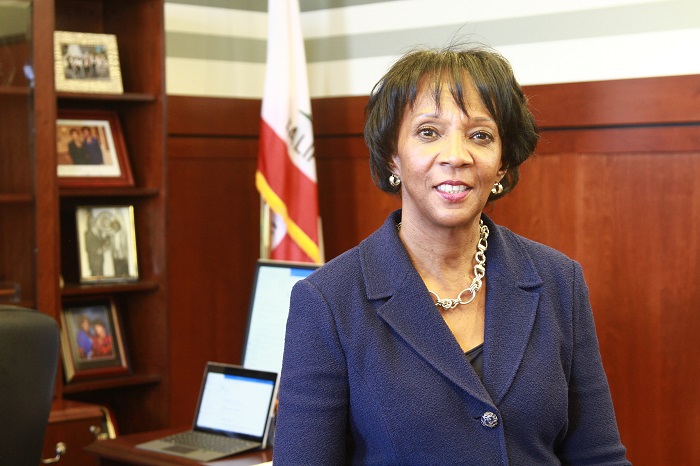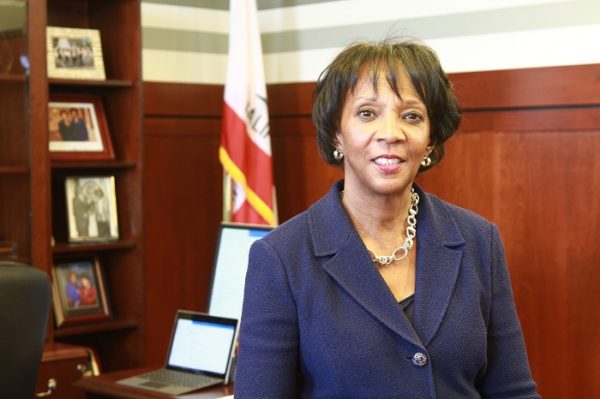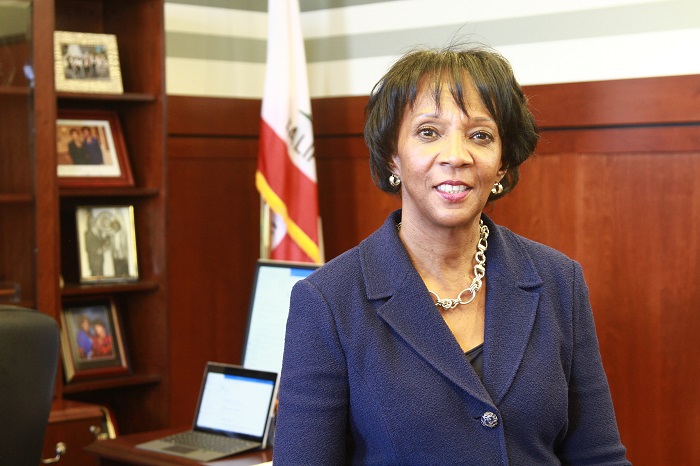 In a letter received today by the Los Angeles Blade —  directly from Los Angeles County District Attorney Jackie Lacey — she expresses concern for the families of Gemmel Moore and Timothy Dean, however says she is constrained by rule of law and will continue to look at the cases.
An open letter to the citizens of West Hollywood from Los Angeles County District Attorney Jackie Lacey
The loss of someone's child, no matter his or her age or the circumstance, is tragic and heartbreaking.
I empathize with the mother, family and friends of Gemmel Moore, who sadly died last year of a drug overdose inside the home of Ed Buck. I also empathize with the family and friends of Timothy Dean, whose death in Mr. Buck's home remains under investigation.
I have asked the Los Angeles County Sheriff's Department to continue to thoroughly investigate the deaths of both men.
I also am calling on the public to come forward with any information that may aid in the investigation and shed light on the circumstances of these tragic deaths.
When any allegation is considered for possible criminal prosecution, the issue is whether there is clear evidence that a crime has occurred and whether that is sufficient to convince a jury of 12 people of a defendant's guilt. Prosecutors cannot ethically file charges without such facts in hand.
When there is no independent witness nor other corroborating evidence that another person was responsible for a death, prosecutors have few options.
Still, I can understand the desire to want to hold someone responsible.
I am not just an attorney, but a mother and a native Angeleno who has witnessed firsthand the economic and personal struggles that so many in our community face. I cannot imagine losing one of my children, particularly to something as destructive as drugs.
Yet I am the Los Angeles County district attorney, elected by the people to bring criminals to justice and uphold the law in a fair and ethical manner.
I take that responsibility seriously and have dedicated my life and career to this public service.
Some have insinuated that a $100 donation from Mr. Buck to my 2012 election campaign – money that I have since returned – has somehow tainted my ability to impartially consider whether criminal charges are warranted against him in the death of Mr. Moore.
Nothing could be further from the truth.
Every life, regardless of a person's age, race, economic status and even whether they use illegal drugs, has value.
If that life is lost because of the unlawful actions of another, rest assured that my office will do everything possible to bring the perpetrator to justice.
Signed,
Jackie Lacey, District Attorney, County of Los Angeles, California
LAPD asking for public's help with murders of homeless persons
Anyone with information is urged to contact the Los Angeles Police Department's Robbery-Homicide Division, Homicide Special Section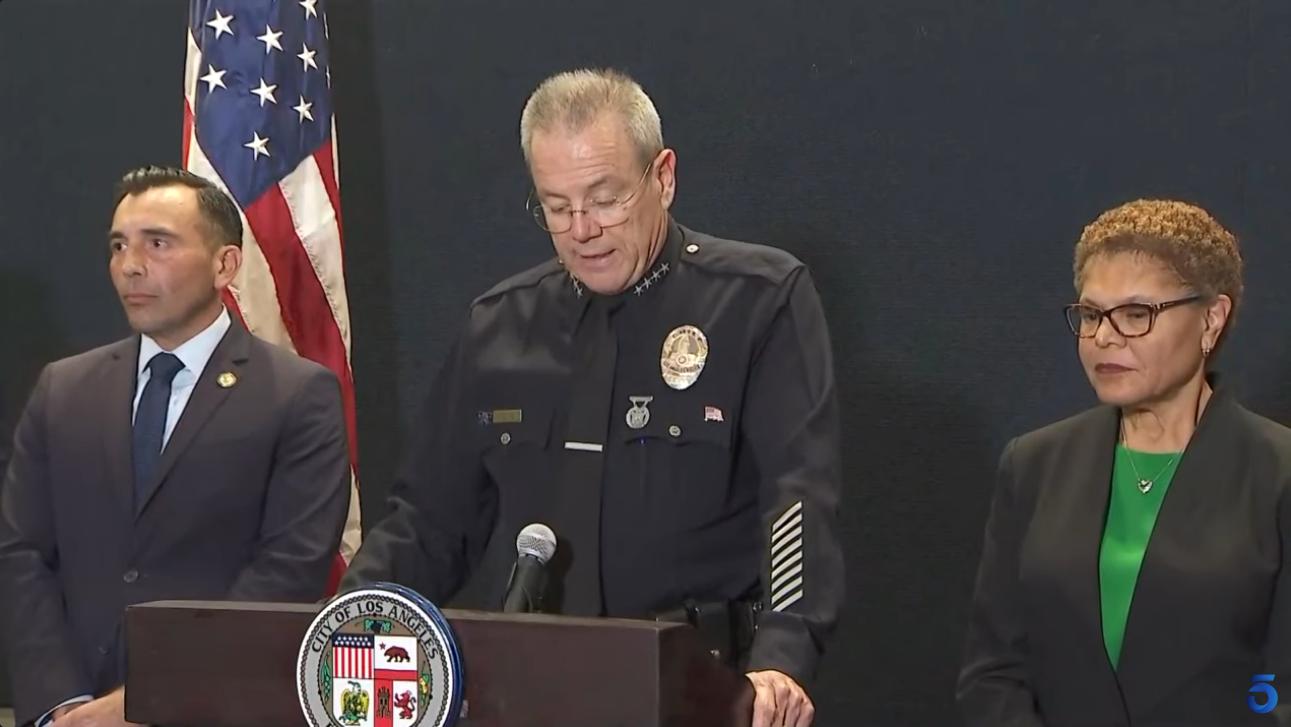 LOS ANGELES – Flanked by Los Angeles County District Attorney George Gascón, LA Mayor Mayor Karen Bass and Martin Estrada, the United States Attorney for the Central District of California, Los Angeles Chief of Police Michel Moore, held a news conference Friday where he announced that three homeless people had been fatally shot while they slept within the past week.
Moore added that authorities believe one suspect is responsible for all three murders.
Detectives from the LAPD's Robbery-Homicide Division are investigating three separate murders that occurred between November 26, 2023, and November 29, 2023. In each case, the victims were experiencing homelessness.
While some similarities have been identified, detectives are working to determine if these murders are related. A community alert bulletin has been issued to make the region's unhoused population and the community stakeholders aware of these recent murders.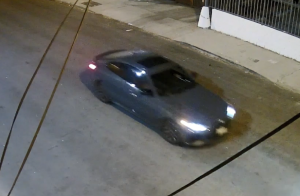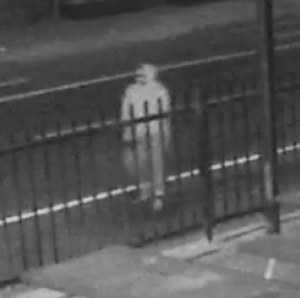 The suspect in these homicides is described only as male. The suspect was seen in a dark-colored sedan. It is unknown if he was alone or there were any additional suspects.
Police have spotted who they believe the shooter is on surveillance footage — Moore said they believe it's a man in a hoodie — and they also have images of the suspect's vehicle, though Moore would not describe it in an effort to avoid misinformation.
"People will see different types of cars, different types of models," he said. "I don't want someone to say 'You called this a Kia and it turns out to be a BMW or Mercedes," he said.
"A single individual approached each one and shot and killed each one as they slept," Moore said, though he avoided use of the term "serial killer."
"The Los Angeles Police Department is employing all available resources to bring justice to these murder victims. I am thankful for our City partners who are working with us closely to ensure the safety of this vulnerable population as we pursue the criminal investigation," said Moore.
"I want to be very clear about what we're facing today: This is a killer who is preying on the unhoused," Mayor Bass said, adding that homeless people should not sleep alone.
"As we always do in the face of a challenge or crisis, our region is mobilizing to respond to this issue. We will work tirelessly to find the individual responsible, arrest them, and hold them accountable. I have met with our partners at the Los Angeles Homeless Services Authority, Housing Authority of the City of Los Angeles, and the Los Angeles Housing Department and we are moving immediately to get the word out to our unhoused neighbors in housing networks. Our message to our unhoused community is clear – try not to be alone tonight. We will do all we can to make shelter and services available. To the many Angelenos who have friends or family who are unhoused, please let them know the danger that exists. We must stay safe. We will work diligently to bring those responsible to justice," the Mayor said.
"To the person responsible: We will find you, we will catch you and you will be held accountable," Bass said.
"I commend the LAPD for creating a dedicated task force to uncover the identity of a potential serial killer preying on the most vulnerable in our community. I've assigned our Major Crimes Division, Bureau of Victim Services and our Bureau of Investigation to assist with these efforts. Today, we demonstrate our collective resolve and stand united in our pursuit of justice, unwavering against the darkness that preys on the most defenseless among us," said LA District Attorney George Gascón.
Related:
Anyone with information is urged to contact the Los Angeles Police Department's Robbery-Homicide Division, Homicide Special Section, at (213) 486-6890. During non-business hours or on weekends, calls should be directed to 1-877-LAPD-24-7 (1-877-527-3247).
Anyone wishing to remain anonymous should call the LA Regional Crime Stoppers at 1-800-222-TIPS (800-222-8477) or go directly to www.lacrimestoppers.org.
Lastly, tipsters may also download the "P3 Tips" mobile application and select the LA Regional Crime Stoppers as their local program.