A Gender-Bending Opera, but Never a Drag
Mozart's final opera gets smashing LA Opera debut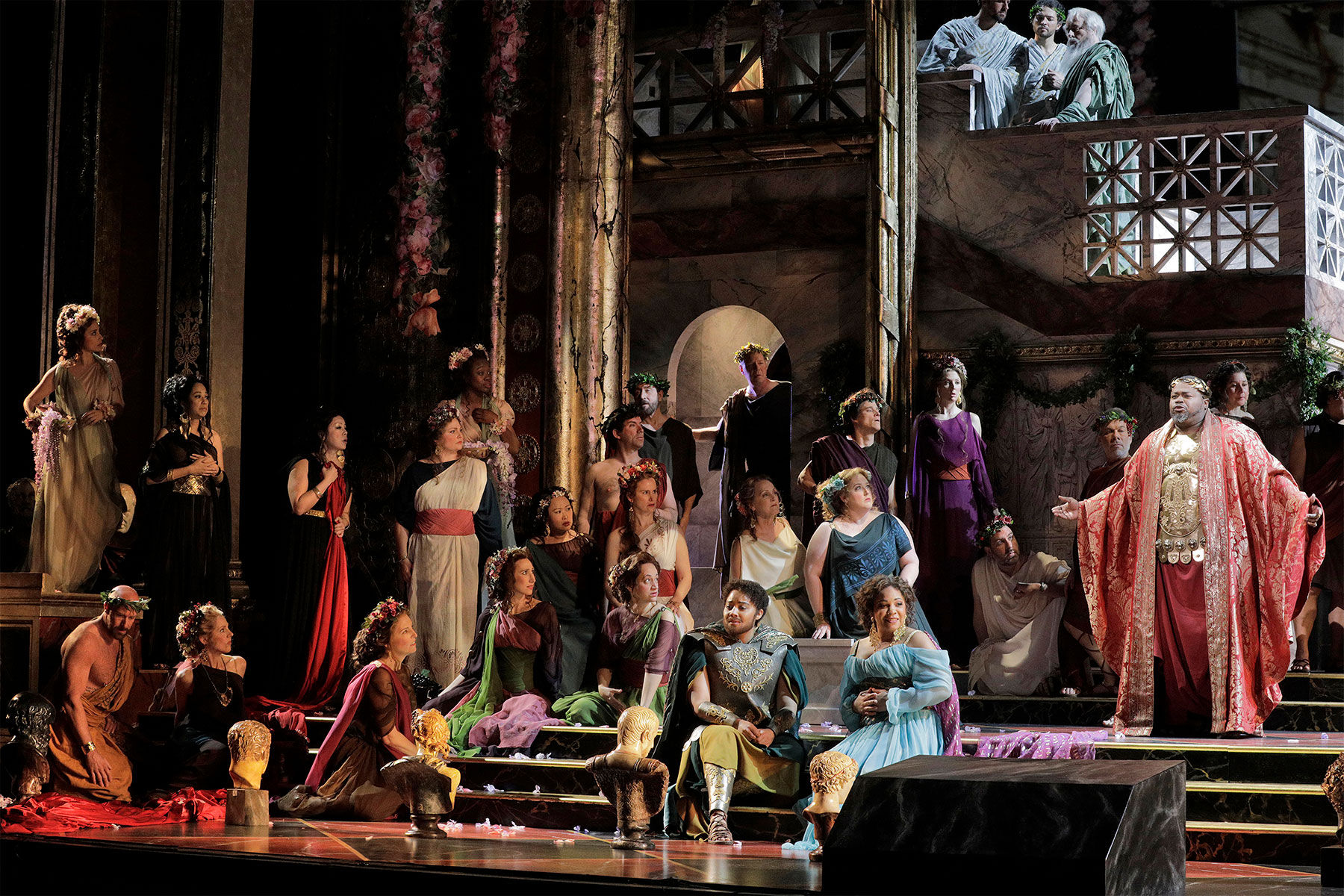 Can it be that, as our society becomes more enlightened and accepting of non-binary gender identity and trans rights, we are actually just finally catching up with the world of 18th-century opera? In Thaddeus Strassberger's rich and gorgeously sung new production of Mozart's final opera, "La Clemenza di Tito" (unnecessarily translated by LA Opera as "The Clemency of Titus"), we are treated to two exquisite examples of the bizarre but often riveting opera tradition of "trouser roles," male characters sung by women and written for soprano-range voices.
Mozart allegedly wrote his last opera in 18 days, just months before his premature death in 1791.
The piece was a profitable commission from impresario Domenico Guardasoni on behalf of the Estates of Bohemia to celebrate the coronation of Leopold II, Holy Roman Emperor, as King of Bohemia. Some reports indicate that Guardasoni's original contract placed greater importance on the presence of a leading castrato in the piece than on the composer. In the late 18th century it was still common to have male singers castrated before puberty so they sing in the soprano range.
Many of the era's great heroic male roles were written for men who could sing like a woman (and the castrati were paid more than any other opera singers, male or female). While this can seem bizarre to contemporary audiences unfamiliar with the tradition, Baroque audiences were not constrained by any devotion to realism. Instead, the soprano range was widely considered the most beautiful, and the important roles – male or female – were written to land within it. When castration went out of practice, these great roles were taken over by mezzo sopranos performing in drag.
LA Opera's sumptuous production (the company's first time tackling this lesser-known piece) features two women portraying male characters: Elizabeth DeShong sings Sesto and Taylor Raven sings Annio, both mezzos bedecked in elaborate Roman tunics and beards. Any initial cognitive dissonance for contemporary audiences quickly evaporates in the beauty of the music given to these characters, and the singers' exquisite delivery.
"Tito" is an almost ridiculously complicated story of revenge, betrayal, forgiveness and redemption. Vitellia (soprano Guanqun Yu), the daughter of assassinated emperor Vitellius, is enraged when she learns current Emperor Tito (tenor Russell Thomas) is marrying someone else. She plots with Tito's close friend Sesto (DeShong) – who is in love with her – to murder Tito and set fire to Rome. Sesto's sister, Servilia (soprano Janai Brugger) is in love with Annio (Raven), and they want the emperor's permission to marry. Tito surprises everyone by deciding to marry Servilia, then changes his mind to marry Vitellia, but her plot with Sesto can't be stopped in time. Or can it? By the end Tito's boundless generosity finds room for forgiveness for all. But not before some gorgeous Mozart arias.
The vast Dorothy Chandler can eat up tenor voices, but as he did in "Tosca" two years ago, Thomas easily fills the cavernous hall and brings power and precision to Tito's recitatives and arias. Opera fans anticipate his debut as Verdi's Otello in Toronto later this spring, and one can only help he sings that role soon at the Chandler. While Tito is the titular role, Mozart's greatest gifts in the opera go to Sesto, and DeShong is more than up to the task. Her delivery of rococo runs, often at a breakneck pace, were stunning, and her Act I duet with Raven is a highlight. Yu's Vitellia is powerful, and her long Act II plea for clemency is a stunner in a seemingly endless crimson train on a black staircase.
That memorable scene is just one piece of Strassberger's delicious production, which presents scenes in gilded frames with Greg Emetaz's dramatic projections providing the taste of Rome's decadence and JAX Messenger adding atmospheric lighting. When the smoldering ruins of the city are revealed at the Act II rise, the audience applauds the stagecraft. Music director James Conlon brings his joyful wizardry to the pit, conducting the crack LA Opera orchestra with command and nuance, and allowing Mozart's highlighting of the harpsichord and reeds to take center stage when appropriate. And good for LA Opera for casting fantastic singers who are also a gorgeous mosaic in terms of ethnicity and race.
After numerous Figaros and Magic Flutes, it took more than 30 seasons for LA Opera to get to "Tito," but it was worth the wait for this richly theatrical and beautifully sung new production.
The Clemency of Titus runs through March 24 at the Dorothy Chandler Pavilion. Details at www.laopera.org.
As One Breaks New Ground with Opera Santa Barbara
As One is a collaborative work from composer Laura Kaminsky and co-librettists Mark Campbell and Kimberly Reed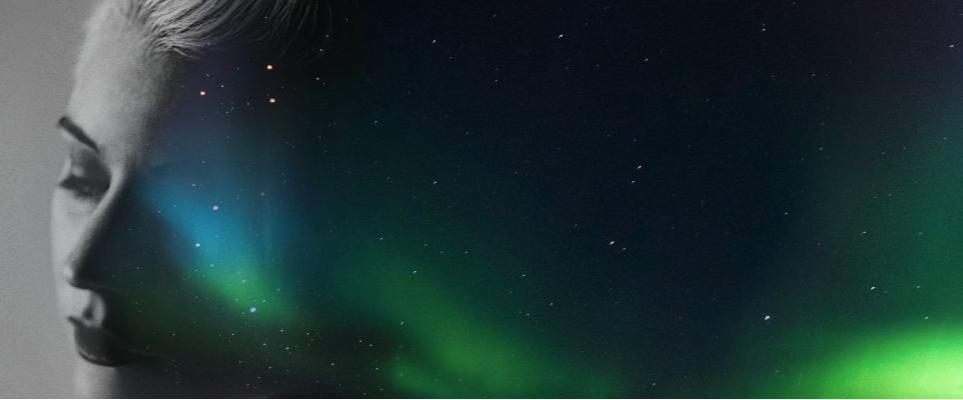 By Bekah Wright | SANTA BARBARA – Two voices come together in the opera As One. Their purpose: to portray the strength of its main character, Hannah, as she discovers her transgender identity.
This contemporary opera celebrates its 50th production at Opera Santa Barbara's Lobero Theatre on March 25 and 27. "Opera Santa Barbara is excited to bring this uniquely American piece to Santa Barbara for the first time," Opera Santa Barbara's Director of Operations Zach Mendez says. "As One is a reflection of humanity, overcoming adversity, and a representation of a transgender experience – subject matters that are extremely important and timely."
As One follows Hannah, a transgender woman, as she embraces her gender identity and, in a world that doesn't accept her, finds peace and self-love. Particularly poignant is the timing of the Opera Santa Barbara production, which leads up to the March 31 celebration of Transgender Day of Visibility. Another milestone to be recognized during the opera's Santa Barbara run is the announcement of the True Voice Award, a new initiative from As One's creators and the Washington National Opera to create opportunities and training for trans opera singers.
"As One is one of the most significant American operas that exists in this moment," Alexandra Enyart, the transgender opera conductor of As One says. To Enyart, it's a powerful coming of age story about what it means to be a woman. "It's about finding yourself and figuring out who that is in a world," she says. "So often, society puts people in boxes and creates expectations that aren't based in reality. For Hannah, it's everyone telling her she's a boy when she knows that's wrong."
Hannah's journey from "the perfect boy" to discovering the power of being her true self is told in a three-part narrative through 15 songs. Bringing her voice to the stage are two Opera Santa Barbara Chrisman Studio Program alumni — baritone Evan Bravos (2019, Music Academy of the West's Cold Mountain), and mezzo-soprano Ashley Kay Armstrong taking on the role of Hannah who portrays Hannah Before (2019, Opera Santa Barbara's Eugene Onegin). The 75-minute, chamber opera is accompanied by string quartet.
As One is a collaborative work from composer Laura Kaminsky and co-librettists Mark Campbell and Kimberly Reed. Commissioned by The American Opera Project (AOP), As One had its world premiere in 2014 at the Brooklyn Academy of Music. Since then, it's traveled the globe and had Opera America magazine proclaim it the most produced new opera in North America.
Enyart, who's conducted six As One performances, including one in Australia, As One provides audiences a unique experience. "It's a chance to sit down with a person and hear their story versus serving as a talking point on transgender. Being presented in this way makes it very powerful." 
Directing the Opera Santa Barbara production will be Amy Hutchison.
To open up dialogues, Opera Santa Barbara has scheduled a series of special events to raise awareness and celebrate the transgender experience. Creative Consultant Jonathan Muñoz-Proulx, the Director of Cultural Programming for Pasadena's A Noise Within Theatre, is overseeing these programs. Leading up to As One's debut will be a March 24 panel discussion featuring Kaminsky, Campbell and Enyart at the Museum of Contemporary Art Santa Barbara. The open event will be both live-streamed and have limited seating. Also potentially in the works is a special choral piece that would feature all those who've portrayed Hannah in As One productions during Transgender Day of Visibility.
What Enyart hopes audiences take away from As One: "People who are transgender are the same as everyone else – we're more similar than different. Ultimately humans are just humans." She adds, "I hope this piece encourages everyone to experience the joys of saying yes to yourself."
Reserved tickets can be purchased online at lobero.org, and are currently priced at $149 and $99. A limited number of You Decide! Tickets (pay-what-you-choose) are also available by phone only through the Lobero Box Office, at (805) 963.0761, thanks to a generous grant from the Holly and Walter Thompson Foundation, Bank of America, N.A. Co-trustee.
All patrons must provide proof of vaccination against COVID-19 or negative test within the last 72 hours accompanied by picture ID.  In accordance with the latest State and County guidance, patrons will NOT be required to wear a face covering. Detailed health protocols can be found on the Lobero website.
LOCATION
Lobero Theatre
33 E Canon Perdido St
Santa Barbara, CA 93101
CAST & CREDITS
DIRECTION
Director:Amy Hutchison
Conductor:Alexis Enyart
ARTISTS
Hannah Before- Evan Bravos
Hannah After- Ashley Kay Armstrong
Acclaimed countertenor joins LA Opera for 'Eurydice' premiere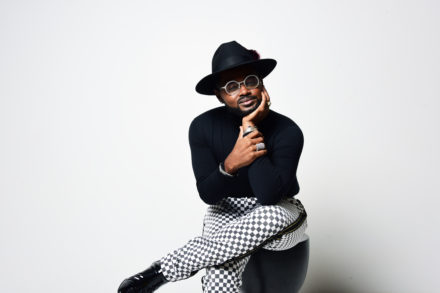 Renowned countertenor John Holiday is about to bring his remarkable talents to Los Angeles, as he stars in a world premiere at the LA Opera.
Holiday has made a name for himself as an operatic countertenor – a male singer who sings in the range of a woman – with performances around the world, from Portland to the Met in NYC to the Dutch National Opera. He has dazzled critics with his performances, with the New Yorker calling his voice "a thing of astonishing beauty" and the Los Angeles Times lauding him as "One of the finest countertenors of his generation."
His newest role begins this weekend at the Dorothy Chandler Pavilion, when he takes the stage as "Orpheus's Double" in Matthew Aucoin's "Eurydice," a world premiere opera based on the classic Greek myth of Orpheus, who descends to the underworld in an effort to win back his bride from Hades with the unparalleled beauty of his musical gifts. The same myth is also the basis for the current Broadway hit, "Hadestown."
In his new opera, Aucoin partners with playwright Sarah Ruhl to reimagine the ancient myth for a modern age, unfolding the tale from the heroine's point of view. Tragically killed on her wedding day, a young bride descends into the underworld, where she reconnects with her adoring father. Presented with the opportunity to return to her husband in the world of the living, she must choose between the two men she loves. The title role will be performed by Danielle de Niese.
Holiday, whose previous work includes world premieres of "We Shall Not Be Moved" and "Paradise Interrupted," is not just known for opera. He has performed in several other genres, and often blends African American musical traditions of jazz, R&B, and gospel with opera in his solo performances.
The New Yorker highlighted him in a videotaped performance from a crypt Harlem, for a piece called "Bringing Gospel to the Opera." In the videos below, you can see him performing classic American standards "Fly Me to the Moon" and "Summertime" in recordings made as part of New York's WQXR Radio's Classical Beer Jam series.
"Eurydice" runs February 2-23 at the Dorothy Chandler Pavilion. You can find more info and tickets at the LA Opera website.
A trailer for the opera is below.
An Opera of Biblical Proportions
Plácido Domingo conquers another landmark role in Nabucco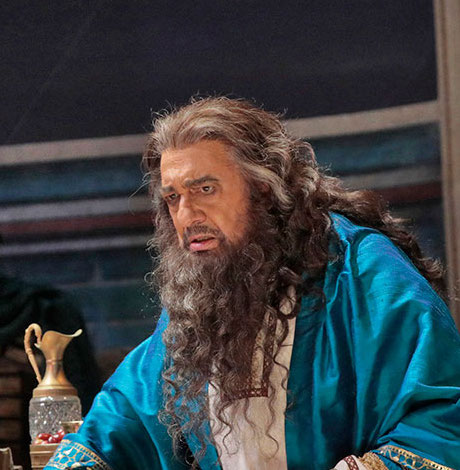 In the month of November LA Opera takes audiences on an action-packed journey with Thaddeus Strassberger's inventive staging of Giuseppe Verdi's biblical drama Nabucco, starring opera legend and LA Opera's general director Plácido Domingo.
Verdi was 28 years old when his third opera debuted at Milan's La Scala in 1842, and the piece catapulted him to stardom. Set in ancient times during the Babylonian captivity of the Hebrews, the opera is based on events described in the Book of Jeremiah. Because it is an Italian opera, however, Verdi also added an invented love triangle to spice up the proceedings.
The title is an Italian shortening of the name of the ancient king of Babylon, Nebuchadnezzar, who has conquered and exiled the Hebrews from their homeland at the top of the show. Nabucco has two daughters, the older, fiery Abigaille, and the younger, sweeter Fenena, both of whom love the handsome young Hebrew Ismaele.
Nabucco is one of Verdi's great baritone roles, and since Maestro Domingo decided several years ago that, rather than retire as one of the world's greatest tenors, he would continue to sing by exploring baritone parts, he has sung the role in some of the world's greatest opera houses. "I first sang the title role of this exciting work in 2013," he says, "and have relished the opportunity to revisit this Biblical king several times since then." As a younger man he sang the tenor role of Ismaele to acclaim, but now relishes the chance to take on the complicated and psychologically challenging title role, which includes a mad scene that takes place after Nabucco has declared himself god of the Hebrews and gets struck by lightning. "Mad scenes in operas are usually sung by sopranos," the playful legend says, "but this role finally gives me the chance to have my own mad scene, something I never expected!"
At 76, Domingo is once again taking on Nabucco with Ukrainian soprano Liudmyla Monastyrska singing the powerhouse part of Abigaille opposite him. One of the reasons Verdi's early piece is infrequently staged is because the role of Abigaille is so difficult, requiring such wildly varied styles and skills from a singer. Monastyrska has made the challenging part her own, and has performed the piece with Domingo at the Royal Opera House, Covent Garden and at the Met Opera last year in an acclaimed staging that had critics raving about the pair. "I am delighted to introduce Liudmyla Monastyrska to Los Angeles in her signature role," he says.
Another hallmark of Nabucco is Verdi's exceptional use of the chorus. While there are gorgeous chorus selections throughout, the piece includes one of opera's most famous choruses, "Va, pensiero," in which the exiled Hebrews long for their homeland. When Verdi wrote the opera in 1842 Italy was in the beginning of the risorgimento, the "resurgence" of interest in Italian unification. Northern Italy, where the opera premiered, was under Austrian rule, and "Va, pensiero" became a beloved anthem of patriotic pride for Italians in the mid-19th century and beyond.
Director Strassberger's production attempts to capture the feeling of the 1842 premiere by placing opera boxes on the sides of the stage with 19th-century characters watching the opera while Austrian soldiers stand guard. While we many never know exactly what it felt like to experience that national pride while under foreign domination, we can take great pride in the world-renowned Plácido Domingo continuing to expand his repertoire and challenge himself at his cultural home of LA Opera.