April 27, 2019 at 6:08 pm PDT | by Karen Ocamb
19-year old opens fire in San Diego County synagogue on last day of Passover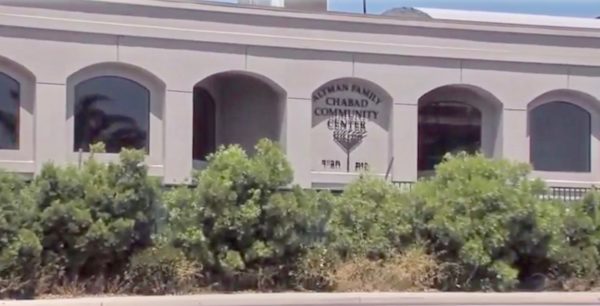 A white 19-year-old armed with a semiautomatic walked into Chabad of Poway on Chabad Way in suburban San Diego County around 11:20 a.m. on Saturday and opened fire on the congregation celebrating the last day of Passover. An elderly woman is dead, three were injured and the gunman has been arrested, authorities tell reporters.
Though the shooting comes one day after President Trump's speech before the National Rifle Association and major news coverage of former Vice President Joe Biden's campaign announcement video using the Neo-Nazi rally in Charlottesville where white supremacists carrying tiki torches chanted "Jews will not replace us!" – the arrested teenager, identified as John T. Earnest from Rancho Penasquitos, apparently planned the attack four weeks ago, according to an anti-Semitic screed authorities found that he posted on the Internet. He wrote that he was willing to sacrifice his future "for the sake of my people," according to the Los Angeles Times. 
Apparently the shooter made anti-Semitic statements as he entered the synagogue, which led Poway Mayor Steve Vaus to call the attack a "hate crime."
According to the LA Times, "Witnesses said a rabbi is among the injured, reportedly shot in the hand. He apparently continued with his sermon after being wounded, telling people to stay strong."
The United States Holocaust Memorial Museum issued a statement saying it was "shocked and alarmed" at the second armed attack on a synagogue in the United States in six months.
"Now our thoughts are with the victims and their loved ones," Museum Director Sara J. Bloomfield said. "But moving forward this must serve as yet another wake-up call that antisemitism is a growing and deadly menace. The Holocaust is a reminder of the dangers of unchecked antisemitism and the way hate can infect a society. All Americans must unequivocally condemn it and confront it in wherever it appears."
California Gov. Gavin Newsom also issued a statement:
"California sends our deepest and heartfelt condolences to the friends and families of the victims of today's shooting at the Chabad of Poway.

My office continues to work closely with local and state law enforcement to monitor this situation. We join the Poway community in its grief and, together with all Californians, recognize the bravery and heroism of our first responders.

While we continue to learn more about what transpired, we can't ignore the circumstances around this horrific incident. No one should have to fear going to their place of worship, and no one should be targeted for practicing the tenets of their faith."
LGBT Jews and allies also responded.  San Francisco State Sen. Scott Wiener said:
"Six months to the day after the Tree of Life synagogue massacre, we see another brutal synagogue shooting in San Diego County. As we mourn, let's recommit to end the hate violence against the Jewish community and all communities currently gripping our nation. This is not who we are."

"As a Jew, these shootings rock me to the core. The history of the Jewish people is a history of violence against our community. We are a resilient people, as we always have been. But the hate gripping our nation puts us all in danger. We must root out this hate and end it."
Others responded on Twitter: