19-year old opens fire in San Diego County synagogue on last day of Passover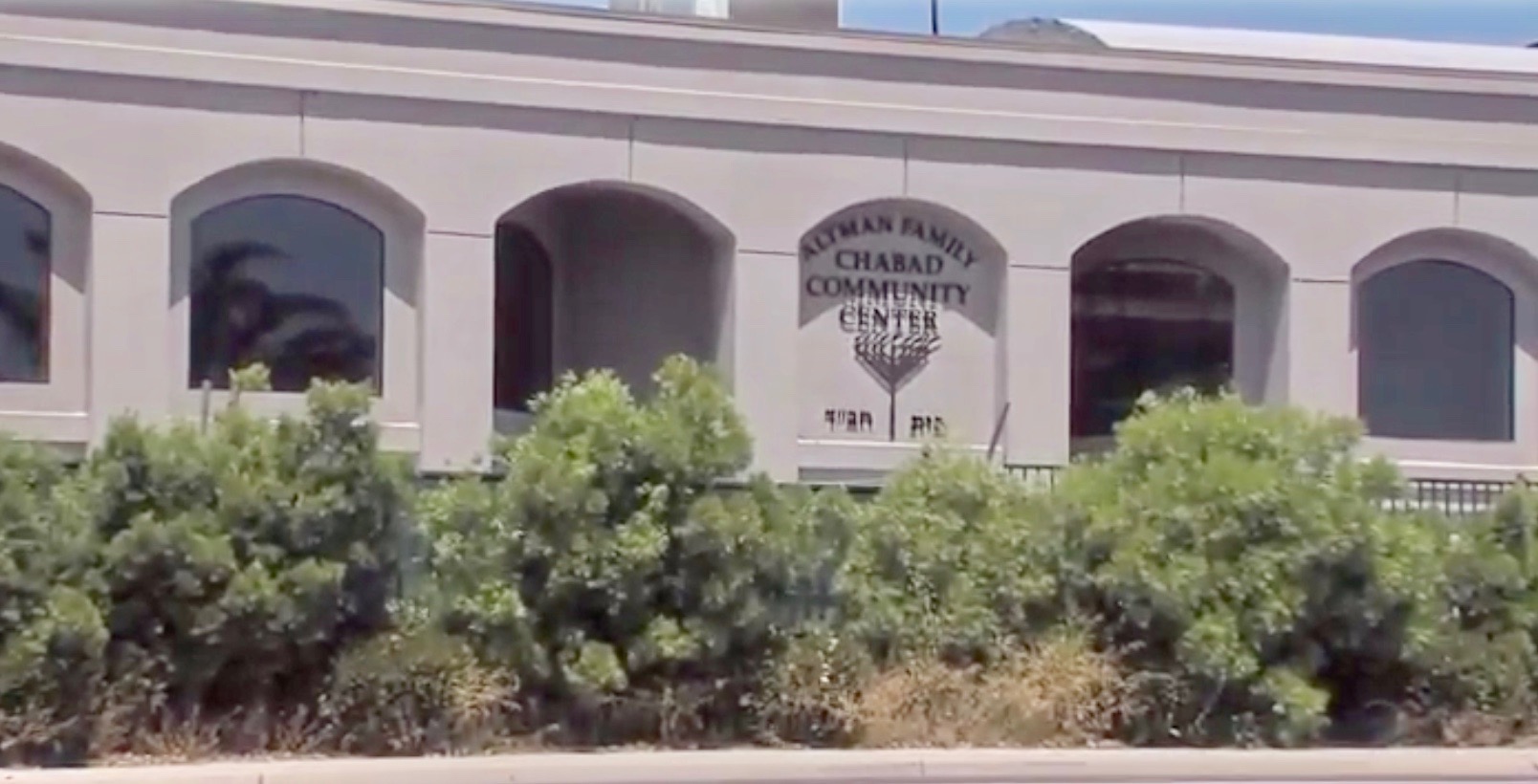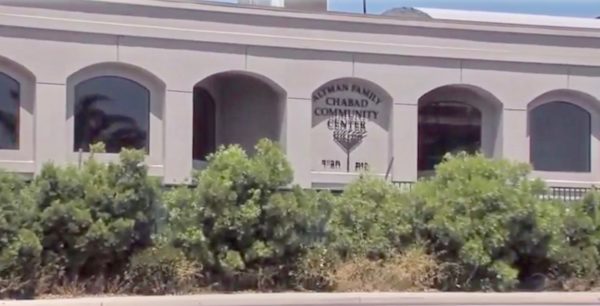 A white 19-year-old armed with a semiautomatic walked into Chabad of Poway on Chabad Way in suburban San Diego County around 11:20 a.m. on Saturday and opened fire on the congregation celebrating the last day of Passover. An elderly woman is dead, three were injured and the gunman has been arrested, authorities tell reporters.
Though the shooting comes one day after President Trump's speech before the National Rifle Association and major news coverage of former Vice President Joe Biden's campaign announcement video using the Neo-Nazi rally in Charlottesville where white supremacists carrying tiki torches chanted "Jews will not replace us!" – the arrested teenager, identified as John T. Earnest from Rancho Penasquitos, apparently planned the attack four weeks ago, according to an anti-Semitic screed authorities found that he posted on the Internet. He wrote that he was willing to sacrifice his future "for the sake of my people," according to the Los Angeles Times. 
Apparently the shooter made anti-Semitic statements as he entered the synagogue, which led Poway Mayor Steve Vaus to call the attack a "hate crime."
According to the LA Times, "Witnesses said a rabbi is among the injured, reportedly shot in the hand. He apparently continued with his sermon after being wounded, telling people to stay strong."
The United States Holocaust Memorial Museum issued a statement saying it was "shocked and alarmed" at the second armed attack on a synagogue in the United States in six months.
"Now our thoughts are with the victims and their loved ones," Museum Director Sara J. Bloomfield said. "But moving forward this must serve as yet another wake-up call that antisemitism is a growing and deadly menace. The Holocaust is a reminder of the dangers of unchecked antisemitism and the way hate can infect a society. All Americans must unequivocally condemn it and confront it in wherever it appears."
California Gov. Gavin Newsom also issued a statement:
"California sends our deepest and heartfelt condolences to the friends and families of the victims of today's shooting at the Chabad of Poway.

My office continues to work closely with local and state law enforcement to monitor this situation. We join the Poway community in its grief and, together with all Californians, recognize the bravery and heroism of our first responders.

While we continue to learn more about what transpired, we can't ignore the circumstances around this horrific incident. No one should have to fear going to their place of worship, and no one should be targeted for practicing the tenets of their faith."
LGBT Jews and allies also responded.  San Francisco State Sen. Scott Wiener said:
"Six months to the day after the Tree of Life synagogue massacre, we see another brutal synagogue shooting in San Diego County. As we mourn, let's recommit to end the hate violence against the Jewish community and all communities currently gripping our nation. This is not who we are."

"As a Jew, these shootings rock me to the core. The history of the Jewish people is a history of violence against our community. We are a resilient people, as we always have been. But the hate gripping our nation puts us all in danger. We must root out this hate and end it."
Others responded on Twitter: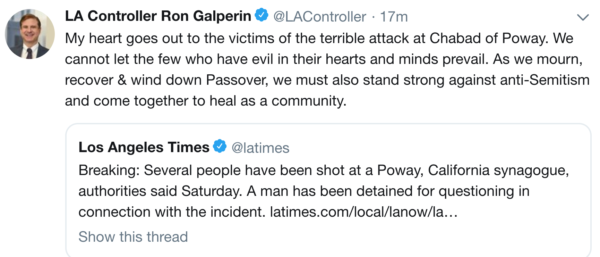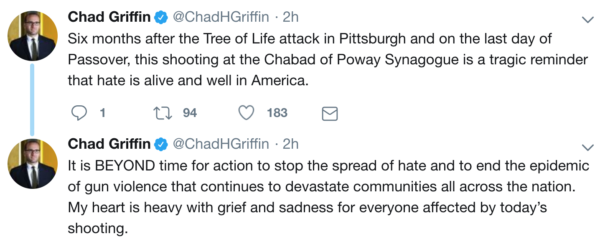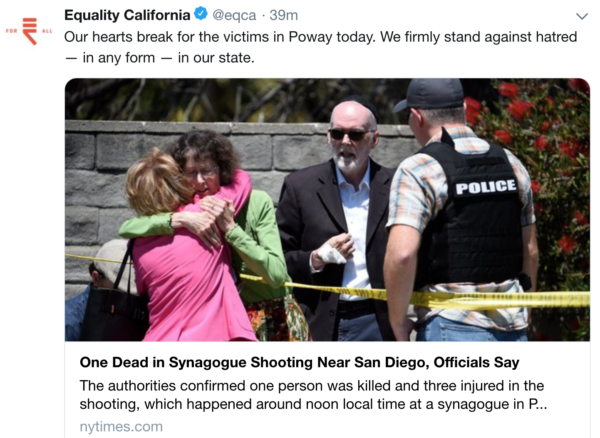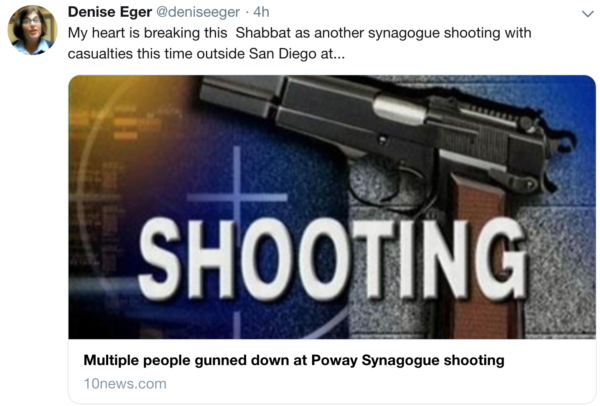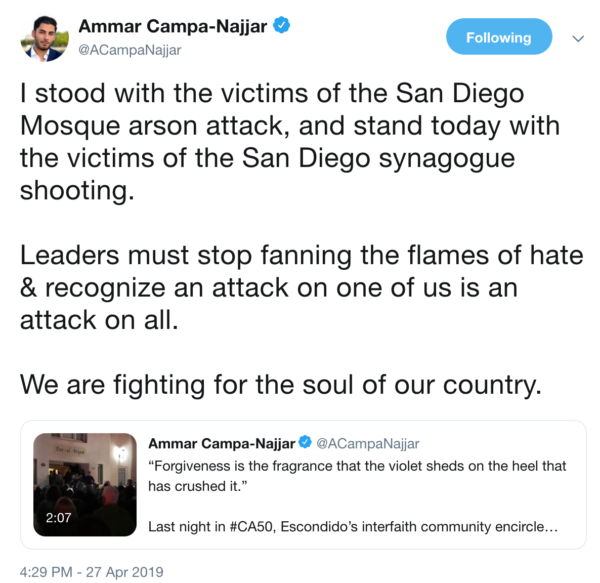 Right-wing media spreads altered footage of drag queen- who sues
Libs of TikTok and other anti-LGBTQ media falsely claimed a drag queen exposed himself to minors — now the performer is suing


By Mia Gingerich | WASHINGTON – A drag queen who performed at the Idaho Pride event targeted by white nationalists in June is suing a right-wing blogger who doctored footage of his performance to falsely claim he had exposed himself to children.
Even though the video was swiftly debunked by local news, right-wing media — including Libs of TikTok's Chaya Raichik and others who initially helped drive harassment against the Pride event — pushed the edited footage, leading to abuse against the performer. 
On June 11, police in Coeur d'Alene, Idaho, arrested 31 members of the Patriot Front near Pride in the Park, a planned Pride event. Authorities said evidence showed the white nationalists, who had gathered at the park from across the country, were planning to riot at the event and in multiple areas around the town. Patriot Front has a history of anti-LGBTQ actions, including burning trans pride flags and vandalizing a memorial for the victims of the Pulse nightclub shooting. The Southern Poverty Law Center has designated it as a hate group.
The event was also targeted by a far-right biker group that announced it was holding an event nearby at the same time as Pride in the Park, with organizers saying there were "going to be going after the groomers" while alluding to possible violence.
One of the performers at the event was Eric Posey, whose drag name is Mona Liza Million. Following Pride in the Park, right-wing blogger Summer Bushnell posted footage from Posey's performance that blurred his crotch. In her posts, Bushnell erroneously claimed Posey had exposed himself to minors and called for her audience to report the video to police. The video, which was debunked by local news two days after the event was held, led to harassment against Posey after it went viral on social media. Now Posey is suing Bushnell, claiming she defamed him in an effort to gain popularity as part of the nationwide effort to malign LGBTQ people and Pride Month events.
A key instigator in manufacturing outrage over the event was Chaya Raichik, who runs the social media account "Libs of TikTok." Raichik not only targeted Pride in the Park after Idaho-based white nationalist Dave Reilly called for her to do so, but she also helped spread Bushnell's video weeks after it had been debunked by both the media and authorities. On July 31, Raichik retweeted a tweet with Bushnell's video and calling Posey a "pedophile," with Raichik adding, "This is what a 'family-friendly' drag show looks like." Commenters reacting to Raichik's post falsely accused Posey of being a "groomer" and "pedophile," while others threatened extreme acts of violence against him, including multiple threats to castrate him.
Although the tweet she quoted was later removed for violating Twitter's rule on hateful conduct, Raichik's tweet was never deleted. 
Raichik was joined in sharing the doctored video by anti-LGBTQ trolls including right-wing podcaster Liz Wheeler and Gays Against Groomers, with the latter writing, "If gay rights do get rolled back, it will only be because of things like this."
The renewed social media pickup of the doctored video led to an article published by right-wing blog Post Millennial headlined "Drag queen accused of exposing self to children at 'family friendly' Pride event." The article promoted conspiracy theories that antifa was involved in targeting the Idaho Pride event, and the header for the article included a still from Bushnell's video, with the edited video embedded.
The Idaho Family Policy Center, a right-wing Christian nonprofit that partners with extreme anti-LGBTQ group Alliance Defending Freedom and multiple other anti-LGBTQ organizations, posted a petition on September 8 denying law enforcement's debunking of the video and claiming it had "reviewed the unedited footage and can confirm it portrays public exposure of the performer's genitalia." Included with the petition, which called for drag performances to be banned from taking place around children, was a still from Bushnell's video. The petition remains active as of publication date. 
Far-right conspiracy theory outlet Infowars posted an article also featuring a still from the doctored video. The article suggested the targeting of the event by Patriot Front was "a federal false flag operation" and criticized the "mainstream media" for "ignoring a potential child sex crime occurring at the very same event."
The article cited a press release from the local sheriff's department saying police were investigating the video. The announcement came after a local outlet had already debunked the claims and released the unedited video, and despite law enforcement officials acknowledging that their investigation stemmed entirely from reports by individuals who had seen Bushnell's doctored footage and none of whom had seen the performance in person. The stunt culminated on July 1 with the city prosecutor stating what had been demonstrated weeks earlier — Posey had not exposed himself.
Disregarding available evidence, right-wing media widely used the release to push the false narrative and disseminate the doctored footage. Stephanie Hamill, a contributing writer for Media Research Center and ambassador for Turning Point USA, tweeted Bushnell's video while adding that the "dancer's genitals were reportedly exposed on the main stage with children viewing the 'dance.'"
A 'Pride in the Park' Festival dancer's genitals were reportedly exposed on the main stage with children viewing the 'dance'…

Coeur d'Alene Police are now investigating according to local news reports https://t.co/odo2vrMyvR pic.twitter.com/tFG0XlUrxD

— Stephanie Hamill (@STEPHMHAMILL) June 13, 2022
Right-wing author Janie Johnson tweeted a link to the video to her nearly 200,000 followers, attempting to excuse the white nationalists who targeted the event and writing, "Wonder what ticked the Idaho dads? This drag demon exposed himself to children."
The incident is nearly identical to another manufactured controversy pushed by right-wing media in which an edited photo of a drag performer reading to children at a library in 2019 was blurred and paired with the claim that they were exposing themselves to children. That smear, too, was quickly debunked, which did not prevent the ensuing harassment and an attempt from lawmakers to strip libraries of their funding.
The targeting of Posey and the broader attacks on Pride in the Park followed an escalating campaign of harassment against drag and Pride Month events that falsely accused participants of abusing children. This harassment, and the escalating rhetoric of maligning LGBTQ people as groomers, has largely been enabled by the failure of social media platforms like Twitter and Facebook to adequately handle the targeted harassment. 
**********************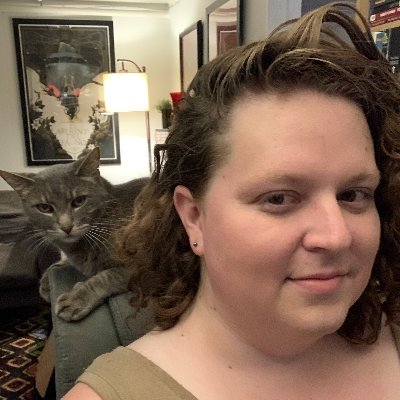 Mia Gingerich is a researcher at Media Matters. She has a bachelor's degree in politics and government from Northern Arizona University and has previously worked in rural organizing and local media.
********************
The preceding article was previously published by Media Matters for America and is republished by permission.
Newsom signs refuge bill for Trans kids & their families into law
Provides safeguards to block out-of-state attempts to penalize families that come to Calif. seeking medical treatment for trans children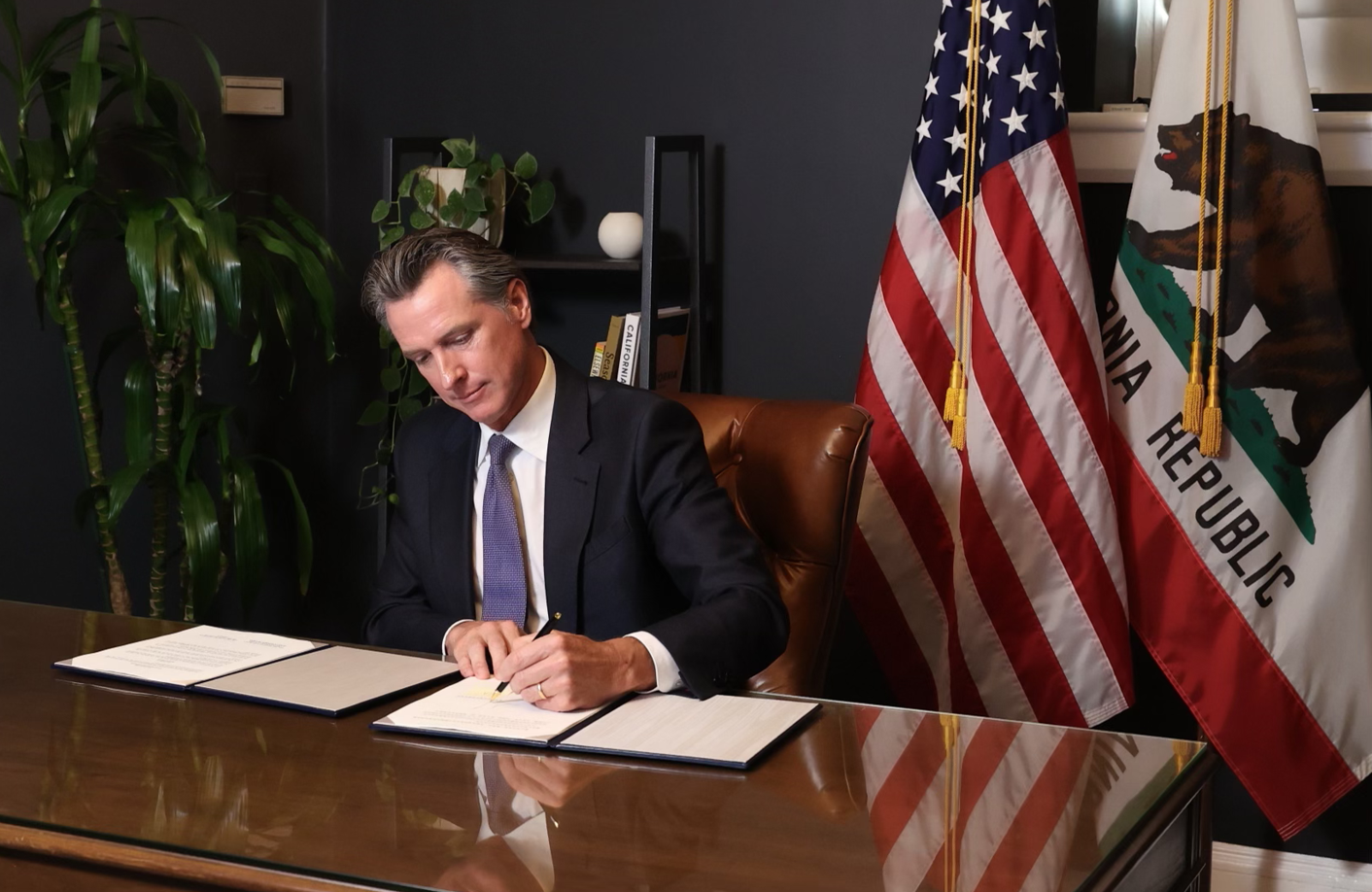 SACRAMENTO – Governor Gavin Newsom signed legislation to provide refuge for trans kids and their families authored by Senator Scott Wiener (D-San Francisco). Senate Bill 107 will protect trans kids and their families if they flee to California from Alabama, Texas, Idaho or any other state criminalizing the parents of trans kids for allowing them to receive gender-affirming care.
If these parents and their trans kids come to California, the law will help protect them from having their kids taken away from them or from being criminally prosecuted for supporting their trans kids' access to healthcare. It will take effect on January 1, 2023.
"As so many states work to erase trans kids and criminalize their families, California must always have their backs," said Senator Wiener. "With SB 107 signed into law, California is forcefully pushing back against the anti-LGBTQ hatred spreading across parts of our nation. The rainbow wave is real, and it's coming. Thank you, Governor Newsom, for standing with our community."
SB 107 was co-sponsored by Equality California, Planned Parenthood, TransFamily Support Services and Lieutenant Governor Eleni Kounalakis.
"While small, hateful men like Greg Abbott and Ron DeSantis attack trans children and their families, Governor Newsom today made clear that California will welcome them with open arms. SB 107 officially makes California a state of refuge for trans kids and their families," said Equality California Executive Director Tony Hoang. "SB 107 will continue California's legacy of leadership in protecting and advancing the health and well-being of LGBTQ+ communities in a time when we cannot take our rights and protections for granted. We are grateful for the leadership of Senator Scott Wiener and his commitment to protecting the most vulnerable members of our community."
"Extreme politicians across the country are openly attacking trans youth and their families like never before, but thanks to today's action by Governor Newsom and the leadership by Senator Scott Wiener, SB 107 provides reassurance that California will be a place where people can get the care they need," said Jodi Hicks, President and CEO of Planned Parenthood Affiliates of California. "We stand in solidarity with our friends and colleagues at EQCA and LGBTQ+ communities across the country. California Planned Parenthood health centers are committed to providing care, including gender-affirming care and LBGTQ+ services, to all who come through their doors – regardless of where they call home."
Senate Bill 107 provides for a range of safeguards meant to block out-of-state attempts to penalize families that come to California seeking medical treatment for transgender children and teens or move to the state to avoid consequences for already seeking that treatment elsewhere.
SB 107 has three main components:
1) It prohibits the enforcement of a law of another state that authorizes a state agency to remove a child from their parent or guardian based on the parent or guardian allowing their child to receive gender-affirming health care. The bill would prevent California's law enforcement from cooperating with any individual or out-of-state agency regarding the provision of lawful gender-affirming health care performed in this state. As a result, families will be able to come to California to avoid having their trans children taken away from them.
2) It bars compliance in California with any out-of-state subpoena seeking health or other related information about people who come to California to receive gender-affirming care, if the subpoena relates to efforts to criminalize individuals or remove children from their homes for having received gender-affirming care. Some states are considering legislation that would extend their criminal prohibitions even to residents who travel out of state to receive gender-affirming health care.
3) It prohibits law enforcement participation in the arrest or extradition of an individual that criminalizes allowing a person to receive or provide gender-affirming health care where that conduct is lawful in California and to the fullest extent permitted by federal law. It will declare that it is California's public policy that any out-of-state criminal arrest warrant for someone based on violating another state's law against receiving gender-affirming care is the lowest priority for law enforcement in California.
Trans youth already face numerous barriers to receiving the health care they need. Studies have shown that access to gender-affirming care for trans kids reduces risk for depression, psychological distress, and suicidal ideation. The criminalization of trans children and their parents leads to increased mental health issues and even suicide.
SB 107 is co-authored by Senators Susan Eggman (D-Stockton), and John Laird (D-Santa Cruz), and Assemblymembers Evan Low (D-Campbell), Alex Lee (D-San Jose), Chris Ward (D-San Diego), Sabrina Cervantes (D-Corona), Matt Haney (D-San Francisco), Ash Kalra (D-San Jose), Rebecca Bauer-Kahan (D-Orinda), and Mia Bonta (D-Alameda). Senate President pro Tempore Toni G. Atkins (San Diego) and Assemblymember Lori Wilson (D-Fairfield) principal co-authors.
Christian lawyers take case of anti-trans athletes to appeals court
Besides campaigning for a national abortion ban, Alliance Defending Freedom aims to ban trans girls competing in girls' high school sports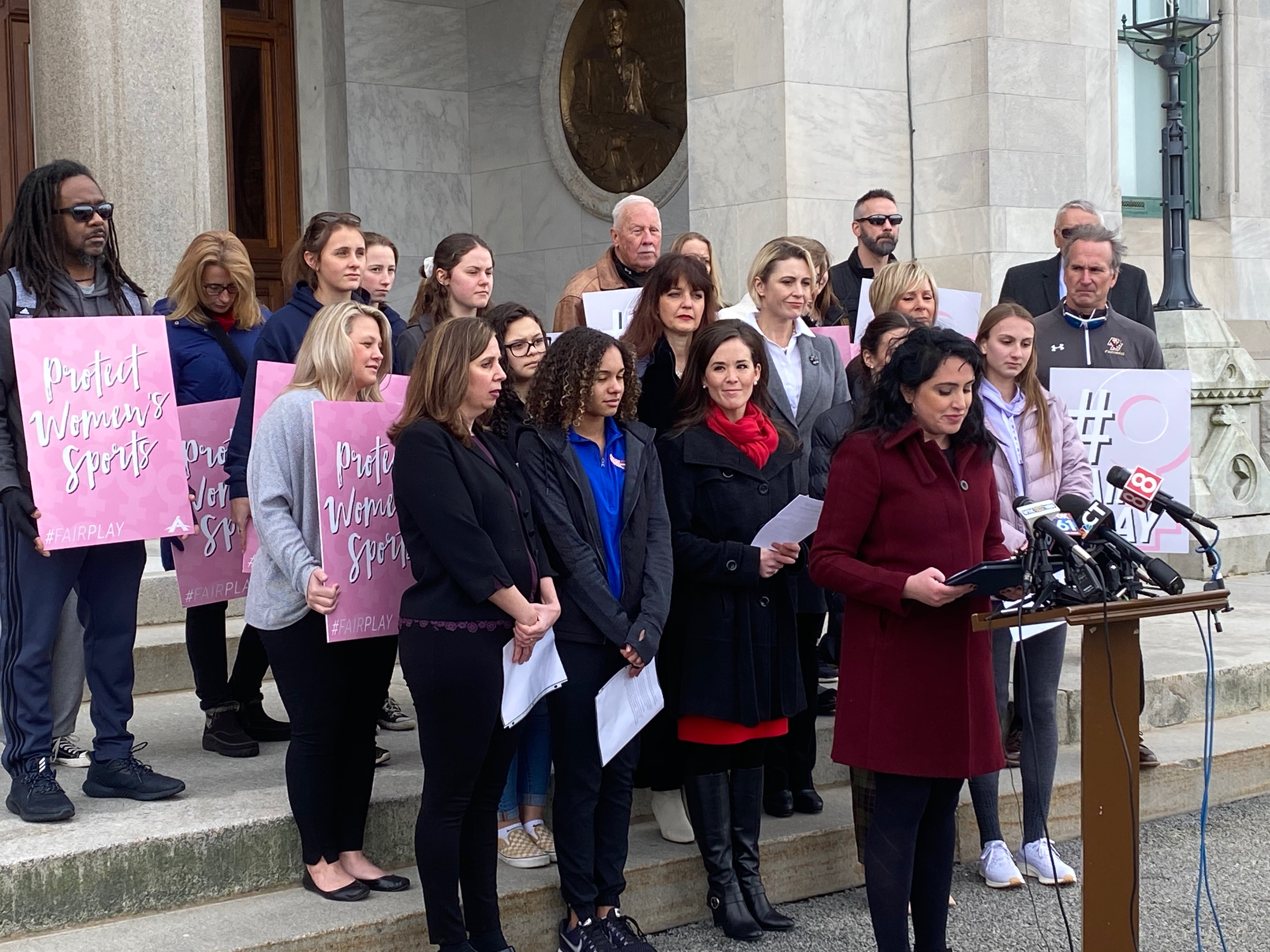 NEW YORK – A federal appeals judge in New York City on Thursday listened to attorneys arguing for and against a ban on transgender athletes in high school sports, the first federal case challenging a policy of inclusion.
Now it's up to Chief Judge Debra Ann Livingston of the Second Circuit of the U.S. Court of Appeals to decide whether a landmark case should be retried or tossed out.
The case, brought by the Alliance Defending Freedom in February 2020, was dismissed by a federal judge in Connecticut in April 2021.
The ADF, a conservative Christian law group labeled an extremist hate group by the Southern Poverty Law Center, is appealing the decision by U.S. District Judge Robert Chatigny. The ADF claims he was biased in favor of the defendants, the Connecticut Interscholastic Athletic Conference and several Connecticut boards of education.
Their original lawsuit and this appeal claims that by permitting transgender student-athletes to compete according to their gender identity, the CIAC and the schools discriminated against the plaintiffs: cisgender women who were track and field athletes in high school in Connecticut. They have all gone on to win collegiate sports scholarships: Selina Soule, Chelsea Mitchell and Alanna Smith.
"Today we argued that my clients, Selena, Chelsea and Alanna, their records and achievements matter, and we ought to be able to prove our case in court," said ADF Senior Counsel Christiana Kiefer outside court in Manhattan. "And so, we're asking that the judges here allow the case to continue to move forward."
A fourth plaintiff, Ashley Nicoletti, was added to the case last year. The women claim they couldn't win against trans girls, and because they were forced to compete with trans girls, they were "denied the chance to be champions."
They also want the court to order the state to change its track and field records and championship-winning results and erase the names of two transgender athletes: Andraya Yearwood and Terry Miller.
In their appeal, and in their press release following today's hearing, the ADF attorneys repeatedly misgendered the two young Black women, referring to them as "boys" and "biological males." Yearwood and Miller are not named in the suit, but American Civil Liberties Union attorneys represented them at the hearing.
The ACLU tweeted what the organization called "the facts" of the case, responding to the ADF's arguments, including that Mitchell and Smith did in fact beat Yearwood and Miller and that three of the four plaintiffs actually did win championships.
"Connecticut's laws preventing discrimination against trans youth in school and sports are consistent with federal law," said Elana Bildner, ACLU Foundation of Connecticut senior staff attorney, in a statement. "For years now, Andraya and Terry have carried more on their shoulders, as two Black trans youth, than most adults face in a lifetime."
"The plaintiffs' argument is filled with hypotheticals about a dystopia where cisgender girls disappear from the podium, but the court must rely on facts," said ACLU attorney Joshua Block. "The facts are that these plaintiffs repeatedly outperformed Andraya and Terry and won an impressive collection of first place trophies in the process. There is enough room on the victory podium for transgender girls too. Under Title IX, all girls, including transgender girls, should be able to participate fully and equally in athletics, in accordance with who they are."
Yearwood and Miller's records and the lawsuit naming them have been cited in several states across the U.S. where legislatures have considered and enacted bans on trans student-athletes. Outside court, Block called this case "sort of Exhibit A," in that effort. "It's held up as an example of the dangers that would happen if transgender girls were allowed to participate. And the reality is that that's based on a completely false premise, because there's no cisgender girls getting pushed off the victory podium. The plaintiffs in this case have been on the victory podium on multiple occasions."
Miller and Yearwood did not win any sports scholarships to colleges and are not pursuing track and field following their graduation from their high schools.
You can read the filing by ADF by clicking here.
The ACLU's statement is here.