Buttigieg thrills supporters at campaign event at The Abbey (partial transcript)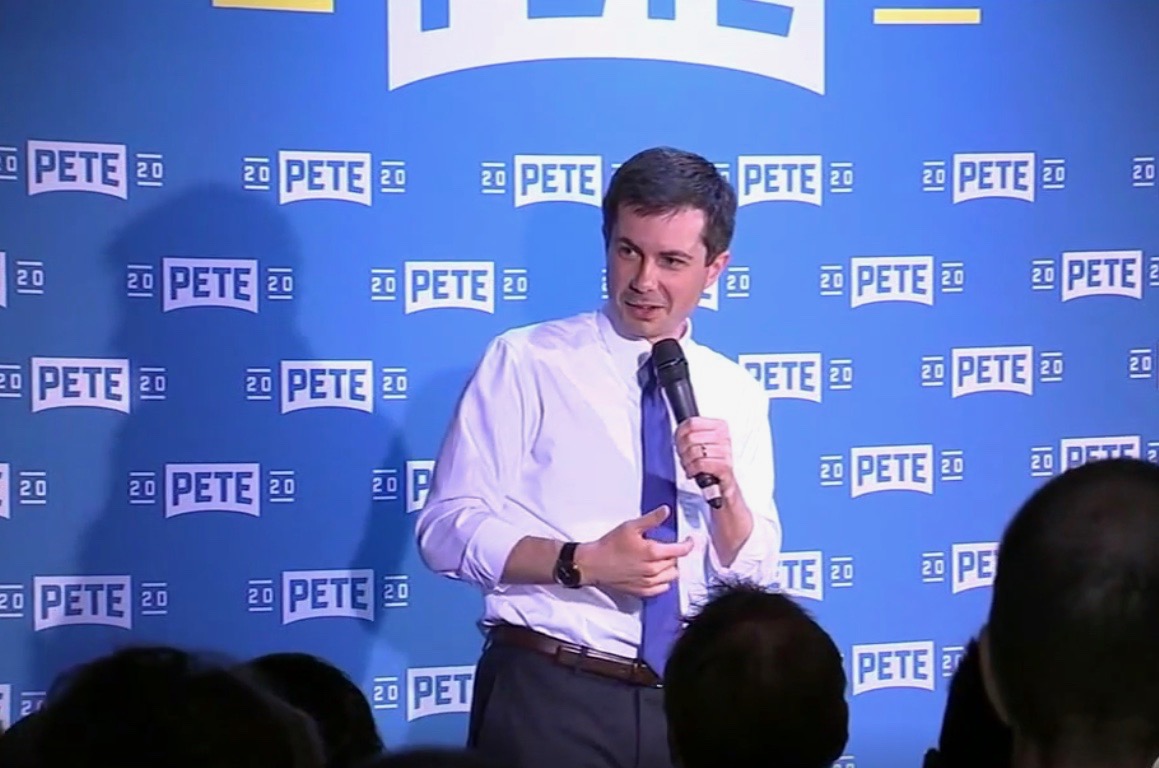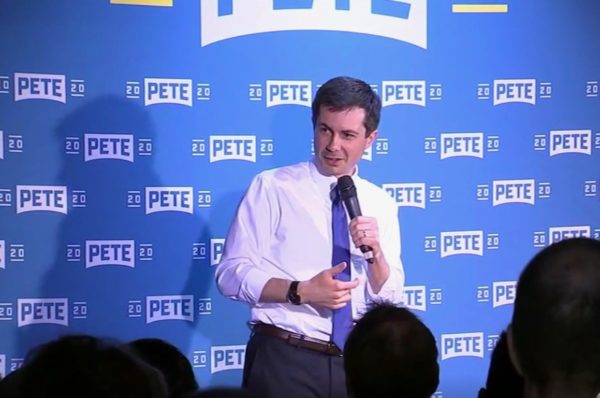 West Hollywood is far from anywhere in Iowa, home of the first-in-the-nation caucuses next February. The New Hampshire, Nevada and South Carolina electoral contests follow in quick succession helping determine which of the 21 declared Democratic candidates will challenge anti-LGBT Republican Donald Trump in his bid to win re-election in 2020.
But as The Abbey filled up with a sold-out crowd of 700 energized LGBT and ally grassroots voters excited to see Pete Buttigieg—the 37-year old gay married Christian breakout Democratic contender—it was clear that West Hollywood could well become ground zero for a massive Los Angeles get-out-the-vote effort in the critical March 3, Super Tuesday, California primary.
Buttigieg seemed keenly aware of the historic mantle passed to him by, among others, assassinated gay San Francisco Supervisor Harvey Milk who pressed the message of hope in times as dark as these. To roars of delight, the mayor of South Bend, Indiana, was introduced by his husband, Chasten Glezman.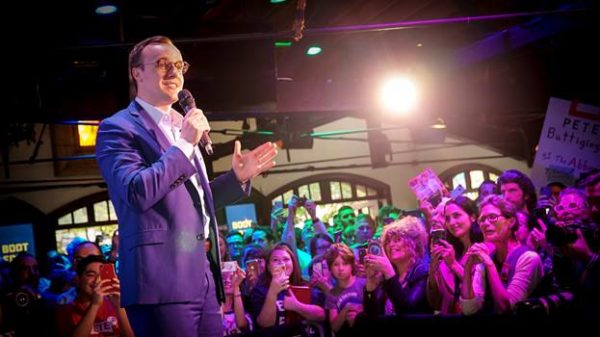 Chasten Glezman (Photo courtesy The Abbey & Food)
"Five years ago, I never thought I'd find love. But I met someone pretty amazing – and here we are! Yesterday, I was walking through whatever airport it was—it's hard to keep track— and saw my husband and I on the cover of Time magazine with the words 'First Family!' That's pretty remarkable and that's never going to go away," Chasten said. "That's out there. That's in print for every kid to see—that you, too, can run for president. I want to thank you so much for choosing to spend your time with us today—for investing in this project, for believing in my husband, and helping us spread this message across the country."
Before Buttigieg hit the stage, two key supporters shared how much the young mayor brings to the table. TV writer and podcaster Ira Madison, a co-host for the event, specifically addressed stories in the press about how Buttigieg is having difficulty connecting with black voters.
"I'm just excited to be here for Pete and I'm excited that all of you are here. You know it's just sort of, it feels a lot like how I felt when I was in college being able to vote for Obama, you know?" Madison said. "And it's great to see a gay candidate with his husband campaigning to the so many people coming out in support of him. Seeing him reaching across the aisle—as well, I don't love reaching across the aisle, but if you're running for president you have to."
But, Madison said, Buttigieg also addresses issues that are deeply personal to him.
"We were with Pete this morning and he was talking a lot about issues that are also very important to me as a black voter," Madison said. "He was talking about how infant mortality rates for mothers, for black mothers, is higher than it is for white mothers in this country. And a lot of that is about racism that has persisted in the medical industry. And he was also talking about housing inequality, income inequality. It's seeing a mayor who's from the Midwest—I am from Milwaukee—who understands these issues, really wants to talk to people that aren't just white and aren't just gay, who wants to really sort of unite our country."
California State Sen. Henry Stern, who went to Harvard with Buttigieg, officially endorsed him based on his friend's understanding of complex issues and decency.
"What we talked about back in school was how to solve health care, what climate change was actually going to mean to our generation and generations ahead of us—ideas," Stern said. "Standing at Harvard Square, eating a falafel and just talking for hours and trying to dig in. You know, truly embracing the importance of leadership in a way that is so rare these days. Not as a self-promotional kind, but a humility and a decency underlying that. But also of brilliance. I've met no one smarter in my entire life and I've had the privilege to meet some very brilliant people. But truly the mind on this young man is unprecedented. Unprecedented. And the challenges we're facing in this nation actually take that level of sophistication."
Buttigieg began his remarks with a refreshing nod to gratitude and old fashion decency. "What a pleasure. Wow," Buttigieg said, thanking the enthusiastic crowd. "Oh, my goodness."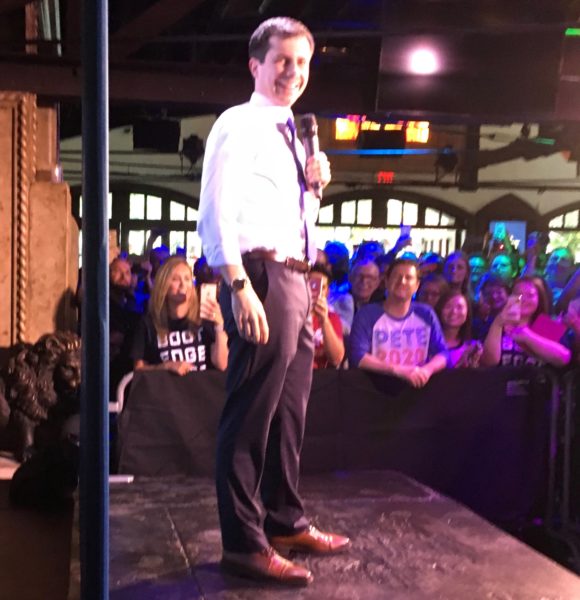 Buttigieg shared the surprise at how his unusual campaign has been quickly propelled into top tier status. And echoing the call issued by another young Democrat who became president, John F. Kennedy, Buttigieg said voters he's met think "it's time for a new generation of leadership in American politics."
"Here at The Abbey and everywhere we go from coast to coast, we see the startings of a generational alliance. This is not 1968 when one generation rose up against their parents. This a moment when you see young people, younger than I am, leading—whether it was the airport protests against the travel ban or even in South Bend, an amazing Women's March the day of the inauguration. Or the March For Our Lives that had young people saying, 'You're not doing enough to keep us safe.'

We saw young people in the lead but we also saw their parents and their grandparents at their side cheering them on. That's what change can look like in our time. That alliance is forming around the values of freedom, security, and democracy. Don't let anybody tell you that Democrats don't know how to put what we believe in on a blue bumper sticker. It fits: Freedom, Security, and Democracy.

We've got to make sure Americans understand that there's more to freedom than cutting somebody's taxes or taking apart a regulation on a bank. That freedom is something we have to build up, we have to lift each other up. We know that because freedom entails being able to live a life of your choosing and good policy, good government—not big or small but good government. It's government that tears down the barriers to that life. That's why we have an obligation to defend freedom by ensuring everybody has health care, so that you can start that small business, even if it means leaving your old job.

It's why I don't have to be a woman to know that we are not going to be a free country so long as there is a tax on a woman's right to make reproductive health decisions. It's why I know that I've got to stand up for people of color who in housing, education and so many other areas have been left behind as a consequence of racist policies that cannot be overcome simply by replacing racist policies with non-racist policies but will require us to establish anti-racist policies to become a more just society.

And yes, West Hollywood, we know that you're not free if a county clerk gets to tell you who you ought to marry because we know that love is love and freedom is on the line in our ability to have marriage. That struggle for freedom is the defining energy in the American story. And we shouldn't let anybody tell us that freedom belongs to a political party and if it did, it wouldn't be the one that's putting up somebody with authoritarian tendencies to run the United States of America."
The point is well taken, but for the record: LA County's Registrar-Recorder/County Clerk is the highly regarded, pro-gay Dean Logan. There was a moment in 2013 right after the anti-gay marriage law Prop 8 was struck down by the Supreme Court—as depicted in the excellent documentary The Case Against 8—when federal Prop 8 plaintiffs Jeff Zarrillo and Paul Katami were denied a marriage license application at the County Clerk's headquarters. Attorney General Kamala Harris, now a Democratic presidential contender, jumped on her cell phone and angrily called Logan from San Francisco, demanding that the gay couple be served. Logan, it turned out, had just heard about the ruling and had not yet conveyed instructions to his county clerks—who immediately complied. Harris has told the story on the stump as part of her bona fides with the LGBT community.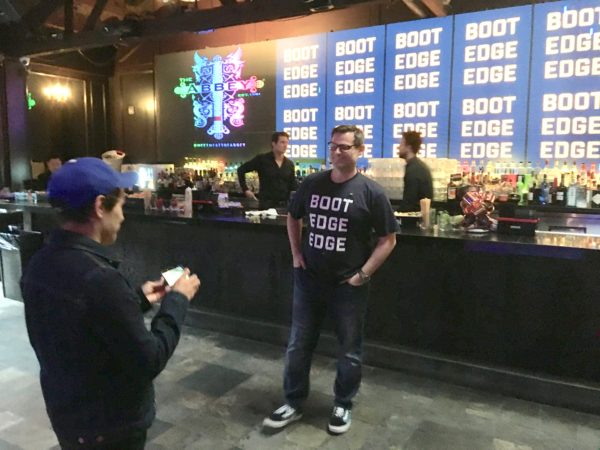 Buttigieg also talked about not being afraid to change the US Constitution—noting the "magnificent bar" in the back of The Abbey and pointing out that the Constitution was changed (under intense pressure from conservative Christian women) to prohibit drinking alcohol. But Prohibition spawned corruption, crime and mobs and was eventually repealed. Buttigieg said:
"Don't tell me we can't change our constitution in order to make this democracy more secure. It's why our founders invented the amendment process to begin with, so let's not be afraid to talk about structure. Economic structure, democratic structure, because it's gotten twisted, it's gotten warped. Presidencies like the one we're living in don't just happen, people like the person in the white house don't come within cheating distance of the oval office under ordinary circumstances. And that's why we've got to recognize the seriousness of this moment.

That what's happening right now. It's a symptom, not a cause, it's a symptom of a deep disorientation in our economy and our democracy. But we also have the great benefit of living in one of those rare moments in American history when the decisions we make will ripple out throughout time. That I'm convinced that the things we do in the next months, and the next years, will decide the next half century of American political, social, and economic life."
But there's a hitch to passing a Constitutional amendment. After it passes through Congress, it must be ratified by three-fourths of the states—that's 38 out of 50 states. After the 2018 midterms, Republicans control the legislatures in 31 states; Democrats control 18, including California. According to the New York Times, for the first time in 104 years, only one state has a divided lower and upper chamber in its legislature—Minnesota. So the idea of amending the Constitution to create better governance will remain an idea until state legislatures are changed—something both Republicans and Democrats count as part of their overall election strategies.
To press his point about the importance of politics and the importance of personal stories in changing politics, Buttigieg reminded the audience of how hospital visitation rights through marriage impact the lives of everyday LGBT people.
"It's the story, the understanding and the individual moments in our lives that are shaped by politics. That's why we even have politics, that's what politics is for—is to make our actual individual lives better.

And I say this as somebody who has my list of stories about how my life was changed by politics in some of the best moments and some of the worst moments of my life. It's why I shared with the country the way it felt on the worst morning of my life, going out to find my dad in the middle of his chemotherapy treatment, to let him know mom's going to need heart surgery. 'Cause you don't put that in a text message. And on my way, knowing that I had certain things going for me, one of which was the fact that at my mother's bedside—my husband was right there. As he should be, because in the eyes of the law, as well as in our hearts, he was the legal member of our family.

And then in the months that followed as he got worse and she got better, the fact that we got to make our decisions as a family, difficult though they were, not in terms of whether we were going to be broken financially, but in terms of what was right for this family. Because there was a decision, a series of decisions, made in those big white buildings in Washington that no one would be bankrupt when they reached a certain age by healthcare because it was time to create something called Medicare. I want every American to enjoy that same kind of feeling."
Buttigieg talked about meeting a DREAMer named Selena who "is an amazing American" and deserves support. And then he seemed to borrow from Harvey Milk's iconic message to give people hope.
"Everyone here has a story about how your life went different, went better or went worse, because of the decisions made by people in power. Whether it's the Supreme Court, the US Congress, the White House, or the Water Reclamation District. All of us, in more ways than we can even think about, find that our opportunities are opened or constrained by the decisions made in politics. That's why politics matters, that's why as a species we invented government and then set up processes to decide how that government's going to work. And that's why being involved in the political process is the greatest act of hope that a citizen can show.

You being here is an expression of hope. Watching a candidate speak, sending a candidate money, all of those thing are expressions of hope. But I'm also conscious that I'm preaching to the choir, that everyone here gets it. And there's a lot of people out there who don't get it. Not that there's anything wrong with them, a lot of them are just too busy, or overworked, or skeptical about whether this process even matters. And people have been given reason to be skeptical. But we are here to lift each other up in the knowledge that if everybody gets involved, if we all vote, we mobilize one another, if we broaden the base of our support, if we recruit more people not only to support this campaign but to help shape it—then we will model the kind of country we would be if it weren't for the current administration holding us back.

That's how we craft a story that doesn't revolve around the deficiencies of the President, though they be many. But revolves around you and the future that we can create together. I feel really good for that future. If anybody tells you they're not sure whether America is capable in these twisted and dark times of delivering or vindicating our hopes—tell them you saw at The Abbey in West Hollywood a top tier presidential candidate on his way to the White House moments after his husband introduced him."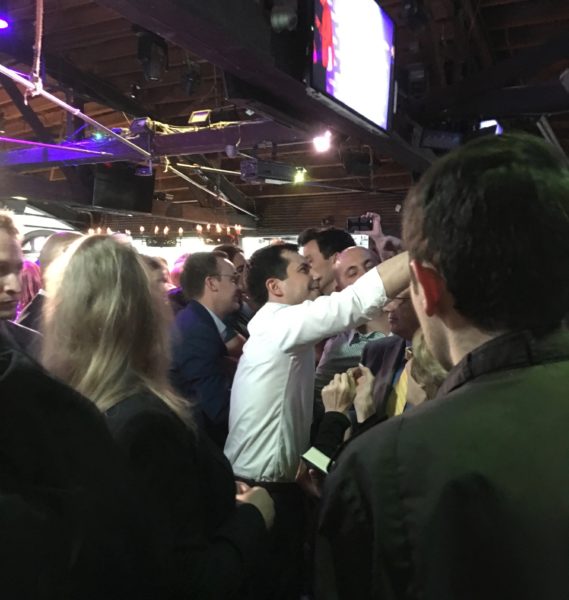 Buttigieg attended several other events while in Los Angeles, including a rally supporting initiative Measure EE with LA Mayor Eric Garcetti, who like Buttigieg, is a Rhodes Scholar, Naval Reserve officer, speaks different languages (Buttigieg speaks seven languages) and plays piano. Garcetti briefly thought about running for president, then decided against it.
The Democratic presidential candidate was asked about Trump mocking him at a rally in Florida.
"We have a young man, Buttigieg," Trump said. "Boot-edge-edge. They say 'edge-edge.' He's got a great chance. He'll be great. He'll be great representing us against President Xi of China. That'll be great. I want to be in that room. I wanna watch that one."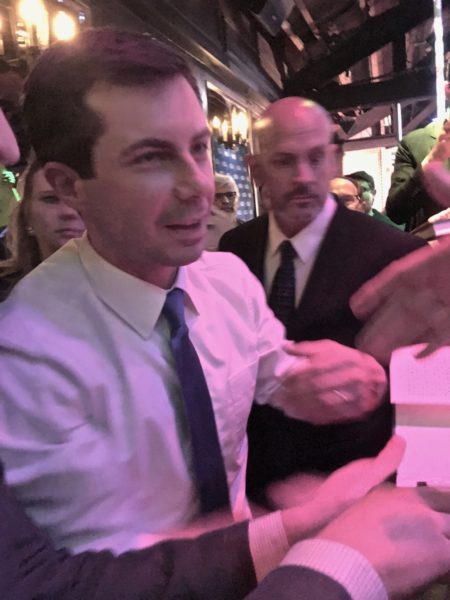 "You can't get too worried about the name calling and the games he plays," Buttigieg told reporters. "I was thinking of a Chinese proverb that goes: when the wind changes, some people build walls and some people build windmills."
Another sign of the times was Buttigieg's reaction to Trump finally giving him a nickname in an attempt to belittle him.
"Alfred E. Neuman cannot become president of the United States," Trump, 72, told Politico on Friday , referring to the freckled face, gap-toothed boy with big ears that characterized Mad magazine 20 years ago.
"I'll be honest. I had to Google that," Buttigieg said. "I guess it's just a generational thing. I didn't get the reference. It's kind of funny, I guess. But he's also the president of the United States and I'm surprised he's not spending more time trying to salvage this China deal."
Karen Bass & her LGBTQ staff discuss commitment to equity & justice
"Diversity is something you have to do consciously," Bass said. "I always look at my staff and [ask myself] 'who's missing?'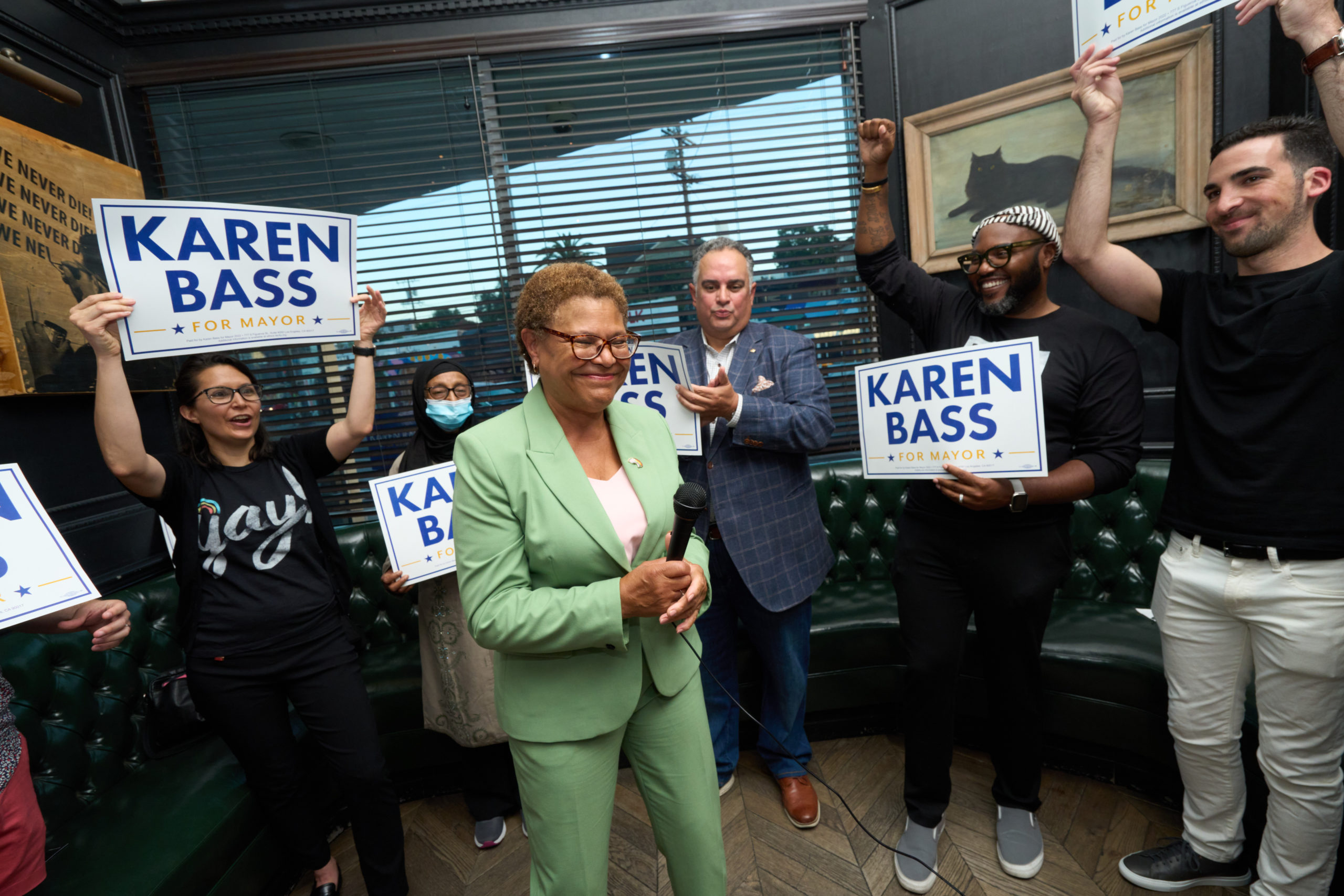 LOS ANGELES – U.S. Rep. Karen Bass (D-CA), a leading candidate to become the next mayor of the city Los Angeles, has hired LGBTQ+ folks with diverse backgrounds to leadership positions on her Congressional staff and in her mayoral campaign because of "their dedication to fighting for social and economic justice," Bass told the Los Angeles Blade over the phone Thursday morning.
"Diversity is something you have to do consciously," she said. "I always look at my staff and [ask myself] 'who's missing?' to make sure we have representation. I think it's really important to approach it that way."
Meanwhile three senior members of Bass's staff, all of whom identify as LGBTQ+ – Senior Advisor and Policy Director Joey Freeman, Campaign Manager Jenny Delwood, and Chief of Staff Darryn Harris — spoke to The Blade about their personal relationships with the Congresswoman. 
They also highlighted what they described as a throughline in Bass's adherence to principles of equity and justice, beginning with her early career as a nurse and physicians' assistant through to her candidacy for mayor of Los Angeles.
Bass is slated to square off against billionaire real estate developer Rick Caruso in the November 8 election to replace term-limited incumbent Los Angeles Mayor Eric Garcetti. The two candidates advanced from the June 7 primary elections, having each received less than 50% of the vote.
A longtime ally of the LGBTQ+ community, Bass kicked off her "LGBTQ+ for Bass affinity group" Wednesday night at the historic Black Cat restaurant in Silver Lake.
Bass has been a mentor to the next generation of LGBTQ+ leaders on her staff.
When it comes to her staff, Bass said, "I see my role as helping to develop their leadership and helping to support them however I can."
"I was able to be my full self here; fully black, fully gay," said Harris, Bass's chief of staff, who has known the Congresswoman for his entire adult life and served in multiple positions before being appointed to lead her congressional office.
"When you have a boss who's that supportive of you, it helps in so many different ways," he said. "Not only with the work we do, but also it was one of the things that helped deepen our friendship and deepen our mutual trust, because I was able to bring my whole self to work."
Delwood, Bass's campaign manager, has also known the Congresswoman for more than a decade and served in multiple positions before her appointment to lead her mayoral campaign. As a human being, as a professional, and as a lesbian, Delwood said Bass has embraced every part of who she is.
"The Congresswoman has been not only a boss, but also a mentor," Delwood said. "I started working for her as a fellow/intern in 2007 in the California Assembly, and she and I have built a very strong relationship over the years. She is part of my extended family, now."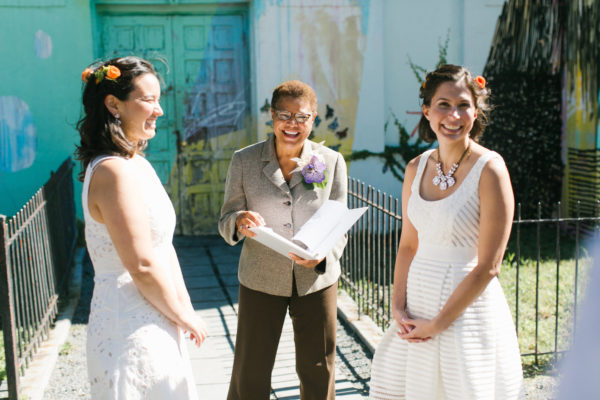 Beginning with her early career in healthcare, Bass has been an ally of the LGBTQ+ community
"When I went to school to be a physicians' assistant in the early 1980s," Bass said, the virus that would become known as HIV/AIDS began to emerge, disproportionately impacting gay men. "It was unbelievable, in the first few years of the epidemic, how [badly] these patients were treated," she said.
In her work treating patients, and as a full-time clinical instructor at the University of Southern California's Keck School of Medicine, Bass pushed for better treatment of HIV/AIDS patients, practicing what she preached.
"From that time on, she's been standing for and with the community," said Freeman, Bass's senior advisor and policy director, who identifies as gay.
"She was on the ground floor of the HIV AIDS epidemic," Delwood said, "providing medical care for people with HIV/AIDS when folks were steering clear of and being discriminatory [against those who were positive]." From those early days of her career, Delwood said, "Congresswoman Bass has been in deep solidatiry with the LGBTQ community."
"It wasn't just gay men with HIV," said Zach Seidl, Bass's communications advisor, "but trans folks, too."  In the best of cases, doctors would greet HIV/AIDS patients in hazmat suits; in the worst, refusing treatment, Seidl said. Bass, meanwhile, insisted she needed to help them, he added.   
Bass believes in consulting people who will be directly impacted by policy
Policymakers often speak with subject matter experts without consulting those who will be directly impacted, Bass said. It's an oversight the Congresswoman has been careful to avoid.
For example, Bass told the Blade she visited a federal prison yesterday morning to hand out copies of draft legislation that concerns women in the criminal justice system, inviting incarcerated women to read and share comments or input by email.
This will extend to her work as mayor, Freeman said. If elected, Bass will be charged with selecting staff, commission members, and general manager appointments, roles where she will ensure LGBTQ+ people are well represented, because this is how she prefers to govern – by consulting with people who are directly affected by policy.
Working so closely with Congresswoman Bass, "I have the opportunity to see that every single day," Harris said, "Ordinary people influencing public policy at state, federal, and – soon – the citywide level" under her leadership.
Bass believes the most effective way to create lasting change is to work with community members and to bring forward solutions that are community driven, Delwood agreed. "In order to actually solve homelessness or address crime in LA or deal with our lack of affordable housing, it's imperative" to work with a variety of stakeholders from the community as well as in the county, state, and federal government, she said.
Bass and her staff have big plans to address problems afflicting Los Angelinos
"I could have stayed in Congress to fight for a leadership spot," said Bass, who was reported as a front runner for President Joe Biden's vice president during his 2020 electoral campaign. But there are crises in Los Angeles, she said, pointing to the latest figures on the city's unhoused population as an example.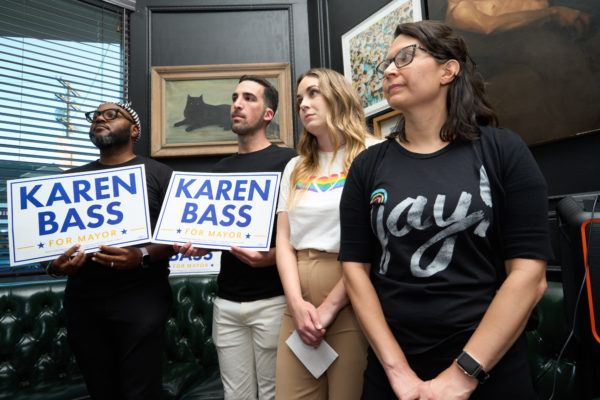 It was the second time in her career that Bass was faced with such a decision, she said. "I was a full-time faculty member of the medical school" when Los Angeles began to experience a crack-cocaine epidemic in the late 1980s and early 1990s.
"I was mortified at how the city was responding to crack cocaine and gang issues," Bass said. "These were health, social, and economic issues, but the response of policymakers was to criminalize everything and everyone in South LA."
Leaving USC, Bass formed the Community Coalition and began her work as a community organizer. "I worked to prevent the city from locking everyone up, and to steer people away from gangs," the Congresswoman said. "And then I looked for how we organize people to fight for drug treatment instead of incarceration for those who were addicted."
Likewise, Bass said, the current moment calls for coalition building and working across the government to improve the lives of Angelenos and effectuate just policymaking for, especially, vulnerable communities.
Members of Bass's staff pointed to how the Congresswoman could be particularly effective as mayor on issues of homelessness, LGBTQ+ rights, child welfare reform, foster care reform, housing affordability, and violence against Black trans people.
"Forty percent of young people on the streets are LGBTQ+," said Delwood. "Being able to address that is a top priority of the congresswoman as well as our entire team." Many children land in the foster care system because of discrimination over their sexual orientation or gender identities, she said, and while LGBTQ+ adoptive or foster parents are greeted with "open arms" in LA, such is not the case in many other parts of the country.
As Mayor, in coordination with the Los Angeles County Board of Supervisors, Bass will be able to champion foster youth, reform the child welfare system, and prove to the rest of the country how successful LGBTQ adoptive and foster parents can be, Delwood said.
Freeman agreed. There is a lot of overlap, he said, with issues concerning the foster care system, with high rates of homelessness among LGBTQ+ youth, with the housing crisis. "What we need to do to address homelessness and prevent future homelessness is to tackle the root cause," Freeman said. "Are LGBTQ youth receiving the support they need?"
Congresswoman Bass "has deep relationships with folks here, in DC, and in Sacramento, so when you're dealing with challenges in LA, she knows how to go in there and how to pool the resources in order to solve them," Harris said.
Harris highlighted Bass's community organizing and coalition building roots, arguing she is the best candidate to represent all of Los Angeles as the city's mayor.
One issue Harris said he is eager to see Bass's leadership in addressing is the high rates of murder and violent crime against members of the LGBTQ+ community, particularly Black trans people. "I'm excited to see how she would be able to ensure that they are safe, tracking some of those federal dollars to ensure that they have protections against domestic and sexual violence," he said.
Rep. Karen Bass greets LGBTQ+ affinity group at the historic Black Cat
Bass has been a longtime ally of the LGBTQ+ community. In her remarks she listed some of her achievements in the battles for LGBTQ+ equality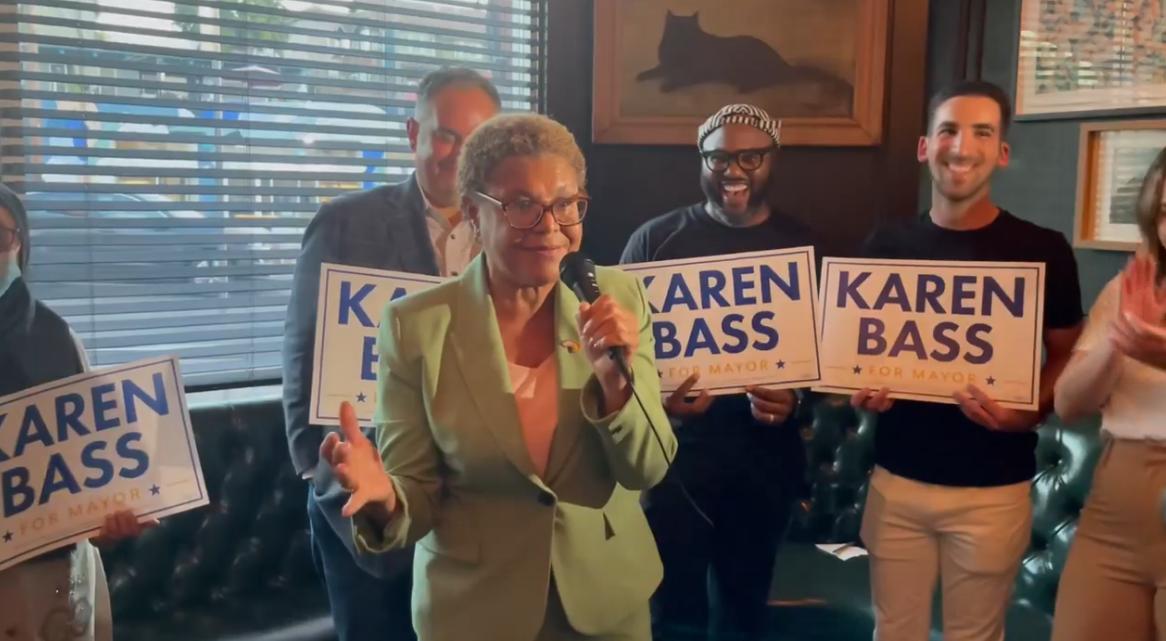 LOS ANGELES – Surrounded by well-wishers, supporters, and former California Assembly Speaker John A. Pérez at her side, U.S. Representative Karen Bass launched the official "LGBTQ+ for Bass affinity group" Wednesday evening at the Black Cat, an LGBTQ+ historic site located in the Silver Lake neighborhood of the City.
Pérez, an openly Out gay man served as the 68th Speaker of the California State Assembly, succeeding Bass as Speaker in 2010. Bass made several warm references to their mutual past political history. She also spoke on subjects that are critical to furthering LGBTQ+ equality and equity in her six-minute chat.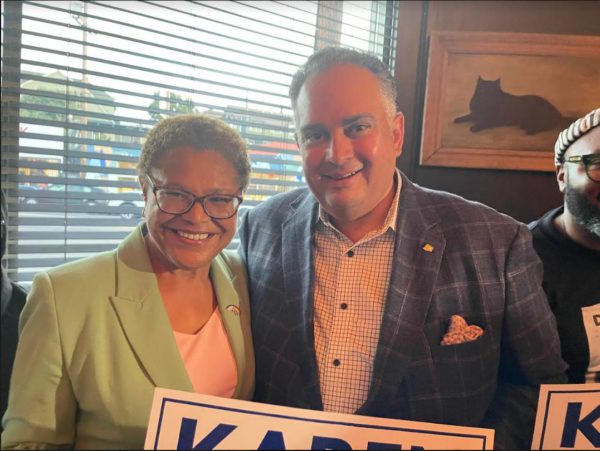 The congresswoman is locked in a close race with billionaire real estate tycoon Rick Caruso to succeed current Los Angeles City Mayor Eric Garcetti in the Fall elections on November 8. Both candidates advanced from the June 7 primary election since neither received 50% of the vote. Incumbent Mayor Garcetti is unable to stand for re-election due to term limits.
Bass has been a longtime ally of the LGBTQ+ community. In her remarks Wednesday at the Black Cat she listed some of her achievements in the battles for LGBTQ+ equality, first in the California Assembly, then in Congress.
The venue where the Congresswoman launched the LGBTQ+ political affinity group is famed as an LGBTQ+ historic site. The Black Cat was the site of one of the first demonstrations in the United States protesting police brutality against LGBT people, preceding the Stonewall riots by over two years.
From the One Archives at USC: A New Year's 1967 raid by the Los Angeles Police turned brutal as LAPD undercover officers began beating several of the patrons and ultimately arrested fourteen patrons for "assault and public lewdness." As reported by the local gay newspaper Tangents, two bartenders were beaten unconscious. The paper also noted that patrons fled to another gay bar, New Faces, but they were followed by police and arrested. The officers mistook the manager, a woman named Lee Roy, for a man (named "Leroy") wearing a dress, and beat her severely.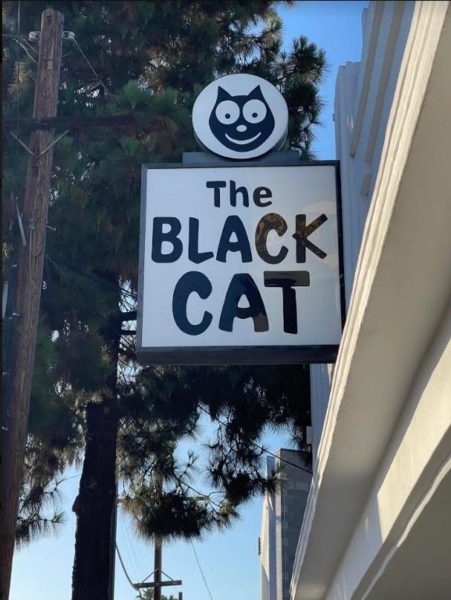 The historical account continued: Contrary to popular myth, there was no "riot" at the Black Cat, but a civil demonstration of 200 attendees to protest the raids was held on February 11, 1967. The demonstration was organized by a group called PRIDE (Personal Rights in Defense and Education) – founded by Steve Ginsberg – and the SCCRH (Southern California Council on Religion and Homophile). The protest was met by squadrons of armed policemen. Demonstrators carefully adhered to all laws and ordinances so that the police had no legitimate reasons to make arrests.
Two of the noteworthy events that arose from the Black Cat arrests and later protests was the establishment of The Advocate, which began as a newspaper for the group PRIDE and has continued publishing to this day and formation of the Metropolitan Community Church led by Los Angeles LGBTQ+ pioneer, the Reverend Troy Perry.
Karen Bass speaks at LA's iconic Black Cat:
Editor's Note: The Los Angeles Blade has endorsed Rep. Bass in her election campaign to become the next mayor of the city of Los Angeles.
Gay man wins Democratic congressional primary in Ill.
Eric Sorensen running for retiring U.S. Rep. Cheri Bustos' seat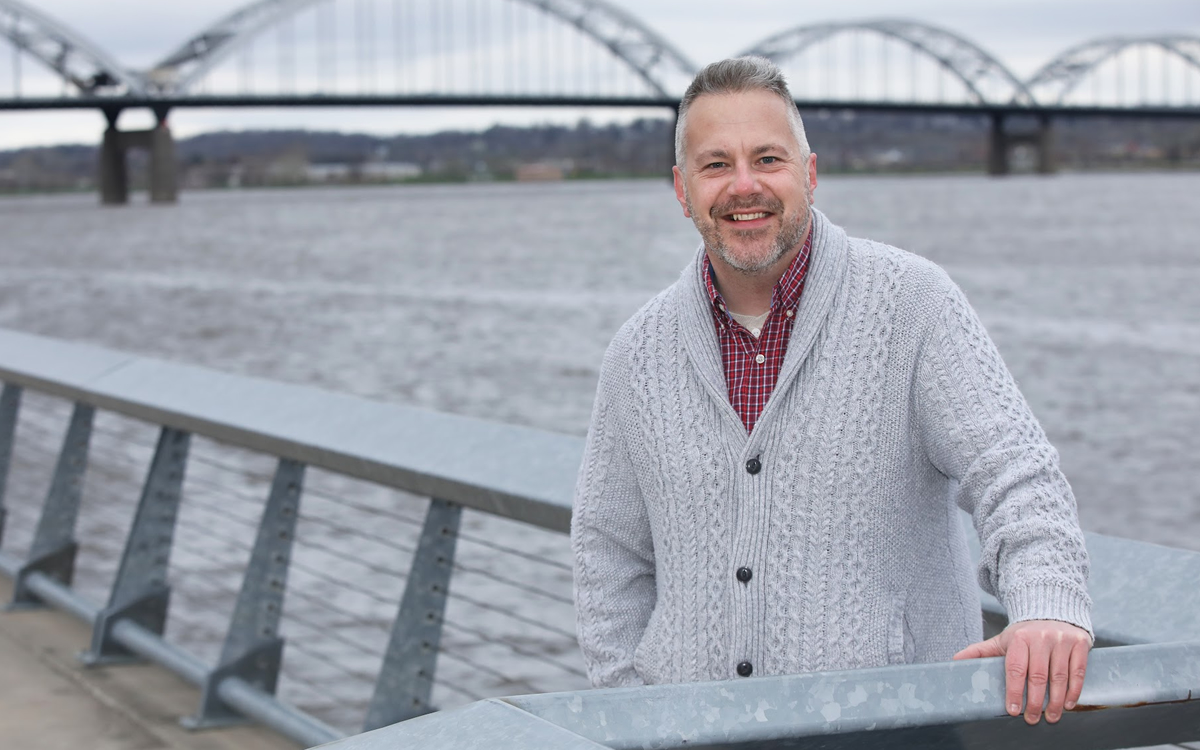 MOLINE, Ill. — Illinois Democrats are hoping to send a gay person to Congress for the first time in the state's history.
Voters in the 17th Congressional District in northwest Illinois on Tuesday voted to have Eric Sorensen, a former meteorologist, become the Democratic nominee for the district's U.S. House of Representatives seat currently held by retiring Democratic Congresswoman Cheri Bustos.
"THANK YOU to everyone who was a part of this movement," Sorensen wrote on Twitter following his primary victory. "From day one this campaign has been built on three pillars: Trust, science, and communication. I'm honored to be your #IL17 Democratic nominee for Congress."
Sorensen, who bested his closest primary opponent by more than 13,000 votes, has centered much of his campaign messaging around the issue of mitigating the effects of climate change.
Sorensen's candidacy and potential to become the state's first openly gay member of Congress has been met with celebration from those advocating for more of such representation on Capitol Hill. After Sorensen claimed victory on Tuesday, advocacy groups and political organizations like Equality PAC and the LGBTQ Victory Fund were quick to offer their support.
"It has never been more important to defend our pro-choice, pro-equality majority in Congress," Victory Fund President Annise Parker said in a statement. "As a meteorologist, Eric spent the last two decades keeping his local community safe by telling the truth and promoting a pro-science agenda. His success tonight is a testament to his continued leadership and grassroots support, as well as a highly effective ground game focused on candid conversations about how to make government work for all Americans."
Hoping to keep the district from flipping to Republican control in a midterm year that is expected to be an uphill battle for Democratic congressional majorities, Sorensen has also gained the backing of the district's current congresswoman. Bustos took to Twitter following Sorensen's victory to announce her support.
"Illinoisans deserve a representative who will fight for working families, help build our local economy and continue to lift up Midwestern voices," Bustos wrote. "Eric will do that."
Sorensen's ultimate ascension to Illinois' 17th Congressional District seat, however, is not assured. Though the district leans Democratic, it is widely labeled as a competitive race following nationwide redistricting of congressional maps ahead of this year's midterms.
Such a competitive landscape is coupled with a competitive rival battling Sorensen for the seat.
His Republican opponent, lawyer and Army Reserve Capt. Esther Joy King, previously ran for the seat in 2020, losing to Bustos by just four percent of the overall vote.
Having already secured a number of high-profile Republican endorsements including House Minority Leader Kevin McCarthy (R-Calif.), House Conference Chair Elise Stefanik (R-N.Y.) and former Secretary of State Mike Pompeo, King has already begun her November messaging campaign after besting her primary opponent by more than 30 percentage points.
"It doesn't have to be a choice if we elect leaders who will put their constituents first rather than far-left, out-of-touch policies and that's exactly what I'm running to do," King said in a statement Tuesday night. "Let's come together to win this in November."
Groups like the Victory Fund, however, are remain optimistic that Sorensen's potential to make history will be within reach when voters enter the polls on Nov. 8.
"Voters are clearly enthusiastic about Eric's vision for a more equitable future," Parker said. "We trust Eric will be a vital voice in Congress come November. The stakes have never been higher."