May 15, 2019 at 8:03 am PDT | by Karen Ocamb
Jackie's back! Goldberg decisively wins LAUSD race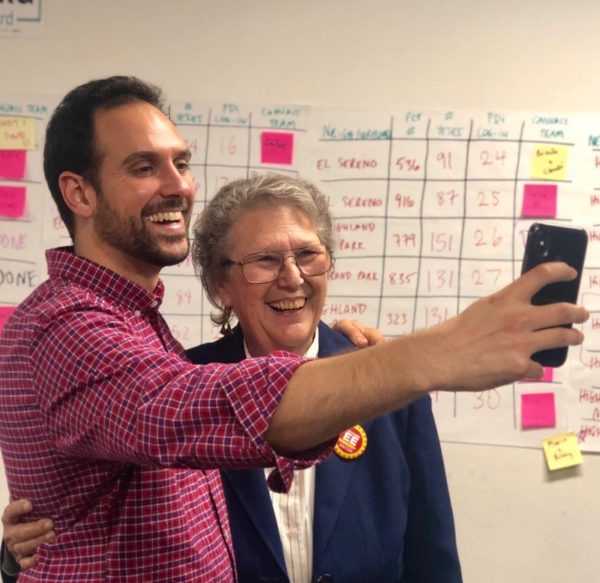 Longtime out politico and educator Jackie Goldberg won a decisive victory May 14 in the special election for the District 5 seat on the Los Angeles Unified School District School Board. Goldberg, backed by the energized teachers union, won 71.6% of the vote over Heather Repenning, a charter schools advocate who garnered only 28.3% of the 24,042 people who turned out to vote.
"I do believe in the deepest part of my heart that it was the strike of the teachers," Goldberg told supporters in Echo Park,  "who woke up the public to what has happened to public education since 1978."
Goldberg says her election is just the first step in a new campaign to save public schools from the movement to privatize education, best exemplified by Education Sec. Betsy DeVos. Now work is needed to pass Measure EE, an upcoming parcel tax ballot initiative, to help pay for some of the imperative changes the LAUSD needs, such as reduction in class size and hiring of nurses and librarians.
"We are going to make this a statewide campaign to increase the public spending not just on pre-K through 12," but the UC system, as well," Goldberg said during her campaign. "This is a campaign not just about today, not just about May 14, but it's about the movement that actually began with the [successful] teacher's strike."
LAUSD is the state's largest school district where 9 of 10 students are nonwhite, according to the LA Times. Goldberg's District 5 is nearly 90% Latino, and though she is white, she has represented the district before on the LAUSD School Board, the LA City Council and state Assembly and in this race, she was endorsed by the LGBT political group, HONOR PAC. District 5 includes Silver Lake, Echo Park, Highland Park, Eagle Rock, Bell, Huntington Park, and South Gate.
"Public education is one of the few places left in America that says you're all welcome. Everybody's welcome," Goldberg told the Los Angeles Blade during her campaign.  "We don't care what language you speak, what country you come from – we don't even care if you're here legally or not. We don't care if you're smart or dumb. We don't care if you're severely disabled or you have no disability at all and you're gifted and talented. We don't care. We're going to try to do our best for you. But the point is – our best for you is not good enough as long as New York spends $2 dollars for every dollar we spend. That's crazy."
Goldberg is also mindful of obstacles facing LGBT students. "There are two big issues for our community," Goldberg said. "One is how transgender kids are being treated. And the second is that while we have excellent rules and laws, in an individual day by day basis, a lot of them are not being carried out. And I don't think it's out of animosity. In some cases it is. But it's just not in the forefront of people's minds and I want to put it back in the forefront of their mind."
Photo via Jackie Goldberg on Twitter