Guardian of veterans — and of LGBT rights
Mark Takano is just third out gay to chair a full congressional committee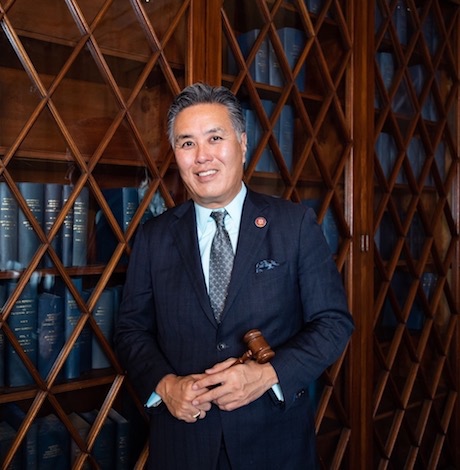 Mark Takano couldn't contain himself. Jubilant is too tame a word to describe how he felt that Friday, May 17 when the U.S. House of Representatives passed the Equality Act, banning discrimination based on sexual orientation and gender identity.   
Takano, the first openly gay man of color elected to Congress, likened it to the day that the Supreme Court ruled in favor of marriage equality.
"I remember being at the Supreme Court steps and being interviewed after the decision was handed down and I said, 'You know, I feel fabulous. I feel every gay word I can think of. It's a great day to be gay,'" Takano tells the Los Angeles Blade in a recent phone interview.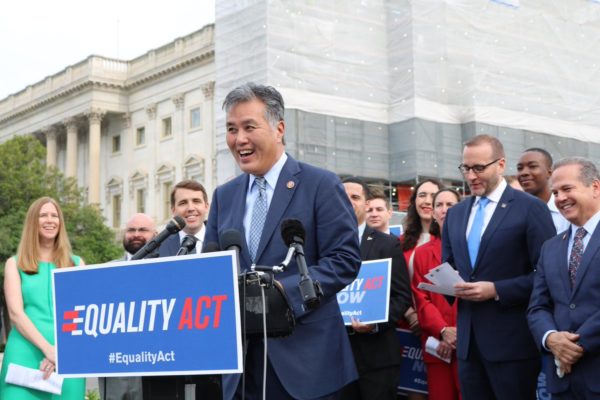 He's beaming through the telephone. "I feel very similar to that day. It's a great day to be gay — passing the most comprehensive LGBT civil rights legislation in the history of our country," Takano says. "Of course I felt fabulous and every gay word I could think of. I didn't understand how animated that I would become at the press conference."
Takano, co-chair of the Congressional LGBT Caucus, worked with out Rep. David Cicilline, who took the lead on the legislation, "talking to members of our caucus about making sure we refrain from amending the legislation that was very carefully crafted so as not to upset the delicate balance that it was. What we were doing was doing a very, very sensitive thing, which was to open up the Civil Rights Act of 1964. We did so with the cooperation and enthusiasm of the Congressional Black Caucus and we certainly didn't want to do anything that undermined the sacredness of that important law. There was certainly potential for innocent amendments being introduced that would become poison pills for the legislation."
House Speaker Nancy Pelosi ranked passage of the Equality Act number five on her list of top 10 legislative priorities. Nonetheless, as someone who remembered the difficulty in getting the bill a hearing, Takano was somewhat surprised that it sailed through the Education and Labor Committee and Rep. Maxine Waters, chair of the Financial Services Committee, actually waived having a hearing.
What Takano took away from the hearings in his committee and the Judiciary Committee was that the opposition was focused not on the validity of LGBT protections but "on things about trans athletes," he says. "They were raising the specter of people manipulating sporting competitions and gaining unfair advantages through their trans identity. At times, it seemed to me that the Republicans were embarrassed or not even trying to put up an argument."
Takano attributes the less-than-stellar opposition to the overwhelming acceptance by the American public "that LGBT people should have basic protections in the workplace. And they shouldn't be discriminated against in housing and they should be able to go to school without being bullied."
So on the House floor after defeating the final Republican amendment, "as we saw the 'yes' votes put up on the board and when the gavel came down declaring that the bill had passed—with eight Republican votes and no Democratic vote against it—when it passed the 218 mark, there was an unexpected jubilation and joy from members. There was hugging. There were tears coming down. Caroline Maloney of New York hugged and kissed me on the cheek. Our straight allies were so proud of what we had done."
The joy of this civil rights victory was so strong, some ignored House protocol. 
"Maxine Waters, myself and David Cicilline said I want a picture with you," Takano says. "We're not supposed to take pictures on the floor. I'm admitting to a crime. But I said, 'Take one quickly before the Sergeant of Arms looks.' We can't publish it because I would be subject to a fine. But I wanted it for history. Maxine, myself and David took a photo on the floor at that moment, and we captured the vote tally sign behind us."
Takano noted that in addition to the eight Republicans who voted for the Equality Act, 16 Republicans didn't vote at all. But since this was a bipartisan vote, all the more reason for Mitch McConnell, "The Grim Reaper," as he calls himself, to bring it to the Senate for a vote.
Takano says the LGBT community should let the importance of this vote sink in that "the people's House voted to affirm their dignity, our dignity." But the task is now to move the bill to the Senate. "Public sentiment, the power of the people is what is going to get equality across the finish line," he says. "What we can do is begin to marshal the power of the people," because as momentous as passing the Equality Act is, it gets drowned out by the Mueller report," and the miasma in Washington.
"As angry as people are about who's in the White House, they need to take inspiration from this accomplishment and then use that to build the momentum to get it through the Senate, to affect senate elections," he says.
Takano names vulnerable senators he thinks McConnell is protecting from having to vote on the Equality Act: "Sen. Gardner of Colorado is square one," he says. "Sen. Collins of Maine would be another. Even Sen. Rubio when you think how mobilized South Florida could be. Sen. McSally from Arizona is another one." And there are also vulnerable senators in states like North Carolina, there were efforts to pass statewide measures that really were discriminatory against trans people" or try to overturn LGBT equality.
"There are many states where I think it would be very, very unwise for the Republican incumbent senator to be anti-LGBT, anti-equality," he says. "And now that it's passed the House, our activists need to be out in those states, dogging these candidates if they're running for re-election, asking: will you stand in the way or are you going to lead on LGBT inclusion?"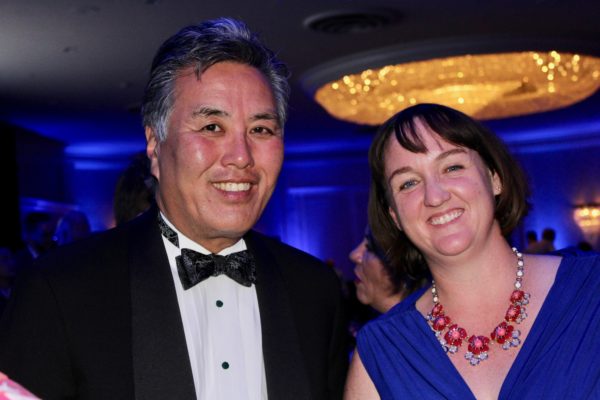 Rep. Mark Takano with then-congressional candidate Katie Porter at an Equality California event. (Photo by Karen Ocamb)
"Inclusion" isn't just a political buzzword for Takano who uses his family history as inspiration and reminders of the cruel ease of injustice.
"My immigrant grandfather and my American-born grandparents were forced into Japanese internment camps during World War II. I use their struggle as motivation to fight for humane immigration reform and be an advocate for justice," Takano tweeted with a video about his own history for Asian Pacific American History Month.
His family fought, too. "Every generation in my family has had people who served in the military. My great uncles served in World War II as part of the well-known 442nd infantry battalion, with all segregated Japanese-Americans fighting in it. They stepped forward."
Additionally, his brother served in the Army and at age 10, he was aware of a neighbor across the street who served in Vietnam and committed suicide when he returned. And as a teacher in Riverside County—which has the eighth largest population of veterans in the country—he saw many students in ROTC go off to war post-9/11 in Iraq and Afghanistan."
That connection made him keenly aware that the Veterans Administration is "more than healthcare. It's about education and the GI bill. And it really made me angry to see veterans who were defrauded out of their GI benefits by for-profit colleges," Takano says. "So I wanted to be on the committee that could start to hold those for- profit colleges accountable. And I care about healthcare. So one of my big responsibilities will be to lead the efforts against privatization by ideological forces that seek privatization of medical care as their 'reason for being.' Plus, politically my district has March Reserve Base."
Serving as chair of the Veterans Affairs Committee—the only LGBTQ chair of a full committee and the third LGBTQ chair in the history of the Congress—Takano gets to set agenda priorities, including steering the VA to adapt to serving an anticipated influx of a more diverse population of veterans, including more women, more LGBT vets, and greater numbers of people of color.
And Takano is taking hard issues head-on. "I've declared suicide prevention as my number one priority this Congress," he says. "And of course I'm interested in knowing how many of our veterans—their LGBTQ status, how it's affecting their likelihood of coming to crisis. That will be one of the things that I will insist that we look at and that the VA is taking into consideration."
Serving as Chair of the Veterans Affairs Committee also answers a family call to military service that he had to stifle.
"I actually did take the ASVAB, (Armed Services Vocational Aptitude Battery test) and I did have the thought that I had this secret at the time as an 18 year old," Takano says. "I was interested in serving. I did have offers from top universities—but it just goes to show you that the kinds of discrimination that occurred in the last several decades is not a good thing for our military. It deprives the military of the best possible people who want to serve."
The experience makes him appreciate even more the struggle of transgender service members and veterans. "The Williams Institute had an interesting statistic: 135,000 veterans are estimated to be trans. I think that's amazing. And we think that 15,500 trans individuals are currently serving in the military," he says.
"So," Takano concludes, "I'm going to do my utmost as the guardian of veterans—as the chair of the Veterans Affairs Committee— to make sure that all veterans get healthcare, all veterans get benefits. I'm here to be the guardian."
After the interview, Takano's committee passed nine bills to help veterans: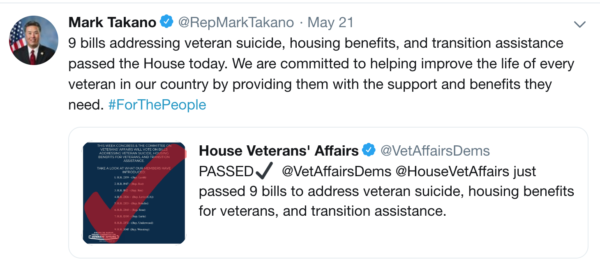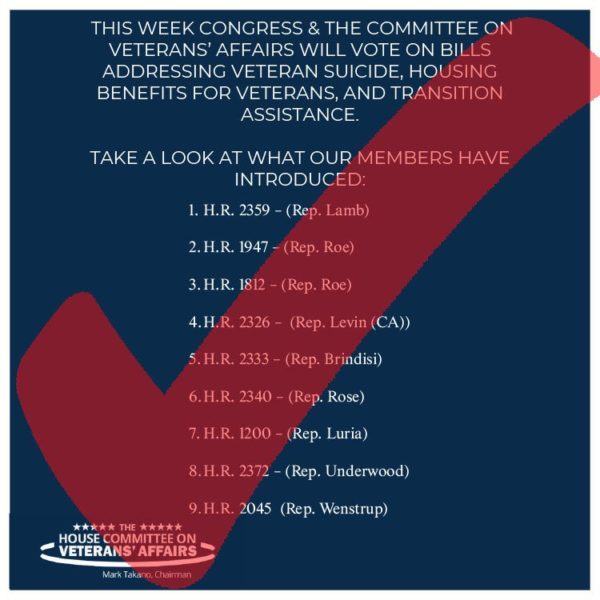 DeSantis targets Orlando non-profit over holiday drag show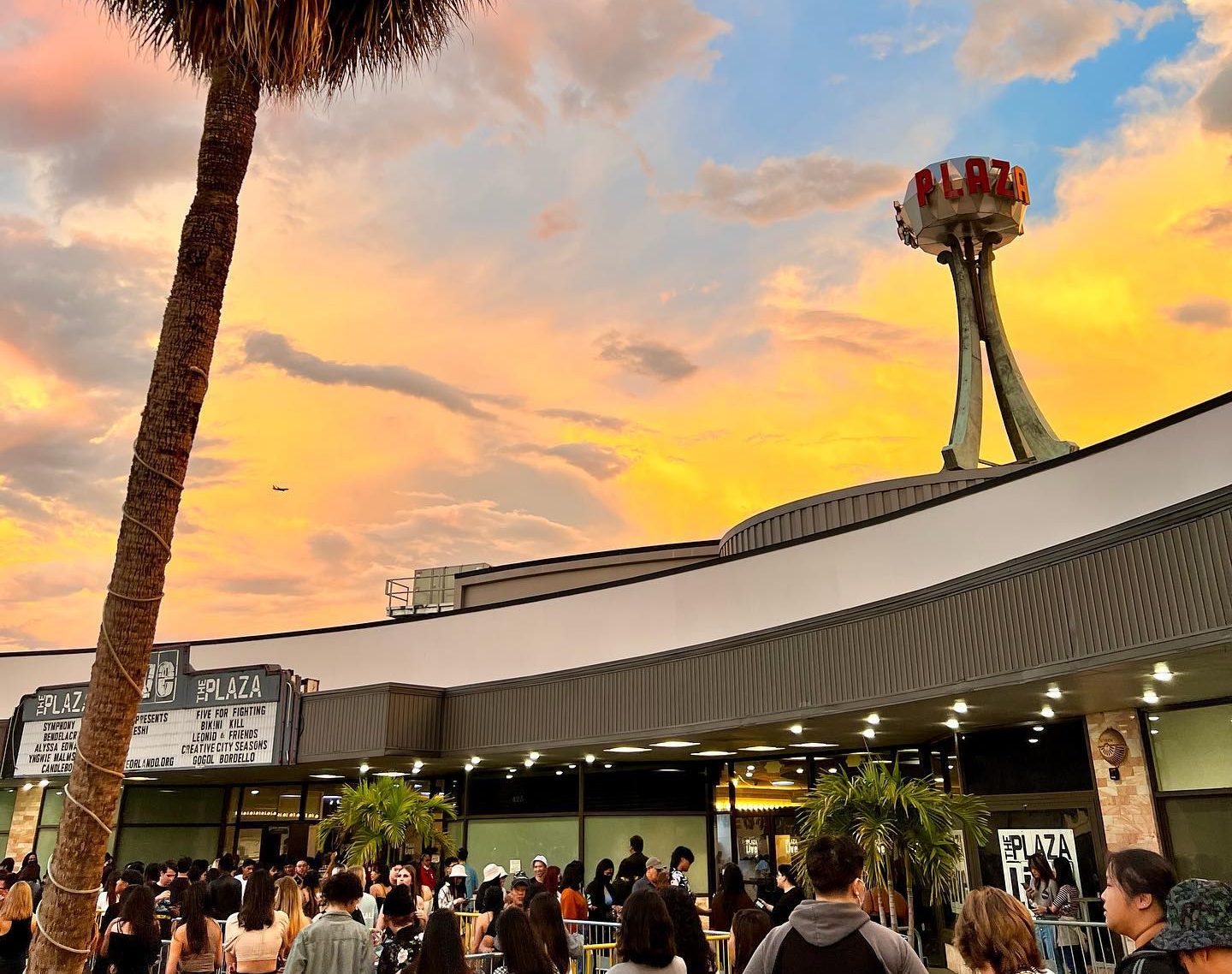 ORLANDO – Florida's Republican Governor Ron DeSantis escalated his war on the state's LGBTQ+ community ordering a state agency to launch a complaint against a Orlando non-profit over a drag holiday event it hosted in which children under age 18 were allowed to attend.
The state's Division of Alcoholic Beverages and Tobacco under the Department of Business and Professional Regulation filed the complaint on Friday against the Orlando Philharmonic Plaza Foundation alleging the foundation violated Florida law in allowing for a person to "commit lewd or lascivious exhibition" in the presence of an individual who is less than 16 years old. 
"A Drag Queen Christmas" was hosted by the foundation on Dec. 28 and during the performance sold alcoholic drinks at its Plaza Live venue. In the complaint, the agency states that the foundation used "Christmas-themed promotional materials" that did not give advance notice of the "sexually explicit nature" of the show's contents.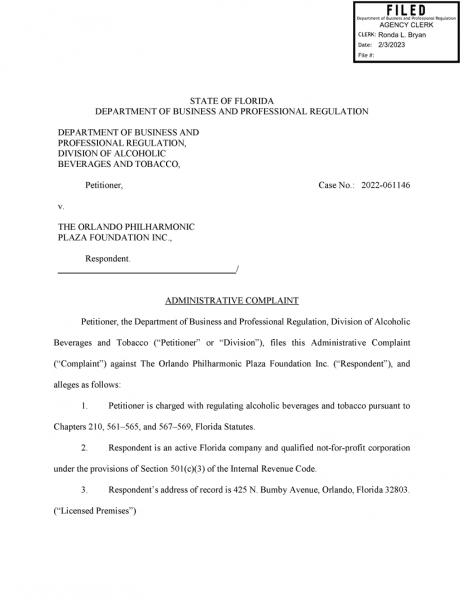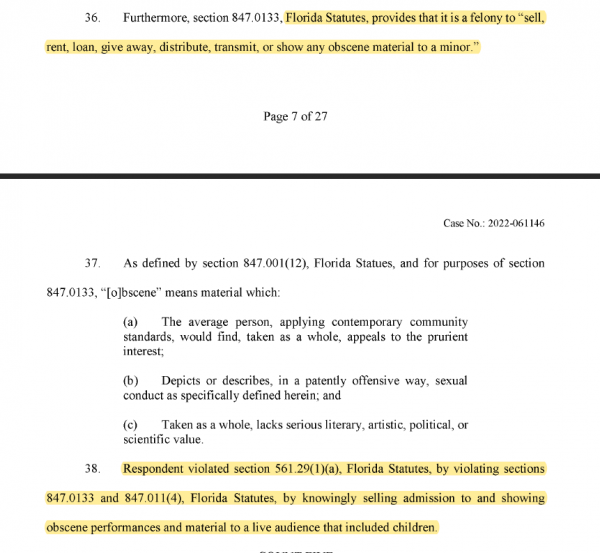 The complaint also states that the division sent the foundation a letter ahead of the show saying "sexually explicit drag show performances constitute public nuisances, lewd activity, and disorderly conduct when minors are in attendance" and the foundation's license could be subject to penalties if it did not ensure minors could not attend the event.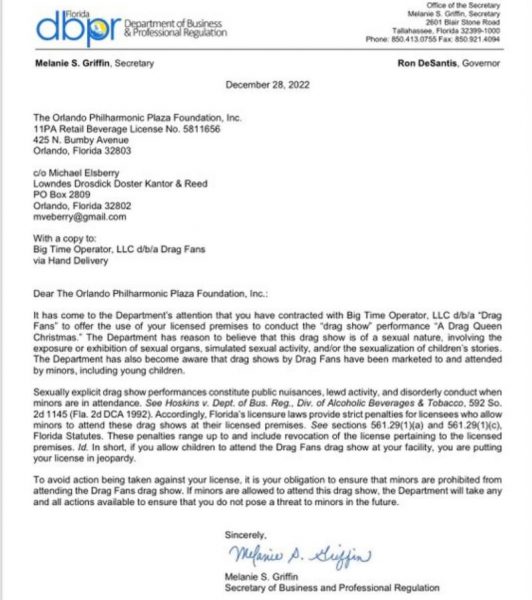 In its capacity as a regulator of alcohol, the division attempting to revoke the foundation's liquor license for six alleged counts of violating Florida statutes. 
When asked about the move by the DeSantis administration targeting the non-profit, Bryan D. Griffin, the spokesman for DeSantis said "Governor DeSantis stands to protect the innocence of children, and the governor always follows through when he says he will do something."
Orlando Weekly writer Matthew Moyer noted that The Plaza Live — besides serving as the performing home base of the Orlando Philharmonic — hosts a robust slate of touring bands, comedians, YouTubers and, yes, drag performers.
State Rep. Anna Eskamani released a statement to Orlando Weekly late Friday afternoon, condemning the state's actions in no uncertain terms. "Governor Ron DeSantis' culture wars are destroying people's jobs and livelihoods. The very notion of shutting down a small business over a drag show is insane and extreme," said Eskamani. "In the United States we do not allow the government to determine what we can read, see or hear or who we can gather with. Targeting drag performances limits everyone's freedom of speech and is all a part of the Governor's sick anti-LGBTQ+ agenda."
This is about dehumanizing LGBTQ people and targeting them for retribution by the state by portraying LGBTQ people as abberant and deviant. It's absolutely disgusting and should not be tolerated.

— Alejandra Caraballo (@Esqueer_) February 3, 2023
DeSantis previously filed a complaint against a popular restaurant and pub in the Miami's Wynwood neighborhood in July, alleging that it violated a public decency law in allowing children to attend a drag show.
The R house, is a unique casual fine dining establishment and lounge with an integrated gallery right in the heart of the vibrant Miami-Wynwood arts district named for Rocco Carulli, the executive chef as well as creator of the restaurant. The R House identifies itself on its Facebook page as "the proud home of South Florida's most popular weekend drag brunches! Make some time to check us out and experience R House."
The complaint was filed by the Department of Business and Professional Regulation on asking that the R House restaurant is a declared a public nuisance and has its liquor license revoked. 
According to the South Florida Sun Sentinel, the complaint was issued after a video of a recent performance at the bar's drag brunch went viral. A topless drag queen wearing lingerie stuffed with money can be seen in the video attempting to dance with a young girl, who the DPBR estimates is "between three and five years old." Twitter account "Libs of Tik Tok" originally found the footage on Tik Tok, posted by a user who wrote, "Children belong at drag shows!!!! Children deserve to see fun & expression & freedom."
The department cited multiple incidents of inappropriate drag performances with kids in the audience, including one in which a child "between the ages of ten and twelve" was "seen recoiling and turning away in her seat as a Brunch performer climbed on the back of the child's bench, squatted, and gyrated a couple of feet above the child's head."