Guardian of veterans — and of LGBT rights
Mark Takano is just third out gay to chair a full congressional committee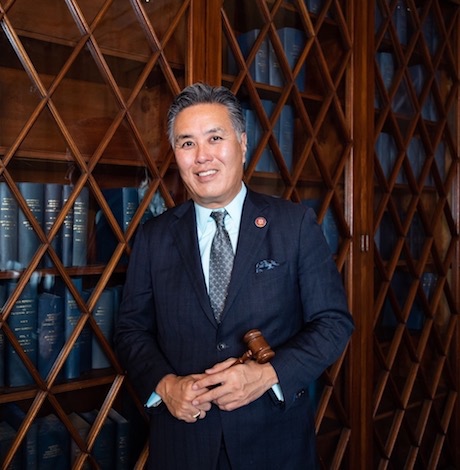 Mark Takano couldn't contain himself. Jubilant is too tame a word to describe how he felt that Friday, May 17 when the U.S. House of Representatives passed the Equality Act, banning discrimination based on sexual orientation and gender identity.   
Takano, the first openly gay man of color elected to Congress, likened it to the day that the Supreme Court ruled in favor of marriage equality.
"I remember being at the Supreme Court steps and being interviewed after the decision was handed down and I said, 'You know, I feel fabulous. I feel every gay word I can think of. It's a great day to be gay,'" Takano tells the Los Angeles Blade in a recent phone interview.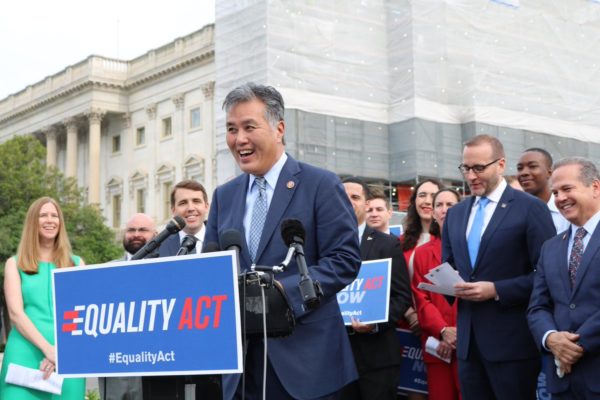 He's beaming through the telephone. "I feel very similar to that day. It's a great day to be gay — passing the most comprehensive LGBT civil rights legislation in the history of our country," Takano says. "Of course I felt fabulous and every gay word I could think of. I didn't understand how animated that I would become at the press conference."
Takano, co-chair of the Congressional LGBT Caucus, worked with out Rep. David Cicilline, who took the lead on the legislation, "talking to members of our caucus about making sure we refrain from amending the legislation that was very carefully crafted so as not to upset the delicate balance that it was. What we were doing was doing a very, very sensitive thing, which was to open up the Civil Rights Act of 1964. We did so with the cooperation and enthusiasm of the Congressional Black Caucus and we certainly didn't want to do anything that undermined the sacredness of that important law. There was certainly potential for innocent amendments being introduced that would become poison pills for the legislation."
House Speaker Nancy Pelosi ranked passage of the Equality Act number five on her list of top 10 legislative priorities. Nonetheless, as someone who remembered the difficulty in getting the bill a hearing, Takano was somewhat surprised that it sailed through the Education and Labor Committee and Rep. Maxine Waters, chair of the Financial Services Committee, actually waived having a hearing.
What Takano took away from the hearings in his committee and the Judiciary Committee was that the opposition was focused not on the validity of LGBT protections but "on things about trans athletes," he says. "They were raising the specter of people manipulating sporting competitions and gaining unfair advantages through their trans identity. At times, it seemed to me that the Republicans were embarrassed or not even trying to put up an argument."
Takano attributes the less-than-stellar opposition to the overwhelming acceptance by the American public "that LGBT people should have basic protections in the workplace. And they shouldn't be discriminated against in housing and they should be able to go to school without being bullied."
So on the House floor after defeating the final Republican amendment, "as we saw the 'yes' votes put up on the board and when the gavel came down declaring that the bill had passed—with eight Republican votes and no Democratic vote against it—when it passed the 218 mark, there was an unexpected jubilation and joy from members. There was hugging. There were tears coming down. Caroline Maloney of New York hugged and kissed me on the cheek. Our straight allies were so proud of what we had done."
The joy of this civil rights victory was so strong, some ignored House protocol. 
"Maxine Waters, myself and David Cicilline said I want a picture with you," Takano says. "We're not supposed to take pictures on the floor. I'm admitting to a crime. But I said, 'Take one quickly before the Sergeant of Arms looks.' We can't publish it because I would be subject to a fine. But I wanted it for history. Maxine, myself and David took a photo on the floor at that moment, and we captured the vote tally sign behind us."
Takano noted that in addition to the eight Republicans who voted for the Equality Act, 16 Republicans didn't vote at all. But since this was a bipartisan vote, all the more reason for Mitch McConnell, "The Grim Reaper," as he calls himself, to bring it to the Senate for a vote.
Takano says the LGBT community should let the importance of this vote sink in that "the people's House voted to affirm their dignity, our dignity." But the task is now to move the bill to the Senate. "Public sentiment, the power of the people is what is going to get equality across the finish line," he says. "What we can do is begin to marshal the power of the people," because as momentous as passing the Equality Act is, it gets drowned out by the Mueller report," and the miasma in Washington.
"As angry as people are about who's in the White House, they need to take inspiration from this accomplishment and then use that to build the momentum to get it through the Senate, to affect senate elections," he says.
Takano names vulnerable senators he thinks McConnell is protecting from having to vote on the Equality Act: "Sen. Gardner of Colorado is square one," he says. "Sen. Collins of Maine would be another. Even Sen. Rubio when you think how mobilized South Florida could be. Sen. McSally from Arizona is another one." And there are also vulnerable senators in states like North Carolina, there were efforts to pass statewide measures that really were discriminatory against trans people" or try to overturn LGBT equality.
"There are many states where I think it would be very, very unwise for the Republican incumbent senator to be anti-LGBT, anti-equality," he says. "And now that it's passed the House, our activists need to be out in those states, dogging these candidates if they're running for re-election, asking: will you stand in the way or are you going to lead on LGBT inclusion?"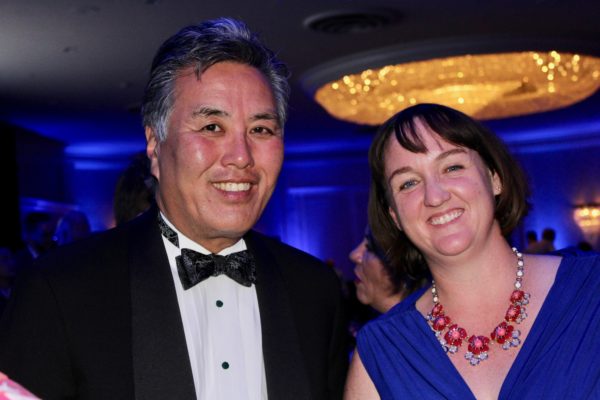 Rep. Mark Takano with then-congressional candidate Katie Porter at an Equality California event. (Photo by Karen Ocamb)
"Inclusion" isn't just a political buzzword for Takano who uses his family history as inspiration and reminders of the cruel ease of injustice.
"My immigrant grandfather and my American-born grandparents were forced into Japanese internment camps during World War II. I use their struggle as motivation to fight for humane immigration reform and be an advocate for justice," Takano tweeted with a video about his own history for Asian Pacific American History Month.
His family fought, too. "Every generation in my family has had people who served in the military. My great uncles served in World War II as part of the well-known 442nd infantry battalion, with all segregated Japanese-Americans fighting in it. They stepped forward."
Additionally, his brother served in the Army and at age 10, he was aware of a neighbor across the street who served in Vietnam and committed suicide when he returned. And as a teacher in Riverside County—which has the eighth largest population of veterans in the country—he saw many students in ROTC go off to war post-9/11 in Iraq and Afghanistan."
That connection made him keenly aware that the Veterans Administration is "more than healthcare. It's about education and the GI bill. And it really made me angry to see veterans who were defrauded out of their GI benefits by for-profit colleges," Takano says. "So I wanted to be on the committee that could start to hold those for- profit colleges accountable. And I care about healthcare. So one of my big responsibilities will be to lead the efforts against privatization by ideological forces that seek privatization of medical care as their 'reason for being.' Plus, politically my district has March Reserve Base."
Serving as chair of the Veterans Affairs Committee—the only LGBTQ chair of a full committee and the third LGBTQ chair in the history of the Congress—Takano gets to set agenda priorities, including steering the VA to adapt to serving an anticipated influx of a more diverse population of veterans, including more women, more LGBT vets, and greater numbers of people of color.
And Takano is taking hard issues head-on. "I've declared suicide prevention as my number one priority this Congress," he says. "And of course I'm interested in knowing how many of our veterans—their LGBTQ status, how it's affecting their likelihood of coming to crisis. That will be one of the things that I will insist that we look at and that the VA is taking into consideration."
Serving as Chair of the Veterans Affairs Committee also answers a family call to military service that he had to stifle.
"I actually did take the ASVAB, (Armed Services Vocational Aptitude Battery test) and I did have the thought that I had this secret at the time as an 18 year old," Takano says. "I was interested in serving. I did have offers from top universities—but it just goes to show you that the kinds of discrimination that occurred in the last several decades is not a good thing for our military. It deprives the military of the best possible people who want to serve."
The experience makes him appreciate even more the struggle of transgender service members and veterans. "The Williams Institute had an interesting statistic: 135,000 veterans are estimated to be trans. I think that's amazing. And we think that 15,500 trans individuals are currently serving in the military," he says.
"So," Takano concludes, "I'm going to do my utmost as the guardian of veterans—as the chair of the Veterans Affairs Committee— to make sure that all veterans get healthcare, all veterans get benefits. I'm here to be the guardian."
After the interview, Takano's committee passed nine bills to help veterans: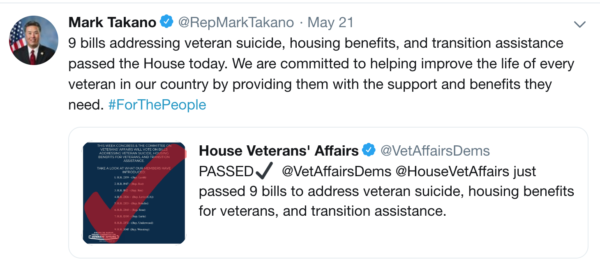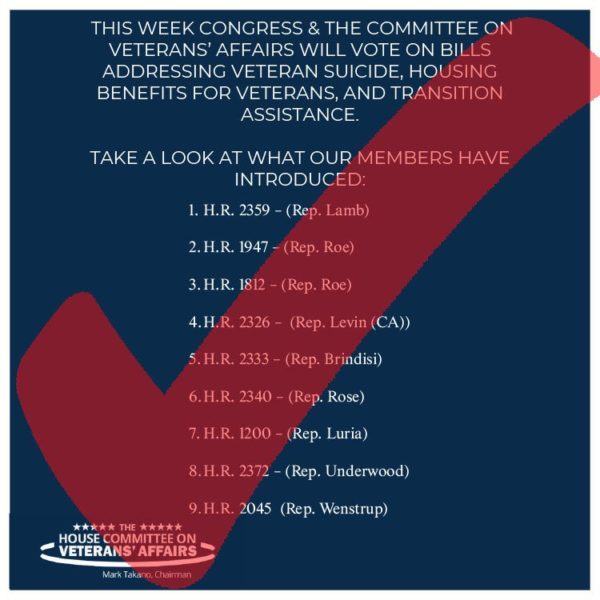 State Department to issue passports with 'X' gender marker
Special LGBTQ rights envoy celebrates 'significant step'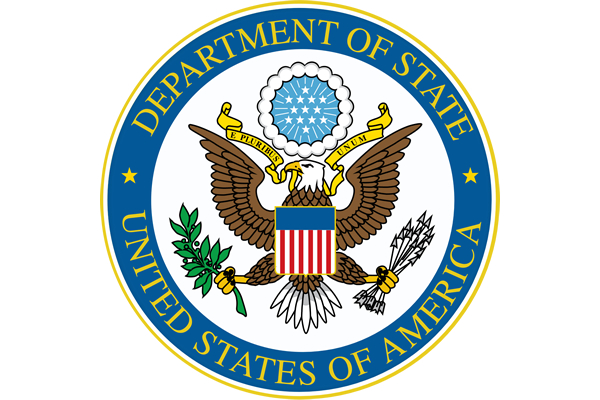 WASHINGTON — The State Department on Wednesday is expected to issue the first U.S. passport with an "X" gender marker.
Jessica Stern, the special U.S. envoy for the promotion of LGBTQ rights abroad, on Tuesday told the Los Angeles Blade and the Associated Press during a conference call the State Department will initially issue a gender-neutral passport to one person.
Stern said the State Department will begin "offering the 'X' gender marker option to routine passport applicants" in early 2022. A State Department official said the delay is necessary because the U.S. Office of Management and Budget needs to approve "the required form updates."
Secretary of State Antony Blinken in June announced the State Department will allow passport applicants to "self-select their gender as 'M' or 'F'"
People who identify as intersex, non-binary or gender non-conforming can choose a gender-neutral gender marker for their passports and Consular Report of Birth Abroad, a document that confirms an American who was born overseas is a U.S. citizen. The new policy that Blinken announced in June no longer requires "medical certification if an applicant's self-selected gender does not match the gender on their other citizenship or identity documents."
"Offering a third gender marker is a significant step towards ensuring that our administrative systems account for the diversity of gender identity, gender expression and sex characteristics," said Stern during the conference call. "Because people do not always fit within a male or a female designation, it doesn't benefit anyone to have inconsistencies between people and systems."
Stern added passports with an "X" gender marker will "reflect the true gender of the passport holder and make people safer, hopefully by reducing the likelihood of dehumanizing harassment and mistreatment that so often happens at border crossings when a person's legal documentation does not correspond with their gender expression."
"When a person obtains identity documents that reflect their true identity, they live with greater dignity and respect," said Stern.
The State Department's announcement comes a day after it publicly acknowledged Intersex Awareness Day, which commemorates the world's first-ever intersex rights protect that took place in Boston in 1996.
Dana Zzyym, an intersex U.S. Navy veteran who identifies as non-binary, in 2015 filed a federal lawsuit against the State Department after it denied their application for a passport with an "X" gender marker. The State Department official with whom the Blade spoke on Tuesday declined to say whether Zzyym is the first person who will receive a gender-neutral passport in the U.S.
"The department does not generally comment on individual passport applications due to privacy considerations," said the official.
Lambda Legal, which represents Zzyym, in a press release said their client on Wednesday received a passport with an "X" gender marker.
"I almost burst into tears when I opened the envelope, pulled out my new passport, and saw the 'X' stamped boldly under 'sex,'" said Zzyym in the press release. "I'm also ecstatic that other intersex and non-binary U.S. citizens will soon be able to apply for passports with the correct gender marker. It took six years, but to have an accurate passport, one that doesn't force me to identify as male or female but recognizes I am neither, is liberating."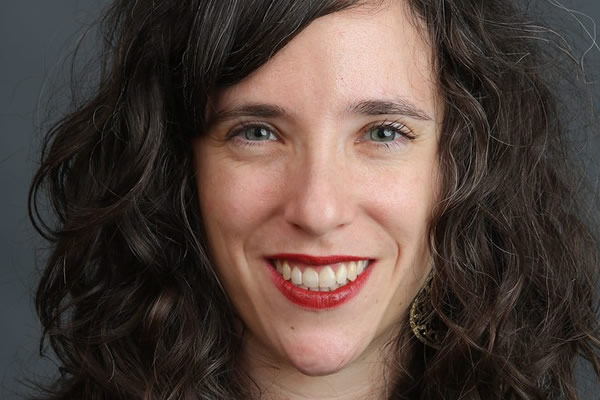 President Biden in February signed a memorandum that committed the U.S. to promoting LGBTQ rights abroad.
The White House in June named Stern, who had previously been the executive director of OutRight Action International, a global LGBTQ advocacy group, to her position. Stern said the issuance of passports with "X" gender markers demonstrates the Biden administration's commitment to LGBTQ rights.
"I am proud that the United States seeks to protect and promote the human rights of LGBTQI+ persons globally and this is an excellent example of leading by example," said Stern.
Canada, Australia, New Zealand and Argentina are among the handful of other countries that issue gender-neutral passports.
The State Department official said their colleagues have "been coordinating with Canada and New Zealand on best practices as we work towards this goal, based on their experiences." They said the State Department has also "coordinated with several LGBTQI+ organizations, both directly and through the White House Domestic Policy Council, throughout this process."
State Department publicly acknowledges Intersex Awareness Day
Special LGBTQ rights envoy moderated activist roundtable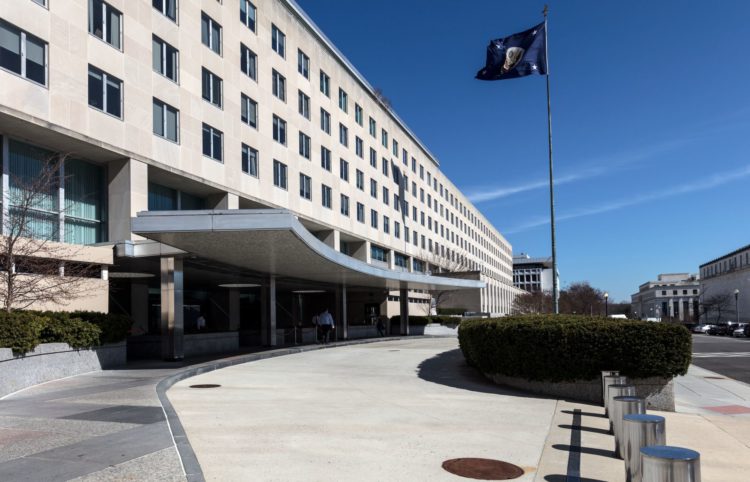 WASHINGTON — The State Department on Tuesday acknowledged the annual Intersex Awareness Day.
"We proudly recognize the voices and human rights of intersex people around the world," said State Department spokesperson Ned Price in a statement. "The Department of State is committed to promoting and protecting the rights, dignity, and equality of all individuals, including intersex persons."
Price in his statement said U.S. foreign policy seeks to "pursue an end to violence and discrimination on the basis of gender, sexual orientation, gender identity or expression, and sex characteristics, while acknowledging the intersections with disability, race, ethnicity, religion, national origin, or other status." Price also acknowledged intersex people "are subject to violence, discrimination, and abuse on the basis of their sex characteristics" and "many intersex persons, including children, experience invasive, unnecessary, and sometimes irreversible medical procedures."
"The department supports the empowerment of movements and organizations advancing the human rights of intersex persons and the inclusion of intersex persons in the development of policies that impact their enjoyment of human rights," he said.
Jessica Stern, the special U.S. envoy for the promotion of LGBTQ rights abroad, on Tuesday moderated a virtual panel with intersex activists from around the world.
Starting now! Go to https://t.co/Am0tYpCep1 to listen in on a rich discussion with Special Envoy for LGBTQI+ Rights Jessica Stern, @glifaa, and intersex activists from around the world. #IntersexAwarenessDay pic.twitter.com/ZMiPyMR8Gy

— Bureau of Democracy, Human Rights, and Labor (@StateDRL) October 26, 2021
Intersex Awareness Day commemorates the world's first-ever intersex protest that took place in Boston on Oct. 26, 1996.
Dana Zzyym, an intersex U.S. Navy veteran who identifies as non-binary, in 2015 filed a federal lawsuit against the State Department after it denied their application for a passport with their sex listed as "X." The State Department in June announced it would begin to issue gender-neutral passports and documents for American citizens who were born overseas.
The U.S. and more than 50 other countries earlier this month signed a statement that urges the U.N. Human Rights Council to protect the rights of intersex people.
Ohio high school cancels play with Gay character after Pastor complains
The School's fall production of "She Kills Monsters" was scheduled to open in less than one month until the play was canceled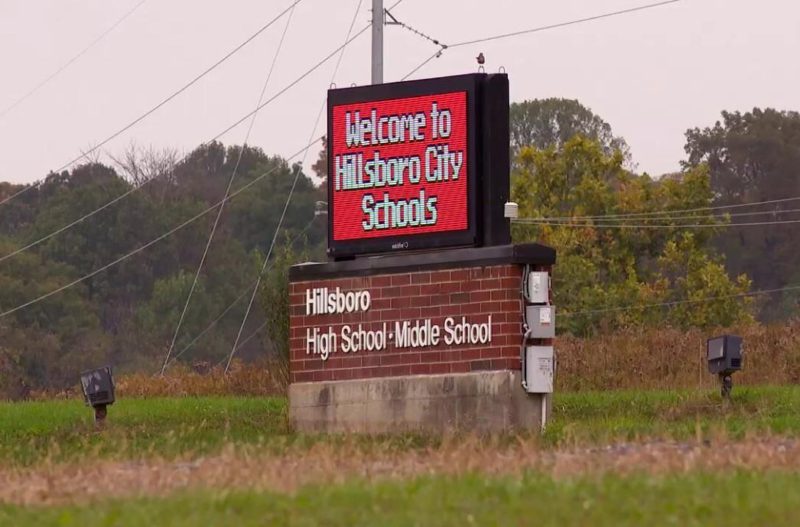 HILLSBORO, Oh. — A Southwest Ohio high school's play was abruptly canceled after Jeff Lyle, a local pastor from Good News Gathering, complained of a gay character.
Hillsboro High School's fall production of "She Kills Monsters" was scheduled to open in less than one month, until students learned the play would be canceled last week, reports Cincinnati's ABC affiliate WCPO.
The story follows a high school senior as she learns about her late sister's life. It is implied throughout the play that her sister is gay, according to the news station.
The play's cancellation comes a week after Lyle, a long-time voice of the anti-LGBTQ+ religious-right in Ohio, and a group of parents confronted the production's directors at a meeting, according to Cincinnati CBS affiliate Local 12. Lyle denies pressuring school officials, but tells WCPO he supports the decision.
"From a Biblical worldview this play is inappropriate for a number of reasons, e.g. sexual innuendo, implied sexual activity between unmarried persons, repeated use of foul language including taking the Lord's name in vain," Lyle said.
Some families say they believe Lyle did influence the school's decision.
"I think that's wrong," Jon Polstra, a father of one of the actors, told WCPO. "All they would have had to do if they objected to something in the play was not go to the play."
In a statement to Local 12, Hillsboro City Schools Superintendent Tim Davis said the play was canceled because it "was not appropriate for our K-12 audience."
The Lexington Herald Leader reports that the school planned to perform a version intended for audiences as young as 11 years old.
Students were "devastated" and "blindsided" by the news, according to WCPO.
"It felt like we had just been told, 'Screw off and your lives don't matter,'" Christopher Cronan, a Hillsboro High student, said. "I am openly bisexual in that school and I have faced a lot of homophobia there, but I never expected them to cancel a play for a fictional character."
Cronan's father, Ryan, also voiced his frustration.
"They want to say the town is just not ready, but how are you not ready? It's 2021," Ryan Cronan said.
Students have started a GoFundMe in hopes of putting on the production at a community theater in 2022.
"If we do raise enough money, I am going to be genuinely happy for a very long time, because that means people do care," Cronan told WCPO.