APA hosts 'Cured' filmmakers at conference
American Psychiatric Association is now headed by an out gay man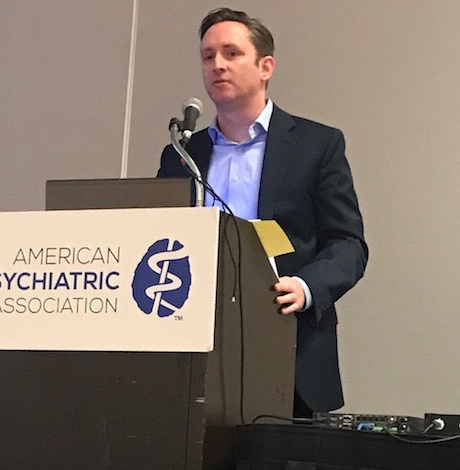 The American Psychiatric Association shocked the purveyors of religious "decency" and morality by removing homosexuality as a mental illness from its Diagnostic and Statistical Manual in 1973. Officially designating homosexuals as "sick" and "perverted" enabled government, businesses and the institutions of society to criminalize, stigmatize, belittle, beat and brand as "evil" and "abnormal" anyone perceived as being this corporal corruption as less-than a human being.
And homosexuals internalized the horror, perpetually hiding and inflicting internal wounds of shame. But in the late 1960s, Gay Liberation activists and rational scientists fought back to reclaim the individual personal pride of being gay or lesbian. Those boisterous showy early Gay Pride parades served a personal, public and political purpose.
Nonetheless, the merchants of shame continue to peddle the scam of a "cure" for supposed homosexual perversion, despite more and more state governments outlawing the junk science of so-called "conversion therapy." But now, one of the leaders in the fight for human dignity for LGBT people is the very group that originally gave a justification for the psychological harm—the American Psychiatric Association.
As an even clearer sign of the organization's evolution, the APA's CEO, Dr. Saul Levin, is gay. And they are now eager to tell the story of that dark time, according to award-winning filmmakers Patrick Sammon and Bennett Singer who screened an excerpt from their in-production documentary "Cured" as part of an APA conference panel May 20 in San Francisco entitled "Community Activism Narratives in Organized Medicine: Homosexuality, Mental Health, Social Justice, and the American Psychiatric Association."
Levin, Sammon and Singer were joined on the panel by Dr. Adrian Jacques H. Ambrose, who is with the Child and Adolescent Psychiatry team at Massachusetts General Hospital.
"The American Psychiatric Association is a much different organization today than it was before 1973. Certainly that's evidenced by the fact that it's led by an openly gay CEO. So there's a lot of interest within the APA to have this story told," Sammon tells the Los Angeles Blade, noting the discussions with the APA about the film have been ongoing for more than a year.
"In sitting in on the opening plenary and various sessions during the conference, it seemed really clear that the institution, APA, is explicitly dedicated to increasing diversity, the awareness of diversity," Bennett tells the Los Angeles Blade.
"I heard a bunch of leaders talking about wanting to be sure that psychiatrists are trained and mindful of being able to work with diverse populations," Bennett continues. "That seems it's an institutional goal to really be mindful of diversity in all its forms. They seem to be celebrating that their medical director and CEO, Dr. Levin, is an openly gay man and feeling like that is a genuine asset to their mission. And their president, who presided over this year's conference is an African-American woman who was also really powerful and moving in her passionate remarks about why diversity matters."
  Bennett noted that the APA has embraced its history and wants "to shine a spotlight on it to make it clear that psychiatry and the APA have evolved dramatically from the positions that they had held since 1952, which is when the first DSM was published which classified homosexuality as a 'sociopathic personality disturbance.'  Now they're looking at that as misguided and destructive."
The documentary "Cured" shows that dark history and the process of APA's transformation. The filmmakers intend to enter "Cured" in film festivals with its eventual broadcast on public television. One of their more recent interviews was with Gay Liberation Front co-founder Don Kilhefner who disrupted an APA aversion therapy conference in an October 1970 zap in Los Angeles that was caught on film. 
"This all is taking place in the shadow of a world where 'conversion therapy' is still allowed in so many states where parents can send their minor children to get 'fixed.' We're hopeful that the history of this story can help illuminate the ongoing discussion about 'conversion therapy' and the reality that some people still use the same bad science to justify 'conversion therapy' today," says Sammon. "It's a good opportunity to spotlight the present with this story from the past."
U.S. Senate vote sets up passage of same-sex marriage act
Coordinated campaign by anti-LGBTQ groups fails to weaken support among GOP Senators as the bill sees clear path to near-certain passage
WASHINGTON – Passage of the Respect for Marriage Act became all but certain with the U.S. Senate's procedural 61-35 vote on Monday night to forego additional debate in the chamber over the landmark legislation.
From here, the bill will return to the U.S. House of Representatives, which will consider — and is expected to approve — an amendment that was added by a bipartisan group of Senators led by Tammy Baldwin (D-Wis.). Then, it will reach President Joe Biden's desk.
The president has repeatedly urged lawmakers to pass the bill so he can sign it into law. His administration, along with Congressional Democratic leadership, has made the Respect for Marriage Act a top legislative priority in the weeks before the new Congress is seated in January.
Today's move by the Senate came on the heels of a coordinated campaign by conservative and anti-LGBTQ advocacy groups that wield considerable influence on Capitol Hill and marshaled their efforts to peel off support from Republican senators in the days leading up to Monday's vote.
Republican Sens. Todd Young (Ind.) and Cynthia Lummis (Wyo.), who were among the 12 Senate Republicans who supported advancing the legislation in a procedural vote taken before Thanksgiving, cast the final two votes on Monday allowing the measure to clear the 60-vote majority threshold to pass. Axios reports the two lawmakers faced particular pressure from conservative activists who sought to erode their support for the legislation.
The Respect for Marriage Act will repeal the Clinton-era Defense of Marriage Act, adding legal protections for same-sex couples, many of whom would otherwise face devastating consequences if the U.S. Supreme Court reverses or substantially weakens the constitutional right to marriage equality.
Notwithstanding criticism from some progressives who feel the bill is too conservative in scope, the Respect for Marriage Act — along with the bipartisan amendment that was introduced in the Senate to enshrine protections for religious liberty — is supported by major LGBTQ organizations including the Human Rights Campaign, GLAAD, Lambda Legal, the National Center for Transgender Equality, GLSEN and PFLAG National, among others.
The bill's aim, narrowly tailored, was to gird against the possibility that the high court would revisit its precedential decisions in United States v. Windsor (2013) and Obergefell v. Hodges (2015).
Justice Clarence Thomas signaled his intention to do so with his concurring opinion earlier this year in Dobbs v. Jackson Women's Health Organization — a case that revoked Americans' constitutional right to abortion, overturning the Court's historic rulings in Roe v. Wade (1973) and Planned Parenthood v. Casey (1992).
Over the summer, the House passed the Respect for Marriage Act with an overwhelming majority, including votes from 47 Republican members. Dozens of religious denominations and groups that represent a broad spectrum of beliefs have endorsed the legislation, including the Mormon church, which took pains to reaffirm its position that same-sex relationships are sinful. Scholars representing a similarly diverse range of opinions on germane legal questions have also publicly backed the bill.
Still, the opposition remained steadfast.
"Religious Americans will be subject to potentially ruinous litigation, while the tax-exempt status of certain charitable organizations, educational institutions, and non-profits will be threatened," said Sen. Mike Lee (R-Utah) in a statement opposing the legislation as written and proposing an additional amendment to the bill.
Organizations like the Heritage Foundation, a conservative think tank, echoed Lee's concerns about the Respect for Marriage Act vis-à-vis protections for religious liberty. Others, like the Liberty Counsel, designated by the Southern Poverty Law Center as an anti-LGBTQ hate group, peddled outrageous arguments including the lie that the Respect for Marriage Act would normalize or facilitate child sexual exploitation and abuse.
Even in the aftermath of the deadly shooting on Nov. 19 at a Colorado Springs, Colo., LGBTQ nightclub, these attacks from conservative groups continued apace and even increased as the Senate's vote on Monday drew nearer.