June 11, 2019 at 11:26 pm PDT | by Roman Navarette
Run, don't walk to East LA's Brown & Out LGBT theater festival
With so much Pride on your to list this month, why not focus your attention to East LA and the emerging talent and brilliant stories showcased in Boyle Heights during the Brown & Out play festival, now celebrating it's 5th Anniversary, at the CASA 0101 Theater.
As a former 12 year resident of Boyle Heights, I know how underrated, one of LA's most historic cultural hubs but the neighborhood is bursting with amazing talent and gritty stories.  But people are noticing. Witness the hit show VIDA on STARZ, a show that deep look at the LGBTQ LatinX community on the Eastside of LA.
But somehow the city's cultural institution have overlooked the artistic contributions on display there. Brown & Out V helps to fill that gap.
Emmanuel Deleage, Executive Director of CASA 0101 Theater says "BROWN & OUT V, comes on the heels of our highly successful BROWN & OUT IV last year, which included writer Richard Villegas, who wrote the treatment for STARZ's, VIDA. Our BROWN & OUT Play Festival is proving that our audiences are hungry to see queer narratives on stage, which solidifies CASA 0101 Theater's commitment to serving the LGBTQ community."
The festival features the work of 13 writers, played by an ensemble of 11 actors, helmed by seven directors, two assistant directors and a bevy of designers and production personnel.
The festival's offerings cross ethnicities with stories anyone can relate to, such as To Rocco, With Love, written by Giovanni Navarro, directed by Rigo Tejeda, and assistant directed by Cinnamon Rivera, a story of unrequited love and the search for clarity in the age of hookup culture.
This year's BROWN & OUT V Play Festival is produced by Playwrights, Abel Alvarado, Patricia Zamorano and Matthew Ramos. Other Associate Producers and Playwrights of BROWN & OUT V include: Felipe Agredano, Felipe Valladolid Chávez, Martín Olivera Carrillo, Giovanni Navarro,
Daniel Muñoz, Ruben Mendive, Conrado Terrazas Cross, Devon Torres and
Lady Diana (Diana Feliz Olivera).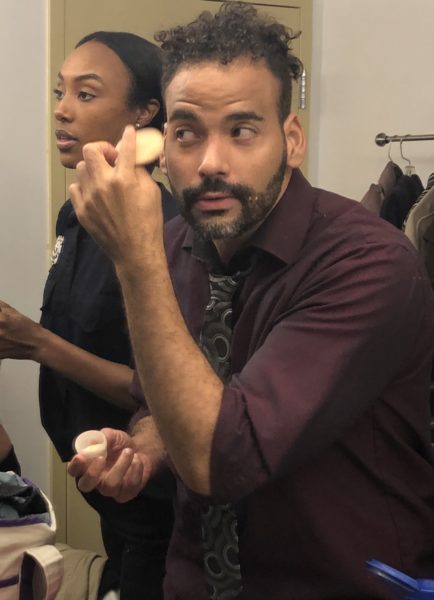 Performances will be presented thru July 7, Thursdays, Fridays and Saturdays at 8:00 pm., and Sundays at 4:00 pm. Tickets are $30 for General Admission; $25 for Seniors; and $20 for Boyle Heights residents and Students. In addition, 10% of tickets will be set aside at EACH performance for theatergoers to Pay-What-They-Can at the door; these tickets will be available on a first-come, first-served basis one hour prior to the show time for each performance. Dinner and Theater Combos are available; please visit www.casa0101.org for more information.