A perfect pair of plays for Pride month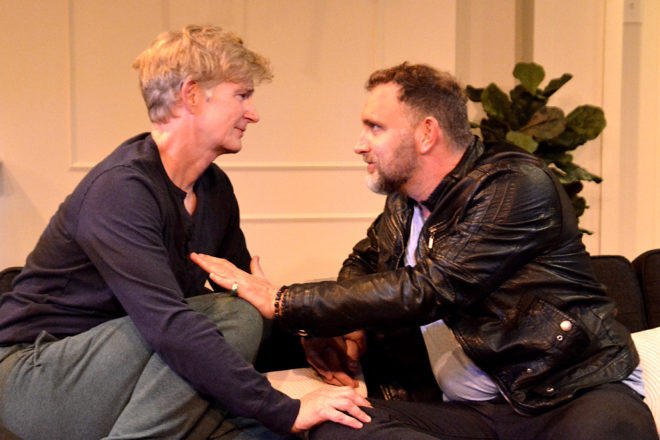 For fans of LGBTQ-themed theatre, Pride month is rich with opportunities, with at least two excellent productions onstage in Los Angeles that deserve your attention, your time, and your box office dollars.
At the Fountain Theatre (5060 Fountain Avenue) is the acclaimed "Daniel's Husband" by Michael McKeever, which has extended its run through July 28, an intimate, five-character play centered on a same-sex couple, Daniel and Mitchell, who seem to be living the dream. Successful, affluent, and deeply in love, they might be the perfect poster couple for gay marriage – except that Mitchell doesn't believe in it. In his own words, he would "fight to the death" for the right of others to get married, but for himself, it represents an assimilation into "normal" society that goes against everything his radical queer activist heart believes in.
When this sore spot between the couple emerges during a social gathering in their home early in the play, it seems little more than an amusing hypothetical argument. After all, the two have the necessary protections in place to prove the validity of their partnership; the only outside family member involved, Daniel's mother, is an ally who loves Mitchell as much as if he were her own son, too.  But when an unexpected crisis hits without warning, they may be powerless to prevent the life they have built together from being ripped away from them.
In a post-Marriage Equality world, McKeever's play might, on the surface, seem a few years out of date.  That's a deceptive viewpoint to take. "Daniel's Husband" isn't asking us whether LGBTQ people deserve to get married; through its sparkling dialogue, layered and loving characterizations, and even-handed treatment of the issues, it's asking us whether they should get married just because they can.
Thanks in large part to the beautiful performances of Bill Brochtrup (Daniel) and Tim Cummings (Mitchell), it answers that question by cutting through the rhetoric and focusing on the love that makes two people want to commit to each other for life.  It extends its perspective through the inclusion of Daniel's mother (the deeply affecting Jenny O'Hara), who walks an increasingly narrow emotional tightrope as the play progresses, as well as through Mitchell's wisecracking longtime agent (the superb Ed Martin) and a young friend who brings millennial freshness to the conversation (the endearing Jose Fernando).  The talented players receive sure-handed guidance from director Simon Levy, who never allows the characters to be anything less than human.
"Daniel's Husband" goes from being light-hearted to heart-breaking over the course of its two acts, reminding us along the way of the practical benefits of marriage and offering a grim warning against the hubris of making a choice based on philosophical principal when the real-world stakes are so high.  This Los Angeles premiere production drives home its points without equivocation, but what makes it must-see theatre is that it does so without losing sight of the love story at its core.
"Shooting Star: A Revealing New Musical," is a love story, too, but it comes at the subject from a very different angle.  Onstage at the Hudson Theatre (6539 Santa Monica Blvd) through June 30, this world premiere piece was written by Florian Klein, who works in gay adult films under the name Hans Berlin and wanted to tell a story reflecting his own experiences in the porn world.
When a wholesome midwestern gay kid named Taylor comes to Hollywood with dreams of stardom, it isn't long before he realizes what a tough road he's chosen for himself; in need of extra money, he accepts a job stripping at a gay club frequented by porn stars, and before long he's on his way to a different kind of stardom than he had foreseen.  To his surprise, he finds himself surrounded by a loving porn family and falling for one of his co-stars; but a multi-billion-dollar industry is a tricky place for love to find a way – and the more successful he becomes, the further it seems out of reach.
All of this is told, of course, with the help of a rock-infused song score, composed by Thomas Zaufke with lyrics by Erik Ransom, that takes the ideas covered in Klein's libretto – the de-stigmatization of porn and the people who work in it, the pursuit of emotional happiness alongside professional success, the difficulty of being a romantic in a world saturated with easy sex – and brings them to life with the help of an exuberant cast of performers.  Taubert Nadalini and Nathan Mohebbi are more than charming as the show's star-crossed lovers, but the stand-out performances come, unsurprisingly, from the trio of actors playing the show's more colorful characters – Bettis Richardson, Karole Foreman, and Michael Scott Harris (as a bad-boy porn star, a "porn mama" director, and an aging gay porn legend clinging to his past glory, respectively) each have show-stopping musical numbers that stick with you long after the curtain call.  Director Michael Bello takes all that talent and ties it into a package that, combined with Jim Cooney's flashy choreography and the sound of a tight ensemble of musicians that accompanies the show from upstage makes the evening feel as much like a party as a theatrical presentation.
As for the show's content, it's hard not to be engaged.  There's a ring of authenticity to a behind-the-scenes look at gay porn served up by an actual porn star that makes it all feel that much more delicious; and there's a refreshing sweetness about it that somehow seems even more appealing against the hedonistic backdrop of the adult entertainment business.
It's this contrast between old-fashioned romance and unapologetic sexuality, however, that undercuts Klein's intended message that porn stars are people, just like you and me; and even though his musical fantasia acknowledges that there's a dark side to the industry – drugs, greed, exploitation, ageism, sexism, and all the other evils associated with it – it also insists that working there can be a rich and rewarding life if you can keep your priorities straight.  The trouble is, even though it celebrates the porn life with all the sex-positivity it can muster, Klein's script has a conflicted soul that still feels unresolved with the show's eventual "happily-ever-after" finale.  "Shooting Star" wants to tell us that it's possible to have it both ways, but it isn't quite able to show us how.
That's okay, though.  Even if it doesn't quite convince us of its main argument, Klein's musical is a terrific time, and with an attractive cast of diverse performers – sometimes fully naked ones, at that – it's doubtful that most audiences will quibble over the fine points.  Besides, it's a new show, in its first run of performances; there's plenty of room for the improvements which will doubtless be made as "Shooting Star" makes what seems an inevitable journey to further, bigger, and glitzier productions in the future.  It's hard to imagine any of those will seem as audacious or as cocky as this one, though – essential qualities for a "gay porn musical," surely – and besides, you'll be able to say you saw it here first.
LGBTQ+ groups fight over Trans Athletes competing is losing ground
Public opinion overwhelmingly supportive of the Equality Act is clearly skeptical of a one size fits all of all sports everywhere
WASHINGTON – In the wake of the NCAA changing its policies regarding transgender athletes and state legislatures advancing new legislation against trans inclusion in school sports, LGBTQ advocates continue the fight to ensure athletes can compete consistent with their gender identity, although they may be losing the battle.
As public polling has demonstrated, transgender athletes competing in sports — especially trans women in women's sports — remains unpopular even among pro-transgender people. Key figures have emerged in recent days opposing transgender inclusion amid the focus on Lia Thomas, a recently transitioned swimmer at the University of Pennsylvania who has been smashing records in women's aquatics.
Nonetheless, LGBTQ advocates charged with fighting for transgender rights are continuing the efforts. After a coalition of LGBTQ advocates sent a letter to the NCAA urging the organization to include a non-discrimination provision in its updated constitution, the Human Rights Campaign condemned the organization for refusing to keep the language, which appears to have the effect of allowing the sports division to decline to allow transgender athletes to compete consistent with their gender identity, and sent an action alert to supporters.
Joni Madison, interim president of the Human Rights Campaign, said in a statement the NCAA "needs to show us their playbook for protecting LGBTQ+ and specifically transgender athletes from discrimination" as state legislatures advance legislation against transgender kids in sports.
"The NCAA has so far proven to be an unreliable ally to LGBTQ+ athletes across the country who depend upon the organization to protect them from discrimination and now they owe these athletes answers," Madison said.
Instead of reaffirming non-discrimination protections, the NCAA announced a change in policy that goes in different directions but appears aimed at limiting participation of transgender women without taking full responsibility for it. On one hand, the NCAA delegates to the bodies governing individual sports the policies for transgender participation, but on the other hand requires transgender women to document having limited testosterone levels over a certain period of time.
The fight now continues in state legislatures as sports bills are among the latest crop of measures seeking to limit access for transgender people. After South Dakota Gov. Kristi Noem made a push for legislation against transgender kids in sports at the start of the year, the state legislature responded by advancing such a measure. On Wednesday, a South Dakota House committee favorably reported out legislation already approved by wide margins in the Senate that would make biological sex the standard for sports in an attempt to limit transgender participation.
Sam Ames, director of advocacy and government affairs at The Trevor Project, said in a statement upon the committee vote the legislation "has nothing to do with fairness — and everything to do with South Dakota politicians using transgender youth as pawns on a political chessboard.
"Proponents of this blanket ban are hard-pressed to find examples of transgender students making South Dakota sports less fair or safe," Ames said. "Research from The Trevor Project makes clear that many already opt out of sports due to fear of bullying and discrimination."
Although the issue of transgender women in sports has emerged in recent years as conservative activists found a way to challenge LGBTQ rights in a way that was palatable to the public, the fervor peaked as Thomas made headlines for breaking records in the pool.
After having previously competed in men's aquatics, Thomas — after she transitioned — began competing in women's events and was beating her competitors by wide margins. In one event in December, Thomas came in first in the 1,650-yard freestyle and 38 seconds ahead of her closest competitor. The NCAA rules would appear to have the effect of barring Thomas from further competition.
Public polling, which has shown strong support for LGBTQ rights in general, continues to show the sentiment is against transgender women competing in sports, although the outcome of the poll can change considerably depending on the wording of the question. One Gallup poll last year found only 34 percent of those surveyed supported transgender athletes participating on teams consistent with their gender identity, while 62 percent said transgender people should have to compete with other athletes of their gender designated at birth.
One LGBTQ strategist, who agreed to speak on condition of anonymity, said the time may have come for LGBTQ advocates to admit a fait accompli if they want to seek broader civil rights protections in employment, housing and public accommodations with the Equality Act or other federal legislation.
"Advocates should just admit this is a very different issue than a trans person applying for a job or finding an apartment," the strategist said. "Equality principles differ by situation — that's why we have separate men's and women's sports in the first place. The same public opinion overwhelmingly supportive of the Equality Act is also clearly skeptical of a one size fits all federalization of all sports everywhere."
Adding fuel to the fire are recent comments from key figures in athletics.
Caitlyn Jenner, who before she transitioned was an Olympic champion in the 1970s, has been among the more prominent voices to speak out against transgender women in sports and said on a recent appearance on Fox News it represents "a woke world gone wild."
Jenner, who came out against transgender participation in sports during her unsuccessful gubernatorial campaign last year in the California recall election, said the NCAA "just kicked the can down the road" on the transgender sports issue and had choice words for Thomas.
"When you do transition and you do go through this, you have to take responsibility and you have to have integrity," Jenner said. "I don't know why she's doing this."
Michael Phelps, the decorated Olympic swimmer, also declined to support transgender athletes fully when asked about the issue during an interview on CNN, bringing up doping in sports in comparison.
"I don't know what it looks like in the future," Phelps said. "It's hard. It's very complicated and this is my sport, this has been my sport my whole entire career, and honestly the one thing I would love is everybody being able to compete on an even playing field."
"I'm deeply troubled by what appears to be a devolving level of active, effective, committed, and equitable support for gender diverse student-athletes within the NCAA's leadership"
To be sure, advocates for allowing transgender people to compete in sports consistent with their gender identity also have their supporters in the sports world, including tennis legend Billie Jean King. On Monday, Dorian Rhea Debussy, who's non-binary and one of 54 facilitators in the NCAA Division III LGBTQ OneTeam program, resigned in protest over recent NCAA actions.
"I'm deeply troubled by what appears to be a devolving level of active, effective, committed, and equitable support for gender diverse student-athletes within the NCAA's leadership," Debussy said. "As a non-binary, trans-feminine person, I can no longer, in good conscience, maintain my affiliation with the NCAA."
Arguably, schools complying with the new NCAA policy and states enacting anti-transgender laws would be violating Title IX of the Education Amendment of 1972, which prohibits discrimination on the basis of sex in education, especially after the U.S. Supreme Court's ruling in Bostock v. Clayton County finding anti-transgender discrimination is a form of sex discrimination.
One federal court last year blocked a West Virginia state law against transgender participation in sports on that legal basis. No litigation, however, appears to be in the works at this time challenging colleges or the NCAA policy.
'Jamie' comes to America in triumphant Ahmanson premiere
A time when being gay is okay, where drag is fun for everybody, and there's room for everybody but the bigots at the party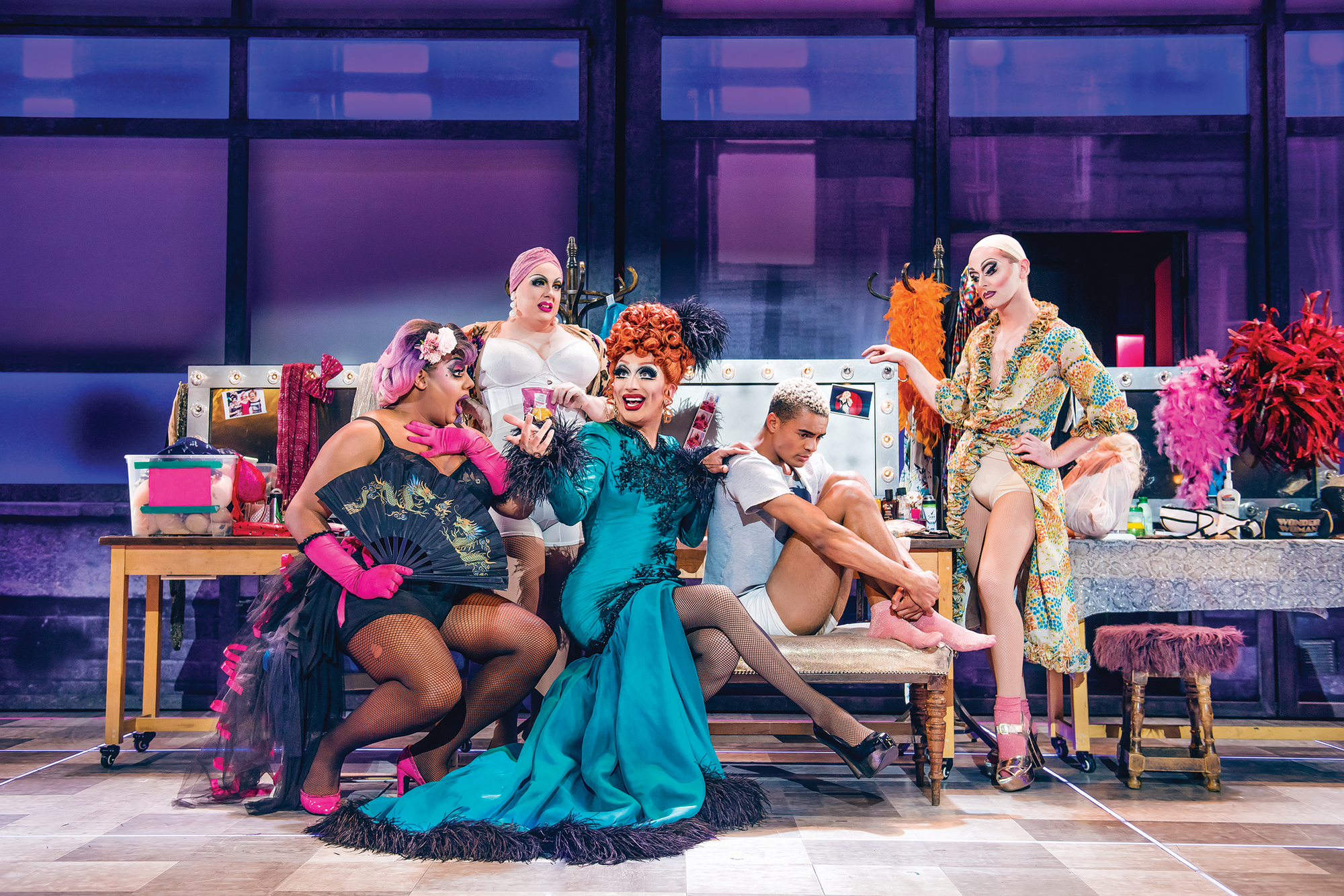 LOS ANGELES – The tag line for "Everybody's Talking About Jamie," the London West End musical making its North American debut at the Ahmanson this month, tells us that it is "the hit musical for today."

That is an entirely accurate statement.
With a book and lyrics by Tom MacRae and music by Dan Gillespie Sells, it's a show that was inspired by the real-life story of a 16-year-old British schoolboy who bucked bigotry and overcame bullying to become a drag queen – or more precisely, it was inspired by the 2011 documentary "Jamie: Drag Queen at 16," which told his story.
Premiering in 2017, the musical opened in the Yorkshire town of Sheffield, where it is set, before moving to the West End for a successful run that earned the show several nominations at the Olivier Awards. A Broadway production was planned, but tabled (thanks to Covid), and a film adaptation was made which, after several delays (again, thanks to Covid), was released by Amazon in 2021.

Now, in lieu of Broadway, it's receiving its first incarnation on the American stage in Los Angeles – which seems entirely appropriate, somehow, given the show's young-and-hip appeal. Renamed as Jamie New, its proudly gay protagonist is already very much out to his family and to fellow students at his Sheffield school, but has kept hidden his secret dream to become a drag queen.
Encouraged by his friend Pritti, and with the blessing of his concerned-but-supportive mother Margaret, he resolves to emerge from a second closet by attending the prom in drag. He finds an unexpected mentor in Hugo, the owner of a shop for drag attire (himself a former drag legend named Loco Chanelle), and as his confidence grows, so does his boldness; but as word begins to spread of his planned "coming out" he faces resistance, bullying, and worse from the community around him – including a homophobic schoolmate, a conservative teacher, and the estranged father whose long-withheld acceptance is something for which he keenly longs.
Can he overcome these repressive obstacles to claim his true identity as a fabulous queen and perform for his adoring fans? If you have any experience at all with musical theatre, chances are that you already know the answer is [SPOILER ALERT] yes.
From its first few minutes, the show lets you know without a doubt that it plans not just to entertain, but to dazzle. Loaded with infectious, pop-flavored songs and providing ample opportunity for a young and limber cast of triple-threat performers to wow us with their physical prowess and their talent, it leans hard into the optimism that drives most of its characters – the select few who embrace a more cynical worldview are, not coincidentally, largely antagonists – and makes sure to keep the tone from becoming too dark for too long, even when the story gives us glimpses of a harsher side of life as a drag queen.
It seamlessly blends diverse elements of stagecraft into its visual design, taking place on a streamlined, mod, efficiently configurable set that captures both the flashy electronic milieu of the Instagram era inhabited by its youthful hero and the rough-around-the-edges vibe of the working class neighborhood in which he actually lives. And if all of that isn't enough, it has drag.
It's not necessarily about drag, however. In fact, while drag is very much the passion that Jamie follows on his personal journey, it's not the destination. Nor is his story really about acceptance, either from himself, his oppressors at school, or his absent and small-minded father; it's clear from the beginning that he's already pretty sure of himself, and there's never any real doubt that things are going to turn out just fine for him, in the end.
The transformation Jamie is required to make involves not so much how he sees himself, in fact, but how he sees the people around him. It's a refreshing shift, in many ways, from the frequent drag narrative in which the end goal is self-acceptance, in that it goes on to show how self-acceptance can also lead to greater acceptance not just from others, but for others, as well.
In that spirit, "Everybody's Talking About Jamie" treats all its characters with empathy, even the school bully – though it pointedly turns a cold shoulder to Jamie's dad, whose unrelenting homophobia seemingly makes his character undeserving of even being given a name. Still, even a show with as positive an attitude as this one needs a reminder that there are still those among us who haven't been won over – at least, not yet – and in the end it's unequivocally easy to stand in enthusiastic solidarity as the whole happy cast comes out to take their bows.
As to that cast, Layton Williams (reprising his role as Jamie from both the UK tour and remounted West End production of the show) is every bit worthy of our full attention and adulation as he struts his stuff (and his impossibly long legs, even in expert-level heels) as Jamie.
Melissa Jacques is warm, grounded, and compelling as his mother, and she makes her second act song soliloquy, "He's My Boy," into a showstopper. Hiba Elchikhe embodies the spirit of girl power as Pritti, whose embrace of her Muslim identity doesn't stop her from giving Jamie a run for his money in making a splash, and Gillian Ford makes her role as stodgy Careers teacher Miss Hodge into an audience favorite.
Shobna Gulati brings a tough-as-nails protective presence as Mom's loyal friend Ray, and George Sampson makes sure school bully Dean is awkward and endearing enough for us to cheer for his redemption. Finally, Roy Haylock – who is better known as Bianca Del Rio and brings a level of serious queer star power to the production – proves himself to be as much of an energetic, gifted comedic performer when he's out of drag as he is when he is in it. That doesn't mean, however, that Bianca doesn't make an appearance herself, when Hugo [another probably unnecessary SPOILER ALERT] brings Loco Chenelle out of retirement to cheer Jamie on.
With a uniformly talented cast, brisk direction from Jonathan Butterell, and high-energy choreography by Kate Prince, this production of "Jamie" is well-worthy of being the show's North American debut.
It entertains, with seeming effortlessness despite the whirlwind energy on which it rides, and it reinforces our best hopes and beliefs about ourselves and the world we live in along the way. If its conflicts resolve a little too easily, and its obstacles melt a little too conveniently, we can forgive that as a tip of the hat to artistic license and theatrical convention. It's may be as ephemeral as a photo on Instagram, unapologetically designed to be feel-good fluff – but if there was ever a time when the world needed feel-good fluff, this is it.
It is, after all, a "hit musical for today," intended to capture and celebrate the cultural moment of the here and now – a time when being gay is okay, drag is fun for everyone, and there's room at the party for everybody but the bigots.
And they can come too, if they're willing to stop being bullies and start being friends instead.
18-year-old Out YouTuber, TikTok creator & entertainer celebrates first year
"I told myself for a long time, I was like, 'One day, if I have someone to come out with, then I will come out"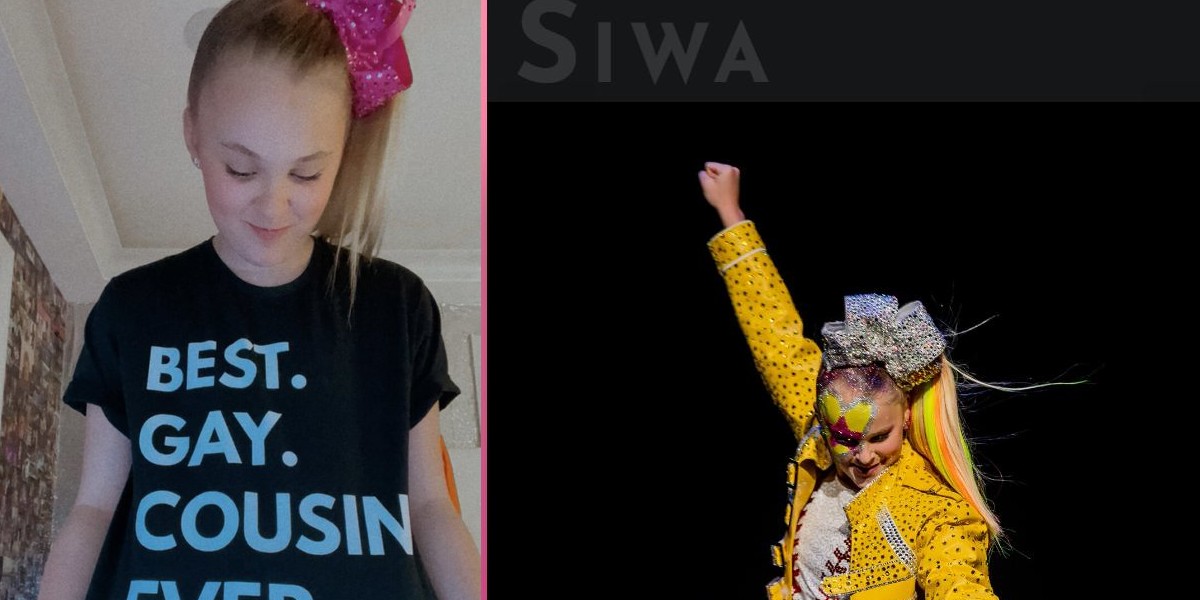 LOS ANGELES –  JoJo Siwa marked her first year of being an Out member of the LGBTQ+ community this past weekend in a series of photos and posts on her Instagram reflecting on the personal milestone achieved.
"🏳️‍🌈In the last 365 days I've felt more love than ever. A year ago today I posted this picture and shared with the world that I was gay🌈 I get asked a lot "was coming out scary for you"… and the answer is yes of course, anything that's different about you is scary, however… it's what makes me… me. so I had no fear with sharing it with the world❤️ I also get asked a lot "your demographic is so young are you worried about telling kids your gay"…. Truthfully I feel like I was put on this earth to be a role model for kids, and letting all the kids of the world know that loving everyone for who they are no matter what is something that I will always believe in and always share❤️ please never forget that no matter who you are, what you look like, who you LOVE that you are absolutely perfect. thank you for showing me the most love throughout this year and throughout my entire life. I love you all❤️🙏🏼🏳️‍🌈" Siwa posted.
In an interview with Entertainment Weekly she said that she was inspired to reveal the truth about her sexuality earlier this year after falling in love with girlfriend Kylie Prew.
"I knew since I was little that I was never straight, I knew that. But I also was never like, 'Oh, I'm gay,'" said Siwa.
She added, "I told myself for a long time, I was like, 'One day, if I have someone to come out with, then I will come out."