Kevin Spacey case faces possible dismissal after accuser invokes Fifth Amendment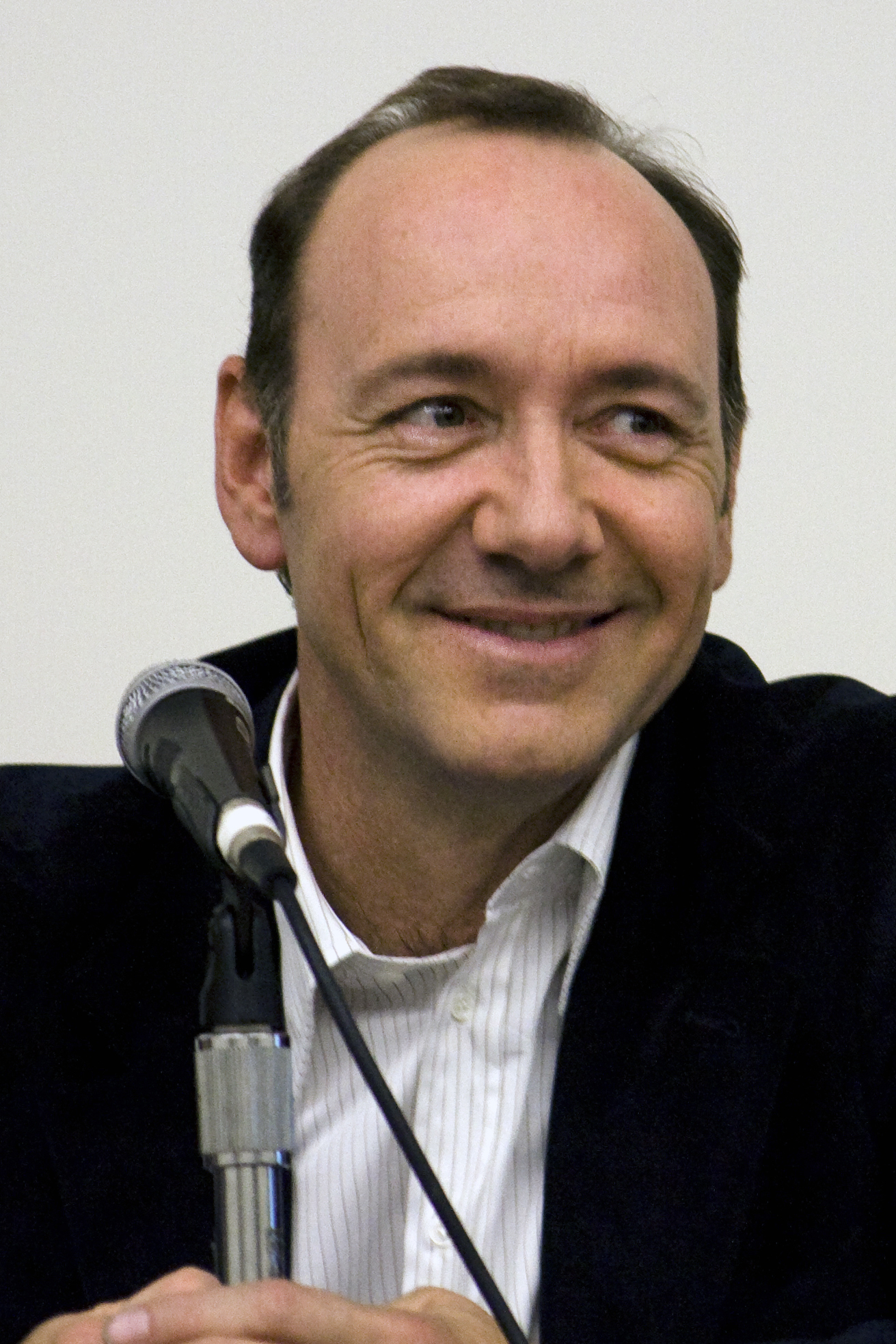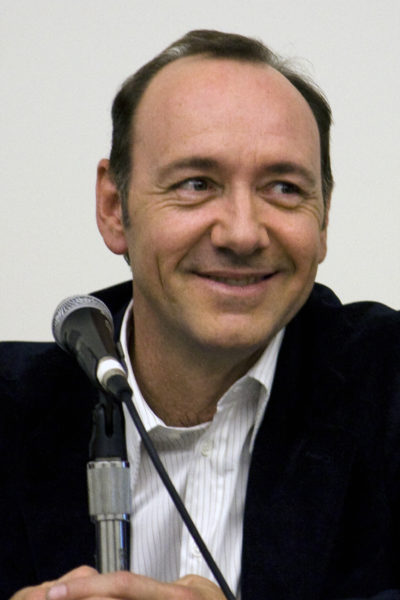 A pre-trial hearing in the felony sexual assault case against actor Kevin Spacey descended into chaos Monday, July 8 when Spacey's 21-year old accuser, William Little, suddenly invoked his 5th Amendment right against self-incrimination on the stand. This came after Spacey's famed Los Angeles defense attorney, Alan Jackson, questioned Little about his missing phone, noting that the young man could be charged with a felony for deleting evidence. Jackson contends that text messages would back up the actor's contention that the July 2016 incident in a Nantucket restaurant was consensual flirtation.
Spacey, 59, who faces one count of indecent assault and battery for allegedly groping the then-18-year old busboy, was not in court for the hearing. On July 3, Little dropped his 2016 civil lawsuit against Spacey.
There have been a flurry of court filings since January regarding Little's missing mobile phone with Jackson challenging the accuracy of screenshots taken by Little from that phone and whether text messages had been deleted before it was provided to police investigators. The issue led Nantucket District Court Judge Thomas Barrett to order Little, his mother, former Boston television station WCVB news anchor Heather Unruh, and his father Nick Little, to testify about the disappearance of the phone and about who last had custody of it—the Massachusetts State Police (MSP) investigators or Little's family.
MSP investigators maintain in the court filings that they gave the mobile phone to Nick Little. However, Boston attorney Mitchell Garabedian, who is representing Little's family, said the family doesn't remember that.
"Your honor, we could not locate the phone," Garabedian said. "My clients do not recall ever receiving the phone." The attorney also does not know about any deletions, but Garabedian said his law firm collected the phone's backup data from Little's MacBook Laptop and loaded it onto a portable drive.
Little has denied deleting anything from his phone. However, when pressed on the stand by Jackson about whether he was aware that destroying evidence is a felony under Massachusetts law, Little responded, "I am now." Little then invoked his 5th Amendment right, which caused Judge Barrett to immediately strike Little's testimony.
Jackson then asked Barrett to dismiss the case against Spacey, which hinges on Little's claims. "This entire case is completely compromised," he said. "This case needs to be dismissed, and it needs to be dismissed today."
Barrett did not dismiss the case but noted that Cape and Islands Assistant District Attorney Michael K. Giardino's team would have a tough time bringing it to trial if Little won't testify.
"Once exercised, it may be pretty hard to get around this privilege at trial," Barrett said. "The matter may well be dismissed for the reasons indicated."
During initial questioning, Jackson asked Little to review screenshots provided to MSP investigators, pressing him on the substance of the texts and whether or not those texts were complete. Little acknowledged that the screenshots were not inclusive of all messages that he had between himself and his girlfriend the night of the alleged groping sexual assault.
Jackson also implied that Little's mother, Heather Unruh, may have deleted text messages prior to the phone being delivered to police. "We know that somebody deleted it," Jackson said. "If she's gone through and scrubbed that phone to make him look like a little choir boy," then she's committed a crime and could be prosecuted. "That's not fair to us."
MSP Trooper-Detective Gerald F. Donovan testified that Unruh had provided the phone and password, which Jackson noted meant she could have "scrubbed" the phone prior to turning it over. "She could do anything she wanted," Donovan said, adding that Unruh told him she had deleted "frat boy activities" she didn't want police to see.
Before being questioned under oath, Unruh was given to opportunity to plead the Fifth, which she declined. "I have nothing but the truth to tell," Unruh told Judge Barrett.
Unruh then testified that, as a mother, she had deleted content that "concerned" her but she never told her son to delete anything nor did she delete messages Jackson was asking about. "I didn't touch anything that was relevant to the case," she said.
With Little's testimony stricken, the Cape and Islands' prosecution team is faced with a legal version of a "he said—he said" scenario since no video tape exists from inside the bar area of the Club Car restaurant showing the alleged incident, nor have any other witnesses come forward to testify that they saw Spacey grope Little.
Jackson told reporters that he would be filing a motion to dismiss the case. A spokesperson told the Los Angeles Blade that the Cape and Islands District Attorney's office will be reviewing its options. Judge Barrett set another hearing for July 31.
While the Nantucket case may be up in the air, Spacey is still under criminal investigation in Britain. A spokesperson for Scotland Yard told the Los Angeles Blade on July 8 that British detectives are continuing their investigation into the former artistic director of the Old Vic theatre after authorities received three more allegations of sexual assault from February to April of 2018, in addition to three accusations made in late 2017. – Karen Ocamb contributed to this story. 
Photo of Kevin Spacey from Wikipedia
Another Trans person confirmed murdered this year- USAF vet & Mother
Her friends will always remember her infectious personality & her unmistakable laugh. She loved others passionately and fiercely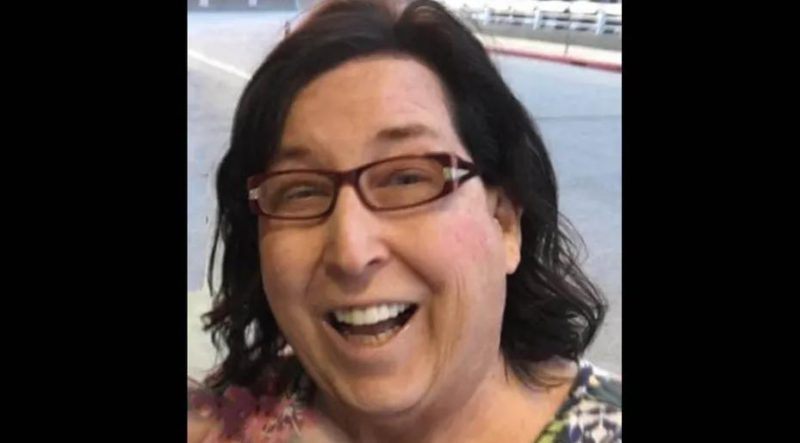 MEADE COUNTY, Ky. – Another Trans person has been confirmed murdered this year bringing the deadly total to 49 deaths of transgender and gender non-conforming people in 2021 according to a tally kept by the Human Rights Campaign.
Cris Blehar, a 65-year-old white transgender woman, mother, and U.S. Air Force veteran, was discovered stabbed and shot to death by Meade County sheriff's deputies who had responded to her rural home on Woodland Road in the Flaherty area. Deputies had been dispatched to perform a welfare check from an unidentified person concerned about Blehar.
The Elizabethtown, Kentucky, News-Enterprise newspaper reported that the Kentucky State Police had made an arrest in the case only a few hours after Blehar's body was found of Vine Grove resident Tyler J. Petty, 18.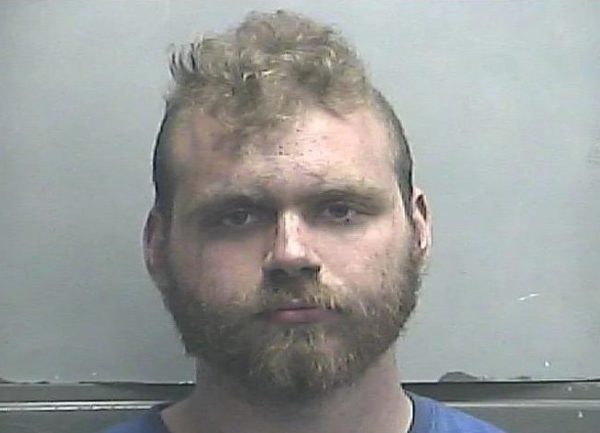 "There was no relationship between the victim and the suspect. We believe he worked for her," said Kentucky State Police Trooper Nicholas Hale in an email to the News-Enterprise. Petty was arrested and brought to KSP Post 4 and was interviewed about the case. Police say he admitted to killing Blehar. A trial date has been set for June 2022.
The murder in this rural area about an hour Southwest of Louisville on May 19, 2021, was brought to the attention of the Human Rights Campaign this week when Blehar's cousin Mark Stephens contacted HRC to ensure that she was "remembered, honored, and counted" as a member of the transgender community. 
In a statement to HRC, Mark Stephens said;
"If there is one thing to know about Cris, it was that she fought fiercely to define her life as SHE wanted. Whether it was her military service, her 20+ year career in the airline industry, or her post retirement decision to buy a farm & start a family of her own. She lived life to the fullest and wanted everyone around her to live their best life as well. Growing up 'different' in Kentucky is certainly no easy task, something we shared in addition to being cousins, and she tackled it with the passion and zeal that only she could have. Her friends will always remember her infectious personality & her unmistakable laugh. She loved others passionately and fiercely, none more than her own son, Maverick."
Blehar's son Maverick Thompson paid tribute to her, writing:
"Cris was an amazing mother and a wonderful person. She had so much love and brought a smile to many. She had a hilarious sense of humor that will live on through those that knew her. She will be sorely missed!"
According to her obituary, Blehar was a former law enforcement officer in the U.S. Air Force and retired from United/Continental Airlines. She also worked as an Uber driver and loved animals and bowling.
HRC has officially recorded 49 deaths of transgender and gender non-conforming people in 2021, more than in any year since we began tracking this violence in 2013.
Victory Fund honors Maine House speaker in D.C.
Ryan Fecteau is gay Catholic University alum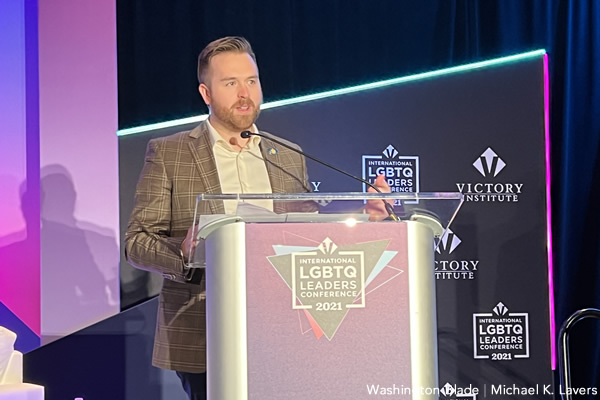 WASHINGTON — The Victory Fund on Saturday honored Maine House Speaker Ryan Fecteau on the last day of its International LGBTQ Leaders Conference in D.C.
Fecteau — an openly gay Catholic University of America alum — won a seat in the Maine House of Representatives in 2014. He became the chamber's speaker in 2018.
"Hate and intolerance will not derail us," said Fecteau after Florida state Rep. Carlos Guillermo Smith presented him with the Tammy Baldwin Breakthrough Award, which is named after U.S. Sen. Tammy Baldwin (D-Wis.). "Our community will not be intimidated."
The Victory Fund on Friday honored Guatemalan Congressman Aldo Dávila, a gay man who is living with HIV.
Unprovoked attack in WeHo may be latest in a string of violent crimes
McGrath spent two weeks in the hospital and underwent multiple surgeries due to injuries that doctors told him were caused by a blunt object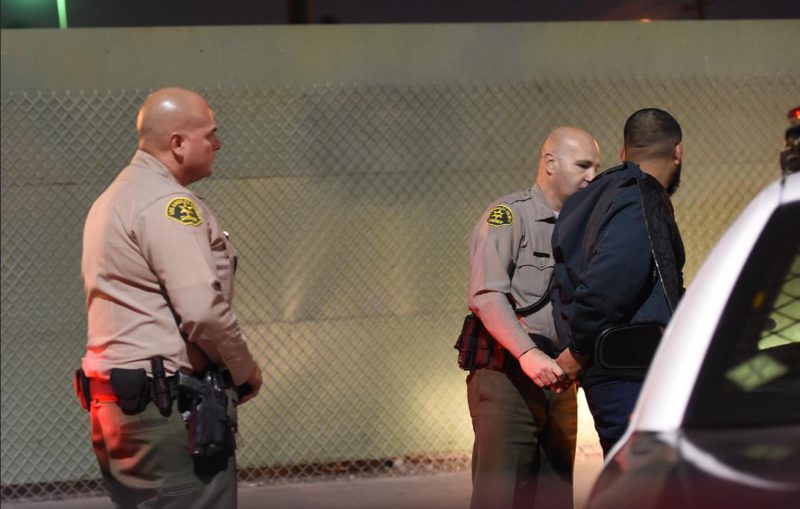 WEST HOLLYWOOD – After an evening out with friends in West Hollywood at the Abbey on November15, Matthew McGrath found himself in hospital the next day with a fractured jaw and his wallet and mobile phone missing.
According to McGrath, who has lived in WeHo for five years, he was walking home along San Vicente Boulevard when he heard "some slurs, some profanity." "I'm not exactly clear on what, [happened next] but sort of a few minutes later, I just felt a really blunt force to my head, blacked out and was knocked unconscious," he told KTLA.
McGrath spent two weeks in the hospital and underwent multiple surgeries due to injuries that doctors told him were caused by a blunt object KTLA also noted.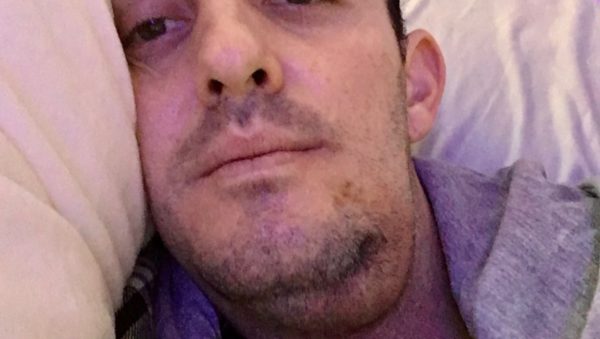 He said that he has filed a report with the West Hollywood Sheriff's substation about the assault and theft but as of Friday had not received a response.
KTLA also reported that the night after McGrath was assaulted, a person was beaten and stabbed on Santa Monica Boulevard. David Cook, 44, was arrested for that stabbing last month. There were also two similar attacks involving a different man using a baseball bat and a boxcutter on Nov. 18 resulted in another arrest last month the West Hollywood Sheriff's Station said in a statement posted to the webpage for the LASD.
"I've always felt safe in this neighborhood," McGrath told KTLA. He observed that although his attack was unprovoked given the other cases and arrests the timing seems suspicious. "We get a crime here or there in West Hollywood, but I have never heard of it happening multiple days in a row," he said. "Similar assaults, similar attacks, it just doesn't make a lot of sense to me."
A GoFundMe page has been created to help McGrath.
********************
WeHo attack leaves victim shaken, could be part of larger crime trend