July 9, 2019 at 10:10 am PDT | by Staff reports
Kevin Spacey case faces possible dismissal after accuser invokes Fifth Amendment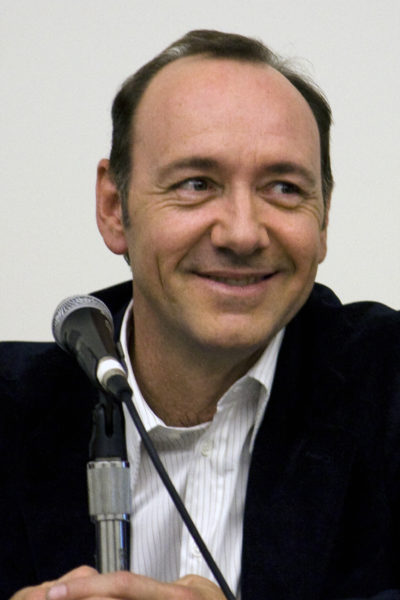 A pre-trial hearing in the felony sexual assault case against actor Kevin Spacey descended into chaos Monday, July 8 when Spacey's 21-year old accuser, William Little, suddenly invoked his 5th Amendment right against self-incrimination on the stand. This came after Spacey's famed Los Angeles defense attorney, Alan Jackson, questioned Little about his missing phone, noting that the young man could be charged with a felony for deleting evidence. Jackson contends that text messages would back up the actor's contention that the July 2016 incident in a Nantucket restaurant was consensual flirtation.
Spacey, 59, who faces one count of indecent assault and battery for allegedly groping the then-18-year old busboy, was not in court for the hearing. On July 3, Little dropped his 2016 civil lawsuit against Spacey.
There have been a flurry of court filings since January regarding Little's missing mobile phone with Jackson challenging the accuracy of screenshots taken by Little from that phone and whether text messages had been deleted before it was provided to police investigators. The issue led Nantucket District Court Judge Thomas Barrett to order Little, his mother, former Boston television station WCVB news anchor Heather Unruh, and his father Nick Little, to testify about the disappearance of the phone and about who last had custody of it—the Massachusetts State Police (MSP) investigators or Little's family.
MSP investigators maintain in the court filings that they gave the mobile phone to Nick Little. However, Boston attorney Mitchell Garabedian, who is representing Little's family, said the family doesn't remember that.
"Your honor, we could not locate the phone," Garabedian said. "My clients do not recall ever receiving the phone." The attorney also does not know about any deletions, but Garabedian said his law firm collected the phone's backup data from Little's MacBook Laptop and loaded it onto a portable drive.
Little has denied deleting anything from his phone. However, when pressed on the stand by Jackson about whether he was aware that destroying evidence is a felony under Massachusetts law, Little responded, "I am now." Little then invoked his 5th Amendment right, which caused Judge Barrett to immediately strike Little's testimony.
Jackson then asked Barrett to dismiss the case against Spacey, which hinges on Little's claims. "This entire case is completely compromised," he said. "This case needs to be dismissed, and it needs to be dismissed today."
Barrett did not dismiss the case but noted that Cape and Islands Assistant District Attorney Michael K. Giardino's team would have a tough time bringing it to trial if Little won't testify.
"Once exercised, it may be pretty hard to get around this privilege at trial," Barrett said. "The matter may well be dismissed for the reasons indicated."
During initial questioning, Jackson asked Little to review screenshots provided to MSP investigators, pressing him on the substance of the texts and whether or not those texts were complete. Little acknowledged that the screenshots were not inclusive of all messages that he had between himself and his girlfriend the night of the alleged groping sexual assault.
Jackson also implied that Little's mother, Heather Unruh, may have deleted text messages prior to the phone being delivered to police. "We know that somebody deleted it," Jackson said. "If she's gone through and scrubbed that phone to make him look like a little choir boy," then she's committed a crime and could be prosecuted. "That's not fair to us."
MSP Trooper-Detective Gerald F. Donovan testified that Unruh had provided the phone and password, which Jackson noted meant she could have "scrubbed" the phone prior to turning it over. "She could do anything she wanted," Donovan said, adding that Unruh told him she had deleted "frat boy activities" she didn't want police to see.
Before being questioned under oath, Unruh was given to opportunity to plead the Fifth, which she declined. "I have nothing but the truth to tell," Unruh told Judge Barrett.
Unruh then testified that, as a mother, she had deleted content that "concerned" her but she never told her son to delete anything nor did she delete messages Jackson was asking about. "I didn't touch anything that was relevant to the case," she said.
With Little's testimony stricken, the Cape and Islands' prosecution team is faced with a legal version of a "he said—he said" scenario since no video tape exists from inside the bar area of the Club Car restaurant showing the alleged incident, nor have any other witnesses come forward to testify that they saw Spacey grope Little.
Jackson told reporters that he would be filing a motion to dismiss the case. A spokesperson told the Los Angeles Blade that the Cape and Islands District Attorney's office will be reviewing its options. Judge Barrett set another hearing for July 31.
While the Nantucket case may be up in the air, Spacey is still under criminal investigation in Britain. A spokesperson for Scotland Yard told the Los Angeles Blade on July 8 that British detectives are continuing their investigation into the former artistic director of the Old Vic theatre after authorities received three more allegations of sexual assault from February to April of 2018, in addition to three accusations made in late 2017. – Karen Ocamb contributed to this story. 
Photo of Kevin Spacey from Wikipedia