Queer artists to perform at REDCAT festival of new works
'Amplifying the voices of women, queerness, artists of color'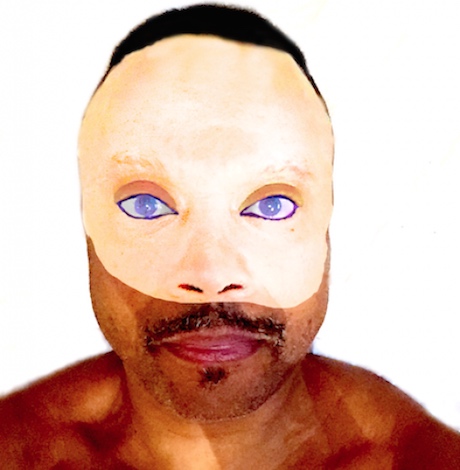 Summer is the time for festivals, and the Roy and Edna Disney/CalArts Theater (REDCAT), CalArts' downtown center for contemporary arts, is gearing up to present one of the most prestigious of them.
The 16th annual New Original Works (NOW) Festival, set to begin on July 25, is a three-week celebration of Los Angeles' vibrant artistic community, premiering new contemporary dance, theater, music and multimedia performance by visionary artists who invent hybrid disciplines, re-imagine traditions and confront urgent issues.
True to the spirit of CalArts, REDCAT's parent institution, the NOW Festival has served over its 16-year history as a catalyst for creativity and new ideas, premiering over 120 works by an impressive list of artists, and this year's installment will continue that tradition by launching nine new boundary-redefining works by emerging and mid-career LA artists.
REDCAT Associate Director Edgar Miramontes, who oversees the annual festival, calls it "a vital initiative for experimentation."
"The Festival creates opportunities for the artists that are all too rare," he says. "There is a great need for infrastructure to develop new performances, so NOW tries to address that need each summer."
For this year's festival, Miramontes promises, "The work presented at this year's NOW Festival is a mix of diverse ideas and artistic forms — amplifying the voices of women, queerness, artists of color and of aesthetic diversity in Los Angeles that are re-defining the boundaries of contemporary performance, inventing hybrid artistic disciplines, re-imagining traditions and confronting urgent issues."
Three of this year's participating artists will represent expressions of a queer viewpoint.
Andrew Ondrejcak, whose work will be presented during the first weekend (July 25 – 27), is a visual artist who focuses on "the divine feminine and the non-binary." For the NOW festival, he collaborates with choreographer Katherine Helen Fisher on "The Muses," a performance that conjures a communal space in celebration of the divine feminine. Nine femme and non-binary dancers/performers render a suite of lush and riotous dances, pulsating to the imagistic nature of Helado Negro's cosmic synth-folk sounds, accompanied by visuals and costumes from Ondrejcak which link historical art objects with contemporary iconography, providing a queer perspective on classical forms.
Paul Outlaw (Aug. 1-3) explores American bigotry and sexual violence in his solo performance "BBC (Big Black Cockroach)," directed by Sara Lyons and inspired by Franz Kafka's "The Metamorphosis." A white, cis, heterosexual, American woman awakens to find herself transformed into what she considers to be a monstrous vermin – an African-American man – and now held prisoner by her own husband. Through the absurd, Kafkaesque lens of this scenario, the audience will experience an evocative, farcical horror show about black virility, white fragility, xenophobia/racism, gender confusion, internalized homophobia and misogyny – which Outlaw believes is the true essence of homophobia.
Austyn Rich (Aug. 8–10) will offer "Bl**dy Spaghetti," a fervent and virtuosic new performance work inspired by images of queer men of color in the military and honoring black/brown troops. Dance artist Rich invites the viewer into a highly charged (sexual? sensual?) room where two sailors, sensing an end is near, refuse to communicate with each other and instead engage in a dance celebrating companionship, death and unspoken love. Remembering and honoring black and brown troops who were front-lined, "Bl**dy Spaghetti" celebrates companionship, self-worth, death and unspoken love as something worth feasting over.
Each of these three pieces, like the other works slated for inclusion in the NOW Festival, are rich with themes that resonate with today's social and cultural environment.
Miramontes points out, "The 2019 edition is concerned with our current political climate; adding perspectives that allude and move us to engage in systematic change inclusive of queerness, race, and political action."
"In my point of view," he continues, "artists are the answer. Artists have long been at the forefront of being disseminators of new ideas and creative solutions, being mediators of change. The works manifest in various ways that, through their artistry, have a heightened impact."
The artists participating in the NOW Festival have been in residence at REDCAT since late May. All artistic teams receive free rehearsal space, technical support, and artist fees.
In addition to the artists listed above, NOW Festival will feature works by:
Sola Bamis ("The Tutorial Part II: The White Tears Tea Steam")
zach dorn and Danielle Dahl ("Sponge Hollow")
Kate Watson-Wallace, Hprizm and Verónica Casado Hernandez ("kim")
Alexandro Segade and Amy Ruhl ("Popular Revolt")
Source Material ("A Thousand Tongues")
Jesse Bonnell ("Paradise Island")
Each of the three weekends features a triple bill of three premieres in a shared evening. Each program is premiered on Thursday evening and repeated Friday and Saturday evenings at 8:30 p.m.
Miramontes – who says he sees his job as "being at the service of artists" – is excited to unveil the work of all these talented visionaries as the NOW Festival kicks off this weekend.
"REDCAT's NOW is a place," he says, "where artists not only experiment with their artistic from, but are encouraged to take risks, be bold in their ideas and in the end, whether you like or dislike an artistic work, it certainly leaves you with something — whatever that may be. It's always fun to experience the results."
REDCAT's NOW Festival runs July 25–Aug. 10. For more information on schedule, venues and tickets, visit redcat.org.
Turning pain into positive & using art as therapy – Carl Hopgood
He knew he wanted to embark on a path toward a "bold, exciting life" among other "creative people" while "doing amazing things and living"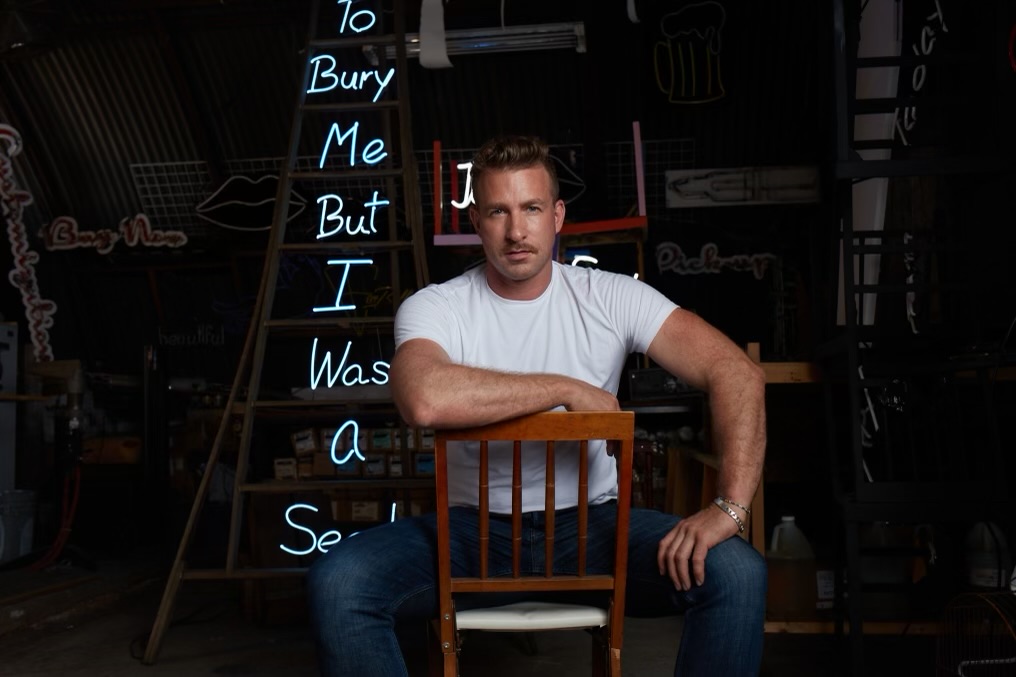 LOS ANGELES – Like many people born with an inclination toward creative expression, Carl Hopgood has known from a very young age that he wanted to be an artist.
Growing up on a small farm in rural Wales, the Cardiff-born Hopgood spent his childhood surrounded by animals and nature, letting his imagination run wild and creating worlds he envisioned with baskets, fruit boxes, flowers, stones, tabloid clippings, and other items that struck his fancy. Then, at 7, he was invited to spend an afternoon with his best friend, whose cousin was visiting; that cousin happened to be Richard Burton, and he happened to be accompanied by his even more famous wife, Elizabeth Taylor.
Hopgood was not just star-struck, he was inspired.
"My world was never the same after that day," he tells the Blade. "They told stories about Hollywood, London, glamorous parties, movies, photography… and Andy Warhol! Andy Warhol was my first artist crush. He was also born on a farm, so I felt an immediate connection."
After that experience, he knew he wanted to embark on a path toward a "bold, exciting life" among other "creative people" while "doing amazing things and living."

Four decades and one continental transplant later, it can safely be said that Hopgood has accomplished his goal.
A successfully established LA-based artist, he's created a unique body of work that includes pieces in Neon, Sculpture, Film / Video Installation, and canvas painting; his collectors include Morgan Freeman, Eugiono Lopez, The Vinik Family Foundation, The Groucho Club and Rupert Everett; and recent exhibitions of his work – like his neon art installations 'Looking For Love In All The Wrong Places', 'My Heart Is Open', and 'You Changed My Life' at the Maddox Gallery in West Hollywood, and 'Chair Therapy' at United Talent Agency's UTA Artspace LA – have garnered a flurry of enthusiasm and increasing national attention.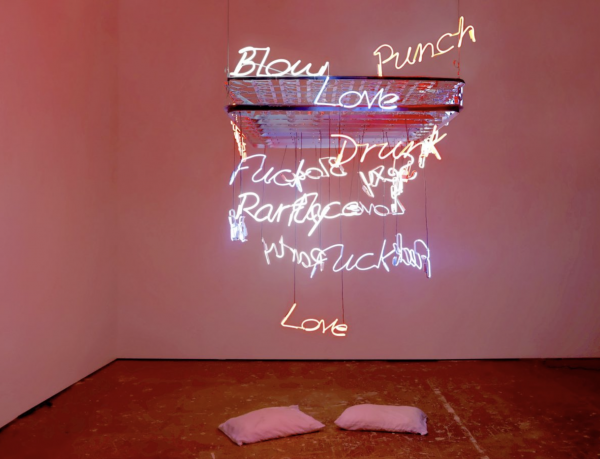 The latter installation created a particular stir with its inclusion of a controversial neon sculpture called "Just Say Gay", Hopgood's response to the draconian anti-LGBTQ legislation championed by Florida Governor Ron DeSantis; that work was acquired by prominent collector Beth Rudin DeWoody and will be on display from December 2023 at her Bunker Art Space in West Palm Beach, Florida.
When talking with the Blade, Hopgood is keen to focus the discussion on a new goal – the completion of a documentary about the creation of "Chair Therapy" – but he's certainly willing to start the conversation by talking about the sense of queer defiance behind "Just Say Gay" and many of his other works, because the two subjects go hand in hand.
"Being a gay man of Welsh and Greek heritage," he proudly proclaims, "the fight against bullying, repression, injustice and discrimination became central themes of my artistic expression."
As he explains, that fight is rooted in a traumatic childhood experience. "I was bullied by classmates," he remembers. "They would chase after me, push me to the ground and kick me in the groin. I managed to escape and found sanctuary under a stack of chairs in the school assembly hall. The school therapist helped me cope by using a technique called Empty Chair Therapy, where you would talk to an empty chair about your feelings.
"I decided turn this pain into something positive and use art as my therapy."

Much later, the young Hopgood would be inspired by the confrontational aesthetic of Damien Hirst – after reading a scathing criticism of one of his works in the paper – and follow in the controversial artist's footsteps to Goldsmiths College in London, eventually becoming part of a movement with fellow graduates like Steve McQueen, Jason Martin, Ceal Floyer, Angela De La Cruz and Alessandro Raho.
"It was an incredible moment to be a young artist in 1990s London."
Nevertheless, after 20 years in the London art scene, he decided it was time for a change.
"I had just watched a documentary featuring David Hockney," he explains. "The freedom and possibility of David's work was clearly inspired by Southern California with its beautiful palette and open, sunny skies. It was a stark contrast to the gloomy weather of the UK, and the anxiety and depression that accumulated over the years. I had heard about the growing LA art scene –LACMA, MOCA and The Broad were beginning to attract an international audience – and I decided that moving to Los Angeles would be good for both my mental health and creativity."
The choice was a fortuitous one for him – "It was the perfect time to go," he says, "and I was ready to work in new mediums and expand my repertoire." Then, like the rest of us, he had to put all his plans indefinitely up in the air.
"In early 2020, when the pandemic hit," he tells us, "I would see all the bars and restaurants shuttered in West Hollywood. It was like a ghost town. Looking through the store front windows, all I could see were chairs stacked on top of each other – and that image took me straight back to my unhappy childhood."
He decided to use it for inspiration and began work on the first sculpture in the "Chair Therapy" series ("My Heart is Open") – which as he describes, addresses "toxic masculinity, oppression and queer identity, themes I've always championed."
Those themes are doubtless also at least partly behind his desire to see the planned documentary – titled "Fragile World" – reach fruition. Filmed during the pandemic, it profiles Hopgood by charting his personal artistic journey, but centers on the development of "Chair Therapy", in which he combined found and vintage wooden chairs with neon lights shaped into positive words to provide hope, love and support for a community who were hardest hit by Covid and the shutdowns it necessitated.
"Seeing those stacked chairs and tables, in those empty establishments, I knew some would be forced to close for good. I felt so helpless, but I knew there was something I could do."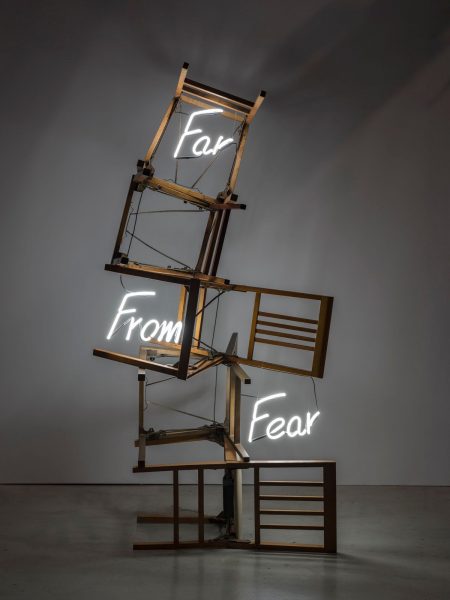 Now, with his own hard-hit community – alongside many others – facing aggressive legislative oppression from the extremist right, he's determined to see the film finished, so that the same empowering message of optimism embodied in his work can be spread to a larger audience as a reminder not to let the bullies break their spirit. To that end, the documentary's director and producer, LA-based British filmmaker Kate Rees Davies, has set up an Indiegogo campaign to raise the funding necessary to finish the project.
Another motivation, perhaps even more personal, might be found in Hopgood's revelation of a hidden influence in another work from the "Empty Chairs" series: "Twelve Steps", which explores the massive financial success of a California citrus industry made possible by the hard work of a segregated Mexican immigrant labor force. "I was also inspired in that piece by a line from Greek poet Dinos Christianopoulos," he says, "who was sidelined by the Greek literary community in the 1970s because he was gay. It's a small but powerful couplet which was included in the collection 'The Body and the Wormwood' that reads, 'What didn't you do to bury me, but you forgot that I was a seed.'"
For Hopgood, perhaps, the documentary also represents a seed, one that he himself has planted in hope of spreading its positive power into the world – and he's counting on the support of his patrons through Indiegogo for the water, light and nourishment it requires to grow.