Mass shooting kills 3, including 6-year-old boy, 12 injured at Gilroy Garlic festival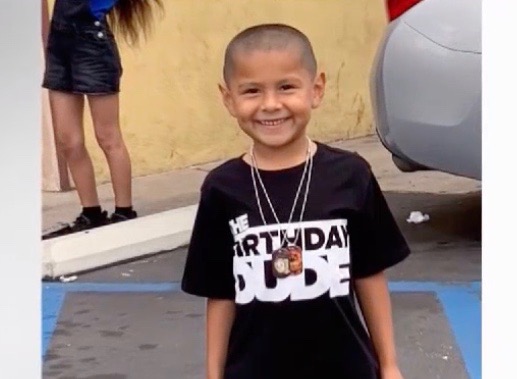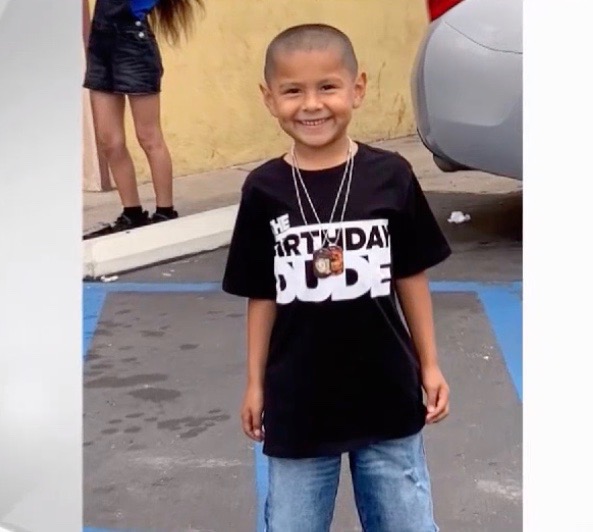 UPDATE: At a Monday morning news conference about the Gilroy Garlic Festival shooting, Gilroy Police Chief Scot Smithee said that the three who died were a 6-year-old boy (identified by his father as Steven Romero, pictured above)) and a 13-year-old girl and a man in his 20s who he would not identify. Santino William Legan, 19, of Gilroy, was identified as the killer, who was fatally shot by police at the scene. Legan apparently purchased the assault-style rifle on July 9 in Nevada. Police still have not determined a motive but according to the Los Angeles Times, hours before the shooting Legan posted a now-deleted photo of the festival and a photo "of a Smokey Bear sign warning about fire danger with a caption that instructed people to read the novel 'Might Is Right' by Ragnar Redbeard. The book, published in 1890, includes principles related to Social Darwinism and is described as including misogynistic and racist ideas."
Steven Romero, who had just celebrated his sixth birthday at LEGOLAND California Theme Park, was among the three people killed when a gunman armed with an assault-style weapon opened fire on the family-oriented Gilroy Garlic Festival late Sunday. Romero's mother and grandmother were among the 12 wounded or injured in the panic that ensued during the as-yet unexplained attack at the famous annual event southeast of San Jose.
"My son had his whole life to live and he was only 6," father Alberto Romero, who was home with their 9-year old daughter at the time of the shooting, told NBC Bay Area. "That's all I can say."
Security was tight at the festival, with metal detectors and checks of backpacks. But police said the gunman cut through a back fence to gain entry during the final hours of the three-day festival.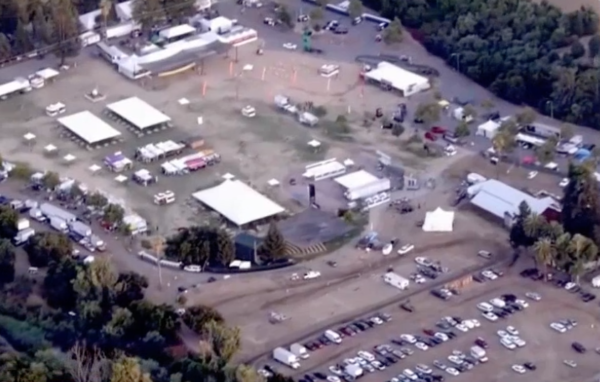 A band called TinMan was playing "We're an American Band" when the shooter opened fire.
"Singer Jack van Breen said he saw a man wearing a green shirt and grayish handkerchief around his neck fire into the food area with what looked like an assault rifle. Van Breen and other members of the band dove under the stage. Van Breen, from nearby Santa Clara, said he heard someone shout: 'Why are you doing this?' and the reply: 'Because I'm really angry," NBCBay Area reported.
The gunman, identified by federal law enforcement as Santino William Legan was killed by police. A motive has not yet been revealed. A second suspect may have been involved but that has yet to be confirmed.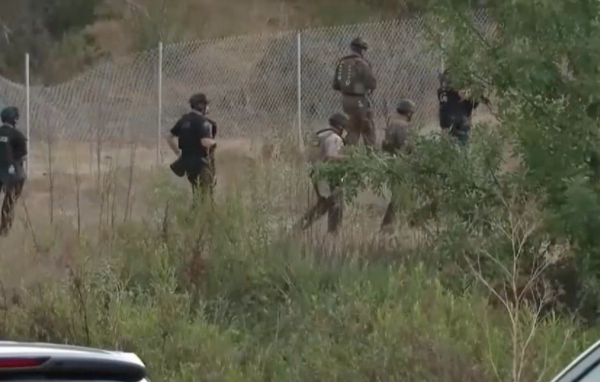 Screenshot from NBC Bay Area of police searching for second suspect
"This is a tragic incident for our community," said Gilroy Mayor Roland Velasco. "On behalf of the city and the Gilroy City Council our thoughts and prayers go out the victims and families."
"It was quite shocking, and I'm fortunate to be alive," Michael Paz, 72, a hat vendor at the festival, told the San Francisco Chronicle, noting that he was about 80 feet away from the gunman.
Paz described the shooter a man in his 30s with a rapid-fire assault rifle. "He came ready to shoot because he was wearing a protective vest," Paz said. "He was shooting left; he was shooting right without any particular aim." Everyone dropped to the ground or ran as police converged on the area.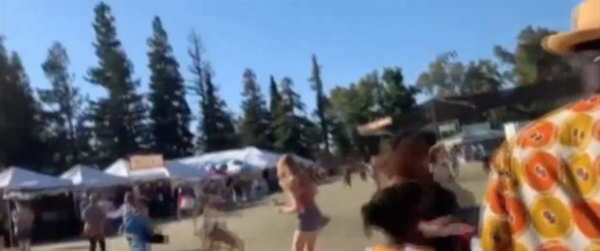 Screenshot from video showing panic (via NBC Bay Area
The Chronicle reports that "the first 911 calls came in at 5:41 p.m. with witnesses telling police the shooter was a white male in his 20s wearing a camouflage uniform and hat with a long rifle with removable clips."
Mark Mendoza, 16, said he was near a children's play area when a man wearing a "sheriff-type outfit" armed with a semiautomatic rifle pointed at a food vendor area and started shooting. "A couple bullets hit the ground, I just ran," Mendoza told The Chronicle. "I looked back, and a couple shots went by me." One bullet hit his cousin in the leg as the family scrambled into a wooded area for cover. One bystander helped some children climb through a fence.
"You could hear the bullets whizzing by," said Herman Solis of Hollister, who was at the festival with his girlfriend. "It was unreal. We ran and ducked for cover. It was chaos. At first I thought it was fireworks. Then I realized it wasn't."
Police Chief Scot Smithee is expected to hold a news conference Monday to provide more details.
Gilroy police asked anyone with any information about the shootings to call 408-846-0583.
Padilla, local leaders celebrate passage of Respect for Marriage Act
"There's no better place than San Francisco to celebrate passage of the Respect for Marriage Act & affirm lives of millions of LGBTQ people"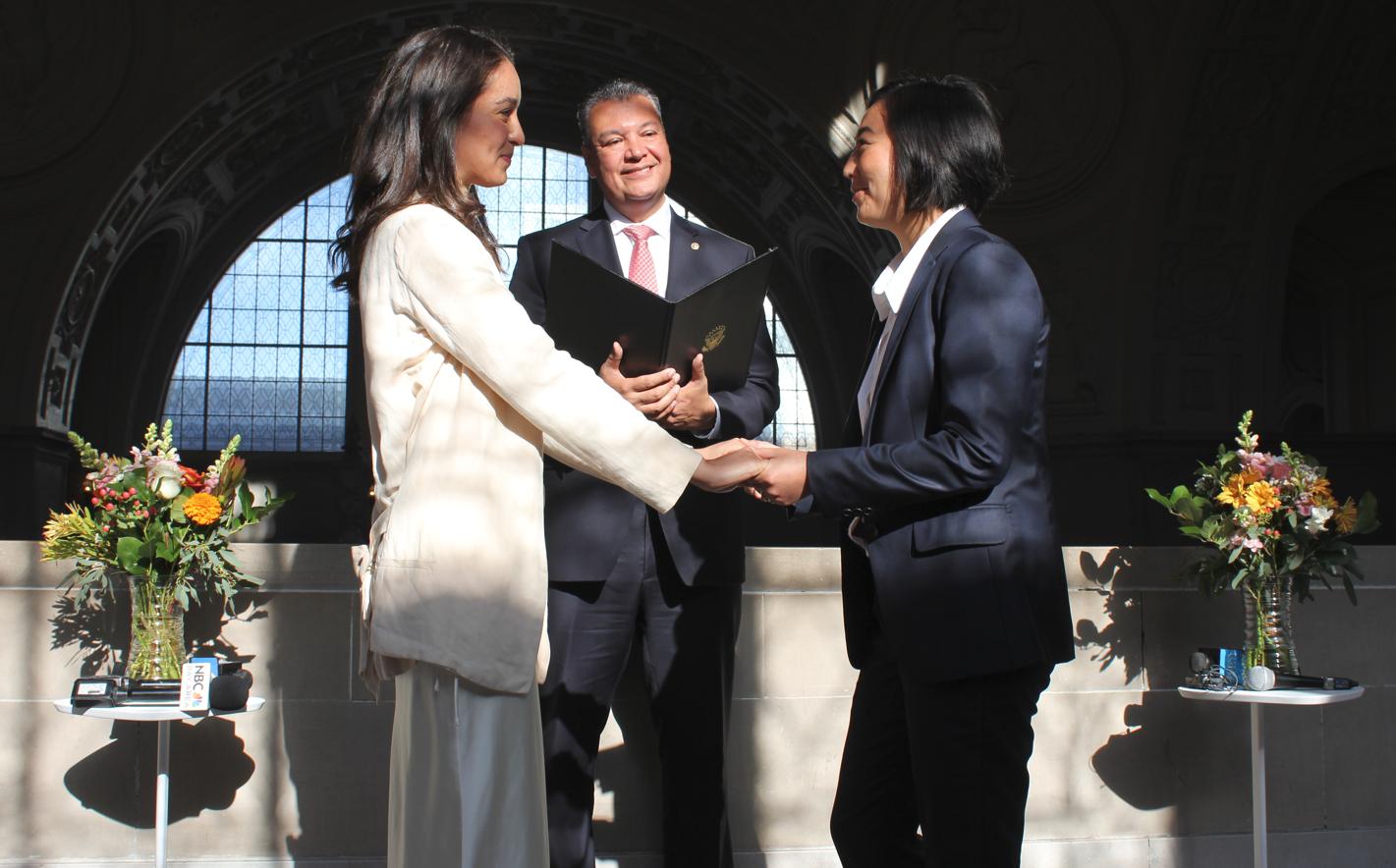 SAN FRANCISCO —  U.S. Senator Alex Padilla (D-Calif.) on Friday hosted a press conference with San Francisco Mayor London Breed, State Senator Scott Wiener, Equality California Executive Director Tony Hoang, and local leaders following the Senate passage of the Respect for Marriage Act.
Senator Padilla also officiated a vows renewal ceremony of Cyn Wang and Tessa Chavez, a local lesbian couple, at San Francisco City Hall to mark the historic occasion.
The Respect for Marriage Act requires the federal government to recognize a marriage between two individuals if the marriage was valid in the state where it was performed and guarantee that valid marriages between two individuals are given full faith and credit, regardless of the couple's sex, race, ethnicity, or national origin. The legislation passed the Senate by a vote of 61-36.
"There is no better place than San Francisco to celebrate the passage of the Respect for Marriage Act and unequivocally affirm the lives of millions of LGBTQ people and interracial couples across our country," said Senator Padilla. "We celebrate the progress that we have made today, but recognize the work still left undone to fully protect the rights of LGBTQ Americans. I'll continue working to build on our efforts until we ensure that every American is treated equally under the law, free from discrimination."
"I was proud to introduce the Respect for Marriage Act over the summer, and I'm even more pleased that the bill passed the Senate this week with strong bipartisan support," said Senator Dianne Feinstein. "The Respect for Marriage Act will guarantee legal protections for millions of marriages in the United States. Simply put, Americans should be free to marry the person they love, regardless of sexual orientation or race, without fear of discrimination or fear that their marriages will be invalidated. This was a historic vote and one that every proponent of equality can be proud of."
"The Respect for Marriage Act is an important step forward in the continued fight for LGBTQ and racial equality in America," said State Senator Scott Wiener. "Today, we celebrate this victory for our civil rights, and tomorrow we recommit to fight even harder against the right-wing Supreme Court's efforts to legalize discrimination in this country."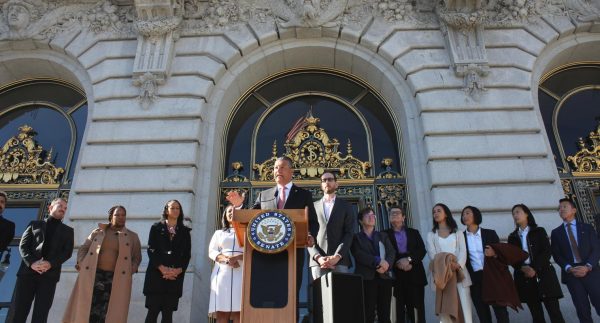 "San Francisco's history is inseparable from the history of the LGBTQ community and the movement for marriage equality locally, at the state level, and nationally," said Mayor Breed. "As we celebrate the passage of the Respect for Marriage Act, we honor those who have endured discrimination and hate, and the many who lost their lives in the quest for equality. We recommit ourselves to protect the fundamental rights of all people regardless of who they are or whom they love. Thank you to Congressional leaders, especially Senators Dianne Feinstein and Alex Padilla, and Speaker Pelosi for their leadership to pass this historical legislation."
"Equality California applauds this historic vote and the critical leadership of Senators Baldwin, Feinstein and Padilla, in getting this bill across the finish line," said Equality California Executive Director Tony Hoang. "While this is an important step in affirming the dignity of the LGBTQ+ community, it will not end all discrimination against LGBTQ+ people or erase the hateful rhetoric of anti-LGBTQ+ politicians and extremists. Equality California will continue to fight for full, lived equality for all LGBTQ+ people until the work is done."
"The Respect for Marriage Act removes an ugly, discriminatory stain on our federal law books – the 1996 so-called "Defense of Marriage Act" – and replaces DOMA with a rule requiring government at all levels to treat all married couples equally nationwide," said Jenny Pizer, Chief Legal Officer, Lambda Legal. "We hope we never need it.  But if the U.S. Supreme Court were, outrageously, to erase the constitutional protection for the freedom to marry, this law will substantially reduce the harms. Yet, even if the Respect for Marriage Act were to become necessary, it would not be sufficient. We still urgently need the Equality Act to become law, to protect LGBTQ people from the widespread discrimination that persists in the commercial marketplace and in public services with harsh, unacceptable consequences."
"It is a historic moment for the advancement and preservation of basic civil rights for all Americans, but by no means is our work done," said Kris Perry, Prop 8 Plaintiff & Nonprofit Director. "Our family and thousands of families like ours can breathe easier tonight knowing our fundamental rights are protected."
"After the Supreme Court overturned a woman's right to choice, we feared same-sex marriages were next," said Cyn Wang and Tessa Chavez. "The Respect for Marriage Act gives our family clarity and a sense of relief that our marriage, and those of all married couples regardless of sexual orientation or race, will be protected in this country."
The Respect for Marriage Act now goes to the House of Representatives for passage and then to the President's desk to be signed into law.
Senator Padilla is committed to pursuing equality for the LGBTQ community, including in employment, housing, and credit lending.
Earlier this year, Padilla introduced the LGBTQ Business Equal Credit Enforcement and Investment Act, legislation that would protect the 1.4 million LGBTQ-owned businesses in the nation from lending discrimination to ensure equal access to economic opportunities. Padilla also joined Senate Democrats in introducing a resolution recognizing June as LGBTQ Pride Month to highlight the work of the LGBTQ community in fighting to achieve full equality, including for marriage.