August 7, 2019 at 9:38 pm PDT | by Samson Amore
DTLA Proud gala raises LGBT community visibility downtown
"You're here to look fabulous, donate some money, and have a really good time," shouted emcee and drag performer Ryan Ong Paolo, more popularly known as Ongina, as she implored all the guests to take out their phones and text in donations.
The August 5 DTLA Proud Gala brought 300 people to the Otium in Downtown Los Angeles, selling out for the first time. This year's gala was not just a general fundraiser, it also helped raise funds for a new LGBTQ community center located Downtown.
As guests mingled and enjoyed photo shoots on the pink carpet next to the Broad Museum, the DTLA Proud staff worked to court some of the city's movers and shakers and to gain support for its ambitious plans for downtown.
DTLA Proud President Oliver Alpuche grew up in Highland Park and envisions downtown becoming similar to West Hollywood, where inner-city youth and the queer community can come together to celebrate their diversity without traveling far from their neighborhoods.
Alpuche knew West Hollywood was considered a queer mecca, but said that "as a kid, it would have taken me two and a half hours on a bus to get there. That's why it's so important that Downtown has a community center; it is accessible to everyone, it has the Metro, it's the melting pot of all of Los Angeles and we as a queer community need to have a presence here," he said.
Humble Beginnings
DTLA Proud began in 2016 when Alpuche and his co-founders held the first annual DTLA Proud Festival in Pershing Square.
What started as lighthearted community-building event proved to be a stepping stone for change, and has been held every year since along with a fundraising gala.
"What happened was we realized there was a lot of people who needed a voice, there were a lot of organizations that weren't even heard," Alpuche said.
The organization is assisted by various sponsors, including Fifth Generation Inc., doing business as Tito's Handmade Vodka, which offered to match up to $10,000 in donations this year. General gala tickets contributed $150 per guest this year.
At DTLA Proud's first fundraising gala in 2017, the board of directors envisioned establishing its headquarters at a downtown-based community center. Alpuche said the organization is currently in negotiations with construction providers and leasing agents for an unspecified location downtown.
The proposed space would contain, when completed, a lounge area and library stocked with LGBTQ literature, a queer artists gallery and a non-profit incubator for queer-run companies.  It will also contain up to 20 coworking office spaces, outposts for LGBTQ service providers, and an informational space to "help people discover services offered in L.A."
Alpuche said, "we have been fundraising for the past year but still have a long way to go," adding that DTLA Proud will need "roughly $1 million to support the opening, construction, and program support." DTLA Proud is still tallying the total donations from the gala but Alpuche said it was overall a success.
Officially Backed 
Numerous city officials have given Alpuche and his team the green light to construct the new center and continue their work.
L.A. City Controller Ron Galperin spoke at Monday's gala, expressing his support and saying, "I want to thank DTLA Proud for making a big difference in the City of Los Angeles, and for having great plans to make this a place (where) everybody can feel welcome."
Galperin pointed to the "crisis of homelessness in L.A., particularly downtown," and noted that "way too many" of L.A.'s homeless are LGBTQ-identified youth.
According to the Los Angeles Homeless Services Authority, estimated 49,521 people were unsheltered as of this month, and roughly 2,210 of those people were under 18.
The Human Rights Campaign estimates 40 percent of homeless youth nationwide identify as LGBTQ, and most experience homelessness after being rejected by their families because of their identities.
California ranks among the most progressive of states when it comes to handling LGBTQ affairs, but still experiences high rates of homelessness, particularly among its queer residents.
Councilmember Mitch O'Farrell represents LA.'s 13th district and is one of two openly gay LA City Councilmembers and also voiced his support for the project.
"How about that, only four years and look how incredibly fast Oliver and his board and volunteers are making this happen," O'Farrell said of the community center project. "I love this organization, my office supports it."
O'Farrell also said that many of LA's key industries are fueled by the creative force of queer employees, a further reason for the city to support them. "This community has something really special to offer the world. Can you imagine Los Angeles and the entertainment industry and arts and culture without the LGBT community," O'Farrell asked, "because I can't!"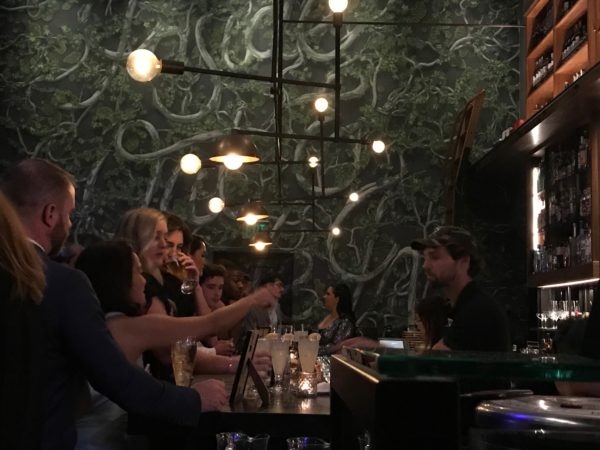 Forward Looking 
As the event wound down, guests bid on a silent auction featuring various prizes from winery tours to pocket squares, and Alpuche was constantly thronged by supporters of DTLA Proud's mission.
DTLA Proud hopes to start construction on the new center by 2020, Alpuche said.
"We worked day and night in order for this to happen, and also created a newly formed DTLA Proud advisory board," said Alpuche. "We have a lot of work ahead of us. This is a real, live space downtown and it's going to take a lot of funds and a lot of tools."