August 21, 2019 at 9:53 am PST | by Scott Stiffler
2019 DTLA Proud Festival aims for year-round visibility
The memory of Pride Month lingers, but now it's time to create some new affectionate recollections—and DTLA (Downtown Los Angeles) Proud has a wellspring of synaptic stimulation for the taking, when that booster of "the diverse LGBTQ population that lives, works and plays in LA's fastest-growing gayborhood" throws its annual community festival, featuring a slew of fabulous new offerings.
"We really believe in the four pillars of spreading optimism, growing the community, celebrating everyone's story, and expanding our definition of diversity," says DTLA Proud Board of Directors President Oliver Alpuche, of the four-year-old non-profit organization's mission statement. "Everything we do has those filters in it, whether we're planning events or visualizing our community center."
More on August 23-25's 2019 DTLA Proud Festival a bit later, dear reader—but first, the skinny on Proud's bid to widen its presence past that annual outdoor gathering, by establishing a permanent brick and mortar presence in Downtown Los Angeles.
"In order to fulfill our mission," says Alpuche, "we need to be active 365 days a year. So we set out to start building the infrastructure of how we become an organization that is represented year-round."
The answer comes in the form of their upcoming Community Center, which friends and supporters caught a glimpse of, during DTLA Proud's August 5 Gala, via renderings of the space they're currently bidding for.
Construction is set to begin next year. Once open, the Center plans to offer an all-ages cafe featuring a transitional youth job training program and a queer library, 20 co-working office spaces for LGBTQ+ non-profit start-ups, a conference room and theater, a community room and artist studios, a rooftop events space, a drop-in center, and LGBTQ+ services including career counseling, testing, senior support, and financial advisement.
Alpuche says DTLA Proud is still in the stages of engagement with the very community their Community Center will serve, to establish "what the programming looks like, and how LGBTQ non-profits will showcase their services. We're seeking input, to create a space where everyone is welcome. We bring events [and services] that will benefit the community."
Circling back to their recent Gala, talk turned to one something almost as important as a multi-faceted Community Center: fashion.
"We had a really spectacular pink carpet at the space at the Otuim, notes DTLA Proud Board of Directors Vice President Eric Solis, "and we really encouraged our attendees to 'dress to express.' We wanted our gala to be more of an atmosphere that is free, expressive, and inclusive."
"People put so much effort into their outfits, and breaking the norms of what 'cocktail attire' means. It was so great to see people having fun with it—sequins, kimonos, drag. We saw really fun, bright colors, that you wouldn't see at your typical gala event," says Alpuche, pointing readers toward the event's social media footprint. "A picture says 1,000 words," he notes, "and you'll see that on the Facebook page, where we posted all f them."
And when it comes to social media photo ops, you haven't seen anything yet. What they'll post after this year's Festival will make it seem as if you were there—and if you were there, and aren't the shy type, you just might see yourself in one of the post-event postings.
"We evolve every year," says Alpuche, of the Festival. "We look at what the feeling in the air is, and ask how we can support our community… We're also introducing The Marketplace," he says, of the custom-built shopping experience featuring 20 queer entrepreneurs (such as Stuzo Clothing and The Giving Keys), whose custom-built stores are meant to elevate their brands and showcase their businesses to the community. "The same goes," says Alpuche, for the debut of The Artist Alley, an art walk highlighting the work of 20 local queer artists.
This year, notes Alpuche, the Festival will have "a history monument, because it is the 50th anniversary of Stonewall, so we decided to crate a history/heritage monument, and a mural that will be painted throughout [the Festival]." In partnership with the One National Gay and Lesbian Archives, DTLA Proud, promises the monument will be "an amazing tribute to LA's queer history, dating back 10 years before Stonewall."
"If we don't know the past," says Alpuche, "we don't know where we need to go!"
Of what you'll find on the Main Stage, Alpuche notes, "We're excited to announce we have a 100 percent queer talent lineup." On Saturday, the rainbow-hued roster includes the Sisters of Perpetual Indulgence (2:10 PM), the Trans Chorus of Los Angeles (2:30 PM), June Clivas and the Ditty Boys (5 PM), and Kimora Blac (6 PM). At 7:20 PM, it's this article's very own Oliver Alpuche and Eric Solis, speaking on behalf of the Proud Board of Directors. On Sunday, you'll find, among many others, Cheer LA (12:45 PM), Trans Hour of Power (5 PM), The Pansy Craze Peepshow (6:30 PM), and Miss Shalae (9 PM).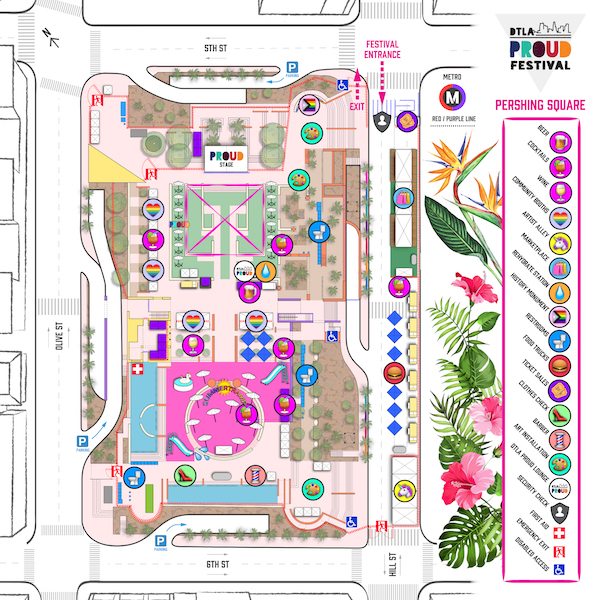 To accommodate this sprawling event, Solis notes, "We are doing a street closure of Hill Street. That goes to show we are growing out of the [past] boundaries, and further into the city."
And for those who want to join DTLA Proud as they continue to grow? New members are always welcome, said Alpuche, noting they are "a 100 percent volunteer board. We're small, but mighty. We're also looking for new Board [of Directors] members, and we'll have advisory board members coming online, who will help with specific committees. And we'd love as much of the community to get involved through our annual forums, where we get a pulse on what people want to see. We truly listen to them. If there's someone who is willing to create something for the community, we will be supportive of that."
The expanded Festival footprint, active recruitment of more volunteers and board members, and a Community Center that will serve as its year-round calling card came about because, Alpuche notes, "One of the things we realized this year, is, we're not going to wait for a seat at the table. We're going to go to our own."
The fourth annual DTLA Proud Festival happens Fri.-Sun., August 23-25, in Pershing Square. The alcohol-free, Free Friday event (4-10 PM) features Drag Queen Story Time, a Gaymers Lounge, and a Main Stage packed with local talent. Alcohol is available for purchase at the 12-10 PM, 21+ events on Sat. and Sun. Tickets are $10 per day. Buy yours today! All proceeds will help build the DTLA Proud Community Center.