September 17, 2019 at 2:15 pm PDT | by Karen Ocamb
Project Angel Food raises more than $800,000, breaking Elizabeth Taylor record (videos)
Maybe it was because the niche non-profit celebrated its 30th anniversary by giving LGBTQ icon Jamie Lee Curtis a richly deserved humanitarian award. Or maybe people are just so dispirited by the pervasive politics of hate, they wanted to contribute to a heartfelt cause that actually helps people. Whatever the motivation, Project Angel Food raised more than $800,000 at its 30th Anniversary Angel Awards Gala in Hollywood on Saturday, Sept. 14, breaking the previous 1999 Angel Awards fundraising record of $700,000 when Elizabeth Taylor was honored.
Curtis received the Project Angel Food Humanitarian Angel Award with Jami Morse Heidegger and Klaus Heidegger,  philanthropists and creators of skincare products Retrouve and Kiehl's Since 1851, honored with the Project Angel Food Leadership Award.
"Jamie Lee Curtis and Jami and Klaus Heidegger have been involved with Project Angel Food for well over two decades and they are not afraid to throw on an apron, roll-up their sleeves and get involved," said Executive Director Richard Ayoub.
Project Angel Food co-founder and Democratic presidential candidate Marianne Williamson took a break from the campaign trail to be present for the historic event.  Introduced by her longtime friend, grief expert David Kessler, with whom she co-founded the organization, the author and self-help guru put politics to the side and talked about the history of Project Angel Food during the AIDS crisis.
"This city was brash and young. Once AIDS arrived, there was a level of innocence that would never be the same again. When this organization was founded, it was a time of such despair — there was such hopelessness. Such devastation," Williamson recalled.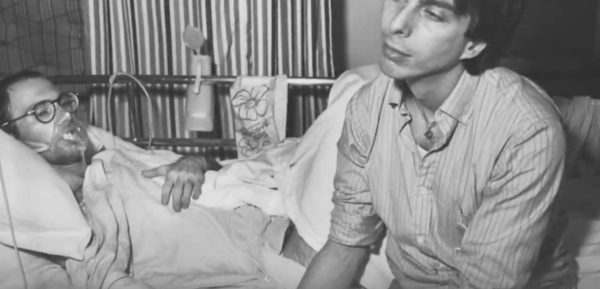 "It's wonderful the way that community, the city, has continued to nurture it, to appreciate it, to celebrate it, to keep it alive."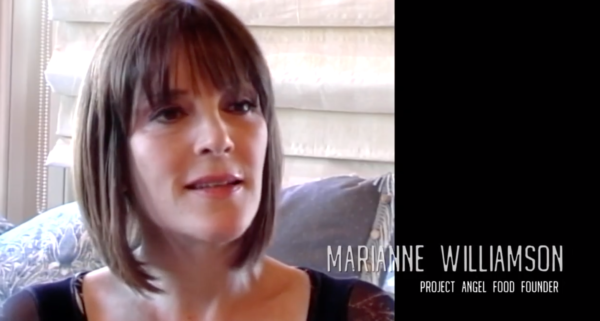 Marianne Williamson in 1989, screen grab from video retrospective
Williamson marveled at the growth of Project Angel Food. "Every year it's an opportunity to remember those who are no longer with us, particularly those who worked so hard to get it started ultimately," she said.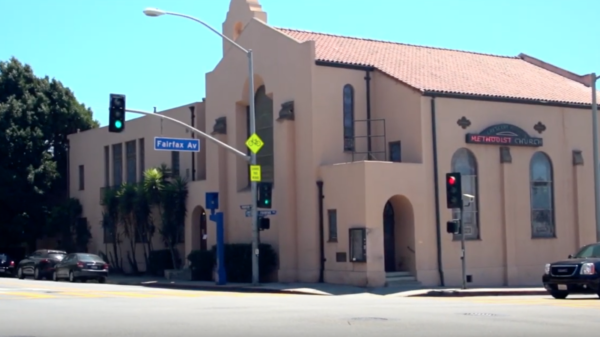 Crescent Heights Methodist Church at Fairfax & Fountain in West Hollywood where the Project Angel Food kitchen shared space with 12 Step meetings (screen grab from retrospective video)
"But it's also beautiful to see an organization that's kind of like a virtual child: it grows up and has its own life, has its own relationships. It's true there was a founding, but then there are other generations that if those people hadn't kept it alive, they deserve as much credit for continuing it as I feel like I deserve for starting it. But like a mother, I can still be very proud," she said.
Remembering lost friends and gratitude for the help being given the lonely, poor and ill today filled the air with a kind of spirituality.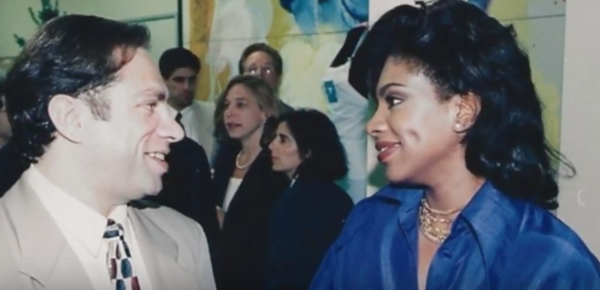 Actress, singer and AIDS activist Sheryl Lee Ralph, who came to fame as a member of the original "Dreamgirls" Broadway cast, introduced Mary Wilson, original member of  The Supremes, upon whose story the Michael Bennet musical was based.
Ralph remembered those old days of AIDS on Broadway. "You'd be dancing with your friend onstage one day and they'd be dead the next. One gone after another. It was heartbreaking," she said. "When I moved to Los Angeles, I found Project Angel Food and it found me and I knew that together we could offer hope."
Wilson, who is now a bestselling author, former U.S. Cultural Ambassador, humanitarian and Dancing with the Stars contestant, offered up a song, as did Maelyn Jarmon, winner of Season 16 of The Voice.
Famed movie tough guy, owner of Trejo's Tacos and California legend Danny Trejo provided a special fiesta menu for the night's event. But one of the most  moving moments of the night was after the screening of a short film featuring Project Angel Food Head Chef John Gordon and client Jean T. when the two met for the first time onstage.
The auction was a drama all its own when a bidding war broke out over dinner with Eric McCormack at Spago, donated by Barbara Lazaroff.  Four people bid $15,000 each, so auctioneer Gabriel Butu convince them all to have dinner together – so McCormack, , Nicollette Sheridan, Chaz Dean, LA Care CEO John Baackes and philanthropist Candy DeBartolo contributed $60,000 for the pleasure of their own company and a Spago meal. McCormack and his wife Janet (former board member) donated an additional $10,000.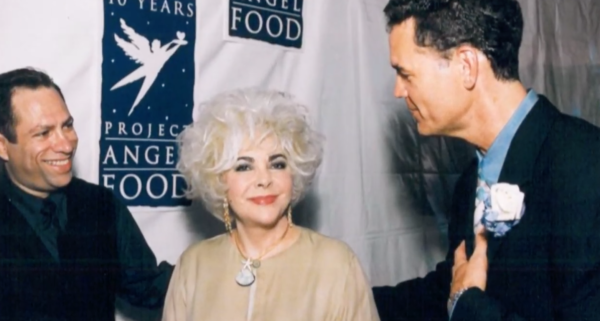 When the historic fundraising achievement of more than $800,000 was announced, surpassing the amount raised when honoring Elizabeth Taylor, many burst into tears, including longtime supporter KTLA reporter Gayle Anderson for whom Project Angel Food had been a refuge from grief after losing friends to AIDS.
Project Angel Food Executive Director Richard Ayoub underscored how the need for their charitable service has grown, noting that about 98 percent of their clients live at or below the poverty level. Last year, the organization served 1,400 sick, hungry, lonely people a day. Today, they feed 1,500 a day and by June of 2020, they expect to feed 1,750 people daily, a projected increase of nearly 20 percent,
Ayoub also talked about three new initiatives the organization has undertaken. Project Angel Food feeds a dramatically increased number of Native Americans with diabetes so they have launched the first research study to see how their healthy meals are helping bring down their clients A-IC levels to improve quality of life. The program is being funded by Running Bear Ramirez.
They are also partnering with LA CARE and LA County USC Medical Center to see if their meals help people who have diabetes and are insulin dependent.
Their third project is providing feminine hygiene products along with the free meal delivery to female clients who request the packages. A survey of all of their women clients found that about half of those under 50 often did not have enough money to buy these feminine necessities.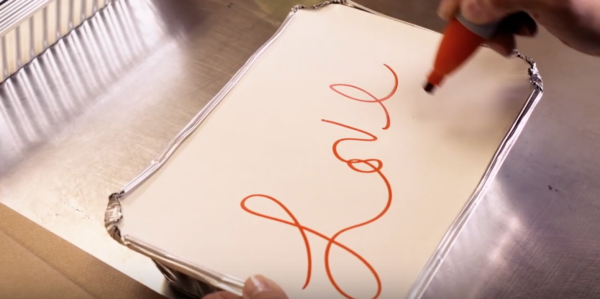 "It all comes down to creating and maintaining a space of dignity and improving the quality of life for our clients," Ayoub said. "Each and every one of you with us tonight is part of this evolution. At the beginning, we borrowed a small kitchen in West Hollywood. Today, this kitchen belongs to all of you.
In 1989, Bill LaVallee was a volunteer at Project Angel Food. In 2019, he was the ironic recipient of Project Angel Food's 12 millionth meal.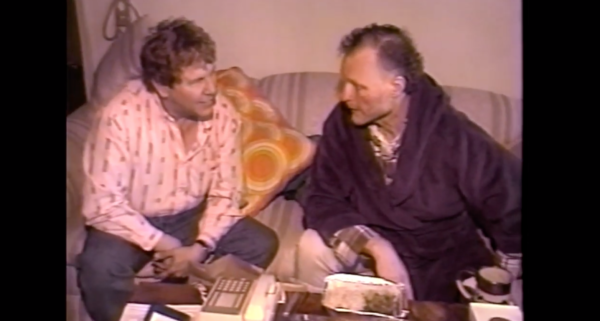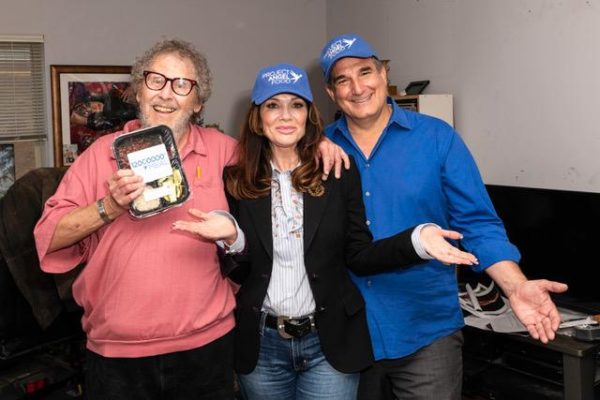 Videos from the evening: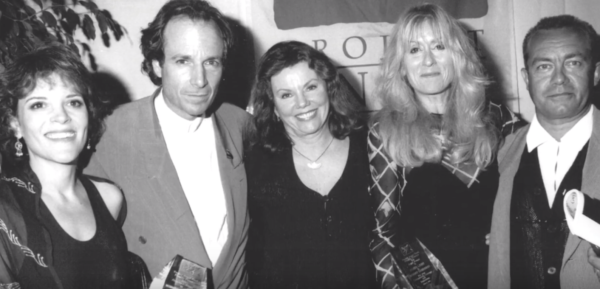 Judith Light narrates an historical overview – including footage of her back in the day.
Jamie Lee Curtis explains why she is so deeply involved.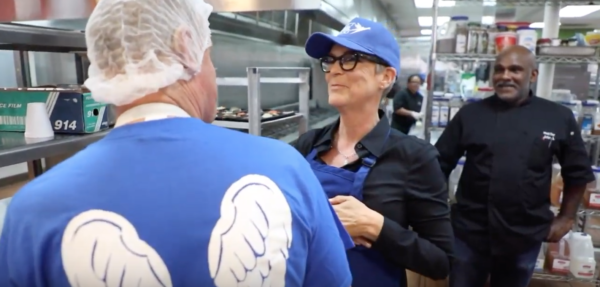 Sean Hayes humorously presents Jamie Lee Curtis with the Humanitarian Award, which she accepts

Jean B., infected with HIV in 1985, says "Project Angel Food saved my life." Chef John Gordon who says, "The whole point of what we do is to give to someone else. That's pretty awesome."