Project Angel Food raises more than $800,000, breaking Elizabeth Taylor record (videos)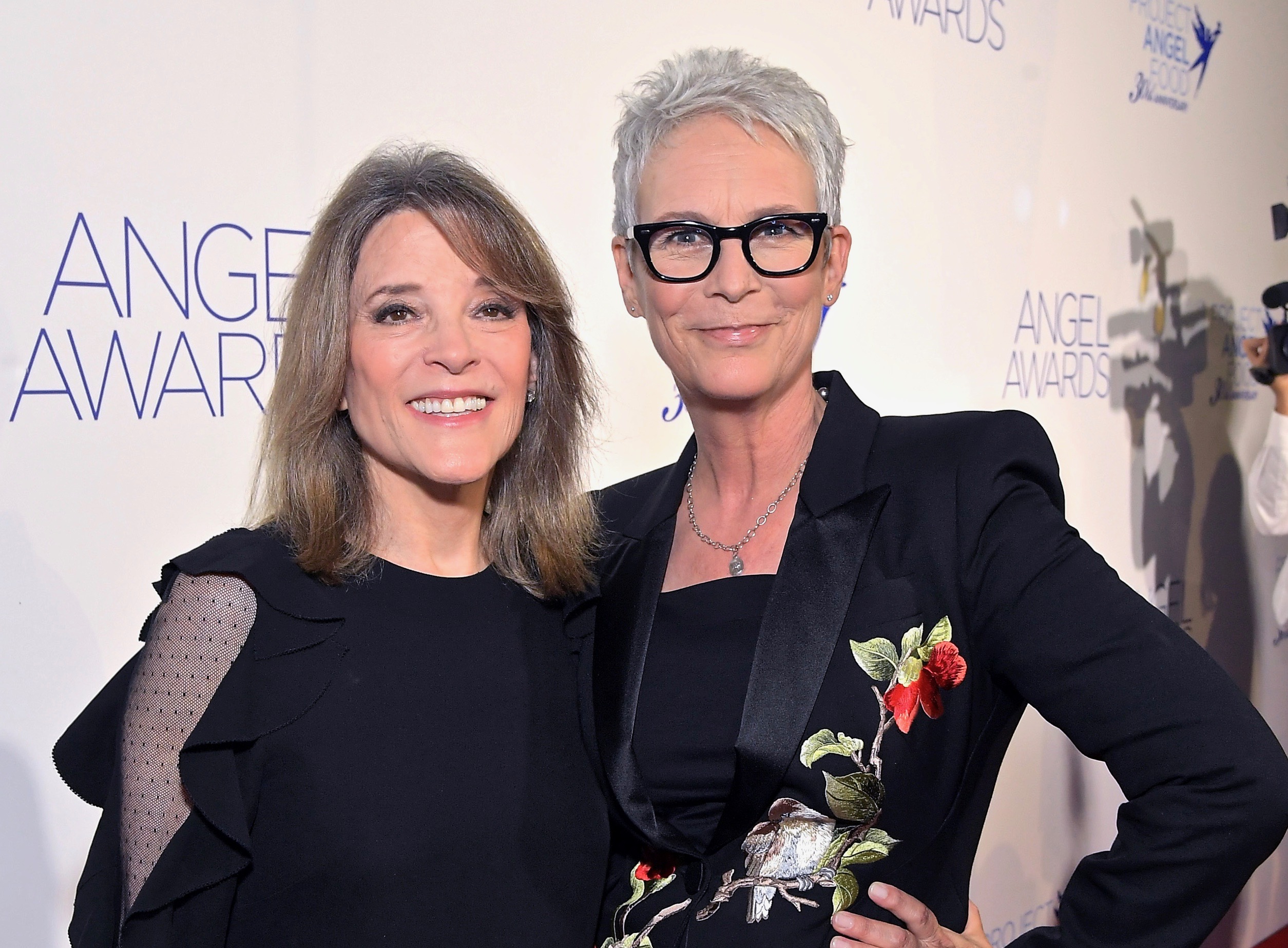 Maybe it was because the niche non-profit celebrated its 30th anniversary by giving LGBTQ icon Jamie Lee Curtis a richly deserved humanitarian award. Or maybe people are just so dispirited by the pervasive politics of hate, they wanted to contribute to a heartfelt cause that actually helps people. Whatever the motivation, Project Angel Food raised more than $800,000 at its 30th Anniversary Angel Awards Gala in Hollywood on Saturday, Sept. 14, breaking the previous 1999 Angel Awards fundraising record of $700,000 when Elizabeth Taylor was honored.
Curtis received the Project Angel Food Humanitarian Angel Award with Jami Morse Heidegger and Klaus Heidegger,  philanthropists and creators of skincare products Retrouve and Kiehl's Since 1851, honored with the Project Angel Food Leadership Award.
"Jamie Lee Curtis and Jami and Klaus Heidegger have been involved with Project Angel Food for well over two decades and they are not afraid to throw on an apron, roll-up their sleeves and get involved," said Executive Director Richard Ayoub.
Project Angel Food co-founder and Democratic presidential candidate Marianne Williamson took a break from the campaign trail to be present for the historic event.  Introduced by her longtime friend, grief expert David Kessler, with whom she co-founded the organization, the author and self-help guru put politics to the side and talked about the history of Project Angel Food during the AIDS crisis.
"This city was brash and young. Once AIDS arrived, there was a level of innocence that would never be the same again. When this organization was founded, it was a time of such despair — there was such hopelessness. Such devastation," Williamson recalled.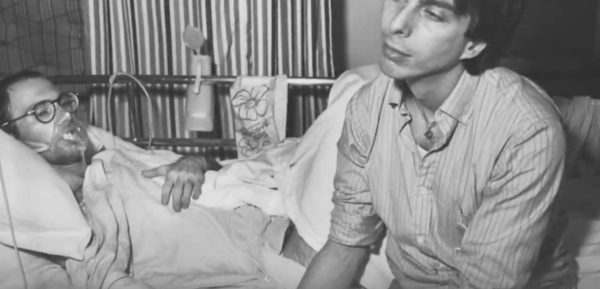 "It's wonderful the way that community, the city, has continued to nurture it, to appreciate it, to celebrate it, to keep it alive."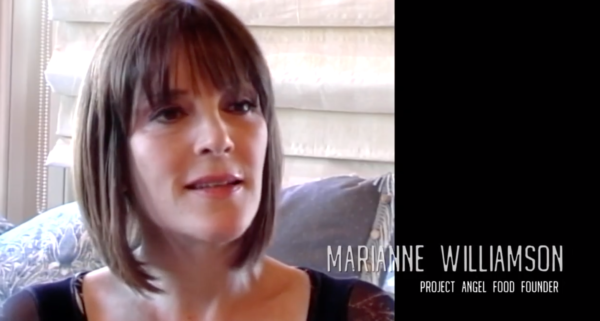 Marianne Williamson in 1989, screen grab from video retrospective
Williamson marveled at the growth of Project Angel Food. "Every year it's an opportunity to remember those who are no longer with us, particularly those who worked so hard to get it started ultimately," she said.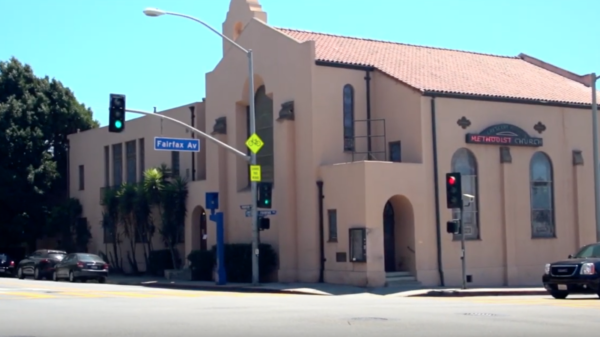 Crescent Heights Methodist Church at Fairfax & Fountain in West Hollywood where the Project Angel Food kitchen shared space with 12 Step meetings (screen grab from retrospective video)
"But it's also beautiful to see an organization that's kind of like a virtual child: it grows up and has its own life, has its own relationships. It's true there was a founding, but then there are other generations that if those people hadn't kept it alive, they deserve as much credit for continuing it as I feel like I deserve for starting it. But like a mother, I can still be very proud," she said.
Remembering lost friends and gratitude for the help being given the lonely, poor and ill today filled the air with a kind of spirituality.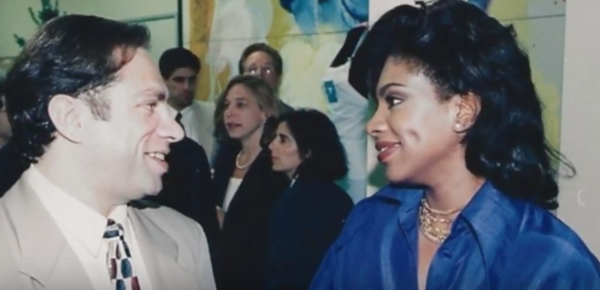 Actress, singer and AIDS activist Sheryl Lee Ralph, who came to fame as a member of the original "Dreamgirls" Broadway cast, introduced Mary Wilson, original member of  The Supremes, upon whose story the Michael Bennet musical was based.
Ralph remembered those old days of AIDS on Broadway. "You'd be dancing with your friend onstage one day and they'd be dead the next. One gone after another. It was heartbreaking," she said. "When I moved to Los Angeles, I found Project Angel Food and it found me and I knew that together we could offer hope."
Wilson, who is now a bestselling author, former U.S. Cultural Ambassador, humanitarian and Dancing with the Stars contestant, offered up a song, as did Maelyn Jarmon, winner of Season 16 of The Voice.
Famed movie tough guy, owner of Trejo's Tacos and California legend Danny Trejo provided a special fiesta menu for the night's event. But one of the most  moving moments of the night was after the screening of a short film featuring Project Angel Food Head Chef John Gordon and client Jean T. when the two met for the first time onstage.
The auction was a drama all its own when a bidding war broke out over dinner with Eric McCormack at Spago, donated by Barbara Lazaroff.  Four people bid $15,000 each, so auctioneer Gabriel Butu convince them all to have dinner together – so McCormack, , Nicollette Sheridan, Chaz Dean, LA Care CEO John Baackes and philanthropist Candy DeBartolo contributed $60,000 for the pleasure of their own company and a Spago meal. McCormack and his wife Janet (former board member) donated an additional $10,000.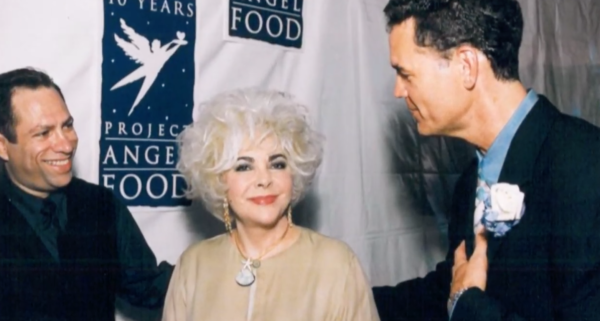 When the historic fundraising achievement of more than $800,000 was announced, surpassing the amount raised when honoring Elizabeth Taylor, many burst into tears, including longtime supporter KTLA reporter Gayle Anderson for whom Project Angel Food had been a refuge from grief after losing friends to AIDS.
Project Angel Food Executive Director Richard Ayoub underscored how the need for their charitable service has grown, noting that about 98 percent of their clients live at or below the poverty level. Last year, the organization served 1,400 sick, hungry, lonely people a day. Today, they feed 1,500 a day and by June of 2020, they expect to feed 1,750 people daily, a projected increase of nearly 20 percent,
Ayoub also talked about three new initiatives the organization has undertaken. Project Angel Food feeds a dramatically increased number of Native Americans with diabetes so they have launched the first research study to see how their healthy meals are helping bring down their clients A-IC levels to improve quality of life. The program is being funded by Running Bear Ramirez.
They are also partnering with LA CARE and LA County USC Medical Center to see if their meals help people who have diabetes and are insulin dependent.
Their third project is providing feminine hygiene products along with the free meal delivery to female clients who request the packages. A survey of all of their women clients found that about half of those under 50 often did not have enough money to buy these feminine necessities.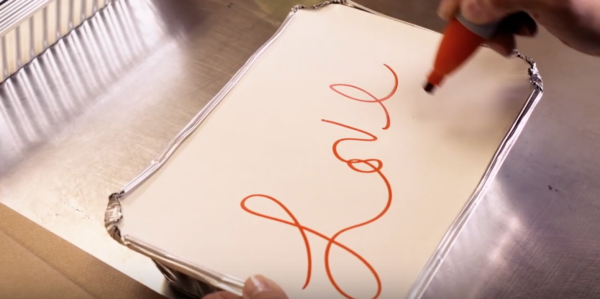 "It all comes down to creating and maintaining a space of dignity and improving the quality of life for our clients," Ayoub said. "Each and every one of you with us tonight is part of this evolution. At the beginning, we borrowed a small kitchen in West Hollywood. Today, this kitchen belongs to all of you.
In 1989, Bill LaVallee was a volunteer at Project Angel Food. In 2019, he was the ironic recipient of Project Angel Food's 12 millionth meal.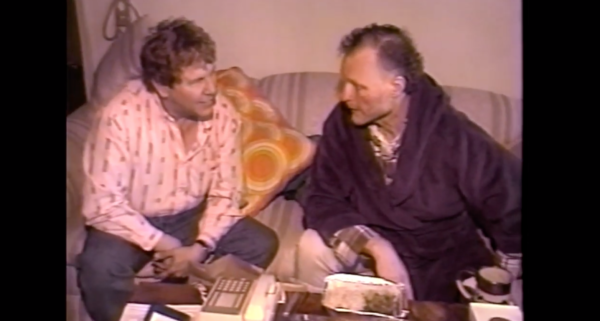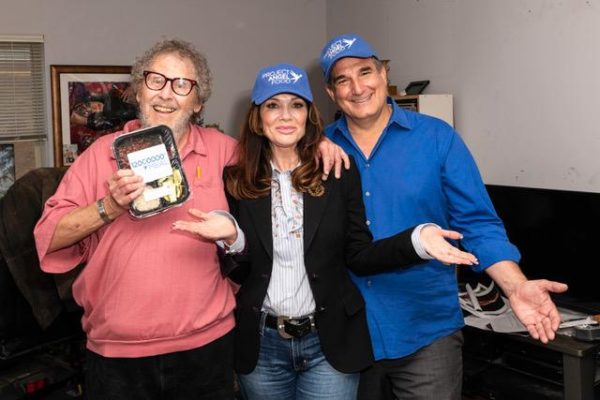 Videos from the evening: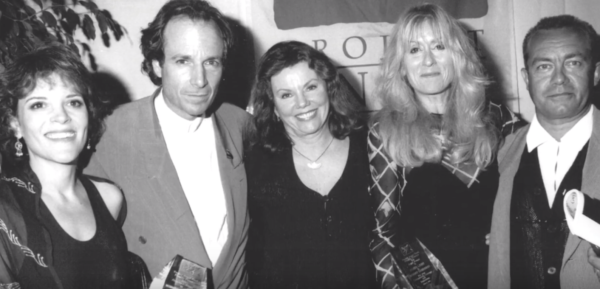 Judith Light narrates an historical overview – including footage of her back in the day.
Jamie Lee Curtis explains why she is so deeply involved.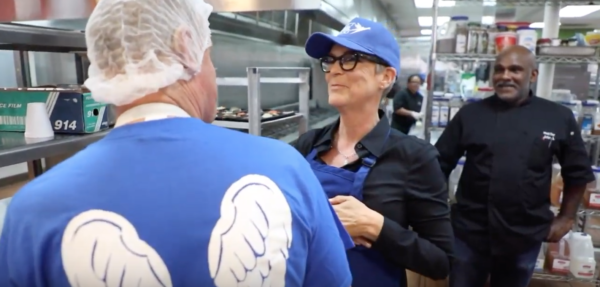 Sean Hayes humorously presents Jamie Lee Curtis with the Humanitarian Award, which she accepts

Jean B., infected with HIV in 1985, says "Project Angel Food saved my life." Chef John Gordon who says, "The whole point of what we do is to give to someone else. That's pretty awesome."
President's Emergency Plan for AIDS Relief marks year 20
Achievements PEPFAR have been remarkable, well-documented by outside evaluators, and hugely applauded throughout the advocacy community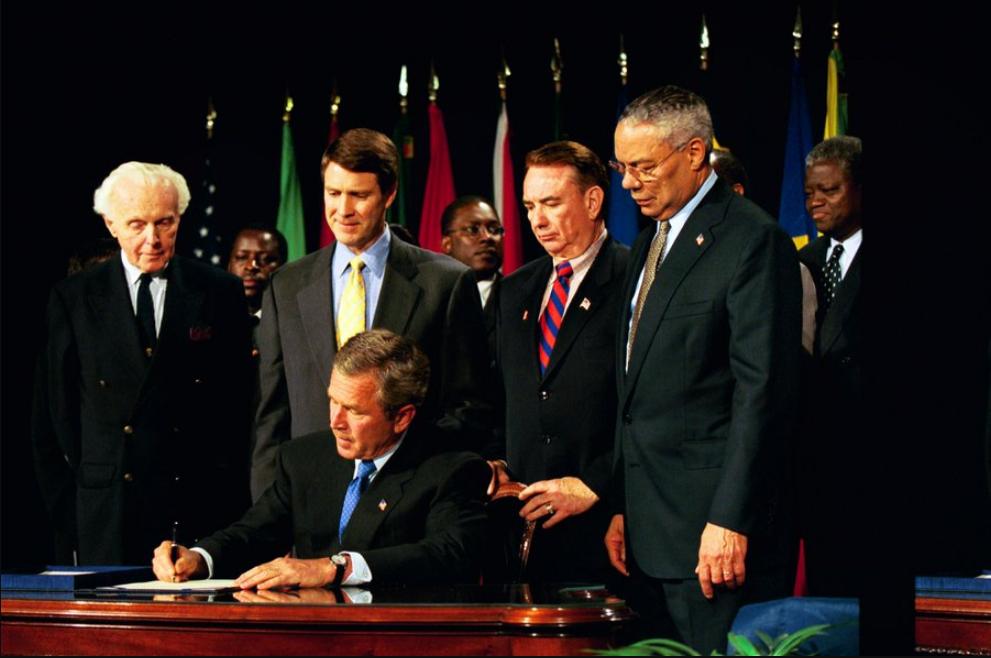 WASHINGTON – The President's Emergency Plan for AIDS Relief (PEPFAR) marks its twenty year anniversary today, marking the largest commitment by any nation to address a single disease in the world.
The initiative which was personally led and launched by former President George W. Bush in 2003, its funding has totaled more than $110 billion to date, including funding for the Global Fund to Fight AIDS, Tuberculosis and Malaria (Global Fund), to which the U.S. government is the largest donor.
PEPFAR is credited with saving millions of lives and helping to change the trajectory of the global HIV epidemic. The White House today released a statement by President Joe Biden marking the 20th Anniversary:
Twenty years ago today, President George W. Bush declared that preventing and treating HIV/AIDS was a foreign policy priority of the United States. At a time when nearly 30 million people were HIV positive, but very few were receiving life-saving medicines, the President's Emergency Plan for AIDS Relief (PEPFAR) transformed the global AIDS response and laid a marker for America's commitment to countries that were impacted the hardest by the AIDS epidemic. Helping lead the bipartisan effort in Congress to authorize PEPFAR is among my proudest achievements from my time in the Senate. To this day, PEPFAR remains a powerful example of America's unmatched ability to drive progress and make life better for people around the world.

Since 2003, PEPFAR has saved more than 25 million lives and dramatically improved health outcomes in more than 55 partner countries. AIDS-related deaths have declined by 68 percent since their peak in 2004, and new HIV infections are down 42 percent. PEPFAR investments have ensured that 5.5 million babies have been born HIV-free. And two decades of investment in partner nations' health systems played a critical role in countries' ability to respond to other health crises such as COVID-19, Mpox, and Ebola.

Today, PEPFAR continues to support 20.1 million people around the world with HIV/AIDS treatment, and my Administration is committed to continuing to lead the global HIV/AIDS response. We will build on our decades of progress to reach the Sustainable Development Goal of ending AIDS by 2030, work to eliminate the stigma and inequities that keep people from accessing care, and keep the voices of people living with HIV/AIDS at the center of our response. I look forward to working with Congress on PEPFAR's reauthorization this year.
PEPFAR is overseen by the U.S. Global AIDS Coordinator, who is appointed by the President, confirmed by the Senate, and reports directly to the Secretary of State, as established through PEPFAR's authorizing legislation.
PEPFAR's original authorization established new structures and authorities, consolidating all U.S. bilateral and multilateral activities and funding for global HIV/AIDS. Several U.S. agencies, host country governments, and other organizations are involved in implementation.
Dr. John Nkengasong, the current coordinator was sworn in on June 13, 2022, and holds the rank of Ambassador leading the Office of the Global AIDS Coordinator (OGAC) at the U.S. Department of State.
Twenty years ago this month, President George W. Bush announced #PEPFAR during his State of the Union address. Since then, the U.S. government has invested $100B+ in the global HIV/AIDS response through PEPFAR, saving 25M lives & bringing us closer to #EndAIDS2030. #PEPFAR20 pic.twitter.com/SMAOHWPZ03

— PEPFAR (@PEPFAR) January 11, 2023
Nobel Prize winning scientist Harold Varmus, who served as Director of the National Institutes of Health (NIH) from 1993 to 1999 and currently the Lewis Thomas University Professor of Medicine at Weill Cornell Medicine in New York City, wrote in an article honoring World Aids Day 2013:
[…] "the PEPFAR story must begin with George W. Bush and his wife, Laura, and their interests in AIDS, Africa, and what Bush termed "compassionate conservatism." According to his 2010 memoir, Decision Points, the two of them developed a serious interest in improving the fate of the people of Africa after reading Alex Haley's Roots and visiting The Gambia in 1990.3 In 1998, while pondering a run for the U.S. presidency, he discussed Africa with Condoleezza Rice, his future secretary of state; she said that, if elected, working more closely with countries on that continent should be a significant part of his foreign policy. She also told him that HIV/AIDS was a central problem in Africa but that the United States was spending only $500 million per year on global AIDS, with the money spread across six federal agencies, without a clear strategy for curbing the epidemic."
Key Facts (As provided by Kaiser Health & Family Foundation)
Although the U.S. has been involved in efforts to address the global AIDS crisis since the mid-1980s, the creation of the President's Emergency Plan for AIDS Relief (PEPFAR) in 2003 marked a significant increase in funding and attention to the epidemic.
PEPFAR is the largest commitment by any nation to address a single disease in the world; to date, its funding has totaled more than $110 billion, including funding for the Global Fund to Fight AIDS, Tuberculosis and Malaria (Global Fund), to which the U.S. government is the largest donor. PEPFAR is credited with saving millions of lives and helping to change the trajectory of the global HIV epidemic.
U.S. funding for PEPFAR grew from $2.2 billion in FY 2004 to $7.0 billion in FY 2022; FY 2022 funding includes $5.4 billion provided for bilateral HIV efforts and $1.6 billion for multilateral efforts ($50 million for UNAIDS and $1.56 billion for the Global Fund).
As the COVID-19 pandemic continues to have profound effects across the world, PEPFAR has acted to respond to COVID-19 in countries that receive support in order to minimize HIV service disruptions and leverage the program's capabilities to address COVID-19 more broadly.
Looking ahead, PEPFAR faces several issues and challenges, including how best to: address the short- and long-term impacts of COVID-19 on PEPFAR and the HIV response; accelerate progress toward epidemic control in the context of flat funding; support and strengthen community-led responses and the sustainability of HIV programs; define its role in global health security and broader health systems strengthening efforts; and continue to coordinate with other key players in the HIV ecosystem, including the Global Fund.
Key Activities and Results (As provided by Kaiser Health & Family Foundation)
PEPFAR activities focus on expanding access to HIV prevention, treatment, and care interventions. These include provision of antiretroviral treatment, pre-exposure prophylaxis, voluntary male circumcision, condoms, and other commodities related to HIV services. In addition, PEPFAR has launched specific initiatives in key strategic areas. For example, in 2015, PEPFAR launched DREAMS, a public-private partnership that aims to reduce HIV infections in adolescent girls and young women.
The latest results reported by PEPFAR indicate that it has:
supported testing services for 63.4 million people in FY 2021;
prevented 2.8 million babies from being born with HIV, who would have otherwise been infected;
provided care for more than 7.1 million orphans and vulnerable children (OVC);
supported training for nearly 300,000 new health care workers; and
supported antiretroviral treatment for 18.96 million people.
In the 15 countries implementing the DREAMS initiative, new diagnoses among adolescent girls and young women have declined with most DREAMS areas (96%) experiencing declines greater than 25% and nearly two-thirds with declines greater than 40%.
The achievements of the PEPFAR program have been remarkable, well-documented by outside evaluators, and hugely applauded throughout the advocacy community and the developing world. In general, milestones have been met, the program has been enlarged (for instance, to include some research on implementation of medical assistance), the roster of PEPFAR countries has grown and spending plans have not been exceeded.