Project Angel Food raises more than $800,000, breaking Elizabeth Taylor record (videos)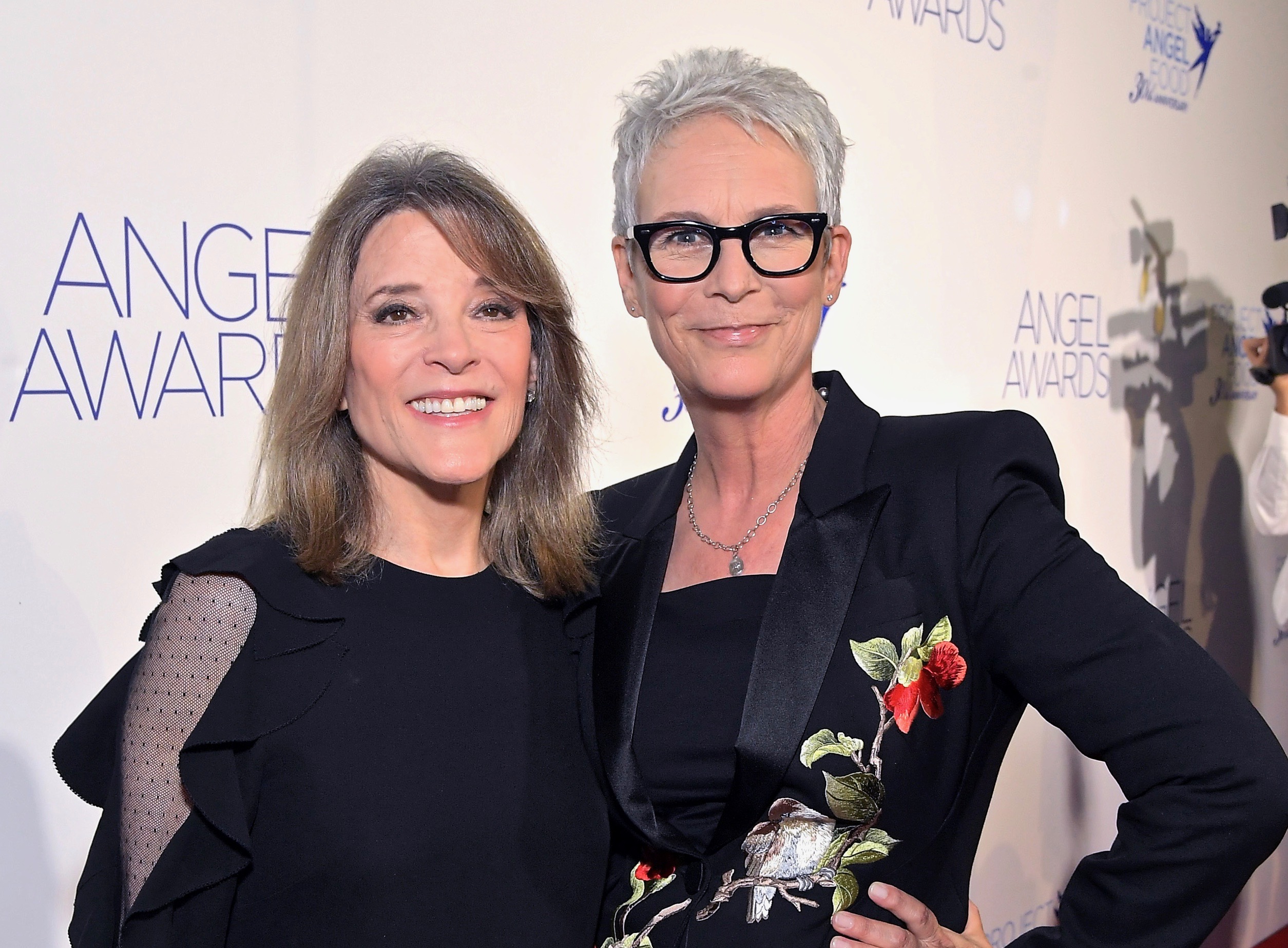 Maybe it was because the niche non-profit celebrated its 30th anniversary by giving LGBTQ icon Jamie Lee Curtis a richly deserved humanitarian award. Or maybe people are just so dispirited by the pervasive politics of hate, they wanted to contribute to a heartfelt cause that actually helps people. Whatever the motivation, Project Angel Food raised more than $800,000 at its 30th Anniversary Angel Awards Gala in Hollywood on Saturday, Sept. 14, breaking the previous 1999 Angel Awards fundraising record of $700,000 when Elizabeth Taylor was honored.
Curtis received the Project Angel Food Humanitarian Angel Award with Jami Morse Heidegger and Klaus Heidegger,  philanthropists and creators of skincare products Retrouve and Kiehl's Since 1851, honored with the Project Angel Food Leadership Award.
"Jamie Lee Curtis and Jami and Klaus Heidegger have been involved with Project Angel Food for well over two decades and they are not afraid to throw on an apron, roll-up their sleeves and get involved," said Executive Director Richard Ayoub.
Project Angel Food co-founder and Democratic presidential candidate Marianne Williamson took a break from the campaign trail to be present for the historic event.  Introduced by her longtime friend, grief expert David Kessler, with whom she co-founded the organization, the author and self-help guru put politics to the side and talked about the history of Project Angel Food during the AIDS crisis.
"This city was brash and young. Once AIDS arrived, there was a level of innocence that would never be the same again. When this organization was founded, it was a time of such despair — there was such hopelessness. Such devastation," Williamson recalled.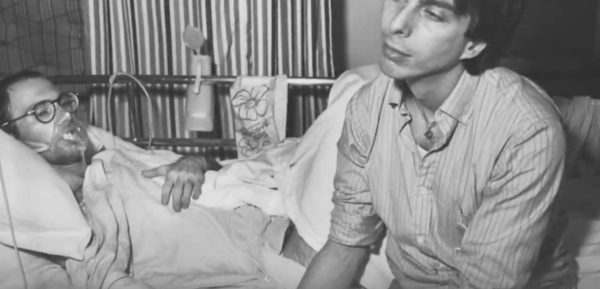 "It's wonderful the way that community, the city, has continued to nurture it, to appreciate it, to celebrate it, to keep it alive."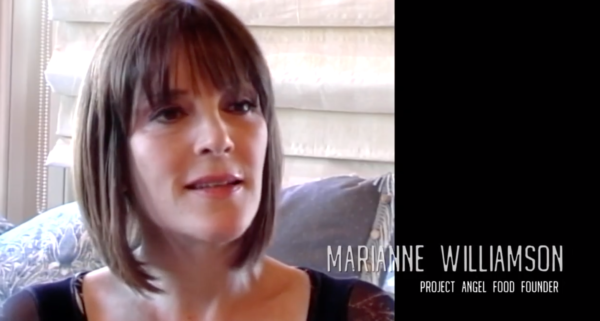 Marianne Williamson in 1989, screen grab from video retrospective
Williamson marveled at the growth of Project Angel Food. "Every year it's an opportunity to remember those who are no longer with us, particularly those who worked so hard to get it started ultimately," she said.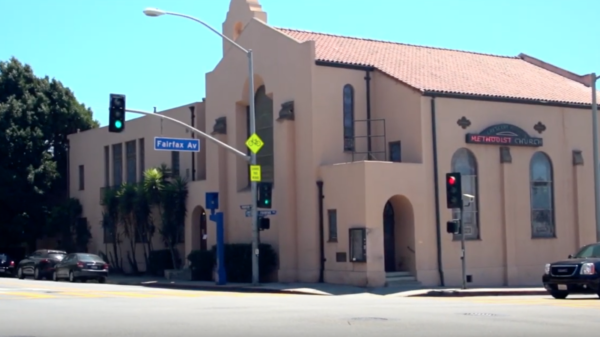 Crescent Heights Methodist Church at Fairfax & Fountain in West Hollywood where the Project Angel Food kitchen shared space with 12 Step meetings (screen grab from retrospective video)
"But it's also beautiful to see an organization that's kind of like a virtual child: it grows up and has its own life, has its own relationships. It's true there was a founding, but then there are other generations that if those people hadn't kept it alive, they deserve as much credit for continuing it as I feel like I deserve for starting it. But like a mother, I can still be very proud," she said.
Remembering lost friends and gratitude for the help being given the lonely, poor and ill today filled the air with a kind of spirituality.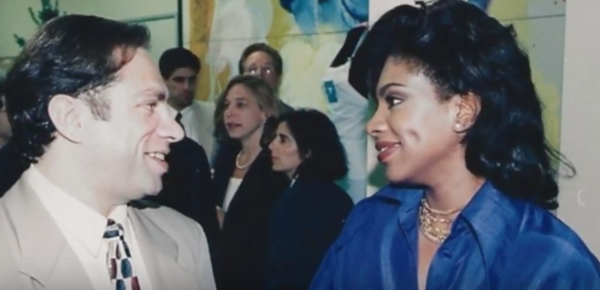 Actress, singer and AIDS activist Sheryl Lee Ralph, who came to fame as a member of the original "Dreamgirls" Broadway cast, introduced Mary Wilson, original member of  The Supremes, upon whose story the Michael Bennet musical was based.
Ralph remembered those old days of AIDS on Broadway. "You'd be dancing with your friend onstage one day and they'd be dead the next. One gone after another. It was heartbreaking," she said. "When I moved to Los Angeles, I found Project Angel Food and it found me and I knew that together we could offer hope."
Wilson, who is now a bestselling author, former U.S. Cultural Ambassador, humanitarian and Dancing with the Stars contestant, offered up a song, as did Maelyn Jarmon, winner of Season 16 of The Voice.
Famed movie tough guy, owner of Trejo's Tacos and California legend Danny Trejo provided a special fiesta menu for the night's event. But one of the most  moving moments of the night was after the screening of a short film featuring Project Angel Food Head Chef John Gordon and client Jean T. when the two met for the first time onstage.
The auction was a drama all its own when a bidding war broke out over dinner with Eric McCormack at Spago, donated by Barbara Lazaroff.  Four people bid $15,000 each, so auctioneer Gabriel Butu convince them all to have dinner together – so McCormack, , Nicollette Sheridan, Chaz Dean, LA Care CEO John Baackes and philanthropist Candy DeBartolo contributed $60,000 for the pleasure of their own company and a Spago meal. McCormack and his wife Janet (former board member) donated an additional $10,000.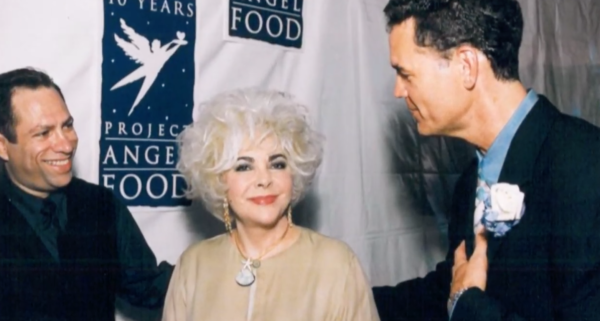 When the historic fundraising achievement of more than $800,000 was announced, surpassing the amount raised when honoring Elizabeth Taylor, many burst into tears, including longtime supporter KTLA reporter Gayle Anderson for whom Project Angel Food had been a refuge from grief after losing friends to AIDS.
Project Angel Food Executive Director Richard Ayoub underscored how the need for their charitable service has grown, noting that about 98 percent of their clients live at or below the poverty level. Last year, the organization served 1,400 sick, hungry, lonely people a day. Today, they feed 1,500 a day and by June of 2020, they expect to feed 1,750 people daily, a projected increase of nearly 20 percent,
Ayoub also talked about three new initiatives the organization has undertaken. Project Angel Food feeds a dramatically increased number of Native Americans with diabetes so they have launched the first research study to see how their healthy meals are helping bring down their clients A-IC levels to improve quality of life. The program is being funded by Running Bear Ramirez.
They are also partnering with LA CARE and LA County USC Medical Center to see if their meals help people who have diabetes and are insulin dependent.
Their third project is providing feminine hygiene products along with the free meal delivery to female clients who request the packages. A survey of all of their women clients found that about half of those under 50 often did not have enough money to buy these feminine necessities.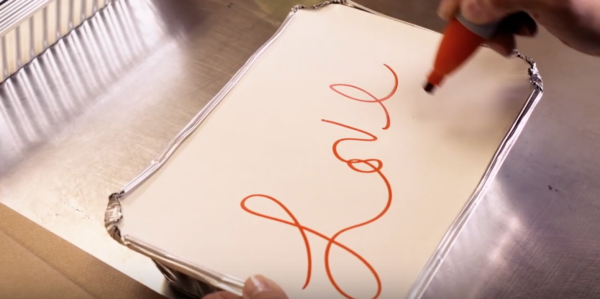 "It all comes down to creating and maintaining a space of dignity and improving the quality of life for our clients," Ayoub said. "Each and every one of you with us tonight is part of this evolution. At the beginning, we borrowed a small kitchen in West Hollywood. Today, this kitchen belongs to all of you.
In 1989, Bill LaVallee was a volunteer at Project Angel Food. In 2019, he was the ironic recipient of Project Angel Food's 12 millionth meal.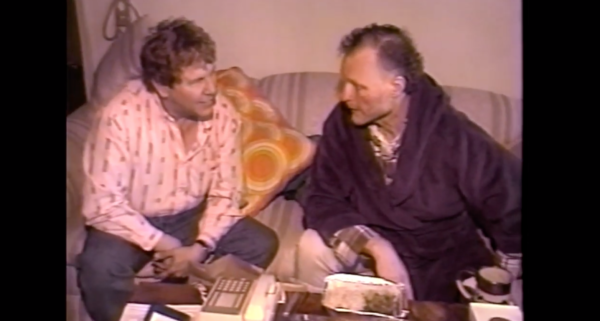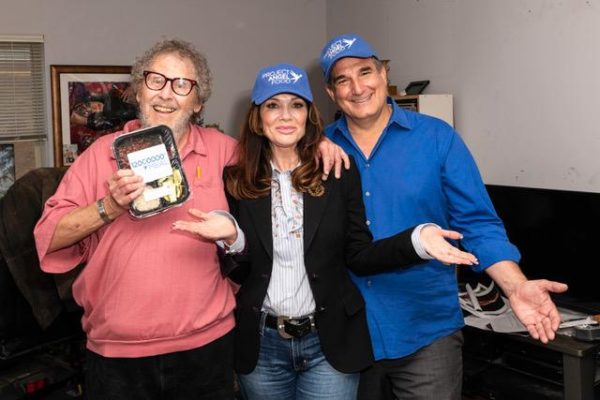 Videos from the evening: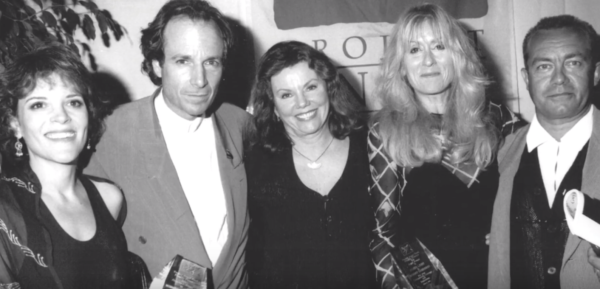 Judith Light narrates an historical overview – including footage of her back in the day.
Jamie Lee Curtis explains why she is so deeply involved.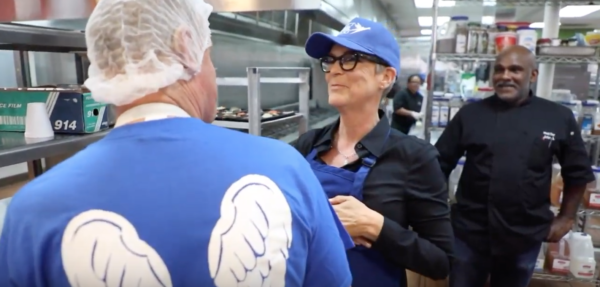 Sean Hayes humorously presents Jamie Lee Curtis with the Humanitarian Award, which she accepts

Jean B., infected with HIV in 1985, says "Project Angel Food saved my life." Chef John Gordon who says, "The whole point of what we do is to give to someone else. That's pretty awesome."
Patrick O'Connell, acclaimed AIDS activist, dies at 67
Played key role in creating red ribbon for awareness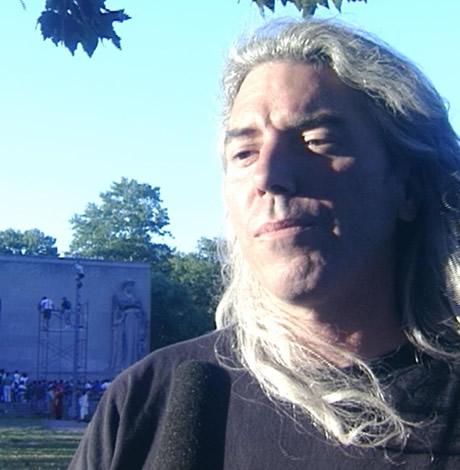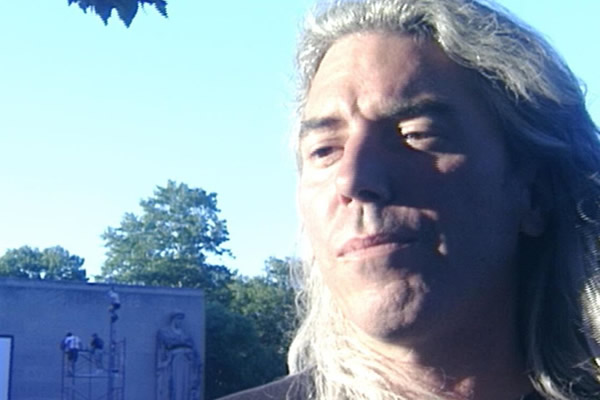 NEW YORK – Patrick O'Connell, a founding director of the New York City-based AIDS advocacy group Visual AIDS who played a lead role in developing the internationally recognized display of an inverted, V-shaped red ribbon as a symbol of AIDS advocacy, died on March 23 at a Manhattan hospital from AIDS-related causes, according to the New York Times. He was 67.
Visual AIDS said in a statement that O'Connell held the title of founding director of the organization from 1980 to 1995.
During those years, according to the statement and others who knew him, O'Connell was involved in the group's widely recognized and supported efforts to use art and artist's works to advocate in support of people with HIV/AIDS and efforts to curtail the epidemic that had a devastating impact on the art world.
Thanks to a grant from the Art Matters foundation, Visual AIDS was able to retain O'Connell as its first paid staff member in 1990, the group said in its statement.
"Armed with a fax machine and an early Macintosh computer, Patrick helped Visual AIDS grow from a volunteer group to a sustainable non-profit organization," the statement says. "A passionate spokesperson for the organization, he helped projects like Day Without Art, Night Without Light, and the Red Ribbon reach thousands of people and organizations across the world," the group says in its statement.
"We were living in a war zone," the statement quoted O'Connell as saying in a 2011 interview with the Long Island newspaper Newsday. "But it was like a war that was some kind of deep secret only we knew about," O'Connell said in the interview. "Thousands were dying of AIDS. We felt we had to respond with a visible expression," he told the newspaper.
With O'Connell's help, Visual AIDS in 1989 organized the first annual Day Without Art in which dozens of galleries and museums in New York and other cities covered art works with black cloths to symbolize the mourning of those who died of AIDS. Among those participating were the Brooklyn Museum, the J. Paul Getty Museum in Los Angeles, and the Metropolitan Museum of Art in New York, which replaced a Picasso painting with a "somber informational placard," according to the New York Times.
In 1990 O'Connell helped Visual AIDS organize the first Night Without Light, which was held at the time of World AIDS Day. New York City's skyscraper buildings, bridges, monuments, and Broadway theaters turned off their lights for 15 minutes to commemorate people who lost their lives to AIDS, the New York Times reported.
In the kickoff of its Red Ribbon Project in 1991, McConnell helped organize volunteers to join "ribbon bees" in which thousands of the ribbons were cut and folded for distribution around the city, the Times reports. Those who knew McConnell said he also arranged for his team of volunteers to call Broadway theaters and producers of the upcoming Tony Awards television broadcast to have participants and theater goers display the red ribbons on their clothes.
Among those displaying a red ribbon on his label at the Tony Wards broadcast was actor Jeremy Irons, who was one of the hosts. In later years, large numbers of celebrities followed the practice of wearing the red ribbon, and in 1993 the U.S. Postal Service issued a red ribbon stamp.
The Times reports that O'Connell was born and raised in Manhattan, where he attended Fordham Preparatory School and later graduated from Trinity College in Hartford, Conn., in 1973 with a bachelor's degree in history. According to Visual AIDS, O'Connell served as director of the Hallwalls arts center in Buffalo, N.Y. from 1977 to 1978 before returning to New York City to work for a gallery called Artists Space.
The Times reports that O'Connell learned in the middle 1980s that he had contracted AIDS and began a regimen of early AIDS treatment with a cocktail of over 30 pills a day. His involvement with Visual AIDS, which began in 1989, ended on an active basis in 1995 when his health worsened, the Times reports.
As one of the last remaining survivors of his New York contemporaries who had HIV beginning in the 1980s, O'Connell continued in his strong support for AIDS-related causes through 2000s and beyond, people who knew him said.
Visual AIDS says it is gathering remembrances and photos for a tribute post for O'Connell on its website. It has invited people to share their memories of him by sending written contributions and images via email to: [email protected].
National AIDS Memorial celebrates recent Pedro Zamora Scholars
Named in honor of AIDS educator, activist and reality television pioneer Pedro Zamora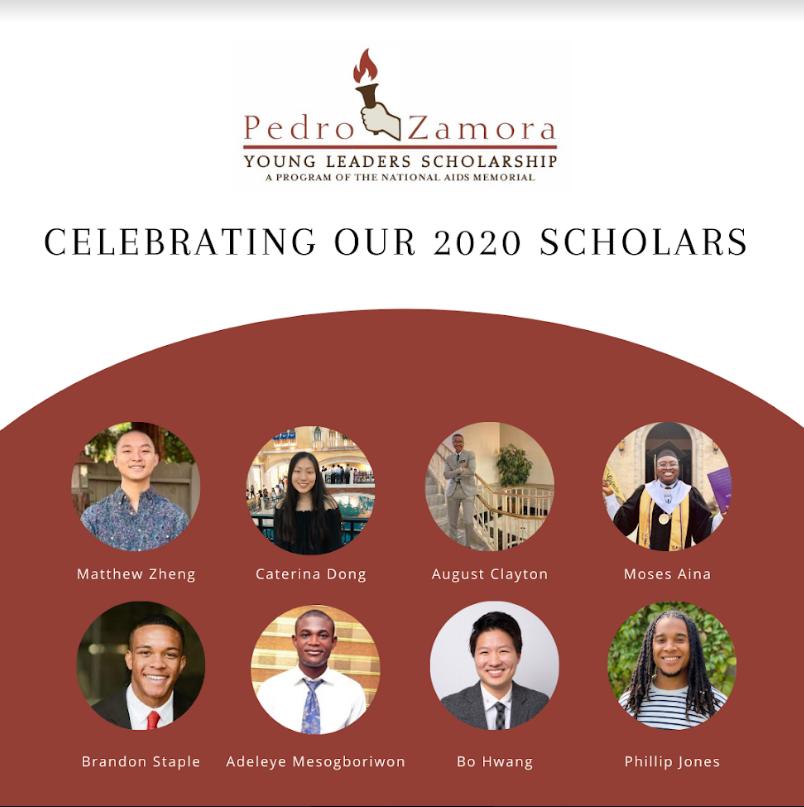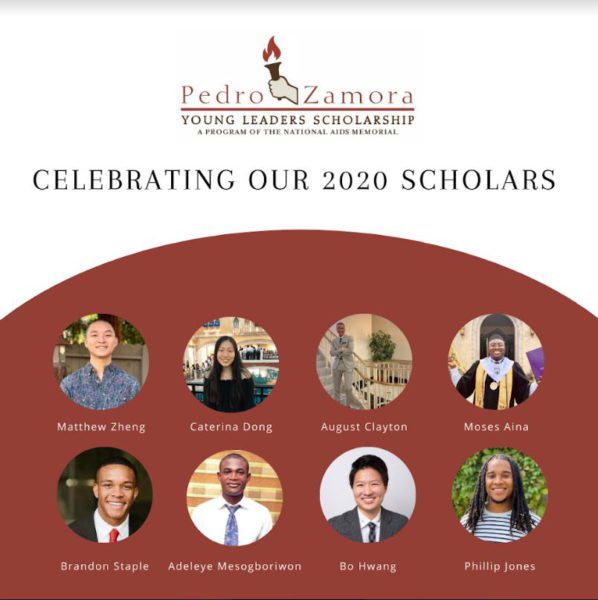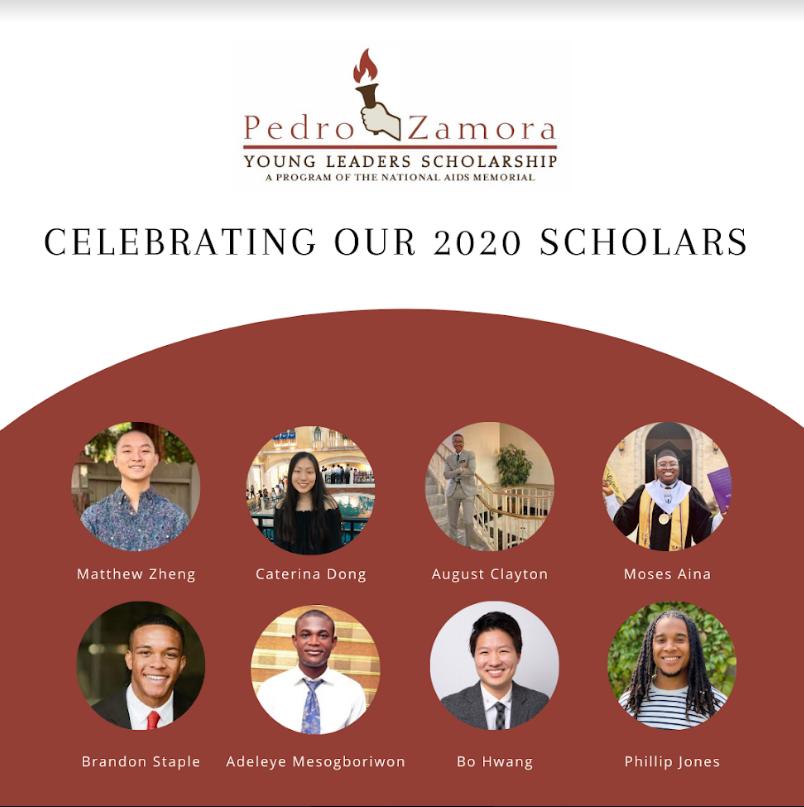 SAN FRANCISCO, CA. – The National AIDS Memorial is marking National Youth HIV & AIDS Awareness Day by celebrating its most recent Pedro Zamora Young Leaders Scholarship recipients, highlighting their work on campus and in their communities.
The memorial has created a special section on its scholarship website highlighting their work, impact and commitment to social change, particularly around HIV/AIDS, which continues to disproportionately impact young people and communities of color.
This past year, eight scholars were selected from six states across the country, each receiving $5,000 in financial scholarships. Their studies and work range from mitigating the impact of HIV/AIDS in communities of color and other marginalized communities and supporting mentor programs to reduce homelessness, to helping people navigate the criminal justice system and providing counsel to help people living with HIV through the challenges of Covid-19.
The scholars include Moses Aina, NYU Tisch, New York; August Clayton, Towson University, Maryland; Caterina Dong, Brown University, Rhode Island; Bo Hwang, UCLA, California; Philip Jones, San Francisco State University, California; Adeleye Mesogboriwon, Edward Waters College, Florida; Brandon Staple, Colorado University, Colorado; Matthew Zheng, Stanford University, California. Learn more about the scholars here.
"This amazingly talented group of students truly embodies the spirit of Pedro and his work to help reduce stigma, fear and prejudice," said Annie Wilson, National AIDS Memorial Board Member, who chairs the scholarship selection process, and was a scholarship recipient in 2012. "This scholarship provides a unique opportunity for us to celebrate the ideas and power of young people who are pursuing their educational goals and advancing social change through community service."
Named in honor of AIDS educator, activist and reality television pioneer Pedro Zamora, the scholarship supports young leaders who carry the torch of activists like Pedro in pursuit of a bold vision that never again will a community be harmed because of fear, silence, discrimination, or stigma. Much like Pedro himself, this scholarship seeks to support young scholars who embody their activism work in ways inspired by their own passions, insights, originality, and conviction.
The program is funded through the generous support of Gilead Sciences. Since its inception in 2009, the scholarship has been awarded more than 100 students, providing more than $350,000 in financial support for their higher education goals.
"This scholarship supports inspiring students who are leaders on campus and in their communities and are making a tremendous impact on so many important issues around health, social and racial justice," said John Cunningham, executive director, National AIDS Memorial. "Through the support of partners like Gilead Sciences, this program continues to grow, helping shape the next generation of leaders who carry Pedro's torch forward."
Applications for the Fall 2021/Spring 2022 school year are now being accepted. Learn more about how to apply at www.aidsmemorial.org/scholarships. Applications must be submitted by July 15, 2021.
New CDC data says people with HIV at high risk for intimate partner violence
There were also significant differences based on gender and sexual identity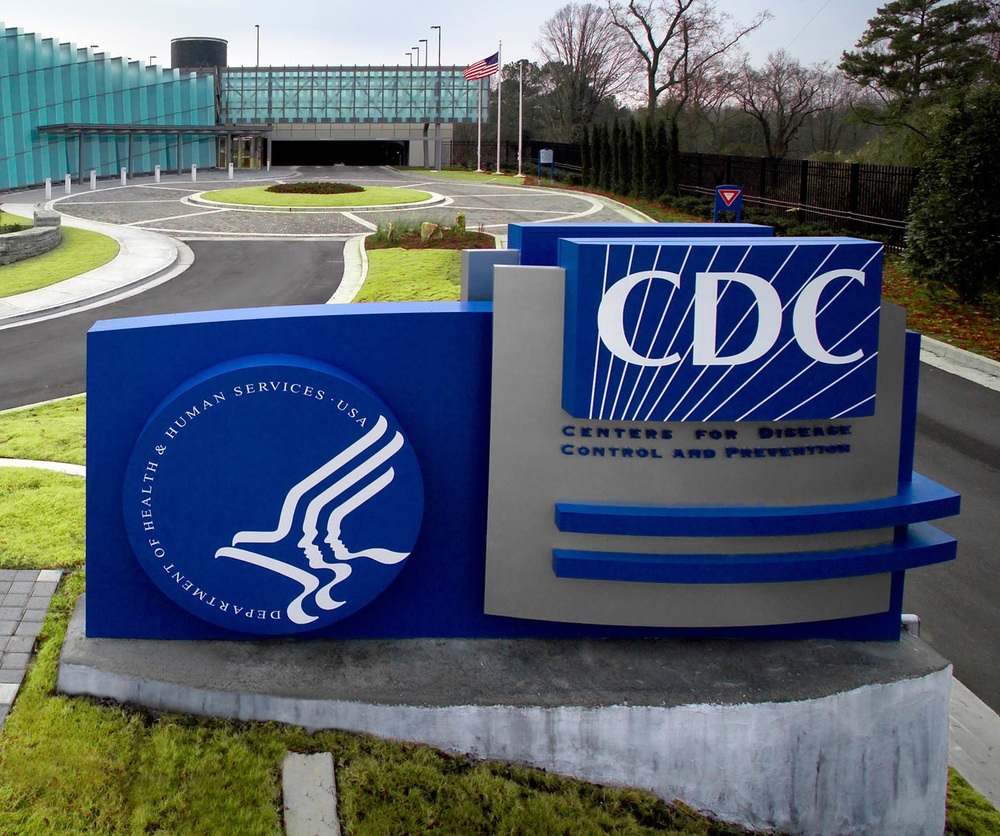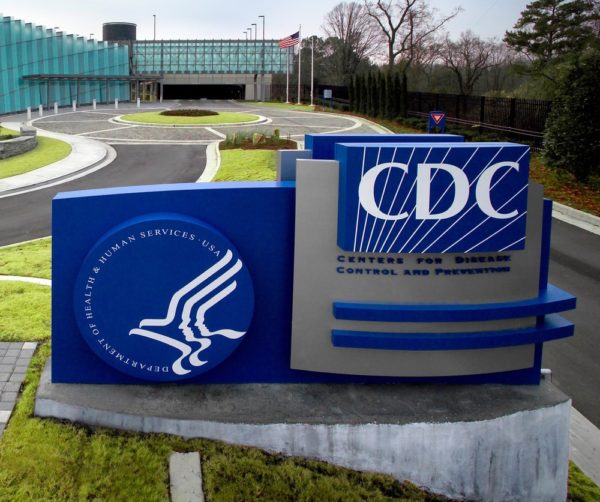 ATLANTA, GA. – New data from the Centers for Disease Control and Prevention (CDC) show that one in four adults with HIV in the United States has experienced intimate partner violence (IPV), which disproportionately affects women and LGBTQ populations.
Further, people with HIV who experienced IPV in the past 12 months were more likely to engage in behaviors associated with elevated HIV transmission risk, were less likely to be engaged in routine HIV care and more likely to seek emergency care services and have poor HIV clinical outcomes. The findings are reported in the American Journal of Preventive Medicine, published by Elsevier.
Lead Investigator Ansley B. Lemons-Lyn, MPH, and colleagues from the CDC's National Center for HIV/AIDS, Viral Hepatitis, STD, and TB Prevention and the National Center for Injury Prevention and Control in Atlanta, GA, USA, used data from the Medical Monitoring Project, an annual survey used to produce national estimates of sociodemographic, behavioral, and clinical characteristics of adults diagnosed with HIV.
Analysts estimated the prevalence of respondents who had ever experienced IPV and those who experienced IPV within the last 12 months and compared that with sociodemographic information, behavioral characteristics, clinical outcomes, and the use of emergency or inpatient medical services in the past year.
Among individuals with HIV, 26.3 percent had at least one experience of IPV. Significant differences were found by race/ethnicity and age; 35.6 percent of women, 28.9 percent of transgender people, and 23.2 percent of men had experienced IPV.
There were also significant differences based on gender and sexual identity. Although women overall experienced the highest prevalence of IPV, bisexual women experienced the highest proportion (51.5 percent) compared with all gender and sexual identity groups.
Overall, 4.4 percent of people with HIV had experienced IPV in the last 12 months. Statistically significant differences were found by sociodemographic characteristics, such as age and gender/sexual identify but not by race/ethnicity or gender identity.
The study found that compared with individuals with HIV who did not experience IPV in the last 12 months, those who did engaged in riskier behavior such as binge drinking, use of injection drugs, and transactional sex. They were more likely to report not receiving additional needed services.
These findings suggest that screening people with HIV for IPV and linking them to services, not only during HIV testing but also during routine HIV care, is important.
A higher proportion of individuals reporting IPV in the last 12 months were not receiving HIV medical care, were not taking antiretroviral therapy, and were more likely to miss HIV-related medical appointments. They were also more likely to have more than one emergency room visit or hospital admission in the past 12 months.
The study suggests that when IPV is identified, the safety and health of people with HIV can be improved with supportive services. IPV is preventable, especially when efforts begin early. The investigators note that most IPV and protection programs are tailored for heterosexual women. Given the extent to which the study found risk to other gender/sexual identity groups and racial/ethnic minorities, investigators suggest that programming should be tailored for marginalized groups.