Where's My Roy Cohn? or The Return of The Repressed
Donald Trump's master teacher in the dark arts of deception gets a close up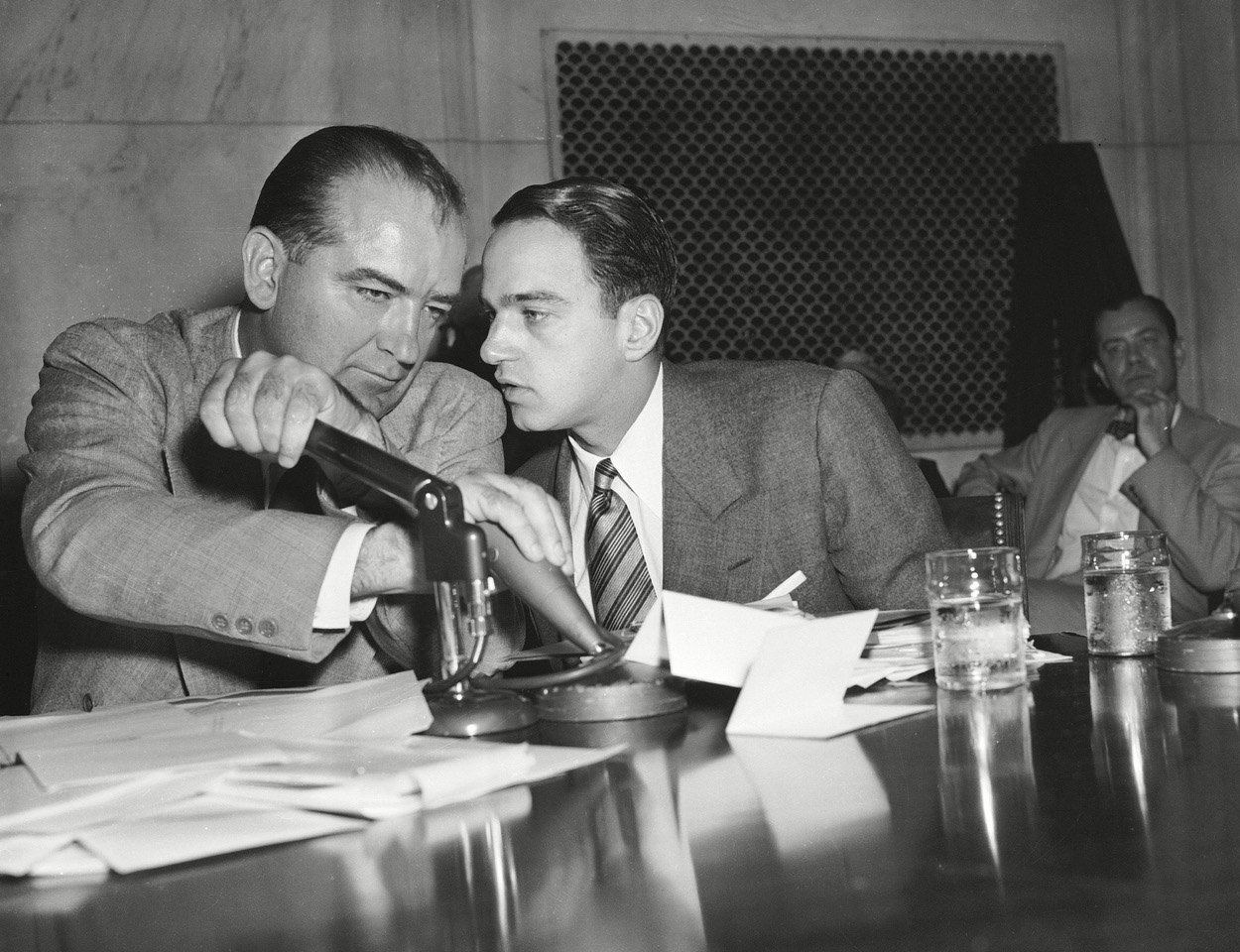 One of the greatest villains of the 20th Century, Roy Marcus Cohn (1927-1986) is fixed in popular memory thanks to Tony Kushner's epic drama "Angels in Ameirca" which depicts the final days of the political operative, Mafia lawyer and all-purpose "fixer" for the rich and infamous as he died of AIDS. Actors as noteworthy as Al Pacineo and Nathan Lane have played Roy on stage and screen.
But as Matt Tynauer's new documentary "Where's My Ry Cohn?" reveals no one played Roy as well as Roy himself.
Assembled with great care from extant footage of Cohn and his cronies and new interview — an especially interesting one being with an ex-boyfriend of Cohn's who found him fun,' this is a startlingly in-depth study of a closeted gay man, who lived wild and freewhen the closet was the rule,
He had, however, no intention of extending the freedom he made for himself to others. In fact, quite the contrary.
Cohn worked long and hard at making things worse for other gays, most memorably with the help of his equally closeted front man Senator Joseph McCarthy.
Together they launched what has come to be known as the "Lavender Scare" — a reign of terror that stretched across the nation from Washington D. C. to Broadway, Hollywood and anywhere else the LGBT might find shelter. Being the mastermind of this jihad, Cohn is the model for self-hating gays who persist even in this post- "Stonewall' and post-"Obergefell" era persist. And though Cohn, Tynauer shows how this self-loathing operates when it's working at full throttle.
Tynauer whose films include "Valentino: The Last Emperor" and "Scotty and the Secret History of Hollywood" discovered Roy Cohn via the making of his last documentary "Studio 54."
Cohn was the lawyer for that fabled "Celebrity" mosh-pit. He was there constantly to hang out with the swells and have sex with the waiters, busboys and high-end hustlers who were its featured attraction for the rich and closeted.
There was however little he could do for its tax-avoiding owners Steve Rubell and Ian Schrager, for by the time they came to grief Cohn's fortunes had fallen so low he was being disbarred.
Cohn first made a name for himself as the U.S. Department of Justice prosecutor in the espionage trial of Julius and Ethel Rosenberg — American Communists who supposedly "Gave The Bomb to the Russians." as the New York tabloid press would have it.
As Tynauer shows what Julius Rosenberg and his brother-in-law David Greenglass were dealing with were minor bits of information the Russians had. For cooperating with Cohn, Greenglass was given a stretch in prison.
He died in 2014.
One of the highlights of the film are heretofore unseen shots of demonstrators in the streets of New York protesting the Rosenberg execution and sobbing and falling apart on hearing it has taken place. Ethel Rosenberg simply typed the notes her husband gave her.
But Cohn was intent on not simply linking her to her husband and brother's crime but going so far as to claim she was the mastermind. Cohn was obsessed with the notion of killing ma Jewish mother — and with Ethel Rosenberg he got his way.
Tynauer's film shows Roy declaring on camera that he would have loved to have pulled the switch that executed Ethel himself. Outside of Adolf Eichmann's trial, I daresay nothing this individually monstrous has been seen on screen before.
Without making too fine a point of it Tynauer suggests what may have been behind Roy's rage at Ethel was his own mother. As the ilm shows Dora Marcus was widely referred to as the "ugliest woman in New York"
Her marriage to New York State Supreme Court Justice Robert E. Cohn was an "arrangement' in which the wealthy Dora virtually"bought" him to become a "Sadie Sadie Married Lady" (as the song from "Funny Girl" put it) and have a child.
Roy was the apple of his mother's eye. But he was a rotten apple to core thanks to no small degree from her efforts to "fix" his nose in a botched operation resulting in a large hideous scar across it. Cohn's own attempts at augmenting his looks with plastic surgery were equally egregious. But power and "clout" can often trump beauty, and hide potential scandal.
Cohn made quite a spectacle of himself when he and his then-boyfriend, hotel chain heir G. David Schine (as handsome as Cohn was ugly) began their affair.
In 1952 Schine published a six-page anti-communist pamphlet called Definition of Communism,and had a copy placed in every room of his family's chain of hotels. Brought to Cohn's attention the pamphlet and its author became central to his life as they began a tour of U.S. Military bases in Europe to distribute it and hold forth on the dangers of "Communist Infiltration."
This tour became so well-known that William Burroughs satirized it in "Naked Lunch" with Cohn and Schine portrayed as "Mr. Bradley and Mr. Martin." Gore Vidal, who needless to say was onto the whole thing opined that in Washington "We used to sing 'Come Cohn or Come Schine.' "
What happened after this wasn't made into a musical — though Jerry Herman would do well to take a crack at it. For Cohn's efforts to have the U.S.Military grant his boyfriend special treatment resulted in what became known as "The Army-McCarthy Hearings" — the first major liveTV spectacle.
Cohn had McCarthy "investigate" the U.S. military for "Communist subversive ," but came a cropper in the most spectacular way. Trying to show Schne's importance he offered as "evidence" a cropped photo of the private standing near some high ranking officers.
When the Army's:lawyer Joseph Welch showed the photo this cropped one came from (in which Schine was a bystander of no importance) McCarthy hemmed, hawed and professed ignorance as to how this could have happened.
"Well who do you think did this," Wech asked," a pixie?" McCarthy then declared no knowledge of what a pixie might be. "Well it has been my impression that pixie is a close relative of a fairy," said Welch — in the "diss" of all-time, nailing Cohn as McCarthy's "pixie." McCarthy's reign was almost instantly over. Coh however continued.
As a Mafia lawyer he was responsible for overseeing the mob's swankiest 50's era club "The Latin Quarter" and its boss Loy Walters. Lou's daughter was Barbara Walters. The telejournalist, now retired and reportedly in ill health, passed on speaking to Tynauer.
But for many years she was Roy Cohn's "beard" and even, the film notes, harbored hope of one day of marrying him. That was not to be.
But in a last burst of notoriousness Cohn came to the aid of New York real estate shark named Donald Trump, helping him reach a "settlement" when the inveterate racist was charged with discrimination in refusing to rent his properties to African-Americans.
Cohn helped smooth the way for the man who is now President of the United States.
But Trump being Trump he dropped Roy Cohn when he learned of the latter's AIDS diagnosis.
The film's title comes from Trump the importance of always having a Roy Cohn like advisor in his life remains, and he may well have found one in Stephen Miller. Miller doesn't figure in Tynauer's film on Roy Cohn. But he's a prime candidate for a Tynauer epic of his own.
Meanwhile, we have this film to offer enlightenment and a quasey sort of "entertainment." For while Roy Cohn couldn't make ugliness beautiful he did manage to make it unforgettable.
Witness to the horrors in Chechnya
It's a film that makes you want to look away but doesn't let you do it.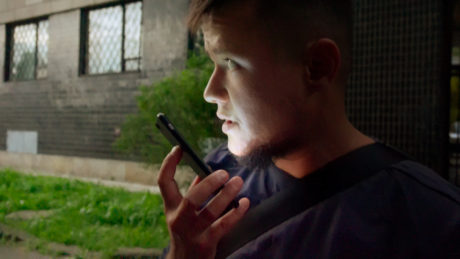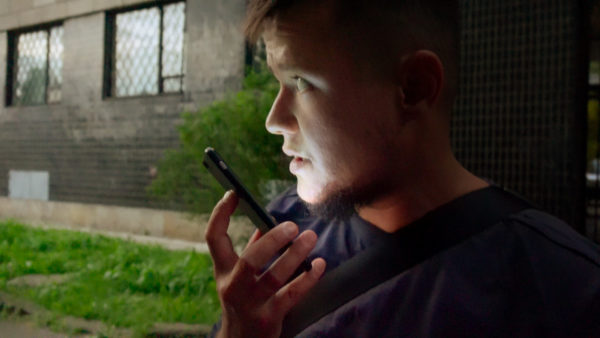 HOLLYWOOD – In an era when documentaries often seem geared more toward a slick and buzzy "docu-tainment" style than to the unfiltered presentation of real-world facts and experiences, "Welcome to Chechnya" blasts you in the face like a gust of icy wind.
A harrowing look at the "underground railroad" that sprung up within Russia to help the victims of the notorious "gay genocide" being perpetrated under Chechen leader Ramzan Kadyrov, it's a film that makes you want to look away but doesn't let you do it. It conveys the unthinkable trauma of living in a constant state of terror while making a desperate, clandestine run for your very life; more than that, it permits us to put a human face – albeit a digitally altered one – on the crisis.
Part of the film's impact undoubtedly stems from its subject matter, but it's at least equally due to the artistry of its director, David France. It's not the first time he's been behind a heavyweight LGBTQ documentary. The longtime journalist made his directing debut with "How to Survive a Plague" in 2012, documenting the early years of the AIDS epidemic with an activist's passion in a film that won him a host of awards and nominations for a several more, including an Oscar.
Now, "Chechnya," which premiered at last year's Sundance Festival and was released by HBO last summer, has made the shortlist for this year's Academy Awards, raising the possibility for a second chance at taking home the coveted statue. Yet Oscar gold was not what France had on his mind when had a conversation with the Blade about the film earlier this week. Rather, he wanted to discuss the people it's about.
France, like everyone else, had been appalled by the tales coming out of Chechnya in 2017. "We all read the stories," he tells us now, "but it wasn't until I read Masha Gessen's New Yorker piece about the work that ordinary Russians were having to take upon themselves that I became really fascinated."
He is referring to the network of LGBTQ activists that mobilized in the absence of outside help to extract refugees in daring escapes, hide them in safe houses across Russia, and work with groups around the world to get them out of the country. In "Welcome to Chechnya," he follows a handful of these accidental heroes, as well as several of the survivors they protect, as they orchestrate and enact spycraft that would be right at home in an episode of "The Americans." In the process, he shines a light on more than just the atrocities being committed against queer people in Chechnya. He also illuminates a level of courage that most of us have never had to muster up.
"That's what drew me in," France says. "The fact that ordinary citizens took it upon themselves to intervene, to try and save lives, while the rest of the world was doing so little about it."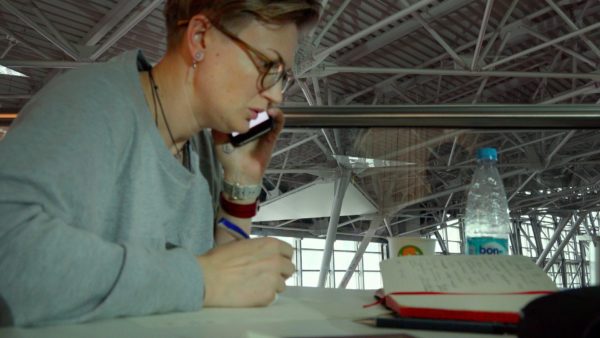 "It's not like they had been already doing this work," he explains. "Olga [Baranova, one of the activists who appears in the film] was running a community center that had an annual arts fair – that's the extent of her training for the kind of cape-wearing heroics that you see her carrying out."
With his cameraman and producer Askold Kurov, France spent months in the underground, chronicling the efforts of the activists and the stories of the survivors under their care, and getting plenty of first-hand experience with the kind of fear under which they had to willingly chosen to live, day after day.
After all, getting out of Chechnya wasn't enough to make anyone safe; Chechen authorities were willing to stop at nothing to make sure nobody had a chance to expose what was going on, up to and including tracking down, recapturing, and maybe even killing any potential witnesses – and anyone who stood in the way was putting themselves in peril, too.
"I remember going on one of the extractions," he relates. "We were getting ready to make a run with a couple whose location had been found out. We had only a few hours to get them to the airport, and then we got word of a rumor that a group of assassins had been dispatched to prevent them from leaving the country. We had one bodyguard, with one sidearm, with us.
"That kind of unbelievable peril is what hung over, and what still hangs over, every aspect of the work these ordinary Russian activists have taken on for themselves."
It's also what made it a challenge to film the refugees, for whom anonymity was a matter of life or death.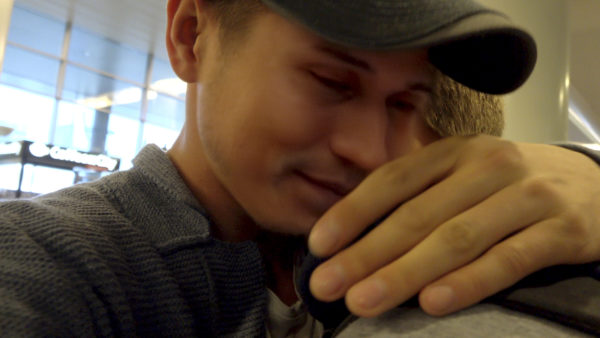 "I wanted to show what they looked like," he tells us. "The pain that they wore on their faces, the hope – and certainly the fear. And most of them wanted the world to know what had happened to them, to expose these crimes – but they also understood what it would mean for them and their families if they stood up publicly and revealed their truths. They were terrified, and here I was asking them to let me film them anyway and then figure out how to solve this problem later."

There is still a touch of awe in his voice as he says, "Remarkably, a couple of dozen people agreed to let me do that."
He continues, "There were people, of course, who couldn't take that leap with me. There was one person who was nervous even about me filming other people in the shelter. These were people who had just escaped the most horrific abuse and torture, and violation from their own families. They were hiding from their brothers and their uncles, from their own fathers. That dislocation of familial love was so traumatic to everybody there that some of them were just on a very sharp edge – unable to reckon with the past, unable to find security in the present or see hope in the future. You see that in the film with one of them, who even attempts suicide. For those people, it was a difficult arrangement to have me shooting even on the other side of the shelter house. I understood that and I tried to be very respectful."

The challenge of maintaining privacy would eventually be surmounted by new, state-of-the-art identity protection software, a high-tech touch that France – savvy storyteller that he is – was able to parlay into one of the film's most dramatic and unexpected moments. A considerable amount of screen time in "Welcome to Chechnya" is devoted to an anonymous refugee who has escaped from his tormentors into the network, where he is reunited with his family and his boyfriend of ten years; a turning point comes when, despite being poised for removal to another country, he chooses to go public with his story and make an official complaint to the Russian government.
As he makes that decision, the false features realistically rendered over his real ones melt away before our eyes, revealing his unaltered face – and with it, his true identity. It's a powerful effect, and it's our official introduction to Maxim Lapunov, whose subsequent appearance before a Russian court to tell his story is captured in the movie. Unsurprisingly, his claims are dismissed, and the need to get him and his loved ones out of the country becomes even more imperative.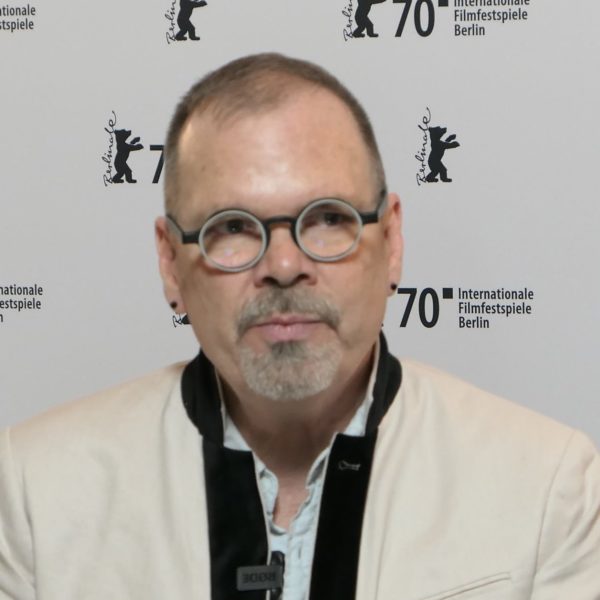 In talking about Lapunov, the awe returns to France's voice. "Maxim's moral courage is unmatched. It was really clear that his life was going to be fucked up for the foreseeable future, no matter what he did. The courage that he showed was the courage to throw his body in the way to make sure that other people don't get treated the way that he was treated – to save people's lives. He could have gone anywhere in the world, and just nursed his post-traumatic memories in safety, but instead he went back into the fire.
That was remarkable. I watched him make those decisions, I watched him take on that risk, I watched him bring his family along on that journey and win their allegiance in these choices – these are human dramas like you see in Hollywood films that actually are taking place in the queer battle against the crimes in Russia."
He segues into a similar expression of respect for David Isteev, another activist prominently featured in "Chechnya."
"When you look at his face, you just get this incredible sense of high alert and of moral purpose. It makes me think of the stories we have heard from the Holocaust, of citizens who would otherwise have been untouched who reach into some deep reserve to do something. That's him. And being in the presence of that was one of the most remarkable experiences of my life."
If it sounds like he has bonded with his subjects, it's because he has. Being embedded in the shelter network for such an extended period of time, he and Kurov became part of the underground themselves. "We were no longer visitors from outside," he says. "We were experiencing what they were. I spent nights full of terror inside those safe houses, when rumors were flying about people who might have been seen, locations that might have been revealed, dangers that might have been heightened – I felt that with them. We huddled together, and, in a way, I became part of their journey.
"I do feel personally attached to those people having been through that with them. It's something like the bond of warfare that you read about. I would do anything for David. I would do anything for Maxim and his family."
The real emotion apparent in these professions of kinship is surely one of the reasons why the documentarian is still, more than six months after his film's debut, eager to talk about it. The people with whom he developed these strong bonds are still very much at risk.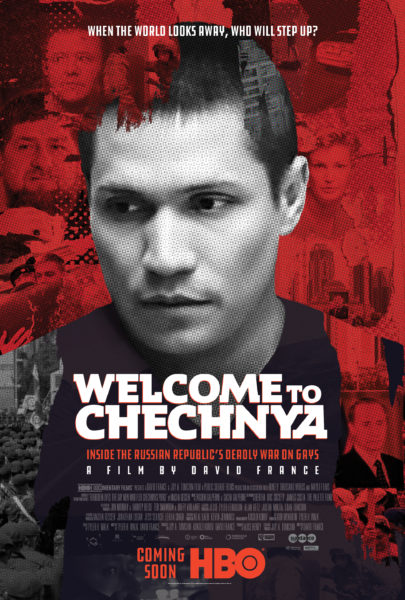 The biggest horrors in "Welcome to Chechnya" are only glimpsed briefly in dark and blurry videos intercepted from the web by the network, or described in the stories of torment, humiliation and brutality told by the survivors, but they cast a dark enough shadow over the imagination to make us want to believe they are safely in the past.
Unfortunately, as France is quick to remind us, LGBTQ persecution in Chechnya is still very much "an ongoing humanitarian crisis." Just last week, two refugees were kidnapped from the network by Russian authorities and returned to Chechnya, an incident that brought the situation there back into the headlines.
"These were two very young men, one of them twenty, and the other seventeen – not even a man," relates France. "They had been abducted last summer in Chechnya and tortured, they barely got out alive. They were rescued and extracted by the network and were being held in a safe house while the work was being done with foreign partners to try and get them out. Now they are back in detention in Chechnya. It's a very volatile situation."
Yet it's also a situation in which, perhaps ironically, he sees a hope that has been scarce for the past four years.
"The United States, in this new administration, has expressed great concern for those two kids and demanded information on their safety," he points out. "The European Court for Human Rights has demanded access to them, and safe passage for them to get back to the safe house where they were being held."
For him, it's a call to action. "The Russian LGBT network is on the ground, still fighting this fight," he says. "We can urgently throw our voices behind their efforts with regard to these two youngsters – we could save their lives. There are petitions, but that's not enough. We know from watching these activists' work that it's essential, it's extensive, and as you can imagine, it's costly. They cannot raise money within Russia, so they've asked people who see the film to help them by donating.
There's a donation page on the movie site. We've just watched almost $200,000 move through there, in the six months since the film came out, and that money goes to the Moscow Community Center, Olga's group that runs the shelter system, to the Russian LGBT Network that does the extractions and runs the global hotline for the crisis – and it also goes to Maxim and his legal case, which is still percolating through, and showing great progress in, the European courts.
"So, I think there's hope, but we have to act urgently. I think what's shocked us all, in the last few years, is how easily we can lose ground. All this progress that we've made over the last thirty or forty years can be reversed in a heartbeat, and that's what's happened in Russia, and Russia has led the way in this dramatic reversal of queer progress, all across Europe. It's going to take a lot of people coming together internationally to stop that, but it is possible."
He's a realist in his expectations, though. "We can't hope for is regime change in Chechnya or in Russia. Those are not practical, immediate goals. But we can force Ramzan Kadyrov in Chechnya to stop this. He is a puppet of Putin's. If we make it politically untenable for Putin not to intervene there, then he will lift up the telephone and say to Kadyrov, 'Stop it.' That's all that it takes. It's that simple. We haven't gotten there because we haven't had the kind of global leadership that can bring collective pressure on Putin to do that. I think we're in a place where we can now.
"Even just watching the film is an important step. The Russian government has said repeatedly that this is not happening, that there's no evidence, even – ridiculously – that there are no queer Chechens. They say that no one has come forward, but Maxim did that, officially, and they rejected his claims. The people protected by the digital technology we deployed in the film have also spelled out their stories, so they are witnesses. And we're all witnesses, now."

The passion creeps back into France's voice as he recalls, "That was my promise to the people in the network, when I said I wanted to film with them, that I was going to help make this so that everybody in the world knows what's happening.
"Anybody who sees the film becomes a witness, and it becomes an act of resistance just to talk about what you see in it."