September 20, 2019 at 1:13 pm PDT | by Karen Ocamb
LGBTQ Presidential Candidate Forum watch party at The Abbey tonight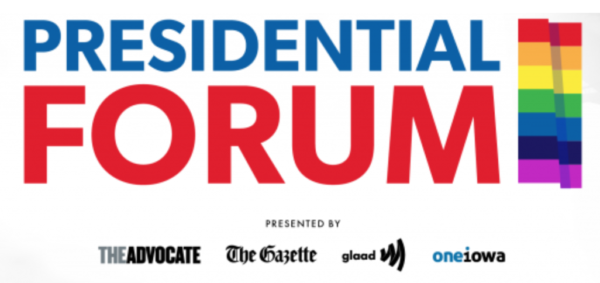 The first LGBTQ Presidential Candidate Forum is being held tonight in Iowa, the state that holds the first in the nation caucuses. The historic event, co-sponsored by GLAAD, One Iowa, The Gazette, and The Advocate, will be live streamed on Facebook, Twitter, YouTube, ABCNews.com, and NBC News from Coe College's Sinclair Auditorium in Cedar Rapids, Iowa.
GLAAD has set up 54 watch parties in 24 states across the country – including one at The Abbey in West Hollywood (692 N Robertson Blvd) that starts at 5:00pm Pacific time.
The Forum will feature 10 Democratic Presidential candidates – Joe Biden, Cory Booker, Pete Buttigieg, Julián Castro, Tulsi Gabbard, Kamala Harris, Amy Klobuchar, Joe Sestak, Elizabeth Warren, and Marianne Williamson, though not necessarily in that order. Bernie Sanders and Andrew Yang pulled out.
The Advocate posted briefs on each of the candidates indicating their votes and positions so far. It is unclear if any will make news, though their appearances alone are important for LGBTQ and allied voters.
The Forum will be hosted by transgender actor and activist Angelica Ross – another historic moment – and GLAAD President & CEO Sarah Kate Ellis. It will open with Billy Gilman singing the National Anthem – which could be interesting if cameras catch anyone not signing or publicly taking a knee in support of the Colin Kaepernick symbolic stance against police shootings of Black men.
The moderators are: The Gazette columnist Lyz Lenz; The Advocate editor-in-chief Zach Stafford; and Keenan Crow, One Iowa director of policy and advocacy who will ask each candidate about their vision or plan "for accelerating LGBTQ acceptance," as well as questions about specific LGBTQ issues and concerns.
Washington Blade political correspondent Chris Johnson is at the site, as are reporters from other LGBTQ and allied outlets, tweeting under the hashtag #LGBTQForum.  The Blade reported that exit polls from the 2018 midterm elections indicated that LGBTQ voters represented about six percent of the electorate.
"This LGBTQ Presidential Forum is a pivotal moment in the 2020 election cycle. It's the first time that LGBTQ issues will be exclusively discussed by 2020 presidential candidates on a national stage," says Ellis. "We look forward to hearing how the 2020 candidates plan to reverse the attacks and rollbacks of the Trump Administration and put LGBTQ Americans on a course to 100% acceptance."
GLAAD notes that "LGBTQ Americans have faced 125 anti-LGBTQ attacks in policy and rhetoric from the Trump Administration, including the President's ban on transgender Americans from serving in the military and the administration's opposition to the Equality Act."
Meanwhile, in advance of the Iowa Forum and the HRC/CNN Forum on Oct. 10, HRC released a snapshot of some early voter in the four key early voting states that will be the winnowing process before Super Tuesday next March: of the approximately 7.5 million registered voters in Iowa, New Hampshire, Nevada and South Carolina, over 23% are Equality Voters and approximately 5% are LGBTQ voters.
"With more than 11 million LGBTQ voters and 57 million Equality Voters nationwide, voters who prioritize LGBTQ rights have become a force to be reckoned with and a constituency to court," said HRC President Alphonso David (@AlphonsoDavid) in a press release. See the data here, and read more at HRC.