LGBTQ Presidential Candidate Forum watch party at The Abbey tonight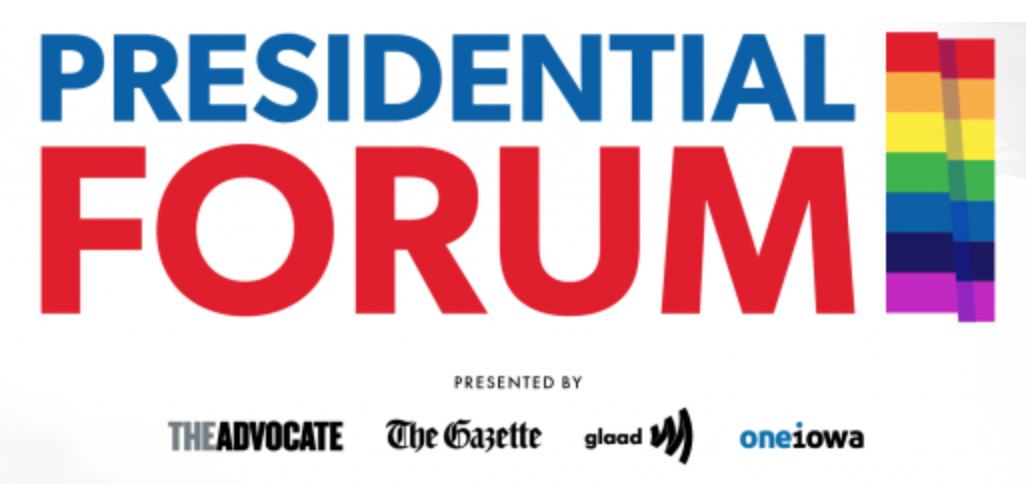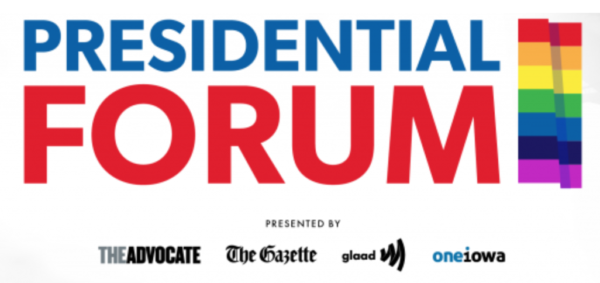 The first LGBTQ Presidential Candidate Forum is being held tonight in Iowa, the state that holds the first in the nation caucuses. The historic event, co-sponsored by GLAAD, One Iowa, The Gazette, and The Advocate, will be live streamed on Facebook, Twitter, YouTube, ABCNews.com, and NBC News from Coe College's Sinclair Auditorium in Cedar Rapids, Iowa.
GLAAD has set up 54 watch parties in 24 states across the country – including one at The Abbey in West Hollywood (692 N Robertson Blvd) that starts at 5:00pm Pacific time.
The Forum will feature 10 Democratic Presidential candidates – Joe Biden, Cory Booker, Pete Buttigieg, Julián Castro, Tulsi Gabbard, Kamala Harris, Amy Klobuchar, Joe Sestak, Elizabeth Warren, and Marianne Williamson, though not necessarily in that order. Bernie Sanders and Andrew Yang pulled out.
The Advocate posted briefs on each of the candidates indicating their votes and positions so far. It is unclear if any will make news, though their appearances alone are important for LGBTQ and allied voters.
The Forum will be hosted by transgender actor and activist Angelica Ross – another historic moment – and GLAAD President & CEO Sarah Kate Ellis. It will open with Billy Gilman singing the National Anthem – which could be interesting if cameras catch anyone not signing or publicly taking a knee in support of the Colin Kaepernick symbolic stance against police shootings of Black men.
The moderators are: The Gazette columnist Lyz Lenz; The Advocate editor-in-chief Zach Stafford; and Keenan Crow, One Iowa director of policy and advocacy who will ask each candidate about their vision or plan "for accelerating LGBTQ acceptance," as well as questions about specific LGBTQ issues and concerns.
Washington Blade political correspondent Chris Johnson is at the site, as are reporters from other LGBTQ and allied outlets, tweeting under the hashtag #LGBTQForum.  The Blade reported that exit polls from the 2018 midterm elections indicated that LGBTQ voters represented about six percent of the electorate.
"This LGBTQ Presidential Forum is a pivotal moment in the 2020 election cycle. It's the first time that LGBTQ issues will be exclusively discussed by 2020 presidential candidates on a national stage," says Ellis. "We look forward to hearing how the 2020 candidates plan to reverse the attacks and rollbacks of the Trump Administration and put LGBTQ Americans on a course to 100% acceptance."
GLAAD notes that "LGBTQ Americans have faced 125 anti-LGBTQ attacks in policy and rhetoric from the Trump Administration, including the President's ban on transgender Americans from serving in the military and the administration's opposition to the Equality Act."
Meanwhile, in advance of the Iowa Forum and the HRC/CNN Forum on Oct. 10, HRC released a snapshot of some early voter in the four key early voting states that will be the winnowing process before Super Tuesday next March: of the approximately 7.5 million registered voters in Iowa, New Hampshire, Nevada and South Carolina, over 23% are Equality Voters and approximately 5% are LGBTQ voters.
"With more than 11 million LGBTQ voters and 57 million Equality Voters nationwide, voters who prioritize LGBTQ rights have become a force to be reckoned with and a constituency to court," said HRC President Alphonso David (@AlphonsoDavid) in a press release. See the data here, and read more at HRC.
U.S. Supreme Court upholds Biden's ability to enforce immigration laws
In its 5-4 ruling the high court said that the president may repeal the Trump-era 'remain in Mexico' policy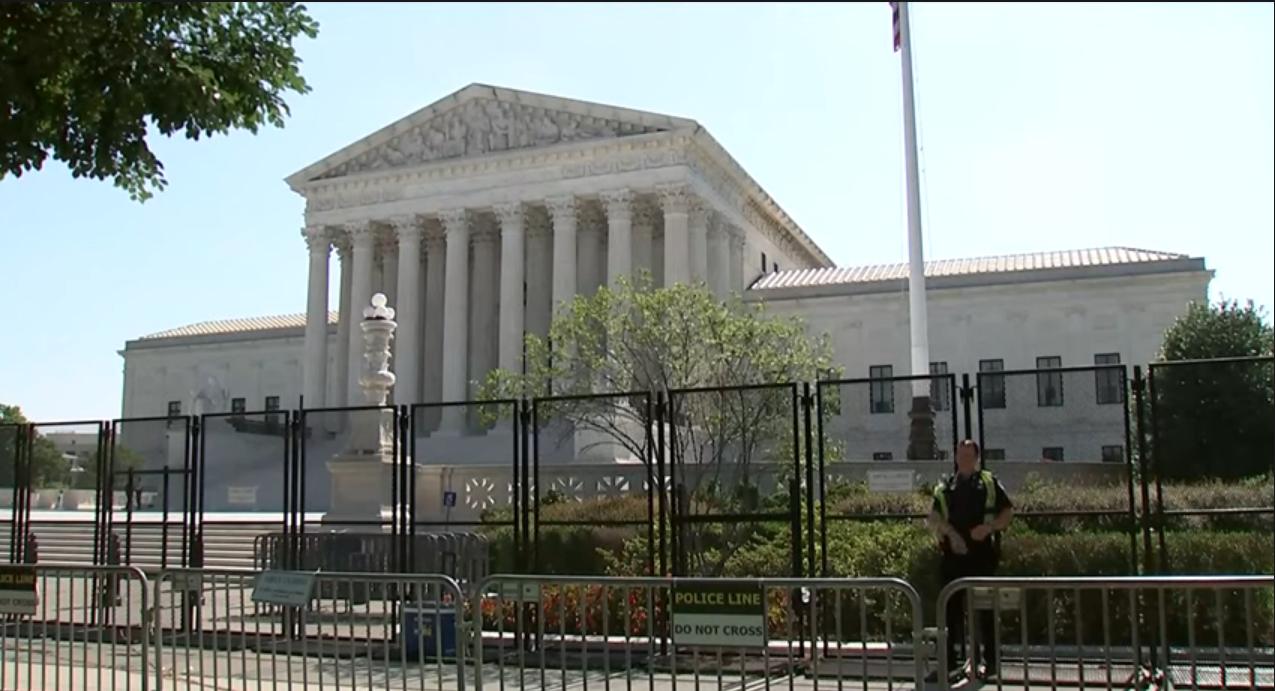 WASHINGTON – The U.S. Supreme Court Thursday upheld President Biden's broad presidential powers to enforce the nation's immigration laws and policies. In a 5-4 ruling the high court said that the president may repeal the Trump-era 'remain in Mexico' policy, which barred most Central American migrants from entering the United States to seek asylum.
Chief Justice John Roberts, joined by Justices Sonia Sotomayor, Elena Kagan, Stephen Breyer and Brett Kavanaugh rejected arguments by Republican-led states in the case known as Biden v. Texas that were seeking to force the administration to keep the policy enacted under former President Trump.
The Chief Justice writing for the majority held that the decision to end it did not violate a 1996 migrant detention law and that a second memo terminating the program should have been considered by lower federal courts.
In his opinion, Roberts overturned the ruling by the 5th U.S. Circuit Court of Appeals that forced border officials to revive the Remain in Mexico rules, formally known as the Migrant Protection Protocols this past December. The Chief Justice noted that the 1996 law which authorizes the program does not mandate U.S. Immigration and Customs Enforcement (ICE) officials to return migrants to Mexico, but allows them the option to do so. Roberts referenced use of the word "may" in the statute.
If Congress meant for the law to require asylum-seekers to be returned to Mexico, Roberts wrote, "it would not have conveyed that intention through an unspoken inference in conflict with the unambiguous, express term 'may.'"
Justices Samuel Alito and Amy Coney Barrett filed separate dissenting opinions, parts of which were joined by Justices Neil Gorsuch and Clarence Thomas.
U.S. Senator Alex Padilla (D-Calif.), Chair of the Senate Judiciary Subcommittee on Immigration, Citizenship, and Border Safety, released the following statement on the Supreme Court's decision today in Biden v. Texas:
"Today's Supreme Court decision correctly acknowledges the Biden administration's authority to end the unlawful and cruel 'Remain in Mexico' program. For more than three years, this horrifying policy has denied asylum seekers their right to due process and subjected them to crimes like rape, kidnapping, and torture in northern Mexican border cities while they await their court hearings.
"I urge the Biden administration to do everything in its power to swiftly end 'Remain in Mexico' once and for all. Misguided and inhumane Trump-era policies like 'Remain in Mexico' and Title 42 have only decimated an already broken immigration system. We must keep working to restore the lawful processing of asylum seekers at the border, in keeping with America's most deeply held values as a nation of immigrants."
This is a developing story.
Risk of monkeypox infection not high, but 'numbers may increase'
Fauci said the current outbreak is predominantly among men who have sex with men among individuals who have had sexual contact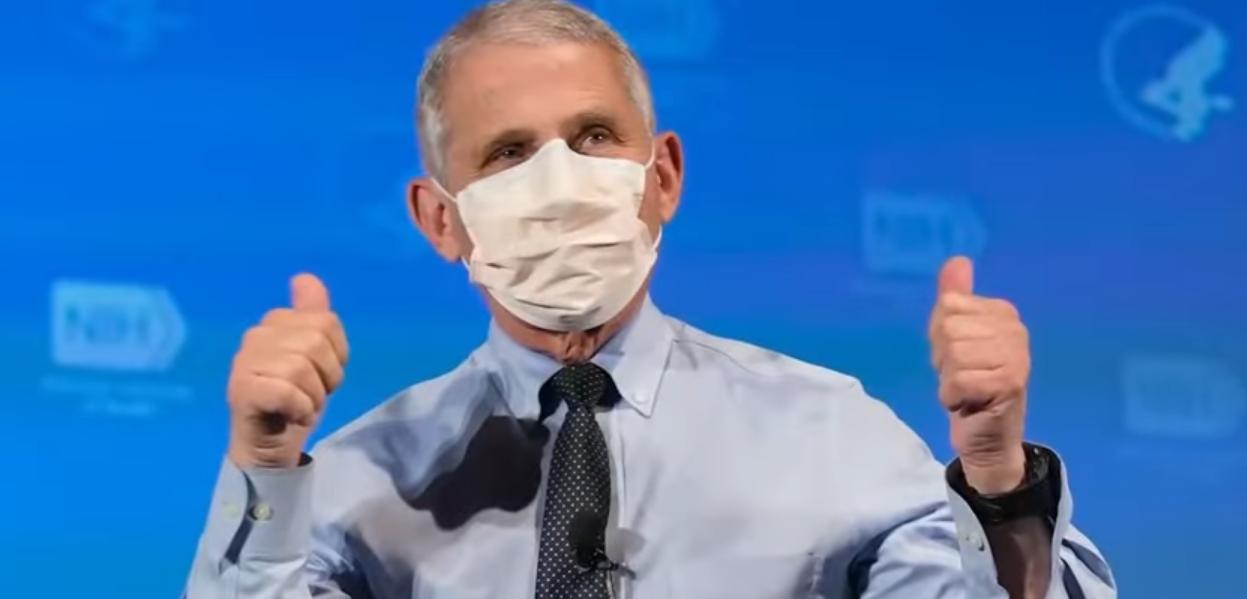 WASHINGTON – Dr. Anthony Fauci, the director of the National Institute of Allergy and Infectious Diseases and the Chief Medical Advisor to the President, who has been at the forefront of the battles against the HIV/AIDS and COVID-19 epidemics, downplayed Wednesday the idea gay and bisexual men are at high risk of contracting monkeypox as the outbreak begins to spread, but cautioned "the numbers may increase."
"Given the numbers I would not say right now at this particular point, that it is a quote, high risk, but the numbers may increase, which means we just have got to be careful and pay attention," Fauci said.
Fauci made the remarks in a conference call with reporters from LGBTQ news outlets on the heels of the Biden administration's announcement that it would ramp up efforts to confront the emerging spread of monkeypox.
On Monday, the Department of Health & Human Services, announced a nationwide vaccination strategy against monkeypox, which consists of providing nearly 300,000 vaccines with priorities for individuals at risk and areas with high rates of infection. An estimated 750,000 vaccines are expected for delivery by the end of summer, according to HHS.
In response to a Blade question about the risk of gay and bisexual men contracting monkeypox, Fauci said that was difficult to quantify and he "wouldn't say low, because then…that can be taken out of context," but went on to express there's a minimal risk of infection if precautions are taken.
"What we're seeing given the number of cases and the rate in which they've accelerated, it's clearly out there," Fauci said. "But when you talk about the large number of gay and bisexual men who have sex with men, that on any given individual contact I think if one is careful, and make sure that both parties in a sexual interaction are aware of lesions that might go unnoticed, then you can go a long way in pure prevention to prevent that from happening, but I think it would be risky to classify it as low, medium or high."
The U.S. has confirmed 306 monkeypox cases across 27 states and Washington, D.C., the Centers for Disease Control announced Tuesday. That represents a surge of 63 cases from the previous week.
Fauci said the current outbreak is predominantly among men who have sex with men among individuals who have had sexual contact. Monkeypox is technically not a sexually transmitted disease, Fauci said, because it's spread through skin-to-skin contact, but "because of the close skin to skin interaction that occurs in sexual contact, that appears to be the modality spread." Monkeypox, Fauci said, is "not fundamentally a lethal infection."
Raj Panjabi, senior director for global health security and biodefense on the White House National Security Council, was also on the call and said the Biden administration's monkeypox plan consists of "three pillars" of testing, vaccines, and outreach.
"In terms of outreach, there is no effective response to an outbreak without a community based response," Panjabi said. "And so we've worked to ensure an open dialogue with leaders and stakeholders in the LGBTQIA+ community. What we've been doing is to try to understand from those most affected by this outbreak, learn from them, help them stay vigilant within the community to protect themselves from the disease and try to adjust our response according to the gaps that they've raised."
The rise in monkeypox infections comes during Pride month, a time when LGBTQ community is engaged in celebrations and oftentimes in close contract and intimate settings, including sexual activity.
Asked by a reporter with NBC News whether this weekend's Pride celebrations may have fueled the spread, Fauci said in theory "the risk is probably increased" in Pride activities "because people tend to get involved in sexual networking there," but precautions at the end of the day would mitigate new infections.
"You don't want to panic people but you want to get people to appreciate, particularly with the Pride activities that are going on now, to be aware and to just be careful," Fauci said. "And being careful can be very practical, but making sure that you're aware of things like skin lesions or lesions around areas of the body, particularly when you're having a sexual encounter. Those are the things we're trying to do."
Exclusive: Chicago's Out mayor describes Roe ruling as 'gut punch'
Lori Lightfoot in 2019 became the first Black lesbian woman elected mayor of a major U.S. city, the nation's third largest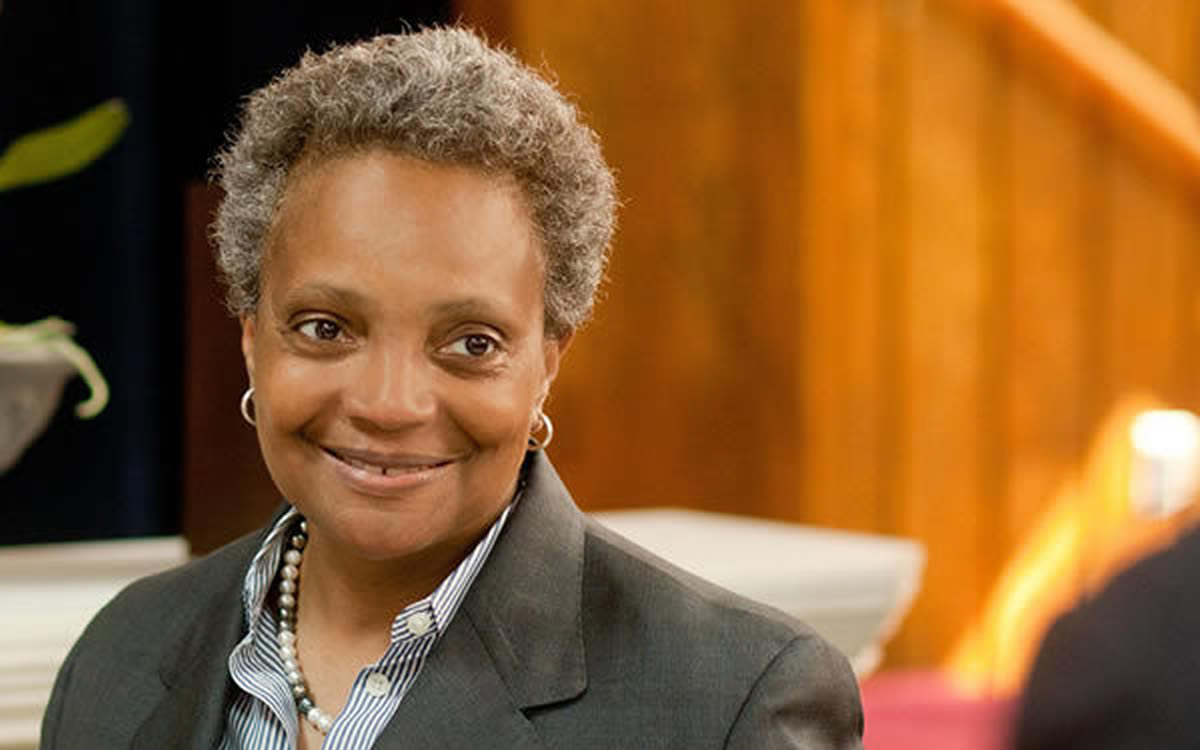 CHICAGO – Mayor Lori Lightfoot on Monday said the U.S. Supreme Court ruling that overturned Roe v. Wade was a "gut punch."
"It wasn't a surprise," she told the Washington Blade during an exclusive interview. "This had been a 50-year quest for people who don't want to recognize our rights and want to take us back to 1950s America, when our community was pushed very decidedly into the closet because we didn't have protections — we certainly didn't have marriage. That was inconceivable back then."
"We didn't have protections on employment, on housing and the basic rights of citizenship that we've come to really embrace and expect as Americans," added Lightfoot.
Lightfoot in 2019 became the first Black lesbian woman elected mayor of a major U.S. city.
She noted Justice Clarence Thomas in his concurring opinion in the Roe decision said the Supreme Court should reconsider its decision in the Obergefell, Lawrence and Griswold cases that guarantee marriage equality and the rights to private, consensual sex and access to contraception respectively.
"Fuck Clarence Thomas," said Lightfoot on Sunday when she spoke at Chicago Pride.
"I woke up yesterday morning feeling pretty sad for all the reasons that you would expect," she told the Blade on Monday. "It was still inconceivable that we are now living in an America where all of us who have been empowered to teach and live our own authentic lives are now at risk in this country by the stroke of a pen and a radicalized right-wing majority on the court with seemingly little regard of the consequences."
Lightfoot said the ruling's "immediate impact" will be on women in "red states" and "states that have trigger laws" that ban abortion. Lightfoot added women of color and low-income women will be disproportionately impacted.
"You got to play the long game here," she said. "Clarence Thomas clearly signaled what his intent is, which is when you talk about reconsidering Griswold, that's the right to contraception access. They talk about reconsidering Lawrence in Texas. We know what that is. Well really, are gay men going to be in a position where they have to worry about cops breaking into their bedroom and try to haul them off to jail by engaging in a natural act of intimacy between consenting adults?"
"We are very much in the target, and the sights of this right-wing mob that feels like the only way that they can exercise their power is by taking ours," added Lightfoot.
'We're going to respect your rights'
Lightfoot in May announced a "Justice for All Pledge" after Politico published a leaked draft of the Roe decision.
Her administration and the Chicago Department of Public Health pledged an additional $500,000 to "support access to reproductive healthcare for Chicagoans and patients seeking safe, legal care from neighboring states that have or ultimately will ban abortion if the Supreme Court decides to strike down Roe v. Wade, as outlined in the leaked decision." The "Justice for All Pledge," among other things, reaffirms Chicago will "fight for the rights of all people regardless of race, color, sex, gender identity, age, religion, disability, national origin, ancestry, or sexual orientation."
"We will fight to ensure that no person will be attacked, assaulted, bullied, or discriminated against because of who they are, the choices they make regarding their bodily autonomy, or who they love," reads the pledge.
"We have to be a beacon of light and hope across the country and particularly in the Midwest region," said Lightfoot.
She also encouraged LGBTQ people from Florida, Texas and other states that have passed homophobic and/or transphobic laws to consider moving to Chicago.
"We're going to respect your rights," said Lightfoot. "We're going to allow you to live in an environment where you can live your true, authentic life without the worry of some radicalized right-wing legislature cutting off your rights. People have to start making choices."
Lightfoot also challenged corporations to do more to support LGBTQ rights and their LGBTQ employees.
"Corporations have to start making choices," she said. "All those nice little value statements on a corporate website, if you value your employees and their rights, you cannot be situated in states that are attacking everyone in our community."
"When you look at the fact that many of these states are attacking children and their families, that tells you there's no floor, there's no floor to which they will sink," added Lightfoot. "It's open season on us and we've got to respond."
Mayor lacked role models 'that looked like me'
Lightfoot lives in Chicago's Logan Square neighborhood with her wife, Amy Eshleman, and their daughter.
She told the Blade that she met a transgender teenager from downstate Illinois during Chicago Pride. Lightfoot said she hugged her and her parents and she "just felt such joy."
She said she "didn't see any role models that looked like me" and "didn't see a lot of gay and lesbian leaders on a national level or even at the local level" when she was younger. Lightfoot told the Blade in response to a question about how she feels about being the first Black lesbian mayor of a major U.S. city that there are now "so many more of us who are living our authentic lives."
"One of the greatest gifts that we can give is to say to those young people, you're going to be great," she said. "Be who you are, embrace, embrace your authentic life. Because there's always going to be a home for you. There's going to be a village, a community that's going to be supportive. That's one of the things I think the most powerful statement that I can make as mayor, using my platform as mayor of the third largest city, to say to our young people, you're always going to have a home here."
Lightfoot earlier this month announced she is running for re-election in 2023.
Crime and the response to protests in the wake of George Floyd's murder in 2020 are among the issues over which Lightfoot has faced criticism.
She referenced efforts to make "real meaningful, permanent progress on public safety that we are doing here in our city against a lot of different headwinds" and economic development in low-income neighborhoods as two of her administration's accomplishments. Lightfoot said she decided to run for a second term because "the work's not done."
"We have been through a lot, as every major city in the country has in these last three years, but we've persevered and continued to do really good work on behalf of the people and made a lot of progress," she said.
"I liken it to being a gardener," added Lightfoot. "You till the soil, you plant the seeds, you want to be around to reap the harvest. And I want to make sure that the work that we put in place, that those roots are deep and strong and they continue to bear fruit for years and years to come, long after I fade from the scene."
Lesbian super PAC again endorses Lightfoot
LPAC endorsed Lightfoot's initial mayoral campaign. The super PAC that supports lesbian candidates has once again backed her.
"I am just grateful that they are ready to re-up for round two," said Lightfoot.
"When we are present in those corridors of power, we bring a life of experience that is different than traditionally the straight white men that have populated these corridors of power," she added. "We show up and we show up importantly for our community and that is critically important."
LPAC Executive Director Lisa Turner in a statement to the Blade praised Lightfoot.
"When I think of the Black LGBTQ leaders serving in office like Chicago Mayor Lori Lightfoot, I am filled with pride about the work LPAC has done to uplift women and support their campaigns," said Turner. "We were the first national organization and LGBTQ organization to endorse Mayor Lightfoot in 2019, and we are proud to be the first again as she seeks re-election. LPAC's unwavering support shows our commitment to not solely electing more LGBTQ women to office, but to elect LGBTQ women who represent the full diversity of our community."