Lorri Jean reflects on her journey to the Center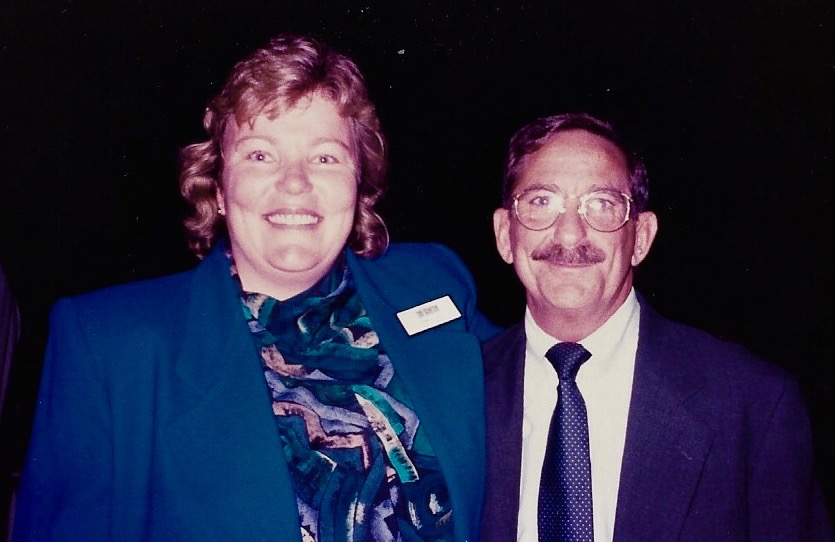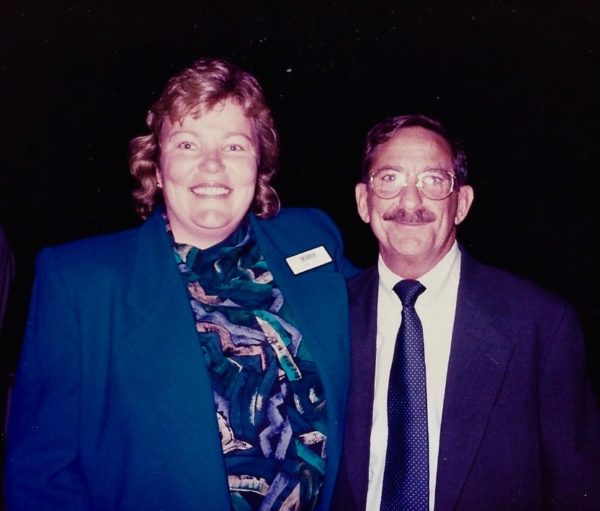 New Los Angeles Gay and Lesbian Community Services Center executive director Lorri Jean with Board co-chair Ed Gould (Photo by Karen Ocamb) 
It's spectacularly ironic, really. Just as the fabric of American democracy is being shredded by a wannabe dictator seeking personal profit, an organization started by a group of gay people being of service to the most marginalized of the marginalized in 1969 has become the nation's oldest LGBTQ institution, still serving those in need. This year marks the 50th anniversary of the Los Angeles LGBT Center and it is still growing, as evidenced by the historic opening of the huge Anita May Rosenstein Campus in Hollywood.
The Center is not only a real establishment, it is also a metaphor, a modern beacon of hope modeling how grit, determination, organization and a family-of-choice kind of love can overcome enormous obstacles and create services and unique opportunities that wind up benefiting those beyond the circle.
"We've suffered such great reversals under [President Donald] Trump in a way that we never had before—because we never had so much to lose before," says Lorri L. Jean, the Center's CEO for more than 20 years. "If the Center's history has been anything, it has been weathering the best of times and the worst of times, persevering, and always prevailing.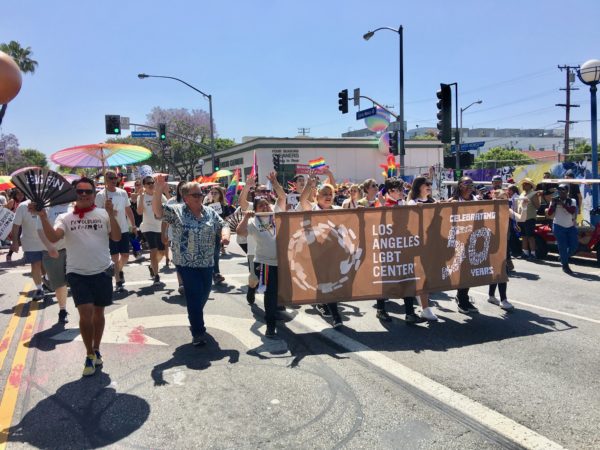 "I think that opening the Anita May Rosenstein Campus in the midst of the worst presidential administration for our community in history is an illustration of what's next," Jean says. "We cannot give up. We must continue to provide what our community needs. We have got to be laser-focused on getting rid of Trump and any anti-LGBT cronies—I don't care what their party is. We deserve to have pro-LGBT presidents, pro-LGBT members of Congress. So we have to focus on that at the same time that we are continuing to care for those in our community who are most vulnerable and most in need."
As it turns out, Jean is a history buff, a very helpful trait when organizing a 50th anniversary celebration with as many of the pioneers as remain and can attend the Gold Anniversary Vanguard Celebration and concert on Saturday, Sept. 21 at the historic Greek Theatre.
Jean's perspective on the Center may differ from the seven other executive directors over the decades. But her perspective on the Center's history stems from a sense of her own history and her deep commitment to assume its profound responsibility to the LGBTQ community and the intersectional ground on which the community stands.
For the longest serving keeper of the Center's flame, Jean takes leadership of the institution very personally.
It was February of 1979 when Jean first realized she is a lesbian—and it had nothing to do with Harvey Milk or Anita Bryant. She was in her last semester at Arizona State University and in a student government group for women. A closeted professor with whom she socialized wanted to set her up on a date.
"It was a woman! I was shocked, just shocked! I'm like, 'A woman?' To make a long story short, that set me off on self-examination about well, why did she think I was a lesbian? Ultimately, at the end of that very tumultuous process of only a few weeks, I came to the realization that I was a lesbian," Jean says. "It would be many months before I would have my first sexual experience."
Months later, Jean moved to Washington, D.C. to go to law school. She also became an activist in the LGBT community. "I became the president of what was the Gay Activist Alliance, whose name I immediately changed to the Gay and Lesbian Activist Alliance [in 1986]. My favorite insult happened at that moment when Frank Kameny, for whom I had great respect, accused me of 'loose and slovenly thinking' because 'gay' includes everyone," she laughs. "I tried to explain to him why that was not the case."
Jean was running the all-volunteer GLAA when the AIDS epidemic started hitting hard.
"It was the most rewarding, exciting, passionate work I had ever done," she recalls. "So I decided that I wanted to work fulltime for the movement. But at that time, the salary scales were so terrible, and I had huge student loans from law school that I could only afford to take one of the top jobs."
In 1989, she applied to head the Human Rights Campaign Fund and was a finalist with Tim McFeely, who got the job. Realizing she needed to bolster her resume, she brazenly told her boss at the Federal Emergency Management Administration (FEMA) she wanted to be "the highest-ranking career employee running the Western regional office, or Region 9, which included California, Arizona, Nevada, Hawaii and all of the civic territories. It was FEMA's largest and busiest region. There had never been a woman in that job in any of the 10 regions and there had never been a man under the age of 55. I was, at that point, a 32-year-old out lesbian."
She got the job, moved to San Francisco and immediately had to handle the Loma Prieta earthquake. "We had a presidentially declared disaster an average of every 30 days for my three-and-a-half-year tenure there," Jean says. But she gained lots of experience "managing people at a huge level and billions of dollars." She also kept up her activism on the board of Lambda Legal. That board hired former Center board member Deborah Johnson as a consultant.
"Deborah and I liked each other a lot," she says. So when Johnson called and told her about a job in LA "with your name written all over it," she balked over the location but was intrigued and submitted her resume. Then Board Co-Chair Rose Green called and schmoozed her. She went to LA and got a lot of help during the interview process from outgoing director Torie Osborn.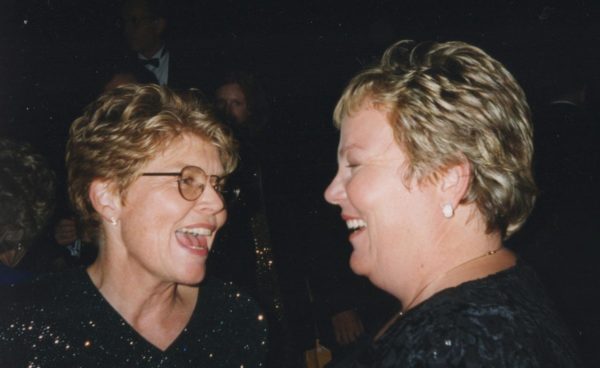 Torie Osborn and Lorri Jean years later (Photo by Karen Ocamb)
"I interviewed in the old Center on Highland Avenue, which was a converted motel. It was one of the best LGBT centers that there was at the time. But it was a dump," Jeans says. "I walked in there and I thought, 'Oh, my God. My parents will think I've lost my mind.' I mean, I was on the fast track, a young lawyer in the federal government, who'd been promoted to this important position," Jean says. "Then they took me over and showed me the new building on Hudson Avenue and I was blown away.
"As I learned more about all of the programs and services, I started to get hooked," Jean says. "I went home and Gina [Calvelli, an attorney and Jean's now wife] and I had begun seriously dating, but we weren't living together. I said, 'This place is amazing. I can't believe other people in our movement don't know about it. It's doing more than any LGBT center I've ever heard of anywhere. It's amazing. If you wouldn't consider moving to LA, then you need to tell me right now because I don't want to get hooked.'"
Calvelli agreed to think about moving to LA, enabling Jean to continue the application process. "I really wanted the job and thank goodness, the board of directors offered it to me," she says.
Jean had no idea that the Center would become her home and with it, the responsibility to be the keeper of such an important historical flame.
"I understood that this was a very important movement institution," she says. "I never thought that this would become my life's career because nobody did that back then. In fact, a big part of my decision when the job was offered to me was what would I do afterwards? Would my career be ruined because I had run a gay and lesbian center? I had some people who I cared a lot about who advised me against it for that very reason. But it's a good thing to be young because you feel like you can take more risks. I wanted to do it, so I ignored that counsel and took the job."
At the time, November of 1992, the Center was engaged in a multi-million dollar capital campaign and the annual budget, excluding capital, was a little under $8 million—in the middle of the second wave of AIDS. Jean had lost close friends in D.C., wrote last-minute wills and helped de-gay apartments before the parents came.
But the death of Gabe Kruks, director of programs under Torie Osborn, hit her in another way. With Osborn and other institutional Center leaders leaving, she called on her old friends Darrel Cummings and Kay Osberg. But she and Kruks established a rapport, giving her a lot confidence coming in as the new director.
"Then Gabe died suddenly before I ever got here. It really struck me," Jean says. "Gabe was going to be our fount of information. So when Gabe died, it was very concerning. It was shocking and sad. But I was young. I was an optimist. And I thought, 'Well, heck. There's nothing I can't learn.'"
Here are just some of the moments of Jean's 20 year career (photos by Karen Ocamb):
The Center was were the community held news conferences. Here's Lorri Jean hosting a news conference with attorneys John Duran and Jeff Thomas and their HIV+ client Michael Kolcum who successfully sued LA County for denying him HIV/AIDS medications as an inmate.

Lorri Jean often took visiting dignitaries on tours. Here she and Darrel Cummings escort President Clinton's first AIDS Czar, Kristine Gebbie, with ANGLE and APLA Board members Diane Abbitt and Dr. Scott Hitt following.

After the LA Riots and the firing of anti-LGBT Chief Daryl Gates, one of the first community stops his successor made was to the Center on Highland. In keeping with the overture, then-unofficial LAPD liaison Dave Kalish joined the Center board. Here's a photo with (l-r) openly gay LA Police Commissioner Art Mattox, Dave Kalish (who would later become the first openly gay LAPD deputy chief and candidate for  Chief), Lorri Jean, LAPD Chief Willie Williams, Sgt. Marc Goodman of the Golden State Police Officers Association, and Mark Thomson, editor of The Advocate's Long Road to Freedom which was an exhibit at the LA Library.

Jean wanted a signature event that would serve both as a major fundraiser and a symbol of what the Center stood for in the AIDS era. She and others came up with the California AIDS Ride to benefit the San Francisco AIDS Foundation and the LA Gay & Lesbian Center. Here's actress Judith Light with Pat Christen and Lorri Jean in 1996.

The California AIDS Ride, which became the AIDS LifeCycle after a severance with Pallotta Teamworks, was – and remains – one of Lorri Jean's favorite events with wife Gina Calvelli.

During the fight over marriage equality, the Center headquarters on Schrader Blvd and The Village at Ed Gould Plaza staging grounds for protests over Gov. Schwarzenegger vetoing Mark Leno's marriage bills, and the battles over Prop 22 in 2000 and Prop 8 in 2008. Lorri Jean, who headed the LA No on Prop 8 effort, is pictured here with campaign director Patrick Guerrero at an Oct. 2008 fundraiser and with Equality California Board Co-Chair John Duran on Election Night as Barack Obama won and Prop 8 passed.

Over her 20 years, Lorri Jean has appeared on many stages and TV screens advocating for LGBTQ rights, HIV/AIDS and issues impacting the community, as this screen grab from the televised and webcast 2018 Women's March illustrates.

Lorri Jean has developed and maintained significant relationships with other community leaders such as philanthropist Anita May Rosenstein, longtime Jewel's Catch One Disco owner Jewel Thais-Williams, award honorees like Obama senior advisor Valerie Jarrett, clients like Alice Hermann and elected officials like Rep. Adam Schiff (Photo by Troy Masters) who came to the Center after Donald Trump's election to let his LGBTQ constituents know he still has the community's back.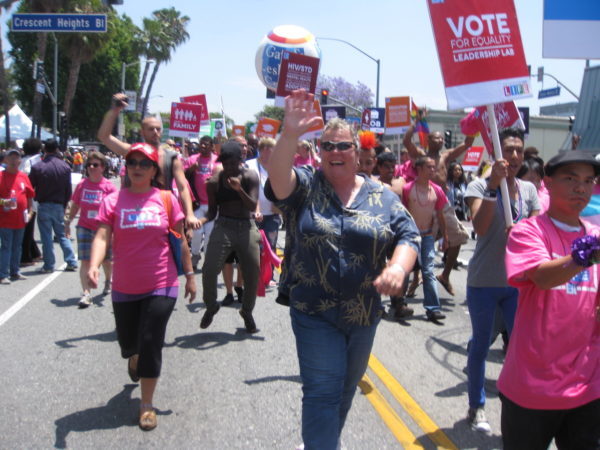 Twenty years later, whether celebrating the pioneers at the 50th Anniversary Gala or prepping for the next AIDS LifeCycle ride, CEO Lorri L. Jean still imparts that spirit of youthful optimism and eagerness to learn. And in a political world seemed set on going back to some old dream that never really was, Jean and the LA LGBT Center insist on forward progress.
21 years in prison for gunman who shot gay dogwalker
"You shot me and left me to die, and both of our lives have changed forever. […] but I do forgive you and everyone involved with the attack"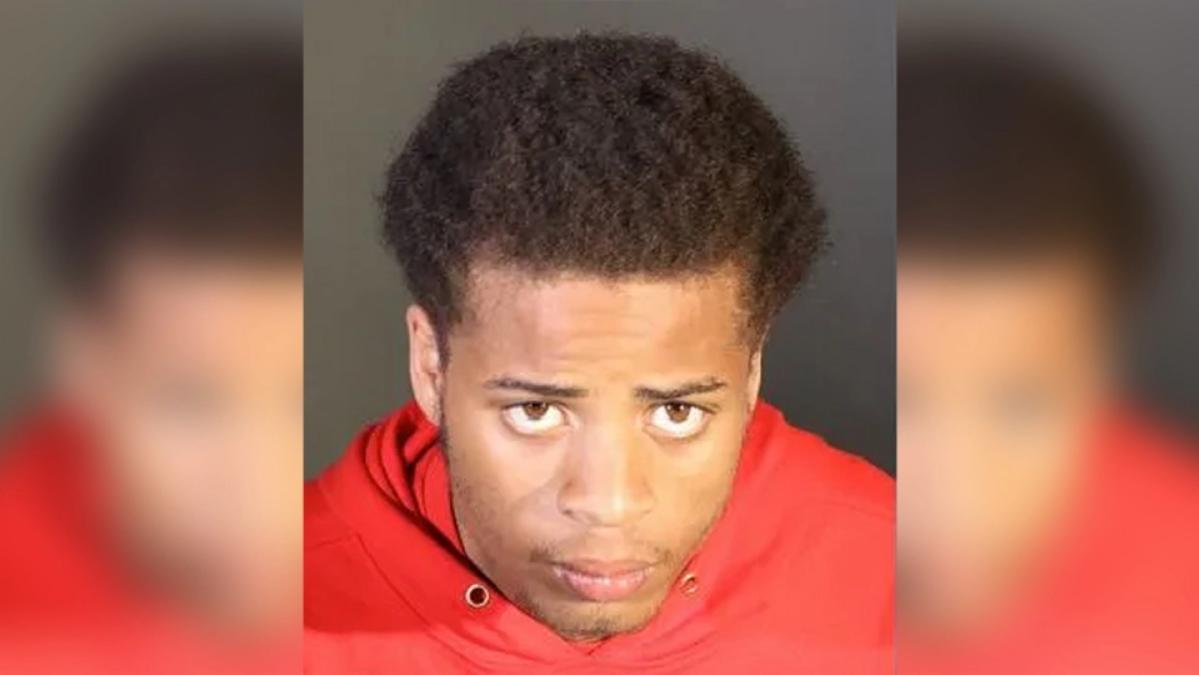 LOS ANGELES – A Los Angeles County Superior Court judge handed down a sentence of 21 years in a California prison to James Howard Jackson, who had shot then thirty-year-old Ryan Fischer, a gay professional dog walker in Hollywood on Feb. 24, 2021.
The robbery/dognapping made global headlines after it was revealed that the two French Bulldogs taken were owned by Oscar and Grammy award winning singer Stefani Germanotta, known as Lady Gaga.
Fischer was walking three of the singer's dogs when Jackson shot him during a struggle and then along with an accomplice grabbed two of the dogs in the 1500 block of N. Sierra Bonita Avenue just off Sunset Blvd, taking off in a late-model white Nissan Altima 4-door sedan.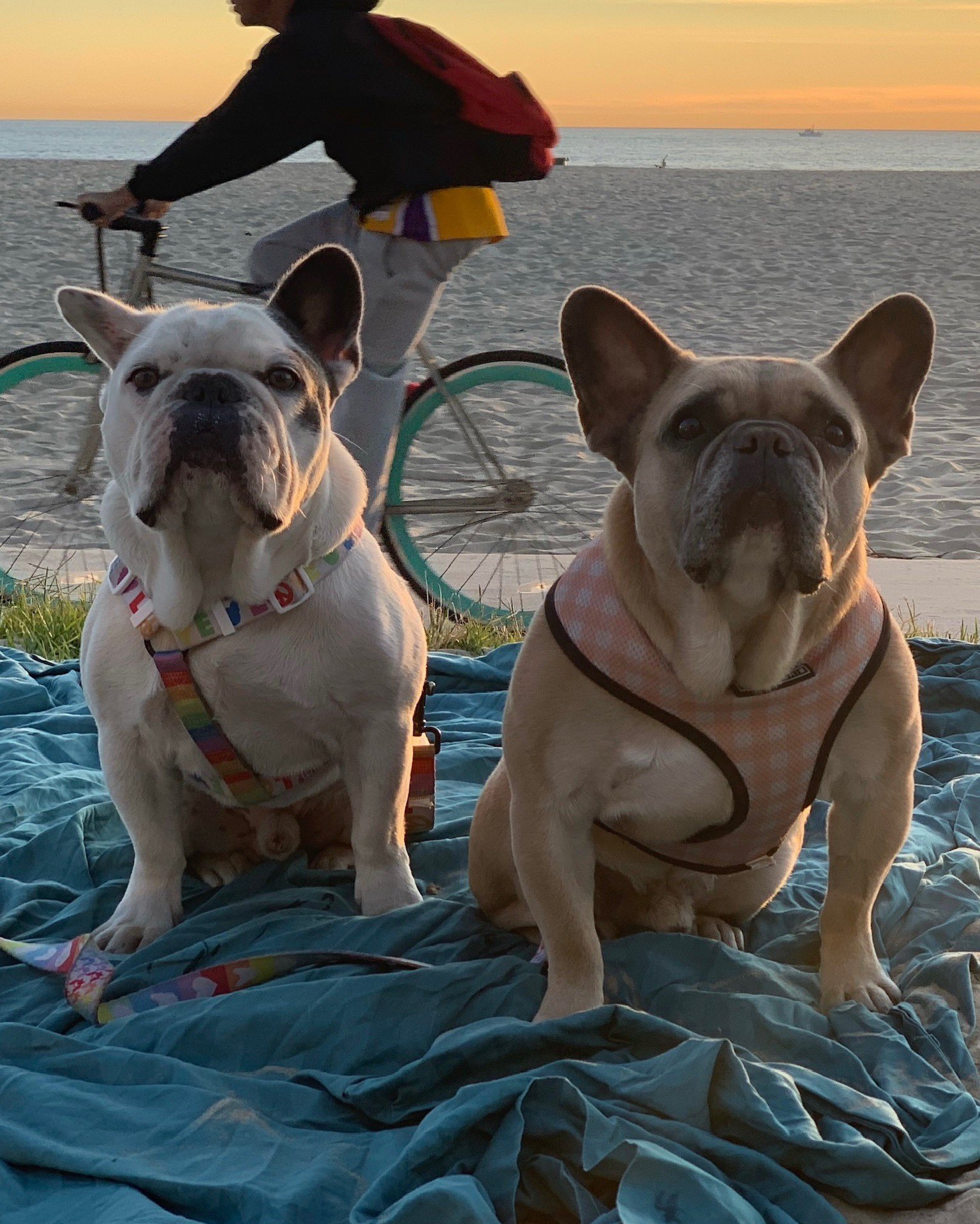 The Lady Gaga connection was a coincidence, authorities told KTLA/Associated Press. The motive was the value of the French bulldogs, a breed that can run into the thousands of dollars, and detectives do not believe the thieves knew the dogs belonged to the musician.
According to the Los Angeles County District Attorney's Office, the sentence handed down was part of a plea deal.
"The plea agreement holds Mr. Jackson accountable for perpetrating a coldhearted violent act and provides justice for our victim," the office said in a statement. Howard had been charged with attempted murder, conspiracy to commit a robbery and assault with a semiautomatic firearm.
In a victim's impact statement made prior to Jackson's sentencing, Fischer said:
"Your honor, thank you for the opportunity to give my impact statement here in court, and for everything you, Michele Hanisee [Deputy LA District Attorney] and the DA's office, and detectives and law enforcement have done to bring these cases to completion. It's hard to believe that it's nearing 2 years since I was taking Asia, Koji and Gustav out for an evening stroll when – in an instant – I suddenly found myself fighting with everything I had to protect those dogs from being stolen. But it wasn't enough: I was beaten, strangled, shot and left to die bleeding out on a sidewalk and gasping for my life. And Koji and Gustav were gone.
In some ways that night and everything that followed: from hospital stays, lung collapse after lung collapse and eventual surgery and partial removal- physical therapy that I'm still in to get mobility and sensation fully restored in my shoulder, chest and hand, the media storm that made me terrified to even go back to my home or walk on the street, the loss of a career, friendships, sense of self and savings and then aimlessly traveling this country for over a year as I went into debt, contemplated suicide, and struggled – and continue to struggle – with my identity and how to move past such a life-changing, earth-shattering event…
Sometimes it feels like all that happened to someone else, and other times it feels like I never left that sidewalk. A part of me is still trying desperately to save those dogs knowing you were going to shoot me. I'm sure it feels the same for you, Mr. Jackson. I imagine you're on that sidewalk sometimes too. You shot me and left me to die, and both of our lives have changed forever. A limbo neither of us asked to be in.
In my darkest hours, when I feel lost and abandoned and mourn a life and those dogs I sacrificed myself for, a life I've accepted – through a lot of therapy – I've accepted I'll never see again, I try to focus on what I've gained:
A deeper love for friends and family that have shown up and continue to show up even when I'm still such a mess. I love you and thank you.
That, despite everything and the trauma I still work through in regards to them, I love dogs so so much and look forward to continue bringing them back into my life.
Gratitude for strangers that became family and have supported me in countless ways.
And that I finally feel healthy enough to stop running from my problems.
Forgiving myself for not being able to save those dogs that night and falling down again and again these last two years.
Forgiving friends who didn't and don't know how to be there for me in the lengthy recovery process this continues to be.
And forgiveness for you. It's something I'm still working on but I do forgive you and everyone involved with the attack. You completely altered my life, and I know I can't fully move forward from the night you shot me until I said those words to you.
My hope for you is the same for me: to live a life of purpose and grow from what happened that night. Moving forward, it's going to be a hard road for both of us, and I know from prison it won't be easy. But I do hope you find a calling there as I continue to search for my own and live life contributing to others. It's the only way to heal from this experience.
I also wanted to give gratitude, to thank you for not killing – for not harming – the dogs after everything and the media storm. They were returned and returned to their mom. I don't think I could have lived with myself if they died.
And, in general, I just wanted to say how guns have impacted my life and countless others and continue to harm our society. I look forward to contributing to a future that doesn't destroy so many lives and so many people in this country. It doesn't make sense to fear for your life at school, places of worship, clubs, or when you're taking dogs out for an evening stroll.
Thank you all for your time today."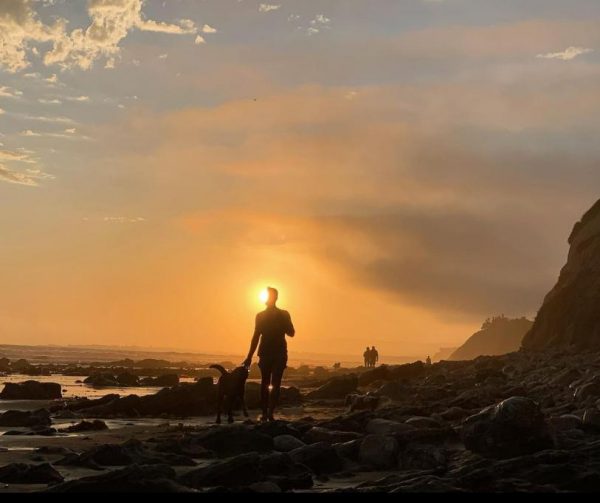 KTLA/AP also reported that another accomplice, Harold White, pleaded no contest Monday to a count of ex-convict in possession of a gun. White, who was in a relationship with McBride at the time, will be sentenced next year.
The couple had allegedly tried to help White's son, Jaylin White, avoid arrest in the aftermath of the shooting.
Jaylin White and Lafayette Whaley earlier this year pleaded no contest to robbery.