September 26, 2019 at 10:17 am PDT | by Karen Ocamb
Schiff at the LA LGBT Center on the eve of impeachment news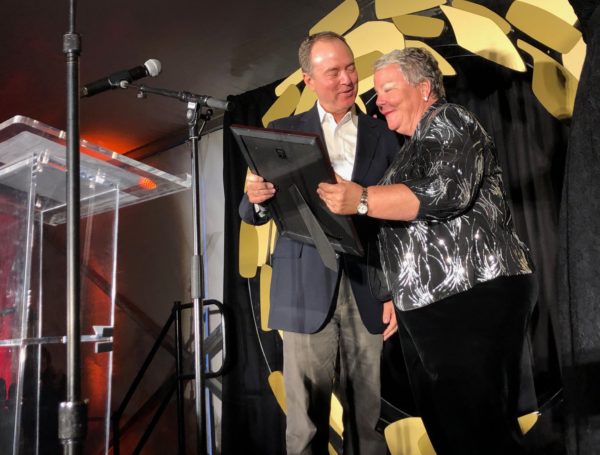 Rep. Adam Schiff was half-way through his remarks celebrating the 50th anniversary of the Los Angeles LGBT Center on Sept. 21, joking about going all "fanboy" over CEO Lorri Jean and about Red Dress Day on the AIDS LifeCycle ride when he pivoted to pall hanging over America.
"There's not much that I can say that would do justice to the magnitude of the accomplishments of the Center's fearless leader. So I'll just say that at a time when I don't need to tell anyone in this room, our country is going through a really dark chapter…" Schiff said.
"Why don't you impeach him?" someone shouted from the audience, referring to President Donald J. Trump. For a brief moment, the room seemed to erupt in agreement.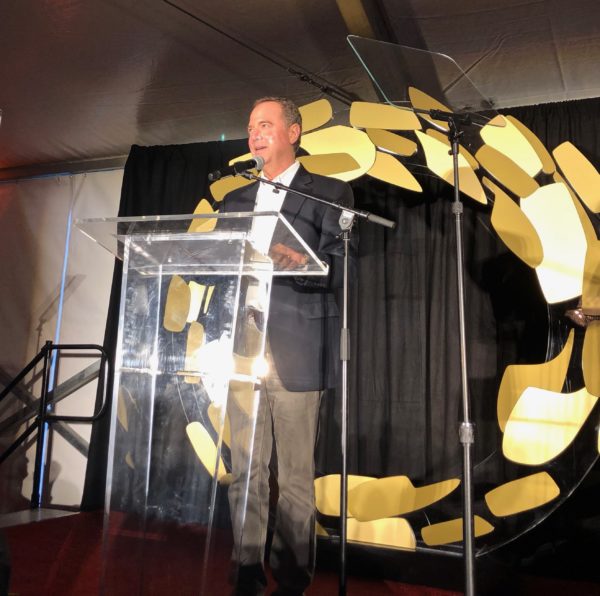 Schiff paused. For two days, as Chair of the House Intelligence Committee, Schiff had been dealing behind closed doors with gaining access to a whistleblower's "urgent" complaint that Trump had a phone call with a foreign leader to whom he'd made some sort of promise. The Trump administration told the inspector general not to release the complaint to Congress, a violation of federal law.
The pause was brief, suggesting a flicker of maybe sharing some news. But that would be too much of a digression from the significance of the Center event. Schiff quickly resumed his accolades for Lorri Jean.
"I can't imagine anyone that I would rather have on my side in the fight for healthcare, for equality, for humanity and for basic decency than the woman who has led this organization to this very moment in history," Schiff said. "Nancy Pelosi likes to say that the times have found us. Well, they have certainly found Lorri Jean and thank god they have."
The resounding applause refocused the sizable crowd dining under a large tent before heading to The Greek Theater for a spectacular concert.
"There is no member of the United States Congress who makes me prouder than Adam Schiff," said Jean, accepting an honor from the representative before laying out how, over the past 50 years, "we have seen unprecedented progress and met unimaginable challenges."
Jean pegs the beginning of the Center's history to 1969 "when at least one of our founders, the last Morris Kight, first began providing services to LGBT people in need. Now Morris once told me that most of these early services were information referrals and a lot of moral support."
But in 1969, LGBT people were "virtual pariahs," frequently arrested "simply for having a drink in a bar with others of our kind." Being outed meant being isolated, losing jobs, children and being disowned by families. That information and those referrals were vital.
"Those who dared to speak the truth did so at their peril," Jean said. "I'd like for you all to think about the audacity and the bravery that it took in that climate for a group of LGBT people to organize around helping one another and to claim our rightful place in society. Yet that is exactly the kind of courage that was shown by our founders and by everyone involved in the Center in its earliest days."
And they were all volunteers, Jean said, identifying the founders, executive directors and key contributors throughout the years.
"The lesson of our unrivaled history is that no matter the forces aligned against us. No matter our movement's missteps or the challenges ahead, we will not be dissuaded from advancing our powerful vision," Jean said. "Every human being deserves freedom, justice and equality, dignity, respect, and love, acceptance, health and happiness. And that is what your Center is fighting for and what we took 50 years building – that is why we persevere."
The Los Angeles LGBT Center, Jean said, stands as a bulwark against the political chaos swirling around the country. "Our Center's 50-year history is proof that we cannot be stopped, no matter who is in the White House, the state house, or the court house," Jean said. "We will not give up. We will continue to fight for what is right with resilient determination and relentless courage. With organizations like our Center and a community like you to support us, I promise you that we will win. We will succeed because an army of lovers shall not fail."
The next morning, Schiff threw down the gauntlet that has since led to an impeachment inquiry against Trump after revelations that the President tried to intimidate Ukrainian President Volodymyr Zelensky into digging up dirt on former Vice President Joe Biden and his son Hunter to help Trump's 2020 re-election.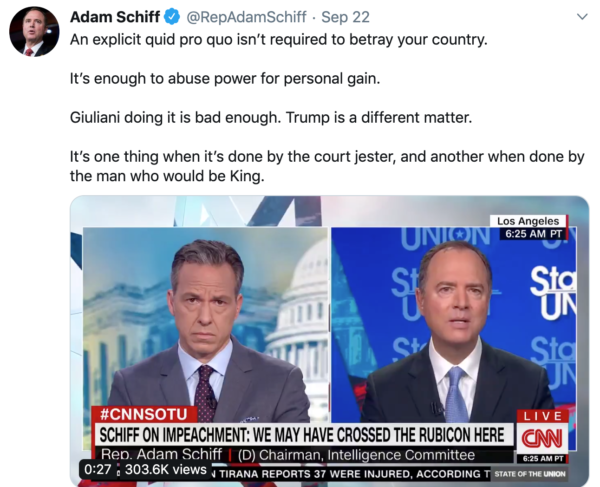 "I have been very reluctant to go down the path of impeachment, Schiff said on CNN Sunday morning. "But if the President is essentially withholding military aid at the same time that he is trying to browbeat a foreign leader into doing something illicit that is providing dirt on his opponent during a presidential campaign, then that may be the only remedy that is coequal to the evil that that conduct represents….We very well may have crossed the Rubicon here."
While Schiff may be going into the historic impeachment proceedings with the constitutional determination of a former federal prosecutor, after the Center's 50th anniversary gala, he also knows he is backed by his LGBTQ constituents.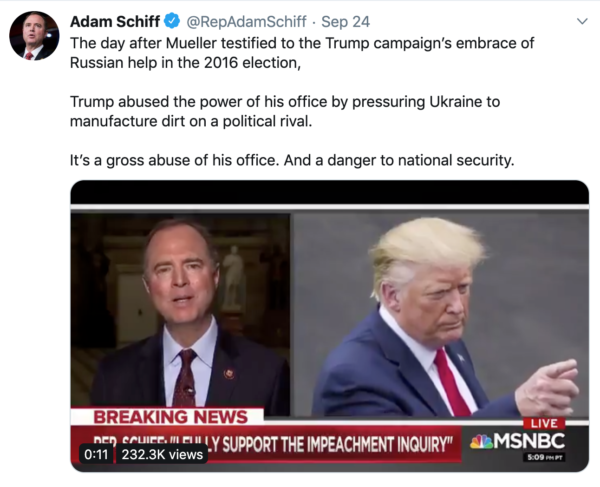 Photo of Rep. Adam Schiff and Los Angeles LGBT Center CEO Lorri L. Jean by Karen Ocamb