HRC/CNN LGBTQ town hall lineup announced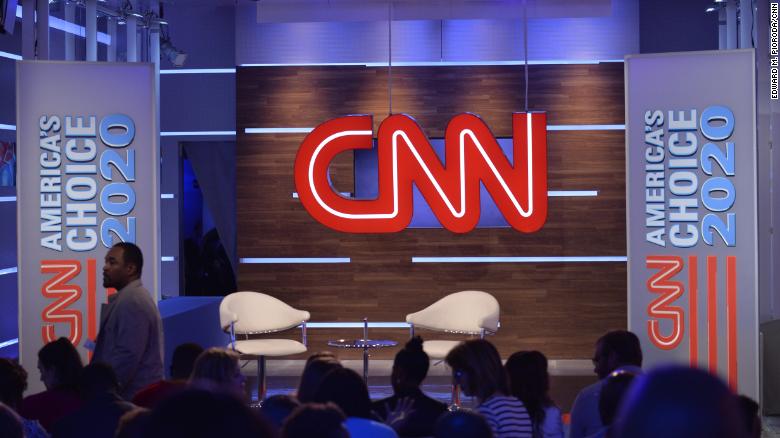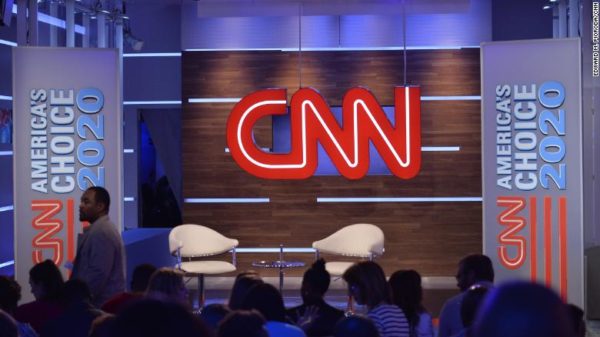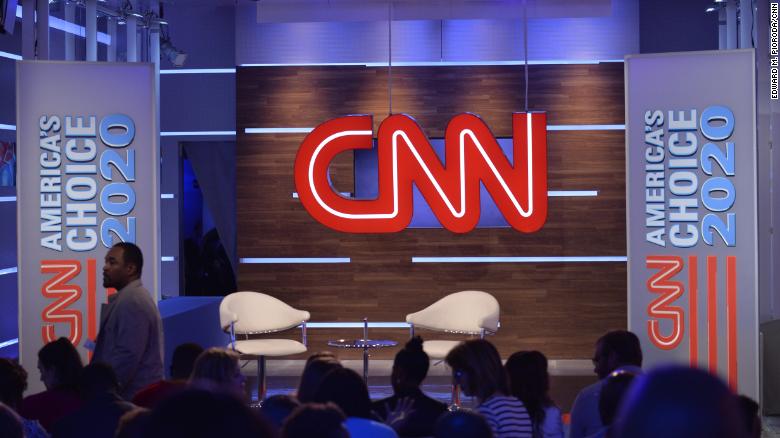 And now there are 10. The Human Rights Campaign Foundation and CNN announced Tuesday that Vermont Sen. Bernie Sanders will participate in the historic HRC/CNN town hall on Oct. 10 at The Novo in Los Angeles where now 10 Democratic presidential candidates will answer questions about LGBTQ issues.
Sanders now seems unlikely to attend after undergoing a stent procedure for his heart on Wed. Oct. 2.  All appearances, his campaign announced, have been cancelled until further notice.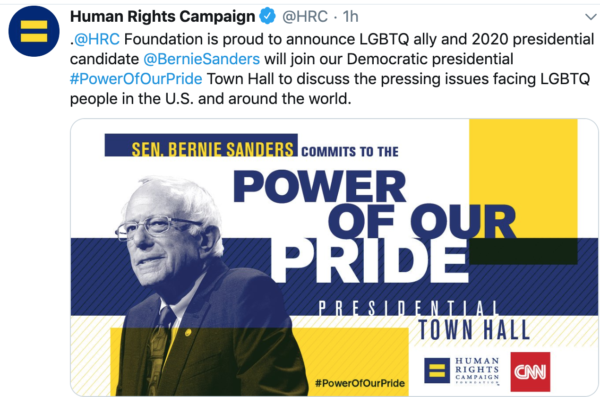 Hawaii Rep. Tulsi Gabbard and businessman Andrew Yang declined to attend citing scheduling conflicts.
The town hall will feature two candidates back-to-back each hour airing live on CNN and digital platforms from 7 p.m. to 12 a.m. ET/ 4 pm to 9pm Pacific time. The candidates will answer questions at the "Power of our Pride" event from CNN moderators and invited quests.
CNN's scheduled lineup as of Tuesday, Oct 1 is:
New Jersey Sen. Cory Booker interviewed by CNN's Dana Bash at 7/4 p.m.

Vermont Sen. Bernie Sanders interviewed by Bash at 7:30/4:30 p.m.

Former Vice President Joe Biden interviewed by CNN's out anchor Anderson Cooper at 8/5 p.m.

Out South Bend, Indiana, Mayor Pete Buttigieg interviewed by Cooper at 8:30/5:30 p.m.

Massachusetts Sen. Elizabeth Warren interviewed by CNN's Chris Cuomo at 9/6 p.m.

California Sen. Kamala Harris interviewed by Cuomo at 9:30/6:30 p.m.

Former Texas Rep. Beto O'Rourke interviewed by CNN's Don Lemon at 10/7 p.m.

Minnesota Sen. Amy Klobuchar interviewed by Lemon at 10:30/7:30 p.m.

Former Housing and Urban Development Secretary Julián Castro interviewed by CNN's Nia-Malika Henderson at 11/8 p.m.

Businessman Tom Steyer interviewed by Henderson at 11:30/8:30 p.m.
The participants met the Democratic National Committee's qualifications for the Oct. 15 primary debate, each having reached 2% in at least four national DNC-approved polls. Additionally, each candidate had to meet the DNC-donor threshold for the Oct. 15 debate – financial support from 130,000 unique donors, including 400 donors each from at least 20 states.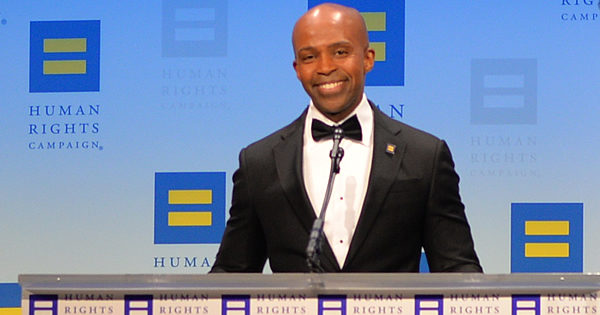 "This town hall comes at a critical time in our fight to achieve equality for lesbian, gay, bisexual, transgender and queer people in this nation," HRC president Alphonso David said last month. "Today, in 30 states, LGBTQ people remain at risk of being fired, evicted or denied services because of who we are. Thirty-five states have yet to ban the dangerous and debunked practice of 'conversion therapy,' which is harming our young people. Hate crimes are rising, and more than 100 transgender people — most of whom are transgender women of color — have been killed in the United States in the last five years.
"Although the federal government should be protecting all residents, the Trump-Pence Administration is directly attacking our community by banning transgender troops from serving our country openly, undermining health care services for people living with HIV, and seeking to erase LGBTQ people from protections under law."
The historic event takes place the night before Oct. 11, the 31st anniversary of National Coming Out Day, established to honor the March on Washington for Lesbian and Gay Rights in 1987. HRC describes it as "a way of celebrating the power of coming out and promoting a safe world for LGBTQ individuals to live truthfully and openly."
Amicus brief: No negative incidents from Trans people in bathrooms
The brief details the constitutionality of bathroom bans. Courts across the U.S. have determined trans people have right to access bathrooms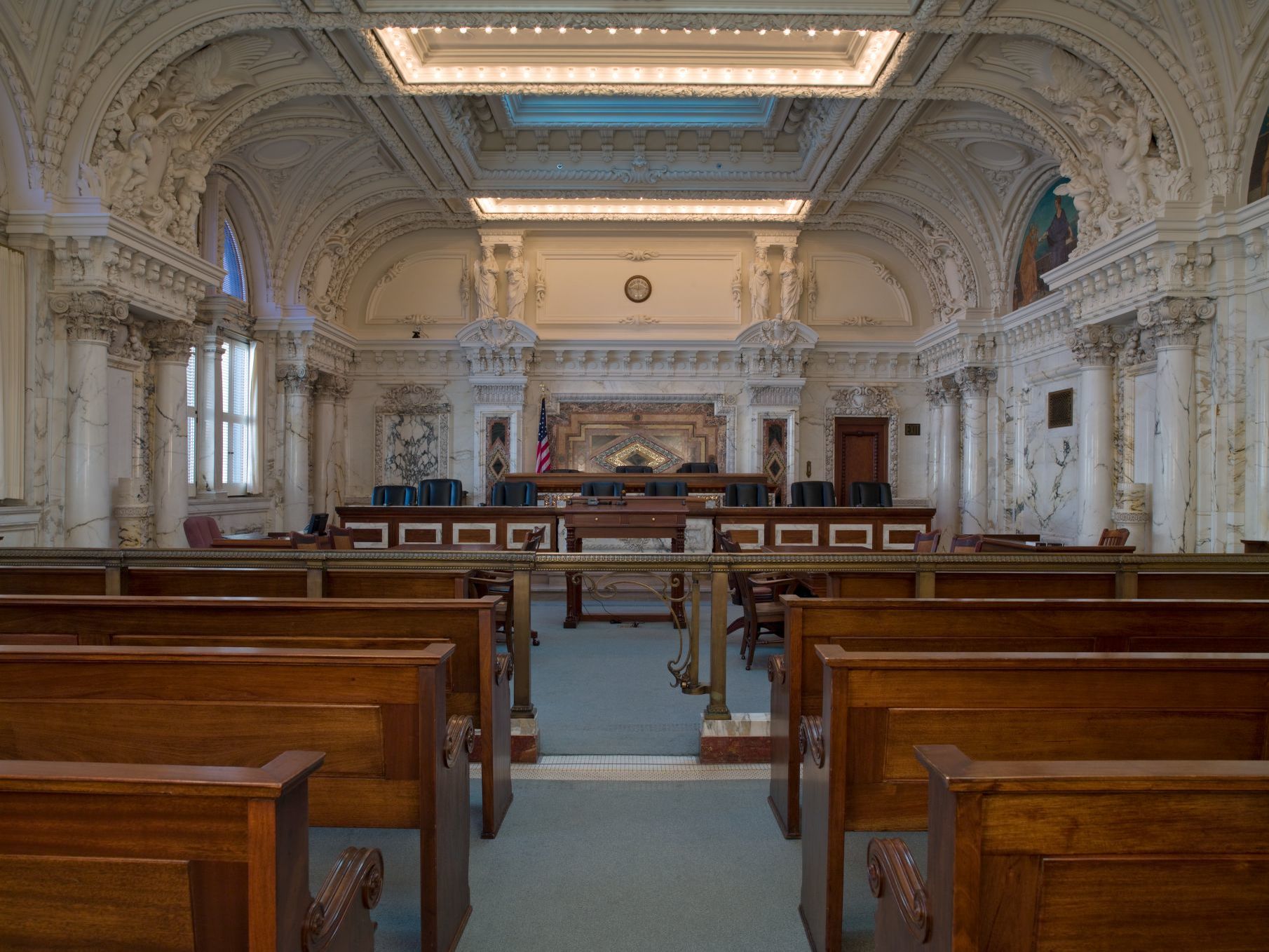 By Erin Reed | WASHINGTON – On Thursday, 21 state attorneys general filed an amicus brief with the 9th U.S. Circuit Court of Appeals, stating that transgender people must be allowed to use restrooms matching their gender identity.
This action comes after a district court judge in Idaho refused to block a ban on transgender bathroom usage in the state; he was promptly overruled by the 9th Circuit, which did block the ban.
The letter represents the latest development in a fight that has worked its way across the country, focusing on equal rights in bathroom accommodations for transgender people and barreling towards the Supreme Court.
The amicus brief is substantial. It represents the work of attorneys general in 21 states, and contains legal precedents, nondiscrimination laws, and the experiences of those states around allowing equal accommodations for transgender people. It cites 13 pages worth of laws, court decisions, and studies to support the rights of transgender people in bathrooms. It draws a final conclusion stating that disallowing trans bathroom access causes "emotional, psychological, educational, and constitutional harm," and requests that the court uphold these rights for transgender students.
The brief is unique in that it outlines the findings of negative events that stem from allowing transgender people to use the bathroom of their gender identity. The brief finds that "nondiscriminatory restroom policies produce important benefits and pose no safety concerns." Importantly, it shows that in states that allow trans students to use bathrooms according to their gender identity, there were "no reported instances of transgender students harassing others in restrooms or locker rooms."
See the briefing on this topic:
Meanwhile, the brief highlights the many negative effects of disallowing transgender people from using locker rooms and bathrooms. The report states that discriminatory policies for transgender people promote absenteeism, leading to trans youth missing valuable school time. These policies also harm the physical and mental health of transgender students.
The brief reports that 73% of trans students avoid restrooms in school because they feel unsafe or uncomfortable. Additionally, over half report negative health effects from doing so, such as kidney infections and other kidney-related problems. Rebecca, one of the plaintiffs in the case, reported limiting fluid intake at school and suppressing bathroom urges, both of which are unsafe for children.
The brief also details expansive case law surrounding the constitutionality of bathroom access. Courts across the United States have determined that transgender people have the right to access bathrooms that match their gender identities. Among the most significant cases is Grimm v. Gloucester County, where the 4th Circuit Court ruled that a transgender boy has the right to use the bathroom of his gender identity.
Similarly, in the 7th Circuit Court, A.C. v. Metropolitan School District of Martinsville was ruled in favor of a transgender plaintiff. Even the 9th Circuit Court, which is hearing this case, has favorable precedent. In Parents for Privacy v. Barr, it was ruled that transgender bathroom access does not violate other students' privacy.
Ultimately, the strength of these cases was bolstered by the Supreme Court's decision in Bostock v. Clayton County, which the report also heavily references. In that decision, which was ruled 6-3 with conservative Justice Neil Gorsuch authoring the opinion, the Supreme Court ruled that "it is impossible to discriminate against a person for being homosexual or transgender without discriminating against that individual based on sex."
Although the decision covered employment law and not bathroom access, many courts have interpreted it as applicable to bathroom access and other areas protected by Title IX.
The brief also directly addresses the idea that Title IX only protects "biological sex." It points out that Title IX regulations do not state that it only applies to "biological" sex "as determined by chromosomes and internal and external reproductive anatomy." Instead, the brief argues that discrimination based on assigned sex at birth treats, for instance, a transgender girl different from a cisgender girl when allowing restroom access. The overreliance on a very specific facet of biological sex likely renders the bill unconstitutional, the brief states.
For now, the bill is blocked in court, allowing Idaho transgender students to use the restroom that matches their gender identity if their school permits it. Meanwhile, cases concerning bathroom access are swiftly moving towards the Supreme Court, with a recent decision from the 7th US Circuit Court currently being appealed to the Supreme Court.
It appears likely that the Supreme Court will soon revisit transgender rights. In this interim, this coalition of 21 states has emerged, vocally advocating for the rights of transgender students and leveraging their collective authority to do so.
Related:
****************************************************************************
Erin Reed is a transgender woman (she/her pronouns) and researcher who tracks anti-LGBTQ+ legislation around the world and helps people become better advocates for their queer family, friends, colleagues, and community. Reed also is a social media consultant and public speaker.
Follow her on Twitter (Link)
Website here: https://www.erininthemorning.com/
******************************************************************************************
The preceding article was first published at Erin In The Morning and is republished with permission.