Settlement in trans teen Mother's discrimination suit against San Diego Hospital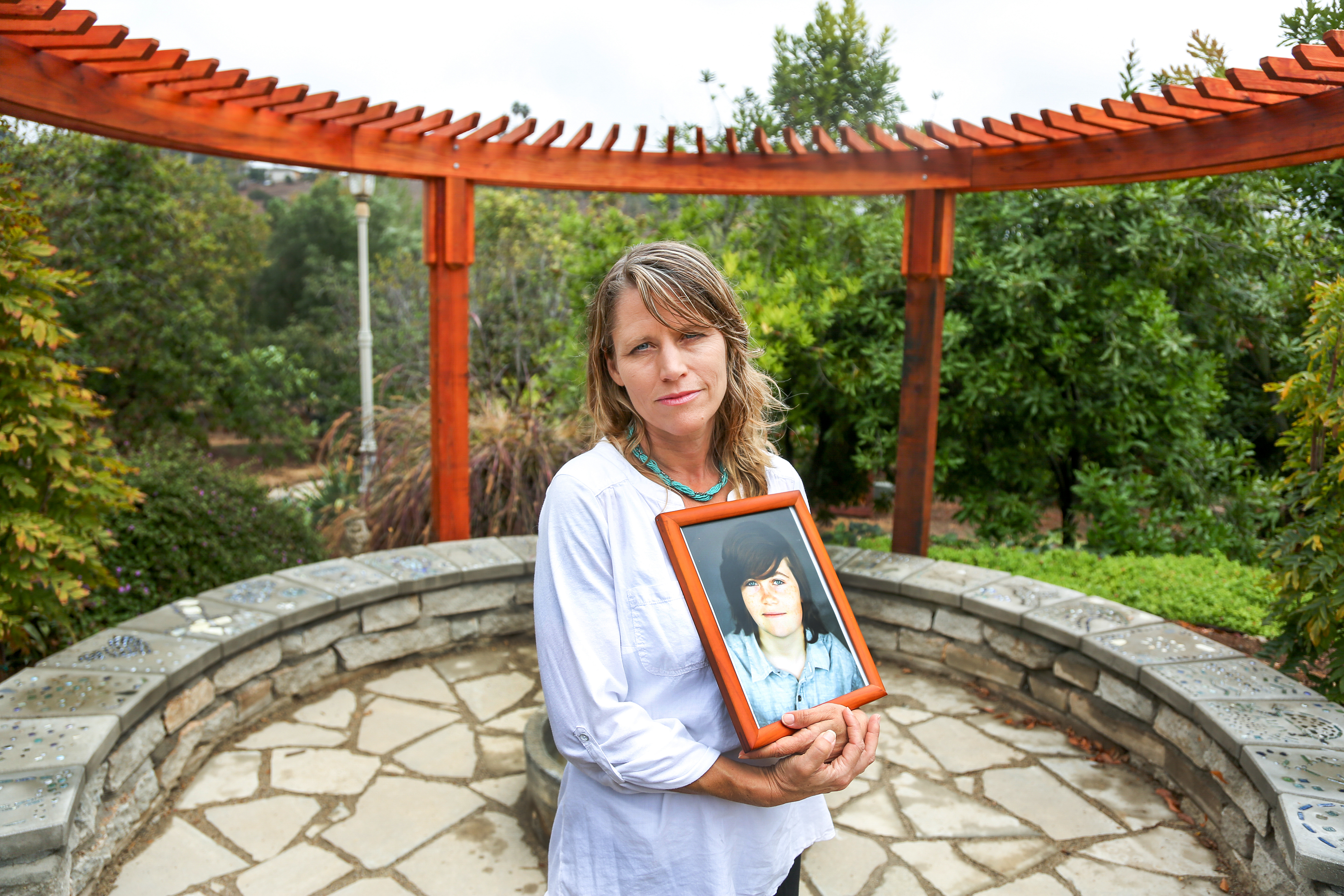 The mother of a 14 year old Vista, California trans boy who committed suicide after allegedly getting ridiculed by staff at Rady Children's Hospital, has settled the discrimination lawsuit she filed. 
"14-year-old Kyler Prescott had experienced suicidal thoughts and self-harming behaviors related to his gender dysphoria. Alarmed, his mother Katharine took him to Rady Children's Hospital in San Diego, where she believed he would receive competent medical assistance," wrote Atlanta, Georgia-based attorney Sarah Gehring in an October 6, 2017 article for the National Center for Transgender Equality.
"Instead, hospital staff inflamed Kyler's distress even further. Even though they knew that Kyler was a transgender boy and that — particularly in this vulnerable point in his life — recognizing his gender identity was critical for his health and well-being, the staff refused to treat him like a boy. Instead, they reminded him again and again that, as far as they were concerned, he was a girl, repeatedly and intentionally calling him "she" even after his mother begged them to stop putting her son's well-being in danger. One employee, for example, told him, "Honey, I would call you 'he,' but you're such a pretty girl,"  Gehring detailed in her article.
After Prescott committed suicide, on May 18, 2015, his mother filed a 2016 discrimination lawsuit against the hospital. She was represented by Amy Whelan with the National Center for Lesbian Rights.
"He ended up getting worse, not better, and they ended up discharging him early," said Whelan in an interview with KNSD, NBC7 San Diego. "We just need to do better as a society to support these kids and make sure they are safe," added Whelan. "Even here in California there are widespread problems of medical providers and offices not being informed about and skilled at treating transgender patients."  
Whelan told NBC 7 that "Katherine Prescott's chief motivation in filing the lawsuit was to improve treatment of transgender kids in healthcare settings."
Although Prescott declined to comment on the settlement, Whelan told NBC 7 that she is relieved to have this case behind her and that she continues to advocate for transgender children and their families in her son's honor.
A spokesperson for Rady Children's Hospital in an emailed statement said:
"While we cannot comment further due to confidentiality requirements, our top priority is providing the highest level of care to our patients and families. We are particularly proud of our expanded Center for Gender Affirming Care where we seek to provide comprehensive, compassionate, up-to-date care and support to transgender and gender diverse youth and their families." 
According to Whelan the lawsuit was settled earlier in September.
The Abbey raises $10,000 for Elizabeth Taylor AIDS Foundation
Schukraft took the opportunity to reassure the crowd that he intends to uphold The Abbey's central place in the West Hollywood community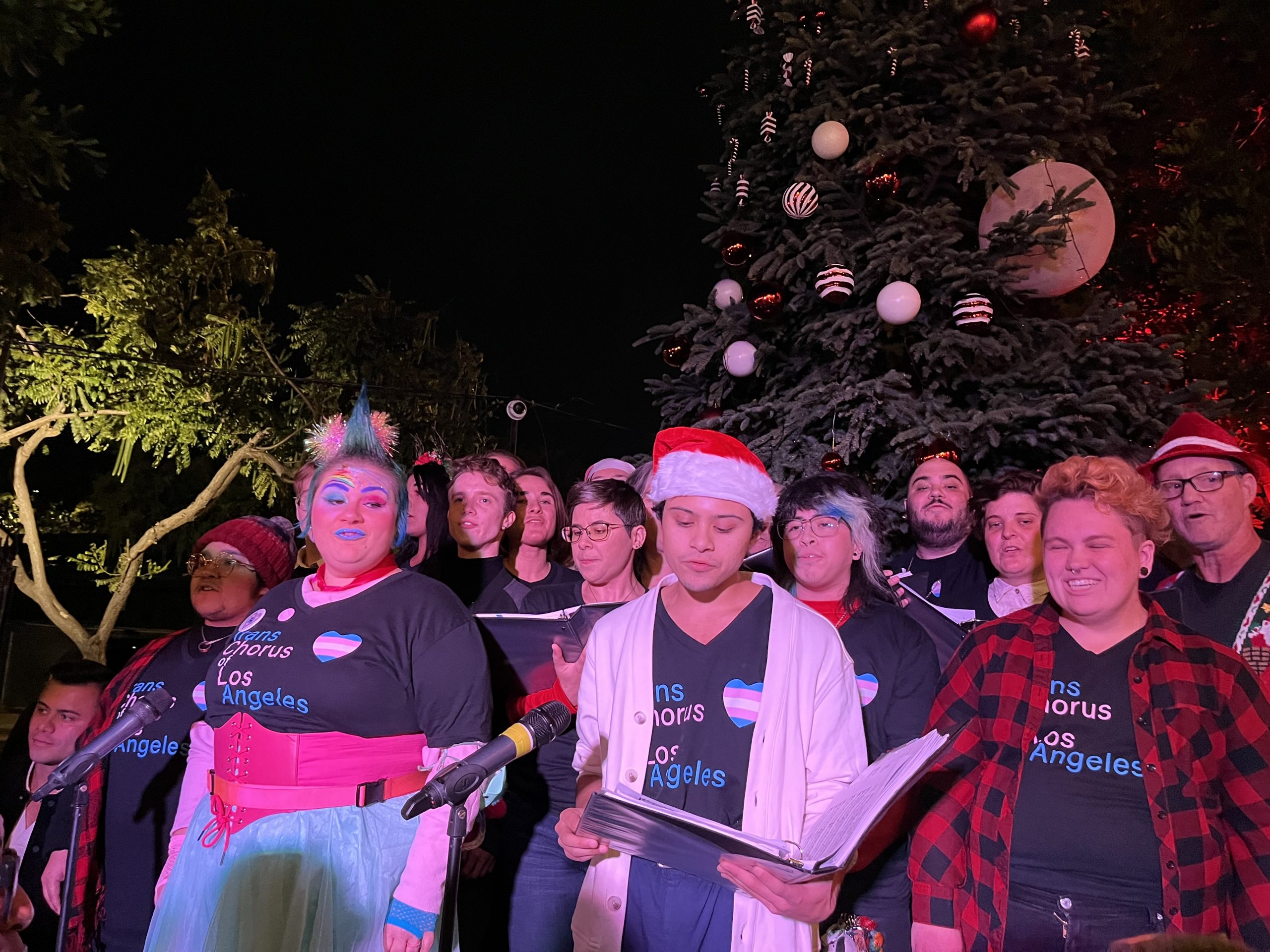 By Rob Salerno | WEST HOLLYWOOD – The Abbey raised more than $10,000 for the Elizabeth Taylor AIDS Foundation at its annual World AIDS Day tree-lighting ceremony Friday evening, an event that featured Sutton Stracke of The Real Housewives of Beverley Hills and the Trans Chorus of Los Angeles.
The ceremony was the last to be hosted by David Cooley, the founder of The Abbey who recently sold his business to Mistr CEO Tristan Schukraft. Cooley was visibly emotional when he told the crowd how his friendship with Elizabeth Taylor – struck up over drinks at the Abbey – inspired him to start the annual tradition.
"What this woman has done for our community and continues to do for our community – she wouldn't even mention how many people she has taken care of and continues to take care of," Cooley said. "It means a lot that we do this in her honor, for the Elizabeth Taylor AIDS Foundation."
The Elizabeth Taylor AIDS Foundation works to fight the ongoing HIV epidemic through direct care, prevention, advocacy, and education.
The moment clearly felt bittersweet for Cooley as he went off-script to talk about how he'd founded The Abbey 33 years ago.
"I had a dream coming from college that I wanted to open a gay bar in southern California and be open and proud and not behind closed doors. I started across the street there as a coffee house and expanded into this," he said. "When we give donations, it's not the Abbey, it's not David Cooley – it's all of us here. You have supported The Abbey and David Cooley for thirty years. Thank you very much."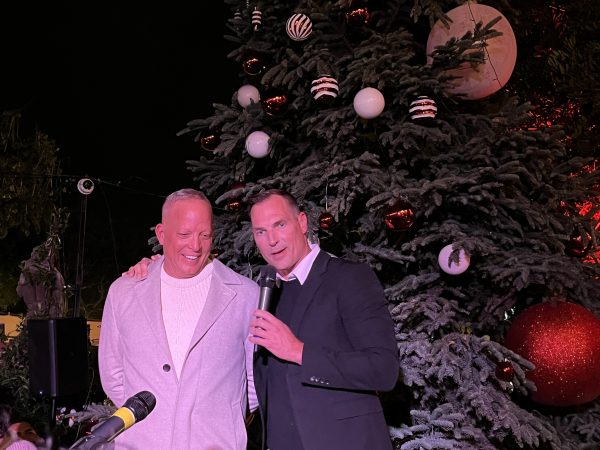 Cooley then became wry and wistful as he described his decision to walk away from the bar he built.
"It was a decision that was hard to make. I decided that maybe I should take a little time for myself. I've been very selfish with the business. I took time for the business always, and maybe not my friends, my family, building a relationship – that never worked out," he said to laughs from the crowd.
"I went back and forth seeing the offers and opportunities I had. I made a clear decision and the right decision on who I decided to pass the torch on to. He's part of our community," Cooley said of Schukraft. "It was a very tough decision but a very easy decision at the very end."
Schukraft took the opportunity to reassure the crowd that he intends to uphold The Abbey's central place in the West Hollywood community.
"I'm very excited. I know I have some big shoes to fill to continue your legacy, making sure that the Abbey and Chapel continue to be the cornerstone of the gay community here and beyond. These events make it even more special," Schukraft said.
"David's not going anywhere. He's going to be here. The only thing is he's not going to be asking for free drinks," Schukraft said to laughs from the crowd, and joking protests from Cooley that there's language about that in their contract.
When Sutton Stracke took the stage, she spoke about the toll that AIDS has continued to take on the community.
"AIDS does still exist. I know I have lost many friends to AIDS, as I know many of you have to, so this is very special to me," she said.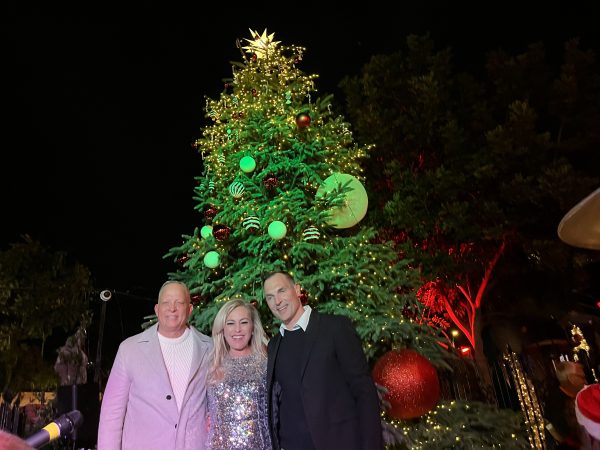 The crowd was then treated to a performance by the Trans Choir of Los Angeles, who sang "I'll Be Home For Christmas," as a reminder to the crowd that many in our community – especially the trans community – do not have families that welcome them home for the holidays.
A $10,000 check was then presented to the Elizabeth Taylor Foundation by Tito's Vodka, which was sponsoring the event, on behalf of the Abbey.
Stracke then announced she would write a check to the foundation herself after the ceremony, then began the countdown to the lighting of the enormous tree on the Abbey's front patio.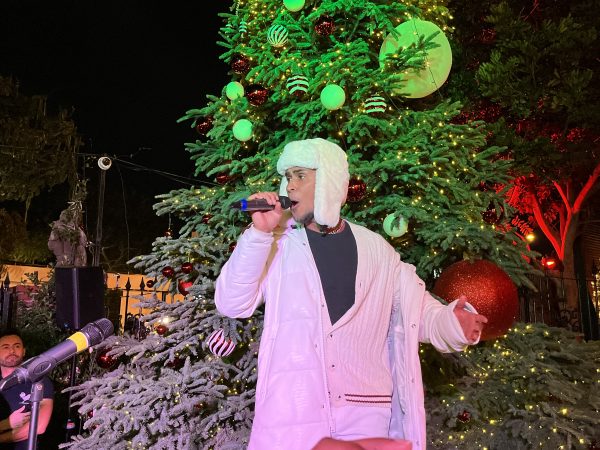 The event closed out with a performance by South African pop singer Lyle Anthony.