Starbucks serves an empty cup to LGBT media
Iconic brand doesn't advertise in queer outlets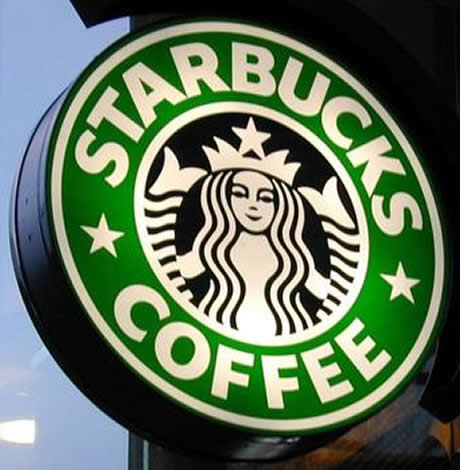 (Editor's note: This is the second in a three-part series highlighting large companies that talk the talk, but don't always walk the walk when it comes to supporting LGBTQ customers.)
Many are happy to stand in line for what they serve at Starbucks—but the global coffee conglomerate has left LGBT media standing at the altar, rebuffing repeated proposals to court a demographic of discerning tastemakers who would, seemingly, make for a marriage made in marketing heaven.
"It's surprising to me that Starbucks wouldn't target ads to our community," says Todd Evans, president and CEO of Rivendell Media, which places advertisements for the National LGBT Media Association. Together, the Association's members—including Boston's Bay Windows and the Washington and Los Angeles Blades —reach an estimated 500,000 weekly print and online readers.
Evans, who had just returned from a Starbucks run when the Blade spoke with him, said numerous deep dives searching LGBT media for the company's ubiquitous mermaid logo left Rivendell treading water in a sea of unproductive efforts.
"We monitor all LGBT newspapers and websites to see who's out there, advertising," said Evans of his sales team, "and they've not come across our radar as doing any outreach. Like Apple, the thing I would most want to say to them is, with a company with a presence in every major urban center, they have to know the LGBT market is a big part of their clientele."
Evans says Rivendell has been reaching out to Starbucks "for years," through its various advertising agencies (currently Spark Foundry). "And the answer was always, 'Starbucks doesn't do print.' Now they do. I see their ads all the time, in the New York Times and Martha Stewart Living Magazine, so we know they're predisposed to having creative [print-centric material at the ready]. That's all the more reason for Starbucks to be more precise in their marketing. We will definitely be reaching out again shortly."
Also making the case for direct marketing is Michael Yamashita. The president and CEO of BAR Media Inc, Yamashita is publisher of San Francisco's Bay Area Reporter, a member of the National LGBT Media Association.
"It's as close as you can get to speaking directly to the LGBT consumers, and the decision makers in the community," says Yamashita, of advertising in print and online, via LGBT-focused outlets.
Bay Area Reporter reader surveys, he notes, consistently show LGBT readership is "interested to know which corporations support them," and more inclined to give those corporations their business.
"There are several Starbucks locations in the gay [Castro] neighborhood here," said Yamashita. "They've been a mainstay for years. Our sales manager, he's pretty aggressive about trying to get local corporations to advertise with us, but we've never seen any advertising from them."
That absence is not just felt locally, says Bay Area Reporter vice president of advertising Scott Wazlowski. "I've been here since 2010, and, to the best of my knowledge, they've never done any print or online advertising in our publication—and beyond that, I don't think I've seen them in any LGBT publication."
Although Rivendell handles national sales, Wazlowski did reach out to Starbucks locally, and was "told by the store manager the only thing they could do to show any support would be to provide product" at Pride or other notable LGBT events. Starbucks, he notes, "brings coffee and pastries for each of the monthly membership meetings of the Castro Merchants."
A tasty treat perhaps, but of no help to the bottom line.
"We didn't want that," said Wazlowski. "We wanted an ad in the paper. Advertising in a local or regional publication says, 'We care about you, and we care about the news that affects your community.' Anecdotally, advertisers who do that seem to do better, in terms of having an impression among our readers."
Wazlowski cites San Francisco Federal Credit Union as a success story of how local engagement pays dividends. A winner of its Reader's Choice Award for Best Bank or Credit Union, they never, Wazlowski recalls, "showed up on the radar until they placed ads with us. They skyrocketed in the ratings, and have held that position ever since."
Wazlowski attributes this ascension to advertising "at least once, monthly, or in special editions" as well as, in past years, having a booth at the Castro Street Fair. "That multi-pronged appeal to the LGBT community," he says, "has proven very successful."
Much more successful, says Yamashita, than gestures perceived as merely symbolic, or downright opportunistic. "It's a frequent criticism," he notes, "to see a lot of these corporations participate in our Pride parades and events in the month of June. But they are nowhere to be seen before or after. People do see that concentrated presence in June as a token recognition. That's pretty much the heart of the matter right there."
Echoes of token recognition reverberated through two weeks of email communication, when the Blade's request for an interview with a Starbucks representative was answered by a Seattle-based member of global communications firm Edelman.
Replying on the day of this reporter's deadline to repeated requests to answer a series of questions sent via email, Jonathan J. Cruz, Account Executive, Starbucks Corporate & Crisis Communications, wrote, "Apologies for the delay as we worked on gathering details for you. Unfortunately we are unable to facilitate your request for an interview, but we're happy to share more details on how Starbucks supports and advocates on behalf of the LBGTQ+ community."
Starbucks' "longstanding commitment to creating an environment of belonging and inclusion" was one such example. Ally status was further claimed, when Cruz noted U.S. and Canadian customers were privy to "limited edition rainbow Pride cups, and our in-store partners (employees) had the option to wear Pride t-shirts." He also noted the raising of a Pride flag at Starbucks' Seattle headquarters ("for the sixth year in a row"), and a June 2019 partnership with the Born This Way Foundation, in which the Starbucks Foundation engaged in "matching donations to the BTW Foundation up to $250,000 which will be used to increase access to mental health resources and support organizations that empower the LGBTQ+ community and young people across the country."
Bringing a perspective from the town where Starbucks started, Seattle Gay News editor George Bakan said of their local presence, "They spend a lot of money at Pride, they sponsor community events, and they have a scholarship fund. There's lots of ways you can help a community besides advertising in the gay press, as much as I hate to say that. I'd love to get a big check from Starbucks every month, to help my business. But I'm much more concerned with their equitable hiring, and welcoming everybody as a customer. A gay couple holding hands will not elicit a smirk or a comment from somebody behind the counter at Starbucks… It's one thing to talk about equality. It's another thing to act upon it."
In the realm of LGBT engagement, Starbucks should act now, says Evans. "Like Apple, they're not the only game in town anymore. Pretty much everyone makes a latte today. Why not capitalize on their already loyal following?
Still, Evans observes, the java conglomerate consistently "comes up as a gay-friendly company" in surveys, and places well in the Human Rights Campaign's annual Corporate Equality Index.
But they're hardly immune from controversy. In May 2018, the company shuttered thousands of its U.S. stores for a training session, after the April arrest of two black men at a Philadelphia location. A photo from a May 29, 2018 NPR article showed a sign on a Starbucks cafe in Portland, Maine, noting the shutdown's purpose was to "reconnect with our mission and share ideas about how to make Starbucks even more welcoming."
In 2015, a gay D.C. man filed a discrimination complaint claiming the manager of a Dupont Circle Starbucks called him anti-gay slurs and assaulted him. "You are fucking with the wrong one and I will break your neck you little fag, and I will break your spic boyfriend's neck as well," the complaint quoted the store manager as saying to the gay couple.
Evans also noted an annual kerfuffle that began in 2015, when Starbucks introduced a red cup for the holidays, instead of a Christmas-oriented one.
"I literally heard about that while I was in line at a Starbucks store, looking at one of their Advent calendars," recalls Evans. "It was a really poorly handled public relations thing for Starbucks, because they didn't push back. I thought, 'Oh, what a shame.' LGBT consumers are fiercely loyal… The idea is to turn your best customers into your advocates—and this is a company, like Apple, that could really do that with just a little specific outreach. I know it would certainly make me feel better about the amount of money I spend there."
Moral support aside, Evans makes the case for a presence in LGBT media thusly: "Who are the people reading it? The people who care the most, the people who want to see who is reaching out to them, who want their business. So from a corporate standpoint, they haven't been open to it, but maybe it's time to say, 'We should support our best customers. It is time do this.' "
Dianne Feinstein dies
Calif. Democrat elected to U.S. Senate in 1992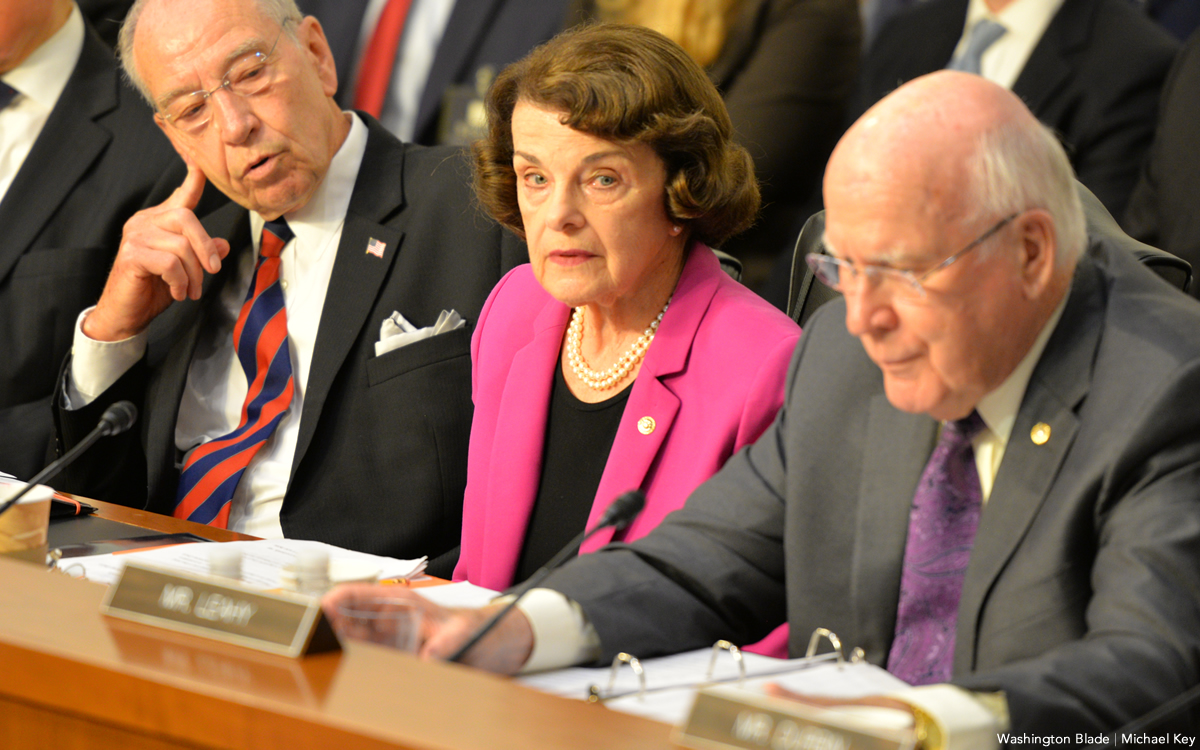 WASHINGTON — U.S. Sen. Dianne Feinstein (D-Calif.) has died at the age of 90.
Her office in a statement said the California Democrat, who has served in the U.S. Senate since 1992, passed away at her Washington home on Thursday night.
Feinstein in 1978 became San Francisco's mayor after the assassination of Mayor George Moscone and openly gay Supervisor Harvey Milk.
"Her passing is a great loss for so many, from those who loved and cared for her to the people of California that she dedicated her life to serving," reads the statement that Feinstein's office released.
"Senator Feinstein never backed away from a fight for what was just and right," it added. "At the same time, she was always willing to work with anyone, even those she disagreed with, if it meant bettering the lives of Californians or the betterment of our nation."
President Joe Biden, who served alongside Feinstein in the Senate from 1992 to 2009, released a statement calling her "a pioneering American," "a true trailblazer," and "for Jill and me, a cherished friend."

"In San Francisco, she showed enormous poise and courage in the wake of tragedy, and became a powerful voice for American values. Serving in the Senate together for more than 15 years, I had a front row seat to what Dianne was able to accomplish. It's why I recruited her to serve on the Judiciary Committee when I was Chairman – I knew what she was made of, and I wanted her on our team.
"There's no better example of her skillful legislating and sheer force of will than when she turned passion into purpose, and led the fight to ban assault weapons. Dianne made her mark on everything from national security to the environment to protecting civil liberties. She's made history in so many ways, and our country will benefit from her legacy for generations.

"Often the only woman in the room, Dianne was a role model for so many Americans – a job she took seriously by mentoring countless public servants, many of whom now serve in my Administration. She had an immense impact on younger female leaders for whom she generously opened doors. Dianne was tough, sharp, always prepared, and never pulled a punch, but she was also a kind and loyal friend, and that's what Jill and I will miss the most.
"As we mourn with her daughter Katherine and the Feinstein family, her team in the Senate, and the people of California, we take comfort that Dianne is reunited again with her beloved Richard. May God Bless Dianne Feinstein."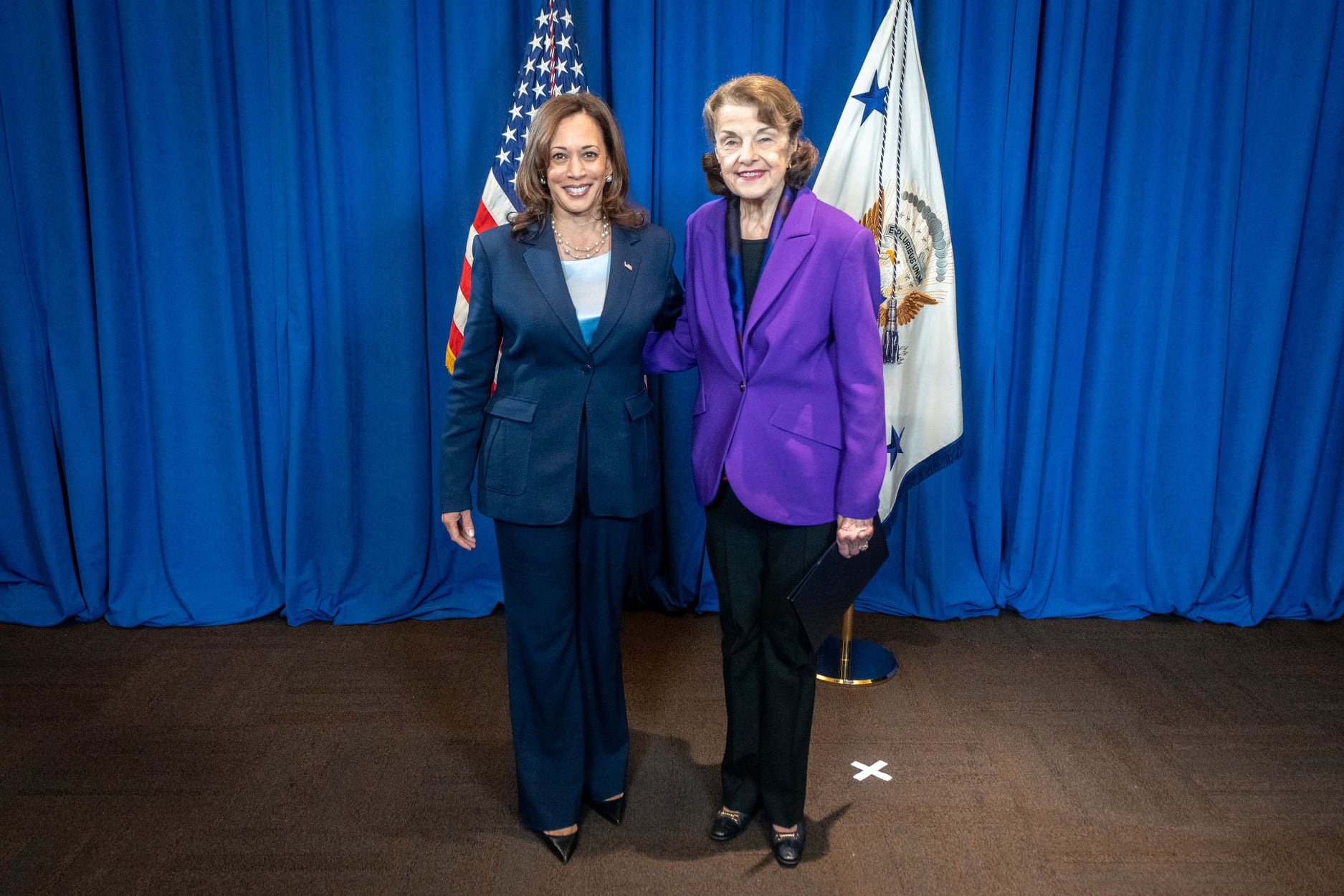 Vice President Kamala Harris, who served alongside Feinstein as U.S. Senator for California from 2017 to 2021 and, previously, was California attorney general and San Francisco district attorney, issued the following statement:
"Senator Dianne Feinstein was one of the greatest public servants that California and our nation has ever known.
"As the first woman president of the San Francisco Board of Supervisors, the first woman to serve as mayor of San Francisco, and the longest-tenured woman to serve in the United States Senate, Dianne Feinstein broke barriers, inspired generations of women to run for office, and improved the lives of millions of Americans through her vision, courage, and leadership.
"From her work to help pass the Assault Weapons Ban in 1994, to her work to safeguard California's public lands, and her longstanding advocacy for reproductive rights, marriage equality, and LGBTQ+ rights, Senator Feinstein helped build a better America.
"For years, I witnessed Senator Feinstein's leadership, when the cameras were on and when they were off. In 2008, when I was re-elected District Attorney of San Francisco, it was Senator Feinstein who swore me in. As a United States Senator, it was my honor to serve the people of California alongside Senator Feinstein.
"On the Senate Intelligence Committee, we spent a great deal of time together—in classified, bipartisan briefings and hearings—working on issues critical to America's national security and the stability of the world. Senator Feinstein and I shared a fundamental belief in the importance of strong American leadership. And I saw firsthand how she worked courageously to ensure that our leadership was guided by our nation's values.
"In the tradition of so many great Senators from California, she was not only a leader for our state, but for our nation and our world. Through her long career, Senator Feinstein worked across the aisle to help our nation live up to its promise.
"Doug and I send our prayers to Senator Feinstein's family."
California Gov. Gavin Newsom shared a statment on X.
Governor @GavinNewsom's statement on the passing of U.S. Senator Dianne Feinstein. pic.twitter.com/9EBazueURA

— Office of the Governor of California (@CAgovernor) September 29, 2023
Addressing the Senate floor on Friday, California Sen. Alex Padilla (D) said, "long before being able to serve together here in the Senate, Diane gave me one of my first jobs in politics in her Los Angeles office. At a time early in my career, when I was looking to make a difference for my community, and for our state. It's in part thanks to her groundbreaking career that a Latino son of immigrants could one day not just work for her but work alongside her to keep up the fight for the American dream."
Padilla also shared an anecdote about how Feinstein showed him a photograph, from her archives, of the AIDS Walk San Francisco in 1987, which she had inscribed with a handwritten note.
Also speaking from the floor in tribute to their late colleague following an address from the Senate Chaplain and a moment of silence were Senate Majority Leader Chuck Schumer (D-Calif.), Senate Minority Leader Mitch McConnell (R-Ky.), Senate President Pro Tempore Patty Murray (D-Wash.), Sen. Susan Collins (R-Maine), Senate Majority Whip Dick Durbin (D-Ill.), and Sens. Lisa Murkowski (R-Alaska), Maria Cantwell (D-Wash.), Amy Klobuchar (D-Minn.), Sheldon Whitehouse (D-R.I.), and Mazie Hirono (D-Hawaii).
The statement by U.S. House Speaker Emerita Nancy Pelosi (D-Calif.) touched on the senator's early career in Democratic politics: "Dianne was a pioneering woman leader, who served as San Francisco's first female Mayor with unmatched courage, poise and grace. Standing strong amid horror and heartbreak – from the brutal murders of Harvey Milk and George Moscone to the deadly HIV/AIDs epidemic – she offered our City a beacon of strength and hope."
"Personally, it was a great honor to serve alongside Dianne for decades – from the hilly streets of San Francisco to the hallowed halls of Congress," Pelosi said. "We were not only colleagues, but neighbors and friends."
She added, "My daughter, Nancy Corinne, has long been an admirer and devoted friend of Senator Feinstein, and we were all close friends with her and her late husband, Richard."
LGBTQ groups issue statements on Feinstein's passing
"Senator Dianne Feinstein's passing is a loss for us all," tweeted Human Rights Campaign President Kelley Robinson. "Her steadfast support for the LGBTQ+ community and the fight for justice will be remembered. We carry her legacy forward in our relentless pursuit of equality without exception."
Equality California, the nation's largest statewide LGBTQ+ civil rights organization, released a statement from Executive Director Tony Hoang on Friday. "Senator Feinstein devoted her life to serving the people of California and our nation, championing LGBTQ+ civil rights, reproductive freedom, gun safety reform and democracy throughout her remarkable career. Senator Feinstein stood with our community back when few others did, fighting for funding and action to combat the AIDS crisis when most elected officials chose to look away."
"On the Board of Supervisors and then as Mayor, she played a crucial role in uniting San Francisco after the horrific assassinations of Supervisor Harvey Milk and Mayor George Moscone, demonstrating exceptional leadership and compassion at a time when our LGBTQ+ community needed it most," the group wrote.
"Her role in American history is unmistakably intertwined with LGBTQ+ history and the assassination of Supervisor Harvey Milk," PFLAG said. "She had been a constant and strident advocate for LGBTQ+ rights ever since, supporting marriage equality, military service for LGBTQ+ people, the Equality Act, and so much more.
"PFLAG families in California and across the country mourn the loss of this stalwart advocate who worked to make our laws just and equitable so every LGBTQ+ person could live with dignity and respect."
"Harvey Milk's nephew Stuart Milk posted "After the assassination of Uncle Harvey – Senator Feinstein rose to national attention – determined, unwavering champion on women's rights, gun control & eventually a consistent supporter of LGBTQ inclusion," Stuart Milk, co-founder and president of the Harvey Milk Foundation, posted on X. "She is the patron of the USNS Harvey Milk -deep condolences Godspeed Dianne," he wrote, referring to the U.S. Navy ship named for the late gay rights pioneer.
National LGBTQ Task Force Executive Director Kierra Johnson said, "The loss of Senator Feinstein's voice as an advocate and champion is immeasurable. Our hearts are with her family during this time. She was a champion for those who call California home and those seeking justice everywhere."
"She was a trailblazer who paved the way for so many. Her deep roots in the queer community, forged as a city councilmember in San Francisco and shaped by her relationship with Harvey Milk, contributed to her unwavering supporting for LGBTQ people," Johnson said.

She added that Feinstein was "a leader who took risks. She was an original cosponsor of the Equality Act and a key champion for legislation like the Violence Against Women Act. She is succeeded by and undoubtedly inspired a deep bench of congress people like Tammy Baldwin who are bold and unapologetic freedom fighters who are unrelenting in their quest for freedom and justice for all! She will be deeply missed."
This photo is from 2010, when Dianne Feinstein endorsed me in my first run for Board of Supervisors. I was a community activist & not well known. Sen Feinstein — one of the most powerful people in the U.S. — spent more than an hour with me & took a chance on me. I'm so grateful. pic.twitter.com/VjfRxxbwZC

— Senator Scott Wiener (@Scott_Wiener) September 29, 2023
A look back at Feinstein's career
A native San Franciscan born in the city on June 22, 1933, she first attended San Francisco public schools and then graduated from the Convent of the Sacred Heart High School in 1951.
She earned her degree at Stanford University in Palo Alto in 1955 and became actively involved in government service first serving as a member of the California Women's Board of Terms and Parole 1960-1966.
In her first foray into city politics she won a seat on the San Francisco Board of Supervisors representing the Marina neighborhood, serving from 1970-1978, and as president 1970-1971, 1974-1975, 1978.
In 1978 Feinstein was thrust into the state and national political spotlight when on November 27, 1978 she became the mayor of San Francisco, after disgruntled former city supervisor Dan White entered City Hall and assassinated Mayor George Moscone after Moscone refused to appoint White back into his seat he had resigned from days before. White then also murdered openly gay city supervisor Harvey Milk who had sparred with White over gay rights and had opposed White getting his seat back.
Feinstein served as mayor for ten years from 1978-1988 then she served on the board as a director of the Bank of California 1988-1989 at which point she made an unsuccessful run as a candidate for Governor of California in 1990.
After losing that race for governor in 1990, Feinstein later won a special election on November 3, 1992, as a Democrat to the U.S. Senate. The special election was triggered by the resignation of Pete Wilson, who had defeated her in the 1990 gubernatorial election. She took office on November 4, 1992, and was subsequently reelected in 1994, 2000, 2006, 2012, and again in 2018 for the term ending January 3, 2025.
Feinstein's record on LGBTQ+ rights was mixed
Senator Feinstein's record on LGBTQ+ rights was mixed as reported on by San Francisco's LGBTQ+ newspaper The Bay Area Reporter's Assistant Editor John Ferrannini who noted:
Earlier in that campaign [1979] she'd faced some opposition from members of the LGBTQ community after she made remarks to Ladies' Home Journal perceived as homophobic, but later won community support after gay candidate David Scott endorsed her in a runoff against independent Quentin Kopp. Scott endorsed Feinstein after she committed to appoint a gay person to the police oversight panel, which Feinstein followed through on with her appointment of lesbian Jo Daly.
Feinstein's veto of city employee benefits for domestic partners led to a recall effort in 1983, though she won 81% to 18%.
[…]
In the Senate she was one of the few Democratic members who voted against the Defense of Marriage Act in 1996, which had been supported by then-senator and current President Joe Biden (D). The last vestiges of DOMA were formally repealed in December when Biden signed the Respect for Marriage Act. DOMA had key provisions struck down by the U.S. Supreme Court in 2013 (Section 3, U.S. v. Windsor) and 2015 (Section 2, Obergefell v. Hodges).
Feinstein was never without controversy though, and in 2004 upset more progressive Democrats when she said then-mayor and now Governor Gavin Newsom's decision to order San Francisco officials to issue marriage licenses to same-sex couples was "too much, too fast, too soon."
[…]
She was criticized in 2020 when she said U.S. Supreme Court Justice Amy Coney Barrett's confirmation hearing was "one of the best" and hugged Senator Lindsay Graham (R-South Carolina), then the chair of the Senate Judiciary Committee. Barrett's vote last June on the Supreme Court was key for the overturning of Roe v. Wade, which had protected abortion as a constitutional right, a key issue for Feinstein.
In 2017 the Senator openly criticized then President Trump's ban on trans military service.
Feinstein in February announced her decision to retire at the end of her term. "I am announcing today I will not run for reelection in 2024 but intend to accomplish as much for California as I can through the end of next year when my term ends," she said in a statement.
Out gay California state Senator Scott Wiener (D-San Francisco) wrote on Twitter:
"Dianne Feinstein has been a trailblazer for more than 50 years," he stated. "Her accomplishments are legion. We're so proud of her in San Francisco & grateful for her service to our city & our state."
Dianne Feinstein has been a trailblazer for more than 50 years. Her accomplishments are legion. We're so proud of her in San Francisco & grateful for her service to our city & our state.

— Senator Scott Wiener (@Scott_Wiener) February 14, 2023
Equality California released a statement from Hoang:
"Throughout her storied political career, Dianne Feinstein has been a champion for LGBTQ+ rights – from her early days on the San Francisco Board of Supervisors serving alongside Harvey Milk, to her historic service as the first woman Mayor of San Francisco and the first woman to represent California in the United States Senate.
"From being one of only 14 Senators to oppose the discriminatory Defense of Marriage Act (DOMA) in 1996 to being the lead Senate sponsor on the recently-signed Respect for Marriage Act, which repealed DOMA, Senator Feinstein has worked tirelessly to improve the lives of not only her constituents, but all LGBTQ+ Americans.
"She has supported landmark federal hate crime legislation, fought for access to life-saving treatment for people living with HIV, sponsored the Equality Act, spoken out in support of LGBTQ+ service members before and after 'Don't Ask, Don't Tell', and has stood up for our community – even before it was popular to do so and when it presented significant political risks. Senator Feinstein has also been a leading champion in the fight against gun violence, recently reintroducing legislation to ban high-capacity magazines in the wake of deadly mass shootings like those at Club Q – an LGBTQ+ nightclub in Colorado. Equality California has been proud to call her a friend and ally –we are eternally grateful for her service and will continue to work with her as she finishes out her term."
Additional reporting by Michael Lavers and Brody Levesque