Equality California raises $1 million at 20th Anniversary Gala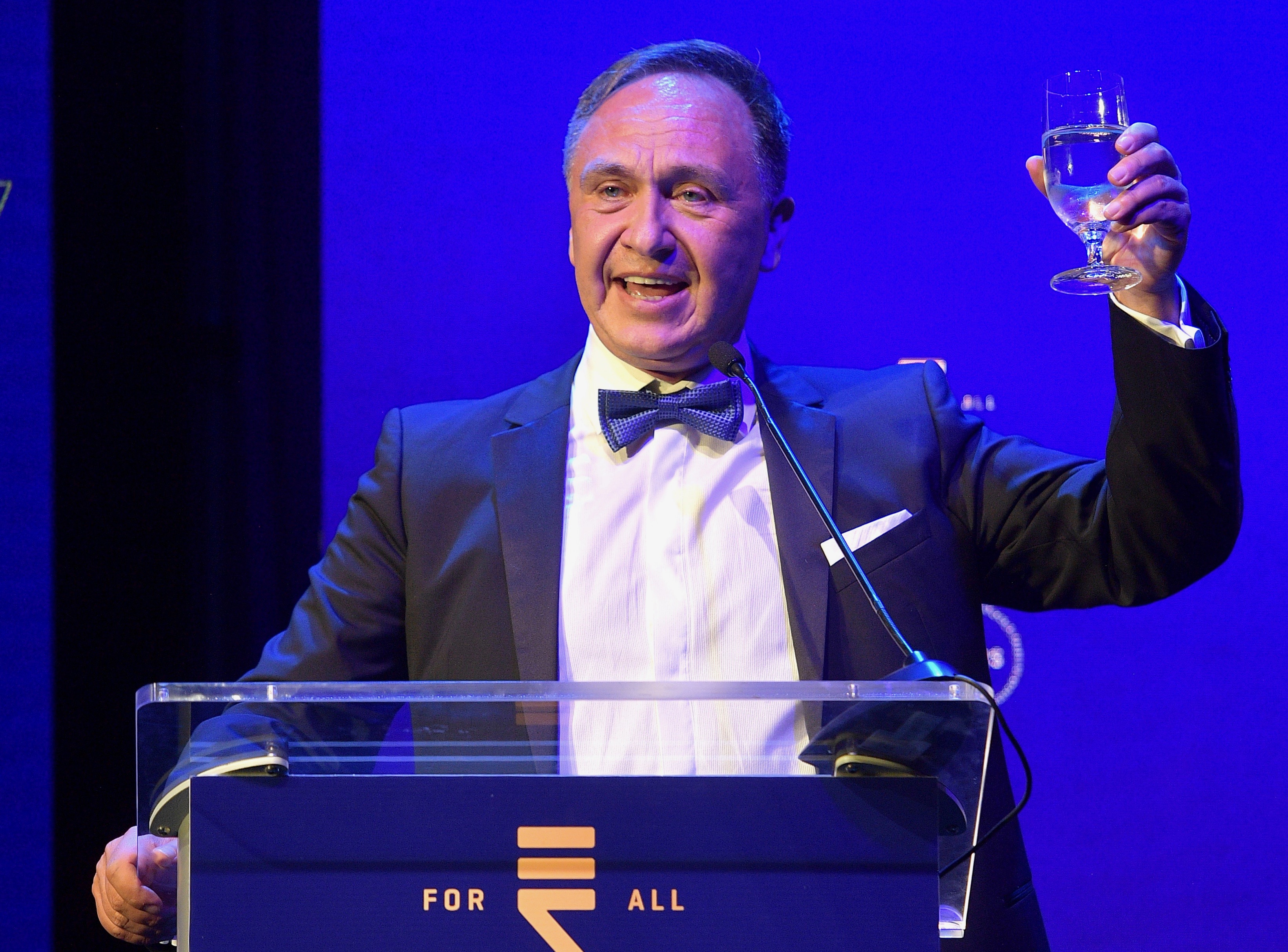 There was something comforting about Equality California's 20th Anniversary  Awards ceremony last Saturday, Sept. 28. The sold-out crowd of 1200-plus people in the JW Marriott/LA Live ballroom not only applauded the notable honorees and the LGBTQ lobbying organization's successful legislative history but celebrated a political and creative unity that has historically changed American culture in the midst of an unprecedented constitutional crisis.
Transparent creator and new non-binary spokesperson Jill Soloway cheered the "wonderful young TikTokers complaining about their non-binary dysphoria" as she accepted Equality California's Equality Visibility Award. Introduced by trans activist Alexandra Billings, who will make Broadway history in January taking over the role of Madame Morrible in Wicked, Soloway talked about how "queer and trans people are magic" and noted trans pioneers lost to history whose stories deserve to be told. "I am so privileged to walk this road paved by my transcestors," Soloway said.  The evening closed with a standing ovation for 27-year old trans pop star Kim Petras.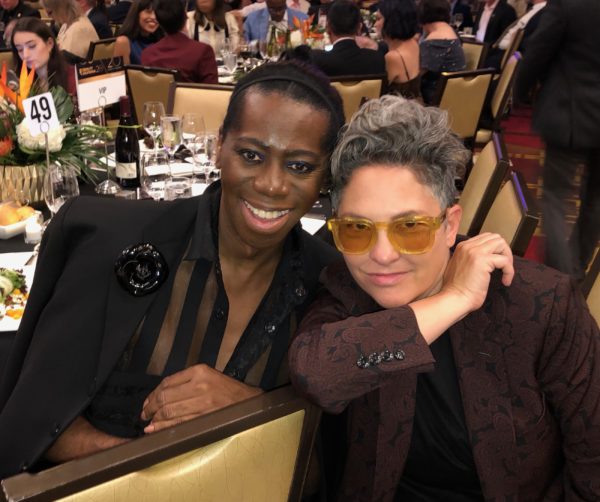 Jill Soloway with runway guru Miss Jay Alexander (Photo by Karen Ocamb)
CNN Republican commentator Ana Navarro served up some red meat, dishing on Donald Trump during her Ally Leadership Award acceptance speech after a saucy appetizer. "I said to Gloria [Estefan]: 'Do you think I should wear these shoes?'" recounting her getting ready for the gala. "And she said: 'Are you going like that? You don't have hair and makeup? Really, you're going to a gay event?'"
Navarro went ten minutes beyond her allotted five minutes, riffing on her gay friends, on how getting an award for supporting LGBTQ people was like "getting a straight man an award for peeing inside the toilet bowl instead of the sink" and describing green costumed Sean Spicer on "Dancing with the Stars" during Hispanic Heritage Month as "a florescent parakeet dancing salsa. That's a damn sacrilege."
But Navarro got serious, too, saying she "didn't grow up feeling threatened by or superior to people that were different from me in some superficial way. I was not taught that in order to feel accepted and strong, I had to make others feel weak and illegitimate. For me? Prejudice against the LGBTQ or any group is about ignorance and insecurity and political gain. That's the worst part. When people who know better are fanning the flames of prejudice against other people in order to win elections."
It used to be "embarrassing to be a bigot," Navarro said. "But in the last few years, bigots have come out of the closet."
The need to defend LGBTQ rights is a reality. "Bigotry, it's like shoulder pads or bell bottoms—it's an ugly trend that really should never come back, but it does. And it's name is Trump," Navarro said. "But actually, I should refer to it as public, outward, institutionalized bigotry. That's the real problem we have right now, it's institutionalized. It is coming from the government, from the federal government. The people who don't want to light up the White House with pride colors on Pride Month. The people who give an order to embassies to not raise a pride flag during Pride Month. That's institutionalized discrimination. And that's very purposeful, and very strategic." She vowed to always remain an ally.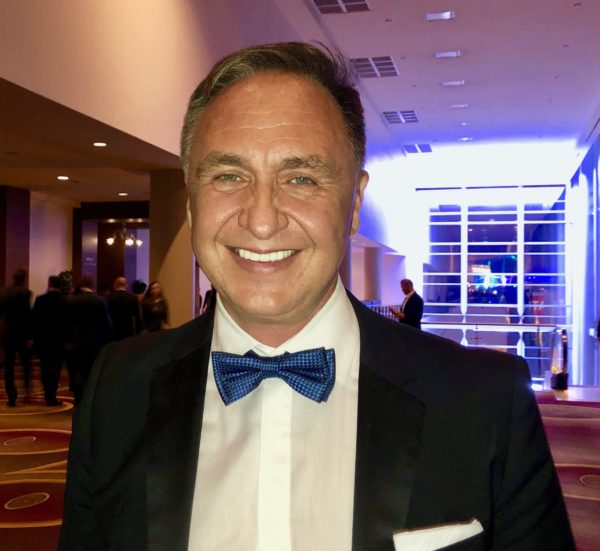 Equality California Executive Director Rick Zbur (Photo by Karen Ocamb)
But in some ways, the 20th anniversary was crystalized by Equality California executive director Rick Zbur. The longtime political activist and environmentalist retired from Latham & Watkins in 2014 as an out senior partner after practicing law there for decades. But his long association has been fortuitous: Latham & Watkins contributed almost $3 million in pro bono services for the last three years, including work on the Safe And Supportive Schools Program and representing Equality California in its Stockman v Trump federal fight against Trump's transgender open military service  ban for which Amy Quartarolo and her team received the Community Leadership Award.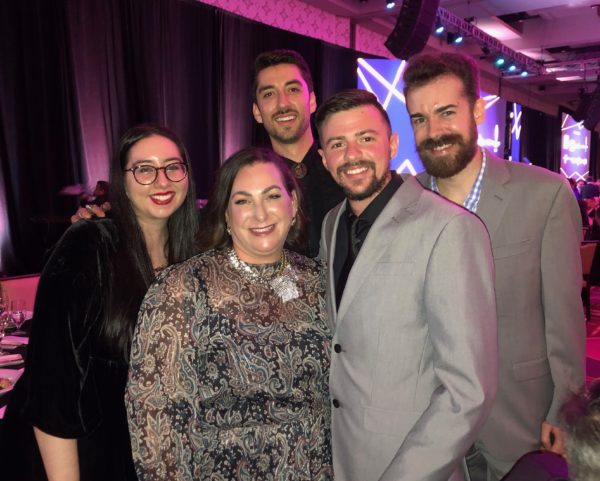 Amy Quartarolo and her Latham & Watkins team with plaintiff Nicolas Talbott (Photo by Karen Ocamb)
The award was presented by plaintiff Nicolas Talbott from Lisbon, Ohio who recounted his dream deferred by bigoted politics. Talbott shared:
"Growing up, I always wore boys clothes and wore my hair short, and I knew that I was transgender before I even knew what that word was. The other thing that I've always known is that I wanted a career that would enable me to serve my country and to protect people. So I looked into the ROTC program at Kent State University where I went to college and I decided to pursue a career in the military.

After graduating, I contacted several military recruiters, but they told me I would not be permitted to enlist simply because I am transgender. So, without the military as an option, I had to support myself and my grandmother with whatever jobs I could find, which included being a bus driver, an operations manager, and a truck driver, but I still hoped to enlist one day.

Then in June 2016 when I got a call from a friend who said the ban on transgender military service had been lifted, I was thrilled. The Obama Administration's decision to lift that ban told me and the transgender Americans across the country that we were worthy of serving our country, that we would be valued and supported like any other service member.

But as powerful as that message was, so too was President Trump's tweet just a little over a year later, which told me that I would no longer be allowed to serve. So alongside Equality California and six other transgender Americans, I joined one of four lawsuits to challenge this unfair, unconstitutional ban, which brings us to tonight, where I now have the chance to say thank you to Amy Quartarolo and to Latham & Watkins, both of whom so generously made that happen."
Talbott, Amy Quartarolo said, accepting her award, "is the real superstar of the story. We are just the lawyers" of the "brave" plaintiffs.
"We have seen hope, and we have seen incremental victories. But we have also faced many challenges, and truly have gained an understanding of just how many obstacles remain," Quartarolo said. "Importantly, we understand that with every one of those challenges, there is a new opportunity, and a renewed chance for commitment."
In a powerful and moving speech, attorney Andreas Meyer, the President Emeritus of Equality California who formulated the organization intersectionality strategy,  outlined a particular challenge that thoughtful LGBTQ advocates may overlook if dulled by what Michelangelo Signorile called "victory blindness."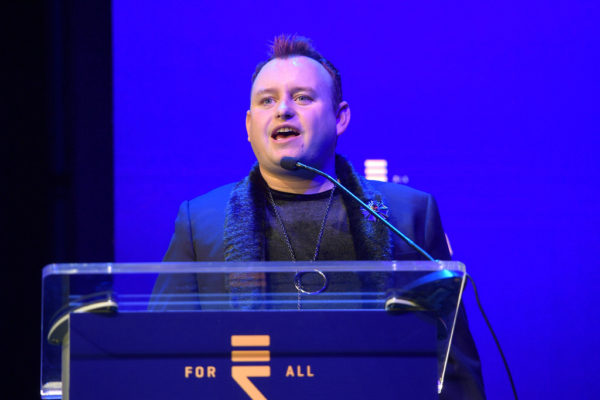 First honoring those who were lost to AIDS and "the thousands of LGBTQ people who continue to lose their lives every year to acts of intolerance and hate," Meyer articulated a threat the LGBTQ community has not yet fully tackled. Here's an extended excerpt:
"I  believe we are faced at this particular moment in time with the great war of our movement. Our enemy has become more cunning than ever. He's cloaked himself in our rhetoric of tolerance and civil rights and in the same breath incriminates us with false cries of religious persecution. And he is persuasive.

Even here in California, the forked tongue of our nemesis has planted seeds of doubt in the minds of ourselves and our allies. I experienced the effect of our enemy's guile just two days ago during a board meeting at the Orange County Fairgrounds. I introduced a draft policy for the board to consider that would prohibit the Fairgrounds from entering into agreements that do not include nondiscrimination language.

I proposed this policy after learning that in 2018 the Fairgrounds had granted $75,000 to an institution with a long history of discrimination against our community. The OC Fair Board is almost entirely comprised of compassionate allies of our community, and the proposed policy was at first received positively.

But then the devil cracked open the door and whispered in our ears—'wouldn't this measure go too far?'—he asked. Wouldn't we be prejudicing the free exercise of religion? Is it lawful to exclude those who have sincere religious beliefs about the sinful and abominable character of homosexuals? Doubt even crept into my own mind as these whispers craftily persuaded me that perhaps the policy was not necessary.

Surely, the managers of the Fairgrounds had heard the message loud and clear about the importance of nondiscrimination. Faced with conflict with my allies and desperate as I've always been like so many of us for acceptance, I withdrew the proposal.

In the two days since that meeting, I have reproached myself for letting the fog of war cloud in my mind. The answer to all those questions was simple: if an institution will not agree to conduct its activities on State property or using State funds in a nondiscriminatory manner, then it has no business conducting its activities on State land or using State resources.

I wish I would have asked myself harder these questions during the meeting. Does that go too far? No. Does it prejudice the free exercise of religion? No. Is it lawful to exclude those who have sincere religious beliefs about the sinful and abominable character of homosexuals? If it isn't, then it should be and we should not go down without a fight.

In accepting this award tonight, I can promise you that I will not back down again. I will not compromise. And I will be not be told that our civil rights are an overreach. Because we are at war and we must sound the alarm. Our fight is not just a fashionable political issue, but rather a struggle for our very survival.

Those of us gathered here, the privileged and the blessed, must not forget where we came from. Even though it's painful, we must constantly remind ourselves of the dark and unshakeable terror of physical violence, social exile and criminal prosecution that lurks in our recent past and which continues to torment our brothers and sisters across the country and around the globe.

And let's not be fooled: our enemy would see us go back to that place. But we will not let him win. And our sacrifices will nourish the flowers of our future, the hope, and the birthright of our community. For we have been patient. We have been tolerant. We've learned the difficult lessons. And so the legendary children shall inherit this earth."
Zbur drove home that deep commitment to full equal rights for LGBTQ people. He framed Equality California's historical mission courageously leading on marriage equality enabling lesbian pioneers Del Martin and Phyllis Lyon to marry in 2004 and again, after winning in In Re Marriage, in 2008 before Prop 8 passed.  He also talked about working with state legislators to pass protections for transgender students, a law enabling trans and non-binary folks to up update their official state gender markers, banning so-called "conversion therapy," sparking a nationwide movement to end the psychologically harmful practice and working beyond the California borders in with a new program in Nevada and on the immigration issue, including helping those seeking asylum—as well as having one of four lawsuits challenging the transgender ban and "all we've been dealing with" since Trump's Electoral College victory on Sept. 6, 2016.
"Yes, we face threats from the White House and an administration that's hell bent on rolling back the progress we've achieved. But at every turn we keep moving forward because we in California have a special role in leading this movement – and doing so boldly. As my friend Congressman Mark Takano likes to say: 'We're here, we're queer and we're Californians,'" Zbur said. "We cannot and we will not rest knowing that members or our community or the diverse communities to which we belong don't have full lived equality."
Echoing the late Harvey Milk, Zbur said, "Still, with so much work ahead of us, I have hope" because "we Californians have the courage and will to do it" until the work is done.
Then, sounding like an activist parent during the 1960s civil rights movement, or paraphrasing the Crosby, Stills and Nash song about teaching your children well, Zbur shared how the core principles of equality and social justice have been inculcated into his 10-year old twin boys, Ryan and Raffa.
"They came home from school a few months ago and they were complaining. Their homework was stupid. The school was stupid. The fact that they weren't allowed to talk about Donald Trump in their classroom was stupid. And I looked at them and honestly, I was a little bit surprised. I turned to them and I said, you know, Raffa and Ryan, we're not a family of complainers. If you don't like something, go do something about it.

Well, the next thing we're being called by their principal's office because Ryan and Raffa decided they were going to circulate a petition and when they didn't get what they demanded, they decided they wanted to organize a walk out of their fourth grade class.

Half of me was thinking, 'this isn't really what I had in mind when I said go do something about it.' But the other half of me was filled with pride. And when they complained later on that they were punished for fighting back against what they perceived to be super extreme injustice, and after explaining that It doesn't quite wok that way in school, I explained to them that most people are punished for fighting injustice and that during the civil rights movement, the freedom fighters who marched on Selma were beaten and jailed and even worse. And Dr. King said, 'freedom is never voluntarily given by the oppressor. It must be demanded by the oppressed.

Or as Speaker Pelosi says, 'No one gives you power. You have to take it from them.'"
Zbur hopes that the next generation of leaders "don't give a damn what the cynics have to say."
So, Zbur concluded with a flare of positivity, "let's make a toast to them, to all of you, and to us collectively, to 20 years leading the Golden State's fight for LGBTQ civil rights and social justice on to the next 20 years of striving to create a world that is healthy, just and fully equal for all LGBTQ people—until the work is done."
Zbur later told the Los Angeles Blade that the gala had raised $1 million and counting.
Please note: this story has been updated to correct some mishearing of words in the remarks by Andreas Meyer. 
'Leave Our Kids Alone' group protest, LAPD make arrests
A separate group gathered to rally in support of LGBTQ+ youth, ultimately leading to an unlawful assembly declaration & at least two arrests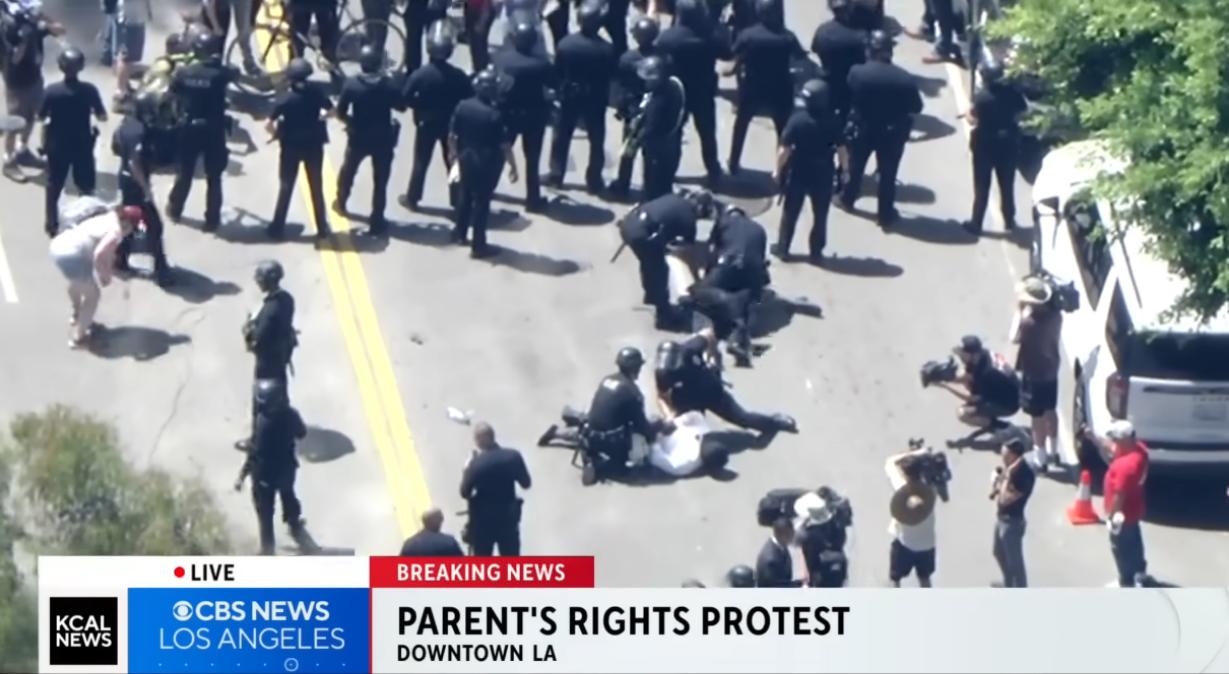 LOS ANGELES – Approximately 200 people from the loosely organized social media based group 'Leave Our Kids Alone' (LOKA) marched through downtown Los Angeles today in support of parental rights and notification policies in schools.
A separate group gathered to rally in support of LGBTQ+ youth, ultimately leading to an unlawful assembly declaration and at least two arrests as the Los Angeles Police Department deployed about 40 officers and supervisors to keep the groups apart.
On the LOKA group Instagram and Facebook posts, organizers called for the Tuesday rally at 10:00 AM writing: "Calling all California parents to stand United and rally for our kids. Whether it's the school boards or Sacramento in their attempts to indoctrinate kids and separate them from families – parents have had enough."
The group on its social media posts claim they are supporting parental rights and opposing "indoctrination," "sexualization" or "grooming" of children in schools.
KCAL CBS-Los Angeles reported the LOKA group assembled outside Los Angeles City Hall, then marched to Los Angeles Unified School District headquarters, where some participants sat in the intersection. Some people in the Leave Our Kids Alone group waved American flags while others carried signs with slogans such as "Parental Rights Matter" and "Parental rights are non-negotiable," and many wore shirts saying "Leave our kids alone." One held a sign reading "Teach the Bible, not porn."
The protest was in support of forcing the LAUSD Board to adopt policies that would 'Out' trans children and also minimize the so-called influences regarding LGBTQ+ students.
On X/Twitter members of the group live-streamed the march and protest:
Los Angeles CA – Leave Our Kids Alone #saveourkids #leaveourkidsalone

We are live on YouTube and rumble. pic.twitter.com/ytOtQ20kOM

— Oreo Express Normal/Not Mentally Ill (@OreoExpress) August 22, 2023
The counter-rally was organized by Ground Game LA and Queer Nation Los Angeles, plus another Queer affirming group which are opposed to parental-notification policies, noting such policy requirements can put LGBTQ+ students at risk if their families are not accepting of their gender identity.
KCAL also reported that members of the smaller counter protest, some of whom waved Pride flags, prompting LAPD officers to set up skirmish lines to keep the groups separated. According to reports from the scene, police attempted to push the counter-protesters back, but two people allegedly resisted and were taken into custody.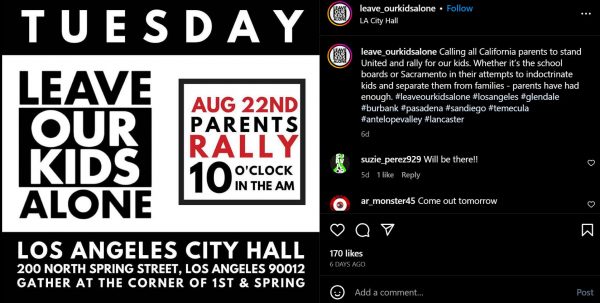 The LOKA group first rose to prominence after a group of parents took to social media and distributed flyers to protest a scheduled June 2 LGBTQ+ Pride event at Saticoy Elementary School on 7850 Ethel Avenue in North Hollywood.
Then on June 6, the group and others clashed with Glendale Police and LGBTQ+ supporters outside a meeting of the Glendale Unified School Board over LGBTQ+ studies and the GUSD polices on addressing LGBTQ+ related issues.
News footage from CBS Los Angeles KCAL showed approximately fifty Glendale police officers attempting to keep the two groups separated and then fists were thrown as both sides engaged in physical assaults. A Glendale police spokesperson confirmed that some arrests had been made but wouldn't comment further.
The group has also been present at school board meetings in Temecula, Murietta Valley, Orange County and Chino protesting for polices that would forcibly 'Out' LGBTQ+ kids and also remove LGBTQ+ materials, books, and Pride flags from classrooms.
California Attorney General Rob Bonta announced  earlier this month that his office is opening a civil rights investigation into potential legal violations by the Chino Valley Unified School District (CVUSD), which adopted a policy that forces schools to "out" students whose gender identities may be changing.
The Murrieta Valley Unified School District Board (MVUSD), had approved a policy mirroring one recently adopted by the Chino Valley Unified School District (CVUSD), that forces school faculty and staff to "out" students to parents whose gender identities may be changing.
Bonta in an emailed statement to the Blade said: "I am deeply disturbed to learn another school district has put at risk the safety and privacy of transgender and gender nonconforming students by adopting a forced outing policy. My office remains committed to ensuring school policies do not target or seek to discriminate against California's most vulnerable communities. California will not stand for violations of our students' civil rights."
Related:
Parent's rights group and counter protesters clash Downtown LA: