Underage gender identity is a family matter in 'A Kid Like Jake'
It's no longer safe to assume this show will be welcomed with open arms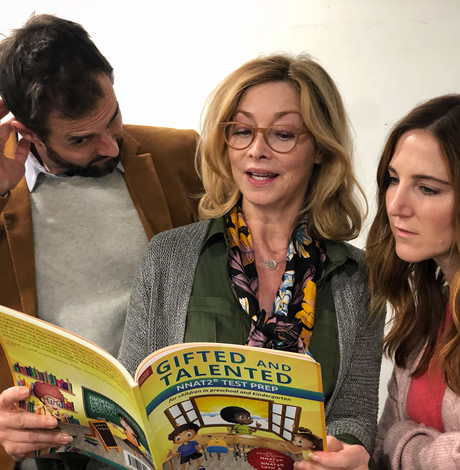 When Daniel Pearle's "A Kid Like Jake" was first performed in 2013, the world was a very different place.
Early in the second term of the Obama administration, the play – about two young Brooklyn parents grappling with the possibility that their 4-year-old son's fondness for playing dress-up might be an early attempt at alternative gender expression – was met by a progressive and open-minded cultural climate that was ready and willing to welcome it into the growing public conversation about gender identity.
Nevertheless, six years after its debut, as Pearle's re-tooled version is poised to make its West Coast premiere in an IAMA Theatre Company guest production at the Pasadena Playhouse, it's no longer safe to assume the show will be welcomed with open arms.
That's not because understanding about gender dysphoria has evolved, although it certainly has; the playwright himself has commented that when he first wrote the script, "it was before 'Transparent,' before Caitlyn Jenner and Laverne Cox, before 'gender expansiveness' was part of our cultural lexicon." The changing landscape around the subject, however, was always part of the dynamic that made the play tick, and the rewrites undertaken by Pearle after his work on the film version (which debuted at Sundance in 2018 and went on to a limited theatrical run) presumably bring the conversation up to date for a new production.
What makes its reception an uncertain proposition is the shift that in the culture since 2016, the regressive backlash from conservatives that has reminded us that the struggle for LGBTQ acceptance – especially with regard to trans and other gender non-conforming individuals – is a long way from being over.
Discussion about the issue becomes particularly virulent when it relates, as it does in Pearle's play, to someone who is underage.
Consider, for example, the case of Desmond Napoles, better known as "Desmond Is Amazing," the now-11-year-old drag performer who has been in the public eye since an appearance at 6 in a Jinkx Monsoon music video. Identifying as gay and genderfluid, Desmond has gone beyond the fame of his popular Instagram presence and his public performances to become a widely recognized advocate and spokesperson for LGBTQ issues. Yet he has also been met with criticism from social conservatives, who claim that his supportive parents are "sexualizing and exploiting" a minor. Social media is rife with other such cases, where online bullying and even death threats are a daily occurrence, arising from the kind of outdated thinking that conflates gender identity with sexuality, and being queer with pedophilia.
With that kind of heated tempest as part of the social backdrop, it's easy to imagine that "A Kid Like Jake," might be returning into a political firestorm of its own. Yet according to director Jennifer Chambers, speaking to the Blade in advance of the show's October 3 opening, it's a play that slips past the political to focus on the personal.
"The play is about Jake, but it's also not," she explains. "We never see Jake, at all. He's talked about, but he never appears onstage as an actual character. It's about his parents, and how they work out where they are with their son."
She elaborates. "They are considering getting him into special programs for kindergarten, and as they're going through the school application process, things start being revealed about who he is, or who he might be. It becomes a discovery about gender identity, and how as parents… when you think things are one way, and your child is finding their own self and their own voice… how as parents, you navigate that. And then when that hits upon your old belief systems, your old ways of thinking, how that affects your relationship with your son, and your marriage, and how you navigate through that."
Reflecting on how the play handles the situation, Chambers adds, "I think these parents really begin from a place of 'we're doing absolutely the best things for our son, we know what's best for our kid and we're making exactly the right decisions for him' – and then as things progress, as things get to revealed, that gets called into question. There are the older blind spots, and biases – fears, really – about who your kid is, or might be, and about how because of it he… or she or they… is not safe. You want to protect your kid, but you also need to allow my kid to be who they are. It's really all about the parents' journey, and how they open up and fall apart and get put back together inside of that conversation."
As for many of the hot button-issues surrounding young people who grapple with their gender identity – the prejudice, the bullying, the sexualization – the director says the play doesn't really go there. "We do touch on a few of those boundaries, of where, inside of our biases, we might go; Alex, the mom, out of her own fear, out of her sense of feeling the ground being pulled out from under her feet – there's a time when she says things that, if she were thinking and were not fueled by that fear, she would absolutely never say. It touches into that – but otherwise no, it's very much contained inside the family, and inside of the process of just applying to kindergarten."
By keeping the focus squarely on the people directly involved in the process of discovery depicted in the play, "Jake" keeps the situation free from the complications imposed by a larger world, allowing its characters to explore the limits of their own boundaries – a process that is complicated enough on its own. It's this breaking down of what has become a public issue into the private, the setting of the conflict in an intimate arena instead of a social one, that made Chambers – who is herself the mother of two children, seven and nine – want to jump at the chance to direct this new production.
"More than anything I really love Daniel's writing," she says, "I love his rhythms, I love his humor. But also, I'm a parent, myself, and my kids are growing. It's a process – how you support your kids, when they're your babies and they're so much a part of who you are, and then they grow and they differentiate. It's brutal, and it's beautiful, and it's heartbreaking – and I don't think there's an easy way to navigate it, as they become their own self. The essence of that is what hooked me into this and what keeps pushing me. It's so simple and so complicated at the same time, which is what is so exciting to me."
Given the involvement of a director with such a deeply felt personal connection to the material, working with a talented cast that includes Sharon Lawrence, Olivia Liang, Tim Peper, Sarah Utterback, "A Kid Like Jake," is likely to carry much of that excitement to LA audiences as it continues its Pasadena Playhouse run through Nov. 3.
For performance schedule and tickets, visit iamatheatre.com.
Jinkx & DeLa's latest holiday show has laughs, heart, & guts
"Add supernatural elements plucked from A Christmas Carol, and you've got more than enough pop culture references to hang the plot on"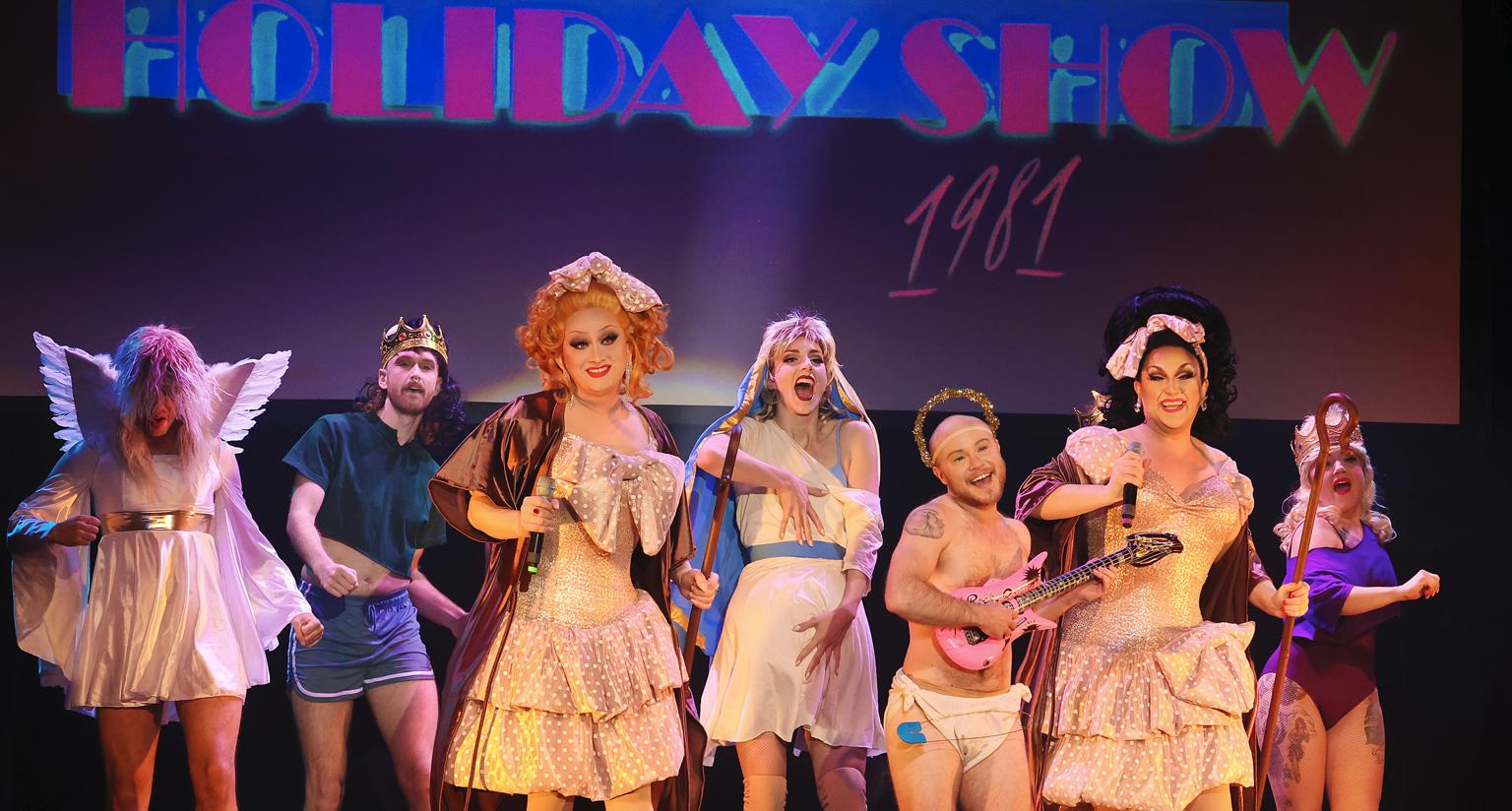 NEW YORK – Marking the fourth holiday-themed touring production from Jinkx Monsoon and BenDeLaCreme, The Jinkx & DeLa Holiday Show could do no wrong with the LGBTQ+-heavy crowd, at the first of two sold-out December 2/3 gigs at NYC's storied Town Hall.
That the show landed at a venue known for hosting progressive organizations and artists such as the ACLU and Bob Dylan was a fitting choice. Although they came to play, not fight, the headliners would cap their wonderfully silly and unabashedly sexual performance with a forceful rebuke of homophobic violence and call for corrective measures powered not by righteous anger, but by radical love.
But enough about the last ten minutes. You came to read about a show by two you know from RuPaul's Drag Race who've used that platform as both springboard and calling card—and that is what you shall get.
Written by and starring Jinkx Monsoon and BenDeLaCreme, The Jinkx & DeLa Holiday Show takes its rightful place in the ever-expanding canonical universe Big Banged into existence beginning with 2018's To Jesus, Thanks for Everything and followed by All I Want for Christmas is Attention (2019), The Return of the Jinkx & DeLa Holiday Show, LIVE! (2021), and The Jinkx & DeLa Holiday Special—a one-hour, made-for-TV program that first ran on HULU in 2020 and became an instant classic, with all the line-quoting, repeat viewing appeal of Rankin/Bass at their batshit crazy best. It's highly recommended at least once a year (handily beating a Hallmark movie for Christmas in July celebrants).
Fans of past Jinkx/DeLa stage shows who crave more of the same while hungering for something new will go home from 2022's installment feeling as if they've eaten the same slice of cake inexplicably cradled in the palm of their hand. In other words, this show takes up residence right along the border separating seen-it-before from ain't-seen-nothin'-yet. Familiarity shows itself exactly as it should—in the bickering and bonding between two wildly contrasting personality types locked in an eternal struggle to convince the other one they're going about things the all wrong.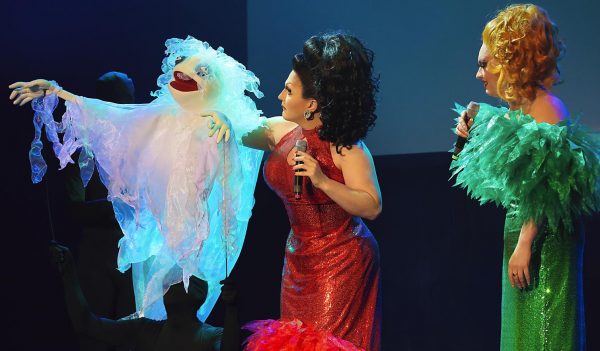 As self-appointed Activities Director of whatever happens to be happening at any given moment, Connecticut-raised BenDeLaCreme is the embodiment of a starchy but well-meaning perfectionist undermined by the very methods she uses to achieve that elusive enlightened state. At the opposite end of the spectrum is Jinkx Monsoon—a booze-swilling, pleasure-seeking, chaos-embracing pagan with a moral code so focused it invites comparison to DeLa's penchant for extremism.
That the duo stubbornly travel different roads but somehow end up at the same destination is a frequent narrative motif throughout their work, one that never fails to pay off. Both queens experience an occasional fleeting awareness of this irony, promptly tucking it away until the plot reaches its inevitable point of détente.
And as the rules of comedy fittingly dictate, they do need to be at war with each other, always on the brink of a nuclear option. In that manner, especially when there's no common enemy to fight, the conflict-prone odd couple milks their classic mismatched comedy team dynamic for all it's worth. Not that they need to. Sold separately, both can hold their own as artists. Jinkx won RuPaul's Drag Race All Stars 7 this year, and DeLa toured with the immensely satisfying matrimony farce Ready to be Committed.
But when offered as a two-for-one, as is the case with these annual Holiday Shows, the strange brew of charisma, chemistry, and unconventional choices supersizes the well-established personas of each performer while mapping some new terrain in a comedic landscape once surveyed by Burns and Allen, Burnette and Lawrence, Randall and Klugman, and Saunders and Lumley. (Don't know some or any of these names? One can easily imagine a steely-eyed Jinkx, in her raspy Smoker's Baritone, growling, "Oh, go look it up.")
As for the premise: It's 2022, and DeLa anticipates the impending celebration of Jesus' birth by working herself into a royal tizzy, having sensed, Princess-and-the-Pea-like, that something isn't quite right. Observing much "planetary pitchiness" and more eggshells than usual "in the global nog," DeLa recruits a reluctant Jinkx to time travel with her into past decades, from the 1960s onward—until they will presumably save Christmas by fixing whatever mistake created "the ever-declining Hellscape we once called our world." Add to that some supernatural elements plucked wholesale from A Christmas Carol, and you've got more than enough pop culture references to hang the plot on. ("More than enough" being the only substantial critic's takeaway: The Dickens classic is such a meaty bone, it deserves its own exclusive piece of satire. The ghosts used as guides to past/present/future could have been substituted by any number of imaginative options, as the writers excel at justifying huge narrative shifts with flimsy, throw-away logic.)
Of course, the large-looming, increasingly convoluted time travel thread itself is a wonderfully constructed conceit, an excuse for the show to stuff its stocking with every imaginable goodie on a diehard fan's wish list. We're talking giant puppets, RuPaul's Drag Race references, filthy jokes, gasp-inducing wardrobe reveals, cutting zingers, and an all-cast production number depicting the Christ Child's conception and birth as if it happened in the 1980s—when Journey rocked the top of the charts and everyone went to the gym looking like they had just seen Flashdance at a movie theater right next to a store that only sold headbands and leggings.
For practically every decade visited, there's an original or parody musical number benefitting immensely from the show's expertly choreographed dance ensemble. These six players—Chloe Albin, Mr. Babygirl, Elby Brosch, Shane Donohue, Jim Kent, and Ruby Mimosa—are on stage more often than not, and bring an actorly approach to the task at hand, whether it involves playing a candy cane, a reindeer, or sweet baby Jesus—fresh from the womb and already one of rock's most gifted lead guitarists. (Pay attention, Grindr bottoms: That's the kind of range expected when your profile says "verse.")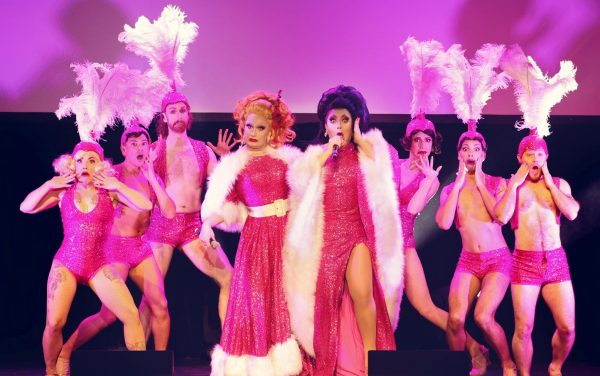 That our gals manage to bring the timeline back into acceptable alignment will come as no surprise. The real appeal of the show is seeing the onetime reality TV stars doing their own thing and doing it spectacularly, without manufactured drama and meanspirited betrayals. Fact is, there's plenty of mud being tossed, but done for the purpose of humor alone, it never lands with much force let alone stains.
What does linger is the potentially jarring—but effectively done—tonal shift during the show's final 10 minutes, serving as a shot of confidence that sends the largely LGBTQ+ crowd back into a world where the weapons-grade nastiness we've laughed at all night long won't be hurled by a member of the tribe or an ally who's in on the joke. After calling out the world they just spent two-plus hours fixing for its ever-present homophobia and potential for violence, Jinkx holds DeLa tight and sings Looking at the Lights, a contemplative number that swaddles the jam-packed, 1,500-seat venue in a blanket of radical love. Maybe enough to survive the holidays at an unhospitable family member's home, or at your own place, all alone. "We don't need to be okay," sings Jinkx, to recovering perfectionist DeLa. "There's no right way to be."
Composed by Major Scales, Jinkx delivers Looking at the Lights in a hushed manner worlds apart from the assertive vocal stylings she's been crushing all night. Lyricist BenDeLaCreme has called the 2021 song "the first I've ever written that's just earnest and didn't break itself with a joke… As someone who's always struggled with the holidays, this is more than just a song about pandemic loneliness. It's about friendship and community."
That sense of kinship is the gift we all hope to get, all year long. As such, it's one Jinkx and DeLa say they'll be touring with at this time of year—every year—for as long as the fates allow. Until then, this empowering nugget from the Jinkx/DeLa-written anthem, Everyone is Traumatized by Christmas:
No matter where you come from, no matter who you are
There's something 'bout this holiday that's sure to leave a scar
An overbearing family, no family at all
Run over by a reindeer or just working at the mall
…
[DeLa]
But, at least they're not alone

[Jinkx]
At least you're not alone

[Both]
No, you're not alone if you've been traumatized!
"The Jinkx & DeLa Holiday Show" has sold out its upcoming performances in cities including Austin, TX, San Diego, CA, and the December 18 show at LA's Orpheum Theatre. Limited tickets remained for the Orpheum's Dec. 19 show at the time of this article's publication. 
For tickets, click here. Super VIP and VIP Meet & Greet packages available. The tour continues through Dec. 30 with stops including Seattle, WA, Portland, OR, and Vancouver, BC. For those unable to see them live, highly recommended is 2020's "The Jinx & DeLa Holiday Special." Rent or purchase via Vimeo on Demand, iTunes, Google Play, VUDU, and Amazon Prime.
"The Jinkx & DeLa Holiday Show" is co-written and co-created by BenDeLaCreme and Jinkx Monsoon, directed by BenDeLaCreme, and produced by BenDeLaCreme Presents, a company comprised of producers BenDeLaCreme, Kevin Heard, and Gus Lanza.