Drag Queen superstar Shangela endorses Kamala Harris for president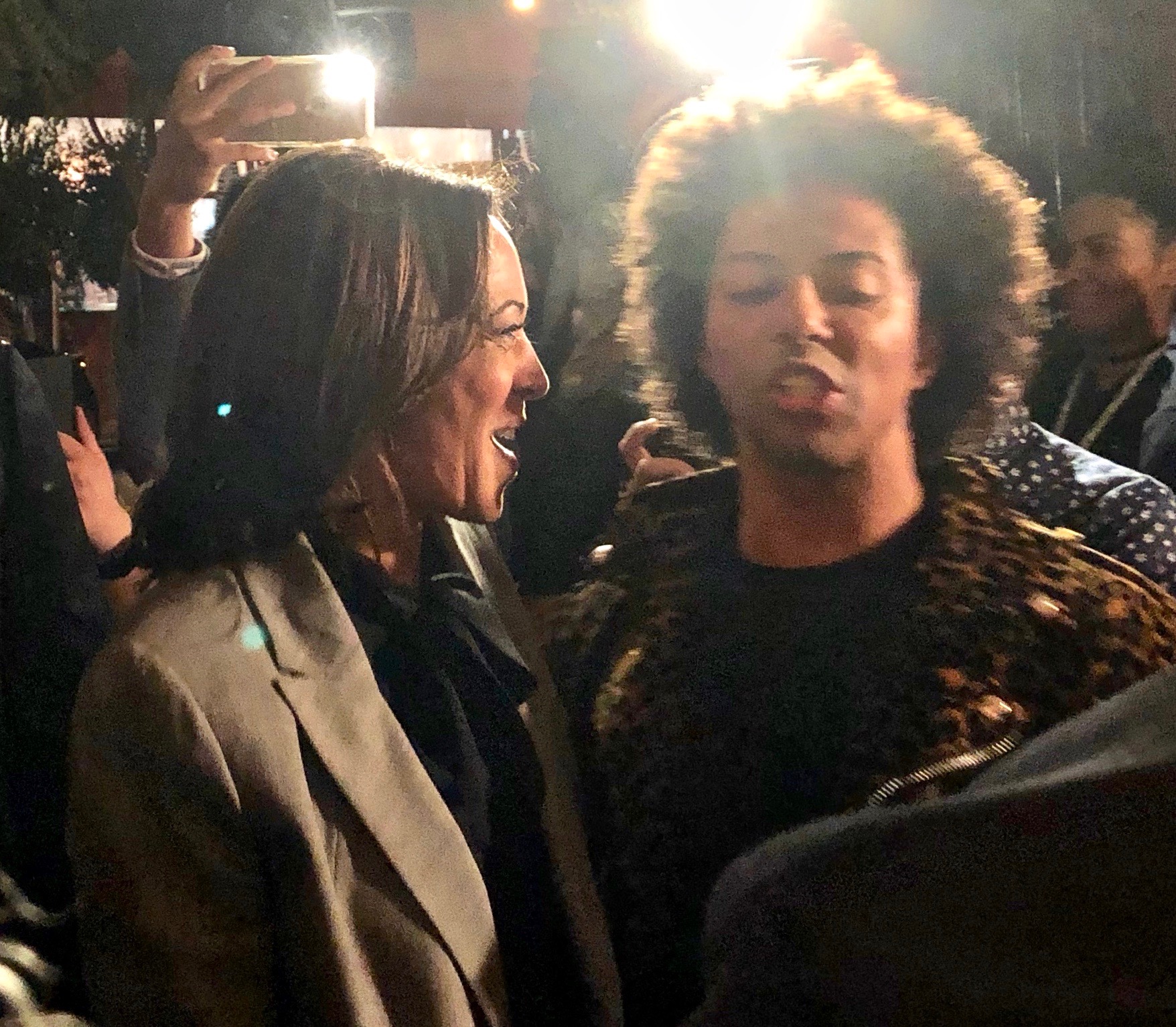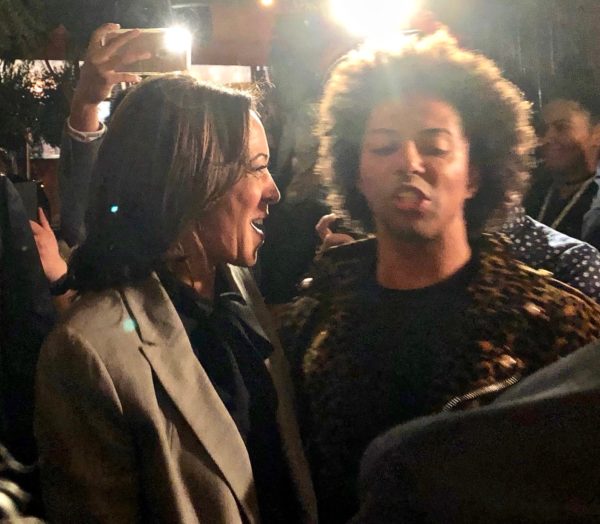 The Washington Blade's Chris Johnson looked at the LGBTQ plans released by Mayor Pete Buttigieg, Sen. Elizabeth Warren and Sen. Kamala Harris in advance of tonight's HRC/CNN LGBTQ town halls that start at 4:30pm, Pacific time.
CNN has posted a revised lineup since Sen. Bernie Sanders dropped out for health reasons. The LA LGBT Center is hosting a watch party at the Anita May Rosenstein Center, 1119 N. McCadden Place in Hollywood.  The Blade's Chris Johnson will be live-tweeting the historic event.
Many of the candidates came to Los Angeles early to fundraise or just shake hands and schmooze. Wednesday night, Harris stopped by The Abbey Food & Bar in West Hollywood, the iconic LGBTQ bar owned by David Cooley, an early Harris supporter.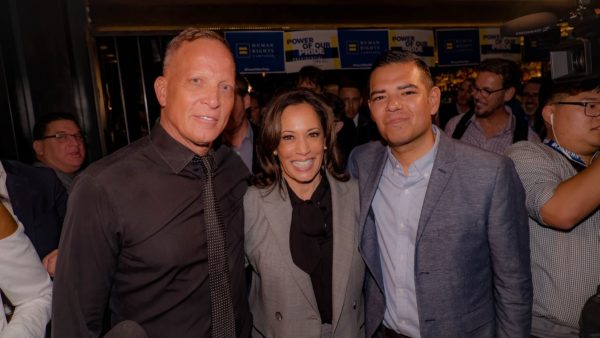 Out Long Beach Mayor Robert Garcia, also a longtime supporter, escorted the California senator with Cooley.
"At a time when LGBTQ+ rights are under constant attack by our current administration, Kamala is leading the charge to stand up for our communities," Garcia said. "Her new agenda would take the unprecedented step of establishing a much-needed Chief Advocate for LGBTQ+ Affairs in the White House, just one of many ways she would give diverse communities a seat at the table. I have full confidence that as President, Kamala will be the tireless advocate for LGBTQ+ equality and justice that she has always been. I am proud to support her, and I cannot emphasize enough the value in her continued commitment to elevating LGBTQ+ voices."
Harris was treated like a rock star – and treated those she met as rock stars, too. One of the first stars to greet her upon entering the establishment was Drag Queen superstar, Shangela. The two shared a fun moment, which Harris posted on Instagram.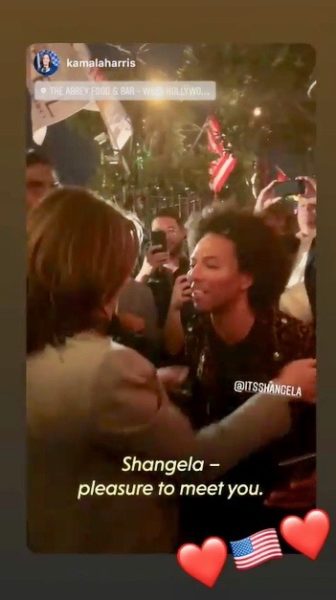 Shangela also posted the encounter on his Instagram account, as well as his later teaching the Democratic presidential candidate how to snap open a fan.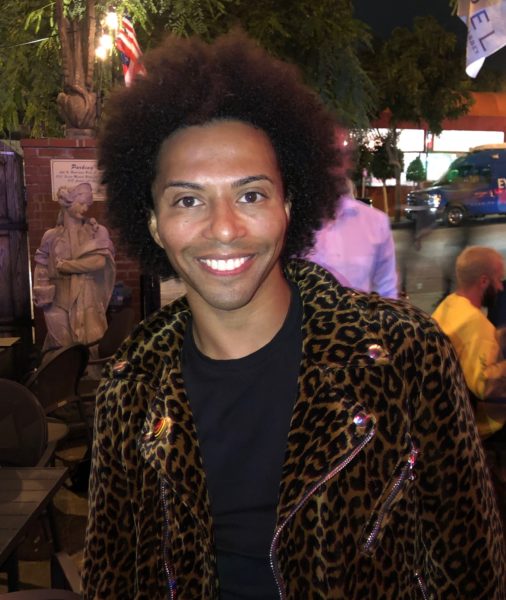 In an interview with the Los Angeles Blade, Shangela endorsed Kamala Harris.
"She is one of the most inspirational candidates running right now and as a representative of the LGBTQ community, and as a gay person and as a Black person, as a person interested in being out there and having my voice heard – I feel like she's listening," Shangela said. "And I feel like she's stood by our community for a long time – it's nothing new. So I definitely trust her. Right now, I'm just so happy to finally meet her in person – and she knew me! I said 'Halle-loo!'," the superstar said.
"I'm always staying abreast of what's going on. I want myself and all of my followers – I want the millennials – I want everyone to be informed," Shangela told the Los Angeles Blade. "And as I continue to learn more about the senator – I'm an advocate for her. I think she's intelligent. I think she has a voice that's not backing down and I think she's been a longtime advocate for our community – an ally. So for that – she definitely has support from me, for sure."
LGBTQ+ ally City Councilman Kevin de León announces run for mayor
De León currently represents Council District 14 that takes in the predominantly Latino neighborhoods of Boyle Heights and El Sereno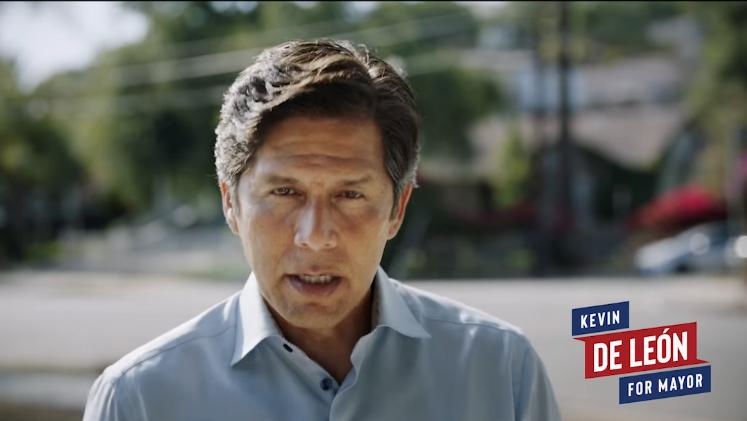 LOS ANGELES – Standing in front of a group of enthusiastic supporters Tuesday at the El Pueblo de Los Angeles Historical Monument, Los Angeles City Councilman Kevin de León announced that he was joining the mayor's race for next year's city elections.
Councilman de León, a Democrat, is the third city elected official to announce his intention to seek the mayor's chair after current Mayor Eric Garcetti, who was elected for a four-year term in 2013 and again in 2017- who's limited to serving no more than two terms, was picked by President Joe Biden to serve as the U.S. ambassador to India on July 9, 2021.
Born in Los Angeles of Guatemalan and Mexican descent, raised by a loving, hard-working single mother, de León, 51, got an education and spent 12 years in Sacramento, rising to become the President Pro Tem of the California Senate, authoring and passing legislation and making history. It was his bill that then Governor jerry Brown signed into law making California a "sanctuary state"—a law that was upheld by a federal appeals court.
In an August 2018 interview with former Los Angeles Blade Editor Karen Ocamb, he reflected on his relationship with the LGBTQ+ community.
"I've always been very close to the LGBTQIA (lesbian, gay, bisexual, transgender, queer, intersex, asexual) community even before I even knew all the initials that keep growing," de León says with a laugh during an extensive phone interview with the Los Angeles Blade. "It's always been my core set of values that every human being deserves a real opportunity to succeed, regardless of who they love and regardless of the hue of their skin and regardless of their legal status. That is embedded in my DNA."
De León learned to care about LGBT people as a child from his mother and aunt around the kitchen table.
"My mother got a third grade education and my aunt even less," he says. "I was very young and they were talking about a gay friend, a colleague of theirs. I didn't understand. Obviously, they didn't understand themselves. But they spoke with such affection, such tenderness. And here were two immigrant women with limited formal education and the way they spoke so lovingly, tenderly, beautifully about their gay friend. I could deduce the person they were talking about was gay—they kind of spoke in code around me when I was just sitting there listening to them at the kitchen table. And it transcended ethnicity and legal status and poverty—that we're all human beings and we deserve dignity and respect. That had an 'Ah Ha' impact."
De León's LGBT education continued as he picked his mother up from her work as a housekeeper at convalescent homes. "She had quite a few gay colleagues with her and I just remember they were just so beautifully nice with my mother and my mother with them and that had a huge impression on me of the universal values of treating everybody with dignity and with respect. So when there is a discriminatory blow against anyone in the LGBTQIA community, I feel that blow equally."
De León, 54, is by far the most prominent Latino running. Fluent in Spanish, he represents a district that takes in the predominantly Latino neighborhoods of Boyle Heights and El Sereno, as well as much of downtown, where a development boom has fueled huge growth over the past decade, KTLA reported.
Two other candidates — Councilman Joe Buscaino and City Atty. Mike Feuer — have been campaigning for several months. The race also features two business leaders: Jessica Lall, who heads the downtown-based Central City Assn., and real estate broker Mel Wilson, who has been involved with several San Fernando Valley business groups.
Hermosa Beach Pride Lifeguard Tower is here to stay
"The rainbow tower is beautiful and has become a symbol of this community's love and support for LGBTQ rights," said Supervisor Hahn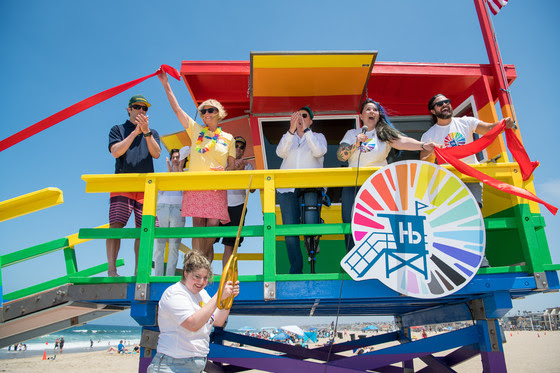 Hermosa Beach — Los Angeles County Supervisor Janice Hahn is announcing that the Pride Tower in Hermosa Beach is here to stay.  The 13th street Los Angeles County Lifeguard Tower, which was painted rainbow in June, was originally meant to be repainted its original blue color at the end of summer.  The rainbow paintjob will now be permanent. 
"The rainbow tower is beautiful and has become a symbol of this community's love and support for LGBTQ rights," said Supervisor Hahn, whose support paved the way for the project. "None of us wanted to see it painted over and I am proud to announce that the Pride Tower is here to stay."
The idea to paint the tower originally came from lzzy Bacallao, a local non-binary teen. Izzy, who uses the pronouns they and them, was responding to the burning of rainbow-painted Pride lifeguard tower in Long Beach in March. The rainbow-painted tower was unveiled at the Hermosa Beach Pride event June 26, 2021.
The new Pride Tower's rainbow paintjob will be maintained by the Los Angeles County Department of Beaches and Harbors which maintains all LA County Lifeguard Towers.   The Department of Beaches and Harbors also maintains another permanent Pride tower in Venice.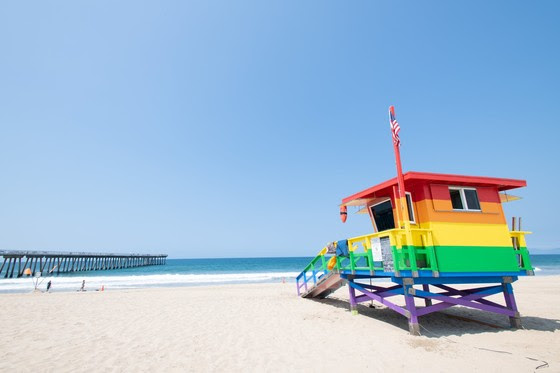 The Giant Sleeps- Iconic Black pastor & HIV/AIDS activist Carl Bean dies
Rev. Bean was a guiding light in the fight to end the AIDS pandemic, the effort to provide support to those with HIV.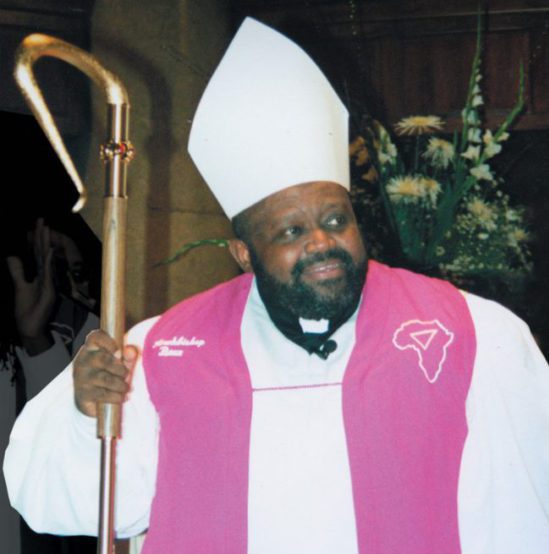 LOS ANGELES – In announcement tinged with sadness, the leadership of Unity Fellowship Church Movement broke the news Tuesday of the death of its founder, Archbishop Carl Bean.
Since its founding in South Los Angeles in 1982, the denomination has had open arms and embraced Black LGBTQ Angelenos and many in the LGBTQ movement and beyond consider it the first Christian church in the United States to welcome Black LGBTQ people.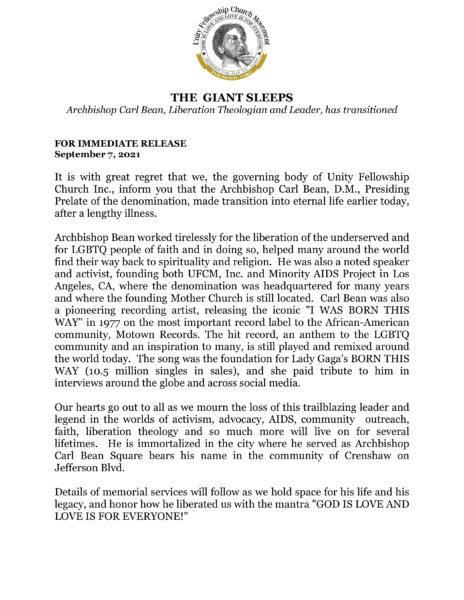 Tributes to Bishop Bean have begun to pour in from around the country as people remembered the dynamic and engaging man of faith.

"Archbishop Carl Bean was an inspiration. Bean cared about LGBTQ+ / same gender loving people when few others did – and consistently dedicated his life to improving the lives of people in our community. From reminding us all that we were 'born this way' in his music and Unity Fellowship Church movement and ministry to creating the first organization in Los Angeles focused on helping Black and Latino HIV/AIDS patients when no one else would – Bean's legacy will live on forever," said  David J. Johns, executive director of the National Black Justice Coalition 
We are deeply saddened by the loss of Archbishop #CarlBean.

Barbara Satin, Faith Work Director at @TheTaskForce says, "We honor and are grateful for his historic work as an openly gay Black pastor, who for decades lived a life of faith and service."

Read on. [1/4] #LGBTQFaith pic.twitter.com/7GOKrioGp8

— TheTaskForce (@TheTaskForce) September 8, 2021
Bean's work in the areas addressing the AIDS/HIV pandemic was noteworthy on its own. According to the Los Angeles Sentinel, "Archbishop Carl Bean started the Minority AIDS Project (MAP) in Los Angeles. MAP was the first community HIV/AIDS organization that focused on the prevalence of HIV/AIDS transmission in the black community during a time when the disease was considered to be relatively new."
In an emailed statement to the Blade, the AIDS Healthcare Foundation(AHF), the largest global AIDS organization today and which began its journey providing care and services to HIV/AIDS patients 35 years ago in Los Angeles providing hospice care to people dying of AIDS, mourned the passing of Bishop Bean.
"Archbishop Carl Bean was my brother in the struggle for the last 35 years. We marched through the fire together during the height of the pain and the dying. Regardless of the pressures that could have divided us, we were always there for each other," said Michael Weinstein, president of AHF. "An irreplaceable part of our history is retired with his death. However, a small piece of his legacy of service lives on at the Carl Bean House, which started as a hospice and still serves today as sacred ground and a place of healing. Rest in the peace you richly earned dear friend and comrade."
"I am deeply saddened by the passing of Archbishop Carl Bean and thank him for his profound and visionary compassion and dedication to marginalized populations be they people with AIDS, people of color, LGBTQ people of color and more," said Cynthia Davis, MPH, an AHF Board Member.
The Los Angeles LGBT Center CEO, Lorri L. Jean wrote;
"Today, the Center joins people throughout Los Angeles mourning the loss of Archbishop Carl Bean. Through the Unity Fellowship and the Minority AIDS Project, Rev. Bean was a guiding light in the fight to end the AIDS pandemic, the effort to provide support to those with HIV, and his lifelong advocacy on behalf of LGBTQ people.
His mission was driven by a sense of justice and deep faith. His work—especially on behalf of Black people with HIV—was inspirational not only to those who provide services to people with HIV/AIDS but to all of us in the LGBTQ movement for equality.
We have lost a leader, but his presence will live on and serve as a beacon for all who believe we can make the world a better place through love and a shared commitment to social justice."
Robert Boller the Los Angeles based Project Angel Food's Director of Programs sent a tribute in memory of the late prelate;
Archbishop Carl Bean passed away in Los Angeles on Tuesday, September 7, 2021. This was the passing of a legendary LGBTQ+ AIDS activist, founder of the Unity Fellowship Church in South Los Angeles, and visionary pioneer behind the Minority AIDS Project. His 1977 Motown hit "I Was Born This Way" became an anthem of LGBTQ+ empowerment in the late seventies and inspired Lady Gaga's "Born This Way."
That's how the world remembers Carl Bean. 
Project Angel Food has a more personal connection. We remember him as a friend, and as a partner in bringing life-saving meals to those with HIV/AIDS― no matter where they lived, and no matter the color of their skin. His fierce commitment to the ideal that love is for everyone, and caring for people with AIDS aligned with OUR vision, our values, and our call.
So much of our history is oral history; hearing how our relationship with Archbishop Bean and Minority AIDS Project came about. Today, 76% of our clients are people of color, but that wasn't always the case. It's my understanding that when we were founded in 1989, many of our first clients were gay white males in Hollywood and West Hollywood. In 1994, with the Ryan White CARE Act, we had to take a hard look at who we were serving, and recognized a need to reach out to other communities, especially communities of color.
This is when Project Angel Food first partnered with Archbishop Carl Bean and Minority AIDS Project. The Minority AIDS Project was led by Carl and operated out of his Unity Fellowship Church on Jefferson Boulevard between La Brea and Hauser. They helped us expand throughout South Los Angeles and all the way to Long Beach.
When I joined Project Angel Food in 1997, another church was acting as our distribution point for South Los Angeles, but with the death of that congregation's AIDS minister in the early 2000's, we needed to find a new home. That's when we reunited with Archbishop Bean, who was happy to take us in at Minority AIDS Project. Their community center became our South Los Angeles distribution center.
Here's how it worked: our Project Angel Food staff driver would drop off meals at Minority AIDS Project, then a volunteer from that area, who we called "Mr. Chris," would make deliveries to our clients from there. He rarely ever missed a delivery day for nearly 15 years; he said it was his personal mission. 
One day the regular driver was out, so as the Dispatch Manager I jumped into the field and took the meals to Unity Hall to meet Mr.Chris. As I entered the hall a big handsome charismatic gentlemen greeted me with a smile and a deep, "Hello and Welcome." I still hear that booming voice in my head that resonated with the power of love.
I returned his greeting and went about my business. When I saw Mr. Chris, he laughed and said, "I see you met the big boss." That was how I came to meet Archbishop Carl Bean.
Project Angel Food, Los Angeles and the world lost an icon of the AIDS movement. Archbishop Dean was instrumental in our growth and into the inclusive agency we are today. His legacy reminds us that we are all worthy of love and hope "Love IS for Everyone."