October 10, 2019 at 1:33 pm PDT | by Karen Ocamb
Drag Queen superstar Shangela endorses Kamala Harris for president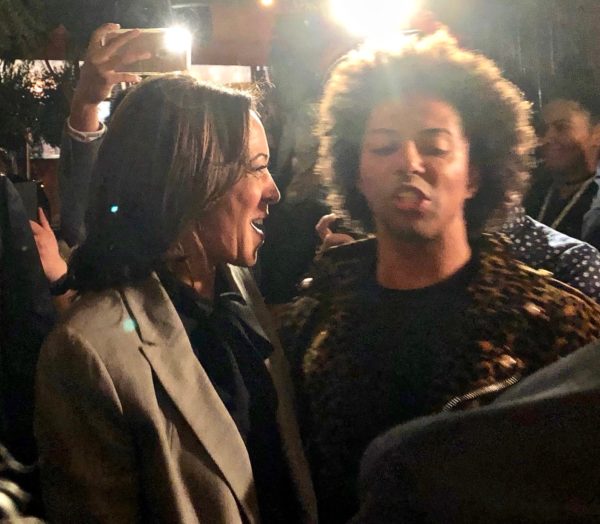 The Washington Blade's Chris Johnson looked at the LGBTQ plans released by Mayor Pete Buttigieg, Sen. Elizabeth Warren and Sen. Kamala Harris in advance of tonight's HRC/CNN LGBTQ town halls that start at 4:30pm, Pacific time.
CNN has posted a revised lineup since Sen. Bernie Sanders dropped out for health reasons. The LA LGBT Center is hosting a watch party at the Anita May Rosenstein Center, 1119 N. McCadden Place in Hollywood.  The Blade's Chris Johnson will be live-tweeting the historic event.
Many of the candidates came to Los Angeles early to fundraise or just shake hands and schmooze. Wednesday night, Harris stopped by The Abbey Food & Bar in West Hollywood, the iconic LGBTQ bar owned by David Cooley, an early Harris supporter.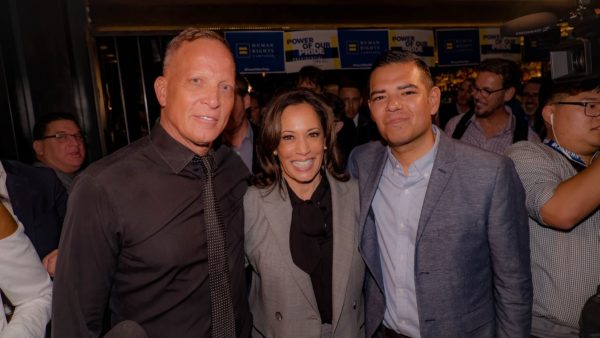 Out Long Beach Mayor Robert Garcia, also a longtime supporter, escorted the California senator with Cooley.
"At a time when LGBTQ+ rights are under constant attack by our current administration, Kamala is leading the charge to stand up for our communities," Garcia said. "Her new agenda would take the unprecedented step of establishing a much-needed Chief Advocate for LGBTQ+ Affairs in the White House, just one of many ways she would give diverse communities a seat at the table. I have full confidence that as President, Kamala will be the tireless advocate for LGBTQ+ equality and justice that she has always been. I am proud to support her, and I cannot emphasize enough the value in her continued commitment to elevating LGBTQ+ voices."
Harris was treated like a rock star – and treated those she met as rock stars, too. One of the first stars to greet her upon entering the establishment was Drag Queen superstar, Shangela. The two shared a fun moment, which Harris posted on Instagram.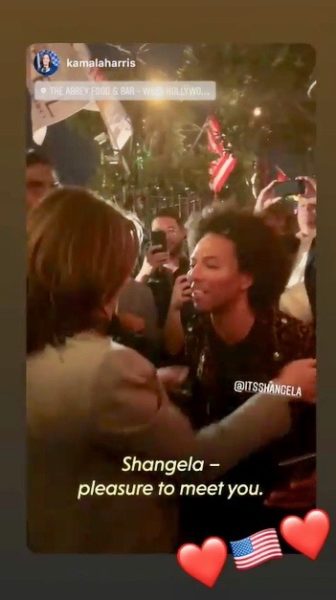 Shangela also posted the encounter on his Instagram account, as well as his later teaching the Democratic presidential candidate how to snap open a fan.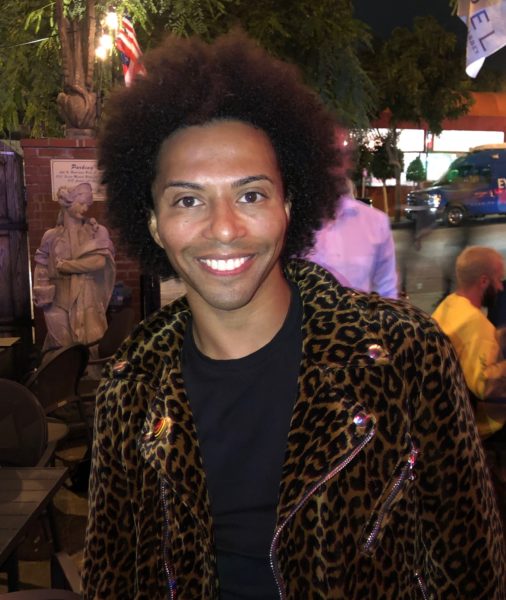 In an interview with the Los Angeles Blade, Shangela endorsed Kamala Harris.
"She is one of the most inspirational candidates running right now and as a representative of the LGBTQ community, and as a gay person and as a Black person, as a person interested in being out there and having my voice heard – I feel like she's listening," Shangela said. "And I feel like she's stood by our community for a long time – it's nothing new. So I definitely trust her. Right now, I'm just so happy to finally meet her in person – and she knew me! I said 'Halle-loo!'," the superstar said.
"I'm always staying abreast of what's going on. I want myself and all of my followers – I want the millennials – I want everyone to be informed," Shangela told the Los Angeles Blade. "And as I continue to learn more about the senator – I'm an advocate for her. I think she's intelligent. I think she has a voice that's not backing down and I think she's been a longtime advocate for our community – an ally. So for that – she definitely has support from me, for sure."