Nazi comedy "Jojo Rabbit" serves savage satire with a tender heart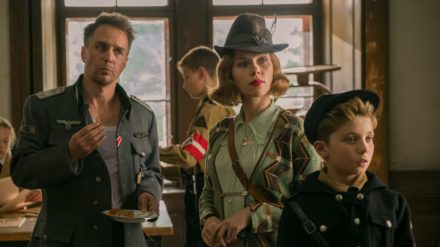 Not that long ago, stories about the Second World War were a staple in literature, movies, and television.
This is hardly surprising; it was a monumental event in world history, so of course it was going to take a long time to process. Narratives about it, both fictional and true, saturated the popular culture for decades.
Since the century turned, the global upheavals of a new millennium have inevitably overshadowed those of the generation that came before, and narratives about the war have become fewer and further between.
That doesn't mean they've disappeared; something about that particular conflict continues to call out to us from the past, and Taika Waititi's latest effort, "Jojo Rabbit" – a black comedy hitting theaters on October 18 – just might get to the heart of not only why we still feel the need to cast our gaze back upon it, but of why, more than 70 years later, it's still important for us to do so.
In its advertising, his film has taken pains to ensure that audiences know going in they will be seeing an "anti-hate satire." It's a savvy decision, given current sensitivity around the subject matter, but the description doesn't quite live up to the sophisticated comedic exercise the New Zealand filmmaker delivers.
Set in a German town near the end of WWII, it focuses on 10-year-old Jojo (Roman Griffin Davis), a lonely misfit of a little boy who zealously embraces the Nazi ideal; his father is away at the front, and his mother Rosie (Scarlett Johansson) is frequently absent, leaving him to spend most of his time in the sole company of his imaginary friend – none other than an idealized version of his idol, Hitler himself (Waititi). His youthful contentment is shaken one day when he goes upstairs to investigate a noise in his empty house and discovers that his beloved mother is hiding a young Jewish girl (Thomasin McKenzie). Confronted with this revelation, he is forced to reexamine his beliefs even as the lie of Hitler's Germany begins to crumble in the world outside.
Based on the book "Caging Skies," by Christine Leunens, Waititi's screenplay for "Jojo Rabbit" charges forward with his now-familiar irreverent humor and gives us no time to be shocked that he's giving us a comedy about Nazi Germany. It's likely to be a little distasteful for some audiences, but it's not exactly a first; many filmmakers have made fun of Hitler, from Charlie Chaplin to Mel Brooks. Waititi, though, goes into riskier territory, mining for laughs within the atrocities of daily life under a mad, authoritarian regime. Few filmmakers have dared such an effort – for instance, Roberto Benigni's "Life is Beautiful," which polarized critics in 1997 with its heart-tugging, tragicomic vision of existence in a concentration camp, and to which "Jojo Rabbit" has already been compared – and it has rarely gone well.
Waititi, though, seems little concerned with perceived taboos about what constitutes fair game for humor. He's playing the iconoclast here just as boldly as when he successfully transformed Marvel's "Thor" franchise from pompous pseudo-myth to raucous buddy comedy in 2017's "Ragnorok," and he aims to win you over through sheer audacity. He willfully pushes the tone of his movie into the realm of the absurd, even the surreal – at times, it almost feels like a Terry Gilliam film – because he knows it is there where humor and horror meet. Nothing drives home the inherent absurdity of the most appalling human endeavors like finding yourself laughing in its face. There's a kind of epiphany that can take place in that moment, a perspective from which one recognizes the deeply truthful human element in the mix; Waititi is gambling that he can take you to that threshhold, and – for the most part – he succeeds.
Part of the reason has to do with his talent; his disarming quirkiness and inventive visual storytelling, coupled with top-notch performances from a cast that seems fully committed to his vision, goes a long way toward making it work.
What elevates his film to the level of true cinema, though, is that he shows us this absurdity through the eyes of a child who accepts without question the racism and rhetoric of a demagogue. His understanding of what it all means – underscored by the buffoonish, childlike vision of Hitler he imagines – is unsophisticated and uneducated, because he's only a boy, after all, but when we see it reflected in the adult characters around him, blindly following orders and clinging to the illusions in which they have so deeply invested themselves, it's more difficult to reconcile the obvious gap between their humanity and their choices. What manner of mental hoops must these adults have had to jump through in order to maintain their childish trust in authority, and what encounters with other ways of thinking have they had to dismiss, devalue or ignore?
It's because of this contrast that "Jojo Rabbit" can present us with characters that would be villains in almost any other film – people like Captain Klenzendorf (Sam Rockwell), a career soldier relegated to babysitting the local Hitler Youth Camp, or Fräulein Rahm (Rebel Wilson), a dim-witted cog in the wheels of Nazi bureaucracy, or even Captain Deertz (Stephen Merchant), a Gestapo thug tasked with searching out Jews that have still eluded capture – and ask us not only to laugh but to feel a degree of empathy for them, too.
It's easy enough to judge them, but Waititi isn't interested in passing judgments; instead, he wants us to read between the lines, to see the complexities of which his young protagonist is blissfully ignorant, and to understand how normal people can become part of a horrible machine. It's in the character of Klenzendorf – whose sense of bemused irony, not to mention the liberal sprinkling of implied queerness in his relationship with his second-in-command, Finkel ("Game of Thrones" actor Alfie Allen), hints at a tragically deep level of self-awareness – that we are allowed to get the clearest glimpse of the suppressed humanity required to enable such a system.
Of course, once Jojo finds himself making personal connections to someone on the other side of the ideological divide, he begins to question the assumptions that have made him a true believer. We must assume, likewise, that some or all of the adults around him have been confronted at some point by the disconnect between what they have been instructed to believe and what their personal lives have shown them. For them, whatever doubts may have sprung from their experiences, it is too late for change; Jojo might still be able to walk away, changed by a lesson that has cost him everything he once held dear, but they are caught in the juggernaut they have helped to create through their unthinking obedience, and they are left scrambling to preserve whatever sense of dignity and meaning they can as they wait for their inevitable fate.
Considering that his film comes into a world enmeshed, once more, in a Nationalist fervor that feels uncomfortably similar to the one in the Nazi Germany he portrays, it's impossible not to recognize the message – and the warning – this deceptively jocular filmmaker is trying to deliver.
British Olympian Tom Daley knits his way to success with a new enterprise
A journey for me that started when I first picked up my knitting needles- fast forward 18 months & I'm so proud to introduce these kits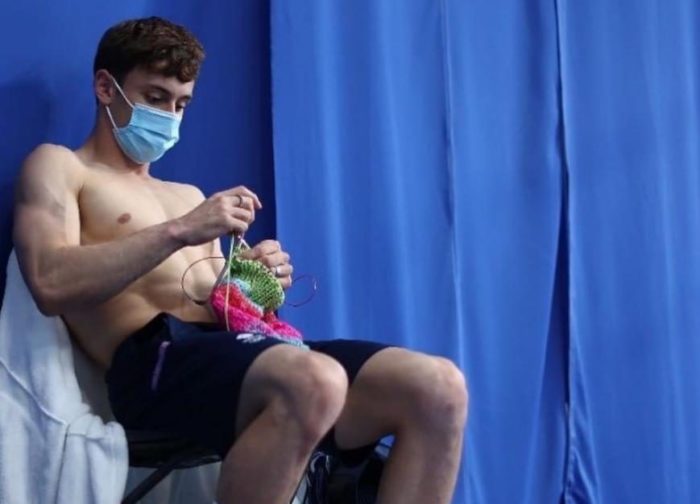 LONDON – During the entire course of the Olympic games in Tokyo 2020 this past summer, audiences following the diving competitions were certain to see British Olympian Tom Daley quietly and intently focused in-between matches- on his knitting.
The Gold medalist diving champion only picked up his first set of knitting needles in March of 2020 as the coronavirus pandemic first spread across the globe, strangling normal daily routines in its deadly grip.
Now, the 27-year-old British athlete has launched a company to encourage others to take up the hobby.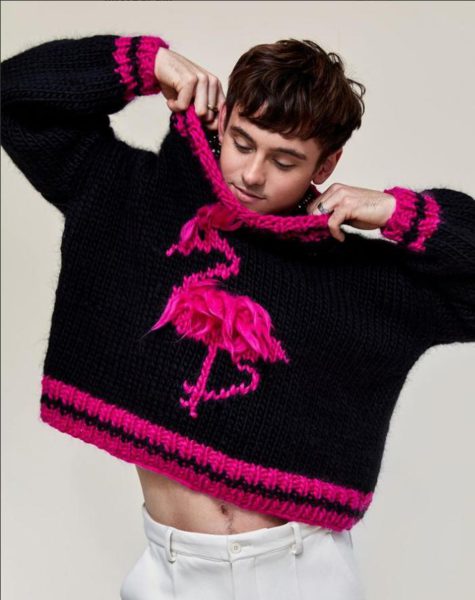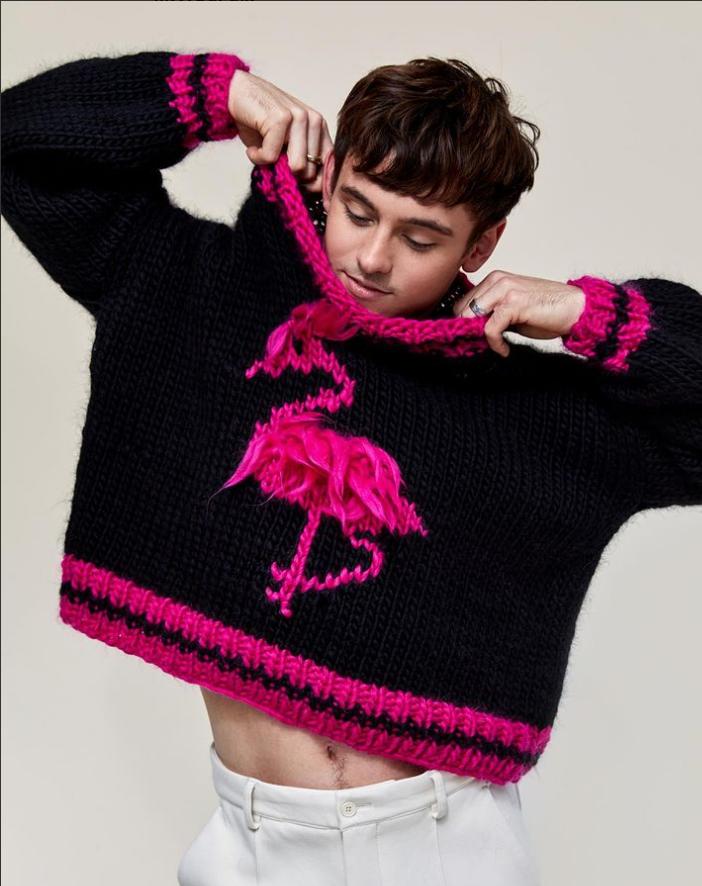 "It's been a journey for me that started when I first picked up my knitting needles in March 2020. Fast forward 18 months and I'm so proud to introduce these kits to you all so that you can experience the joy I found learning to knit," Daley said on his newly launched website.
"I designed these knit kits to help encourage you to pick up those needles, learn the basics, and fall in love with knitting at the same time – all whilst creating something to show off or pass on.
Ready? Pick up your needles, learn the basics and let's have some fun!"
The website offers various kits for beginners, intermediate and experienced knitting and crocheting enthusiasts. One of the kits, a winter warmer hat already sold out but the collection ncludes a vest, scarves, cardigans, jumpers, stockings, and a blanket.
Kits include needles, biodegradable yarn made of Merino wool, and knitting patterns.
Critics call gay Santa ad 'creepy' accusing it of 'sexualizing' Christmas
The ad was posted to Youtube on November 22 to pay tribute to the 50th anniversary of Norway's decision to decriminalize homosexuality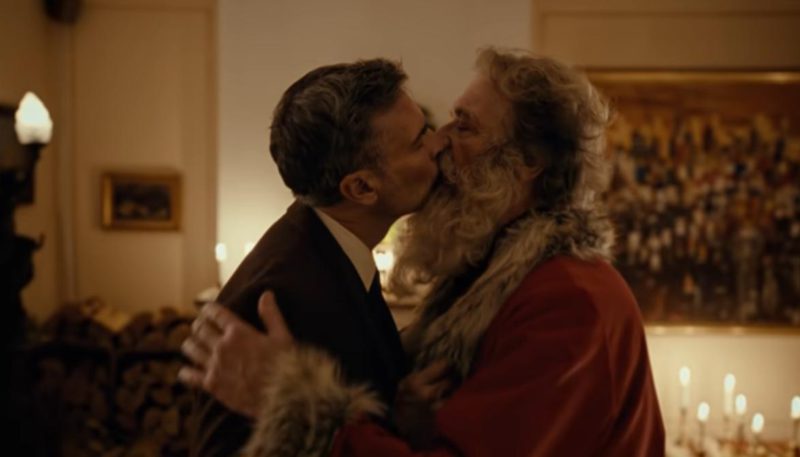 OSLO – A Norwegian Christmas ad for Norway's postal service, Posten Norge, that depicts a gay Santa struggling to balance his Christmas day duties and a male love interest has sparked an online debate with critics saying it "sexualizes" the holiday figure. 
The ad, titled "When Harry met Santa," shows a burgeoning romance between Santa and Harry that starts when the two meet one Christmas Eve. As leaves the house through the chimney that night, fireworks fill the night sky.
Over the years, the two continue to see each other on Christmas Eve and fall in love. Frustrated with only getting to see his lover once a year, Harry pens a letter to Santa that says, "Dear Santa: All I want for Christmas is you."
At the end of the nearly 4-minute ad, Santa and his lover engage in a seconds-long kiss. During their embrace, the camera pans out and a message that reads, "In 2022, Norway marks 50 years of being able to love who we want," appears.
The ad, posted to Youtube on November 22 to pay tribute to the 50th anniversary of Norway's decision to decriminalize homosexuality, has garnered over 1 million views.
"In addition to showing the flexibility of our services, we want to put it in a socially relevant setting," Posten Norge said in a statement, according to Reuters.
"Everyone should feel welcome, seen, heard, and included. This year's Christmas ad embraces this," it said.
Many have responded positively to the ad.
Canadian Member of Parliament Randall Garrison called it "strong and moving," saying the ad caused him to break his "no Xmas before December rule."
Former U.S. ambassador to Denmark Rufus Gifford tweeted: "Oh man I love Scandinavia. Imagine if the US Post Office put out an ad like this."
Others have voiced issues with the ad, calling it "creepy" and arguing that it "sexualizes" Santa.
English journalist Dawn Neesom, a columnist for the Daily Star, said as much on TalkRadio with James Max.
"This is an advert for the Norwegian postal service celebrating 50 years of being able to love who you want. However, they have sexualized Santa," Neesom said.
Max interrupted her, saying, "No they haven't sexualized Santa, this is a nonsense and you are jumping on a tabloid bandwagon. If Santa came in and kissed Mrs. Claus, you wouldn't say a word."
Neesom pushed back and maintained her point, adding that it was different because Santa married Mrs. Claus. She also argued that Harry was cheating on his spouse, but there is no indication in the ad that he has one.
Commentator Melanie Blake made a similar argument, tweeting: "If #Santa is gay these days then good for him but should we be seeing him getting off with anyone in Christmas adverts?! Seems a bit of an odd concept to me – if he was snogging a woman, it's still sexualising a figure that's mainly around for children which looks creepy to me."
In response to such comments, the Independent published an article that said, "Really? I mean … really?! Now, I know that woke-bashing has become de rigueur, and that, after the backlashes against the #MeToo and BLM campaigns, we're supposed to protect our precious and delicate cultural icons from the clutches of the baying woke mob – but are we really saying that the heartwarming romance between Harry and Santa is a woke step too far? Has Posten sexualised Santa? Oh, go and stuff your face with a selection box and give it a rest!"
It continued: "The truth is that Christmas and Santa have been sexualised for years already, and few people have batted an eye."
Broadway gathers to honor Sondheim in Times Square
They were gathered to pay homage to legendary Tony, Academy Award, and Grammy Award-winning composer and lyricist Stephen Sondheim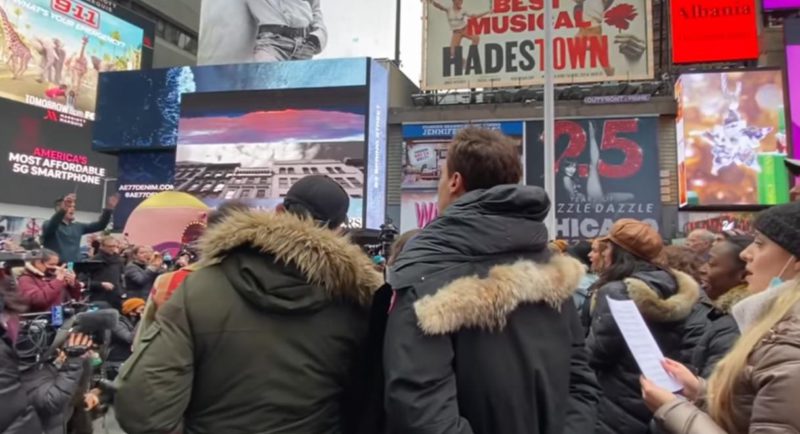 NEW YORK – Light snow flurries swirled around the stars of theatre and stage of New York City's 'Great White Way' as they gathered Sunday in Times Square- members of every Broadway company assembled singing in a powerful chorus "Sunday," the powerfully emotional act one finale to "Sunday in the Park with George."
They were gathered to pay homage to legendary Tony, Academy Award, and Grammy Award-winning composer and lyricist Stephen Sondheim. That piece being performed had garnered Sondheim a Pulitzer Prize for Drama in 1985.
Broadway's best were joined by Lin-Manuel Miranda, Sara Bareilles, Josh Groban, Kathryn Gallagher and Lauren Patton at 'Sunday' Performance in Times Square.
The man who was heralded as Broadway and theater's most revered and influential composer-lyricist of the last half of the 20th century died at 91 Friday at his home in Roxbury, Connecticut.
"This felt like church," Bareilles told Variety after the performance on Sunday. "In his remembrance, we did what theater does best. We sang and raised our voices and came together in community."
Variety also noted that during the celebration, Miranda offered a sermon of sorts. Foregoing a speech, he opened Sondheim's "Look I Made A Hat," an annotated anthology of the composer's lyrics, and read from a few passages before the crowd.
Lin-Manuel Miranda, Josh Groban and Sara Bareilles Honor Stephen Sondheim at 'Sunday' Performance in Times Square https://t.co/LgrYPyMnv0

— Variety (@Variety) November 28, 2021
"Sunday" from Sunday in the Park with George memorial for Stephen Sondheim