Buttigieg delivers forceful performance on debate stage
Iowa poll has 2020 hopeful in striking distance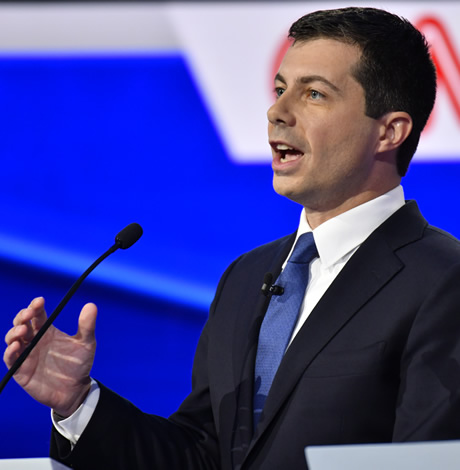 South Bend Mayor Pete Buttigieg delivered a forceful performance during the Democratic debate Tuesday night, demonstrating a rare knack for both rising above the fray and engaging in it.
The contradictory — but effective — approach from the gay candidate during the debate in Westerville, Ohio, was seen in particular toward the end when Joseph Biden and Elizabeth Warren were quarreling.
Buttigieg responded, "For every argument that I've witnessed like this I could pay for college for everybody," then knocked Biden for calling President Trump an "aberration" and accused Warren of fostering "infinite partisan combat."
"We have to fight for the big changes at hand," Buttigieg added. "But it's going to take more than fighting. Once again, I want to take you back to that day after Trump has stopped being president. Think about what the president can do to unify a new American majority for some of the boldest things we've attempted in my lifetime: Medicare for All Who Want It, actually getting something done on immigration for the first time since the 80s, an assault weapons ban, which would be a huge deal, making college free for low and middle income students. Yet there's some here on this stage who say it doesn't count unless we go even further."
At other times during the evening, Buttigieg engaged with his competitors for the Democratic nomination with a ferocity that showed the passion of his beliefs and desire to build a consensus to get things done.
When Buttigieg was asked about Beto O'Rourke's proposed mandatory buyback for assault weapons, he said the plan was insufficiently fleshed out at a time when action is needed.
"We can't wait," Buttigieg said. "People are dying in the streets right now. We can't wait for universal background checks that we finally have a shot to actually get through. We can't wait to ban the sale of new weapons and high-capacity magazines so we don't wind up with millions more of these things on the street. We can't wait for red flag laws that are going to disarm domestic abusers and prevent suicides, which are not being talked about nearly enough as a huge part of the gun violence epidemic in this country. We cannot wait for purity tests. We have to just get something done."
O'Rourke responded his plan was "not a purity test" and those other proposals aren't mutually exclusive from his plan, but Buttigieg would have none of it.
"I don't need lessons from you on courage, political or personal," Buttigieg said. "Everyone on this stage is determined to get something done. Everyone on this stage recognizes, or at least I thought we did, that the problem is not other Democrats who don't agree with your particular idea of how to handle this. The problem is the National Rifle Association and their enablers in Congress, and we should be united in taking the fight to them."
Amid an unfolding crisis in Syria after President Trump green-lit an invasion by Turkey, Buttigieg also came out on top in an exchange with Rep. Tulsi Gabbard.
Gabbard, who has called for an end to "regime change wars," urged the audience to "understand the reality" the situation is the result of American presence in the region.
Channeling bipartisan anger over the worsening situation, Buttigieg said the only reality was Trump's failure.
"Well, respectfully, Congresswoman, I think that is dead wrong," Buttigieg said. "The slaughter going on in Syria is not a consequence of American presence.  It's a consequence of a withdrawal and a betrayal by this president of American allies and American values."
Buttigieg, who has also called for an end to endless war, said he didn't think the Iraq war was right in the first place and the time has come to leave Afghanistan, but the small number of U.S. special operations units in Syria were keeping peace in the region.
"Meanwhile, soldiers in the field are reporting that for the first time they feel ashamed — ashamed — of what their country has done," Buttigieg said. "We saw the spectacle, the horrifying sight of a woman with the lifeless body of her child in her arms asking, what the hell happened to American leadership? And when I was deployed, I knew one of the things keeping me safe was the fact that the flag on my shoulder represented a country known to keep its word. And our allies knew it and our enemies knew it. You take that away, you are taking away what makes America America."
Gabbard responded Buttigieg was supporting U.S. presence in Syria for "an indefinite period." That presence, Gabbard said, has caused refugees to flee Syria, undermined U.S. national security and fostered terrorist groups in the Middle East.
Buttigieg's response: That's Trumpian.
"You can put an end to endless war without embracing Donald Trump's policy, as you're doing," Buttigieg said.
Gabbard continued to interject about endless war, but Buttigieg kept with the refrain about the United States keeping its word.
"Part of what makes it possible for the United States to get people to put their lives on the line to back us up is the idea that we will back them up, too," Buttigieg said. "When I was deployed, not just the Afghan National Army forces, but the janitors put their lives on the line just by working with U.S. forces. I would have a hard time today looking an Afghan civilian or soldier in the eye after what just happened over there. And it is undermining the honor of our soldiers. You take away the honor of our soldiers, you might as well go after their body armor next. This president has betrayed American values. Our credibility has been tattered."
In contrast to Buttigieg, Warren and Biden — the two frontrunners in the Democratic primary — didn't have as good a night. Warren faced heavy questioning on whether her plan for Medicare for All would result in a middle class tax hike and didn't provide a definite answer, while Biden was on defense following an interview his son Hunter Biden did on "Good Morning America" in which he admitted he shouldn't have been on the board of a Ukrainian gas company.
A recent poll in Iowa that showed big gains for Buttigieg may be responsible for bolstering his debate performance.
A CBS News poll revealed he has support from 14 percent of Iowa Democrats, which puts him in striking distance of Biden and Warren, who were at 22 percent, and Bernie Sanders, who was at 21 percent. For Buttigieg, that's a growth of seven percentage points since September.
No mention of LGBT issues came up during the debate. (The exception being a question that referenced the controversial friendship revealed last week between Ellen DeGeneres and George W. Bush).
Kasey Suffredini, incoming CEO of Freedom for All Americans, said in a statement last week debate moderators missed an opportunity to discuss the Equality Act.
"Just one week after the Supreme Court heard arguments in three LGBTQ workplace discrimination cases – in which the court will decide whether to make it legal to fire LGBTQ workers just because of who they are – it was disappointing to hear no mention during tonight's debate of the Equality Act, which would provide express and enduring nondiscrimination protections for all LGBTQ Americans in all areas of daily life," Suffredini said. "With nearly two-thirds of LGBTQ Americans reporting having faced some kind of discrimination just because of who they are, and 70 percent of Americans from all walks of life supporting nondiscrimination protections for LGBTQ people, the time to act is now."
Botswana attorney general seeks to again criminalize homosexuality
High Court heard case on Oct. 12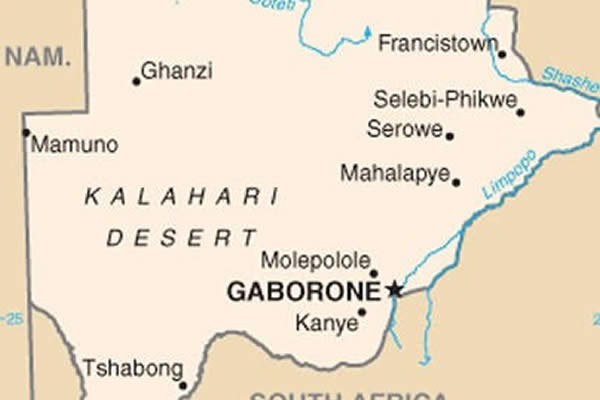 GABORONE, Botswana — On June 11, 2019, Botswana moved toward being a state that no longer held some of its citizens (and, by extension, visitors) as criminals if they identified within the LGBTQ spectrum. However, the government didn't take too long before it declared its intention to appeal the High Court judgment that asserted that consensual same-sex sexual activity in private was not to be a criminal act.
The appeal hearing took place on Oct. 12.
There are some key things to understand about what the High Court did for people in Botswana. The judgment, written and delivered by Justice Leburu, not only put a clear delineation between the state's powers to intrude in people's private sexual lives, but it also stated that laws that served no purpose in the governance of the people they oversaw were most likely worthy of "a museum peg" more than being active laws of the land.
In the hearing on Oct. 9, a full bench of five judges of the Court of Appeal was treated to the government's case—as presented by advocate Sydney Pilane of the Attorney General's Chambers—along with hearing the rebuttals from the legal counsel representing Letsweletse Motshidiemang, who brought the original case against the government, and LEGABIBO, an NGO admitted as amicus curiae, a friend of the court. The appeal, two years in the making, would have been expected to be based on facts rather than opinions of what could and could not be accepted by hypothetical Batswana. Pilane even went so far as to contest that President Mokgweetsi Masisi's utterances about how people in same-sex relationships were "suffering in silence" were taken out of context as he was talking about gender-based violence and not endorsing their relationships.
The 2019 ruling of the High Court, the most supreme court of incidence in the country, not only declared people who were or had interest in engaging in consensual same-sex sexual activity not criminals, but it also allowed non-queer people to engage in sex acts that would otherwise be considered "against the order of nature" freely. The latter clause had often been interpreted as being solely about non-heterosexuals but on greater interrogation one realizes that any sex act that doesn't result in the creation of a child was considered against this 'order of nature' and that nullified much of heterosexual sexual exploration—further painting these clauses as out of touch with contemporary Botswana as Leburu expressed.
In some of his appeal arguments, Pilane stated that Batswana "do not have a problem with gay people", yet he based his contention on the fact that Batswana "respect the courts' decisions;" as such they would not take up arms at the court's decision to decriminalize consensual same-sex sexual activity. Pilane maintained that the decision to decriminalize should be left to the Parliament on the recommendation of the courts. The bench was swift to query whether a body of politicians elected by a majority would be the best representatives of a minority that was oppressed by laws that the very politicians benefitted from.
Botswana's legal system allows for the High Court ruling to remain the law of the land until such a point as it's struck down. The Court of Appeal ruling in favor of Batswana's sexual liberties will be a nail in the proverbial coffin of residual colonial sex-related laws plaguing Botswana. This will not be the end by any means though. Where the attorney general can form a case stating that decriminalizing consensual same-sex relations could be likened to people locking themselves in their houses with animals and having their way with them, we know that mindset changes need to be prioritized to ensure that all Batswana understand their constitutionally protected rights to privacy, expression, and freedom of association as relates to their personal and sexual lives.
The 2010 Employment Act of Botswana already protects people from being discriminated against based on their sex or gender identity. The nation's sexual violence laws were made gender neutral, thus covering non-consensual sex (rape) in all its possibilities. In upholding the ruling of the High Court, the Court of Appeal will allow the LGBTQ and SOGIESC (sexual orientation, gender identity and expression and sex characteristics) movements in Botswana some respite as attention is then channeled toward other pressing matters such as name changes, access to healthcare, and other culturally pertinent issues.
The Court of Appeal is expected to hand down a judgement following their deliberations in 4-6 weeks (mid to late November), however, this remains at their discretion. As it stands, since the High Court ruling in 2019, Botswana has experienced increased social accommodation for LGBTQ matters and figures—however, this is not to say there have not been any negative instances. With the continued sensitization, the expectation is that the courts, the government and NGO players will all contribute to a broad, national, culturing of LGBTQ rights in Botswana devoid of colonial residues.
H.S. students steal Pride flag, defecate on it & post video to TikTok
"It was definitely an act of hate directed at the LGBTQ community and a lot of students felt it, you know, felt that attack very acutely"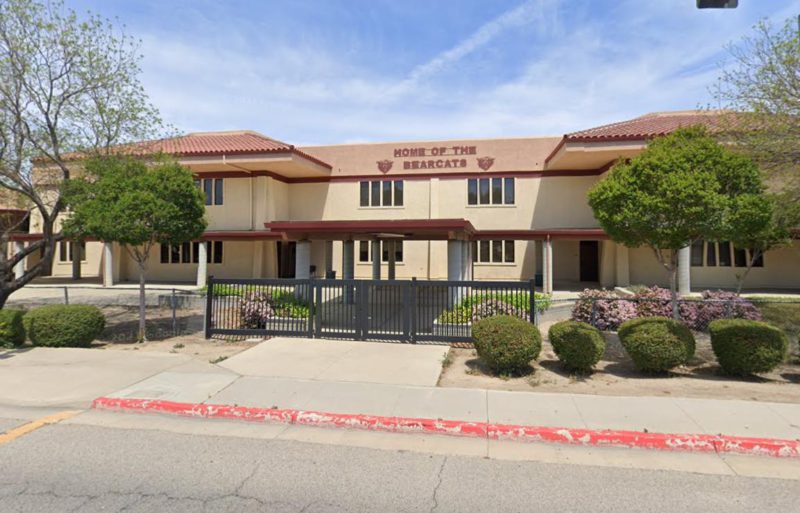 PASO ROBLES, Ca. – Earlier this school year two students walked into a science teacher's classroom at Paso Robles High School, they proceeded to rip down the LGBTQ+ Pride flag hanging in the room and fled out the door. The theft took place as there was a classes break and as science instructor Evan Holtz took out after them he lost them in the throng of students in the hallway.
Holtz, who is a chemistry teacher, tutor, and swim coach, has been teaching at Paso Robles since 2019. In an interview with the San Luis Obispo Tribune, Holtz told the paper he had displayed the Pride flag to show solidarity with the school's LGBTQ students, making sure that they knew they were welcome and safe in his classroom.
What happened immediately after the theft has left the high school's LGBTQ+ students angered and alarmed. First, the Tribune reported, a video surfaced on TikTok of students attempting to flush the rainbow Pride flag down a toilet. Then, the video showed one student defecating on the flag in the toilet, according to those who had seen and heard about the video.
"It was definitely an act of hate directed at the LGBTQ community," Geoffrey Land, a social sciences teacher told the paper. "And a lot of students felt it, you know, felt that attack very acutely."
The Paso Robles Joint Unified School District said that administrators at the high school had taken "disciplinary action" after being alerted to the situation and the TikTok video by students. The next action undertaken on October 1st by the school district has left LGBTQ+ students disillusioned and further upset.
District Superintendent Curt Dubost sent a memorandum letter to faculty that read:
"The Paso Robles Joint Unified School District has received multiple concerns about certain flag displays in teacher classrooms, including those that are large and distracting and those that alter the American flag.
I want to start by reiterating my statement from last year that rainbow flags mean different things to different people but to many are a symbol of safety, inclusion and equity. All students deserve protection against bullying and harassment. A safe, caring learning environment is essential if students are to achieve their academic potential.
We have a duty as a school district to ensure that hate speech and bullying conduct does not create an unsafe campus environment. Students in protected classes are often among the most vulnerable and susceptible to bullying and discrimination."
Superintendent Dubost then laid out the new district policy: No flags bigger than 2 feet by 2 feet may be displayed in classrooms, and no flags that are "alterations of the American flag" may be displayed in classrooms.
In a follow-up interview with the Tribune Dubost justified his actions telling the paper, "We don't want to turn it into a politicized issue where a student enters a classroom and looks up, 'Oh, there's a rainbow flag here, or there's a blue lives matter flag here — that determines what the partisanship is of my teacher.' We think that that's a real slippery slope. And so we continue to believe that this is a very reasonable compromise solution that allows rainbows, but within reason."
In an op-ed written by PRHS students on National Coming Out day last week, they expressed their dismay over Dubost's actions.
October 11 is National Coming Out Day, when lesbian, gay, bisexual, transgender and queer people can celebrate support for LGBTQ equality. But in Paso Robles, where we attend high school, we cannot celebrate. Too often, LGBTQ students feel unwelcome, unsafe and targeted by hate.
After briefly mentioning the theft, video, and the action to ban flags other than a U.S. National flag taken by Superintendent Dubost they added:
Eventually, the school imposed minor discipline upon the offenders, and nearly two weeks later issued a policy statement that includes a ban on rainbow flags larger than 2' x 2'. As the standard flag size is 3' x 5', the school purposefully banned the very flag that was desecrated. What message does this send to students? The flag ban means the school has allowed the haters to win, while LGBTQ students feel punished for wanting to be seen and supported.
The students cited a 2018 oral history project at PRHS which interviewed students in the Paso Robles Joint Unified School District area high schools of Templeton, Atascadero and Paso Robles.
They found that offensive slurs and open hostility directed at LGBTQ+ individuals were commonplace in classrooms. LGBTQ+ students reported not feeling included in their school culture. Students interviewed reported that teachers who wore rainbow colored pins or posted supportive flags or posters in their classroom walls helped create welcoming, safe spaces. Over the years, PRHS has witnessed loss of life, violence and intimidation — all in the name of anti-LGBTQ hate.
In their call to action the students stated that; "Enough is enough. How many more students will be traumatized by systems and people who fail to embrace the beauty and diversity of their students? The school's response is a collective slap in the face of all LBGTQ students at PRHS. From our perspective, the school's flag ban means they're more interested in appeasing the bullies than protecting the safety of the victims of hate."
There is a community forum event scheduled for Wednesday, October 20 from 6 to 8 p.m. at the PRHS performing arts center. Organized by students, the event, "Coming Out Against Hate," is an opportunity for students to "share their experiences and visions for a more welcoming, inclusive educational environment," and it's the first forum of its kind in Paso Robles, according to a news release sent out about the event.
"With the forum, we're hoping that things change and they stop normalizing hate against us," a senior told the Tribune, "I'm really proud of the fact that so many people are brave enough to come up against the adversity that is very obvious here. We might get a ton of hate for this. We might get hate-crimed ourselves.
"But we can't let this continue. We have a culture of homophobia here. We literally have no other option than to put ourselves kind of at risk and in danger. Because we can't let this continue."
Black & LGBTQ+ inclusive wall mural cited for multiple code violations
The idea was to make a mural that addressed pending legislation in Tallahassee that would affect the rights of minorities & the LGBTQ+ people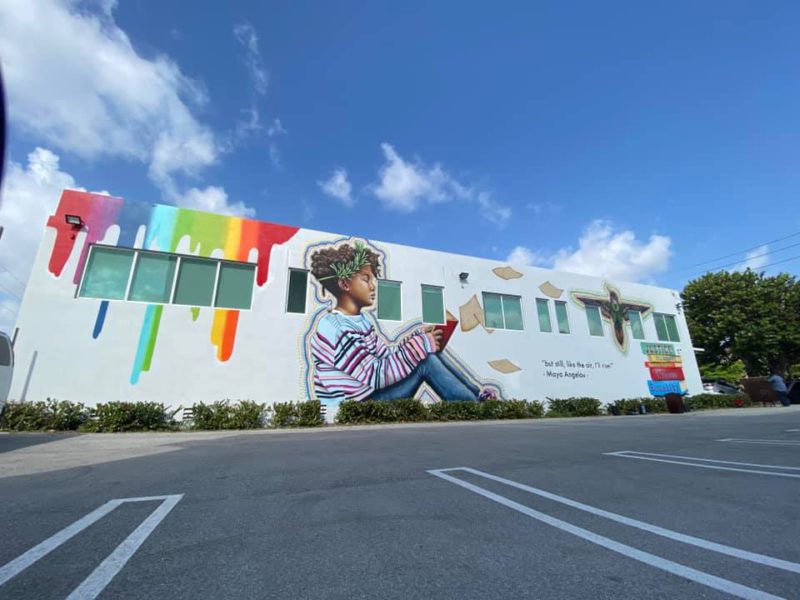 MIAMI SPRINGS, Fl. – A colourful wall mural in Dade County has attracted the ire of municipal authorities who say the mural, which includes a child of color reading a book, a verse from a Maya Angelo poem, and an LGBTQ Pride rainbow symbol, violates building codes.
The United Teachers of Dade union has been cited by Miami Springs for code violations after it unveiled the mural on its office building the Miami Herald reported this past week.
"If you do not see the word mural on an ordinance this does not mean it's allowed, means you should make an inquiry with the Building & Zoning department first and present your mural," Miami Springs Councilwoman Jacky Bravo said in an email to the Herald. "We are not talking about a small stamp on the wall. Seems like they took a blind eye on this one, and unfortunately has caused an issue to be dealt with."
The Herald reported that was it unveiled last March, and was titled 'Rise' to send a message to lawmakers in Florida's capitol in Tallahassee as a series of laws were being introduced that negatively impacted the minority and LGBTQ+ communities in the state.
Today, we unveiled "RISE", an art mural that depicts the importance of #publiceducation and its crucial role to ensure a functioning #Democracy; it symbolizes the resilience of our community and their continuous fight for #justice and #equality. Stop by UTD and check it out ! pic.twitter.com/hfS94WoYhl

— United Teachers of Dade (@UTD_AFT1974) March 19, 2021
Luis Valle, a Miami-based artist who was commissioned by the United Teachers of Dade union to paint the mural told the paper, "The idea was to make a mural that addressed pending legislation in Tallahassee, at the time, that would affect public schools, as well as the rights of minorities and those in the LGBTQ+ community. It is about inclusivity for all people and all cultures."
Although the UTD Union had submitted and paid for a permit, the Miami Springs City Code Compliance Department, which requires permits be obtained before work commences, had already issued a "notice of violation" on March 25 to the union site's property owner, UTD Building Corp., for violations that included:
–improper size of wall sign
–improper placement and/or width of wall sign
–improper construction of sign
–failure to comply with applicable color palette
"Failure to correct the violations by the time due shall cause this case to be set for hearing before the code compliance board and may result in fines, costs and/or a lien levied against you and the property," the notice said. "Fines imposed shall not exceed $250 per day for a first-time violation."
The city gave UTD until April 24 to correct the violations, according to the notice. Potential fines, as of Oct. 13, could run as high as $43,000 the Herald noted.
Currently discussions are ongoing. "UTD reviewed all the codes before contracting our mural artist in order to perform our due diligence," United Teachers of Dade President Karla Hernandez-Mats said in an emailed statement to the Herald on Oct. 11. "Additionally, we spoke to a former council member to double check our findings and that individual also concluded that the Miami Springs City Codes did not address this topic."
"The art piece is not a sign for the building or our organization; it has no logo or company name on it because it is an artistic expression in the form of a mural with no other intent," Hernandez-Mats' added.
Attempts by the Miami Herald to reach Miami Springs Mayor Maria Mitchell, and City Council members had been unsuccessful by this past Thursday afternoon, however the next Miami Springs City Council meeting is at 7 p.m. on Monday, Oct. 25.