Buttigieg delivers forceful performance on debate stage
Iowa poll has 2020 hopeful in striking distance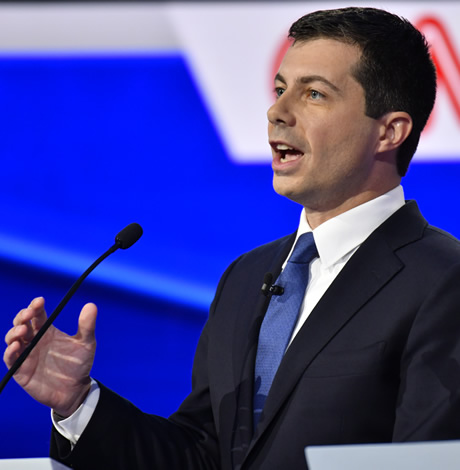 South Bend Mayor Pete Buttigieg delivered a forceful performance during the Democratic debate Tuesday night, demonstrating a rare knack for both rising above the fray and engaging in it.
The contradictory — but effective — approach from the gay candidate during the debate in Westerville, Ohio, was seen in particular toward the end when Joseph Biden and Elizabeth Warren were quarreling.
Buttigieg responded, "For every argument that I've witnessed like this I could pay for college for everybody," then knocked Biden for calling President Trump an "aberration" and accused Warren of fostering "infinite partisan combat."
"We have to fight for the big changes at hand," Buttigieg added. "But it's going to take more than fighting. Once again, I want to take you back to that day after Trump has stopped being president. Think about what the president can do to unify a new American majority for some of the boldest things we've attempted in my lifetime: Medicare for All Who Want It, actually getting something done on immigration for the first time since the 80s, an assault weapons ban, which would be a huge deal, making college free for low and middle income students. Yet there's some here on this stage who say it doesn't count unless we go even further."
At other times during the evening, Buttigieg engaged with his competitors for the Democratic nomination with a ferocity that showed the passion of his beliefs and desire to build a consensus to get things done.
When Buttigieg was asked about Beto O'Rourke's proposed mandatory buyback for assault weapons, he said the plan was insufficiently fleshed out at a time when action is needed.
"We can't wait," Buttigieg said. "People are dying in the streets right now. We can't wait for universal background checks that we finally have a shot to actually get through. We can't wait to ban the sale of new weapons and high-capacity magazines so we don't wind up with millions more of these things on the street. We can't wait for red flag laws that are going to disarm domestic abusers and prevent suicides, which are not being talked about nearly enough as a huge part of the gun violence epidemic in this country. We cannot wait for purity tests. We have to just get something done."
O'Rourke responded his plan was "not a purity test" and those other proposals aren't mutually exclusive from his plan, but Buttigieg would have none of it.
"I don't need lessons from you on courage, political or personal," Buttigieg said. "Everyone on this stage is determined to get something done. Everyone on this stage recognizes, or at least I thought we did, that the problem is not other Democrats who don't agree with your particular idea of how to handle this. The problem is the National Rifle Association and their enablers in Congress, and we should be united in taking the fight to them."
Amid an unfolding crisis in Syria after President Trump green-lit an invasion by Turkey, Buttigieg also came out on top in an exchange with Rep. Tulsi Gabbard.
Gabbard, who has called for an end to "regime change wars," urged the audience to "understand the reality" the situation is the result of American presence in the region.
Channeling bipartisan anger over the worsening situation, Buttigieg said the only reality was Trump's failure.
"Well, respectfully, Congresswoman, I think that is dead wrong," Buttigieg said. "The slaughter going on in Syria is not a consequence of American presence.  It's a consequence of a withdrawal and a betrayal by this president of American allies and American values."
Buttigieg, who has also called for an end to endless war, said he didn't think the Iraq war was right in the first place and the time has come to leave Afghanistan, but the small number of U.S. special operations units in Syria were keeping peace in the region.
"Meanwhile, soldiers in the field are reporting that for the first time they feel ashamed — ashamed — of what their country has done," Buttigieg said. "We saw the spectacle, the horrifying sight of a woman with the lifeless body of her child in her arms asking, what the hell happened to American leadership? And when I was deployed, I knew one of the things keeping me safe was the fact that the flag on my shoulder represented a country known to keep its word. And our allies knew it and our enemies knew it. You take that away, you are taking away what makes America America."
Gabbard responded Buttigieg was supporting U.S. presence in Syria for "an indefinite period." That presence, Gabbard said, has caused refugees to flee Syria, undermined U.S. national security and fostered terrorist groups in the Middle East.
Buttigieg's response: That's Trumpian.
"You can put an end to endless war without embracing Donald Trump's policy, as you're doing," Buttigieg said.
Gabbard continued to interject about endless war, but Buttigieg kept with the refrain about the United States keeping its word.
"Part of what makes it possible for the United States to get people to put their lives on the line to back us up is the idea that we will back them up, too," Buttigieg said. "When I was deployed, not just the Afghan National Army forces, but the janitors put their lives on the line just by working with U.S. forces. I would have a hard time today looking an Afghan civilian or soldier in the eye after what just happened over there. And it is undermining the honor of our soldiers. You take away the honor of our soldiers, you might as well go after their body armor next. This president has betrayed American values. Our credibility has been tattered."
In contrast to Buttigieg, Warren and Biden — the two frontrunners in the Democratic primary — didn't have as good a night. Warren faced heavy questioning on whether her plan for Medicare for All would result in a middle class tax hike and didn't provide a definite answer, while Biden was on defense following an interview his son Hunter Biden did on "Good Morning America" in which he admitted he shouldn't have been on the board of a Ukrainian gas company.
A recent poll in Iowa that showed big gains for Buttigieg may be responsible for bolstering his debate performance.
A CBS News poll revealed he has support from 14 percent of Iowa Democrats, which puts him in striking distance of Biden and Warren, who were at 22 percent, and Bernie Sanders, who was at 21 percent. For Buttigieg, that's a growth of seven percentage points since September.
No mention of LGBT issues came up during the debate. (The exception being a question that referenced the controversial friendship revealed last week between Ellen DeGeneres and George W. Bush).
Kasey Suffredini, incoming CEO of Freedom for All Americans, said in a statement last week debate moderators missed an opportunity to discuss the Equality Act.
"Just one week after the Supreme Court heard arguments in three LGBTQ workplace discrimination cases – in which the court will decide whether to make it legal to fire LGBTQ workers just because of who they are – it was disappointing to hear no mention during tonight's debate of the Equality Act, which would provide express and enduring nondiscrimination protections for all LGBTQ Americans in all areas of daily life," Suffredini said. "With nearly two-thirds of LGBTQ Americans reporting having faced some kind of discrimination just because of who they are, and 70 percent of Americans from all walks of life supporting nondiscrimination protections for LGBTQ people, the time to act is now."
Diputado salvadoreño habla públicamente su homosexualidad
Vídeo de Johnny Wright Sol con su pareja circuló en redes sociales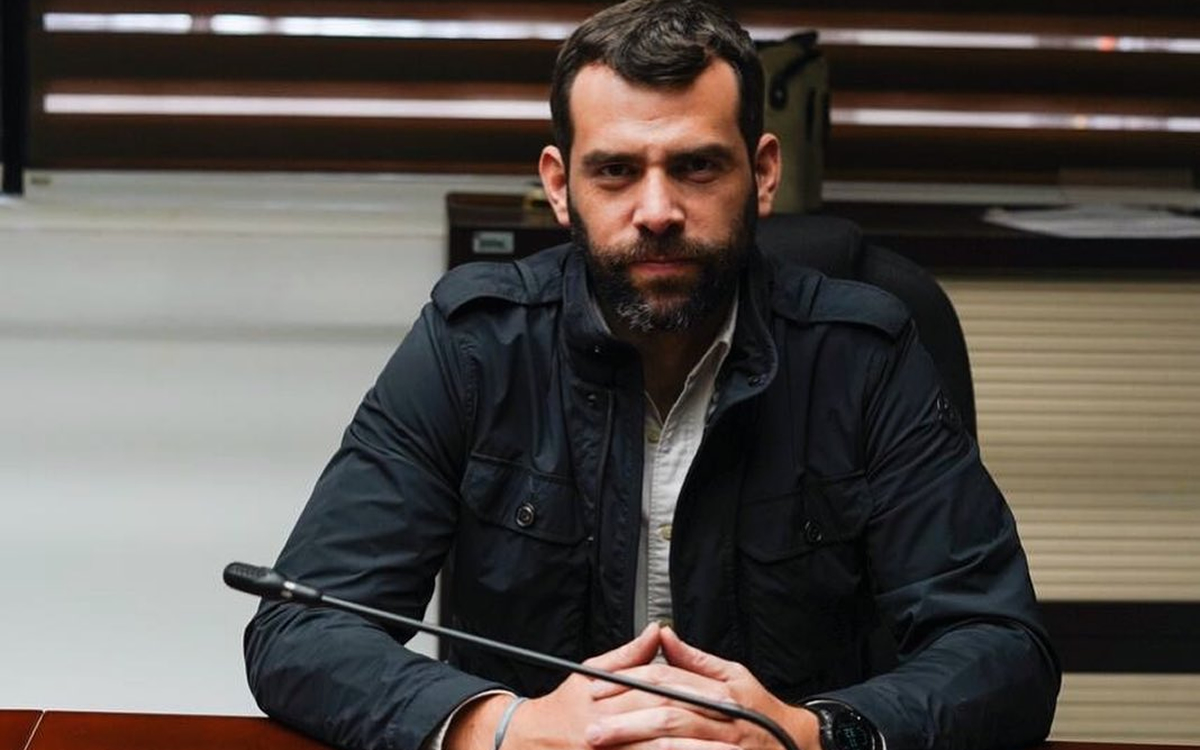 SAN SALVADOR, El Salvador — Circuló en redes sociales el 13 de mayo un vídeo de una entrevista con el diseñador mexicano Kris Goyri, en donde se dieron a conocer unas fotografías con su pareja, el diputado salvadoreño Johnny Wright Sol del partido Nuestro Tiempo, imágenes que al parecer tomaron por sorpresa al diseñador, pues fueron mostradas sin su consentimiento.
En una entrevista del podcast La Tribu en radio Fuego 107.7 mientras el locutor Pencho Duque hablaba con el diputado salvadoreño, trajo el tema a la palestra con mucho respeto, a lo que el político no tuvo problema con hacer unos comentarios al respecto.
Aseguró que hay dos conclusiones primordiales que le surgieron de esta situación, en donde se abordaba el tema de su orientación sexual y de su pareja.
La primera conclusión es que "como sociedad nos distraemos bien fácil, porque pese a la crisis económica y climática que atraviesa el mundo, una crisis social, una sociedad muy violenta y a pesar de todas estas cosas que nos impactan en el día a día, mi orientación sexual era trending topic", expresó Wright.
Hizo hincapié en que debemos reflexionar sobre las prioridades que tenemos como sociedad, dado a toda la situación que se vive como país, es importante tener un ojo realmente crítico con los temas que deben ser fiscalizados.
La segunda conclusión que comentó es que, "hay mucho trabajo por hacer para convertirnos en una sociedad verdaderamente democrática y pacífica en donde se logren los mínimos estándares de convivencia", además mencionó que como partido promueven la tolerancia, pero más que eso, las personas merecen ser aceptadas, "ese es el ideal", agregó el diputado.
Con una sonrisa en el rostro Wright menciona que la pregunta sobre su orientación sexual "nunca había surgido, en el contexto mediático de mi prensa", agregando que no era algo que fuera un secreto o algo que ocultara, "en las imágenes me veo muy feliz con mi pareja", detalla el diputado.
También menciona que la entrevista que le hicieron a su pareja fue "una emboscada", dado que las imágenes presentadas tuvieron que haberlas obtenido del teléfono de alguno de los dos. A esta hipótesis le suma el hecho de haber recibido correo de la compañía Apple, en los cuales se le alertaba que su teléfono había sido intervenido, no descarta la posibilidad que fuera por el spyware Pegasus.
Pero el punto que dejó muy claro es que desde que fue nombrado diputado en mayo del 2021, no ha tenido ningún inconveniente con reconocer o admitir que es un hombre gay, aunque sí reconoce que los temas de su vida personal habían decidido mantenerlo en lo privado junto con su pareja.
Esta decisión fue tomada, dado que ambos son figuras públicas en sus respectivos países, en el caso de Goyri es un diseñador reconocido con 12 años de carrera.
El diputado mencionó sentirse privilegiado en tener una familia que lo quiere muchísimo, tal cual es, como también de tener unas amistades, que en sus palabras les describió como "super cachimbones".
"A mi me tiene sin cuidado toda esa plática en redes", agregó el diputado, pero que lo único que en verdad preocupa es que lo sucedido ha sido un recordatorio para ver lo mal que está El Salvador como sociedad, por lo que esto es un reto de lo mucho que falta por construir.
Triple A: Gas prices continue to set new records
The average price for self-serve regular gasoline in California is $6.06, which is 21 cents higher than last week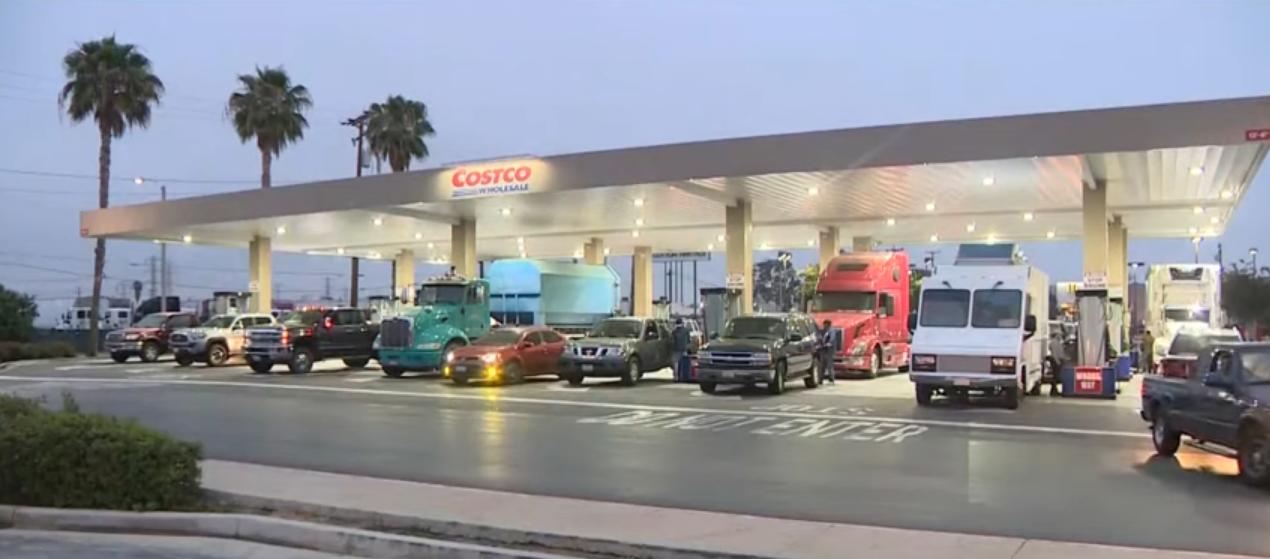 LOS ANGELES – Gas prices throughout the U.S. continue to sent new records, due to inflation, high demand, and high cost of oil. In Southern California breakdowns in two local refineries as well as supply issues are also having a direct impact on pump prices, according to the Auto Club's Weekend Gas Watch. 
The average price for self-serve regular gasoline in California is $6.06, which is 21 cents higher than last week. The average national price is $4.59, which is 17 cents higher than a week ago.
The average price of self-serve regular gasoline in the Los Angeles-Long Beach area is $6.10 per gallon, which is 20 cents higher than last week, 29 cents higher than last month, and $1.92 higher than last year. In San Diego, the average price is $6.02, which is 17 cents higher than last week, 26 cents higher than last month, and $1.87 higher than last year.
On the Central Coast, the average price is $6.04, which is 18 cents higher than last week, 22 cents higher than last month and $1.89 higher than last year. In Riverside, the average per-gallon price is $5.98, which is 17 cents higher than last week, 25 cents higher than last month and $1.89 higher than last year. In Bakersfield, the $5.98 average price is 15 cents more than last Thursday, 21 cents higher than last month and $1.94 higher than a year ago today.
"The reasons for the increase are not just the war and some refinery supply issues, but also inflation and competition for resources to produce diesel fuel, which is about 50 cents more expensive than regular unleaded gasoline," said Auto Club spokesman Doug Shupe. "Memorial Day travel will likely add to the demand for gasoline. The Auto Club expects an 11 percent increase in holiday weekend travel volume compared to last year."
The Auto Club recommends the following tips to save money on gas:
Look into carpooling if you commute a significant distance. Carpooling with one other person cuts commute costs in half, and you can cut your commute costs by two-thirds by carpooling with two other people.
Make sure your tires are properly maintained and inflated to the correct level.
Maintain your car according to the manufacturer's recommendations. Regular service will ensure optimum fuel economy.
Avoid "jackrabbit" starts and hard accelerations. These actions greatly increase fuel consumption.
Slow down and drive the speed limit. Fuel economy peaks around 50 mph on most cars, then drops off as speed increases. Reducing freeway speeds by 5 to 10 mph can increase fuel economy by as much as 14%.
Use cruise control on the highway to help maintain a constant speed and save fuel. However, never use cruise control on slippery roads because you could lose control of the vehicle.
Minimize your use of air conditioning.
Avoid extended idling to warm up the engine, even in colder temperatures. It's unnecessary and wastes fuel.
Remove unnecessary and heavy items from your car.
Minimize your use of roof racks and remove special carriers when not in use.
Download the AAA App to find the cheapest gas prices near you.
The Weekend Gas Watch monitors the average price of gasoline. As of 9 a.m. on May 19, averages are:
Gas prices in LA County hit another record high, averaging $6:
GOP nominee for Pennsylvania governor, QAnon friendly & anti-LGBTQ+
"Only biological females can play on biological females' teams & you can only use the bathroom that your biology & anatomy says"
GETTYSBURG, Pa. – Republican leadership in the Keystone State are expressing quiet alarm over the emergence of radical-right state senator who secured his place as the party's nominee in the race against Democratic nominee for governor, Josh Shapiro, who is himself currently serving as the Commonwealth's attorney general.
Sen. Doug Mastriano, who represents Cumberland, Adams, Franklin and York counties in the south-central Pennsylvanian area bordering Maryland, was not seen as a truly viable candidate in the primary race to be the party standard-bearer until he was endorsed by former President Donald Trump.
Pennsylvania's gubernatorial race has serious implications for the outcome of the 2024 presidential election cycle as well. The Commonwealth is a strategic swing state and the occupant of the governor's chair in Harrisburg will lend considerable influence to a final vote count.
Mastriano is a polarising figure within the state's Republican party. The retired U.S. Army colonel has campaigned at political events that included QAnon adherents, he espoused a political agenda that embraced Trump's Big Lie about the 2020 election, rejected measures taken to protect Pennsylvanians including masks in the coronavirus pandemic, holding an anti-vaccine "Medical Freedom Rally" rally on the state Capitol steps days after declaring his candidacy for the GOP governor's primary race, and also mixing in messaging of Christian nationalism.
He also supports expanding gun rights in Pennsylvania and in the Senate sponsored a bill to ban abortion once a heartbeat is detected.
NBC News noted that Mastriano pledged in his election night address that on the first day of his administration he would crack down on "critical race theory," a catchall term Republicans have used to target school equity programs and new ways of teaching about race, transgender rights and any remaining Covid vaccine requirements.
"CRT is over," Mastriano declared. "Only biological females can play on biological females' teams," he added, and "you can only use the bathroom that your biology and anatomy says."
His anti-LGBTQ+ views have long been part of his personal portfolio. The Washington Post reported that twenty-one years ago while attending the Air Force's Air Command and Staff College in 2001, then Major Mastriano wrote his master's thesis on a hypothetical "left-wing 'Hitlerian putsch'" that was caused by "the depredations of the country's morally debauched civilian leaders." Among those "depredations," in his words, was the "insertion of homosexuality into the military."
As the Post reported, his paper shows "disgust for anyone who doesn't hold his view that homosexuality is a form of 'aberrant sexual conduct.'"
The paper is posted on an official Defense Department website and lists Mastriano as the author at a time when he said he received a master's degree from the school.
Two decades before he was Republican nominee for Pennsylvania governor, Doug Mastriano warned in a master's thesis that morally debauched political leaders weren't fit to oversee the U.S. military. https://t.co/NHOnijBng7

— The Washington Post (@washingtonpost) May 20, 2022
This is not the only instance of Mastriano professing anti-LGBTQ beliefs.
In 2018, he stated his belief that LGBTQ couples should not be allowed to adopt a child. During an interview with 103.7FM, when asked "should LGBTQ couples, i.e. two moms or two dads, be allowed to adopt?" Mastriano answered, "No." [This takes place at the 16:00 mark.]
NBC News interviewed David La Torre, a Republican and former adviser to fellow gubernatorial candidate Jake Corman.
"As far as what a Pennsylvania government would look like with Mastriano in charge, quite frankly, it's just not something I'm ready to think about at this point," La Torre said, adding that while there are many unknowns, the dynamic between Mastriano and the state Legislature, currently controlled by Republicans, would be one to watch.
"All I know is this — he will govern as governor like he campaigned," he said. "He would govern with a sledgehammer and expect Republicans to fall in line. And it would be one of the more fascinating tugs of war we've seen in Harrisburg."
Dave Ball, chairman of the Washington County GOP, told NBC News that Mastriano's victory was "a shame" for the party, the product of "a phenomenon that I truly don't understand." But any misgivings won't stop Ball from working toward the ultimate goal: taking back the governor's mansion, saying it's a must-win race. (The two-term incumbent, Tom Wolf, a Democrat, is term-limited.)
As if telegraphing the battles to come should he take the governor's chair, Politico reported: "Our biggest problem," said Mastriano on Steve Bannon's "War Room: Pandemic" podcast on Tuesday, "is going to be these feckless RINO-type Republicans here that will not allow us to have a fighter as governor. But we're going to beat them and they're going to lose power, and they're going to be put to shame."
Mastriano Lists Agenda As Governor During Pennsylvania GOP Nominee Victory Speech: