'Define yourself' — Ariadne Getty on family, philanthropy and queer activism
The focus of Ariadne Getty Foundation has been shoring up LGBTQ organizations, such as the Los Angeles LGBT Center and GLAAD. Getty joined the board of directors of the latter in 2016 and last year at the World Economic Forum in Davos she pledged $15 million to the organization, which focuses on media and how we as a culture can rewrite the script for LGBTQ acceptance.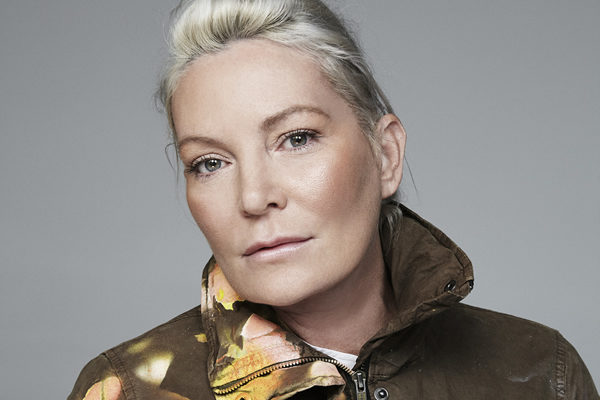 "Money is like manure," said J. Paul Getty. "You have to spread it around or it smells."  Getty himself was redolent of a rascally sort of rapaciousness. He was also a tough old coot with a tumescent appetite for beautiful women. But he had a soft spot for one particular beauty in his life: his granddaughter and godchild, Ariadne Getty, now 57, who has always been a bit of a rascal herself — one part punk, one part princess.
"I've never taken any of this for granted," the philanthropist tells me when she is read that quote from her grandfather. "I've never pretended that I made a penny in my life. I inherited this money and I'm a steward. I have to honor it. Actually, I have to honor my great-grandmother who set up the trust. She didn't trust my grandfather because he was a womanizer," she says, confirming this lede paragraph and letting loose a signature burst of laughter, a quick gale of it that can blow through a conversation like a gust of gumption.
Such frankness is refreshing as she sits at a table in her Los Angeles home on this conference call as we converse in the disembodied way that such calls engender on top of the already stilted badinage of an interview's back-and-forth, a kind of disembodied, distilled discourse all its own with which such wealthy patrons raised by the wolves of fame and fortune engage journalists after having been coached to do so by the experts they hire to smooth their heralded heredity into but a smattering of personality quirks and wisecracks. Call it the knowingness of the known.
Getty has an expert publicist and the expert head of her charitable foundation there at the table with her at each of her elbows, which I imagine to be well-lotioned, even though she is unafraid to throw such elbows around a bit roughly if need be in the staid world of philanthropy. That is her charm: her ability, elbows ready, to challenge others to find their inner iconoclast even as they serve a higher purpose to better society as a whole. Yet there is nothing slippery about this iconoclastic woman even if the emollients of lotion and lavish privilege come to mind when speaking with her.
Indeed, Ariadne Getty speaks haltingly — a bit shyly — and chooses her words quite carefully. This is not out of a fear of being misquoted so much as it is out of the seriousness with which she takes her philanthropic impulse.
When she was first starting her charitable foundation, she came up with a one-line, two-word mission statement: "Unpopular Causes." It has since expanded to the more generalized assertion that the goal of the Ariadne Getty Foundation is to "work with partners worldwide to improve the lives of individuals and communities through large-scale investments & hands-on advocacy."
The focus most recently at  the foundation has been shoring up LGBTQ organizations,  such as the Los Angeles LGBT Center and GLAAD. Getty joined the board of directors of the latter in 2016 and last year at the World Economic Forum in Davos she pledged $15 million to the organization, which focuses on media and how we as a culture can rewrite the script for LGBTQ acceptance.
I ask her if maybe her daughter Nats Getty's mission statement for her gender-fluid streetwear line, Strike Oil, might be an even better fit for her foundation. It reads, in part: "For the misfits and the outcasts, The unseen and the unheard, For anyone who dares to be different, Because different is dope."
She readily agrees and tells me that Nats and her brother August, also a fashion designer but one with a more high-end couture aesthetic focused on the female client, are her "beacons of information and light." They are her only two children. August is gay. Nats is a lesbian and married to Gigi Gorgeous, the YouTube sensation and transgender activist. They are the kind of adults who still have a cool-kid vibe about them, as does their part punk/part princess mom.  They are quite a triple-treat as a close-knit family as well as a style council of creative spirits who straddle lots of worlds  — Getty runs both the fashion lines — and I'd wager some of that Getty wealth that when you use the term "grommet" around them they know it is not only something that can reinforce an eyelet sewn into a piece of clothing, but also a term for an inexperienced  skateboarder with scratched-up knees and no real scratch of his own.
"Inexperienced" is not a term anyone would use for Ariadne Getty who grew up outside Siena, Italy, with her mother after her parents divorced. It was in many ways an idyllic setting for a childhood but anywhere would have been within reach of the tentacles of the family scandals that, as she grew up and realized what her last name meant to the larger world, strengthened her even as it all made her a bit wary — and, yes, for a time quite weary — of public attention. Her father J. Paul Getty II was a drug addict for much of his life (her stepmother died of a heroin overdose) and became a recluse in England in his later years, but one finally with a generous spirit which she seems to have inherited from him. She survived the actual narrative of the kidnapping of her older brother, J. Paul Getty III, and his subsequent heartbreaking health issues as well as the faux narratives made more noxious for their rather mercenary and monetary reasons.
She bonded with her sister Aileen who is herself an activist and philanthropist, roles that were motivated by Aileen's HIV-positive status. She lived in London and had a swinging time designing T-shirts and being a bit of dilettante who dallied in lots of sybaritic endeavors. She even had an academic interregnum at Bennington College in Vermont.
Getty's gust of laughter again blows through the conversation when I bring up her college days because of how few those days actually were.
So she didn't go for the whole four years?
"I certainly did not."
Does she even remember her time at Bennington or was it basically one long, however brief, blackout?
"It's a little bit fuzzy to be honest," she confesses. "But I did learn a lot there. I really did.  I had some fantastic people I was exposed to. It really was an environment that allows you to find your own personality without the restrictions of rules.  It's almost like a Waldorf approach to college," she tells me, citing the Rudolf Steiner holistic model of education. But I take it as another kind of cue. "A Waldorf salad approach?" I ask. Another gust of of laughter. "It does put nuts into your life," she says.
Some would claim that her children and their circle of friends — many of them the misfits and outcasts cited in Nats's mission statement for Strike Oil streetwear — are the latest nuts in her life with whom she has surrounded herself. She is a kind of den mother of the denizen of acceptance that her home has become for this extended LA family. They even call her Mama G.   Does she think she would be so viscerally focused on LGBTQ rights if she weren't the mother of two gay children and seen as a mother figure for so many of their friends? There is a maternal aspect to her activism. "I always say I am here doing this mostly to support what my children have made me aware of … I'm not sure how the Mama G thing started, but it's so sweet. I get texts to Mama G all the time from the friends of my children and my daughter-in-law Gigi. I am a fiercely loyal mother.  I will go to war for my children and their friends."
"You're like a polar bear," I tell her.
"I can't believe you said that. That's my spirit animal. You got me there. They are my cubs — Nats and August. And all of their friends are, too."
"Yet not all wealthy parents support their gay children in the way that you have chosen to support yours. Some of them even donate to Donald Trump. Would you meet with Trump if he invited you to the White House?"
"Oh, Kevin … Kevin …," she says, moaning. No laughter is launched into the conversation at the thought of this. There is a long silence instead. "I would have to say, 'I'm sorry. Under most other situations, I would be honored to be invited and I would love to go,'" she carefully begins. "But as Trump continues to stop people's human rights and disregards the basic … ah … ah, " she stops again. Time to throw some elbows, after all. "You know what, I would tell him in a heartbeat that under any other circumstances I would love to go but I actually wouldn't know what to do with myself if I met with him in the Oval Office. I would probably even have a couple of rotten tomatoes in my pocket," she says, that gust of laughter finally unleashed as she references her time in England and how the groundlings there would respond to their own vulgarians on their Elizabethan stages by throwing such weaponized fruit at them.
"You could bring your children and daughter-in-law to bear visual witness to your meeting with him," I suggest, knowing that Gigi is sort of Trump's type and how disconcerting that would be for him to be turned on by her.
"If he allowed me even to bring them with me," says Getty. "Can you imagine? Or we could wear MAGA caps but install little mini-cams in them and tape his reaction when I introduced him to my daughter-in-law, 'Mr. President, this is Gigi.  She's transgender.'"
We have been speaking on this conference call the same day that Ellen DeGeneres was getting media flak for her friendship with another president, George W. Bush. What does Ariadne think of Ellen's response to the criticism?
"I personally believe that if you have a platform no matter what it is — even if it is your single voice as a human — you have a responsibility to it. Ellen is extremely fortunate to have such a fan base and a platform. I personally believe that there is nothing wrong with being friendly in private, but going public with it and saying what she said sends a mixed message. It not only might confuse her fans but also those who aren't necessarily her fans but use her as a sort of barometer. Since she is a comedian, she gets to tackle a lot of topics. I do think that this is a message that does not need to be so public. Yes, it's important to respect and accept everyone for who they are. I haven't read exactly what she said. But if she is using her platform but she is ignoring the facts that there were so many rollbacks with Bush and his administration and there were so many LGBTQ injustices passed, then I don't agree with that.
"She is not referencing that. She is not saying even though these things happened, we can affect a change if we approach those who have been against us in a fair and kind way in order to try and find a middle ground … After the election in 2016, I called Sarah Kate Ellis, the president and CEO at GLAAD. I said I'm going to bed and closing my curtain and I'm going to stay here for a couple of weeks because I'm so very depressed. And she said, 'I'm going to give you 24 hours to be depressed and then I want you to get out of bed, get dressed, brush your hair, and make 10 calls to talk about the changes you want to see happen. Get up and stand up and get to work.' And that's what I did."
"Here is another quote from your grandfather," I say, winding down our conference call.  "'The rich are not born skeptical or cynical,'" he said. "They are made that way by events and circumstances.'And yet you, Ariadne, have had the opposite reactions to the events and circumstances of your life. They have made you less cynical and skeptical. They have given you a social conscience and spurred you to activism."
The laughter is no longer a gust of gumption. It is now more a lovely little breeze, a hum of humility underlying it here on the line.
"You know what, life is too short," she says. "I've had all the things happen to me that you can imagine — especially people taking advantage. There could be plenty of space in my life to just shut down and not interact and just basically be a victim, or what have you. But I love my life. It is really a privilege to be involved with the LGBT Center in LA, which has so many intergenerational programs there. I'm fortunate. I encourage everybody who has any way of being part of a cause to make the time and become involved." She pauses. The breeze erupts into one last gust that carries more than itself forward. "Don't let what other people do define you," says Getty.  "Define yourself."
(Editor's note: Ariadne Getty was honored with the Washington Blade Lifetime Achievement Award for LGBTQ Advocacy for her commitment to equality. The award was presented to her at the Blade's 50th anniversary gala on Oct. 18, 2019 in D.C.)
Tyre Nichols' arrest & fatal beating video released by Memphis PD
"We want peace. We do not want any type of uproar. We do not want any type of disturbance. Please, please, protest, but protest safely."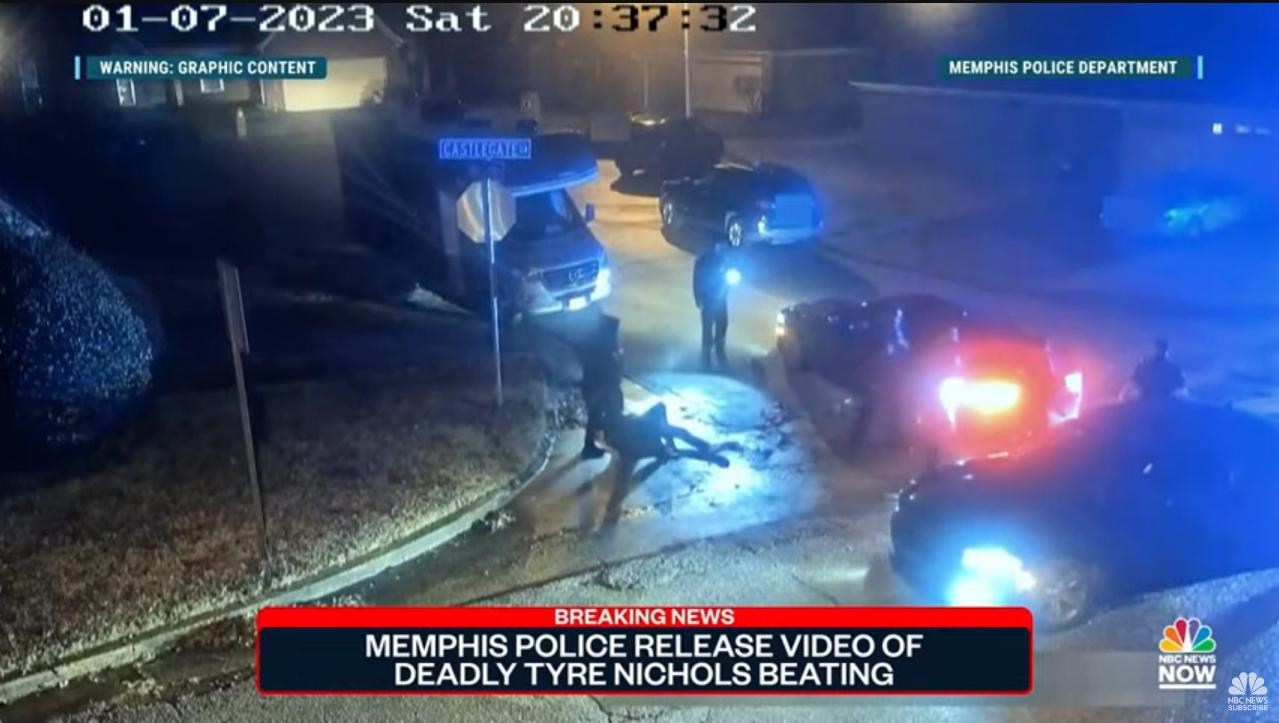 MEMPHIS – Three videos consisting of both body cam footage and street surveillance footage, were made public by the city of Memphis Police Department Friday evening showing the violent arrest and beating of Memphis resident 29-year-old Tyre Nichols.
Nichols died 3 days after he was beaten by police in a traffic stop in the Hickory Hill neighborhood around 8:22 p.m. Jan. 7, in an altercation Memphis Police Chief CJ Davis described saying, "In my 36 years in law enforcement, I don't think I have witnessed the disregard for a human being displayed in this video."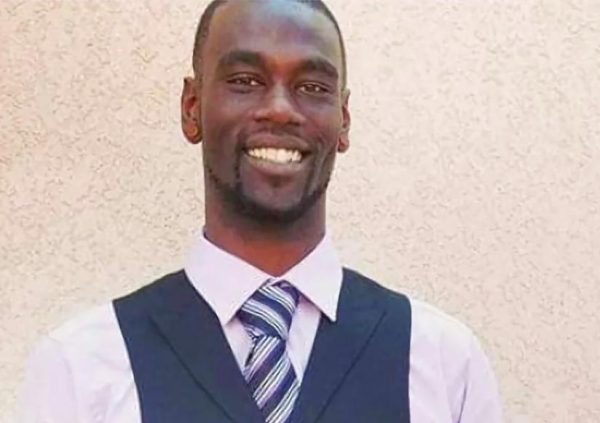 Shelby County Tennessee District Attorney Steve Mulroy announced Thursday that five now-former Memphis Police officers — Tadarrius Bean, Demetrius Haley, Emmitt Martin III, Desmond Mills Jr., and Justin Smith — were fired for misconduct, and indicted by a grand jury Thursday and taken into custody.
Each is charged with second-degree murder, aggravated assault, two counts of aggravated kidnapping, two counts of official misconduct and official oppression. By Friday morning, they had posted bond.
As news of the beating and death spread beyond Tennessee, officials expressed concern that release of the footage would touch off violent protest in reaction.
The attorneys and family of Tyre Nichols asked for justice for their son, and peace in their city, at a press conference in Memphis on Friday Memphis CBS News affiliate WREG News 3 reported.
Speakers included family members, attorneys Ben Crump and Antonio Romanucci and Van Turner, president of the Memphis branch NAACP.
Rodney Wells, Tyre Nichols' stepfather, said that he initially wanted first-degree murder charges against the officers, but the family is satisfied with second-degree murder.
He pleaded for peace in Memphis Friday night.
"We want peace. We do not want any type of uproar. We do not want any type of disturbance," Wells said. "Please, please, protest, but protest safely."
Protests are underway in Memphis after police released more than an hour of footage in the case with some major highways temporarily shut down.
Other protests were organized in New York City, as well as Sacramento, Los Angeles, Atlanta, Philadelphia and Seattle, with police at the ready for potential violence.
The White House held a joint emergency call Friday with the mayors of at least 16 cities before the video's release "to brief them on federal preparations in support of state and local leaders."
"Participating mayors shared their perspectives on how important it is to recognize the pain felt by communities across this country, be prepared in advance with a game plan to provide adequate community support, and to reinforce the importance of peace and calm during these difficult moments," the White House said in a statement about the call, which included cities from New York City, to Atlanta, Los Angeles, Washington D.C., Seattle and Portland.
The Los Angeles Police Department issued a statement condemning the actions of the Memphis officers and calling for demonstrations to remain peaceful.
"The accounts of the circumstances of this heinous crime and the criminal actions of those involved are reprehensible," the LAPD said.
"The Department will do all within its power to ensure the lawful expression of the public's anger and frustration is protected and prepared to facilitate those wishing to exercise their First Amendment rights."
The Los Angeles County Sheriff's Department told local media that it is preparing for the possibility of disturbances after the footage is made public. and is coordinating with other state, local and federal agencies.
"Our patrol stations and specialized units remain in a state of readiness to respond to any disturbances that might occur," the LASD said.
"The Sheriff's Department supports the first amendment and the people's right to protest."
Speaking with reporters as he prepared to depart for Camp David at the White House Friday evening, President Biden said that he had spoken with Nichols' mother earlier in the day prior to the video footage release for about 10 or 15 minutes.
"I spoke with Tyre's mother and expressed my condolences and told her that I was going to be making the case to the Congress to pass the George Floyd Act. We should get this under control. I can only do so much on the executive order at the federal level," Biden said. "I was really pleased that she called for peaceful protest, no violence," he added.
When asked about the potential for violence Biden said:
"I'm obviously very concerned about it. But I think she has made a very strong plea. She's obviously in enormous pain. I told her I had some idea of what that loss is like and although it is impossible to believe now, a time will come when his memory brings a smile before a tear."
The White House released a statement from the President that said in part:
"Like so many, I was outraged and deeply pained to see the horrific video of the beating that resulted in Tyre Nichols' death. It is yet another painful reminder of the profound fear and trauma, the pain, and the exhaustion that Black and Brown Americans experience every single day.

My heart goes out to Tyre Nichols' family and to Americans in Memphis and across the country who are grieving this tremendously painful loss. The footage that was released this evening will leave people justifiably outraged. Those who seek justice should not to resort to violence or destruction. Violence is never acceptable; it is illegal and destructive. I join Mr. Nichols' family in calling for peaceful protest."
California Governor Gavin Newsom issued a statement in response to the Memphis Police Department's body camera footage being released, showing the deadly actions that took the life of Tyre Nichols, a Sacramento native, and led to the charging of five since fired Memphis Law Enforcement Officers.
"Jennifer and I send our deepest condolences to the family and friends of Tyre Nichols. Tyre Nichols should be alive today. The video released shows abhorrent behavior and these officers must be held accountable for their deadly actions and clear abuse of power," said Governor Newsom. "Today, we are a country in mourning, and must continue our work nationwide to push reforms to prevent excessive use of force and save lives."
"Tonight, we saw ferocious violence from an out-of-control herd," said Los Angeles Mayor Karen Bass.
Late in the evening Friday the Office of the Vice President Kamala Harris released a statement from the Vice President on Nichols:
"Tyre Nichols should have made it home to his family. Yet, once again, America mourns the life of a son and father brutally cut short at the hands of those sworn to protect and serve. The footage and images released tonight will forever be seared in our memories, and they open wounds that will never fully heal.

The persistent issue of police misconduct and use of excessive force in America must end now.

I join President Biden in his call for accountability and transparency. We must build trust—not fear—within our communities."

VIDEO COURTESY OF KTLA:
TYRE NICHOLS VIDEO VIEWER DISCRETION ADVISED, GRAPHIC CONTENT AND LANGUAGE WARNING.