Amazon doesn't keep LGBT outreach in stock
Critics say behemoth lacks marketing, philanthropy footprint in community
From books to booze to pop-up tents to toiletries, tell Amazon what you want, and they'll deliver almost anything — except a straight answer about their outreach to the LGBTQ+ community, as it pertains to advertising, marketing, and communication.
"Hi Scott – we don't have anything to share at this time. Thanks!"
Peppy use of the exclamation point notwithstanding, Amazon public relations representative Mackenzie Ritter's sole substantial reply (if one can say that of a 12-word email) to this reporter's weeks-long request for comment cut like the whirling blades of a failed drone delivery test.
"We don't provide details regarding our marketing programs – you can find out more about how we support the LGBTQ community here," said Mackenzie in a quote attributed directly to Amazon, which arrived a few hours after one final appeal.
Follow that link and you'll find "carefully considered and deeply held" progressive positions on everything from the federal minimum wage to immigration reform to heat-induced climate change.
It's the LGBTQ+ rights section, however, that gives credence to the sticking point of Troy Masters, publisher and editor of the Los Angeles Blade (the Washington Blade's sister publication).
Amazon cites its "early and strong support of marriage equality" and ongoing commitment to "advocate for protections and equal rights for transgender people," noting they "stand together with the LGBTQ community," and crowing about their "perfect score" on the Human Rights Campaign Foundation's Corporate Equality Index for the last three years.
Standing together with our community, says Masters, must translate into direct engagement, by going beyond providing gender transition benefits to employees or advocating for legislation at the federal and state level (both of which Amazon does).
"I am unaware that they have a marketing or philanthropy footprint inside our community," says Masters. "They don't seem hostile, but they are not an active flag-raiser, except perhaps via employee groups at very select events. To me, that kind of marketing is dark marketing — it's dark because it is not at all inclusive."
Now there's a zinger Masters says can be applied to "every other company like them, every company that chooses to rub elbows at our multi-million dollar fundraisers, make a relatively small donation, buy a table at an event, and get their LGBT employees drunk for a night. It's an offensive strategy, in my opinion, if it is not backed up with general community-wide visibility and outreach."
"They're missing the chance to reinforce their already pretty good reputation in the gay community," says Pride Source Media CFO Jan Stevenson, who, along with her wife, Susan Horowitz, has been publishing Michigan's weekly newspaper, Between the Lines, for 26 years. "The demographic of the gay community tends to be very close to Amazon's ideal customer. We're first adopters. We're loyal. Even aside from the social aspect of it, I just think it makes good business sense."
Stevenson recalls attempting to engage Amazon, which has "a huge distribution facility not far from our offices. When they were doing 'Help Wanted,' we approached them about ads, but they didn't take us up on it."
Masters has a similar tale of unsuccessful outreach at the local level.
"I attempted to get live-streaming release ads from Amazon video," he says, "since they own nearly every billboard in Los Angeles and they are doing a great deal of LGBT-specific or themed programming as part of their multi-billion dollar content spree in Hollywood."
Nationally, adds Masters, "Todd Evans and his team are the LGBT liaisons for our community, with such accounts."
As noted in two previous similarly themed articles focusing on Apple and Starbucks, Evans is president and CEO of Rivendell Media, which places advertisements for the National LGBT Media Association. Together, the association's members — including Boston's Bay Windows and NYC's Gay City News — reach an estimated 500,000 weekly print and online readers.
"In 2013," Evans notes, "Amazon did the funny Kindle same-sex beach commercial. In 2018, they did another one for Fire TV featuring two gay men," and also what Evans calls "the lonely ad"—a single-page print ad for Amazon's wedding registry, in the April issue of Out Magazine.
The fact that he's able to cite three ads that acknowledge LGBT consumers, says Evans, "is what's different about them. They're at least doing something, whether it's to provoke thought or just test the waters, to see what various responses are."
Evans says he's surprised Amazon didn't do a deeper dive.
"It's so much easier to carry it to fruition, into LGBT media, where everybody is going to be paying attention to it," says Evans. "There are plenty of other gay publications to advertise in."
Of the Fire TV commercial, notes Evans, "There are plenty of digital networks you could run a TV ad on today. You could even run it on Logo, where you have a super-friendly gay audience… More than most companies, they already target consumers based on buying habits. So they should have an understanding of how important the LGBT consumer is. Like Apple and Starbucks, I feel these are all good companies that just really need to be educated on how to reach large numbers of LGBTs in 'our' specific media."
One company that got, and continues to get, the message is Absolut Vodka. As of last year, Absolut had spent $31 million on LGBTQ marketing, and donated over $40 million to gay and lesbian charities.
Unlike Apple, Starbucks, and Amazon — none of which responded to our outreach with detailed comment — Absolut Vice President Regan Clarke was quick to respond, noting Absolut "was the first spirits brand to publicly support the LGBTQ community, beginning in 1981."
Clarke called that move, unheard of for its time, "a risky decision for mainstream brands, because taking a stand for equality meant risking backlash from conventional culture. Today, Absolut is proud to stand as a beacon of diversity and inclusivity alongside LGBTQ communities, and continues to push the envelope of cultural progress – while celebrating and supporting the people and actions that have made that progress possible."
It's a far cry from the Amazon approach, says Masters, who is confounded by the chasm between knowledge and action.
"They know we are customers," says Masters, of Amazon. "They believe in marketing, and they even believe in targeted marketing — yet they exclude us intentionally while also appearing to embrace us. It's been happening much too long, this equation of elite support. We need to reel it in before our own media cease to exist and our journalistic voice is replaced by rubber chicken dinners at five-star hotels."
Mitchell Gold + Bob Williams furniture co. abruptly shuts down
The furniture manufacturing and retail company Mitchell Gold + Bob Williams, named after the two gay businessmen who founded the firm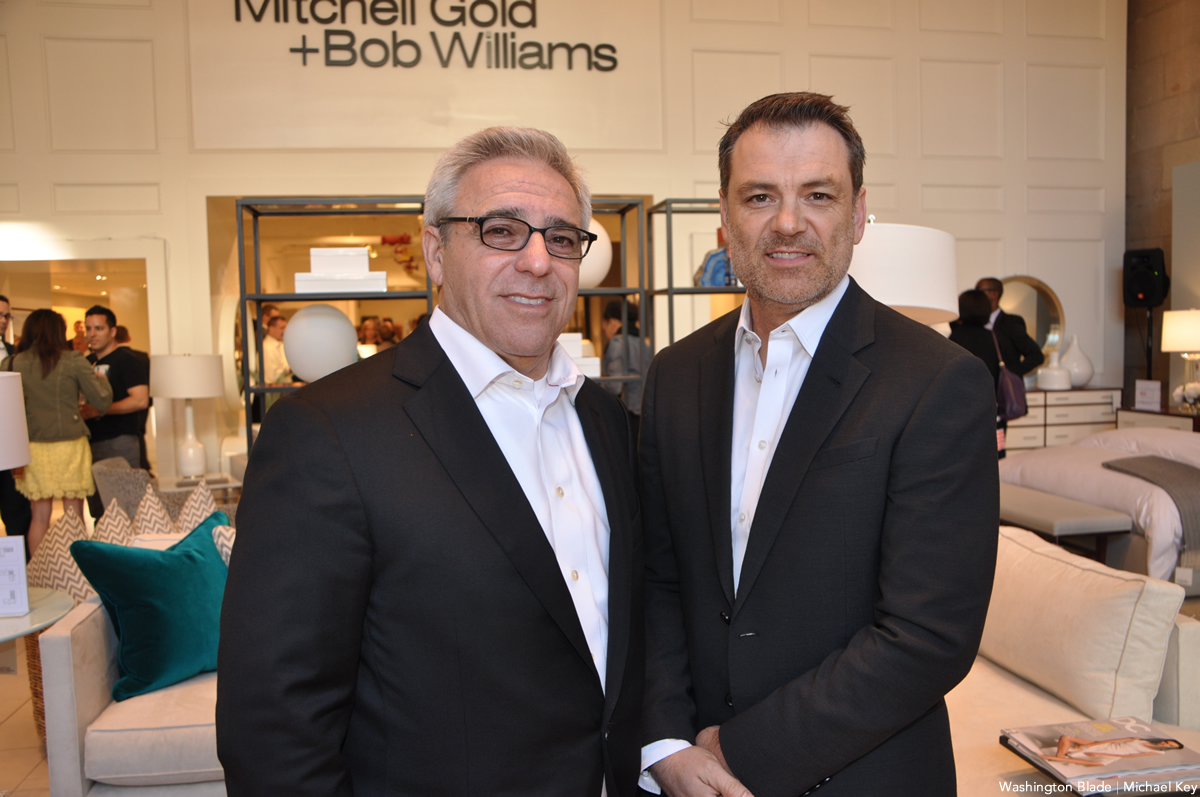 TAYLORSVILLE, N.C. – The furniture manufacturing and retail company Mitchell Gold + Bob Williams, named after the two gay businessmen who founded the firm in 1989 before selling it in 2015, announced last week that it is shutting down all its operations due to a sudden loss of financing.
During the years of Gold and Williams's ownership, the company expanded its operations from a single furniture store in D.C. to the operation of 24 high-end furniture stores across the country and three furniture factories in North Carolina.
Gold couldn't immediately be reached by the Washington Blade for comment.
The Washington Post reported that many of the company's estimated 800 employees received word of the shutdown and their impending layoff over the past weekend through a letter posted at the company's factories and stores by the Stephens Group, a Little Rock, Ark., equity firm that bought the company from Gold and Williams in 2015.
"Mitchell Gold + Bob Williams has recently and unexpectedly learned that we are unable to continue business operations," the Post quotes the letter as saying. "As you may know, the current economic climate has presented significant challenges to the furniture industry… [The company] has recently and unexpectedly learned that we are unable to secure critical financing to continue business operations," the letter states.
According to reports by the Post and the furniture industry publications Furniture Today and Business Of Home, Gold and Williams initially sold the company in 1998 to Rowe Furniture in an arrangement that allowed them to continue managing the company's operations.
The Post report says the two men, who originally named the company Mitchell Gold, bought the company back in 2002 with a group of New York investors and renamed it Mitchell Gold + Bob Williams. Williams and Gold sold the company once again in 2015 to the Stephens Group while remaining on the company's board and in company management.
The media reports about the shutdown say Gold, 72, retired in 2019, and Williams, 61, retired in 2022. The Post reports that the two men still sit on the board as observers.
Furniture Today reports that Gold served as board chair emeritus after his 2019 retirement and "reengaged with the company" earlier this year to support company CEO Chris Moye.
"I was devastated and in shock. Both Bob and I are," Gold told the Post in recounting his feelings upon learning of the shutdown. "And if I had to use one word, it's heartbroken."
An employee who answered the phone at the Mitchell Gold + Bob Williams store in D.C. at 1526 14th Street, N.W., told the Blade on Wednesday that a liquidation sale of the store's merchandise would take place Saturday, Sept. 2.
Often with Gold acting as host, the upscale D.C. store has opened its doors for LGBTQ events, including fundraising events for local and national LGBTQ organizations.
Gold and Williams have been credited with emerging as advocates for LGBTQ equality during their years living in North Carolina while operating the company's main furniture factory in rural Taylorsville, N.C. In 2005, Gold founded the LGBTQ organization Faith in America with the mission of combating "religious-based bigotry" targeting the LGBTQ community.