LA City open for LGBTQ contract business
Certification expands diversity for possible big bucks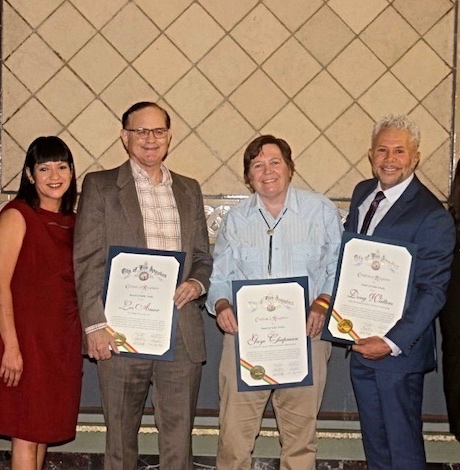 Ever since Los Angeles Mayor Tom Bradley appeared at the APLA AIDS Walks in the 1980s, worked with the LA Gay and Lesbian Community Services Center to provide contracts for homeless youth and other programs, and hired a pro-equality police chief after Daryl Gates there has been a sense that the city supports its LGBTQ community.
But support is not the same as affirmative action and last month, to ensure that the City of Los Angeles actually reflects the city's diversity, out Board of Public Works President Kevin James announced that LGBTQ certification would be added to the Los Angeles Business Assistance Virtual Network (BAVN), the free online portal that connects businesses with City contracting opportunities. This adds LGBTQ businesses to the certification list enabling disadvantaged business enterprise (DBE) owners; disabled veterans; minority-owned businesses; women-owned businesses; small, emerging, and local businesses to compete with major businesses and large corporations for city contracts. 
"I applaud the City's efforts to expand opportunities in public procurement for our local business community. LGBTQ certification is another step towards further leveling the playing field for small and diverse businesses," James said in a press release. "BAVN is a free and accessible resource that allows us to provide these businesses with the proper tools to succeed and thrive in Los Angeles."

Inspector of Public Works John L. Reamer Jr. and the Bureau of Contract Administration verifies documentation and oversees all city contracts. But this process begins with the National Gay and Lesbian Chamber of Commerce (NGLCC), acting as an exclusive third-party certification body, verifying that applicants are majority-owned by LGBTQ individuals. Then a business can sign up on BAVN to be notified when contracts are open for bidding. The business can then receive guidance on how the bidding process works. And one city contract can lead to others.
LGBTQ certification began July 1st.
Hidden behind this social and economic justice measure is a huge fiscal incentive.
"Nationally, certified LGBT businesses contribute $1.7 trillion to the U.S. economy and create more than 33,000 jobs, according to the National LGBT Chamber of Commerce (NGLCC)," CNBC reported July 26. "Certified LGBT-owned businesses generate an average revenue of $2,475,642, according to the NGLCC."
The city is now "the largest municipality, by both population and economy, to formally include LGBTQ-owned businesses in the city's billions of dollars in contract procurement. Reports show that similar contracts in LA amount to as much as $8 billion over roughly 40 departments," CNBC reports.
"The important point is that we get to open doors and increased opportunity," NGLCC co-founder and president Justin Nelson told CNBC. 
Long Beach was actually the first California city to launch an LGBTQ-inclusive contract process. And in 2014, the Legislature added LGBTQ-owned businesses to legislation mandating that contracts awarded by the state-regulated utility industry "encourage, recruit, and utilize" businesses owned by women, minorities, and disabled veterans, without setting target goals.
"In the future, Mayor Garcetti or the LA City Council could implement policies to set specific targets or expand resources for citywide supplier diversity initiatives, but for now we are elated to be called out by name as a business community," Jonathan Lovitz, senior vice president at the NGLCC, told CNBC.
"The beautiful thing here is these announcements are a catalyst for businesses in the community to stand up, be recognized and get certified," said Nelson. "And the benefit of that is not only to potential businesses, but it opens them up to a vast array of corporations across the country that are looking to do business with firms, not despite the fact that they're LGBT, but because they're LGBT."
"Companies now can show that they are also utilizing diverse suppliers to meet requirements that may be a part of their city contract, and they're also able to show that to other clients that they have a commitment to empowering and utilizing diverse companies just as other major Fortune 500 [companies] do," Nelson added.
"For those that will ask why do we need to know this? The reality is, if you're spending time worrying about losing your contract or not being able to bid because you're LGBT, you're not focusing on delivering a quality product at a competitive price," said Lovitz. "We're not just a social squeaky wheel. We are a vibrant part of the small business engine that makes the U.S. economy run, and that's good for everybody."
The Board of Public Works underscored their announcement by recognizing outstanding employees for raising LGBTQ awareness and being good at their jobs: Gaye Chapman, Senior Electrical Inspector, Bureau of Contract Administration; Doug Walters, Chief Sustainability Officer & Chief Resiliency Officer, LA Sanitation and Environment; and Les Amer, Accounting Clerk, StreetsLA.
"Los Angeles has been at the forefront of championing equality since 1967 when Silver Lake's Black Cat became the site of one of the first LGBTQ demonstrations," said Board of Public Works Vice President Cecilia Cabello. "While tremendous strides have been made since then, the fight for equal opportunity continues. I'm honored to recognize a few of our LGBTQ brothers and sisters who dedicate their lives to enhancing the quality of life for Angelenos and advocating for inclusiveness in the workplace and beyond."

Mitchell Gold + Bob Williams furniture co. abruptly shuts down
The furniture manufacturing and retail company Mitchell Gold + Bob Williams, named after the two gay businessmen who founded the firm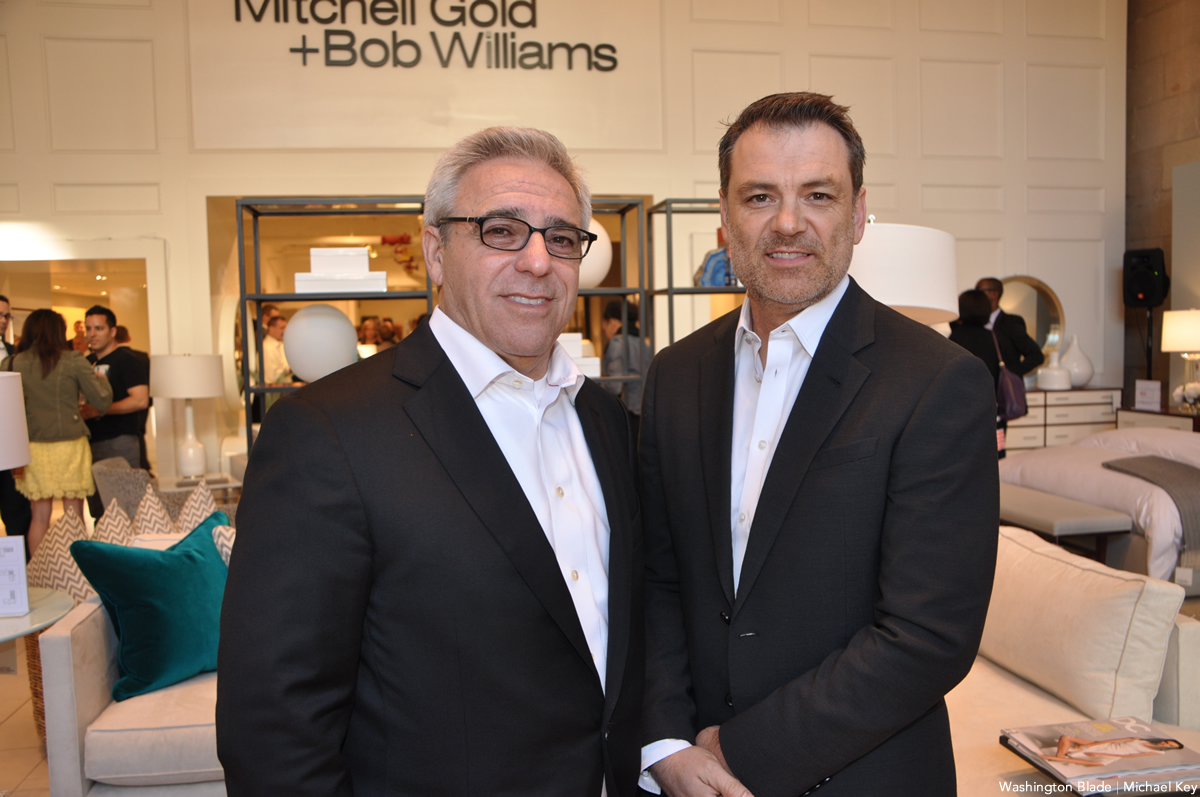 TAYLORSVILLE, N.C. – The furniture manufacturing and retail company Mitchell Gold + Bob Williams, named after the two gay businessmen who founded the firm in 1989 before selling it in 2015, announced last week that it is shutting down all its operations due to a sudden loss of financing.
During the years of Gold and Williams's ownership, the company expanded its operations from a single furniture store in D.C. to the operation of 24 high-end furniture stores across the country and three furniture factories in North Carolina.
Gold couldn't immediately be reached by the Washington Blade for comment.
The Washington Post reported that many of the company's estimated 800 employees received word of the shutdown and their impending layoff over the past weekend through a letter posted at the company's factories and stores by the Stephens Group, a Little Rock, Ark., equity firm that bought the company from Gold and Williams in 2015.
"Mitchell Gold + Bob Williams has recently and unexpectedly learned that we are unable to continue business operations," the Post quotes the letter as saying. "As you may know, the current economic climate has presented significant challenges to the furniture industry… [The company] has recently and unexpectedly learned that we are unable to secure critical financing to continue business operations," the letter states.
According to reports by the Post and the furniture industry publications Furniture Today and Business Of Home, Gold and Williams initially sold the company in 1998 to Rowe Furniture in an arrangement that allowed them to continue managing the company's operations.
The Post report says the two men, who originally named the company Mitchell Gold, bought the company back in 2002 with a group of New York investors and renamed it Mitchell Gold + Bob Williams. Williams and Gold sold the company once again in 2015 to the Stephens Group while remaining on the company's board and in company management.
The media reports about the shutdown say Gold, 72, retired in 2019, and Williams, 61, retired in 2022. The Post reports that the two men still sit on the board as observers.
Furniture Today reports that Gold served as board chair emeritus after his 2019 retirement and "reengaged with the company" earlier this year to support company CEO Chris Moye.
"I was devastated and in shock. Both Bob and I are," Gold told the Post in recounting his feelings upon learning of the shutdown. "And if I had to use one word, it's heartbroken."
An employee who answered the phone at the Mitchell Gold + Bob Williams store in D.C. at 1526 14th Street, N.W., told the Blade on Wednesday that a liquidation sale of the store's merchandise would take place Saturday, Sept. 2.
Often with Gold acting as host, the upscale D.C. store has opened its doors for LGBTQ events, including fundraising events for local and national LGBTQ organizations.
Gold and Williams have been credited with emerging as advocates for LGBTQ equality during their years living in North Carolina while operating the company's main furniture factory in rural Taylorsville, N.C. In 2005, Gold founded the LGBTQ organization Faith in America with the mission of combating "religious-based bigotry" targeting the LGBTQ community.