November 11, 2019 at 2:56 pm PST | by John Paul King
Gay teen stands up to bully in viral video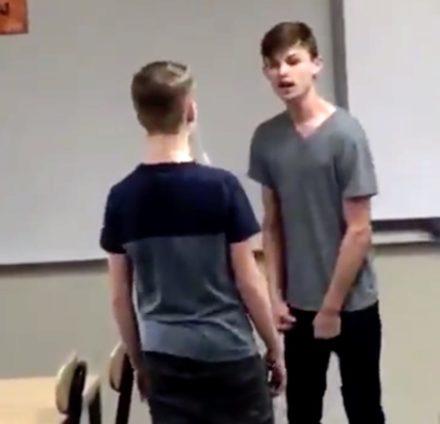 A gay Indiana teen has Twitter in an uproar over a viral video he posted which shows him standing up to a homophobic bully while teachers and fellow students stand by and do nothing.
Jordan Steffy, who is a junior at Indiana's LaPorte High School, said in an interview with Instinct magazine that he's had to put up with homophobic bullying since coming out in the seventh grade.
The videotaped incident was triggered when, Steffy says, a classmate posted a homophobic message on Snapchat using a photo of him.
"He made an anti-gay post with a picture of me on it saying how he hated gays and a bunch of throwing up emojis all over it…  I walked up to him and said 'Why did you post this?' He said 'It was just a post.' And I said 'Well, it's not just a post. It's a post about me, saying how you dislike who I am, and I don't appreciate that.' He went on to say 'Okay, but what are you going to do about it?' I said 'I'm not going to deal with this, this is the last time I'm called anything.' And then he said 'What are you going to do about it, faggot?' And that's when I was like 'No, I'm not doing this.'"
In the video Steffy posted, the two students can be seen yelling at each other before Steffy shoves and hits the boy he says created the anti-gay post. It has 115K likes and 24.2K retweets so far, with thousands of comments in the reply thread.
This is the fight 😶 pic.twitter.com/DAsehv9I4m

— Jordan Steffy (@JordanSteffy1) November 9, 2019
The high schooler says that the fight resulted in a trip to the principal's office for him, followed by a week-long suspension. He also claims he has reported previous incidents of homophobic bullying to the school and ended up being the one who is punished the most severely.
Administrators at LaPorte High School did not immediately respond to requests for a comment.
As for Steffy, he says,"If I could take it back, personally, I would. But I'm glad I stood up for myself. If you were in my shoes, you'd probably get sick of it and you'd want to stand up for yourself."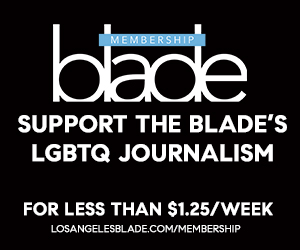 Sign Up for Blade eBlasts