November 18, 2019 at 2:27 pm PST | by John Paul King
Chick-fil-A to end donations for anti-LGBTQ causes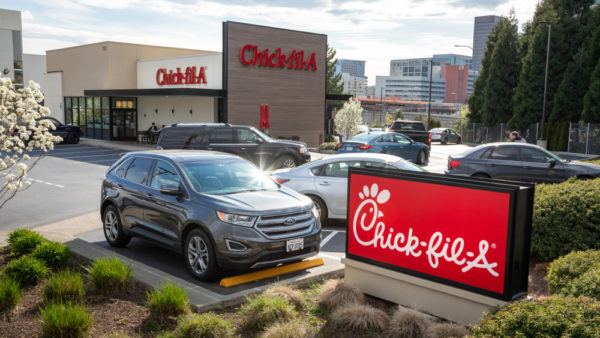 Controversial chicken chain Chick-fil-A has long been the target of protests and boycotts over its donations to anti-LGBTQ causes, but that could soon be a thing of the past.
The fast-food giant has revealed that it has plans to stop its well-documented donations to anti-queer lobbying groups, citing the chain's expansion as the reason for change.
Speaking to the website Bisnow, COO of Chick-fil-A Tim Tassopoulos said, "There's no question we know that, as we go into new markets, we need to be clear about who we are. There are lots of articles and newscasts about Chick-fil-A, and we thought we needed to be clear about our message."
Chick-fil-A has a long history of donating to groups like the Salvation Army, Fellowship of Christian Athletes, and the Paul Anderson Youth Home – all of which have anti-LGBTQ positions and policies. In addition, CEO Dan Cathy's comments against marriage equality have cemented a widespread impression of a company with homophobic corporate policies, and further added to the stigma with which the restaurant is associated by a large sector of the public.
That stigma has had real-world consequences; Chick-fil-A is has been the target of repeated calls for boycott; earlier this year, the landlord of the chain's UK pop-up restaurant said he would not renew their lease due to the company's history of homophobia, and several airports cited the same reason as the cause in denying applications for Chick-fil-A to open new locations in their facilities.
Beginning next year, the Atlanta-based fast-food chain – which donated to more than 300 charitable organizations in 2019 – will change its philanthropic structure to will focus on three initiatives with one accompanying charity each: education, homelessness and hunger
"When there is a tension, we want to make sure we're being clear. We think this is going to be helpful," Tassopoulos said. "It's just the right thing to do: to be clear, caring, and supportive and do it in the community."
Chick-fil-A has yet to issue an official company statement.